3
minutes read
What does extraordinary mean to you?
For us at Creatopy, it means something noteworthy, remarkable, and exceptional. It was also the perfect word to describe an internal initiative we started recently, in which we show appreciation for our awesome creatopians while collaborating with a local fashion designer, bringing a small contribution to our community.
The Symbol of Extraordinary
Our talent team wants to empower our creatopians to constantly focus on innovation, exquisite design and tech leadership, and a permanent state of wonder, curiosity, and great focus on creating a better world and better human interactions. For this initiative, we concentrated on internal values; we looked at what Creatopy is and does as a company.
Whenever we see a spark of magic dust in the behavior of our fantastic team, we want to surprise them with the symbol of the extraordinary: a high-quality branded hoodie created with love by a local designer.
We believe that all our employees are valuable assets to the company and their daily inputs and outcomes are critical to moving the company forward. This program does not focus on the day-to-day activities, responsibilities, and duties related to each particular job but instead on the attitudes and behaviors one shows toward the internal culture we want to create at Creatopy and towards humanity in general.
For rewarding the extraordinary, we enlisted the help of Laura Ciobanu, a local designer who runs a business designing and manufacturing fashion items in Oradea. She has a small atelier in the city, and she mainly works with local suppliers, has hired local sewists, and is a fan of our lovely town like us.
Enlisting the Help of a Local Fashion Designer
We pitched our plans to her, and she hopped on board with enthusiasm, coming up with an exquisite design for our hoodie. This versatile clothing object encapsulates elements we relate to; the new unisex design is made following our brand guidelines.
For this project, I started from Creatopy's logo chromatic and the internal values; since neon green is the primary color, I wanted it to be the star of the hoodie. I took into account the fact that this is a product designed for people working in tech. Since they are working primarily from an office desk and you can only see their top part, I wanted to emphasize that, and that is the reason for using the accents of color there.

Another important aspect was that you work in a low-energy building, which is why I chose to use medium-weight cotton. The cool pass insertion underarm is not only for the visual effect but also for respirability. The zipper matches the neon green, and Creatopy's logo inspires its design; I chose the digital printing technique because it fits your modern style, and it was also the best option to get the gradient in the logo.

I am very proud to be your partner in this project, and I hope you too will take pride and joy in wearing the unique hoodies designed with love in the beautiful city of Oradea. (Laura Ciobanu, fashion designer and local entrepreneur)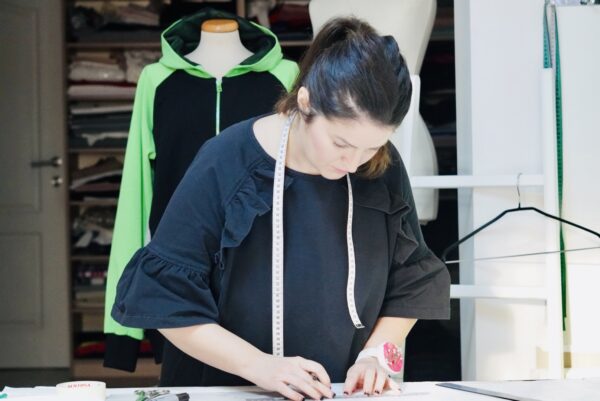 The final products are the rewards we offer our amazing team. The focus on excellence is one of our values, and each and every creatopian deserves a chance to shine and be rewarded for it. We also enjoyed collaborating with Laura, looking to support local businesses and choosing to create something ourselves as an alternative to fast fashion.