5
minutes read
I am a big believer in visual content marketing. But don't get me wrong, I also believe that we need to find the right balance between visual content such as visuals, photos, videos and other visual formats and also the written and audio content.
Every piece of content has its own strengths and when we know how to use it to get the results we want, we are on the right path.
Recently, BuzzSumo done a research on BuzzFeed's most shared visuals and they wrote a compelling article about it. They've talked about the most viral visuals and how they got to be so shareable.
But after I read the article, I went back to BuzzFeeds Facebook page to look at all these visuals. And I realized that there were 6 things that we can do while creating our banner ads.
(You know my mantra – Banner ads are not dead, they just reinvented themselves)
If years ago, you could find banner ads only on different websites and online magazines, today we can see banner ads on almost every platform we use, but with different names. For example, a banner ad on Facebook is a Sponsored post, Canvas or Sponsored Page. On Instagram a banner ad is a Sponsored Video or Photo. On Pinterest a banner ad is a Promoted Pin. I'm sure you get the idea.
So, here's what I've learnt from BuzzSumo's last research and what we can do as marketers to make our user engage with our work.
Humor
We all need a little humor in our lives and most of people are using the internet to relax and entertain. This is why Netflix is one of the biggest video platforms – because people are using it for entertainment purposes.
According to Dan Dennett, an American philosopher, writer and cognitive scientist, the 4 things that people get attracted to are being sexy, sweet, cute and ….funny.
I recommend you to watch his Ted Talk.
What we found out is that when you have a banner ad that is funny and brings a smile on the users face, the chances of him taking some action and click on your banner ad are higher.
Think about brands like Dollar Shave Club, Apple, Bodyform, OldSpice or even the McAfee Antivirus – they've all used humor in their advertising campaigns and each of their campaigns became famous.
Curiosity
Another emotion we can bring in the online users life is curiosity.
Edmund Burke said in the work "The Psychology of Curiosity: A Review and Reinterpretation" that
"Curiosity is the most superficial of all the affections; it changes its object perpetually; it has an appetite which is very sharp, but very easily satisfied; and it has always an appearance of giddiness, restlessness and anxiety"
Humans are curious by nature. For example, when you were a baby and your parents told you that you couldn't play with one certain object, you especially got to that thing and played with it.
Why? Because you were curious.
This is how many ads helped at creating a strong connection with customers. People designed ads that determined the user tp ask questions and made him want to find the answers to those questions.
For example, what if you own a nutrition website and you just wrote an ebook about how to have a healthy morning routine. The second step is to make the user download it, but how can you really bring him to your website? You start making Facebook Ads and Instagram Ads and ask users if they want to have a healthier morning routine so they can have a better day. And the ones curious about it, will click on the ad and get to the landing page.
Banner ads should be designed to create curiosity in order to draw people's attention.
What if I told you that you can create a banner ad that brings emotion to your user's mind? A strong emotion that can be also positive or negative.
And the one industry that really benefits from this kind of emotion is politics.
Let's look at these banner ads from Hillary Clinton and Donald Trump.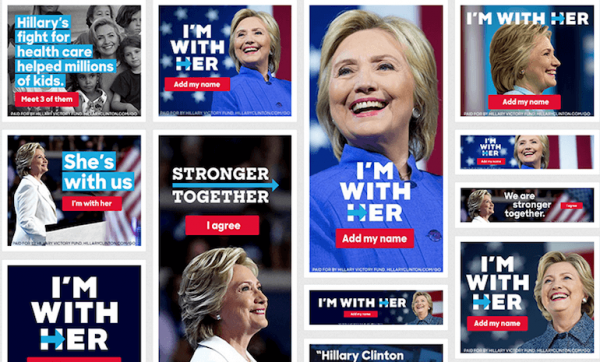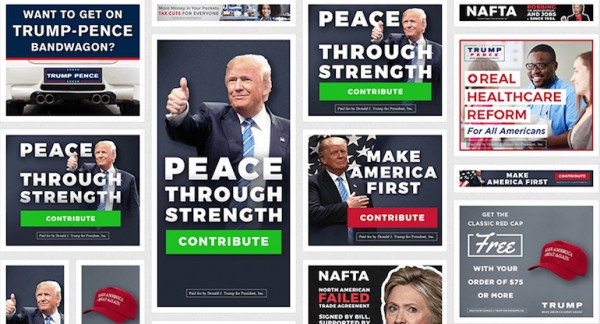 What do you see here? Positivity or Negativity? Would you click on them because you like them or because you hate them?
It's an emotional game here and the one who designed these banner ads understood this practice and how it can bring results.
Tips and Tricks
I believe in the power of tips and tricks and I also believe that many brands should use this tactic not only to bring users to their website or selling the product but also to make a difference in their industry.
So, a banner ad that shows you a simple trick of its product or service can get you the users you want.
Let's say that you are selling fashion products. You can easily show in one animated banner ad a 3 steps guide on how to use that product that is at a limited sale.
Simple, right? Well, this is why one of BuzzFeed's images got viral. Because they've shown a practical idea.
Passion/Hobbies
Addressing to a general audience is considered a bad behavior that sadly gets done by many marketers. The secret of the best ads is that they're being well targeted.
Think about that, how would it be if you wanted to sell dog food and your audience is a combination of 18-65 years old, men and women, living in both urban and rural environments with a medium financial statement.
Well, isn't that too broad? Yes, it is. You need to find the communities that are interested in your product. The ones that love the thing you do and the ones who will use it because it's something that brings value to their hobbies.
I believe that the best industry from which we can learn is the fishing industry. They know how to create banner ads only for people interested in fishing. They talk about tools and other topics that only these people are passionate about.
So, don't get too general with your audience. Try finding the right community and communicate to it and with it.
Nostalgia
This is another emotional tactic you can use to bring more users to your product or website. And BuzzFeed understands and practices it through several topics and visuals that makes the user want to share it on social media.
Nostalgia is something that gives you goosebumps, reminds you of a great moment, but more importantly, makes you talk about the thing that generated this emotion. Because it represented some good times and sometimes we want to live those moments again and again.
For example, one of the most viral visuals on BuzzFeed is with Chandler's jokes that the fan who watched "Friends" knows about. Now think about this, how many people around the world know "Friends" – the TV show. I'm sure that there are lots of fans out there!. And because Chandler is one of the main characters of the show and let's be honest one of the funniest, BuzzFeed created an article dedicated to Chandler's jokes. And people loved it!
So why not use nostalgia in your banner ad when you want to launch your next display ad? It depends on who your users are and what you know about them. And this starts with creating a user persona that can help you have the right audience for your banner ads.
Conclusion
Here are the 6 things I've learned from the recently launched BuzzSumo's studies about the most viral visuals from Buzzfeed that we can apply in designing banner ads.
Now back to you, let me know in the comments section below what is your favorite joke of Miss Chandler Bong.