7
minutes read
The most romantic day of the year is almost here. Cupid's work is cut out for him, but marketers need to figure out how to make the most (profit) out of this holiday.
Valentine's Day represents an opportunity to make your brand stand out and increase sales, regardless of the industry you work in.
It's true that industries like retail, hospitality, entertainment, transportation, and beauty are easier to advertise, but you can make any ad appealing if you infuse it with some creativity.
According to the US National Retail Federation, the average American consumer plans to spend approximately $175.41 for Valentine's Day 2022. This year's most popular gifts will be candy, greeting cards, flowers, romantic evenings out, and jewelry.
Total spending is expected to reach $23.9B, which is an improvement from last year's total expected Valentine's Day spending of $21.8B.
To help you increase your business' sales this Valentine's Day and launch an outstanding advertising campaign, we've put together this article as inspiration.
Keep reading to discover useful resources on how to create Valentine's Day ads, as well as free ad templates that you can start editing right away.
---
Summary
A. Valentine's Day ad templates
B. Must-have elements for Valentine's Day ads
C. Love-related idioms & phrases
---
A. Valentine's Day Ad Templates
Any idea where to get started when designing an eye-catching Valentine's visual? We've got your back.
Our team of professional graphic designers and illustrators worked on some new templates that you can use for social media, display advertising, or print.
Just click on any of these templates to start customizing them in Creatopy.
Valentine's Day display ad templates
These high-quality templates can help you promote your brand on the display network with little effort. Simply pick one of them and personalize it with a few clicks.
If you want to promote your luxury watch offers, this elegant template is the right fit for you. It doesn't go overboard with the Valentine's Day creative elements but manages to stay on theme.
Dinner reservations reach a very high point on Valentine's Day so make sure you get the word out on your restaurant's offers to stay ahead of the competition. You can do this by using this vividly colored template as inspiration.
Whether you are in the telecommunications industry or not, you can redo this template in your brand's image and advertise away.
Printable Valentine's Day card templates
Printable Valentine's Day cards will not go out of style any time soon. With a cute ad copy and a matching visual, you can have cards that stand out and send the right message in a unique way.
For example, you can start personalizing this pun-centered card template that uses beautiful pastel colors to raise feelings of love in its viewer.
Or this Valentine's Day illustration template card that translates the idiom "to the moon and back" into visual form.
If you'd rather evoke feelings with a Valentine's Day card message this template might be what you're looking for. You can change the background, stock photo, or font, and even write a new message to make it your own.
There are a ton of different quotes about love that you can customize for your brand. This Valentine's Day card quote template provides a lovely example of that.
Valentine's Day social media ad templates
Meet customers on their favorite social media platforms on this romantic holiday and bring your products or services to their attention with easily customizable templates.
You can use this template to create an Instagram post that inspires engagement within minutes.
If Facebook is where your audience can be found, then maybe this Facebook sponsored message template can help you get your message across effortlessly.
Valentine's Day party invitation template
You can always use our platform to create beautiful invitations for brand events, or you can start from a ready-made template and customize it to suit your purpose.
B. Must-Have Elements for Valentine's Day Ads
1. The creative concept
Considering your goal is to sell, or at least to draw attention towards your brand this Valentine's Day, I won't go through the strategy behind your marketing endeavors.
Instead, I'm going to jump directly to the creative part.
Every advertising campaign needs to have a creative concept, a core idea. One can easily identify the main idea by simply looking at an ad.
Take these Valentine's Day ads, for example. They are incredibly effective at conveying the message visually without using too many words.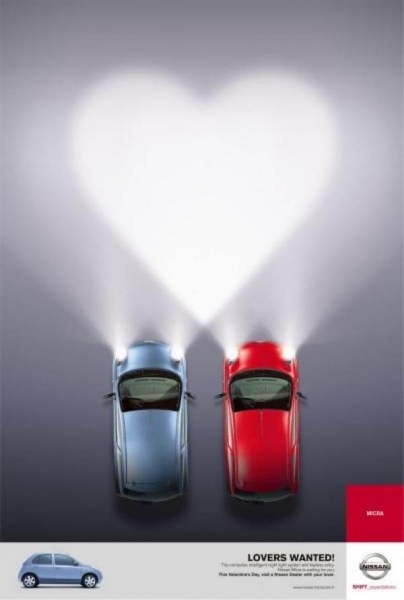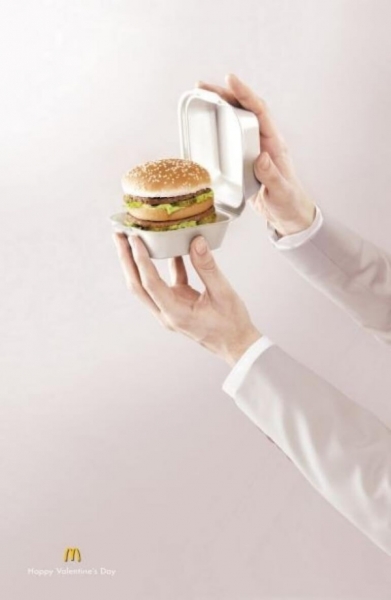 2. The design
2.1. The color palette
Before proceeding to the design itself, you need to choose a color combination suited for this occasion. Whatever palette you choose, make sure there's red in it, or at least pink, coral, or plum.
Choose one of the matching color combinations below and save yourself some precious time.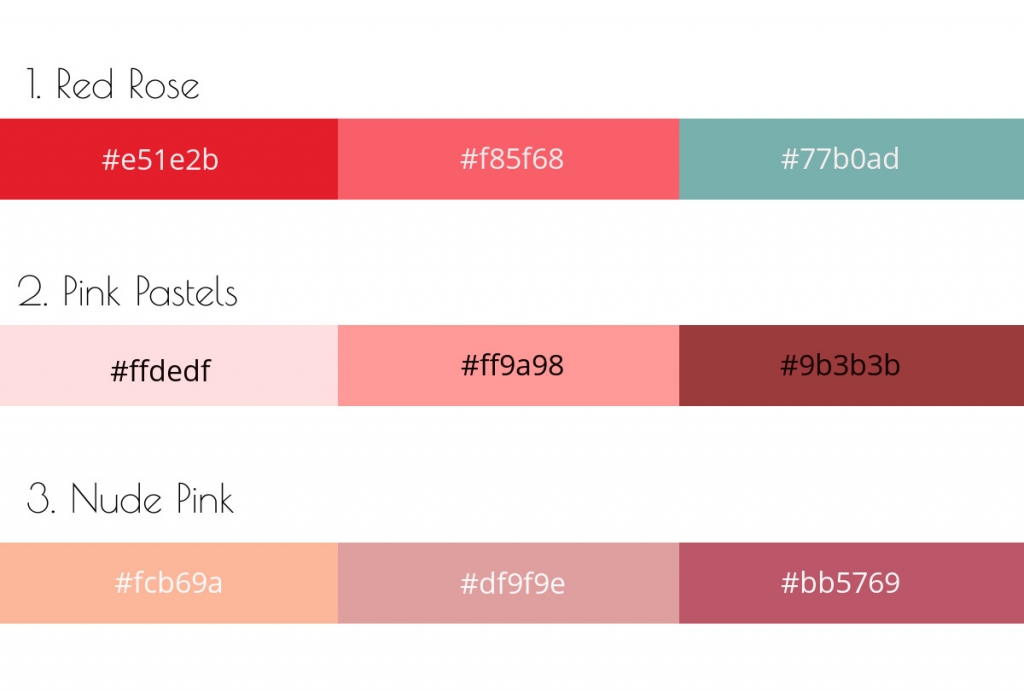 2.2. The font
You can't design Valentine's Day graphics without using a proper typeface.
And by proper I mean romantic, handwritten (authentic), and memorable. Find a font for your visual so it will match your image and creative concept.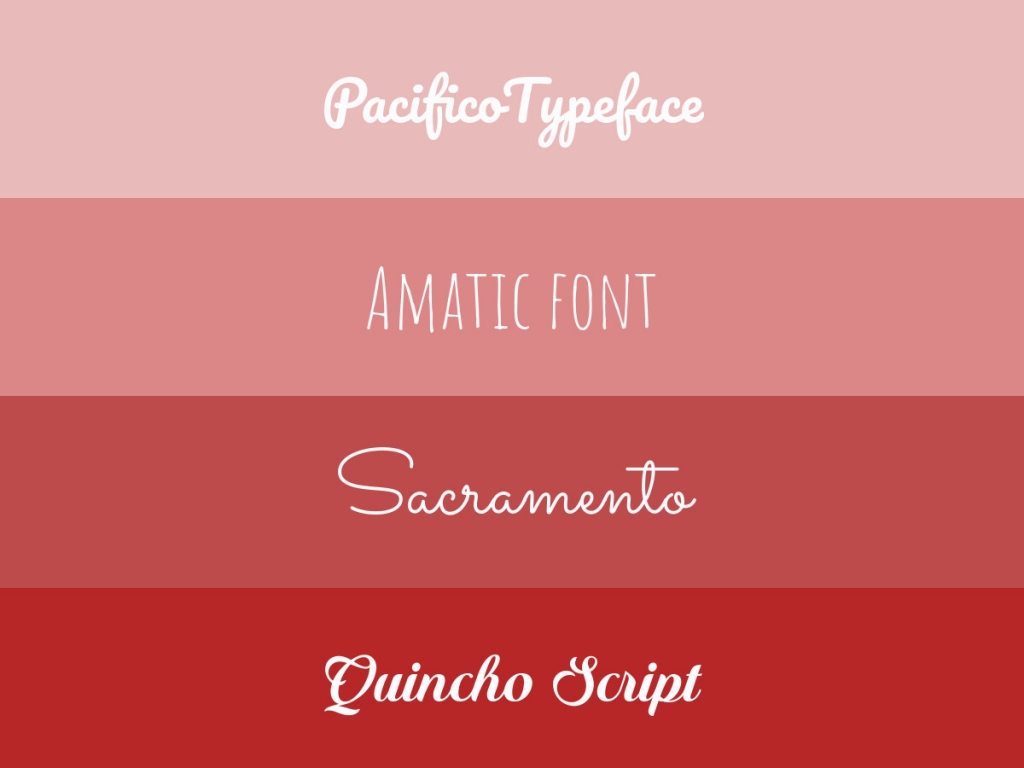 2.3. The pictures/illustrations
Romantic pictures or illustrations are essential for an effective Valentine's Day campaign.
Whether you choose to go for stock images or original illustrations, make sure they convey emotion. Show affectionate faces, people hugging or kissing. Remember, love is in the air.
For instance, this story template uses a lovely stock photo of a hugging elderly couple that conveys feelings of love and affection.
3. The copy
3.1. Creativity
There's one thing that always gets noticed in a great copy: the unexpected.
By unexpected I mean the surprise factor, something the person seeing it will not see coming. Mix in originality and sprinkle some memorability to ensure your headline will be remembered long after people have seen your ad.
Key takeaways for a great Valentine's Day headline:
Surprise factor
Originality
Memorability
The example below ticks all three boxes and also manages to put a smile on our faces.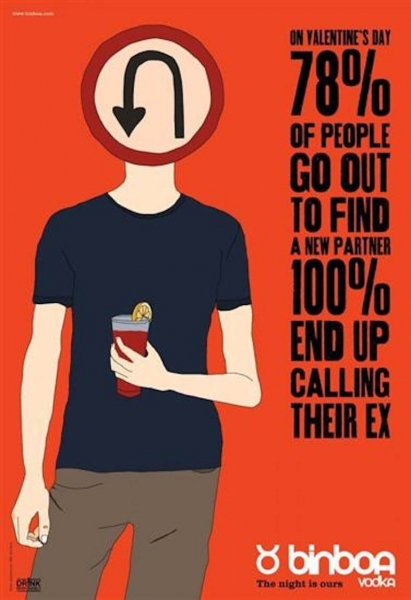 3.2. Emotion
Emotion is another important element of great copy in advertising. If you don't touch people's hearts with your message, you might as well work as an accountant.
Valentine's Day is a celebration that allows you to tap into people's emotions more than any other day. Here are some good examples.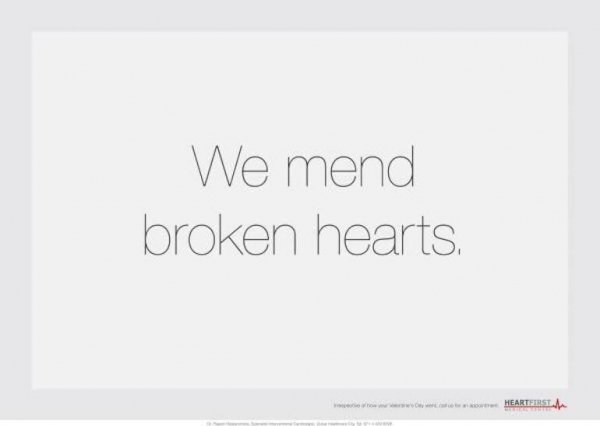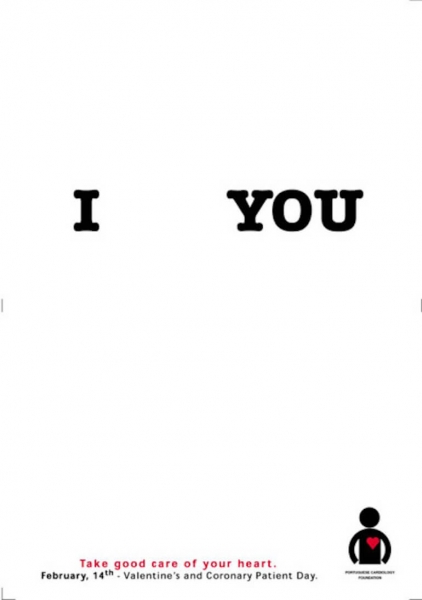 C. Love-Related Idioms & Phrases
In case you run out of inspiration, here are a few idioms that you can often find in Valentine's Day ad copy.
To show you how you can use them yourself here are some examples of how brands have made them work in their advertisements.
Love at first sight
Superb's ad took this idiom and turned it into a pun that serves their brand and puts their products into the spotlight (pun intended).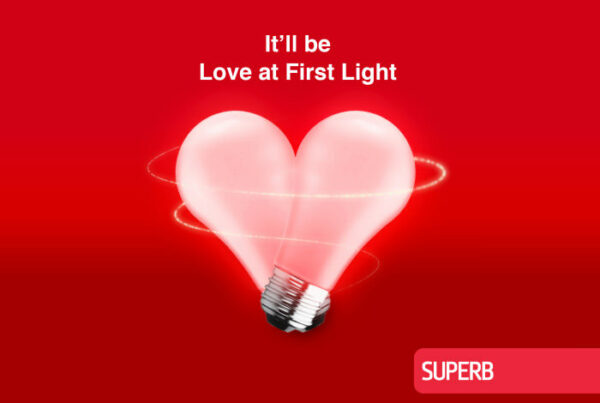 Love is in the air
Heineken perfectly illustrated this idiom by depicting a Cupid silhouette coming out of a recently opened ice-cold beer bottle.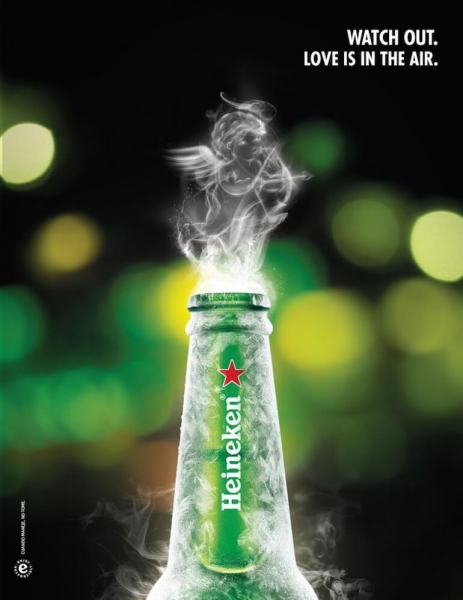 All you need is love
All you need is to pair your eye-catching visual with a popular song title that serves as ad copy and voilà! Your Valentine's Day ad is ready to be seen.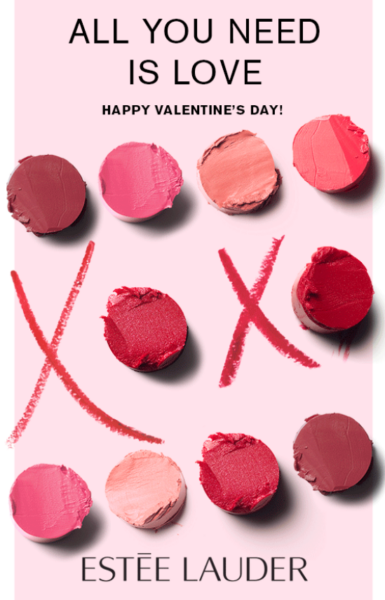 Kiss and make up
This double-meaning ad copy reminds you to reapply lipstick after kissing your significant other on Valentine's Day while also hinting at reconciling.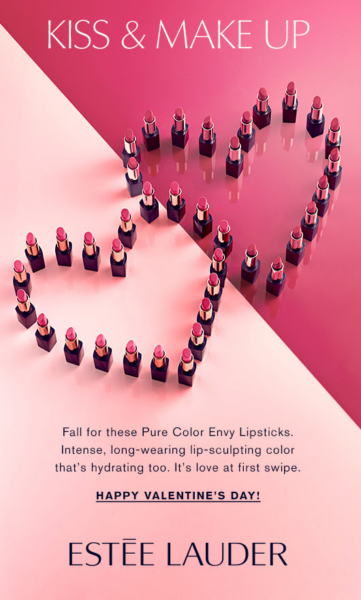 Wrapping Up
As you've seen, the creative process of making Valentine's Day ads can be simplified with the help of customizable templates, regardless of the industry you want to advertise for.
Besides, this romantic holiday provides the opportunity to unleash your creativity and think outside the (chocolate) box. And brands that take advantage of this are more likely to create powerful ads that will help increase their sales.