10
minutes read
We, at Creatopy, live in a continuous state of learning, and we love sharing with you best practices.
And that's exactly what we did in our first webinar: we discussed the best digital strategies you can use for Black Friday and Cyber Monday.
Since Black Friday and Cyber Monday are the top shopping days of the year, we thought it was the best topic for our webinar.
Robert Katai, Product Marketer at Creatopy was the host, and we had three special guests: Chantelle Marcelle, Juliana Jackson, and Filip Telescu. We would like to thank them once again for accepting our invitation.
In case you missed the webinar, you can still access the "Black Friday Digital Strategies" webinar here on-demand.
If you prefer the written format, then keep on reading to find out what our guests discussed.
We're going to dive right in, by making highlights for each speaker.
---
---
A. Finding Success with BFCM Online Ads—With Chantelle Marcelle
Our first speaker was Chantelle Marcelle, an experienced B2B, B2C, and D2C marketing professional.
She has a passion for all things marketing, especially those that contribute to business growth. Her expertise also encompasses social media, public relations, content, website optimization, and SEO. She's also a huge believer in developing a customer-centric mindset to fuel long-term growth and success.
We should start by saying one crucial thing: Black Friday is not limited to just one weekend. In fact, 34% of U.S. shoppers make their holiday purchases before Thanksgiving.
So, what should you do to have a sustainable and successful holiday campaign?
1. Plan ahead
An important key takeaway from Chantelle's presentation was not only addressed to the BFCM campaigns but also to the brands and companies' strategies in general.
Your brand needs to have a clear value proposition. This will make it easier to know how to deliver the message for your products and services, find the right target audience, how your products benefit your audience, and what makes you competitive in your market. Having a well-defined value proposition will help you plan for BFCM.
But here's the catch.
If you start planning your campaign in October, that may be a little too late. If you start structuring your strategy in July or August, you will have plenty of time to launch your campaign quicker, as most companies start to promote their Black Friday sales a month earlier.
It also gives you the opportunity to experiment with different strategies and prepare a plan B or C in case the initial plan did not perform as expected.
In this case, thinking of your marketing strategy in advance is a very important aspect if you want to keep up with these sales events.
This includes:
Auditing your accounts from previous years to have a great headstart and to be able to restructure them and create specific campaign formats (as we're going to see later);

Trying not to focus on 2020 alone, as the pandemic affected how people shop worldwide shop and everything happened online;

Reviewing your past and current competitors' assets to stay on top of your game;

Researching the trends to see what are the consumers' interests, so you'll have a clear advantage;

Assessing your creative needs to know the resources you have and also what materials you need for these events.
2. Set the metrics
By setting the metrics, you'll know where you stand before the events and analyze their performance afterward. So, to get a better understanding of how metrics should work, ask yourself these questions:
What would success look like for me?
Define clear KPIs and align all your channels with them to better measure their performance.
Am I ready for the expected increase in traffic and purchases?
In order to determine this, check if the customer journey on your website will provide a high-quality experience.
Is everything in place to document performance?
Before launching any campaign, you should review your website and ad accounts, together with your pixels and campaign or channel-based UTM tagging, so you'll know exactly how your campaign performed.
Proactively monitor your ads to see how they work and see if you need to make adjustments or bring plan B to the table.
3. Write compelling copy
Once you feel confident in creating your marketing strategy, think of presenting your products in ways that will appear attractive to your customers.
Here's what a good, specific copy will do for you:
It tells your clients what you can offer that's different from your competitors;

It makes a compelling offer, which is also flexible whenever needed;

It states a relevant value proposition.
Prior to creating the messaging around your offer, you should build categories for your products to make it easier to write the right copy for them.
4. Be BFCM specific
With the previous points in mind, you should also know that your campaign has to be created around messages clearly stating a limited offer. Some examples of words you can use are: "save money," "even better than BF," or "best savings—not for long."
Other great ideas you should consider for this period are showcasing your best-selling products, offering gift cards or coupons, and updating your landing page with a sign-up and contact info section so you can engage with your customers.
Because these events are quite flexible and allow us to be creative, you can experiment with humor in your ads or phrasing that build anticipation.
Here's an example from Dollar Shave Club: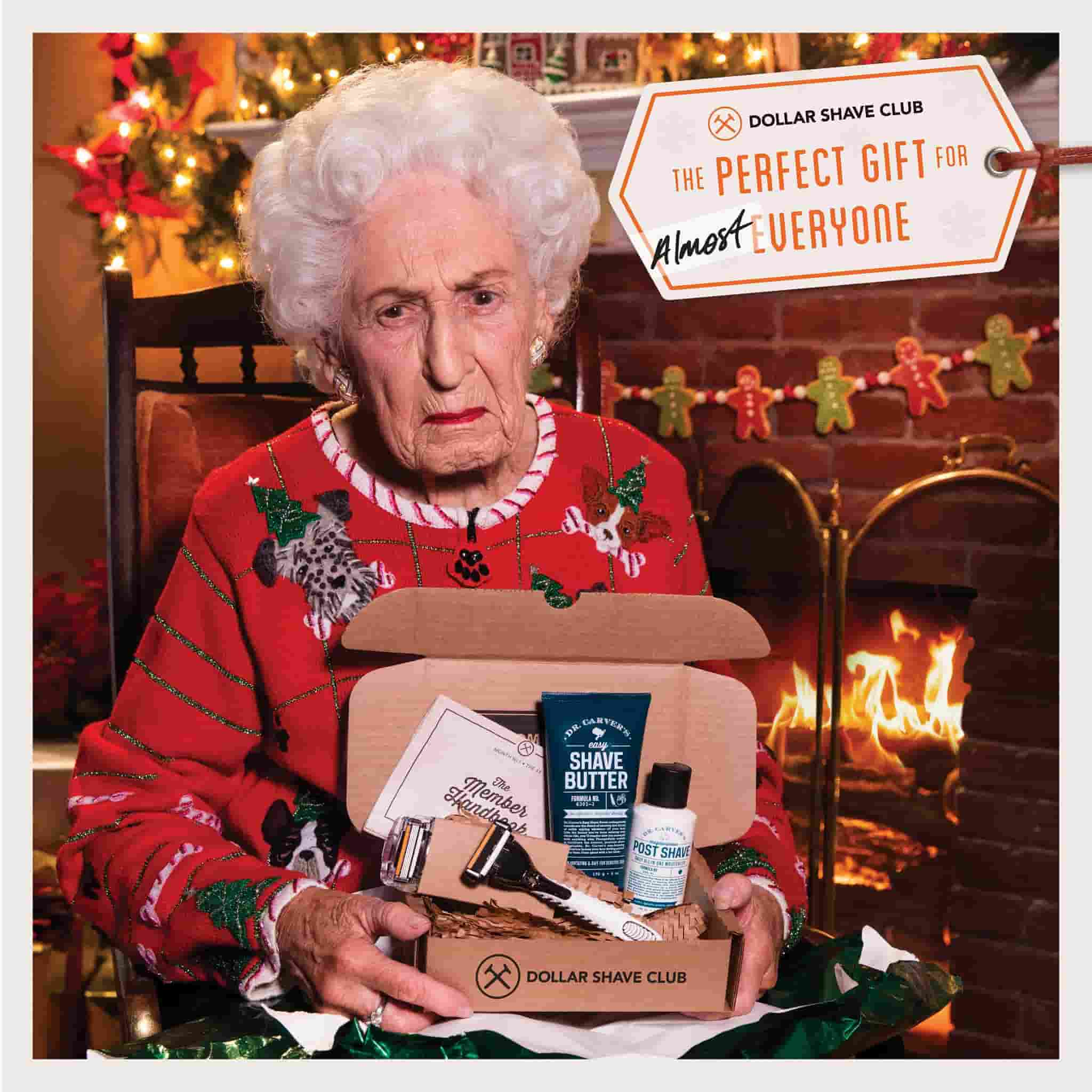 B. Three Audiences to Focus on this BFCM—With Juliana Jackson
Our second guest was Juliana Jackson, Customer Marketing & Community Manager at CXL. Many know her as the CVL Lady as she discusses and spreads knowledge about retention and customer lifetime value. Her background experience includes customer data segmentation, implementing growth strategies, and collaborations with numerous brands.
She gave us precious insights into the audiences that deserve our attention during BFCM.
In 2020, BFCM sales were as high as 5.1 billion USD, which represented a worldwide increase of 76% compared to the previous year.
Nonetheless, starting with October 2020, there were some changes, which you should definitely consider this year, as they may affect your campaigns.
1. The difficulty of acquiring new customers
The way we acquire new customers has changed since last year, and we're going to see all the pain points you should reflect on:
1.1. Ad spend has increased
According to Hunch, starting with July 2021, advertising costs have increased across all major social media platforms, therefore your budget needs to be spent wisely.
Here are the numbers:
Facebook had an 89% increase, with an average CPM of $11;

Google and YouTube had a 108% increase;

TikTok

had a

92% increase;

Snapchat had a 64% increase.
1.2. Watch out for the shipping crisis
With the very high demand that characterizes these sales events, you may encounter shipping issues if you don't prepare for certain scenarios in advance.
Make sure you take into account the following:
Port congestion;

Container shortages;

Rail congestion;

Labor shortage.
By having these in mind, you will be able to deliver on your promises.
1.3. The users need for privacy
The iOS 14.5 update came with a feature that shifted the way marketers track users. Users can now choose not to be tracked by the apps, which means the retargeting audiences may be reduced in size.
Moreover, the Lookalike audiences that are based on a data source, which are often Pixel conversions (like Purchases or Leads), can't be tracked correctly anymore.
This goes hand in hand with the reporting part. Advertisers have relied on Facebook Pixel conversion metrics like ROAS and CPA to see the performance of their campaigns, but inaccuracies have been noticed in these metrics.
Your ad optimization on Facebook will also be affected by the change, as your ads can't be served to people who are similar to those who've already converted.
Due to these changes, advertisers must obtain cleaner data about their customers and prospects and build a strategic approach to customer acquisition when not receiving opt-in from the users.
2. Three audiences to focus on this BFCM
With all the previously mentioned pain points in mind, let's see the audiences you should focus on for a successful campaign:
2.1. Subscribers
Since getting metrics from third-party data is much more difficult, you should focus on zero-party data and quality rather than quantity.
This means you have to start gathering information about your current subscribers through your website or nurturing email campaigns. This process doesn't have to be tedious, so you avoid people getting frustrated by the complicated process.
Ask simple questions, but complex enough to get to know your subscribers.
Here's an example from Krakatoa: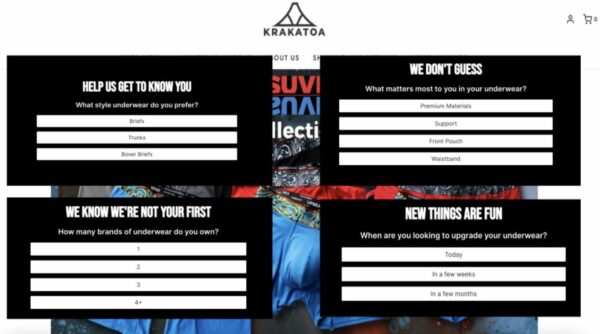 In order to have a clear overview of your subscribers, you should start gathering data in July or August. Once you have enough information about them, you can segment your subscribers and create profiles to target them with personalized offers.
2.2. First-time buyers
You can harvest precious information about first-time buyers, too, so you'll know better how to generate a second purchase.
Collect first-party data (transactional data) to retarget them accurately. It's better to have clear information about your first-time customers rather than making suppositions about their preferences.
But it is not limited to that.
You also have to make sure their customer experience runs smoothly from the beginning until the moment of delivery, that the products are as good as promised, and that you don't have unresolved open cases with them in your customer support department.
Once you check all these boxes, you can measure their experience correctly after purchasing.
2.3. Facebook lookalike audiences
Facebook lookalike audiences are, as their name suggests, prospects with the same preferences as your current customers. But they are not tracked correctly anymore due to iOS 14.5.
So, to be as precise as possible, you have to segment your customer data, based on the model of your best existing customer.
If you have more than 10k customers, you should do it according to:
Highest CLV customers;

Highest CLV products;

Highest CLV channels;

Highest CLV location;

Evaluate best past cohorts.
This distinct approach will help you focus on improving the customer experience by collecting better data and building better processes.
Differentiate yourself by giving more than just discounts for these events. Surprise your customers with on-time delivery, better customer service, and keeping your promises.
Black Friday and Cyber Monday allow you to design creative ads to attract customers. Once you have them, set up a post-purchase flow.
C. How Creatopy Can Help You with Your Ad Campaigns—With Filip Telescu
The third and last speaker was our colleague from the UX department, Filip Telescu. He graduated from Wilfrid Laurier University in 2021. Having the user and product goals in mind, he creates the best user flows and wireframes that simplify user interaction.
He showed us how advertisers could do much more work in less time and launch an entire ad campaign in just a few minutes using Creatopy.
The opportunity for advertisers is huge during BFMC, but with great demand comes great responsibility.
The ideal scenario is to have automation processes implemented so you'll avoid repetitive tasks. These are the main challenges for advertisers, all of which can be overcome with Creatopy:
1. Brand consistency
Staying on brand helps you distinguish yourself from the millions of brands out there. It is also essential to stick to your brand aesthetics so that your customers will recognize you easier.
But it can get difficult when you have to create various ads.
With Creatopy, it's an effortless job to keep your brand consistent throughout all your creatives and thus stay memorable to current and potential customers.
Here's how you can do it.
After logging into Creatopy, access the Brand Kits from the left-hand bar, then click on Create new Brand Kit.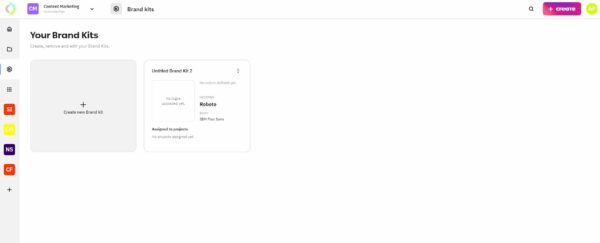 In there, you can add your colors, logos, and fonts.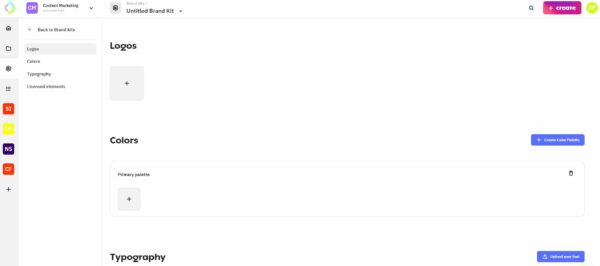 You can access them at any time during the creation process in the Editor and Generator.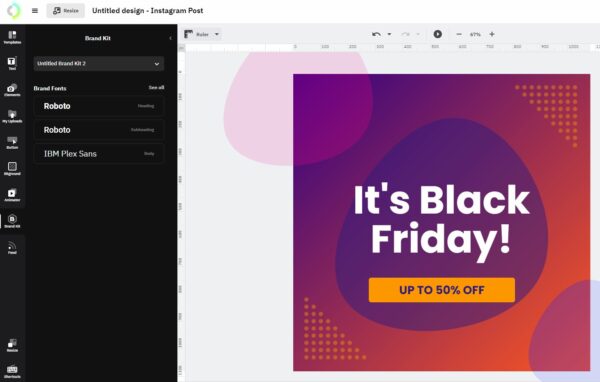 2. Scaling & automation
With so many creatives that need to be done, the solution is to adhere to automation to avoid tedious, repetitive tasks.
Here's what we offer.
With the resize feature, you can generate multiple ad sizes suited for various ad platforms and languages based on an initial design.
From the Editor, click on the Resize button from the top left or the left-hand bar, and choose the sizes you want to generate.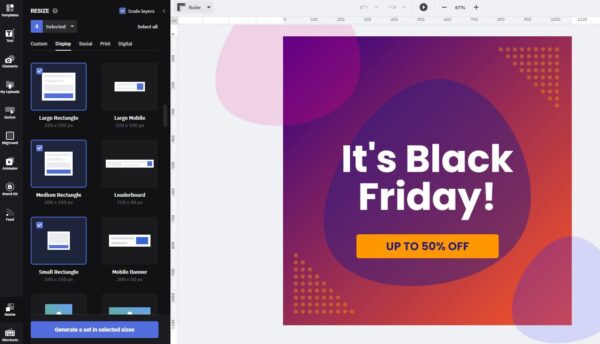 Once you have the sizes, you can tweak them to fit everything in place.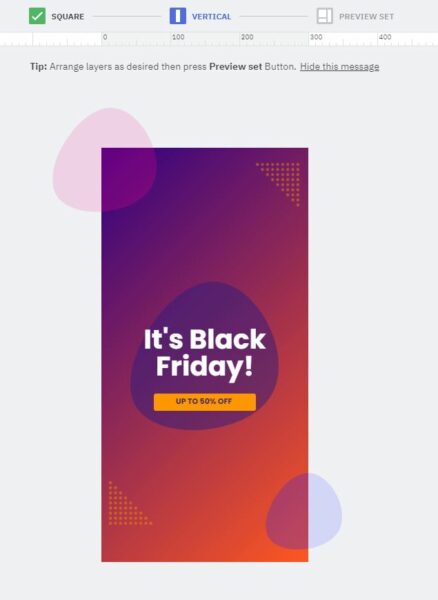 Preview the set to have an overview of your work.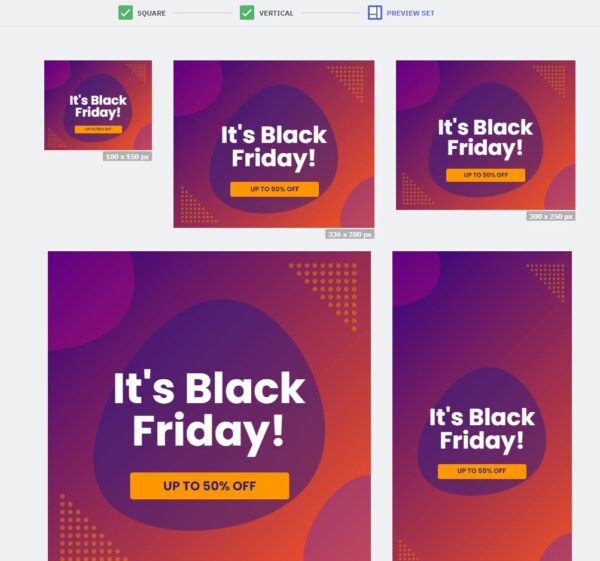 Now, the second option is to create your ads in the Generator. The great thing about it is that you can edit one design and apply all the changes to the selected sizes, but if you want to make adjustments to a certain size, you can double-click on the size and enter the individual edit mode.
We can continue with the previous example and open it in the Generator, a button you'll find in the top right corner.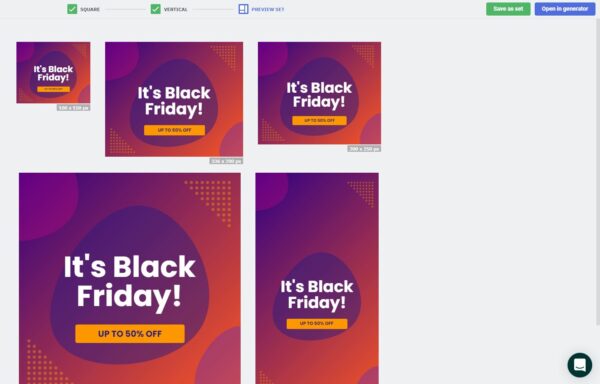 After you open your design set in the Generator view, you can change the headline, description, and others. You can also add or delete elements from your designs.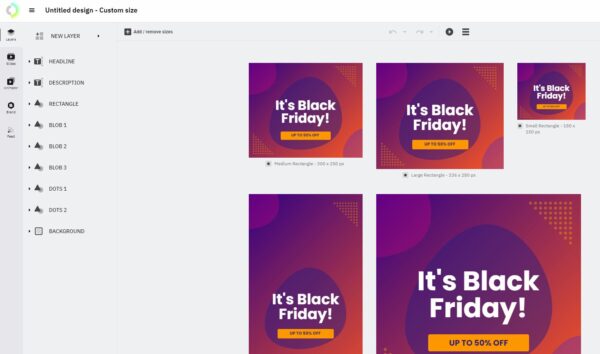 If you want to create a design set with custom sizes from your dashboard, click on Create 🠖 Create custom design set, then choose all the sizes you want.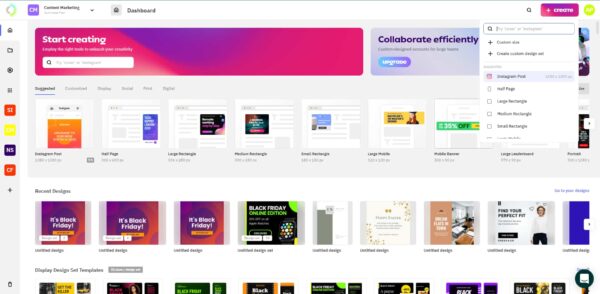 Proper scale ad production means being able to feed data into your visuals and get instant creative variations starting with a single design.
All you need to have is a CSV file containing all the information you want to feed into your original design.
It should look like this.

Then, upload it into Creatopy and start creating your design variations.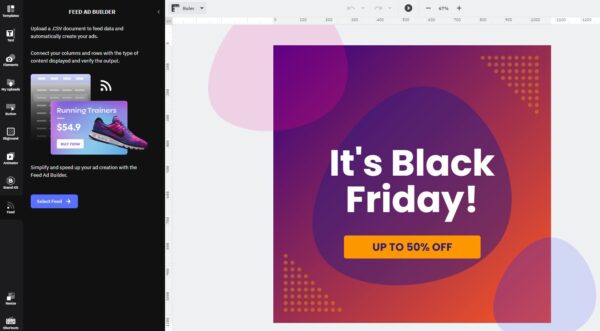 3. Ad serving
Besides all the various export selections for your creatives, you can serve your ads on a platform of choice by using an ad tag.
This is what our Ad Serving add-on offers you:
No more size restrictions from the ad networks;

The ability for your ads to withstand more traffic;

Access to real-time stats through the analytics tool;

Make live updates without pausing your ad campaign and reuploading it.
Final Thoughts
At the end of the webinar, we also had a Q&A session, where we answered some interesting questions. You can watch that portion by accessing the webinar on-demand here.
We hope you learned something new, and we're looking forward to seeing you at our next webinar at the end of November.