6
minutes read
Creatopy's first webinar was a real success, so we were very excited for our next episode.
This time we talked about a hot social media platform (yes, you guessed it: Instagram) and the strategies and hacks on how to boost your presence there.
Since more and more businesses are seeing the real potential in Instagram, we thought it would be of great help to provide insights about what you can do to increase your visibility on this platform.
To find more about this topic ourselves and share it with our viewers, we had a special guest, Larry Kim, the CEO of MobileMonkey, a leading cross-channel messaging platform for SMS, Instagram, Facebook Messenger, and Website Chat used by hundreds of thousands of businesses.
He is also the Founder of WordStream, the World's largest PPC marketing software company recently acquired by Gannett (USA Today) for $150 million.
In case you missed our live session, you can still access the "Instagram Growth Hack webinar here on-demand.
If you prefer to read all about it, I will walk you through the main highlights.
Now, let's get right into the subject.
Top 5 Hacks for Growing Your Business on Instagram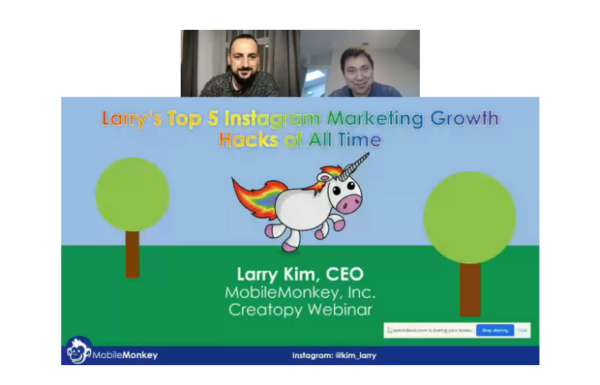 1. Encourage people to engage with your posts
CTAs are a must for everything you promote. It goes the same for your Instagram posts in which you invite people to take a certain action.
If users engage with your post thanks to your CTA, Instagram will recommend your account to similar audiences who are not following you yet.
These people are called second-degree connections, and they represent the key to growing your Instagram account.
But here's the tricky part.
There are only two ways to show your posts on other people's feeds, and it's either through paid advertising or organically, like we mentioned previously.
And here's where MobileMonkey comes in handy.
A way in which you can determine people to engage with your content for free is by offering something worthy of their comment.
For instance, if you present in your Instagram post an introduction to a guide about Instagram growth hacks for 2022, you can say in your CTA that whoever comments with a specific word (you choose the word) will receive a direct message with a link to your blog or website to read and download the whole guide.
If you respond to each comment manually, it will take a lot of time and effort. Still, by using MobileMonkey, you can automate this with the Instagram Auto Comment Responder. You can set the word which will trigger the automatic response to the user through a direct message.
Here are the advantages of comment automation over a boosted post:
Increase organic visibility for free;

Get up to 100x more comment engagement;

Grow your Instagram account with new followers.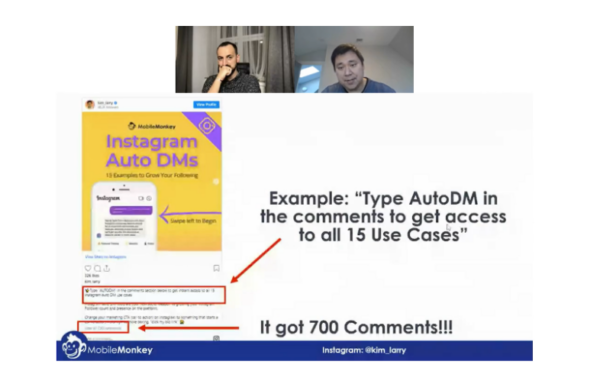 2. Drive Instagram users to your website
You can promote your business effectively on Instagram, but for better success, you should send your followers to your website as well.
But this platform doesn't offer a frictionless solution for the links you wish to include in your posts. You can add the link to your website in the comments section or the caption, but it's not clickable.
There are only two ways in which you can bring traffic to your website through Instagram:
See link in bio

: an option offered by Instagram.

Comment below for the link

: an alternative

provided

by MobileMonkey.
Let's see the difference between them.
"See link in bio" is an indirect process because users have to click away from the post they were reading, then go to the top of your profile to find the link.
On the other hand, adding the CTA "Comment below for the link" on your post will generate a response quick and easy. It also increases your post's engagement, and it's an effective way to drive traffic to your website.
To automate the response to the comments, you can use the Instagram Auto Comment Responder mentioned previously.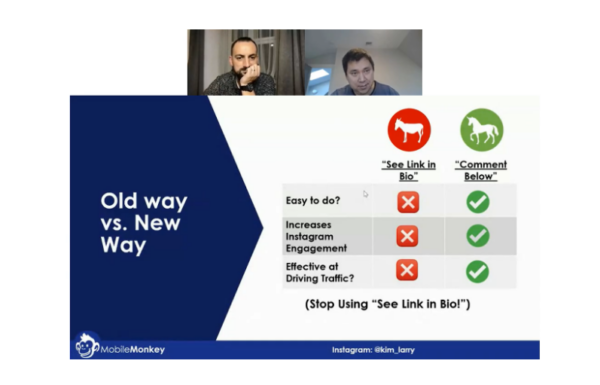 3. Instagram direct message funnels
There are many times when people contact your business through direct messaging, and you answer too late, either because you don't constantly check your inbox or simply because you receive too many messages and some of them get lost, only to be found a few days later.
The problem here is that people may find you unprofessional.
Instead of putting yourself and your business in this situation, you can send users an automated message through which you can figure out why they messaged you in the first place.
Therefore, this strategy of direct messages funnels refers to the ability to reply when people direct message your Instagram page account automatically.
With MobileMonkey's InstaChamp, you can create a message for automatic sending in which you give users more options to choose a topic, which will lead to other automated responses.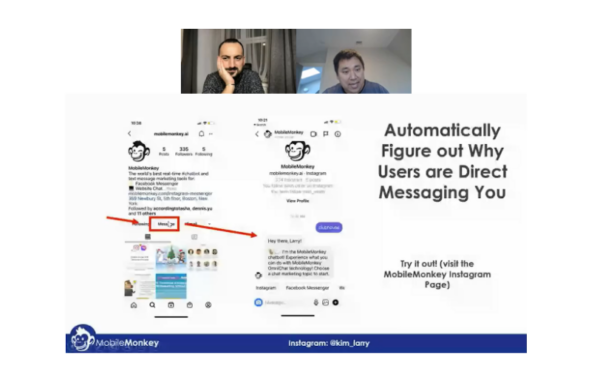 4. Use keyword triggers
We mentioned above the example with the Instagram carousel about the Instagram growth hacks for 2022.
To better connect the post with your intent and to stay relevant, ask your followers in your CTA to type in the word "Guide," for example, instead of using a generic one like "AutoDM."
This method will also boost engagement with your audience.
You can use Direct Message Me call to action on:
IG Livestreams to make them more interactive;

Reels, IGTV, Carousels, IG Ads to unlock bonus content;

Other platforms such as TikTok, YouTube, Clubhouse, or even podcasts.
The direct messages triggered by the relevant words mentioned in the CTAs can be automated as well to be more time-efficient, giving you enough time to focus on other important matters.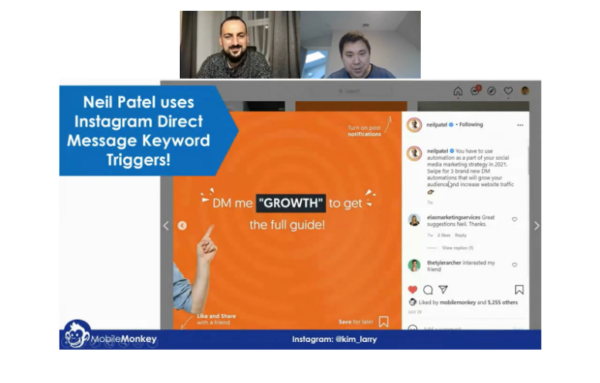 5. Auto-reply to Instagram story mentions
Larry started discussing this hack with a great question:
Q: What's the single most leveraged organic way to gain targeted followers on Instagram?
A: Story mentions and shares.
They are very effective because they work as referrals to your followers' followers.
If you create great content and drive people to share it and mention it in their stories, their followers will come and check your account. You will possibly gain more followers, likes, saves, and even sales.
But as we all know, it's not that easy to convince people to share your content.
So what's the trick?
Well, it is much simpler than you would expect.
It's asking for it.
When creating a post on Instagram, ask your followers to share your content in return for an offering related to the subject of the post, reel, video, etc. You can offer them a free guide, an eBook, or free access to one of your courses.
Again, you can do this manually, but in order to save time and make sure you answer every one, you can do it automatically using MobileMonkey.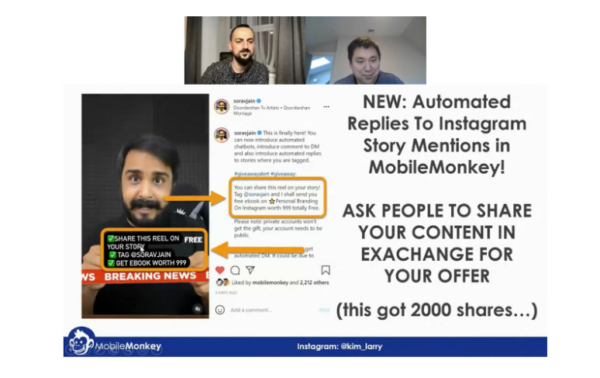 After Larry Kim stated all his tips and strategies about growing organically on Instagram, the webinar ended with a short Q&A session where the participants and I asked some questions that got interesting answers.
Q&A Session
Question #1: From which type of Instagram posts do you drive the most data?
Larry Kim: Here, it depends on the following you have. If your following number is great and the users are interacting with your posts, you can create carousels with a great CTA at the end because users are interested in what you post and will want to see the whole carousel.
If your account is new and the followers list is short, you should focus your attention on creating Reels because these appear in the suggested tab. They will appear to people who are interested in the type of content you create, but they are not your followers yet.
Question #2: How to get verified by Instagram?
Larry Kim: In order to get verified, you need to complete an application form. If you have been verified on other different accounts like Facebook or Twitter you can write it in the form. It's important to have media coverage when requesting to be verified, and the benchmark of media coverage in which you are the main subject is around 20-30 articles. Instagram asks for this because the people who work there haven't heard about you and want to see if you are recognized by major media outlets.
Once the form is completed, you have to send it to a friend who works at Facebook to put it in the review circle. In 48 hours, you will receive a yes or no response. If you don't have a friend who works at Facebook or know someone there, you are not as influential as you think you are.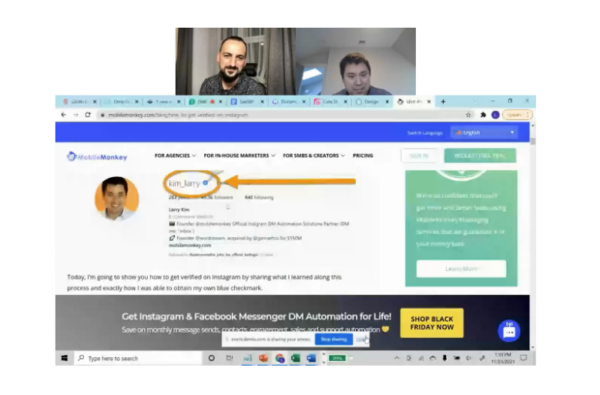 Final Thoughts
We really hope you learned something new, and that you'll get to try at least one of the automation hacks for growing your Instagram account.
And if you want to get the full scoop, you can still watch the webinar on-demand here.