9
minutes read
Have you ever considered advertising your business on Amazon?
When it comes to marketing and advertising, the online environment gives us countless opportunities. Some of them are free while some of them need an extensive budget. While content marketing may always prove to be useful even to advertisers, there are sometimes when free options are just not enough.
That's why, if you are in the goods training business, you might find out that eventually, advertising will allow you to achieve your goals more effectively and of course, more rapidly.
Among all the advertising opportunities and advertising delivery channels that exist in today's online environment, here's a great opportunity a lot choose to ignore: Amazon advertising.
Yes, it's a fact. And, if you make profits by selling goods, especially on Amazon, their advertising program may offer you great opportunities to expand your business and attract more clients.
How does Amazon advertising work?
Instead of brainstorming on how to sell products on Amazon's marketplace, let's try to figure out how to do it better.
In other words, we should focus on effectiveness rather than simply learning a basic set of guidelines and rules and wait for the miracle to happen.
Nothing happens out of the blue, at least not without effort. And, setting up an online store is not an effort, at least not a sufficient one. You need to work on your marketing strategy and this is where Amazon Ads come into place.
What are Amazon ads and how do they work?
Well, the following screenshot should help you grasp the surface of this entire feature.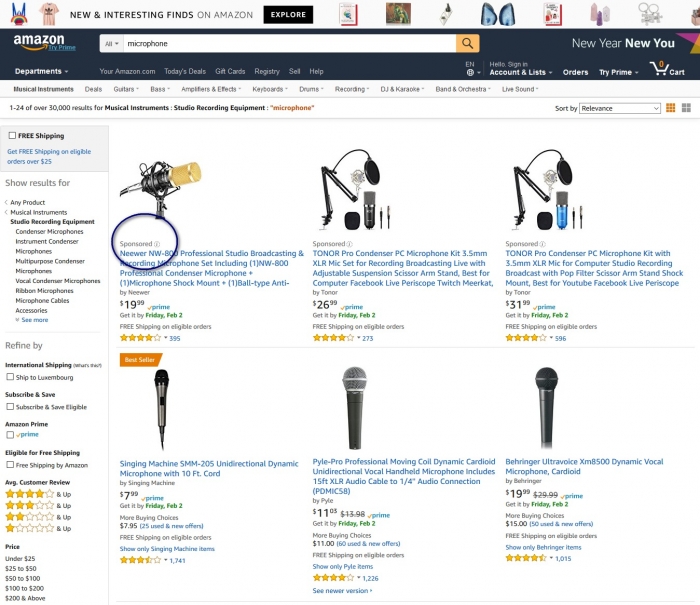 As you can see, Amazon ads work similarly to Google Search Ads. What does this mean? Well, when you search for a specific product, the first recommendations you get are the sponsored products.
These are products sold by businesses that decided to pay in order to be always displayed on top of other products. It's like you go to the local store to buy mineral water and you grab the first bottle that sits on the first shelf you come across.
Amazon Ads are based on the same idea. They are based on the belief that more and better exposure can convert into more customers and as a consequence, larger profits.
As a consequence, advertisers who want to gain more visibility to their products, bid for specific keywords, and pay for better positions and higher visibility in the Amazon SERPs.
Are Amazon Ads worth it?
The answer to this question depends on what your goals are and how much your business depends on Amazon's marketplace. An effective Amazon advertising strategy, however, may prove beneficial even if your main website performs well outside Amazon. Their advertising features will supply you with more ways to attract customers and consequently, to make more money.
In order to test Amazon as an advertising platform, I suggest you pick one of your products and create a small advertising campaign for it. This way, you will limit your money spending while being able to evaluate some tangible results.
Another reason to embark on an advertising campaign on Amazon is that by paying for ads, your rankings will also improve significantly.
"We've repeatedly seen that organic ranking has been considerably improved for those keywords that were used successfully in Amazon PPC ads," Sellics say in their Amazon PPC guide.
This means that clients will get to you easier even when they are searching for generic products without aiming for a specific brand.
How much does Amazon advertising cost?
According to Rob Sieracki, the cost per click for Amazon sponsored products is up to $0.35.
This means that you don't have to invest a lot in your campaigns and as a consequence, achieve great results with smaller budgets.
Considering that people who search on Amazon already have the intent to buy something, every single click may convert into an actual customer.
I am not saying that 10 out of 10 clicks will also be sales but Amazon gives you what other advertising channels don't. It gives you access to customers who have the intent to buy. They are not just browsing or randomly searching for something on Google. They are already in a marketplace. They're there for a reason.
What types of ads are available on Amazon?
People who first land on Amazon looking for information regarding their Advertising policies, will immediately find out that there are in fact two types of ads.
On one hand, we have Self-served ads and on the other hand, we have Premium ads.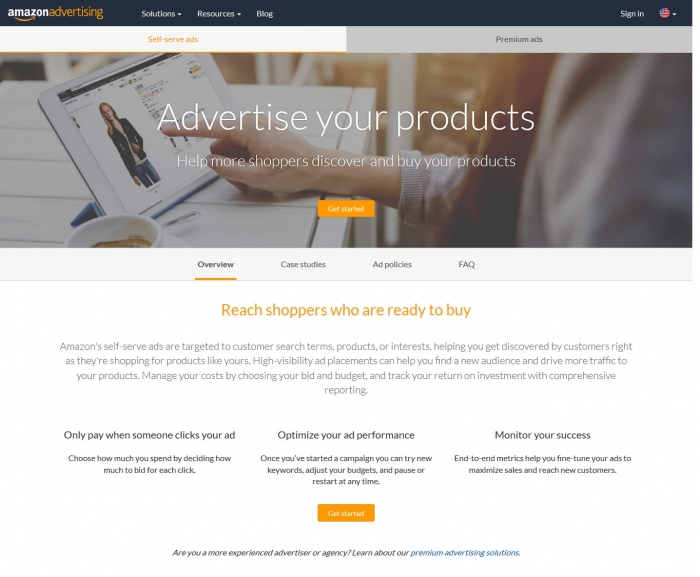 It's a little bit confusing at first but I will try to explain the two options in just a few seconds.
Self-served ads are more similar to Google Search Ads. These are the ads we've already talked about, the ads that will help you attract more customers by placing your products higher in search engine rankings.
Premium ads, on the other hand, are mostly visual ads or display ads as we call them. They don't appear in searches but rather on sidebars as you can clearly see on the following screenshot:

For example, Linenspa achieved a 1.6X higher ROAS from the Amazon display advertising campaign compared to the search campaign ROAS.
The right size for Amazon standard ad units
According to Amazon, these are the standard ad units for their display advertising campaign. But as far as you can see, they are just like the Google banner standard size.
| | | | |
| --- | --- | --- | --- |
| Ad Placement | Creative Dimensions | Max. File Weight | File Format |
| Home Page | 300 x 250 px | 200 kb HTML, 40 kb static (50 kb FR, IT, ES, JP) | HTML, JPG, GIF, PNG |
| Detail Page | 300 x 250 px | 200 kb HTML, 40 kb static (50 kb FR, IT, ES, JP) | HTML, JPG, GIF, PNG |
| MP3 Detail Page ATF | 300 x 250 px | 200 kb HTML, 40 kb static (50 kb FR, IT, ES, JP) | HTML, JPG, GIF, PNG |
| Read All Reviews | 300 x 250 px | 200 kb HTML, 40 kb static (50 kb FR, IT, ES, JP) | HTML, JPG, GIF, PNG |
| Thank You Page | 300 x 250 px | 200 kb HTML, 40 kb static (50 kb FR, IT, ES, JP) | HTML, JPG, GIF, PNG |
| Search Skyscraper | 160 x 600 px | 200 kb HTML, 40 kb static (50 kb FR, IT, ES, JP) | HTML, JPG, GIF, PNG |
| Thank You Page | 300 x 600 px | 200 kb HTML, 50 kb static | HTML, JPG, GIF, PNG |
| Select a Payment Method Page | 180 x 150 px | 15 kb | JPG, GIF, PNG |
Getting started with your Amazon advertising campaign
First, you have to get to Amazon and sign in to your vendor or seller account.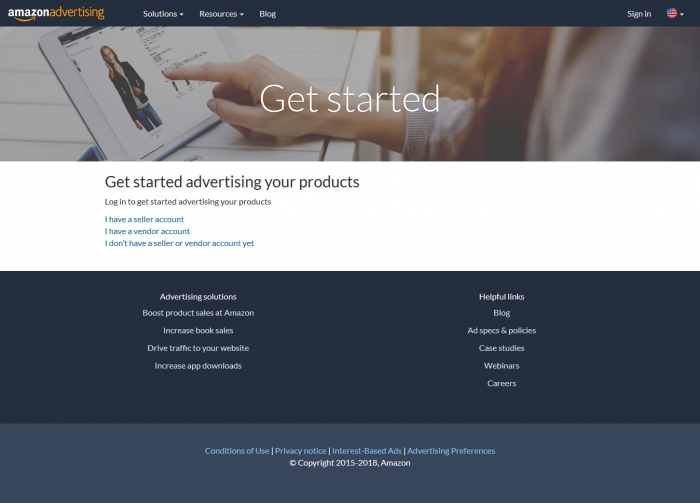 If you are new to the marketplace, select the third option, and create your account right away.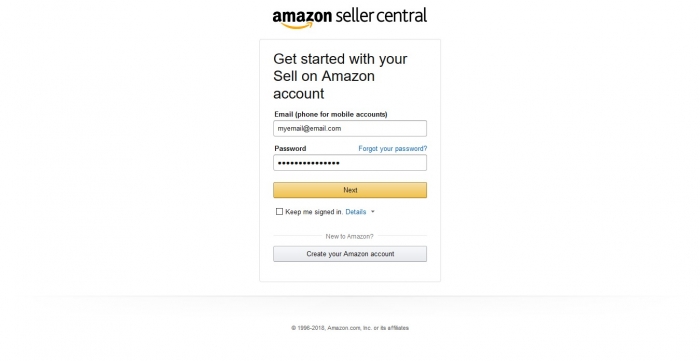 Once you have set up your account, you can log in and start creating your first advertising campaign on Amazon.
The first thing you need to choose at this point is what type of ads you want to serve. As we've already discussed, you can choose to pay for sponsored product ads or Amazon product display ads. You can choose either one of these options but you can choose both as well.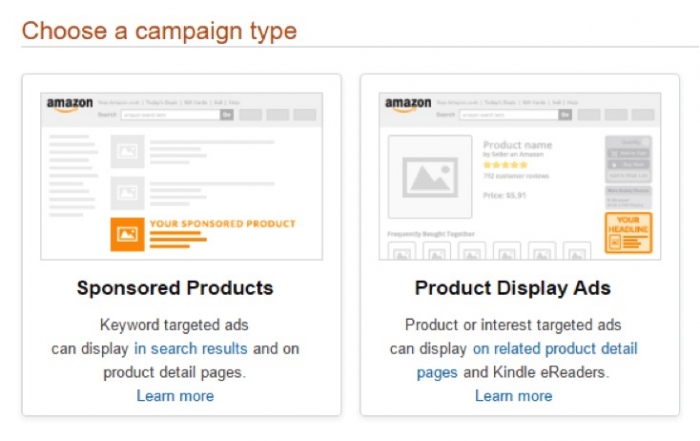 The next step is to choose your budget. At first, I recommend you start slowly by boosting a single product with a minimal budget.
Thus, you will be able to learn, step by step, how the system works and of course, what to do in order to improve your strategy.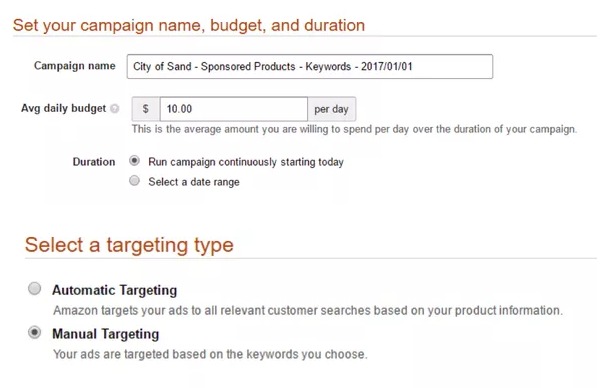 As you can see from the above screenshot, you have two main options when it comes to targeting. You can choose manual targeting or automatic targeting.
My recommendation is to go ahead with manual targeting. Amazon Sponsored Products ads will make some suggestions. Pick the ones that match your goals and products and lose the others.
At first, you will probably know almost nothing about which ones of them convert better. There's no problem, you can come back later and add more keywords, as you learn more about your campaign and how Amazon ads work.
Don't be cheap on keywords.
It will not cost you extra if you choose more keywords. Therefore, try to come up with as many as you can, besides those already suggested by Amazon.
How to improve Amazon advertising?
In order to get better, you need to evaluate the effectiveness of your Amazon advertising campaign.
Once you have completed setting up your campaign and Amazon approves your sponsored product ads, you can relax for a few days. It takes time until the first stats will be available to you. Based on clicks and impressions, you can then evaluate your sales, your keywords, and your overall strategy.
After a few weeks, you'll know exactly which keywords are working and which keywords are useless. Also, during this time, you can brainstorm for more keywords and other products you might want to advertise on Amazon.
Also, apart from the sponsored products ads, you can choose a display campaign and run it together with the old one. Your chances to sell more products will increase with the extra exposure you will get from working on two different strategies.
Other important tips you can apply to your campaign for increased efficiency:
1. Use the automatic campaign option
If you are not sure which keywords will work best for your campaign, instead of choosing the manual targeting option, choose instead the automatic feature. If your budget allows you, run two similar campaigns at the same time, one set up automatically and one set up manually.
Thus, if you notice that the automatic campaign delivers better results, you can always use the search terms and keywords that were generated by Amazon in your future manually set up campaigns.
This is a great opportunity to make sure you are using the best keywords and that nothing will be left to chance.
2. Make sure your keywords are optimized for your products
It is important to make sure that people who search for specific products do not land on entirely different sponsored pages. Do not try to trick them with fake keywords.
They should be relevant for Amazon users' search queries. If you are not sure which keywords are irrelevant, look at your stats and remove those who don't have any impressions. Maybe some of them are relevant but if they do not generate impressions, you are paying for nothing.
Removing them is, therefore, a win-win situation.
3. Use negative keywords and phrases
While you can always be successful by setting the correct keywords and phrases, there's yet another method to ensure your product ends up in the correct search queries.
Amazon allows you to set up negative keywords and phrases and avoid any possible issues of this sort. For instance, if you are selling a product that is adult only, you can add "kids" and "children" to the list of negative keywords.
Thus, if someone looks for similar products for their kids, they won't receive your products as a result of their search. Also, you can set up negative phrases, which will allow you to exclude from the queries any results that contain a negative keyword as part of a phrase.
4. Don't get hung up on low performing products
Your campaign will not end with the initial set up. You will have a lot to learn with every week that passes and the chance to correct many of your initial mistakes. While it's ok to make mistakes at first, it's also recommended to learn from them and avoid repeating them as much as possible.
We've already talked about changing your keywords if they do not suit your goals.
What about products?
Well, you should also consider removing the low performing products from your campaign. There's no point in losing money just to get them indexed over and over again, with low results. If they do not perform regardless of how much you try, get read of them and start paying for ads that convert.
After the first one or two months, it will be easier for you to evaluate your products and decide which ones to keep advertising for.
5. Make sure your display ads are top-notch
As I have already mentioned, display ads do not appear in search queries. Instead, they appear on site, featured in sidebars or between descriptions of the products.
They are similar to any other types of display ads that are published online.
While Creatopy allows you to create professional-looking banners ready to be displayed on the website, you should also consider adapting the text and visual style to Amazon itself.
People who browse a marketplace like this one are in general people who are searching for specific products. They are people who are ready to buy. Adapt your banners to them.
Make your copy text specific, transmit direct messages, and if your budget allows you, give them incentives.
Make them realize that your offers are better than your competitors' and you will not fail.
Conclusion
Amazon is a great place to try to sell your products online.
It's a popular international marketplace with a large pool of customers from all corners of the world. It gives you instant access to this wide audience which is a great starting point for an online store.
However, you need to make sure that your products get noticed by the customers.
They will not sell by themselves, just because they are cheap, of good quality, or in style.
They need exposure.
Amazon advertising features allow you to get the exposure you need and sell your products more efficiently and in larger quantities. If you set up your campaigns well, learn from your mistakes, and improve your strategies consistently, then you will have nothing to worry about.
Did you try Amazon advertising so far? What were your results?