16
minutes read
Let's talk banners.
The advertising kind, not the ones noblemen held during battles in medieval times.
As you probably know, banner advertising means using graphic banners to promote a brand or specific products or services.
What are the different types of banner ads? Digital and print banners.
The latter has been around for centuries, but online banner ads first saw the light of the world wide web in 1994.
Both are widely used to this day, but there's a clear preference for web banner advertising because it's usually more cost-effective, and the results are easily measurable.
What Are Standard
Banner
Sizes?
Banners come in different shapes and sizes. The most common dimensions are known as standard banner sizes.
Standard banner sizes for web use refer to a set of banner dimensions regulated by the Interactive Advertising Bureau (IAB), which is the organization that supports the online advertising industry by developing technical standards and best practices.
Print standard banner sizes, on the other hand, are a result of historical precedent, practical considerations (like the size of commonly available materials and the cost of printing), and convention. They have evolved over time, reaching the print banner dimensions that are being used today.
Importance of Using Standard Sizes
Display ad campaigns can help you achieve various objectives, including driving brand awareness, increasing website traffic, and generating leads or sales. At the same time, they can also be used for remarketing purposes to improve conversions.
The way they work is that publishers put for sale ad units on different websites, mobile apps, videos, or games, and advertisers rent them to display their web banners.
These ad units generally respect the standard banner ad sizes provided by the IAB. To be able to advertise in these slots, marketers need to make sure their ads respect these exact banner size regulations.
Because they're so widely used, standard banner sizes' effectiveness has been proven many times, so you can be sure the likelihood of your campaign performing well is high.

It's a similar situation with printed ads. You need to use standard banner sizes to be able to advertise on billboards, bus stops, or other places that have specific size requirements. Plus, placing an order with any printing service will be much easier because they also work with standard banner sizes.
What Will You Learn?
Some standard banner ad sizes tend to perform better than others, and advertisers use them more frequently. To ensure your ad campaign's effectiveness, it's critical to know which banner sizes generate the best results.
In this article, we will give you a starting point by going through the most commonly used banner sizes for online use and print. We'll also cover some factors you should consider when choosing banner sizes and a few best practices for banner design.
Let's get into it.
II. Factors to consider when choosing banner sizes
III. Best practices for banner design
I. Common Banner Sizes
Cutting straight to the chase, whether you want to manually create banner ads of use a marketing AI tool, we're going to go over the most common banner sizes for web and print so you know exactly which are the go-to dimension picks regardless of the type of banner ad you want to create.
Let's start with the best banner size for website use.
A.
Web banner sizes
Using an online banner maker can help you get the dimensions right, but it's up to you to pick the web banner sizes that can maximize your campaign reach.
Since Google Ads is the most popular ad network for display ads, we decided to look at the banner sizes they recommend.
According to Google, these are the top-performing display ad sizes. The same standard banner sizes can also be found on Google's list of most common sizes for responsive display ads. This means using them will help you ensure sure your campaign budget is spent in the most effective way possible.
| | | |
| --- | --- | --- |
| Dimension | Name | Maximum size |
| 728 x 90 | Leaderboard | 150 KB |
| 336 x 280 | Large rectangle | 150 KB |
| 300 x 250 | Medium rectangle | 150 KB |
| 300 x 50 | Mobile banner | 150 KB |
| 160 x 600 | Wide skyscraper | 150 KB |
As seen in the table above, regardless of your chosen website banner dimensions, the file size can't exceed 150 KB per creative on the Google Ads platform. For more information on this banner property and why it should matter to you, we recommend you read our article dedicated to banner file sizes in display advertising.
Let's get into more detail about these sizes so you know all potential on-page placements and best practices for each.

1) Leaderboard (728×90 ad size)
As the name suggests, this typical banner size is usually displayed noticeably at the top of a web page. Although commonly placed above or below the header of a website, leaderboards can just as well sit above the footer, where they're less likely to be seen and clicked on.
Still, if you want to get your ad in front of as many people as possible, this is a good option to consider. Not to mention there's generally more ad inventory available from advertisers for this size.
Also, because you get more ad inventory, you can increase your earnings when text and image ads are enabled.
For optimal performance, Google advises using this banner ad size on forum sites.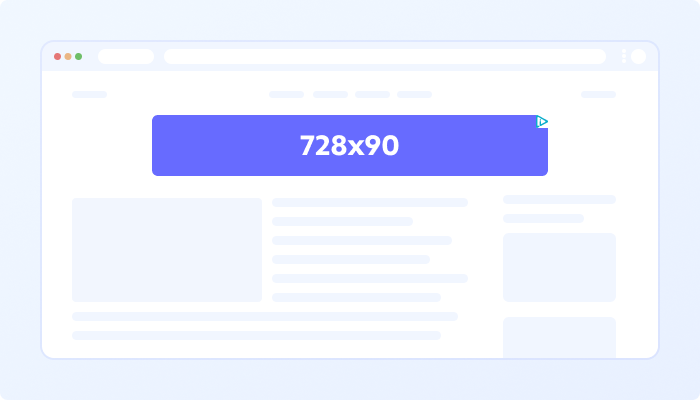 2) Large rectangle (336×280 ad size)
Even though this standard size for banners doesn't usually get as many impressions as the first one on this list, it's still a popular option. It is the larger version of a medium rectangle (300×250), which makes it perfect for advertisers that want the benefits of a medium rectangle but need more ad space to convey their message. Being larger, it also works great for animated or video ads.
Just like its smaller counterpart, it performs best when placed within text content or at the end of a post, and it generally has more ad inventory available.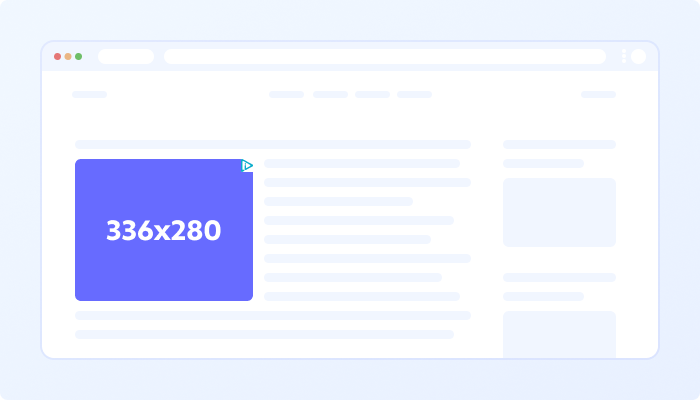 3) Medium rectangle (300×250 ad size)
The medium rectangle is usually the best-performing banner advertising unit available. It's also the most compact one, so it doesn't take up too much space on a web page, meaning it looks good on both desktop and mobile.
Similarly to the large rectangle, the medium rectangle performs best when embedded within text content or placed at the end of an article. Website owners tend to have more inventory for it because it's convenient to display and it's not perceived as disruptive as other ad sizes by the users.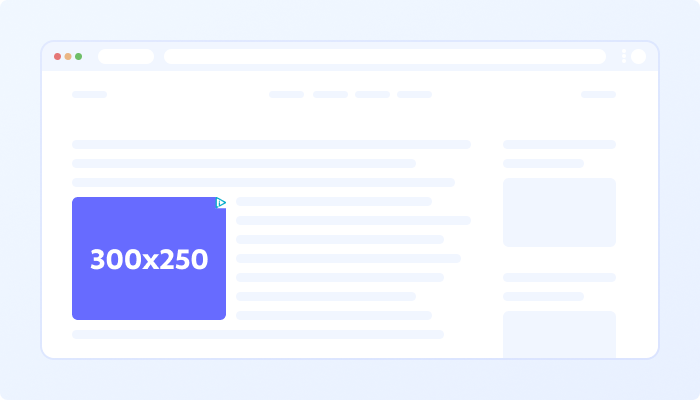 4) Mobile banner (300×50 ad size)
As you can tell from the name, this ad format is optimized for mobile devices. It is also the smaller counterpart of the 320×100 size, also known as the large mobile banner, but it beats its bigger brother in terms of performance. The mobile banner is usually placed at the top or bottom of smartphone screens and has excellent visibility.
If your traffic comes preponderantly from mobile, you should definitely give this one a try. While it doesn't provide much space to work with, a compelling ad design paired with a short and convincing ad copy can get you optimal results.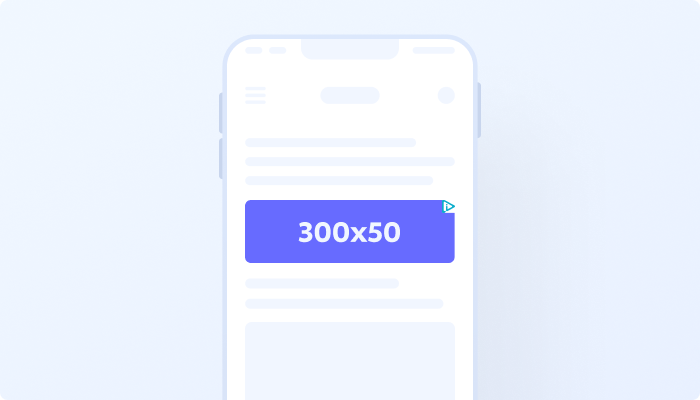 5) Wide skyscraper (160×600 ad size)
This tall banner usually stands on the left side of a webpage, taking space on both above-the-fold and below-the-fold areas. This comes with the pressure of needing to create stunning visuals that draw people in because they have to scroll to see the entire ad. Still, thanks to their large size, wide skyscrapers are hard to miss and consistently perform well.
This might not be the best-performing banner size out of the five on this list, but it's definitely worth considering for your display ad campaigns. Plus, as an advertiser, you have much more elbow room to get your message across.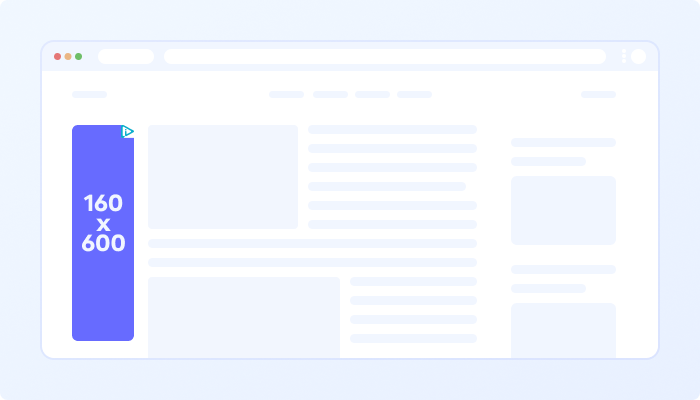 B.
Print Banner Sizes
If it's a print advertising campaign you intend to run, the dimensions couldn't be more different. We've analyzed information regarding banner dimensions from multiple printing services to help you navigate sizing.
In the table below, you can find the most popular print banner sizes in feet, inches, and centimeters. Remember that print banners can be oriented in any way you choose. For instance, a vertical banner size of 3′ x 6′ can also be used as a 6′ x 3' horizontal banner size. It depends on the way you print it.
| | | |
| --- | --- | --- |
| US Size (Feet) | US Size (Inches) | Metric Size (Centimeters) |
| 2′ x 5′ | 24″ x 60″ | 60cm x 150cm |
| 3′ x 6′ | 36″ x 72″ | 90cm x 180cm |
| 4′ x 8′ | 48″ x 96″ | 120cm x 240cm |
| 6′ x 4′ | 72″ x 48″ | 180cm x 120cm |
| 8′ x 2′ | 96″ x 24″ | 240cm x 60cm |
1) 2′ x 5′
This standard print banner size is sometimes considered the most commonly requested out of the five on this list. Although it is the smallest one, this banner can still catch people's attention even from a slight distance, so your brand can still get the awareness you want.
Thanks to its more modest dimensions, this banner is also easy to transport, so you don't need to worry much about logistics. Depending on your needs, it can be placed on buildings, walls, fences, or attached to lamp posts.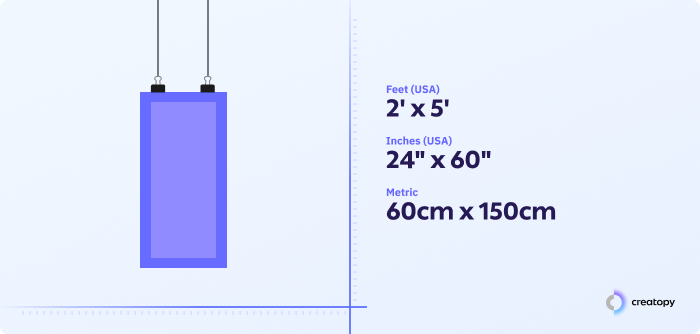 2) 3′ x 6′
Slightly larger than the previous size, the 3′ x 6′ banner is considered small to medium among printing professionals. It is generally as requested as the previous size, which is probably due to its compact dimensions.
This banner can satisfy any advertising needs your brand might have, including website publicity to attract more traffic, highlighting sales and promotions, or product showcasing. Just like the 2′ x 5′, the 3′ x 6′ print banner can be displayed in many ways, as well as mounted on lamp posts.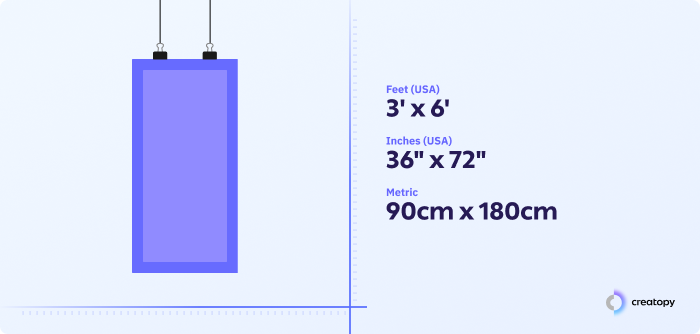 3) 4′ x 8′
If you want your printed advertisement to be on the larger side, this is the size you need. In fact, this banner has the biggest dimensions on this list, so you'll definitely make an impression on your potential customers.
The 4′ x 8′ banner is perfect for big product launches that you want as many people as possible to learn about. It can be displayed on outdoor mini-billboards or buildings situated in high-traffic areas.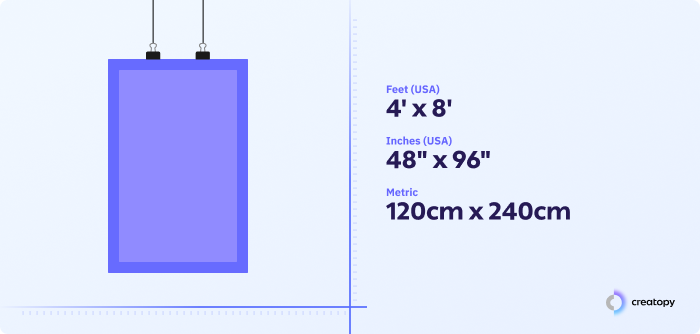 4) 6′ x 4′
Although a bit smaller than the 4′ x 8′, this banner still offers plenty of space for advertisers to get creative with their design and message.
If you print your layout horizontally rather than vertically, you'll have a 4′ x 6′ banner, which can be a less expensive alternative to the banner size above. Of course, assuming the same fabric is used, as some materials can be pricier than others. It can also be displayed on outdoor mini-billboards or buildings, giving your ad the proper exposure.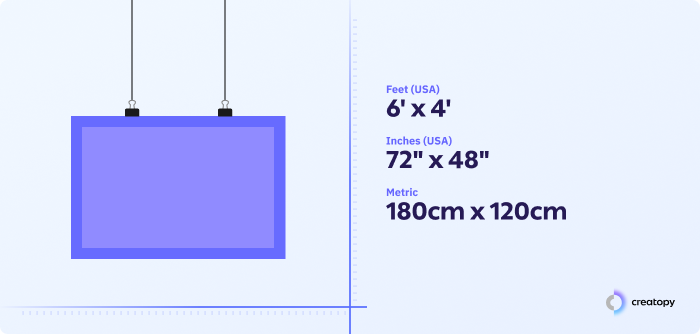 5) 8′ x 2′
This 8 feet high by 2 feet long banner has a vertical/portrait layout but can also be easily turned into a horizontally oriented banner. Being so tall, it is best suited to be displayed on building facades only, as billboards, walls, or lamp posts can't accommodate it.
When kept as a vertical banner size, it is generally used for ads with very short messaging because longer texts would have to be oriented vertically as well, making it more difficult for people to read them.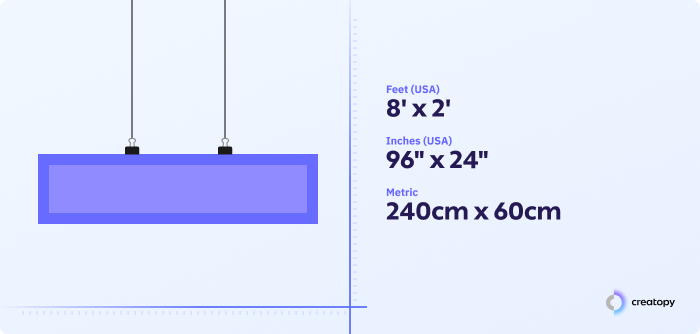 II. Factors to Consider When Choosing Banner Sizes
We've gone through the most common banner sizes for web and print, so you now know what dimensions usually bring the best results. But, as you might imagine, each campaign is different. You need to be able to tell what works best for your particular case.
Here are a few things to consider when choosing to ensure you get the right banner size for your needs.
A.
Target audience
The first thing you should look at when deciding which banner sizes to use for an online advertising campaign is your target audience. Reflect on things like their age, preferences, and device usage. Young people are more likely to use smartphones or other types of portable devices such as tablets, while older people may be more inclined towards desktops.
Let's assume your target audience is part of the younger generation.
There are some banner sizes created specifically for mobile use, the most popular being mobile banner (300 x 50), large mobile banner (320 x 100), and mobile leaderboard (320 x 50). If you have no idea which is the average age of your target audience and what type of devices they prefer, you might be tempted to use larger sizes, which are more suited for desktops.
You can avoid hurting your campaign performance by taking the time to review these aspects beforehand.
For print banners, there's not that strong a connection between your target audience and the size of the banners. There are far more important factors that should influence your decision, such as the placement of the banner.
B.
Placement of the banner
Digital advertising banner dimensions have been developed for different ad placements on web pages and in apps. Essentially, the size of a banner ad can impact where on the screen a user sees it or even if they notice it.
Moreover, web banner dimensions can influence where your ad is displayed on the page.
Above-the-fold ad placements are the most desirable as they perform best. Why? Because users don't always scroll past the first screen and might miss below-the-fold ad placements.
Unfortunately, advertisers that publish through Google Ads don't get to choose exactly where their ads are displayed on the page. The closest they can get to do this is to pick specific standard banner sizes that are known to be usually shown above the fold. For instance, the leaderboard banner size usually sits at the top of a webpage, making it a great option.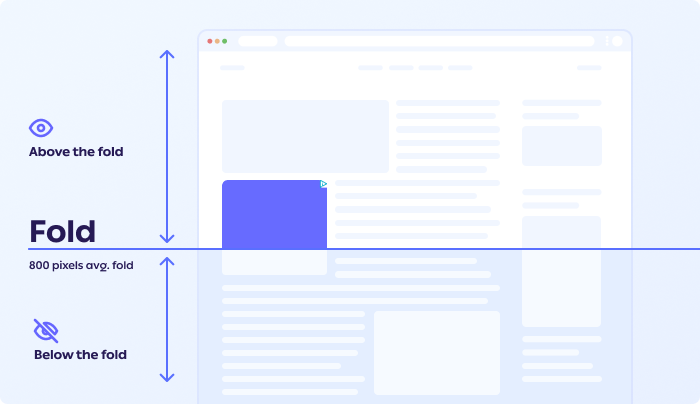 Keep in mind the placement of "the fold" can change depending on the user's device and screen size. Ads that are above the fold on one device may not be there on another.
For printed advertising, where you want to place the banner can also help you pick the right dimensions.
Banners displayed outdoors, on buildings, billboards, or bus stops should be printed in bigger sizes so they can be seen from a distance and have your message reach more people. On the flip side, printed banners meant for indoor display often call for specific size requirements as there can be limited space available to display them.
Take into account that the placement of the banner also determines the fabric you should select at the printing place, as some fabrics can only be used indoors, while others are also appropriate for outdoor use.
C.
Budget
Some website banner sizes can be more expensive than others.
The cost of web banners usually depends on factors like ad inventory, format (static or animated/video), placement, targeting, and even the ad network you run ads on.
Banner size is directly linked to ad inventory and placement, meaning a banner size can cost more or less depending on how much inventory there is for it and where the available ad slots are placed on the page.
However, because the banner cost is influenced by so many factors, it's difficult to say which banner sizes are more or less expensive than others.
For printed banners, it's easier to see the connection between banner size and budget. Basically, you pay for what you get, and usually, the larger the banner is, the higher the cost.
Still, there's another factor that can affect pricing—material selection. Print banners are usually printed on vinyl, but most print shops offer a variety of materials to choose from, including fabric/cloth, mesh, foam boards, Gator Board, and so on. Some of them are more cost-effective than others.
But here's a tip on how you can save some money: some printing services offer volume discounts, meaning that when you buy multiple units on a print banner, they can give you a better deal.
D. Message
Choosing the right banner dimensions can also ensure you convey your message effectively.
Let's take website banners as an example. If you try to cram a bunch of words in a 300 x 250 banner size, for example, the result will probably be overcrowded and difficult to read. The ad example below proves it.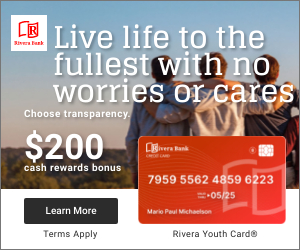 A shorter message makes all the difference in the world for this banner design.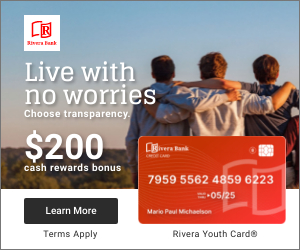 Even though the differences in standard website banner sizes are not that major, a few extra pixels can go a long way as far as effectiveness is concerned. In the end, your goal is not just for people to see your ad but rather to get them to click on it and then convert the leads into customers. This is where banner ad sizes come in handy.
For print banners having your text be readable and aesthetically pleasing might be even more important because you have to factor in the distance. People might see your banner from afar, meaning they could have difficulty reading your message as is.
If you have a smaller banner size and you overcrowd the design with text, you'll probably fail to deliver your message altogether.
III. Best Practices for Banner Design
Much like banner sizes, the way your banners look can have a huge impact on performance. This is true for both print and web banners, and there are some design considerations you should always keep in mind to ensure the effectiveness of your ads. Let's take a look at the most important ones:
A. Clean and
simple design
Think of it like this: the main purpose of your banner is to get your message across to the target audience and make them take action. However, the thing they notice at first glance is the design.
A best practice is to keep banners visually simple without adding too many elements that overcrowd the layout and distract viewers from the message. This means you should use few stock photos or illustrations and leave room for other ad design elements like text, CTAs, or logos.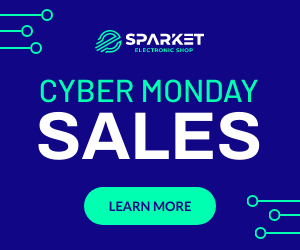 Fonts are also important in terms of readability. Refrain from using more than two, and pick fonts that are easily readable and go well together. We have an article covering Google font pairings that go hand in hand that could serve as inspiration. Alternatively, take a look at our display ad design trends to see which are the most popular fonts for web banners among Creatopy users.
You should also be mindful of banner chromatics. Every color has a meaning and best matches. I mean, don't get me wrong. There's no need for you to dive deep into color theory (although it would help), but knowing which are the most eye-catching color combinations for banner ads is a must.
B.
High-quality images
and graphics
High-quality digital images have a higher pixels per inch count (PPI), resulting in a better-quality image. All the graphics you should use for your web banner designs should have at least 300 PPI or more to be seen as high-quality.
For print, image quality is measured in dots per inch (DPI). The higher the DPI count, the sharper the image will be. You want every design detail to be rendered as clearly as possible. The DPI determines the maximum size your image can be enlarged to before it starts to pixelate. 72 DPI is usually the minimum resolution for printing, and 300 DPI is the maximum resolution.
Whenever possible, you should try to use graphics that can be enlarged to any size while remaining perfectly crisp, such as vectors. They are not based not on pixels or dots, so you don't need to worry about that.
The file format you pick when saving the banner can also affect the overall image quality. We've written about the best file formats for display ads in a previous article. Banners destined for print can have different file types, the most popular being PDF, JPG, and PSD.
The material you print your banner on is also important. On some materials, printing is sharp, while on others, your design may appear blurry, so pick wisely.
C.
Clear call-to-action
In the end, your goal is not just for people to see your ad but rather to purchase your products or services, be it in a physical store or on your company's website.
With web banners, that translates into getting users to click on your ad. The conversion from lead to customer is much faster and smoother than with printed ads. However, both these types of banners need clear messaging, so people know what you want them to do. This way, the chances of them making a purchase are higher.
To give you a better idea of what a web banner CTA should look like, take a look at this inline rectangle template you can use as a starting point for your design in Creatopy. "See more" is a short call-to-action that invites viewers to click and discover more products. Straight and to the point.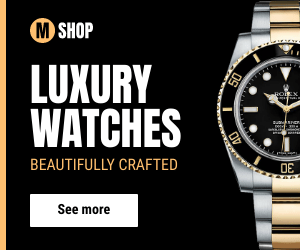 Generally, digital banners have a CTA button like the one above, which doesn't provide much space, so short phrases are the norm.
Printed banners, on the other hand, may or may not have CTAs. Maybe because people aren't expected to take action at that precise moment.
For example, the Spotify banner below doesn't have a CTA. But does it really need one? The copy certainly makes an impression. And, after all, it's Spotify we're talking about.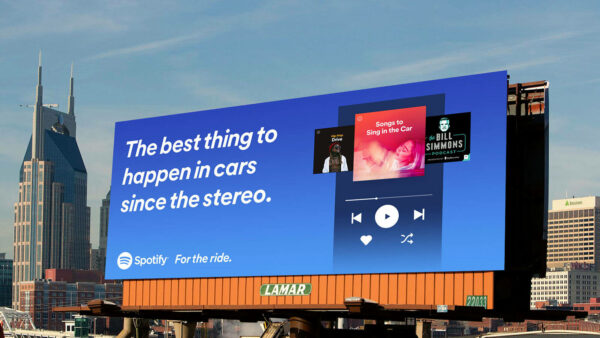 D.
Mobile responsiveness
Naturally, this best practice refers to digital advertising particularly, and it comes down to how your banners look on mobile devices.
Luckily, web banners published on the Google Ad Network are responsive by default. They can automatically resize to fit any screen size, including that of mobile devices.
However, that doesn't guarantee your banners will be as impactful when resized. For instance, your text might become too small to be read. But, fear not. You can avoid this and maintain the same performance by making sure your design is mobile-friendly from the get-go.
How exactly?
Focus on images, shorten the text, and make sure it's readable. If you want to have a bigger impact, leverage video ads—it's a failproof way to get your banners noticed. Ah, and if you do this, make sure to grab their attention from the first few seconds.
One important side note is that the landing page users end up on after clicking on the banner should also be mobile responsive. Otherwise, they probably won't convert, regardless of your banner ad's effectiveness.
IV. Conclusion
You've reached the end of the article. Kudos to you if you made it this far.
Hopefully, you now have a better understanding of what standard banner sizes are and which are the most commonly used ones in print and online advertising.
A. What to keep in mind
When in doubt about choosing the right dimensions, turn to the banner size chart in this article. Remember also to take a look at your target audience, consider your budget, and where you want to display your banners or reflect on your message.
The design also has a huge impact on ad performance, so make sure to follow the best practices for banner design we provided.
B. Importance of using standard banner sizes
It's vital you use standard size banners for both print and online advertising.
On the web, available ad slots are made to fit the standard banner sizes. Using other dimensions will result in you not being able to upload your ads. Alternatively, you'll manage to complete the upload process only to have your banner's aspect ratio ruined, achieving that deformed image look.
If you use any dimensions other than standard ones in print, you run the risk of them not fitting in certain spots you want to display them in, such as billboards.
C. Final thoughts
Remember that using specific banner sizes doesn't guarantee the success of your advertising campaign, but it definitely helps you get closer to the desired results.
To get started with display advertising, you can consider the five standard website banner sizes in this article for your campaign. Just make sure to do a few different A/B tests to figure out which size works best for the audience you're targeting.
Your results may not be excellent from the get-go, but you can optimize your ad campaign for better performance along the way.