10
minutes read
I think we can all agree that the font you choose can make or break a project.
In previous articles, we've talked about cool banner fonts, hand lettering fonts, and modern fonts.
Today, I want to dig into another font related topic—script fonts.
These types of fonts have an exponential impact on the harmony and overall feel of your designs. Therefore, selecting a cursive typeface requires extra attention.
In exchange, a thoughtfully chosen script font will capture attention and lead the eye like no other lettering style. You can also use it to fine-tune your design to convey the mood you want to go for with pinpoint accuracy.
Whether it's a formal, professional design that needs a personal touch or a fun weekend project where you want your creative flair to shine, a well-selected script font can take your idea from zero to hero.
I've sifted through hundreds of the most popular script fonts—an excellent exercise to get inspired for your next design project.
But you might not have the luxury to spend hours searching for the best script font out there, so check out our shortlist of some of our favorite script fonts.
1. Southern Aire
Created by Måns Grebäck, Southern Aire is an authentic retro calligraphic typeface with a 50s nostalgia feel.
Due to its legibility, it's perfectly functional for medium-length texts such as a quote or even a short description where you want to go for a handwriting effect.
However, these script letters are most impactful when they stand alone, such as when used in a logo. It works fine in print as well as display.
If you're looking for something that delivers the cursive, natural qualities of a brush-type font but without the rough, unfinished feel, Southern Aire is worth taking a look at.
It also has multilingual support and a large number of special characters. Oh, and it's free for personal use, so go ahead and give it a try.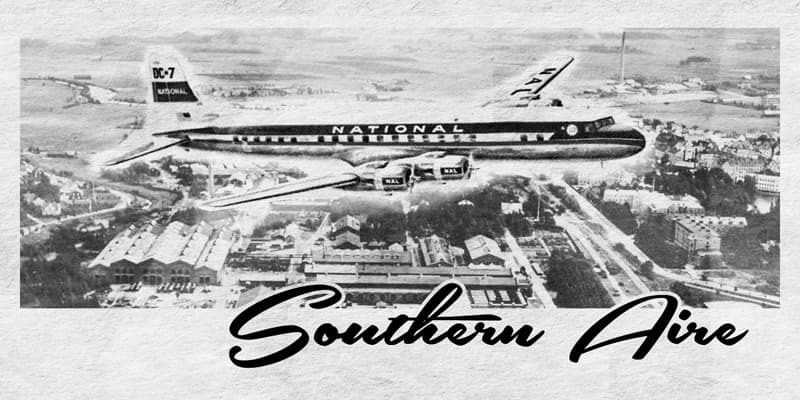 2. Milles
Looking for stylish free script fonts for a signature, a watermark for your photos, or a hip project that's missing something?
Milles is a versatile free script font courtesy of Fortunes Co. that includes 151 unique ligatures as well as 45 alternates.
With its signature felt-tip texture and fluid lines, it's such an expressive script writing font you can almost hear the creaking as the marker slides on a piece of paper.
It's an ideal fit for wedding stationery, ads, packaging, and just about anything that shouts for artistic, confident handwriting to add that dash of authenticity.
Milles is free for personal as well as commercial use.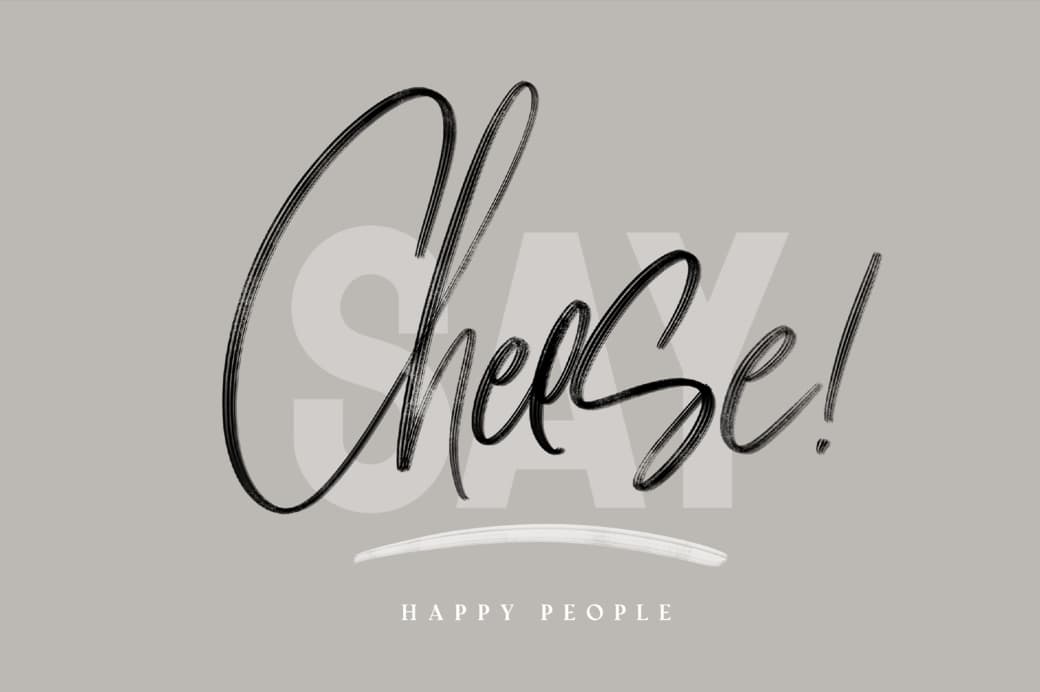 3. French Script
New typefaces hit the marketplaces every single day, but few stand the test of time.
French Script is one of the exceptions, having been with us for more than a century. It's still running circles around some of the modern designs when it comes to usability, legibility, and, perhaps most importantly, character.
If you want to lend elegance to your work, always have the French Script font handy.
It may be too fancy for some designs, but if the concept allows an extra curve or two, French Script's fabulous glyphs and swashes will make the message pop. The one-of-a-kind ligature design guarantees a fluid reading experience.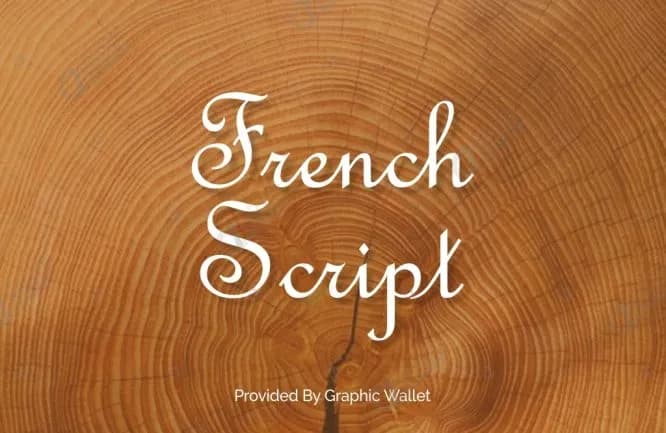 4. Fhoota Mhorgana
Here's a font with such unique lines you can build an entire brand identity around it.
These beautiful hand stroke letters with 203 characters, 199 glyphs, and several ligatures are also ideal for clothing design, stationery, labels, and so much more.
This modern script font shines brightest when used as a standalone asset, such as a logo.
Fhoota Mhorgana is free for personal use.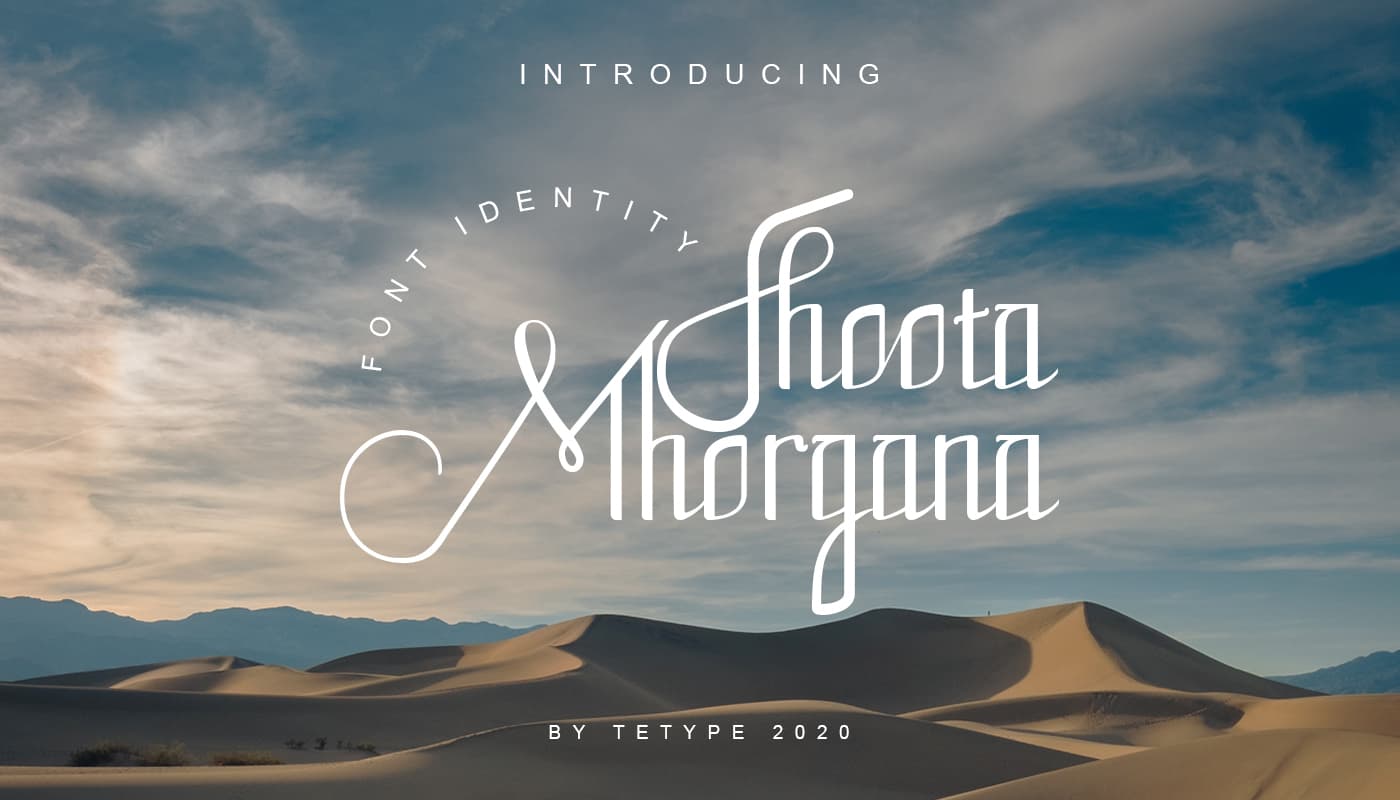 5. Sign Style
For literature-themed projects, plastic arts, or any other project where you want the design to radiate confidence and an artistic spirit, you can't go wrong with Sign Style.
This font is characterized by contemporary lines and sophisticated accents.
Sign Style is ideal for signatures, logos, quotes, and whenever you want that distinctive fountain pen handwriting feel.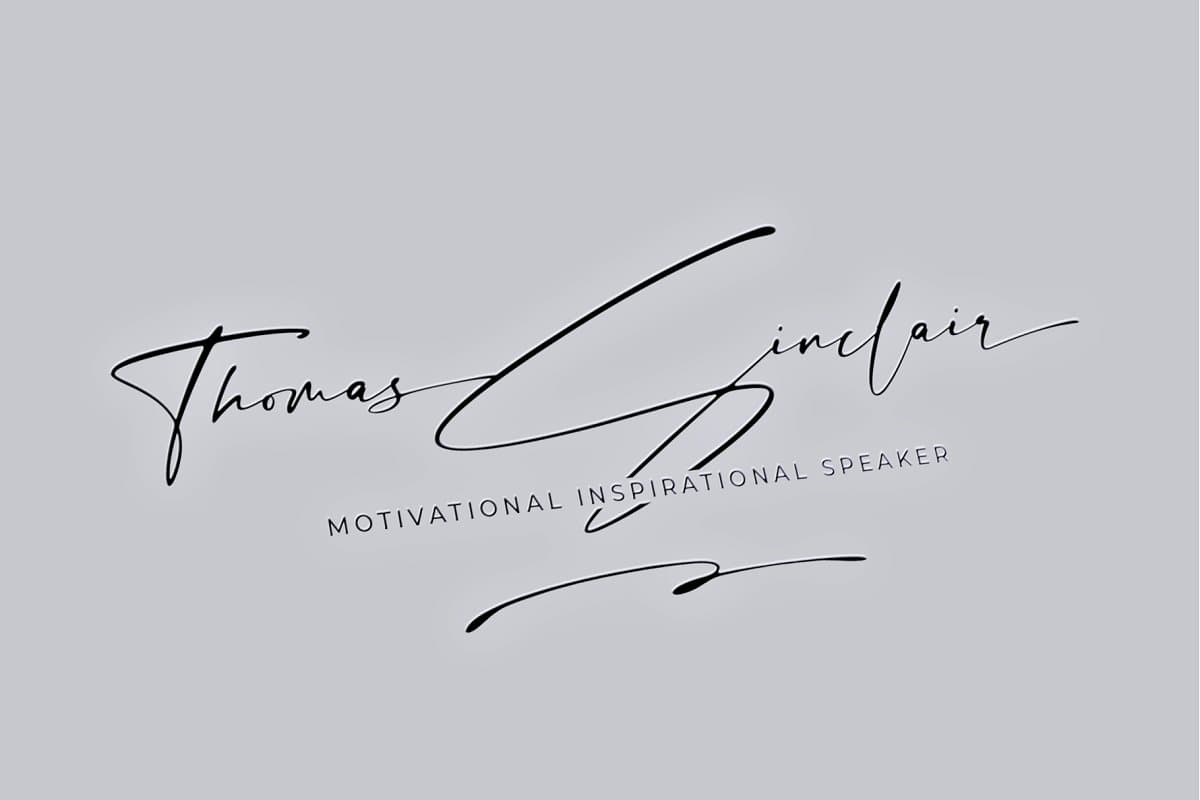 6. Groovy
Papa's got a brand new font! Groovy is no more and no less than what its name suggests—a funky retro font resembling the popular typography designs of the late 60s.
Bust out your bell-bottoms and those star-shaped shades, and launch your project straight to Boogie Wonderland.
For an extra trippy effect, use the included extrudes under your text and have fun with the 593 glyphs, pretty swashes, and ligatures.
Oh, and get down on it!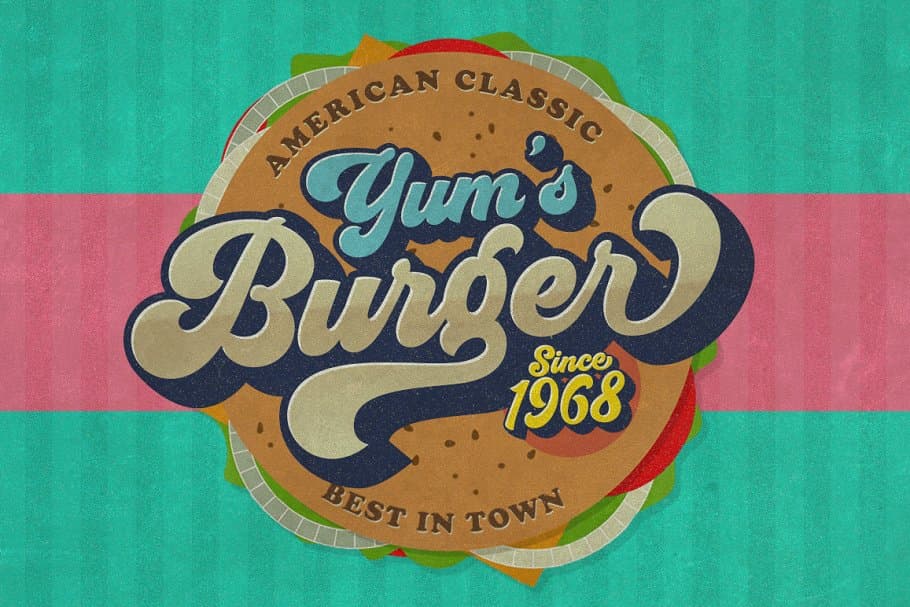 7. Faustine
This one is all about the beauty of imperfection.
Full of character, Faustine is not a modern script font, but preferably one that you'd use on the cover of a romantic novel or on a classy perfume or champagne bottle.
Charm is the name of the game, giving your design an attractive look and an approachable, almost flirty character.
The package includes uppercase and lowercase characters, numerals, along with a complete range of punctuation and ligatures.
The uppercase letters come with beginning swashes while the lowercase characters have a unique beginning as well as ending swashes for when you want to use this fabulous font to its full potential.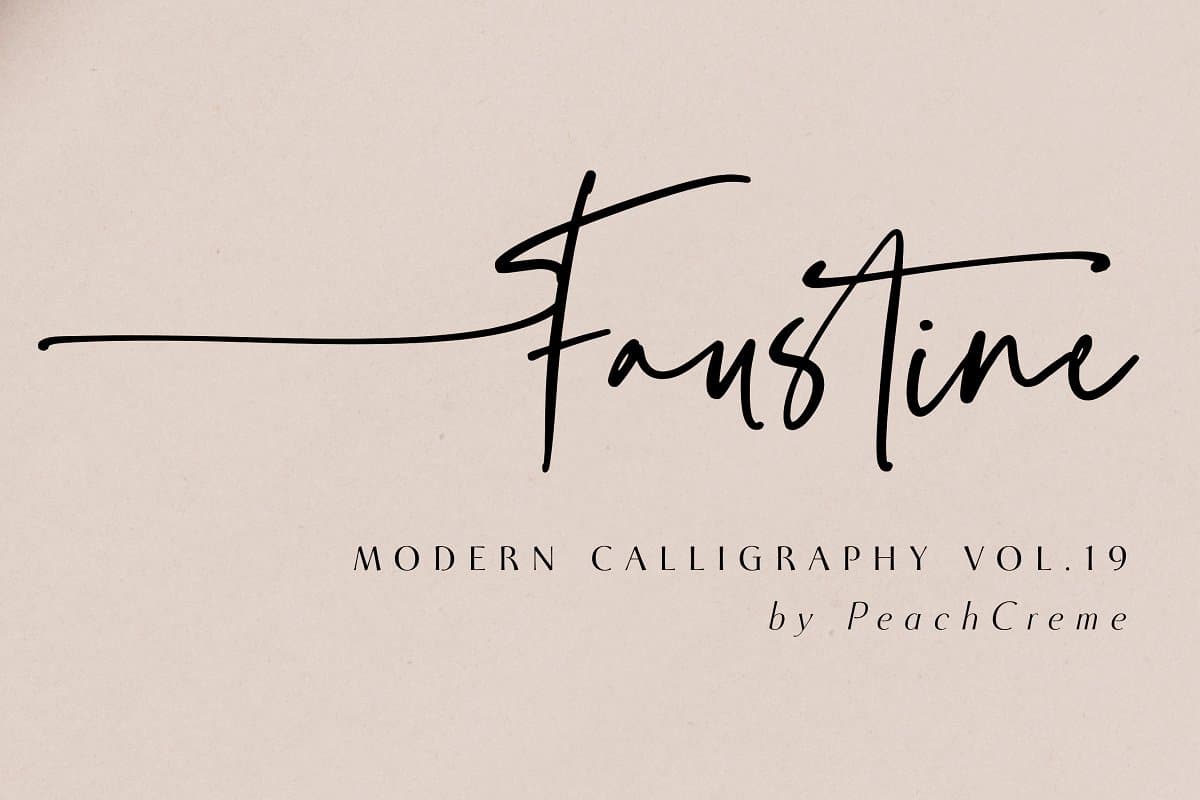 8. Billenia
Freedom, fun, and friends—if your design needs a more youthful feel, change the font to Billenia.
This sounded a bit like the instructions to one of those "just add water" instant noodles, but this free script font by Sarid Ezra is far from an off-the-shelf, cookie-cutter solution.
Billenia comes with stylistic alternates and swashes so you can create your own customized style. It's also multilingual, making it even more versatile.
This fun script font is free for personal and commercial use.

9. Ochre Script
If you want a more elegant take on the romantic, fountain pen-style calligraphic handwriting, you might want to consider this font.
A clever mix of spontaneity and perfectionism, Ochre Script is perfect for the odd occasion when you want to express attention to detail and artistic charm at the same time.
Created by Gizem Kiliç, the hand-drawn script letters will add a touch of elegance to any wedding invitation, but you can play around with them when designing business cards or even logos.
Ochre Script is free for personal and commercial use.

10. Crackpen
For a powerful, sporty effect, Crackpen's full-caps, handwritten script letters are a popular choice.
The confident strokes lend it a youthful force, and the chalk-like texture delivers that familiar vibe you want for social media.
The easily legible letters make this brush script font suitable for banners and posters, but it has been used for logos too. With their look of handwritten letters, brush script fonts can help your online ads stand out of the crowd.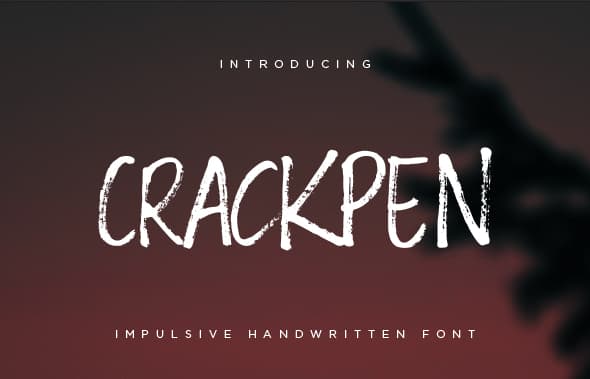 11. Edwardian Script
A real crowd-pleaser when it comes to cursive script fonts, the Edwardian Script was designed by Edward Benguiat in 1994.
It imitates calligraphic handwriting using a steel-pointed pen, hence the beautiful, sleek lines with varying thicknesses.
This particular typeface is among the most popular script fonts, and it's the go-to choice for wedding cards and loads of other uses where elegance is key.
It's multilingual with currency symbols, punctuation, numerals, and even several special characters, so you'll really struggle to find something that's not covered.
Edwardian Script is free for personal use.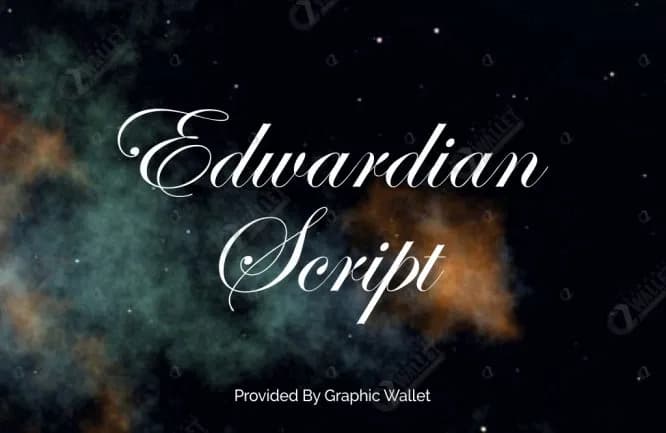 12. Hot Salsa
You can tell how much work went into this brush script font just by looking at the illustration below.
All the variations on the uppercase and lowercase letters, countless swashes, alternates, and ligatures are in perfect harmony.
Inspired by the classic sign-painting style and modern graffiti, this fresh font is a delight to play around with.
No wonder, as according to creators Ximena Jiménez and Ale Paul, it all started in old-school fashion, with a brush pen and a lot of paper. The dedication and the fun they had in the process comes through in each curve.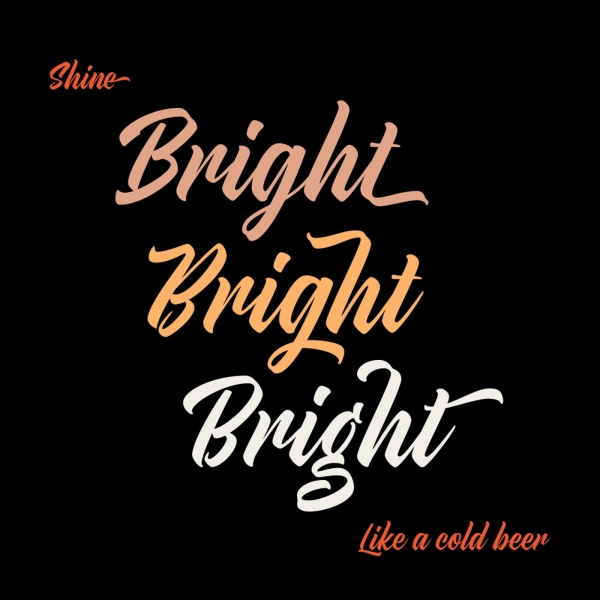 13. Palace Script
Stemming in the beautiful calligraphic designs of the 20s and 30s copperplate typography, the Palace Script font is one of the most recognizable classics in the industry.
It's prevalent in engravings, but its formal character makes it perfect for a business dinner invitation or a wedding card.
Palace Script is best used in large sizes. Otherwise, it becomes difficult to read, especially the lowercase characters. Other than this minor impediment, it is one of the more versatile cursive fonts that's been with us for almost a century.
And it is here to stay.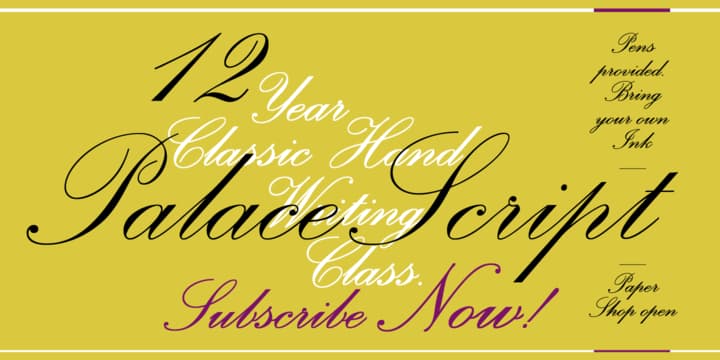 14. Kaiser Fraktur
Kaiser Fraktur summons the spirit of gothic chronicles.
And it's not just the distinctive lines that pay tribute to the literates of medieval Europe.
Its creator is so passionate about calligraphy, he claims he used a real broad nib and ink on paper to develop this unique script font.
It has gorgeous initials, swashes, and final letters, allowing you to create genuinely exclusive layouts.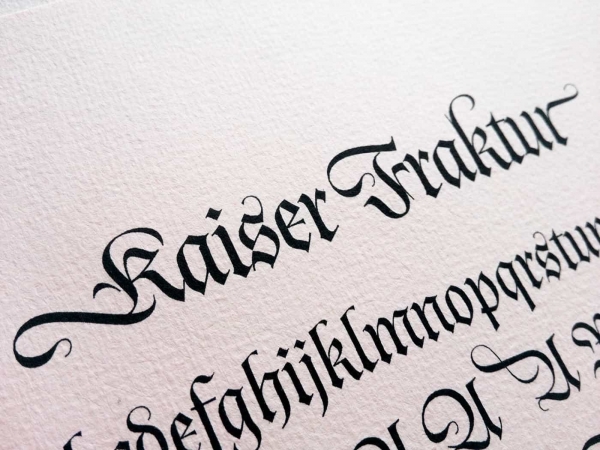 15. Madtags
Straight from the hood, this graffiti-inspired script font comes in four styles with over 300 unique glyphs.
Despite its underground roots (pun intended), Madtags remains a very functional font that's legible while adding an urban street vibe to your work.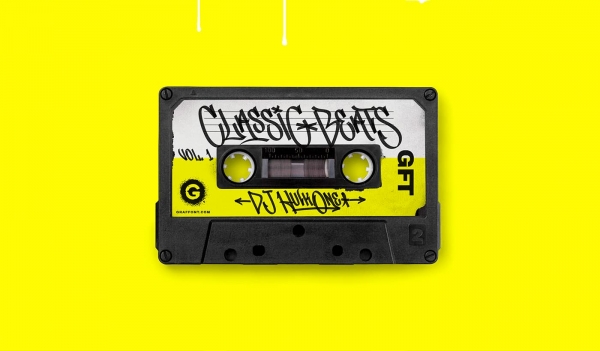 16. Sophia
Created by Emily Spadoni, the Sophia typeface is a playful take on the classic hand-lettered brush script font.
With dramatic weight variations and the fun front and end ornaments, it's a great choice if you want your type to diffuse a fun, childlike charm while still remaining very readable.
Sophia is free for personal and commercial use.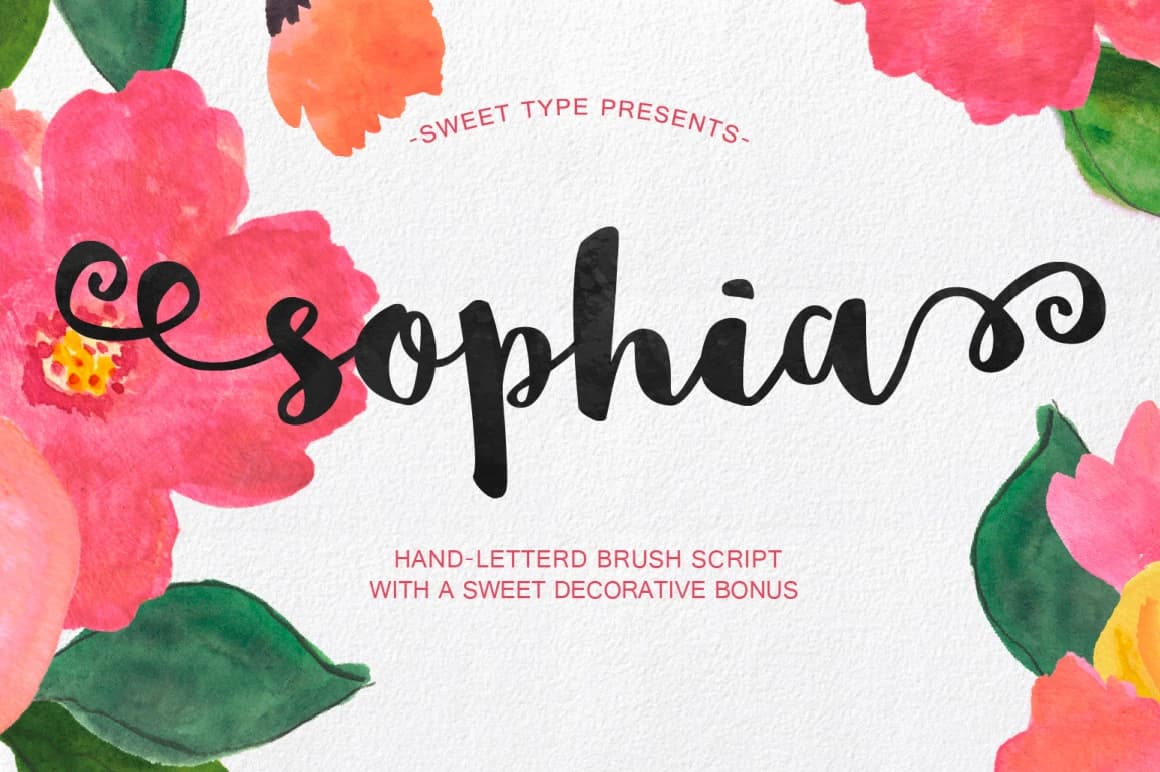 17. Fribourg
Designed to feel like a quick note you'd jot down on a post-it with a ballpoint pen, Fribourg's warm, smooth, single-weight lines hit the sweet spot between relatable and functional.
Its clarity makes it easy to read even in small sizes, but it's also well suited for branding and marketing when you want to add a personal touch and send friendly vibes.
Fribourg is free for personal and commercial use.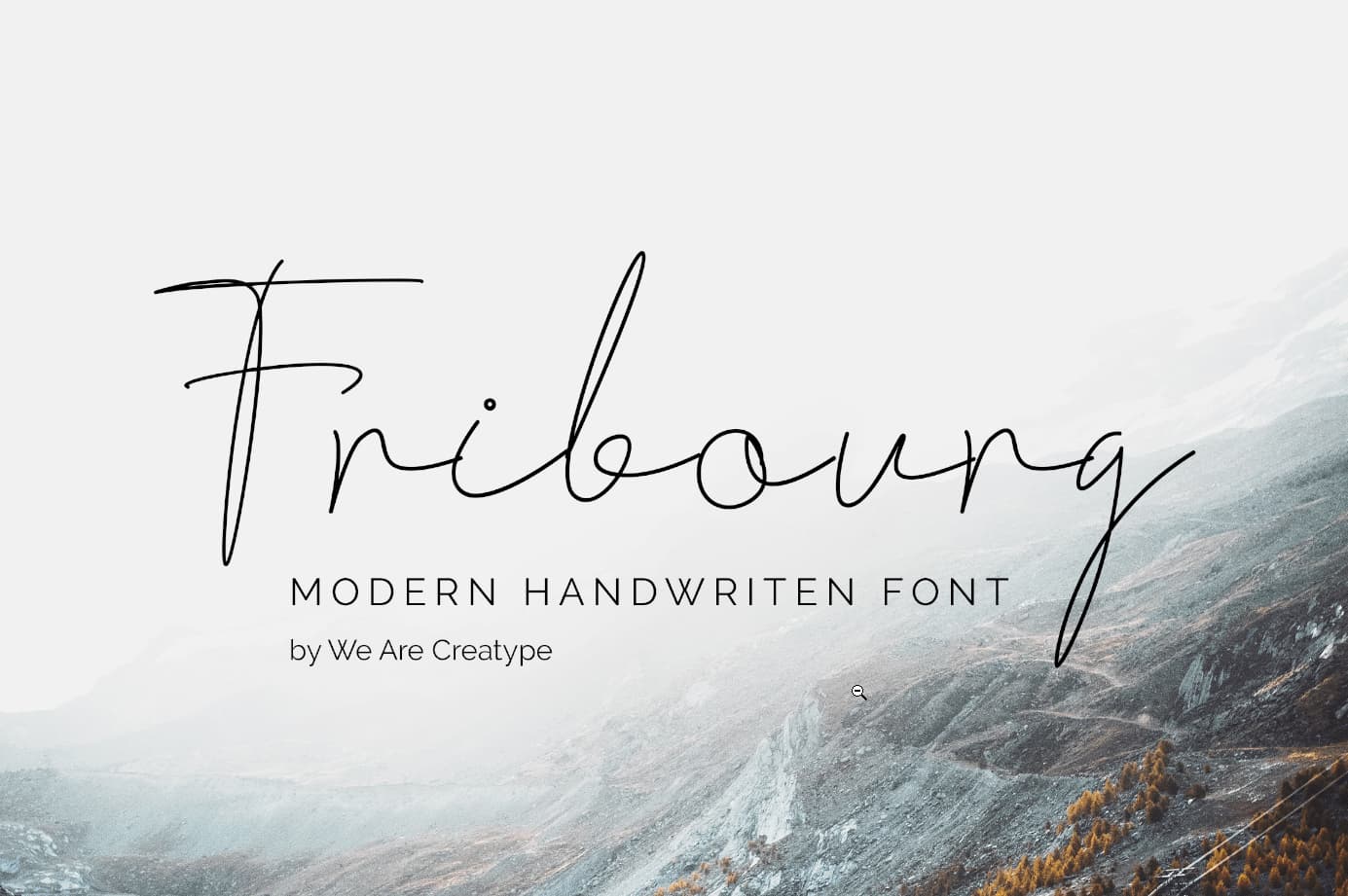 18. Margo Font Duo
Looking for two matching fonts? Just take a look at this duo.
These two go together like pasta and cheese, even though, as you can see, they have nothing in common. It looks like opposites do attract after all.
Margo is not just a single typeface but a playful duo with a very natural and fluid signature font and a beautiful, all-caps serif.
To underline their versatility and power when combined, the package includes six logo templates you can play around with.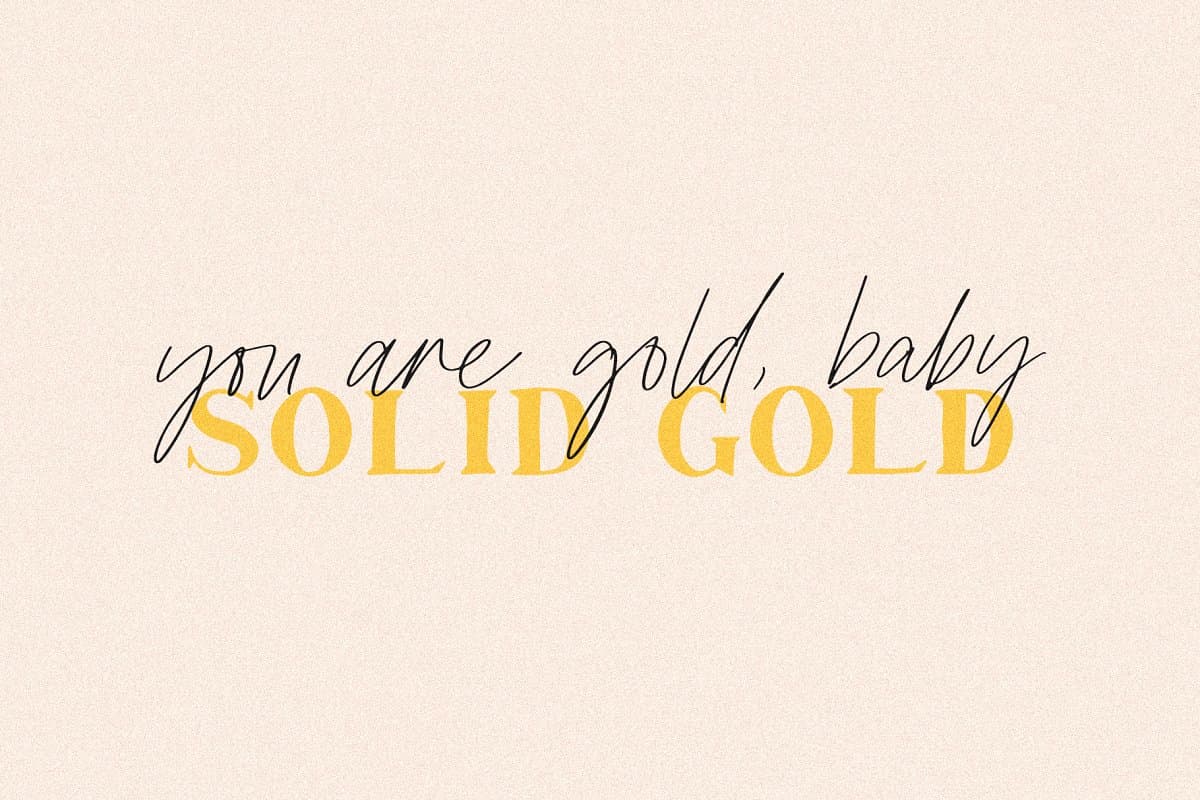 19. Backstreet
Backstreet's back. Alright, some puns write themselves, and there's not much you can do about it.
Also, there are fonts without which your toolkit is merely incomplete.
Backstreet is one of those—a chic handwritten font with slender lowercase letters for a strong character and flared uppercase letters for larger than life initials.
Show your client the meaning of clever design with a smart font selection.
As long as they love Backstreet as much as we do, you've got it going on.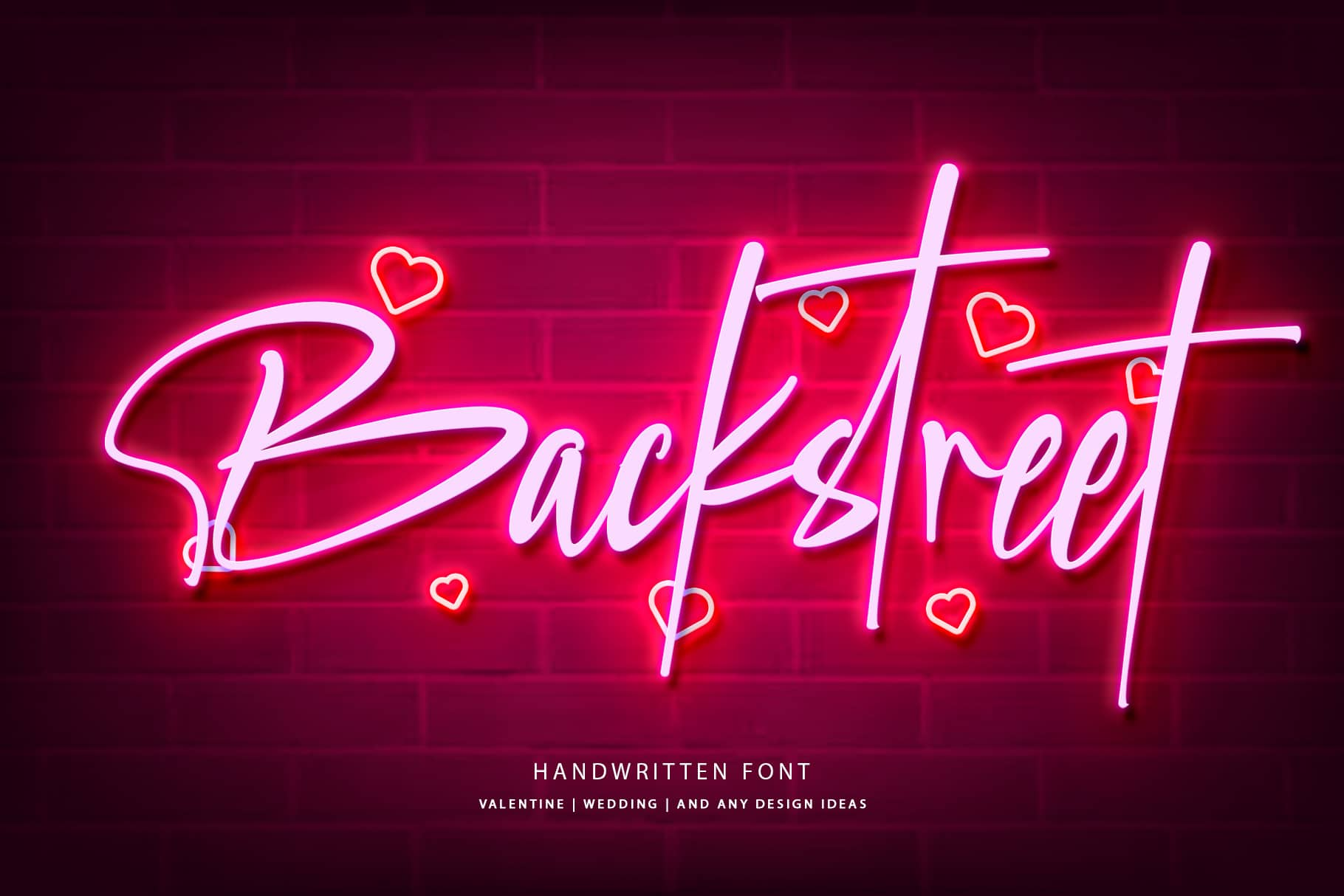 20. Playlist
Playlist is a handwritten font pair described as perfectly imperfect. And isn't that, well, perfect?
After all, the small imperfections of handwriting are what give script fonts their appeal.
More often than not, that's the most important quality that sets an excellent cursive font apart from the rest.
With Playlist, you get two imperfect fonts that together create a perfectly balanced image. You can use it for invitations, greeting cards, illustrations, quotes, posters, t-shirt designs, and the list goes on.
Playlist is free for personal and commercial use.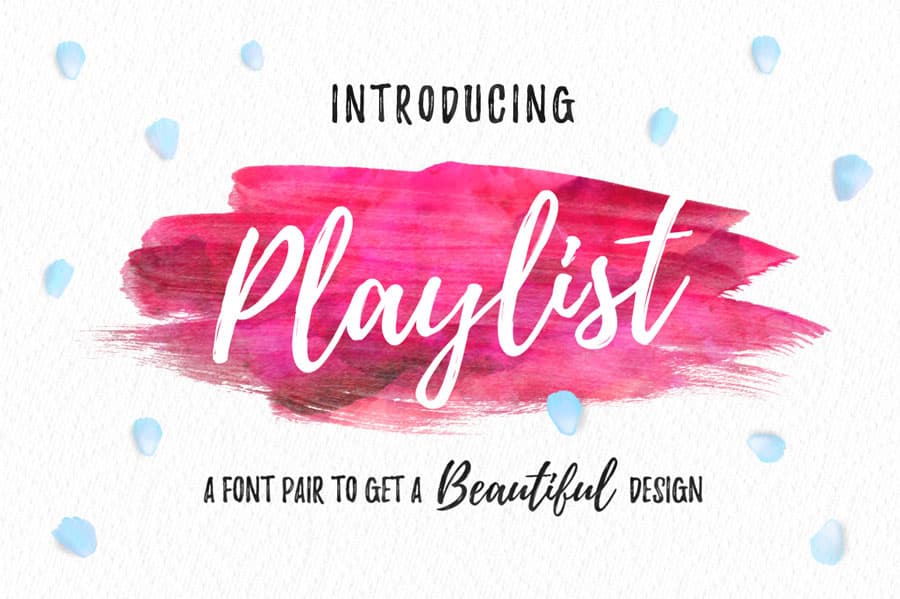 21. Yellowtail
The uniform weight and regular proportions of Yellowtail give it an old-school, retro vibe.
This flat brush script typeface is a tasteful mix of connected and unconnected letterforms, which are perfect if you want to give your design a slightly retro feel without sacrificing legibility.
Yellowtail is free for personal and commercial use.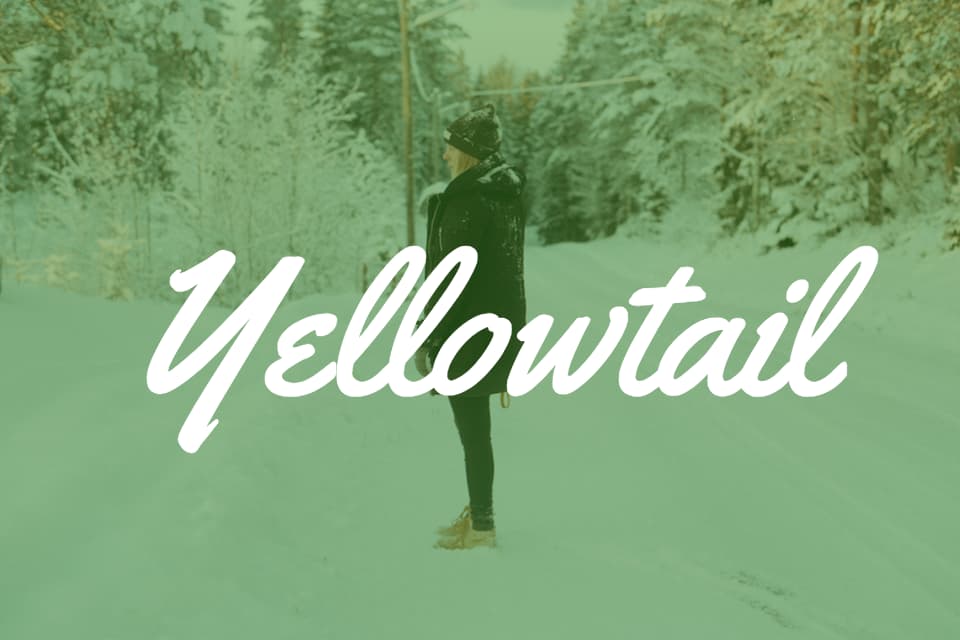 22. Wild Youth
This hand-drawn brush script font is the brainchild of Jeremy Vessey.
The modern lines are clearly influenced by adventure and the great outdoors. Perfect for branding and logos, but just as useful for clothing, apparel, or even quotes and stationery.
Wild Youth is free for personal and desktop commercial use.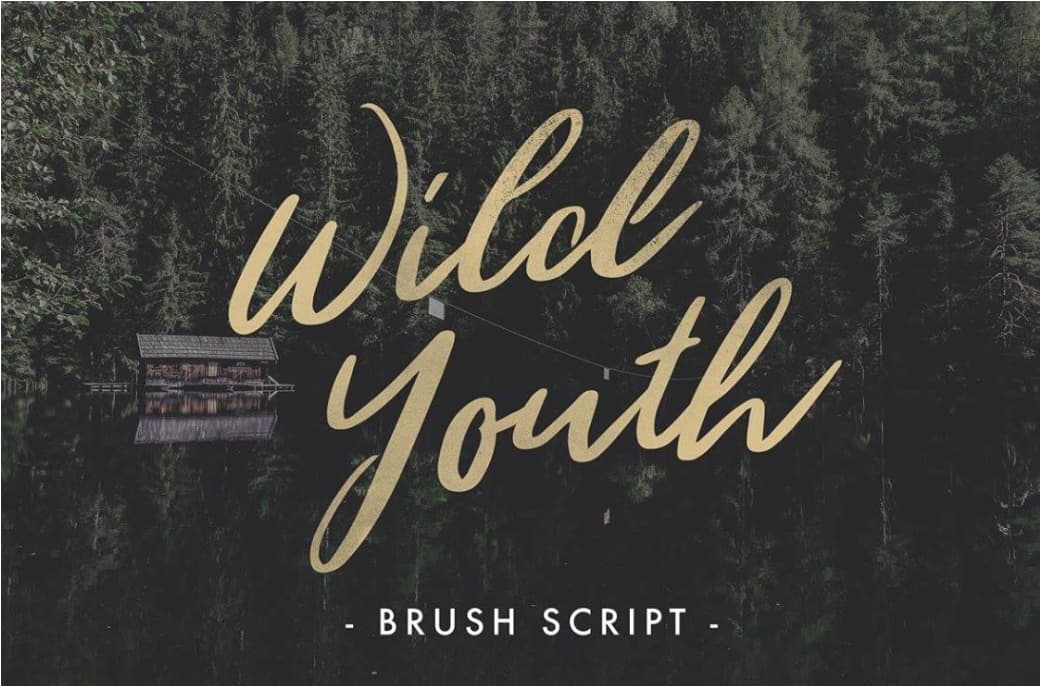 Final Thoughts
A font can say a lot about a creative project, but you definitely need to choose it wisely, especially when deciding on a script font.
If you pay attention to the details and dedicate enough time to select the perfect typeface for your design, you can use this power to your advantage. I hope you will find our popular script fonts list useful.
Now I want to know.
What would your shortlist look like? Do you have a favorite?
If there's a script font you would take to a desert island, we need to know. Tell us in the comments below.