9
minutes read
Your Twitter header is the first thing a visitor sees when visiting your page so it can help you make a lasting first impression. Learn more about how love brands design twitter headers online for their pages and get the inspiration you need to create your best one.
Brilliant examples of Twitter banners
Some people or brands are popular regardless of the banners they choose. They are either popular stars in our culture (singers, actors, politicians), either big brands that are selling their products worldwide.
Nevertheless, most of them have personalized landing pages with carefully designed twitter cover photos. How you are representing yourself matters, whether you are just starting to build your brand or you are already there, with millions of followers. Let's see some examples of great and the message they send us. In other words, what their creators want to show:
Show consistency:

"Peanuts" has one of the most popular accounts on Twitter. As you can see, the banner is consistent with the profile image: it shows the same ideas, the same colors, the same design.

Another great example of consistency comes from Deviant Art's profile. Their banner is almost identical to the profile image. It shows the logo and the name of the website.
Show what you are selling:

Take another example, DJI's creative banner. DJI is a world leader in handheld and aerial cinematic solutions. Their banner is simple but at the same time catchy.

Another great example in this category comes from Logitech, showing the latest product and its destination. In other words, what it is good for.
Show what you are doing:

Check this banner from NASA. It's simple. It's a background space image but it also depicts exactly what NASA is doing. They are observing the space and planning to get there again, maybe even further than before.

Everybody knows Bill Gates as the man behind Microsoft and Windows. However, this is not what he is doing right now. In the past few years, he invests more in people rather than technology, doing philanthropic work, trying to help those who need it more. And this is exactly what his Twitter cover photos shows us.
Show some creativity:
Finally, let's take a look at some of the most creative Twitter banners in 2018:








I am sure you already know that social promotion has become the main theme in personal and business marketing. All brands are using social media platforms for marketing and you are probably doing a good job. And I bet you want to have an awesome social media profile just like Nike, Apple or Starbucks, right?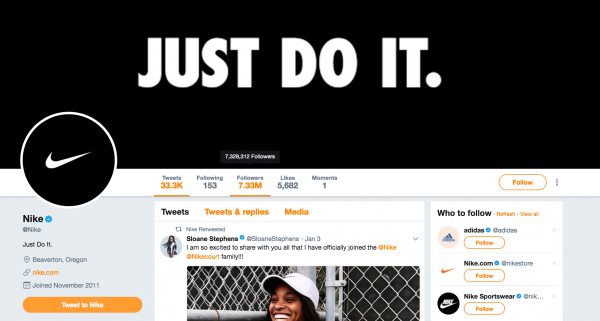 However, if you are trying to make a good impact, you need to take care of your landing page. Here, the most important two things are the profile photo and the Twitter cover photo.
What's the Twitter cover size?
The recommended twitter cover dimensions are the following:
Profile cover – 1500px × 500px
Profile picture – 400px × 400px

The displayed profile image will only be 200px × 200px on Twitter but it is recommended to upload a photo that is at least twice as large. Better resolution means better quality and, when you want to create a marketing campaign, quality matters the most. Quality leads to trust and a professional brand image.
How to create a Twitter header?
There are several tools available online and offline for creating banners and other types of visuals but my favorite online design tool remains Creatopy because it saves me considerable amounts of time and the results are astonishing.
Now, let's see what you have to do:
Create your Creatopy account
In your dashboard, go to Start creating, type "twitter", and click on Twitter Header.
Decide whether you want to use one of our templates or start from scratch.
Customize your image by changing the background and visual assets. Add images and text that better convey your message and grab the attention of your audience
Download your Twitter cover in JPG or PNG. Then, you're ready to upload it to your Twitter account.
How to update your Twitter header?
Go to Twitter and log in.
Click the profile icon in the top right section of your header bar and select "Profile".
Click then on "Edit Profile"
You have two options: Change or Add a profile photo and Change or Add a header photo.
Click on the header section and select "Upload Photo".
Get to the folder in which you saved the banner and upload it.
Click "Apply" and you are done.

Many people have problems uploading their covers and some complain that they appear blurry or that they are too small/big in order to be properly displayed. What can you do if you encounter problems like these ones?
Should you create it with Creatopy, there will be no issues. However, if you choose to make the banner by yourself, you might check for some basic things before actually update your account.
Save your image at the specified resolution (1500 × 500 pixels). If it's bigger, crop it. If it's smaller, create a new one because you will not be able to properly zoom in without losing the quality.
Create from the start a large image and save it at a higher resolution and the highest quality possible. You can resize it later and save it again as a PNG file instead of a JPG file.
If you need to zoom inside the banner, do it with Twitter's header editor and not from the image editor you have used to create the banner. You will have access to the Zoom in and out feature at the moment you upload your banner.

Add a border or a white space around your banner. This will give it a clean look. This may also be important because, on computers, Twitter crops a few pixels from the top and bottom of the banner. At the same time, on mobile devices, it crops from the two sides of the screen. If you want your banner to be mobile and desktop-friendly as well, you might want to add borders. Thus, it will be visible on all devices.
Don't upload animated GIFs or images bigger than 5MB. Twitter does not support animated GIF images. Moreover, make sure you are uploading an image that is smaller than the maximum of 5MB allowed by Twitter. You don't want to lose the quality, neither be unable to update your profile.
If it still appears blurry, try to use fewer effects, gradients, and details on your banner. Twitter uses compression when the image is uploaded and some details may be displayed incorrectly after the upload.
If you are using Photoshop or other image editors, create your file at a resolution of 300 pixels per inch. This will also ensure the quality of the final cut.
Why is the Twitter cover photo important?
As you tweet, users see your profile image only but if you say something interesting, they might visit your profile. And they see your banner, before anything else.
Therefore, before updating your banner or creating your first one, ask yourself some preliminary questions:
How do I want to be perceived?
What do I want to communicate through my design?
What are the key visual elements that I want to include?
People are mostly visual, so you need a cover that will represent you and look visually appealing at the same time. Let's take a look at some of the best examples, by our favorite brands:
My first example is from a popular brand, Starbucks.

Let's examine their banner for a few seconds: they have their logo in the profile image section and the header is a photograph that depicts exactly what they are selling. Not to mention the fact that you can also see the logo on the coffee cups.
The next example comes from iTunes, the popular video streaming platform from Apple.

You can see they choose some suggestive color tones to create an atmosphere.
Finally, I will also give you a more creative example that comes from Old Spice.

How can you use Twitter for marketing?
Some say that Facebook and Instagram are the best social marketing platforms while others are claiming to have successfully used Twitter or Pinterest, with great results, for the same reason. In truth, every social media platform may be useful for brand awareness growth or marketing.
Everything depends on how you want to conduct your marketing campaign and where your customers are.
For instance, according to the Omnicore Agency, Twitter has 317 million users that are active each month and 100 million active users each day. Daily, 500 million tweets are being sent by users but there's another thing that catches my attention: according to the report, 54% of Twitter users earn at least $50,000 a year. This means that you have access to users who are not just browsing products; they also have the means to buy them.
We've learned that half a billion tweets are posted every day. This means that a lot of people are active on this social platform and that they are communicating with each other. And sometimes yes, they communicate with brands or vice versa.
1. Learn what others are doing on Twitter
Twitter has a search engine you can use to find out what other brands or people are doing every day: what they share, who mentions them and why.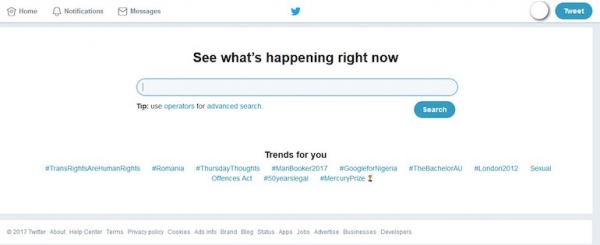 If you already use Twitter, you can find out if there are any negative posts about your brand and take immediate action. You can restore your image by addressing all these problems individually and by responding to the negative mentions.
Should you find positive insights about your business and/or brand, take them into account and try to act accordingly. Sometimes, you are doing great without knowing it!
2. Share news, links, and photographs
Twitter can be a perfect channel for conducting content marketing. You can share your links with articles, news, and podcasts but you can also share comments on different topics you know something about. However, keep in mind that Twitter is for conversation and breaking news sharing. Therefore, make sure you have something important to say before submitting your tweets.
You can also embed your tweets in blog posts and articles, just like you can embed PDF in a web page.
3. Offer customers' service
Twitter is all about the conversation. Make friends, give replies, and engage in conversations with your customers and followers. Help them with information should they need it, respond to their questions when they ask.
Here's a good example of how you can help your followers or customers on Twitter. We have a personal request from a man trapped in a bookstore followed by a quick reply from the store that everything is ok.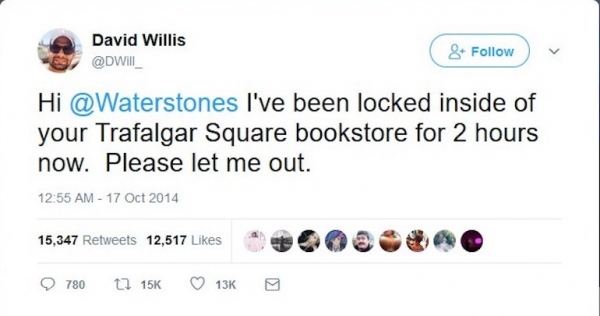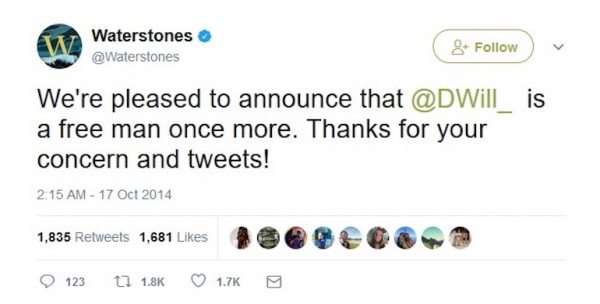 In order to be efficient, you should monitor brand mentions and comments 24/7.
You will not be able to do this by yourself if your brand is aiming at a big market, so hire some professional assistance.
So put your mind to work and create a banner that is relevant and representative of your business.
What do you think about the Twitter banner? How important do you think it is for your brand image? Did you encounter any issues while trying to create a representative profile header for your account? How did you manage to get past them?
Feel free to add your inputs, questions, and stories in the comments section below.