Online Twitter header maker
With our online Twitter header maker, you can create unique headers for your Twitter profile that will make you stand out from the competition. These attention-grabbing headers will effectively capture your brand's essence and attract your desired audience with ease.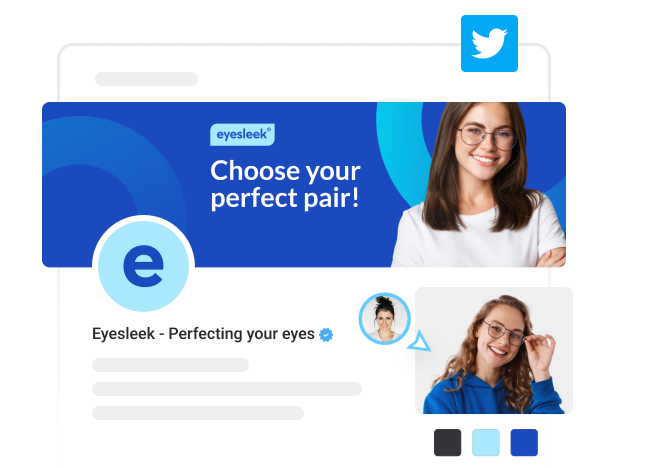 Start creating
from templates
Streamline your design process by starting with our readily available and customizable Twitter header templates. Explore various categories and find the perfect layout to achieve a polished and professional look for your Twitter profile.
key features
Everything you need in one place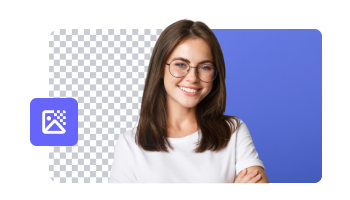 Background removal
Choose exactly what you want to emphasize in your visual. Remove the background of any image automatically and highlight the cutouts in your designs.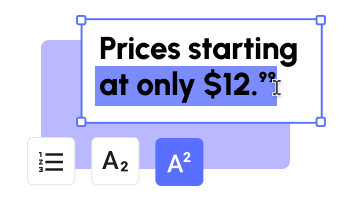 Rich text
Improve your Twitter header appearance with bullet points, strikethroughs, superscripts, and subscripts. Customize text better with Brand Kit typography for font style and weight control.
Blending modes
Explore your creativity by experimenting with blending modes to combine photos or elements in unique ways. Use the preview to see how everything looks.
endless creative assets
Enhance visuals with our stock library
Bring all your creative ideas to life by using our premium stock library. Choose from more than 20 million Shutterstock images as well as an array of original illustrations, shapes, masks, lines, icons, and social media logos and create the banner that aligns with your vision.

Explore our wide selection of fonts, ranging from elegant scripts to modern sans-serifs, or take advantage of our pre-designed typography presets to add depth and character to your Twitter banner design.
brand identity
Create on-brand Twitter headers
Easily maintain consistency across all media by seamlessly integrating your brand identity into every design. By having all your brand elements easily accessible within your workspace, you can effortlessly personalize header designs using your brand's typography, colors, logos, and vectors.
time efficiency
Resize to fit other
social media platforms
Our tool makes it easy to resize your header design to fit the various sizes and dimensions of profile headers required by different social media platforms.

With just a few clicks, you can ensure that your branding looks polished and professional across all of your online profiles, helping to build a cohesive and recognizable brand identity. So whether you're using Twitter, Facebook, LinkedIn, or any other social media platform, our smart resize tool can help you create a consistent and compelling online presence.
design worry-free
No need to struggle finding the right size
Our predefined Twitter header size eliminates the frustration of finding the right size, ensuring your image won't be cropped improperly on the platform, so you can start designing worry-free.

Plus, if you're not confident in your design skills, you can always start from one of our templates, which has all the elements aligned correctly so your profile picture won't cut the design. With our tool, you can create a stunning Twitter header that looks professional and polished in just a few easy steps. I like having our team members all in one space where we can collaborate on creative assets. It's nice we can import our own brand assets into the platform.
Eric Jackson-Sarkany, Demand Generation Strategist - D2L Design sets can save you time, while batch creation via CSV is very interesting. It's fast to design ads and post on social media. It integrates partners like Shutterstock.
Vincent Maurin, Co-founder - Panja.io The ability to create banners in different formats in the blink of an eye by changing the resolution and repositioning objects is extraordinary. Available templates are modern.
Giorgio Russo - Byte Project
Previous
Next
step by step
How to make a Twitter header for free in Creatopy
Design your header in just 4 easy steps by using Creatopy's Twitter header creator.
Choose a template

Look through our templates gallery to find the right fit for your business or design from scratch thanks to the preset Twitter header dimensions

Customize your design

To personalize your Twitter header design, open up the Elements library and pick the creative assets you want to use. Then, drag and drop them onto your canvas.

Add branded elements

Upload brand-specific assets into the editor to create a professional Twitter header that reflects your brand's identity and aligns with your advertising.

Export your Twitter header

Rapidly download your design in JPG, GIF, or PNG format to follow Twitter's header recommendations and share it with millions of social media users.
get started
Level up your Twitter banner making
Streamline your design process for your Twitter header by eliminating repetitive work and saving time for ideation. With our Twitter header creator, you can easily turn your ideas into effective headers. Experience the full range of features and functionalities by starting a free trial.