Create Unique Twitter Headers
Elevate your brand's online presence with Creatopy's powerful Twitter header maker. Our easy-to-use platform allows you to create professional, custom Twitter headers in minutes. Stand out in the crowded world of social media with a unique and eye-catching Twitter banner.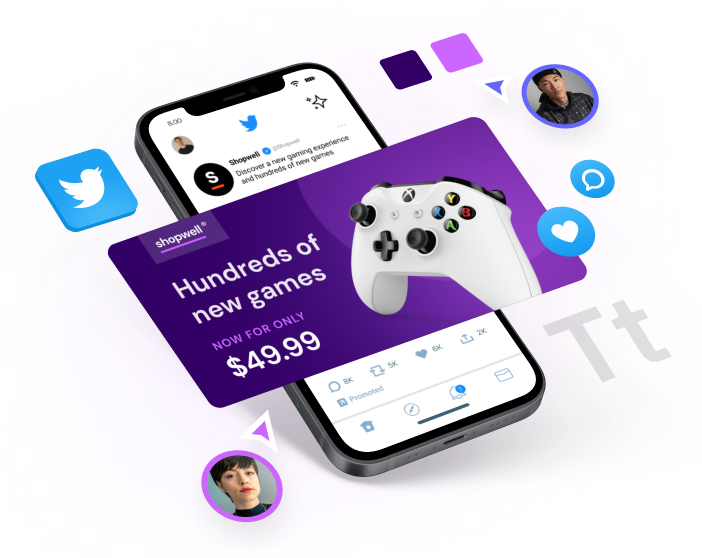 start with templates
Start with a free Twitter header template
Simplify your design process by starting with our free and customizable Twitter header templates. Browse through various categories to find the perfect layout for your industry and personalize it with our vast collection of stock photos, illustrations, and logos. Achieve a professional Twitter header with ease and make a lasting impression on your audience.
step by step
How to make a Twitter header for free in Creatopy
Design your header in just 4 easy steps by using Creatopy's Twitter header creator.
Choose a template

Look through our templates gallery to find the right fit for your business, or design from scratch thanks to the preset twitter header dimensions.

Customize your design

To personalize your twitter header design for free, open up the Elements library and pick the creative assets you want to use, then drag and drop them onto your canvas.

Add branded elements

Upload brand-specific assets into the editor to create a professional twitter header for free that reflects your brand's identity and is in line with your advertising.

Export your Twitter header

Rapidly download your design in JPG, GIF, or PNG format to follow Twitter's header recommendations and share it with millions of social media users. I like having our team members all in one space where we can collaborate on creative assets. It's nice we can import our own brand assets into the platform.
Eric Jackson-Sarkany, Demand Generation Strategist - D2L Design sets can save you time, while batch creation via CSV is very interesting. It's fast to design ads and post on social media. It integrates partners like Shutterstock.
Vincent Maurin, Co-founder - Panja.io The ability to create banners in different formats in the blink of an eye by changing the resolution and repositioning objects is extraordinary. Available templates are modern.
Giorgio Russo - Byte Project
Previous
Next
Top Features
Advanced features for Twitter header making
Let creative automation transform the way you design branded visuals and build a social media presence than can't go unnoticed. Work solo or bring your team on board a collaborative environment that rises up to all your creative needs.
Premium stock photos
Gain access to millions of Shutterstock stock images included in all Creatopy subscriptions and use them to enhance your Twitter banner and capture users' attention.
Background removal
Automatically remove the background of any image and get a clear cutout that you can turn into the highlight of your design, directing viewers' gaze to that element.
Shapes, lines, and masks
Experiment with different combinations of design elements until your reach the one you want to share. Add shapes, lines, or masks from our extensive library with a few clicks.
Typography presets
Your message is powerful when successfully delivered. Pick one of the predefined in-app font pairings that guarantee high readability to ensure you reach your audience.
Brand alignment
Store assets like licensed imagery, custom fonts, color palettes, or logos into a brand kit for easy access from the workspace when creating Twitter header images.
Seamless collaboration
Stay in touch with team members and external collaborators throughout the design process with the help of real-time comments and shareable pages containing your designs.
from our blog
Design inspiration
Cover Examples
Learn more about how successful brands create their Twitter banners and get the inspiration you need to create your best one.
Image Sizes Guide
Find out what are the correct image sizes for Twitter, from the header image and profile picture to post and card images.
Color Combinations
Learn what are the best color combinations you can use on your next social media ads to get noticed and to stop your audience from scrolling.
get started
Use Creatopy's Twitter header maker and start creating amazing headers for free
Create high-impact designs that differentiate yourself from the competition and update your twitter header regularly. Start a free trial in Creatopy to unlock a simplified design process.