11
minutes read
December is the gift-giving month of the year, so it's never too early to plan your upcoming holiday campaigns.
For business owners, Christmas is an opportunity to increase sales and gain new customers by promoting the best deals and offers.
Considering this is the year's most profitable period for retailers, you need to find a way to stand out from the crowd so that your deals are seen. You need to ensure that the ads will help you drive traffic to your website, so you can then convert a good portion of your visitors.
In that sense, we've put together some ideas you can use for your Christmas marketing strategy, so you can craft an outstanding sales campaign.
Moreover, we're offering a comprehensive collection of ready-made, customizable marketing templates, available and free of charge and in our ad design platform.
---
A. Christmas marketing ideas: sales promotion strategies & tactics
B. How to find a creative concept for your Christmas campaign
C. Style your content with a touch of Christmas flair
D. Time for decorations: design guidelines
E. Christmas cheer: color palettes
---
A. Christmas Marketing Ideas: Sales Promotion Strategies & Tactics
First things first: decide what type of marketing strategy you will use.
Here are six Christmas sales promotion strategies to choose from:
1. Christmas discounts
This sales tactic goes without saying.
You don't want to be the Scrooge of online retailers at Christmas time. Calculate your spendings and try to determine what attractive discount you can give during the Christmas sales season.
Offer your customers a great experience all-year-round. Give them reasons to love buying from you and to come back.
2. Free gifts
Christmas is all about gift-giving. And your business is not exempt from offering free gifts this winter season.
Celebrate the holidays by giving away free gifts when customers place an order and strengthen your bond with them. Loyalty is the result of successive positive experiences with a brand.
Nordstrom offers featured gifts upon certain purchases.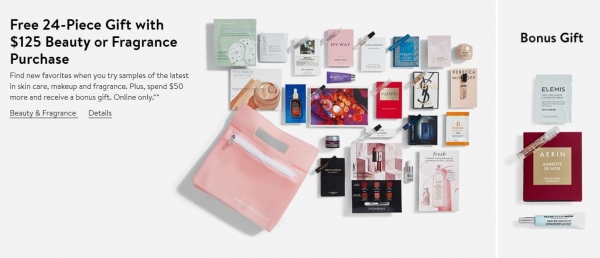 3. Gift cards
We all have that special someone that we never know what to get.
Help your customers surprise their family and friends with a generous gift card. You can either create printed gift cards or digital cards that can quickly be sent to a person's email address.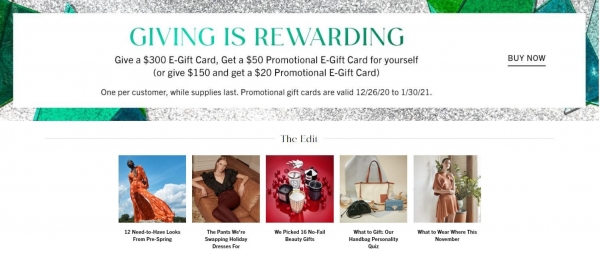 4. Gift packs & gift ideas
Most of the time, people are browsing the internet looking for inspiring gifts. So, when the Christmas shopping time arrives, be ready to welcome your visitors with some ready-made gift bundles or at least with a batch of fantastic gift ideas.
Help your visitors find presents for their family and friends and increase your sales.
Nordstrom has the Make Merry option on their website with daily drops of gift inspiration.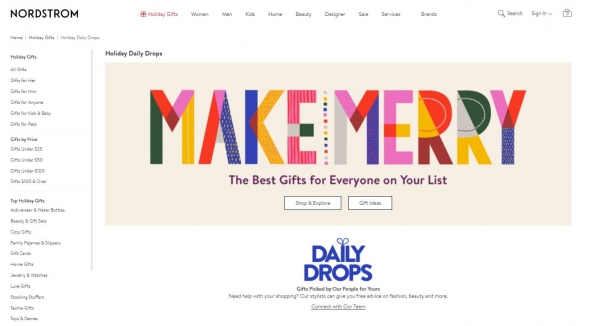 Sephora also has this gift inspiration feature on their website. The gifts are sorted into different categories to make the search easier.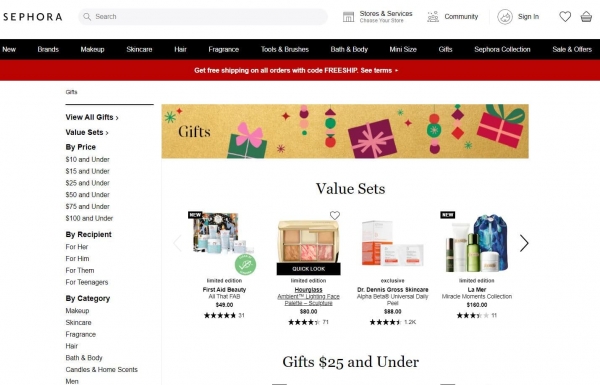 5. Free shipping
Whatever sales technique you pick this Christmas, add free shipping on top of it.
A study by Baymard Institute shows that 69.57% is the average shopping cart abandonment rate if there are extra costs involved at checkout, including shipping.
This means while you think shipping costs may help your profit margin, they can sometimes cause more damage.
The Christmas holiday is a perfect time to test the free shipping method.
Offer your customers a Merry Christmas and a few savings left in their pockets. They might tell their friends about you. And come back next year as well.
Sales are significantly impacted by the lack of free shipping, so try to provide this option, especially when an order exceeds a certain amount.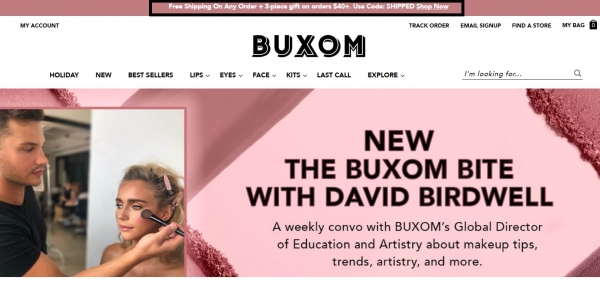 6. Christmas contest
Engage your customers with a Christmas contest. Offer a prize for the ugliest Christmas jumper or for the most beautiful Christmas tree. Or you could ask people to craft some Christmas decorations and send you a photo of them.
If you sell children's products, you could invite your audience to send Santa a letter (to your address) and ask for a present. Ask people to enroll in the contest by submitting a photo or a video to your Facebook page.
Integrate one or several of these marketing tactics to make your campaign even more appealing to potential customers.
7. Set up a PPC campaign
If you own an online retail store, you probably know about PPC ads' importance by now. During the winter holiday season, online campaigns are mandatory.
You can set up a search PPC campaign, a display campaign, or you can advertise your sales promotion through videos. Ideally, you want to use all three media types to make your voice heard.
The best time to start a PPC campaign is one month before Christmas, which is the end of November. This will give you plenty of time to prepare your materials before launching your campaign.
Speaking about promotional materials, try to avoid ad fatigue by creating several versions of your search ads, images, and videos. Rotate them throughout December to keep people interested in your brand and increase your chances to sell.
8. Create stand-alone landing pages
When running a PPC campaign, it is better to have independent landing pages to walk the visitor through your product's story.
Create a series of landing pages for your deals and build each page as a journey through the sales funnel until the moment of the purchase.
9. Send Christmas sales emails
Craft some jolly emails and send them out to your customers to let them know about your December deals and discounts. Make sure you find a catchy subject line and include festive product pictures.
Subject line inspiration:
'Tis the season to give and receive (suited for general online stores, clothing stores)

Make magic happen with 50% OFF (suited for general online stores, clothing stores)

Joyful presents for family & friends (clothing stores)

Get home for Christmas with 50% OFF (suited for travel agencies, airplane companies)

Spread the love with these bundle gifts (suited for general online stores, clothing stores)
10. Send a print/digital catalog
Entice people to buy your products with a beautifully crafted Christmas sales catalog. You can either create a print catalog or a digital version. Insert discount vouchers or free gift codes.
11. Offer free gift wrapping as an option
Christmas shopping is all about the wrapping. Make it easier for your customers to deal with gift-giving by offering complimentary gift wrapping as an option.
When shopping online on Lands' End, you have the option to select the Gift Box option at the checkout. Ribbons are included.
12. Hide cost details for presents
When people order a gift for someone, they'll want to hide the cost details. Make this an option at checkout so that people can tick the box if they don't want to include the invoice in the gift box.

This option is available when you order something from Amazon, provided they're fulfilled by Amazon or selected Amazon Merchants.
13. Send a printed Christmas card
In a world of digital cards, surprise your customers by sending them some good old printed Christmas cards to their mailbox. Include a small gift, like a discount code, to make the experience even more delightful.
14. Update your social media profiles
Decorate all your social media profiles with Christmas branded images. Make sure you get your profile picture and cover photo Christmas-ready.
15. Include donations
Christmas is a time for giving. Team up with a charity and organize a fundraising campaign. Inform your customers that you're supporting a local/global social cause and that you will donate a percentage of all holiday season sales to this organization.
B. How to Find a Creative Concept for Your Christmas Campaign
Enough about marketing strategies. It's time to wrap up your Christmas sale campaign into a beautiful creative concept.
It's time to find a name, a headline, a visual image, and a story.
The most important thing you need to take into account is originality. Since everyone runs an advertising campaign during Christmas, you need to pack your offer in a brilliant way that stands out and appeals to potential customers.
For example, the Christmas reindeer may be obsolete. Still, if you manage to cast them in an unusual scenario, you could make people engage with your campaign and convert them into customers.
Find a surprising creative concept that has never been done before and grab people's attention. Schedule a brainstorming session with your marketing team, select the most original ideas, and wrap up your sales promotion.
Follow these simple steps to come up with a creative concept:
Identify your objective

Define your target audience

Offer a benefit

Organize a brainstorming session, select the best idea, and build your campaign around it

Translate the creative idea into a real advertising campaign: list down the communications channels and marketing materials you want to execute and start producing them
C. Style Your Content With a Touch of Christmas Flair
Style your content with a touch of festive flair. From your campaign headline to email subject lines, make sure you sprinkle some Christmas magic over each phrase. Hand-pick your words to create that magical Christmas atmosphere.
Content goes hand in hand with images. That's why it is essential to craft your campaign, focusing on both graphics and text. Words can touch hearts if you string your words skillfully.
Here's a list of the texts you'll need for your Christmas sales promotion:
A campaign headline can either take the form of a call to action as in

"Make the most of Christmas!"

or a slogan

"Because Christmas is about family."

Body copies for all your marketing materials: posters, brochures, catalogs, flyers, etc.

A Christmassy email text.

A blog post.

Website call to action. Style your CTA buttons for Christmas. For example, instead of "Order Now," you could say, "Buy a gift now."

A body copy for gift cards and discount vouchers.
D. Time for Decorations: Design Guidelines
Offer your customers a beautiful Christmas shopping experience. Create a joyful atmosphere with the help of design, colors, photography, and fonts.
Decide whether you want to go for a traditional Christmas design theme or for a unique Christmas atmosphere.
Then, choose a color palette(you can see some suggestions below). Pick the design elements that you want to use for decorations. Think of snowflakes, ribbons, bells, Christmas trees, and colored globes.
Replicate your design on all your online and offline outlets and marketing materials:
Decorate your e-commerce website. Give it a festive touch. Craft a new set of Christmas visuals, like a website header, visuals for the homepage slider, and banners. See our free collection of visual templates.

Decorate your shop (if you have one) in a similar manner.

Change your profile picture and cover photos on all your social media profiles.

Use the Christmas design for all your marketing materials: emails, display ads, brochures, shopping bags, and even packaging.
E. Christmas Cheer: Color Palettes
Christmas is usually associated with the colors red and green. That's because Santa's costume is red, and the Christmas tree is green. But then, there's also gold and silver because there's no Christmas without some glitter and sparkle.
Depending on a person's individual preference, Christmas decorations may be classy (red is the primary color), unconventional (where gold, blue, or other color is the primary color), or eccentric (violet, neon green, etc.).
Choosing a color palette is a significant step in building your Christmas campaign. And that's because it lays the foundation for your design and campaign atmosphere. Colors have a massive influence on purchasing decisions as they can create a positive or negative user experience.
We've created four-color palette suggestions that you can use for Christmas sales campaigns. See which one suits your brand and grab the codes.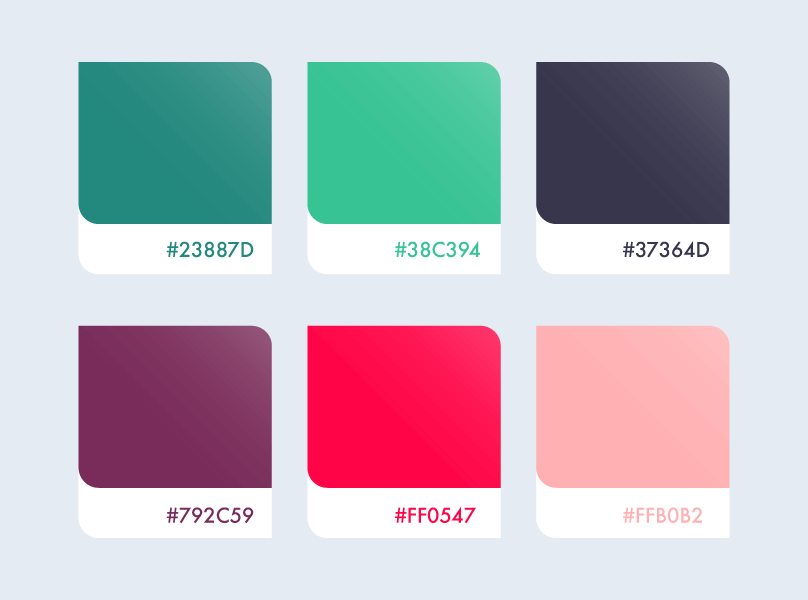 Choose this color combination if you want to go for a floral Christmas palette. Use this vivid red for your decorations and light green for the background.
This color scheme is perfect for women's brands, from makeup to clothing. It will also help you successfully promote flower shops, beauty products, or bookstores.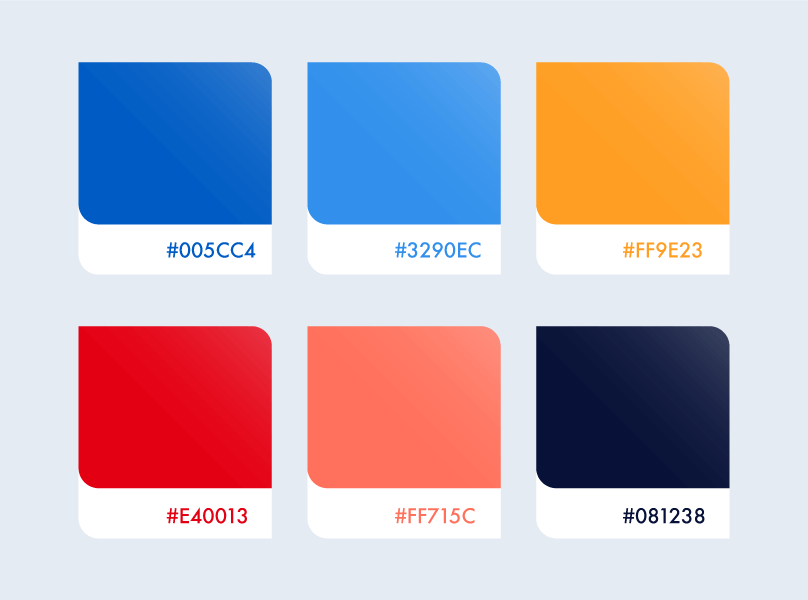 If you'd like to try something different this year, go for this Scandinavian Christmas palette. The dark blue and red pair will surely get your brand noticed.
This type of blue is a Scandinavian trademark, inspired by the frozen lakes and northern sky, so you'll be using a color that originates in Santa's homeland.
The color combination is bold, playful, and jolly. A great match, overall, when you want to stand out.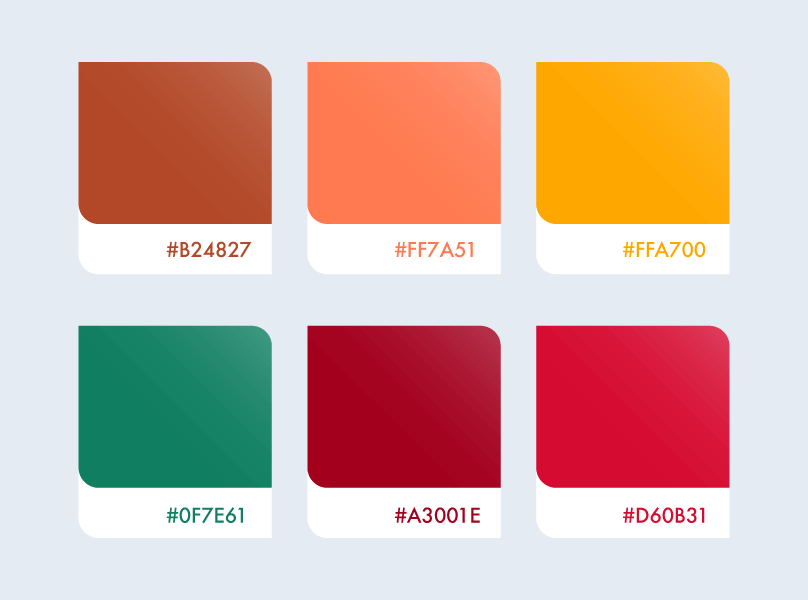 Stand out and shine bright like a star with this golden palette. Use this color combination if you have a premium brand/product like watches, haute couture, jewelry, and even chocolate.
Build your design using gold as the primary color, and you'll have yourself an elegant, classy theme. Utilize this palette to craft all your marketing materials and play with the proportions, shapes, and other elements.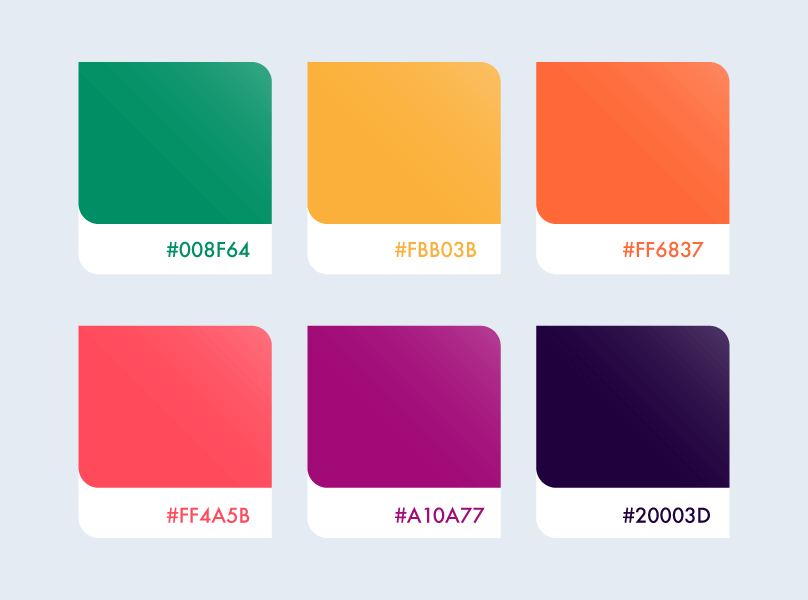 Why go with the flow and use a traditional Christmas palette when everything is possible? Use this sunny palette to create a lively Christmas atmosphere.
Although it is sunny and bright, this palette still employs the classic Christmas tree green. However, we dropped the red and instead used two derivates: orange and peach pink. Use dark violet to tone down your designs and add a touch of mystery.
F. Christmas Fonts
Fonts bring extra personality to a visual. Each font has its own character and can add meaning to a word. Use a harsh font, and people may feel attacked. Use hand lettering typography, and people will want to befriend you.
Christmas is a particular jolly holiday time. So, choose a font (or two at most) for your campaign that conveys happiness and joy.
Here is a selection of Christmas fonts that you can grab right now to craft your campaign message.
1. Miraculous Christmas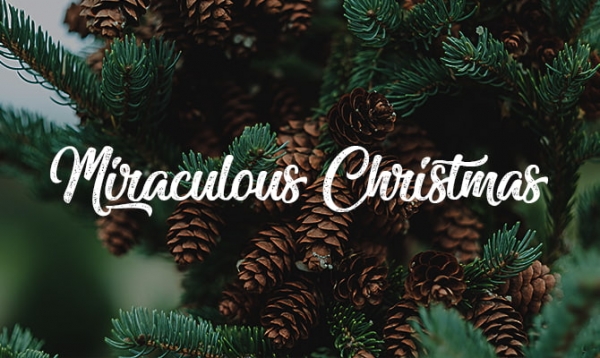 This neat and cursive handwriting-like font reminds us of the printed Christmas cards we used to send and receive back in the golden days of stationery cards.
It's friendly and festive at the same time, and it can successfully be used for Christmas marketing materials.
2. Xmas Sweater Stitch Font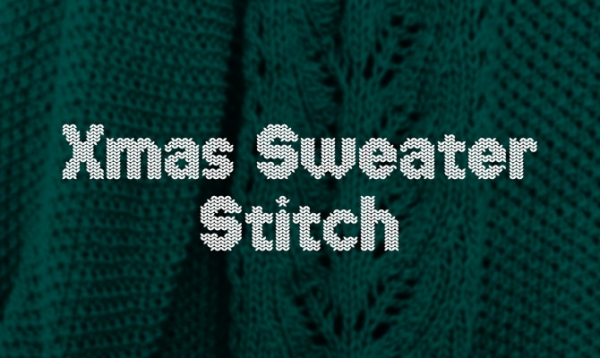 If you're planning to run an ugly sweater contest online, or advertise your Christmas promotions, here is a font that is just perfect for it.
This font differentiates itself from the others through its stitch pattern, making it perfect for your advertising campaign.
Match this font with a textured background similar to a sweater pattern, and you've got yourself a banner that will get all the attention.
This is the free font alternative for an ugly sweater font.
3. Merry Christmas Font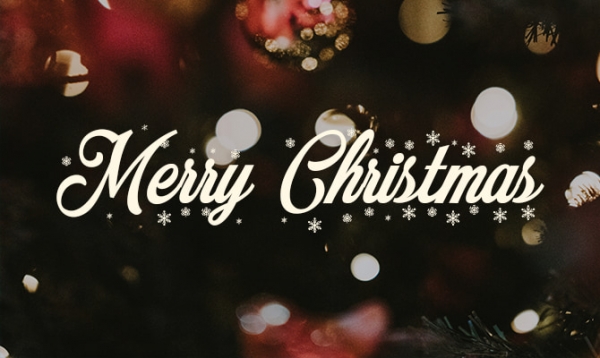 The Merry Christmas font is one of the most representative fonts for the winter holidays. Its bold handwritten format will catch the Christmas spirit in all your marketing materials.
This font has two available versions, with different decorative elements for your text: snowflakes and stars.
Have Yourself a Gainful Christmas!
Now you're all set to launch your Christmas sale promotion.
Find a sales strategy, integrate some badass marketing tactics, come up with an original creative concept, write down a magical copy, and customize one or more of these free Christmassy templates.
It's the most wonderful time of the year to increase your revenue!