5
minutes read
How Festivals Do Their Banner Advertisement?
It's summer around the corner and there's one thing that got me all crazy already: Coachella. Every year I realise that summer is close when Coachella is happening. If it's on Social Media, it's too late to apologize for not being there. It's just how it is and you start on planning for the summer.
Thank God that Coachella isn't doing any banner ads – we would all be constantly having salt on our wounds for not being there! But there are some festivals around other areas that are a MUST go.
As you guys might know, I live in Europe, in a small-medium city which is a new attraction for tourists in terms of nature and… music festivals.
Being targeted on Google Display Network, I kept on seeing pictures and inviting headlines (and headliners), so I raised a question — how does it feel like for a marketer to promote an experience? We've talked before about how to make banner ads for your event or conference, but how do you sell the summer vibe? How is it for the marketing crew of a festival to put in front their best?
Visuals can bring back memories, but also make one person to want to be a part of the story. There are endless options — in your banner ads you can use images from the site the festival is taking part, be it a Ferris wheel, a medieval castle or the mountains.
I invite you to dive into the visual ad strategy of a few of the festivals I like. If everything goes right – I invite you to the festivals, also — just share your thoughts in the comments session!
The iconic site
The Coachella Valley Music and Arts Festival is taking place every year since 1999 at the Empire Polo Club in California. You'd usually not find Display Ads, just like you wouldn't find tickets, as they sold out really fast, but the ones I found are clearly proving a point of what Coachella is known for.
The banner ads that you'd find online will definitely feature the giant Ferris wheel found at the site. It is a sight that little close to no people would miss at the festival.
To integrate it in the visual advertisement? On point, representative and inviting.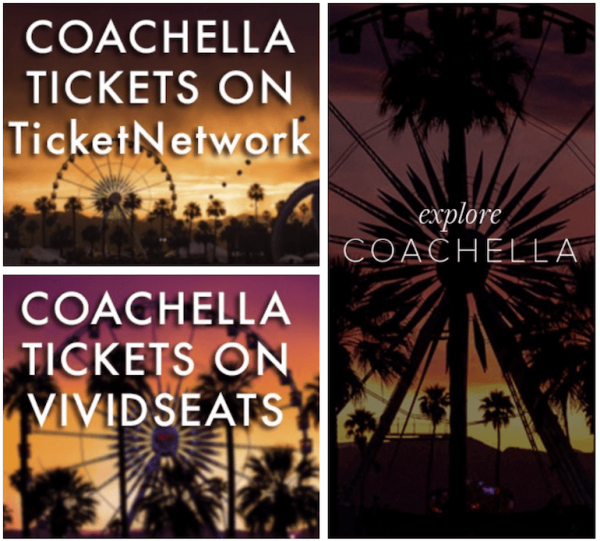 [Tweet "Design like @Coachella: your iconic site gets the fame!"]
The experience
While in Europe, make sure to check out Sziget, an experience rather hard to forget. The festival is held on an island and hell of an experience that prolongs for a whole week.
The usual headlines the marketing team at Sziget use are "Looking for a place to feel free?", "An island that art is expressed by you?" or "A place where fun is much more than you expect?".
So, there's a lot talked about the experience, and of course you find that in their banner ads as well. Also, check the logo — bold and on the point, right?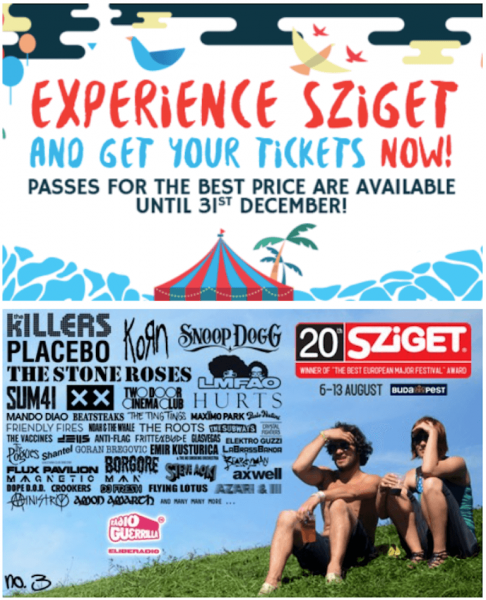 [Tweet "At a music festival, you sell the experience that comes with the music like @Szigetofficial"]
The nature — the mountain
Caprices Festival is a 9-day festival held in a popular Switzerland resort named Crans-Montana. It all started back in 2004 with the idea that people should get close to two things they love: mountains and electronic music. In the last 12 years, Caprices became the springtime musical event that cannot be missed by the clubbers around Europe.
You're around the beach, in a mountain resort, in a glacier (like this festival in Iceland?) — why not promote it in your banner ads?
Electronic music lovers dancing through the sunrise while having the mountain peaks? If this is not incredible, I don't know what there is!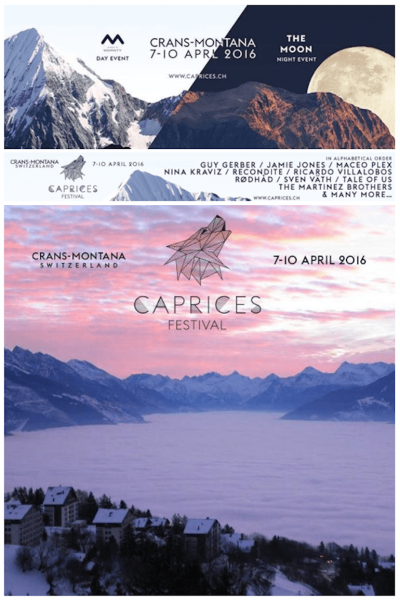 [Tweet "Combine the music and the nature in your banner ad for a great experience like @Caprices_fest "]
The landmark – the castle
To get haunted in Transylvania while you're dancing through the night in a medieval castle? Seems like something out of this world, but a group of friends got their hands on the table and organized an electronic festival in a medieval castle.
The name – Electric Castle.
The goal — to restore the castle with the profit from the festival.
The marketing strategy — sell the experience of a sunset or sunrise in a 15th century castle and make the castle your landmark.
Your main visual is also your main attraction.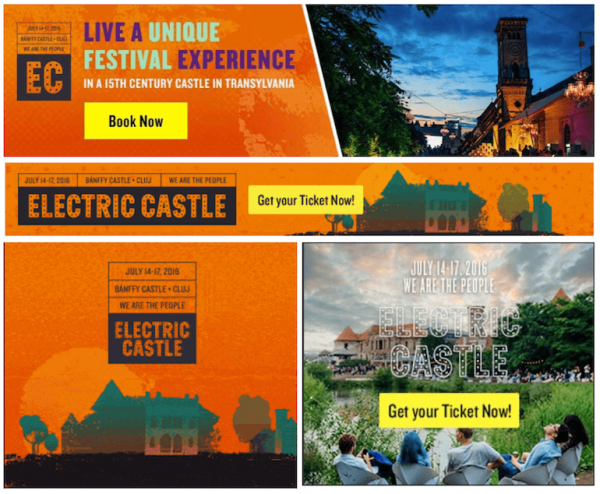 [Tweet "Find your landmark and make it work for you, just like @electric_castle"]
The award & the headliners
How would it be to organize a music festival and win Best Major Festival with its first edition? Oh, and also beat Tomorrowland? At your first edition? Man, people must have loved it so much, you just should not keep that to yourself. And that's exactly what the advertising team at Untold did.
The awards that you've won are maybe more important than a media endorsement. When your audience gives you such an award, you use this information and go to a bigger audience.
In their banner ads they've also used the names of the headliners they're bringing in the house. You have something to be proud of when world's Top 5 DJs are coming to your only second edition. Put that in your banner ad!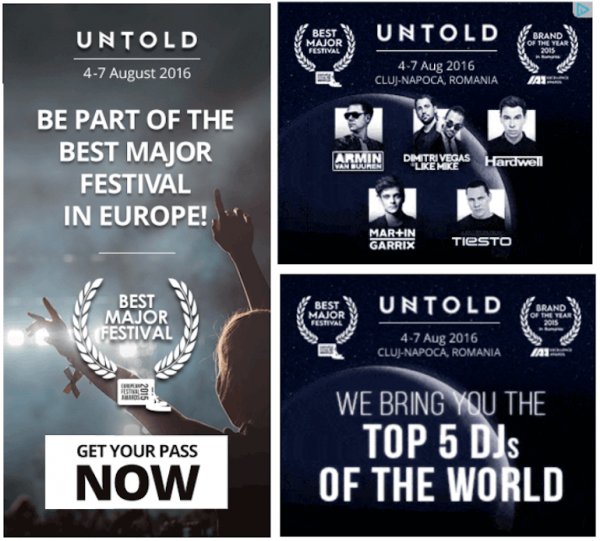 [Tweet "Have an award you're proud of? Take it to your banner like @UntoldFestival"]
The emotion & the credibility
Festicket is an innovative website where you can find festival packages of tickets, accommodation and adds-on for the coolest festivals and gigs around the world. Quite handy for people who are travelling abroad for a festival. Festivals aren't going usually smooth, and if they're abroad it is double trouble.
Therefore, what Festicket is selling is not a music festival package, but a headache-free package that gives you freedom to enjoy your experience.
Translating this into the visual ad strategy: smiling faces, cheering crowds and yes – consistency with your design and the color.
Festivals like Glitch in Malta, TimeWrap in Germany or Electric Daisy in the UK partner up with Festicket like this: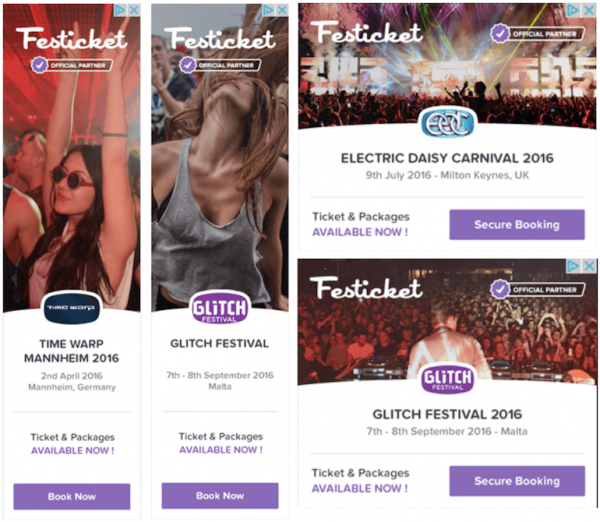 [Tweet "Brand consistency and trustworthiness through banner ads like @Festicket"]
To festival or to festival?
Whether you're in charge of the visual advertisement in an organizing team of a festival, or you're thinking about getting in one, or starting your own festival (be it a jazz, art or fun snowboarding at a ski resort), you'd most probably found my article useful!
So, tell me your story as a marketer… or the festival you want to be at now!
© PureSolution | Dreamstime.com