4
minutes read
Getting engagement on Facebook is getting harder and harder with each day that passes.
People's attention span is lower than it was a few years ago and we have to bring out all our marketing weapons to make sure that our campaigns get the attention they deserve.
The reason why I decided to add this article about how to create engaging visuals for Facebook on our editorial plan.
So what does it take to create Facebook images that bring you the engagement you expect? There are a few things you can check off your list and you can find them below.
First things first, let's make sure we're on the same page with what engagement really means. Engaging people with the content we provide is a priority for all of us and generally speaking, engagement represents any action a user performs on your page.
Types of Facebook engagement
A. Active engagement
Represents the total number of likes, comments, and shares your post has received.
B. Passive engagement
Represents the number of post clicks, link clicks, views and image clicks your post has received.
Why do you need engagement anyway? Well, if no one engages with the content you create, what's the point of it? The engagement you receive to your posts indicates a few things. That your brand is capable of grabbing the interest of the users, that your brand can create quality content and that you can successfully reach your targeted audience with your content.
Engagement is such an important factor in Facebook's algorithm because based on that it is decided when and how your posts are being displayed to users, hence – your reach. How? Well, when users engage with a post, that action appears in their friends' newsfeed making that connection available to other users. Engagement represents a very complex ecosystem in which every type of action contributes to the growth of the others.
Did you know that questions, images, and videos bring more engagement than any other type of post on Facebook? Buzzsumo found that out after analyzing over 800 million posts from 2016. They took into consideration the overall engagement, shares, likes, and comments.
3 things we must consider when planning to make a very successful visual for Facebook
#1 The Purpose
The main goal of any Facebook marketing strategy is offering value to whoever gets in contact with your brand on that channel. But the purposes can be many. You might want to build brand awareness and increase exposure to your potential clients. You might want to gather leads or increase your web traffic. For each of these, there's a different approach, so you must decide what you want to obtain with your image right from the start.
#2 The Size
Facebook is well known for its ability to change its requirements faster than marketers get to get used to them. The reason why this subject is almost always trending. If you're not sure what sizes you're supposed to use right now for your Facebook images, check out our social media ad sizes guide.
Make sure you get the right size for your visual. Unless you do that, you might seem a little unprofessional. Or, in some cases, Facebook will not accept your image.
#3 The Quality
No matter what you're trying to promote, your photos must have outstanding quality. By quality, I'm talking about both its characteristics and resolution, and quality of information, conformity to your brand guidelines & identity.
Or you can use this formula from Facebook Advertising Agency Magnificent.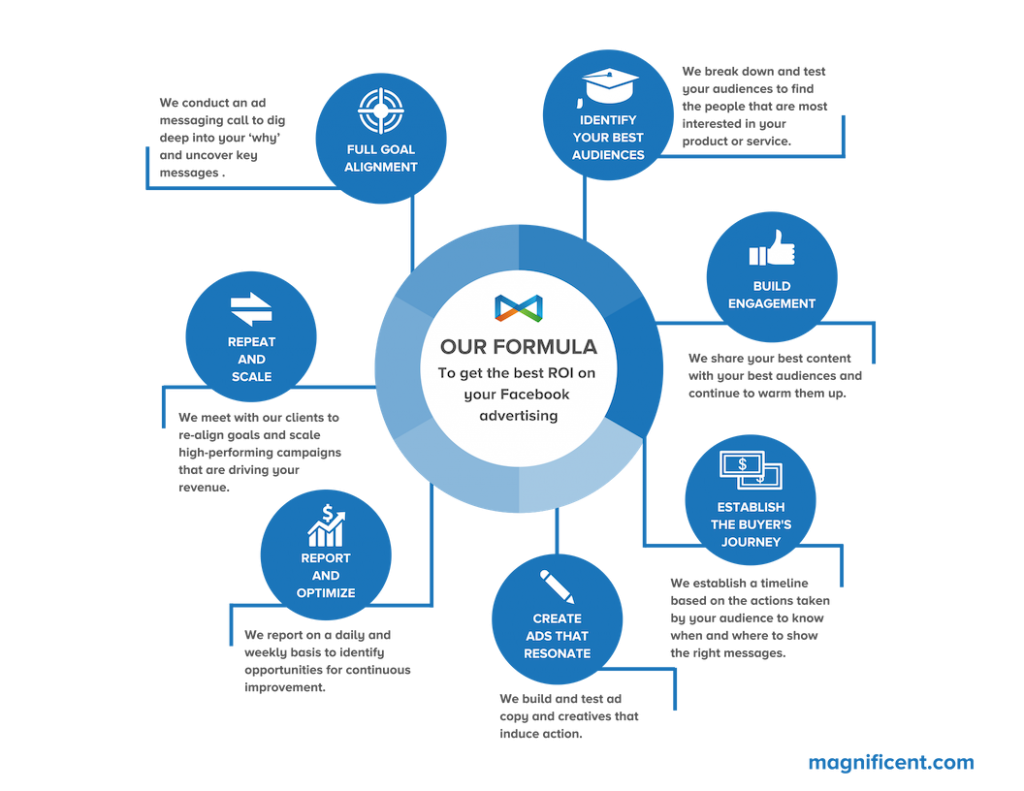 Now, let's get to what really matters in this article. How can we create images that get a lot of engagement?
First, you need the right tools. And this time I'm not talking about pen and paper, but about a digital tool that can help you obtain what you need visual-wise. Creatopy can lend a helping hand with designing all kinds of visuals for your campaign using our Facebook cover photo maker.
For this example, let's say that we manage the page of an interior design business and we want to create an Easter campaign. We're going to use the Facebook post image size, which is 1200 x 630 pixels, and start our design from a blank canvas. Of course, you can always use one of the existing templates.
The first step for our design is finding a suitable image that we can use for our design. In this case, since it's a post about an Easter campaign, I'm going to use a photo with some Easter decorations.
Tip 1: Image
If you don't want to upload your own, we've got a library of tons of great images.
The next step is to add a layer of color so that my soon-to-be-written text has a unitary background that doesn't take the attention off what I want to say.
I chose purple because it's visible on Facebook.
Tip 2: Color
Whenever you design visuals for Facebook, try to avoid using blue as the main color in your images. Blue is Facebook's main color so your visual might get lost in the news feeds.
Then, I added the text. Since this time our campaign message is integrated into the photo, I chose to make it large so my potential users can rapidly identify what my post is about, and it can grab their attention. Make sure you choose an intelligible font, easy to be read while scrolling the feed. We have a large library of fonts, but if you still don't find one you like, or want to use your branded font, you can upload your own font.
By the fact that I added the discount code on the image, I raise my chances that someone will like or share the image with their community.
Creating an image that attracts users and makes them engage with it is not such a big deal. You only need a few tips & tricks and a tool that's easy to work with. Of course, if you don't want to go through this process, there's always the alternative: cat photos!
Let us know in the comments section below if you found this article useful.