12
minutes read
In today's digital landscape, making great Facebook ads is one of the highest-priority items on any marketer's to-do list.
With around 3 billion active users, the social media platform offers unparalleled reach and engagement potential. Harnessing these ads allows your business to deliver targeted, personalized messages to your desired audience, driving tangible results and maximizing your marketing efforts.
In this article, we'll look at the best Facebook ad examples for capturing attention, building brand awareness, and driving conversions – all through a collection of remarkable real-life Facebook ad examples. Treat each example as a source of inspiration for your campaigns, as this curated collection is meant to showcase the diverse range of possibilities and highlight the effectiveness of good, well-crafted Facebook ads.
From captivating storytelling to visually stunning imagery, these examples demonstrate the artistry behind great Facebook ads. Don't fret though – you don't need a studio or fancy camera gear to make a lasting impression, as you'll see in some of the more simplistic Facebook ad examples. By exploring this guide, you'll gain insights into strategies, tactics, and creative elements that set exceptional ads apart.
So, let's dive in and discover some remarkable Facebook ad examples that will hopefully fuel your inspiration and get you a step closer to experiencing the full potential of this powerful platform.
Your journey toward creating impactful Facebook ads starts here.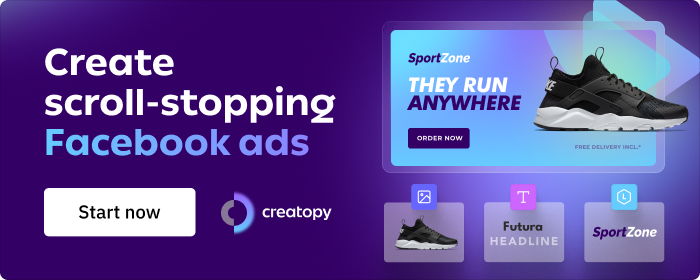 1. Facebook Image Ad Examples
Image ads have long been a staple of Facebook advertising. To capture attention, they employ visually striking images that instantly grab the viewer's eye, representing a powerful tool to showcase your brand, product, or service with a single photo.
Below we'll look at a couple of Facebook static ad examples that employed different strategies. Check them out and see if there's a trick or two that you could also employ in your next campaign.
Keep it simple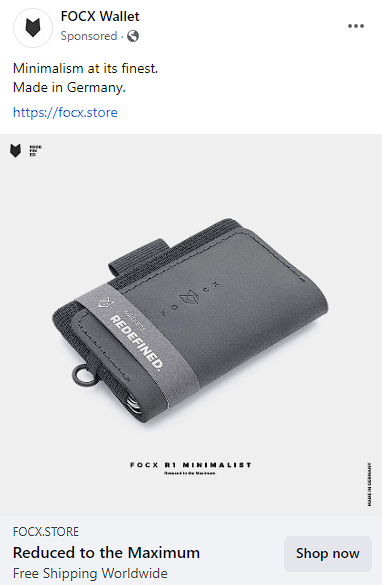 Why does it work?
Clean and crisp visual

Short and snappy copy

Key selling point highlighted next to the CTA
Play a little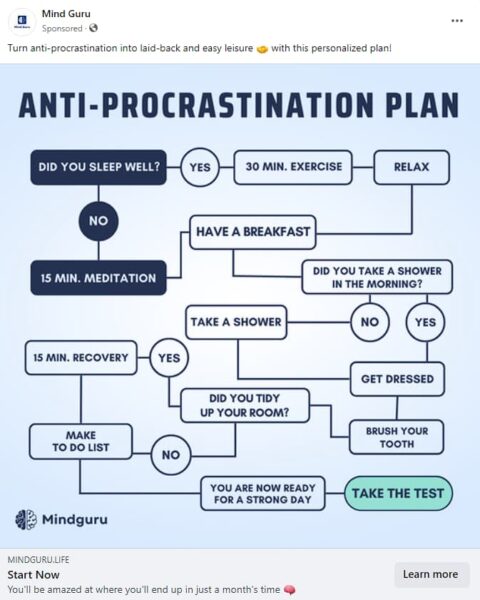 Why does it work?
Interactive, game-like theme makes the user stop scrolling

Addresses users' pain points directly

Active voice, positive verbs in the copy ("turn," "start," "learn")
Highlight your brand values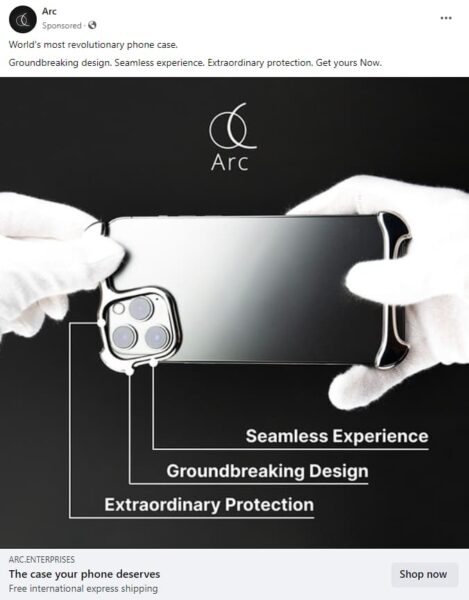 Why does it work?
Minimalist design suggests professionalism

Key selling points highlighted with copy

Monochromatic tone helps stand out in a colorful feed
Key takeaways
Image ads on Facebook offer a powerful way to capture attention, increase brand interest, and drive action. By incorporating clean and crisp visuals, short and snappy copy, and highlighting key selling points next to the call-to-action, you can create impactful image ads. To make your image ads stand out, don't shy away from using fun, interactive themes, directly addressing users' pain points, and utilizing active, positive language in your copy.
You can create your image ads very easily in Meta Ads Manager or even more simply, by boosting a post with an image on your Facebook Page. These ads appear across multiple placements on Facebook, Messenger, Instagram, and Audience Network, supporting various aspect ratios. You can also leverage the asset customization feature in Ads Manager to maximize the reach and impact of your image ads across multiple placements.
2. Facebook Video Ad Examples
Video advertising excels in capturing users' attention and immersing them in a brand's narrative even more so than static image ads. Their captivating storytelling and potential to evoke strong emotions make them a powerful tool for connecting with viewers on a deeper level, enabling brands to create a more memorable impact than a static image could.
Work with an influencer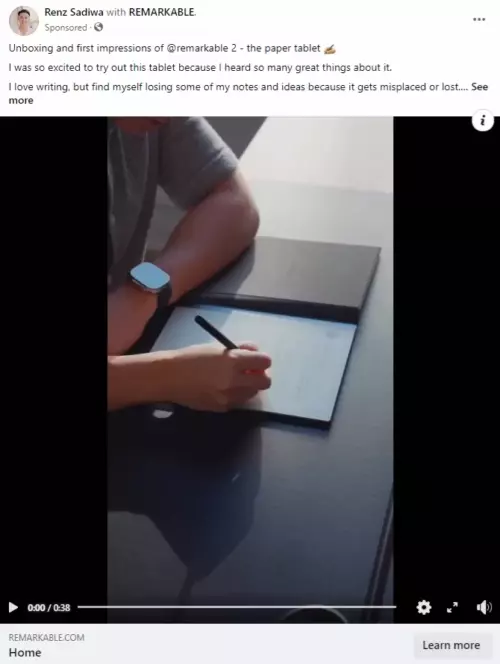 Why does it work?
Professionally filmed, great visual

Short but in-depth product introduction

The review-style format suggests authenticity and strengthens trust
No sound? No problem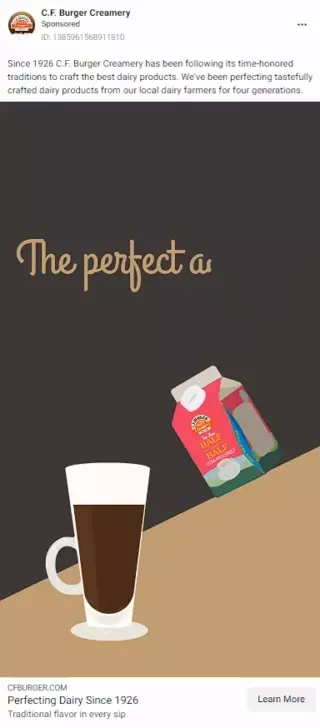 Why does it work?
Simple visual and copy, great for brand awareness campaigns

Authentic and relatable

Quick, easy and inexpensive to make
Present a challenge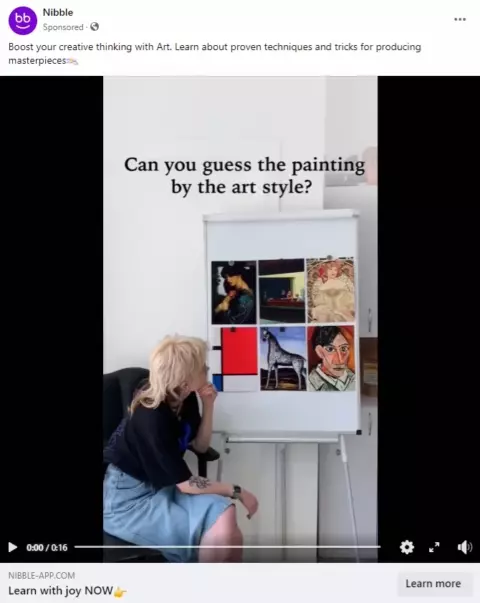 Why does it work?
Poses a task – a great hook, especially in the self-improvement segment

Plays on the Dunning-Kruger effect, subtly suggesting you can do better than the model in the video
Key takeaways
Video ads are one of the most powerful ways to showcase your product, service, or brand using visually captivating content. Dynamic visuals – whether professionally-filmed footage or the simplest of animations – are at an advantage compared to static images when it comes to capturing attention and, therefore, can get you a step closer to establishing credibility and fostering trust with your audience. Not to mention that it's extremely easy to create animated Facebook ads that stand out.
When brainstorming ideas for video ads, authentic and relatable content should be high on your priorities list. It's also a good idea to add subtitles if the core of your message is in the audio, as most users keep the sound muted when scrolling through their feeds.
Just like image ads, video ads are born in Meta Ads Manager, or you can post a video you made offline and boost it.
3. Facebook Carousel Ad Examples
Carousel ads provide an interactive and engaging format for storytelling. Brands utilize carousel ads to showcase different aspects of their products and services or several different products in one ad. The second image in each carousel, that's only half-visible, is also a clever way to entice users to explore more. By highlighting unique features and stunning visuals, carousel ads capture attention and increase user engagement.
Cast a wide net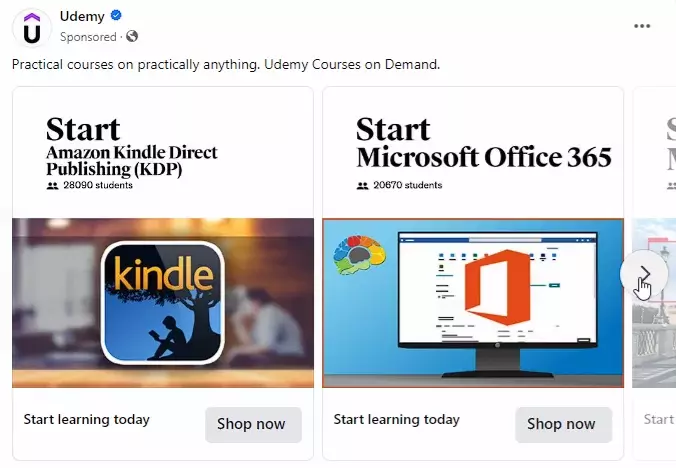 Why does it work?
Addresses a wide audience

Simple, templated copy minimizes distractions

Social proof element helps build trust
Showcase an entire product family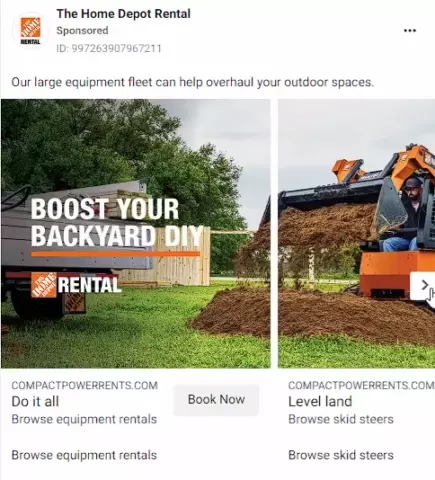 Why does it work?
Presents a range of similar products

Makes it easy to target specific audience segments

Leverages brand colors in a smart way
Make it relatable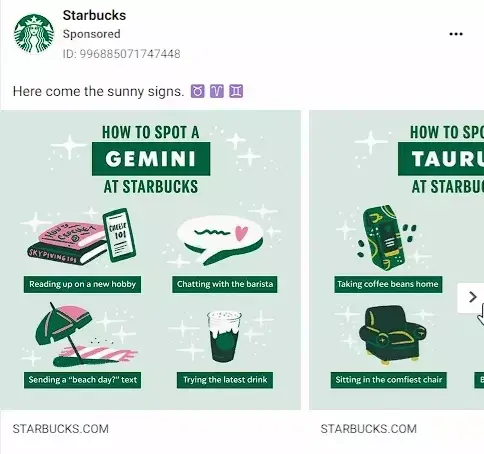 Why does it work?
Fun, share-worthy content that's easy to implement

Heavy use of brand elements

Easily scalable into a long-term campaign
Key takeaways
Facebook Carousel ads represent a versatile and engaging format that is a great fit for various advertising objectives, without the complexity of production that some video ads require. By leveraging simple copy and imagery, carousel ads can effectively showcase multiple products, each with its own landing page, with fewer distractions compared to some of the other popular ad formats.
When showcasing an entire product range, carousel ads allow for targeted messaging to well-defined audience segments, but without being overly specific – and thus, keeping CPA in check. Additionally, carousel ads are a versatile canvas where you can let your creativity shine, from the subtle use of your brand colors to filling up those tiles with shareable ideas that can go viral. They offer a valuable opportunity to captivate your audience, highlight product features, and tell compelling stories that drive user engagement.
4. Facebook Slideshow Ad Examples
Slideshow ads provide a compelling way to tell a visual story through a series of images or short videos. Brands normally leverage slideshow ads to showcase multiple facets of their products.
By combining captivating imagery and concise messaging, slideshow ads offer an engaging format that is most suitable for products that are difficult to present in just one image or complex services that present multiple benefits that you want to highlight in one ad.
Showcase a complex offering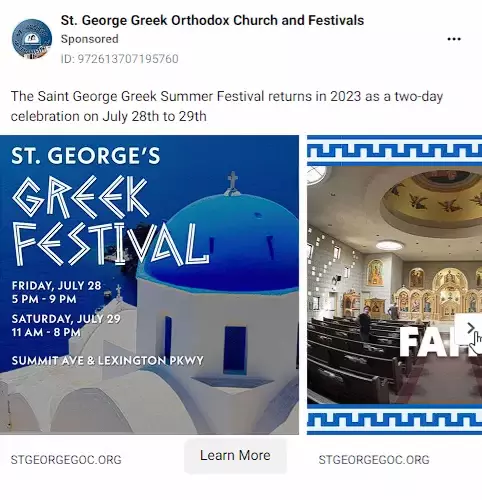 Why does it work?
Flyer-style cover repeats the essential information from the caption

Subsequent tiles clearly labeled to highlight key selling points

Authentic photos
Highlight your best work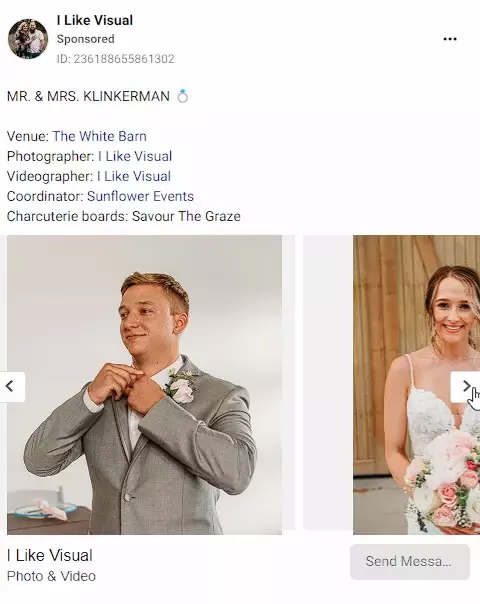 Why does it work?
Presents the artist's signature style

Highlights partners in the caption

Allows users to view the photos at their own pace
Create a teaser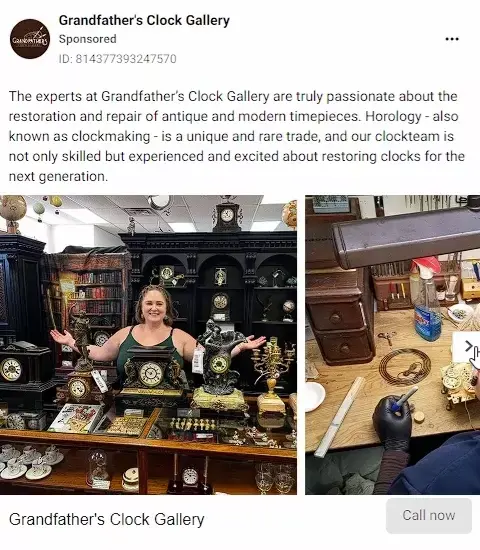 Why does it work?
Detailed caption provides a clear brand philosophy and mission statement

Genuine imagery

Simple but effective: some point-and-shoot photos and a few lines of text are all it takes
Key takeaways
Slideshow ads on Facebook provide a versatile and cost-effective alternative to video ads, making them an excellent option for creating immersive experiences quickly, offering much of the same benefits as video ads do – but at a fraction of the production complexity. They are particularly useful for presenting a signature creative style, showing a product from different angles, or introducing a complex service.
They're ideal for making great ads directly from your desk or phone. When you aim to simplify a complex process or narrative, slideshow ads allow you to visually walk people through sequences or steps. Additionally, slideshow ads are effective for reaching audiences with slower connections, as they use significantly less data than videos, making them accessible in markets with lower bandwidth and for users with older devices.
5. Facebook Stories Ad Examples
Sponsored stories introduce brand promotion into a highly popular, immersive (and, let's face it, addictive) stream of dynamic user-generated content. Facebook Stories have evolved from real-time updates to a platform where users can share significant moments. That content stream, accessible from virtually all social apps under the Meta umbrella, now provides a space for expressing a broader range of life experiences beyond the highlights typically posted on the Feed.
With Facebook Stories ads, marketers have an opportunity to connect with users in this immersive environment, expanding their reach and achieving their campaign objectives.
PS: You can easily animate your Facebook ads with Creatopy by adding motion to every layer of your ad.
Pay attention to the details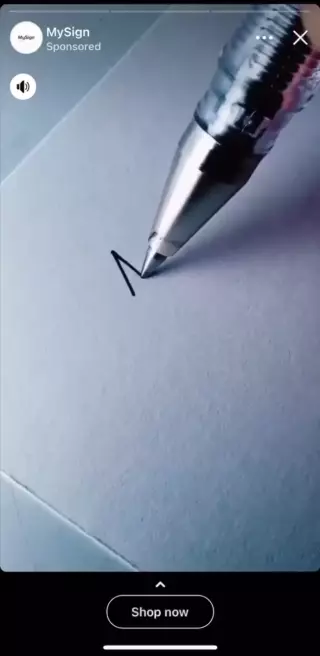 Why does it work?
Pro look – high-quality photos, minimalistic design

Native feel – the swiping transitions imitate the natural content flow of the platform

Relatable – resonates with a diverse client pool
Drive action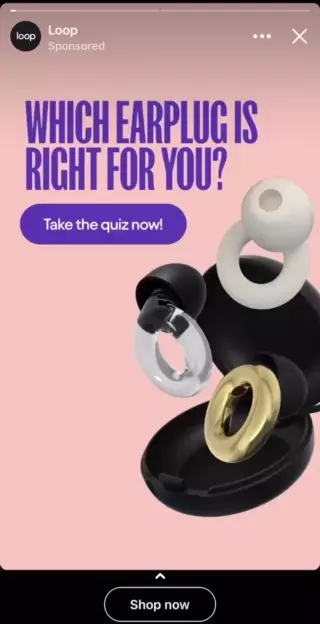 Why does it work?
Triggers action with an interactive feature

Adds a fun fact to make the proposal more engaging

No sound and no video needed, just a static visual and some text
Create urgency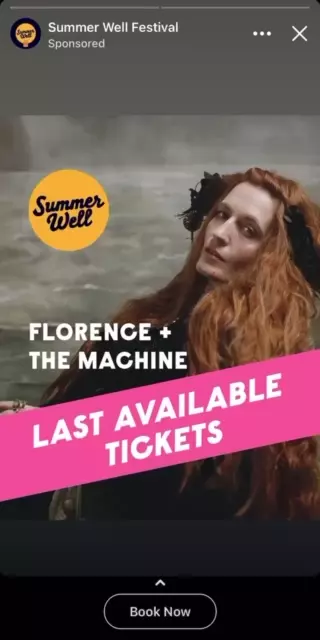 Why does it work?
Simple, yet impactful imagery

Copy suggests urgency without overly forceful language

Easy and quick to make, great for time-sensitive campaigns
Key takeaways
Facebook Stories ads are a powerful tool to engage audiences as they deliver your content in a format that aligns with their viewing preferences. Although they can be as complicated and expensive as your budget and timeframe allow, a simple but clever ad in this space can really punch above its weight.
All this potential has its price, though. The race for your audience's ever-shrinking attention span is perhaps the most intense in this field out of all Facebook ad formats, so it's best to make sure that your messaging is crystal clear, cohesive, and efficient without shattering the good vibes of the story feed with aggressive sales lingo.
6. Facebook Reels Ad Examples
Reels ads have gained immense popularity, allowing brands to tap into the growing trend of short-form videos. Brands leverage Reels ads to showcase their products, often in a real-world scenario that fits well into the flow of user-generated content in people's Reels feeds. By embracing the engaging nature of Reels, brands get a direct channel into the hearts and minds of their younger audiences.
Let your product sell itself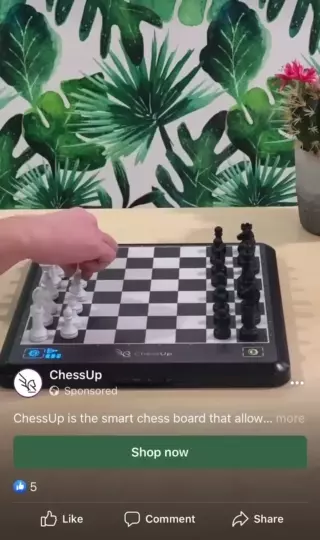 Why does it work?
Highlights the product's USP in premier plan

Crystal-clear copy on-screen and in the caption to drive the message home

No talking, no fluff, just the product in a real-life use case scenario
Keep the good news flowing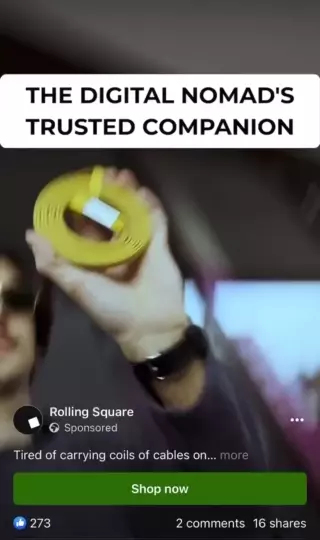 Why does it work?
Although it's long, it builds up consistently, from clarifying the target audience all the way to the small details

Presents the product as a stopgap solution to a set of problems

Shows the product in real-life scenarios
Radiate confidence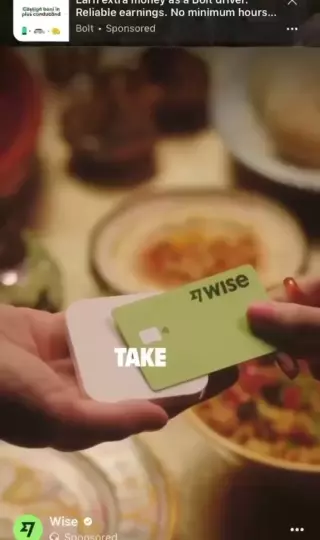 Why does it work?
Professional look and feel – no trace of stock imagery

Brand elements everywhere

Confident, bold tone of voice
Key takeaways
Facebook Reels ads offer a valuable opportunity to deliver your message effectively, but the higher cost compared to other placements requires a more strategic approach. Incorporate Reels ads alongside other placements, like the in-feed image ads and video ads, to optimize ad delivery and gain valuable insights.
When creating Reels ads, focus on showcasing your product's unique selling points, presenting real-life use cases, and using clear and concise copy to make sure your messaging is laser-focused. Remember to utilize compelling calls to action that encourage engagement.
7. Facebook Messenger Ad Examples
Messenger ads provide a personalized way to connect with potential customers, as people will see these ads in the Chats tab in their Messenger app. When opening the ad, a detailed view pops up directly in Messenger with the content you define and a customizable call-to-action.
Many brands utilize Messenger ads to engage users with tailored recommendations and exclusive offers. However, with Messenger ads, you can simply leverage the same creative you're using for Facebook, as the ads will be automatically delivered to the placement that yields the best results at the lowest cost.
Thanks to the very nature of the Messenger app, these ads can even drive conversions through interactive conversations if you set the CTA to a conversation with a sales rep.
Have a friendly face do the talking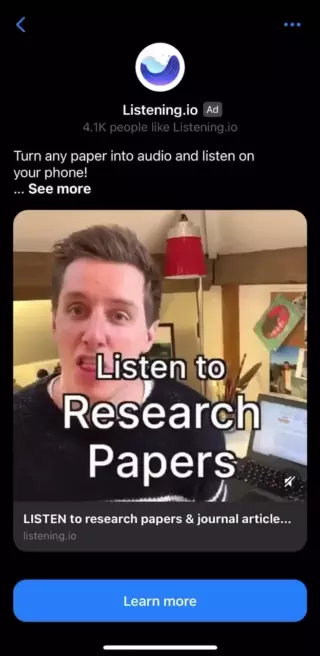 Why does it work?
Authentic and relatable style – similar to a video call with a friend

Detailed information in the caption

Conversational tone
Be fluent in your own design language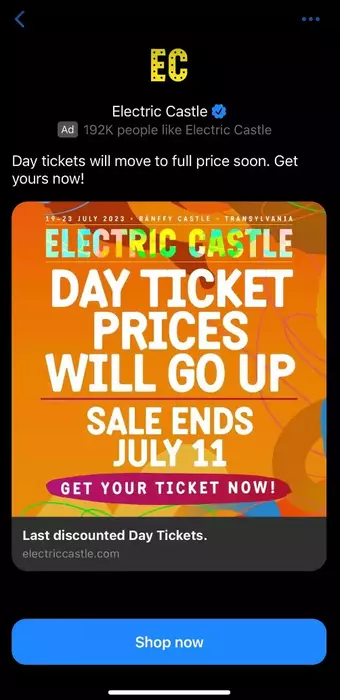 Why does it work?
The bright colors help attract attention and carry summer festival vibes

Varying font size echoes artist lineup on festival posters

Copy creates a sense of urgency
Key takeaways
Facebook Messenger ads offer a compelling opportunity for businesses to connect directly and privately with users. With 1 billion active users, Messenger has become a highly relevant platform, and due to the intimate nature of Messenger interactions, it's a unique channel for driving engagement with audiences.
8. Facebook Marketplace Ad Examples
In Meta Ads Manager, while creating your ads and setting your budget, you can also choose Meta Advantage+ placements for your ads to appear on Facebook Marketplace. These will be displayed alongside relevant products and services, giving customers the opportunity to click through to your website, app, or view details for more information. While ads in Marketplace will display a Sponsored label, they may also appear in the Feed, as it's not currently possible to limit your ads strictly to Marketplace.
Category fit

Why does it work?
Well-chosen category

Covers the price, product category and brand name in very few words

The product is presented from multiple angles in a slideshow-gallery
Relevancy at its finest

Why does it work?
Highly relevant in its context

Efficient messaging with few words (relying on a well-chosen brand name)

Active language in the title to drive action
Native feel

Why does it work?
Fits seamlessly into the feed

Clear product name

Professional photo and different aspect ratio draws attention
Key takeaways
Marketplace ads present an effective way to expand brand visibility and reach a broader audience. By selecting relevant categories, using concise yet informative messaging, and incorporating visually appealing elements, Marketplace ads can effectively capture attention and drive action. By strategically positioning ads within Marketplace, your brand can tap into new customer segments, and do so using almost native-like placement that fit seamlessly into the surrounding content, ensuring a better user experience as an additional benefit.
To optimize your Marketplace ads, ensure your product names are clear, leverage active language, and consider including a price into the description to blend in even better with the surrounding listings.
Conclusion
Good Facebook ads offer immense potential to reach and engage your target audience effectively. By exploring a diverse range of formats and techniques showcased through the variety of Facebook ad ideas in this article, you can unlock the full potential of Facebook ads and achieve remarkable results.
Whether it's captivating image ads, engaging video ads, interactive carousel ads, immersive slideshow ads, or impactful Messenger ads, each format has its unique strengths and advantages. The key is to use these Facebook ad examples so you can create ads that transmit your message most effectively and best reach and resonate with your audience.
Our advice is to start by setting up campaigns with identical copy and visual elements in different formats and keep a close eye on their performance. Repeat the test several times, with different messaging, promoting different products if you have several, and at different times of year, so that you can isolate factors like seasonality and get to draw more informed conclusions regarding the ad formats themselves. Once you're confident, you can narrow down the circle and focus more of your creative energy on the ad formats that deliver the best results for you.
With Facebook's vast user base and extensive online advertising tools, you have all the right tools at your fingertips. All that's left is to ignite your creativity and connect with your customers in new ways. So, don't hesitate to dive in, explore the possibilities, and get inspired by examples of Facebook ads.
Start your journey towards maximizing the potential of this powerful platform and unleash the true impact of your marketing efforts with Facebook advertising!