12
minutes read
Despite a seeming fall from popularity, Facebook is still the crowned royalty of social media. With nearly 3 billion monthly active users, Facebook amasses the largest social media user base in the world, so running Facebook advertising can still be a very good, profitable idea for many types of businesses.
How do you do it? How do you create Facebook ads that tap into your target audience and help you convert them into buyers?
Read our Facebook advertising guide to learn more about running successful ads on Facebook.
A. What Is Facebook Advertising?
Facebook advertising is an online platform allowing businesses to target specific audiences (built from people who use Facebook.) It uses a variety of ad formats, including video ads, image ads, carousel ads, and more.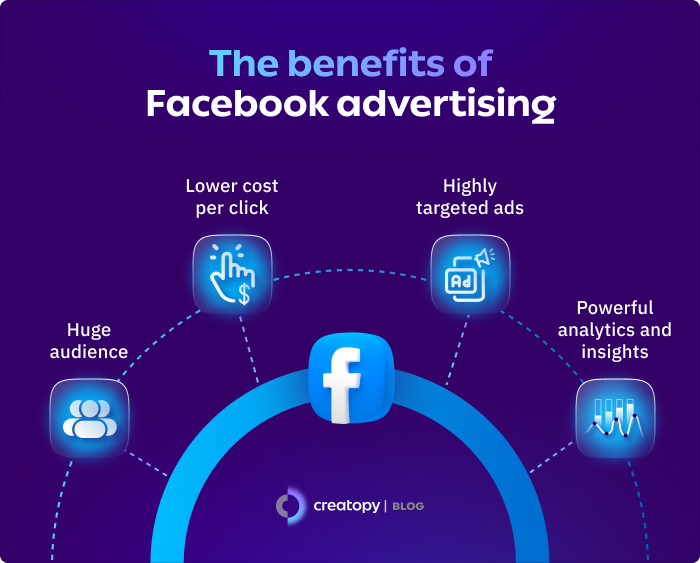 B. What Are the Benefits of Advertising on Facebook?
Using Facebook as your advertising platform comes with many advantages. Some of the most important ones include:
Huge audience to tap into

Lower cost per click (the

average CPC was $0,974 in 2022

, for example)

Highly targeted ads, which can be tailored to your desired user profile

Powerful analytics and insights
All in all, if you advertise on Facebook, you can reach your ideal customers, get their attention, and bring them closer to your brand.

C. What Are the Different Types of Facebook Ads?
Facebook business ads come in many types, each with its advantages and disadvantages.
1. Image ads
Image ads are the most common type of Facebook advertisement used. They are visuals that are attention-grabbing and can be used to tell a story about your product or brand. Do keep in mind there are different Facebook image sizes you'll have to adhere to, so make sure your creatives fit in with the specs.
2. Video ads
Video ads appear as a video in the user's newsfeed and can be used to create an emotional connection with users. Video ads can be more attention-grabbing than image ads, as people tend to be more attracted to moving images.
3. Carousel ads
Carousel ads consist of multiple images or videos shown in a slideshow format. They can be used to showcase different products, services, or features of your business.
4. Instant Experience ads
Instant Experience ads are ads that lead the user to a landing page after clicking on the ad. They are created exclusively for mobile devices and they are usually more interactive than other types of ads.
5. Collection ads
Collection ads are a combination of carousel and video ads. They can feature multiple images or videos, along with descriptions, to help people better understand your products and services. When someone clicks on a collection ad, they are shown an Instant Experience full-screen landing page with additional information and visuals.
6. Lead ads
Lead ads are forms that appear directly in users' newsfeeds, allowing them to fill out their contact information without ever leaving Facebook. This makes it easy for advertisers to collect information about potential customers, which they can then nurture them into buyers.
7. Slideshow ads
Slideshow ads are a type of video ad that feature a series of images or video clips combined to create an eye-catching animation. They are great for showing off different facets of a product, demonstrating how it works, and catching the viewer's attention. Do note that slideshow ads are not the same as carousel ads, as the former consists of a single video of up to 15 images, while the latter is a string of up to 10 images (not in video format.)
8. Sponsored messages
Sponsored messages are an ad that allows you to send messages directly to people who follow your page and have consented to receive communication from you. They can be used to communicate promotional offers or special announcements.
9. Dynamic ads
Dynamic ads are personalized ads tailored to each user depending on their activity and interests. This allows advertisers to serve personalized messages and content, for example, ads featuring products the user has already looked at on your website.
D. How to Create a Facebook Ad Campaign?
If you want to advertise on Facebook, you'll be happy to learn it's a fairly straightforward process, but there are some things you need to know first.
1. Creating a Facebook Ads Manager account
The first thing you have to do to advertise on Facebook is to create a Facebook Ads Manager account. The Facebook Ads Manager account is your "base ship" for everything related to Facebook ads. So, before you dive into creating actual campaigns, you should first make sure your Facebook Ads Manager account is up and running.,
2. Choosing a campaign objective
To make sure you lead your campaign in the right place, you have to choose a campaign objective. Your options are:
Awareness

Traffic

Engagement

Leads

App promotion

Sales
3. Setting up an ad account
Setting up an ad account is the next step after creating your Facebook Ads Manager account. This is a financial account you use to pay for your ads.
4. Creating an ad set
An ad set is a group of ads that share the same objective, budget, schedule, placement, and targeting. Creating an ad set allows you to group your different types of ads so that you can keep track of them more easily.
5. Choosing a target audience
When creating an ad set, you need to choose a target audience for your ads. This can be done by targeting people based on location, age, gender, interests, or other factors. Lookalike audiences are also available, which can help you reach more people similar to your existing customers.
6. Selecting ad placement
Facebook has several ad placement options: newsfeed, right column, instant articles, and in-stream videos. You can select one or more of these placements to reach your target audience.
7. Choosing ad format
The ad format is how your ad looks and appears to people: as an image, a video, a slideshow., etc. Generally, each type of Facebook ad can be successful, but some are more suitable for certain types of products and campaign goals. For example, if you run an eCommerce store, you may want to set up a carousel ad. However, if you sell an innovative product and want to show people how it works, a video ad might be better.
8. Setting a budget and schedule
You also need to set a budget and schedule for your ads. This helps you control how much you are spending on a daily or lifetime basis, as well as when the ads should start and end. For instance, you can spend $10/ day for 10 days, or $100 for 10 days, and Facebook will split your budget accordingly. This is important because it allows you to put a cap on your spending, measure the actual efficiency of your ads, and adjust accordingly.
9. Creating and submitting the ad
Once your campaign settings are done, and you've chosen a budget and schedule for your ads, you should create and submit the ads. Keep in mind the following tips for Facebook business ads:
Use high-quality visuals that catch people's attention

Write a compelling headline and body copy to explain what you are offering

Use colors and images that make your ad pop (and stand out in people's feeds)

Read the

Facebook Advertising Standards

and avoid creating ads that could be interpreted in any of the categories mentioned there
E. How Much Does It Cost to Advertise on Facebook?
The advertising costs on Facebook depend on the type of campaign you choose, who creates the assets, your goals, and how much budget you can afford to allocate for the campaigns. To give you an idea, in 2022, the average cost per click was $0.94, the average cost per 1,000 impressions was $12.07, the average cost per app like was $1.07, and the average cost per download was $5.47. Based on this, you can spend anything between $200 and $10,000 (or more) on Facebook paid ads, every month.
F. How to Advertise on Facebook Effectively?
There's no universally successful recipe with Facebook ads (or any other type of social media advertising) — but there are quite a lot of ways to ensure you make the most of your ad budget. Here are some of the most important tips for creating Facebook ads that have a good Return on Ad Spend (ROAS.)
1. Define your target audience
Your target audience is one of the most important Facebook Ads settings. Based on this, the Facebook algorithm will show your ads to the right kind of people and increase your chances of success. Here are some things to keep in mind about this:
Be specific. Make sure you know exactly who are you targeting with your ads.

Test different audiences. Chances are you won't get it perfect from the get-go, so iterating on your settings, seeing what works (and what doesn't), and continuously adjusting your targeting will help you narrow down your audience settings (and show your ads to increasingly more relevant people.)

Experiment with small budgets first to see what works. While you don't want to miss out on potential conversions, you also don't want to spend a lot of money without understanding if it will be worth the effort.

Use the Facebook Audience Insights tool to get more insights into your audience and ensure you run targeted advertising that resonates with them.

Once you have a solid database of information regarding your target audience, use Facebook Lookalike Audiences, which enables you to tap into audiences similar to those that already paid for your products/ downloaded your content/ liked your page.
2. Choose the right ad format
Same as audiences, the right ad format can make or break the entire campaign. Generally, the best ways to use each ad format are as follows:
Carousel ads: if you have multiple products/ services or want to show different versions of the same product (each with a different message).

Single image ads: if you want to showcase a product or service, create awareness and engagement with customers.

Video ads: if you want to create an emotional experience with the audience, show how your product works, or present a tutorial.

Collection ads: if you want to showcase products and their features, or create a shopping experience.

Instant experience ads: if you want to promote your app, increase website visits, or create a full-screen experience that drives engagement.

Dynamic ads: if you have a large product catalogue and want to showcase relevant products to people who have shown interest in certain items.

Sponsored message ads: if you want to reach existing customers or those who interacted with your page/app in the past.

Slideshow ads: if you want to create a video-like experience but don't have access to video assets.

Lead ads: if you want to capture potential customers' details (name, email address, phone number) for marketing purposes.
3. Use attention-grabbing visuals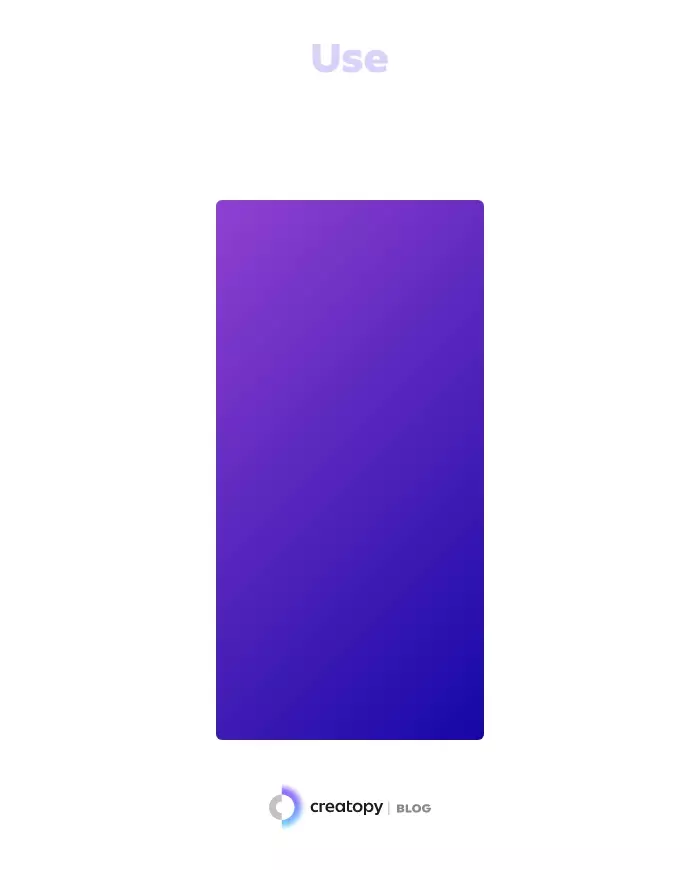 We're exposed to thousands of ads every day — so many that our brains have trained themselves to "turn off" from them. To increase the visibility of your ads, you need to use attention-grabbing visuals that will make people stop and look at your ad. Some ways to make sure your ads are noticed include:
Using eye-catchy colors and graphics

Using human subjects in your pictures, as much as possible

Making sure your visuals are relevant and aligned with the message you're trying to communicate.

Write compelling copy that breaks away from the noise and stands out. For instance, using power words in your ad creative copy can grab people's attention and stop them from scrolling.

Use animated or video ads
4. Keep your copy concise
Ad copyrighting is an art and a science. On the one hand, you want to use words and structures that are proven to be successful. On the other hand, you want to be different than everyone else, to avoid ad fatigue.
Using "copy" recipes and combining them with your unique tone of voice, offer, product, and emotional triggers can help you get your audience's attention (and maybe even making them click.)
Do keep in mind, however, that your space is limited and you need to make sure your copy is concise. Long gone are the days of page-long ads and convoluted messages. People want to read your message quickly, assess if your product is right for them, and move on to either taking action or ignoring your ad.
5. Use a clear call-to-action
There's no point in creating an ad without a clear, straightforward call-to-action. You don't have to reinvent the wheel here, you can use the conventional "click here", "buy now" or "learn more" CTAs. Experiment with different CTAs and see what works best for your business and audience.
6. Test multiple ad variations
As mentioned before, there's a pretty dim chance you'll get it all "right" from the very beginning. As such, testing out different ad variations is critical to success. This means you should try out different visuals, copy, headlines, and calls-to-action.
Remember that you should only test one variable at a time — so if you want to test different headlines, for example, you'll have to make sure everything else stays the same across the variations (from ad settings and targeting to the colors you use on the creative.)
7. Optimize your landing page
If ads are the gate, your landing page is the waiting room. People will click on your ad and go through the door, but once they're "in," they want to be sure they made the right decision.
Therefore, your landing page needs to be optimized for conversions. This means that it should have a clear message, relevant visuals and copy, and, most importantly — an enticing offer. Whatever you promise in the ad should be delivered on the landing page, so keep things clear, persuasive, and benefit-oriented.
8. Use social proof
People buy things when other people buy things. While this may seem like middle-school behavior, it's an embedded mechanism deeply connected to our need of being "one with the Joneses."
Adding social proof to your ads and/or landing pages helps you build trust, rapport, and , ultimately — conversions. Testimonials, case studies, and reviews are all great examples of social proof that you can experiment with in your ads and landing pages.
9. Optimize for mobile
More than 58% of all internet traffic happens on mobile devices. What's more, a staggering 98.5% of Facebook users use the social platform on mobile phones, and only a little over 16% use it on both phones and computers. Given these numbers, it's essential to make sure your ads are optimized for mobile. This means your visuals should be legible, and your copy shouldn't take up too much space. Also, remember that ads on mobile devices are vertical — so make sure your creative is optimized for these types of ads as well.
10. Follow Facebook's ad policies
This may seem like the dullest part of building an ad campaign, but it is essential if you want your ad to get approved and run smoothly. Make sure you are familiar with the latest policies and best practices, as these can change from time to time.
G. Measuring Your Ad Performance
The only way to know if your ads are doing well is by measuring their performance. To do this, you need to set up tracking pixels and events that will allow you to analyze your campaigns. Here's a quick tutorial on how to set up the Facebook pixel for your website.
Make sure you have a way to measure the return on your ad spend (ROAS), as well as other metrics. These are all essential metrics to measure the performance of your campaigns. You can do this by using the Facebook Ads Manager or a third-party tool, such as Google Analytics, AdEspresso, or Hootsuite Ads to help you manage your campaigns — and your reports.
Some of the most important metrics to follow as a Facebook advertiser include:
Click-through rate (CTR) – the rate at which people click on your ad.

Cost per Click (CPC) – how much each click costs you.

Reach – how many people see your ad.

Frequency – how often each person sees it.

Cost per Thousand Impressions (CPM) – how much it costs to show your ad 1000 times.

Conversion rate – the percentage of people who complete an action (for example, purchase a product)

Cost per lead – how much it costs you to acquire a new lead. Cost per action (CPA) – how much it costs you for each desired action

Return on Ad Spend (ROAS) – the ratio of your ad spend to the revenue it generates. These metrics will help you optimize your campaigns and make better decisions as a marketer, so make sure to follow them closely.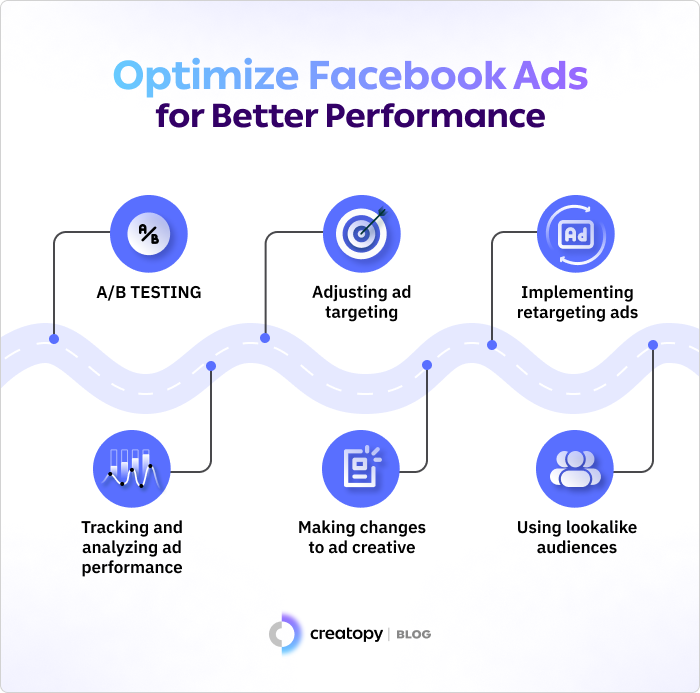 H. How to Optimize Your Facebook Ads for Better Performance?
Once you have set up your ads, a few things can help you optimize and improve their performance. Like, for example:
1. A/B testing
A/B testing allows you to compare two versions of an ad and see which one performs better. Keep in mind that the more changes you make to your test versions, the harder it is to determine what, exactly, is causing the difference in performance. Use A/B testing to tweak visuals, copy, audiences, and more — it's a great way to find what makes your specific audience react.
2. Tracking and analyzing ad performance
By tracking and analyzing your ad performance, you can easily identify why some of your ads work better than others. You can also use this data to make informed decisions on improving your campaigns.
3. Adjusting ad targeting
Audience targeting allows you to make sure you are targeting the right people at the right time, and it's essential to the success of your ads. Fortunately, Facebook offers a wide range of targeting options, so you can make sure you are reaching the right people.
4. Making changes to ad creative
Your ads should be visually appealing and easy to read, so play around with visuals and copy until you find the combination that works best.
5. Implementing retargeting ads
Retargeting ads allow you to reconnect to audiences who already know you. For example, if someone visited your site before but didn't buy anything, you can show them an ad for the product they were viewing. This increases the chances of getting a sale, as those people already know your brand and are more likely to convert.
6. Using lookalike audiences
Lookalike audiences are a great way to reach potential customers who have similar traits as those in your existing customer base. Facebook can take data from your existing customers and target people who have similar interests, demographics, or behaviors. This can help you reach a larger audience and increase your ROAS.
Conclusion
Many would say Facebook (and its advertising platform) are outdated. However, the fact remains: Facebook continues to be the most used social media platform in the world. What's more, according to The State of Digital Advertising report we published in April 2023, most advertisers still consider Facebook an important platform for their efforts.
Of course, it all depends on who you're targeting. For example, the largest age group using Facebook is between 25 to 34 years (30% of all active Facebook users fall in this category). So if your audience is in this demographic, it may be easier for you to reach them via Facebook than other platforms.
All in all, Facebook advertising can bring a lot of value to your campaigns. You just need to make sure you're optimizing your ads and tracking their performance in order to get the most out of your budget.