Create on-brand every time
Incorporate the essence of your company in every design and keep consistency across all media and markets.
highlights
Align. Scale. Collaborate.
Achieve brand consistency at any scale and maintain it throughout the entire ad-making process.
Align to your brand
Import your brand assets in Brand Kits. Customize ad designs with brand colors, typography, logos, or vectors, and stay brand-consistent. Create custom templates so other team members can use them as a starting point in their work and always stay on-brand.
Scale on-brand
Keep brand consistency in all the phases of your creative process. Have all your brand elements ready for use right in your workspace. Avoid human error when scaling on multiple sizes by letting the smart tools in Creatopy take care of all the resizing.
Collaborate on-brand
Customize your sharing page to display your branding so that whenever your clients or partners receive any of your work, they can clearly see it's yours. Add your logo, favicon, customize your share URL, and stay brand consistent across all stakeholder categories.
multiple brand kits
Manage multiple brands at once
Managing multiple brands simultaneously? Simply create a dedicated kit for each business. Upload the brand related resources for each one, and switch between kits directly while editing, according to the project you are working on.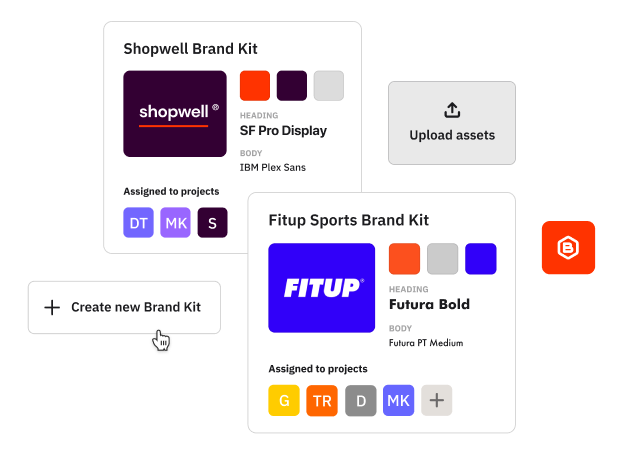 brand resources
Keep brand assets organized
Make your creative process more efficient by having all your brand elements organized in kits and sorted according to category. Upload all versions of your logo, pick the colors in your brand palettes, name them for easier use, select the brand fonts, and upload media assets like video and audio files.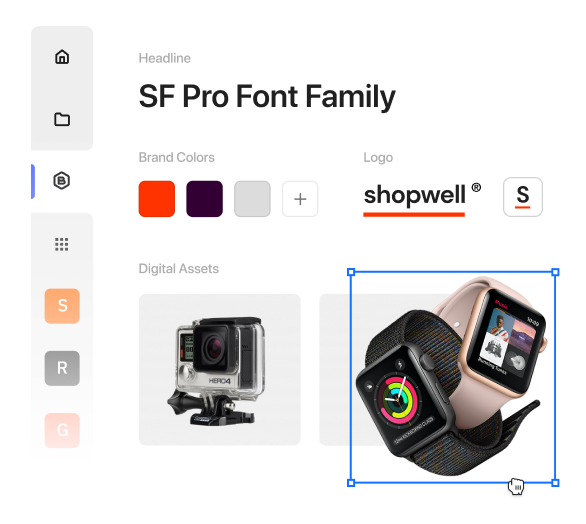 color shuffle
Customize
templates instantly
Experience the true meaning of effortless brand alignment with intuitive tools designed to make your design process as smooth as possible. Instantly add your brand color palette to any template by using the color shuffle functionality.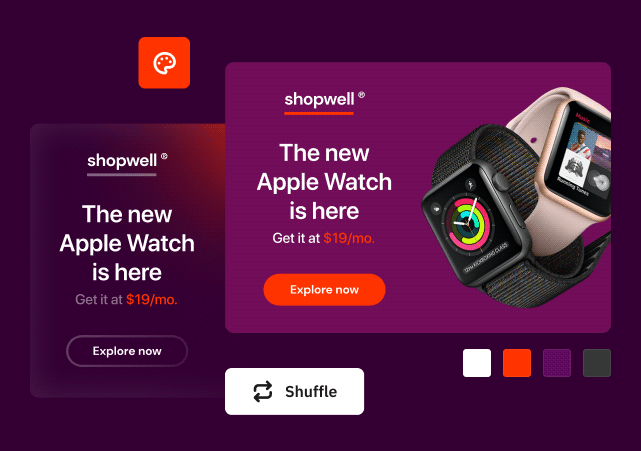 brand-compliant teams
Set up brand controls for your team
Manage which design assets your team can see and use. Provide them access to all Creatopy assets, or restrict their usage to your branded templates, elements, and typography. Keep brand consistency with ease.
Features
See what else you can do in Creatopy
Create and manage all your digital assets in one place. Maintain full control over your ad creation process.
Multiply your banner ads
Resize your designs in multiple sizes instantly. Prepare your ad campaign for multi-platform distribution.
Edit multiple sizes at once
Edit and animate an ad design in different sizes at the same time. Accelerate your workflow to get more done in less time.
Serve ads on any display network
Get unique embed codes for specific uses: ad buy platforms, DSPs, SSPs, CMS, and standard, with just a few clicks.

Stay on brand
Keep brand consistency at any scale
Choose Creatopy, the ad design platform, to maintain brand alignment across all media and markets and get more done in less time.