12
minutes read
You may know that Snapchat was king of stories until Instagram stories came into the game, and then Facebook came following close behind with their stories.
Stories are much more than just images that pop up and disappear within 24 hours. Today we're going to talk about all things stories, promoting your business, and how to use Facebook stories to your business' advantage.
In this article we'll be covering the following:
We have a lot to go over, so without further ado, here's the complete guide on how to use Facebook stories for your business.
What are Facebook Stories?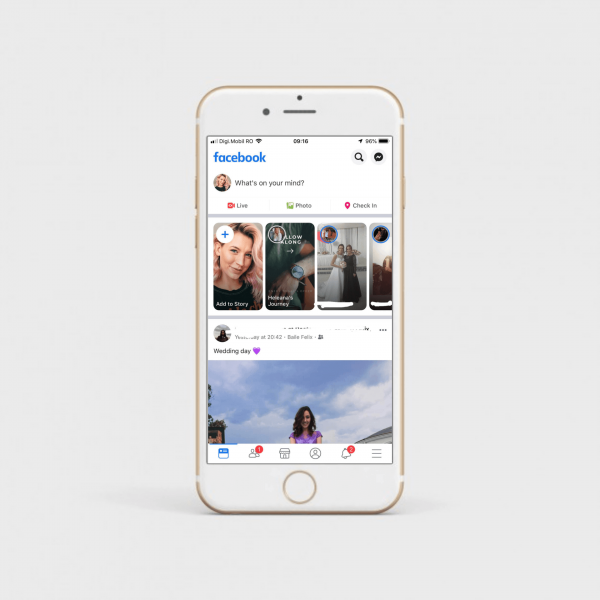 Facebook stories are a fun, fast, and efficient way to share and consume content quickly. Because people have a short attention span for ads nowadays, stories are a great way to build brand awareness and promote your business. Stories are easy to watch, they're less than 15 seconds long, and they feel raw and natural.
You can create content for your Facebook stories beforehand, like a product video, and really plan out a strategy, or you can just start recording on the spot and talk to your followers directly.
The number of daily active Facebook story users is 500 million. Mark Zuckerberg reveals this number in his earnings call, where he also stated that stories are perfect for advertisers. See for yourself.
Facebook and Instagram feed ads make up the bulk of our business today. We expect that to continue, but Stories are an increasingly important growth opportunity…

We're proud to announce that we now have 3 million advertisers using Stories Ads to reach customers across Instagram, Facebook, and Messenger.
Facebook stories last for 24 hours. The people who can see your Facebook stories heavily depends on your privacy settings. If you have a private account, only your friends and followers can see your stories. If you don't have strict privacy settings, then anyone can see your stories. And lastly, if you choose to use Facebook story ads, then your target audience will see your stories. But we'll get more into that in a minute.
Facebook stories are great because you can track your engagement with your friends and followers, you can raise your brand awareness exponentially, and also create great relationships with your audience!
Another great thing about stories is that you don't have to be on a mobile device to post to your story. You can post to your story from both mobile and desktop devices, which completely differs from Instagram and Snapchat. If you're on a phone, then stories will look like this and will be located at the top of the page. On a desktop, they'll be on the top row of your news feed.
A Brief History of Stories
There are many platforms that offer you the option to post stories. Snapchat created "stories" in October of 2013. And it was a hit. By 2014, 40% of all 18-year-olds in the US were using Snapchat and the stories function. So as you can imagine, Instagram and Facebook saw the trend of stories, they needed to jump onboard the story train.
In August of 2016, Instagram launched the story option on its platform. And not too far behind, we see Facebook launching the story option in March 2017. At first, no one wanted to use stories. People were actually complaining about it. This just goes to show you that any successful business can go through a rough spot, but if you push through, you just might see the fruit of your trials.
Although things weren't looking too good for Facebook stories in 2016, we see a major turn-around in 2019. Facebook has announced that they have 300 million people using Facebook stories. That's more people using Facebook stories than Snapchat stories! And most importantly, that's a big audience that you need to be marketing your company to. But in order to do that, you need to know all the ins and out on how to advertise your business on Facebook. Once you've got that down, we can move on.
How to use Facebook stories to your business' advantage
It'd be crazy not to take advantage of the fact that there are 500M Facebook stories users daily. Imagine the reach you have when you use stories on Facebook. Not to mention that Facebook is the largest social media platform of our time and in our world, with 2.7 billion users.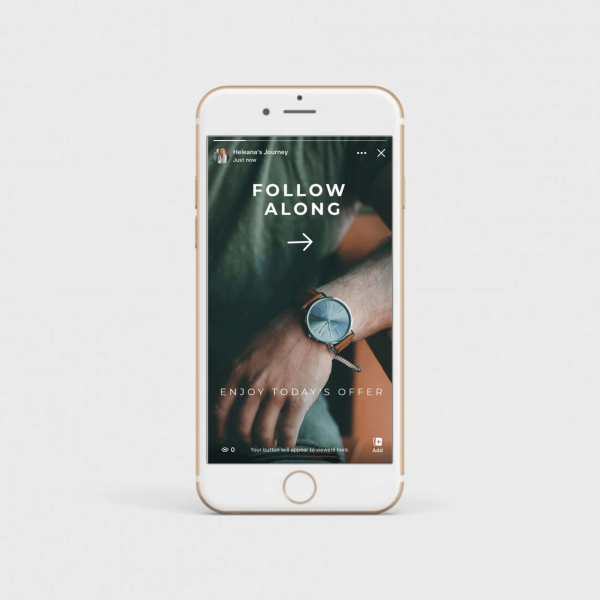 Take advantage of prime ad placement
Not only are there users galore, but the placement of stories is perfect. Think of it as prime real estate. It's always at the top of the page when you open Facebook. The place where the eye is drawn to most. It's time for you and your business to take advantage of this amazing marketing opportunity and start promoting your brand to millions.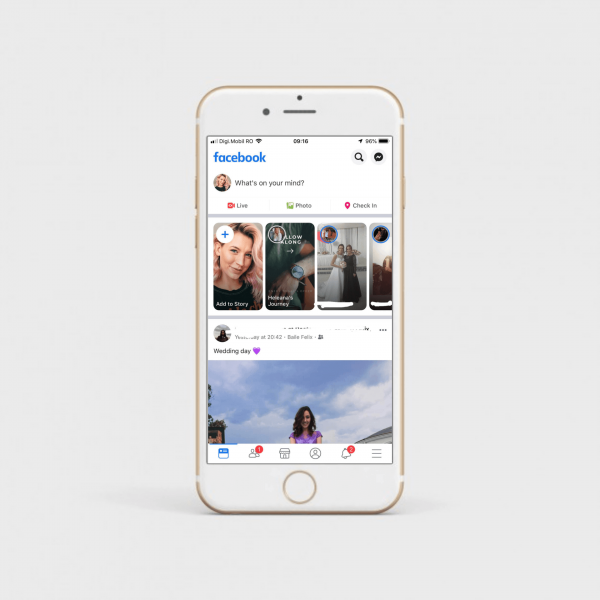 Take advantage of the pricing
Because story ads are much cheaper than feed ads, many advertisers are making the switch to story ads, resulting in a decline in the general price per ad! Even Facebook is encouraging advertisers to use story ads over feed ads and was teaching and coaching advertisers on how to use them best for their business.
Create lots of engagement
Another huge reason why stories create tons of buzz and engagement for your brand is because they only last for 24 hours. Users know this, and when they see you posted to your Facebook story, they feel a sense of urgency to see what you had to say before it's lost forever in the depths of the internet universe.
As a marketer, your heart probably broke as well as mine did when Facebook announced that they would be focusing more on displaying people's friends content more than they would be promoting our ads on people's timelines anymore. Now you need as much organic traffic as you can get. And you can get some of the most traffic and engagement from your stories.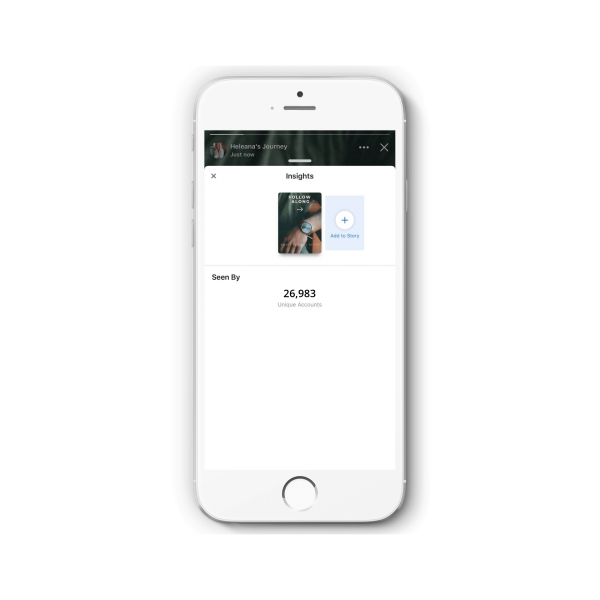 Make personal connections with viewers
Because you can make personal connections with your viewers in a very short amount of time in a Facebook story, and because it's easier to consume when compared to long-form content, stories are becoming a great way to advertise your business. Stories are a great way to also bring organic traffic to your page and websites. You can connect custom links and buttons to lead people directly to your website.
Add custom links and buttons
You can only add links to your story if you're posting from a Facebook page. You can not post links to your story from a personal account. This information is useful because now you know you don't spend your time and energy trying to figure out how to add links to a personal account. Because you can't. Make sure you're posting from your Facebook page!
To add a custom link to your story, click on the link icon on the right side of your screen, and type in your custom URL. A tool that is free for custom URLs is Rebrandly. You can use this tool to shorten, brand, and track every link you create and share on your social media channels.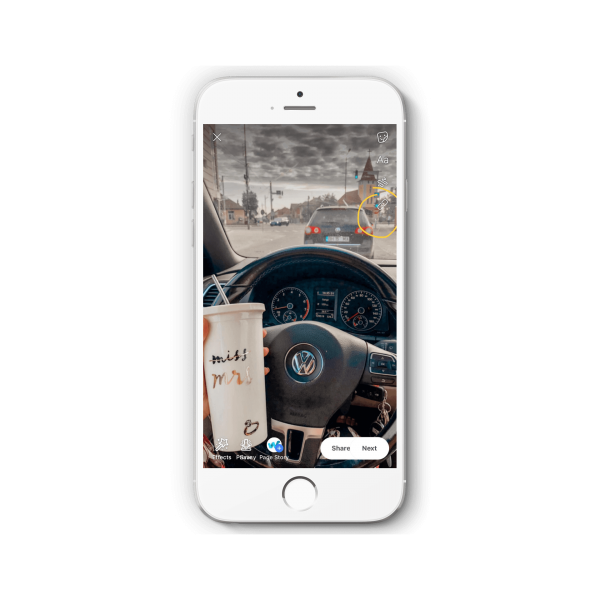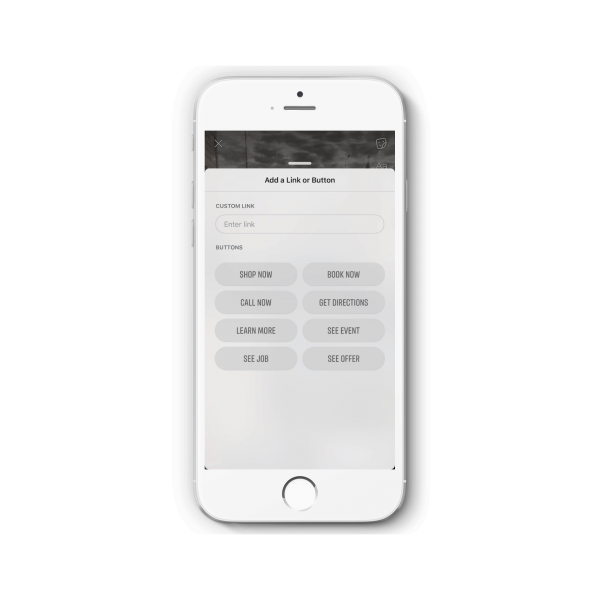 Stories ads feel more natural than feed ads
Facebook story ads are going to be your new best friend. Facebook story ads slip into one's story feed and look like a friend may have posted it. I have personally experienced this. You'll be flipping through people's stories when suddenly you have a story ad that looks amazing and feels natural. I often end up clicking on the link displayed on the story and check out what their brand is all about. You need to try Facebook story ads.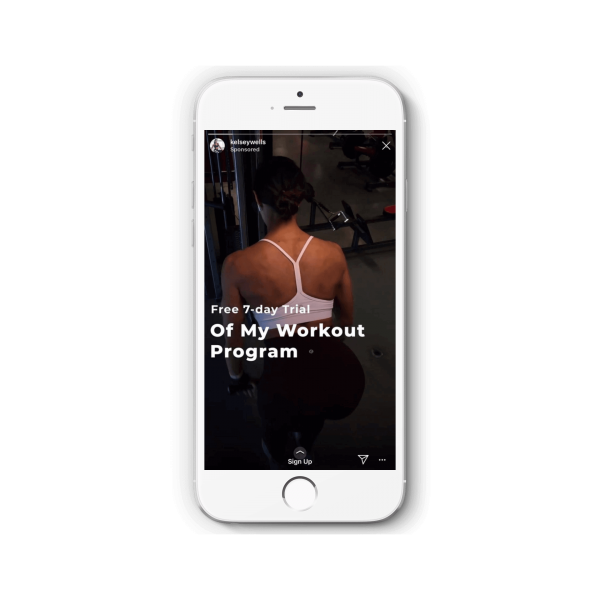 Spend less time creating content for multiple platforms
And the last benefit I want to point out for now before jumping into how you can create great marketing strategies and content for Facebook stories is that you can link your Instagram stories to your Facebook stories. Double the outcome, half the work. It's amazing. A tutorial is down below on how to link your Instagram business profile to your Facebook page.
How to create content for your Facebook story
The first step to having great Facebook stories is knowing your audience. What does your audience respond best to? This is something you can only find out with trial and error. You can try static images with a poll on it, or you could do video content. Try and dabble in a bit of everything and see what works best for you and your audience.
To make amazing content, you need a great design app for the job. With our online banner maker, you can help boost your business and brand awareness considerably with amazing visuals.
So the first step to take in this process is creating a free account with Creatopy.
Facebook story ad dimension
Let's talk about Facebook story specs. You want to avoid all your hard work being cut off in a story, so it's important that you have the right dimensions.
The perfect Facebook story dimensions and recommended dimensions are 1080 x 1920 pixels, with a minimum resolution of 600 x 1067 pixels. Follow these simple rules, and you should be good to go.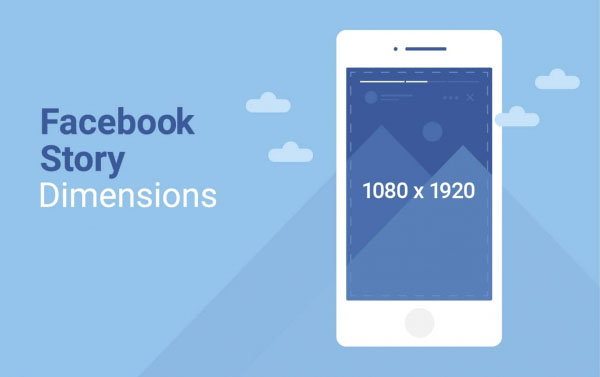 Creating a story in Creatopy
In Creatopy, you can create both a static story, animated, or video story, or you can just use one of our many beautiful templates. Click on whichever option suits you best, then customize the template and have the most unique and original results. Not only can you create awesome story visuals with Creatopy, but you can also create captivating Facebook cover photos, posts, ads, and more.
For this tutorial, we'll be creating a static Facebook story ad.
Once you've signed in to your Creatopy account, go to the Start creating section, type in "story" and click the Story size.
Next, you'll have the option to choose between a variety of creative Facebook story ad templates, each handcrafted by our team of professional designers. If you find something you like, select a template and customize it to match your needs, then download it, and you'll be good to go.
Or create it from scratch, like we'll be doing in this tutorial.
First things first, let's add a background image. I'll be promoting a Black Friday/Cyber Monday sale for cameras, so I'm looking for a high-quality image. You can upload your own images in Creatopy, or you can use one of our 2M+ stock images.
After I added the background image, I'll be adding some shapes to create a focal point for the ad. You can customize every shape's size, color, opacity, and more.
Now it's time to start adding text to our ad. By clicking on the text icon on the left-hand column, you'll see tons of fonts and text presets for you to choose from. Click on the text preset you love, and it will automatically be added to your ad. Customize the text size, color, exchange a font, make it bold, and anything you want in our editor. I'll be adding some red text to create a sense of urgency and to draw attention to the center of the ad.
Now for the final bit, I'll be adding an image of the product I'm promoting.
I'll put it right in the middle of the focal point I've created.
And voila! It was that simple to create an amazing Facebook story ad. But don't forget that you can easily just choose one of our Facebook story ad templates.
Now just click the Download button at the top right corner and download your work as a PNG or JPG.
How to post a Facebook story
Now that you have a stunning Facebook story ad, it's time for you to start posting it.
Whether you're on mobile or desktop, search the top of your news feed for the "+add to story" option.
If you're on your phone, then you can start taking a story right then and there, record yourself, start a live feed, or add a filter to your story! Once you've recorded your video, you can add gifs, elements, text, doodles, and more. When you're ready, just hit the "share story button".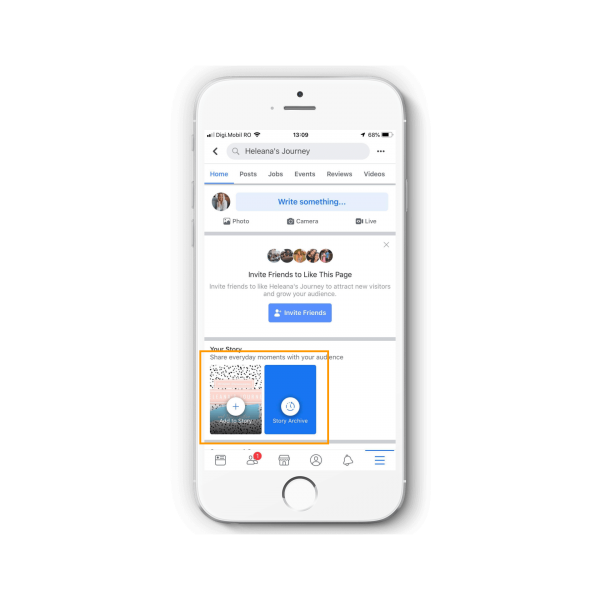 If you want to add a story that you've created beforehand, that click on the add to story button, then search your files or gallery for the photo/video you want to upload.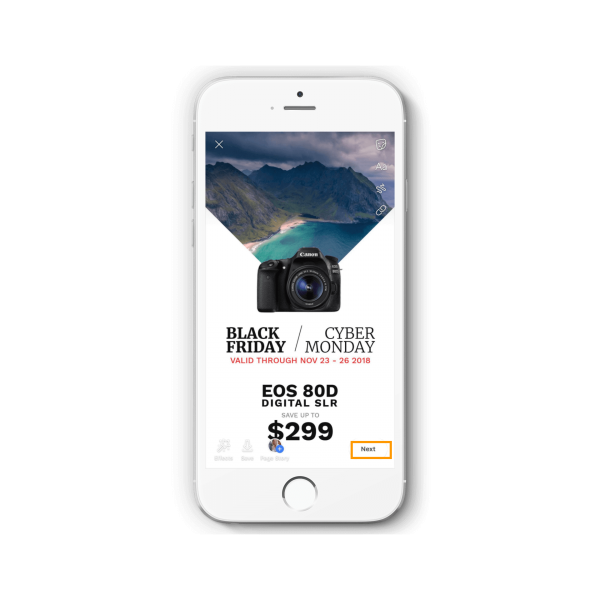 Adjust the size to fit perfectly, then hit next, and post! It's that easy!
How to link your Instagram stories to your Facebook page
One huge advantage to stories is that you can link your Instagram stories to your Facebook stories to save time and energy when creating content. Of course, you can create original content for both platforms, but it's also a major time saver to just easily click a button on Instagram and have your story shared on your Facebook platform as well.
Here's how you link your Instagram stories to your Facebook stories.
Make sure you've claimed your Facebook page and have linked it to your Instagram.
Once you've done that, open your Instagram settings and select "Privacy".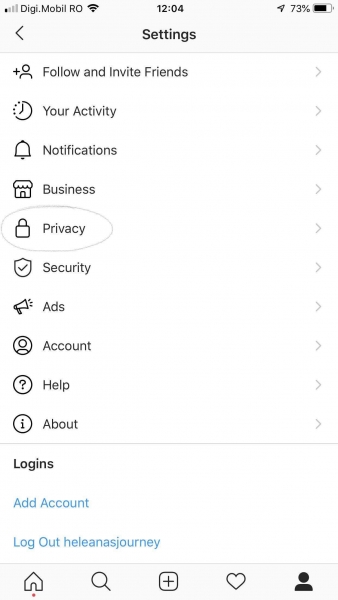 Now that you're in your privacy settings, click on "Story"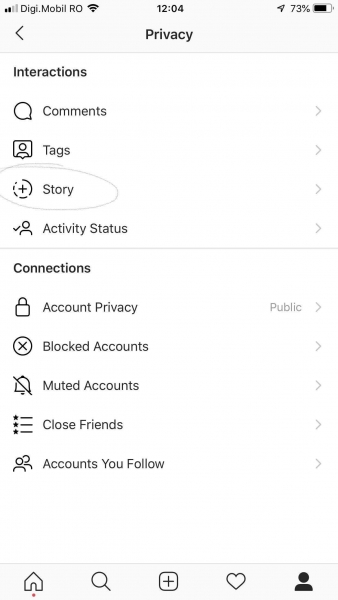 Now simply scroll down to the bottom of the page and slide the "Share your story to Facebook" button to the right to turn that option on.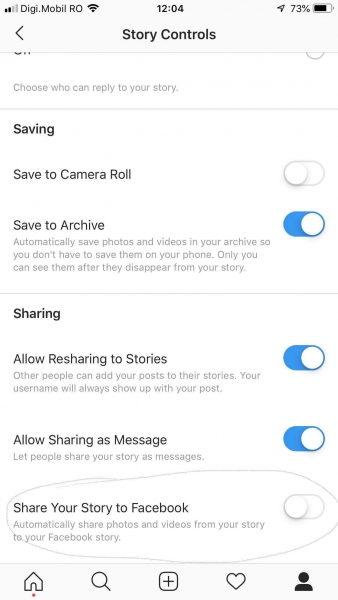 Now your stories will be synced and you can directly share what you've already posted to Instagram to Facebook. It's that easy and now you've saved loads of time because you no longer need to post the same thing twice.
Why stories create lots of engagement
When it comes to interacting with a story, there are lots of things one can do.
You as a content producer and advertiser can create lots of engaging stories. There are so many things you can get your viewers to interact with to create engagement, such as creating a poll where they can vote, asking a question that they can reply to, or ask your viewers for a rating.
Viewers can also react to your stories by selecting an emoji displayed at the bottom of the page. This will help you keep track of how people feel about your stories.
Stories are a fast way to communicate with your viewers, and they can also engage with your content very easily, which is very convenient for both parties involved.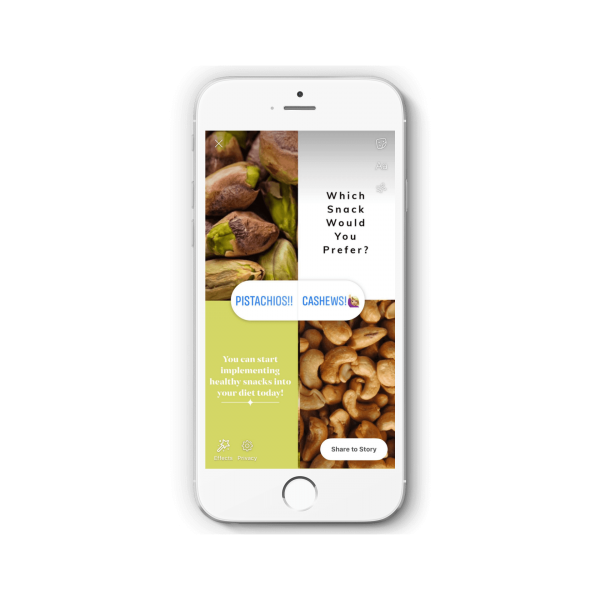 How to keep track of your story analytics
As a marketer, you know how important analytics are and keeping track of how well your ads are doing. To check on your analytic, all you need to do is open your story and click on the little eye icon at the bottom left corner of the screen, where you'll also see the number of times your story has been seen.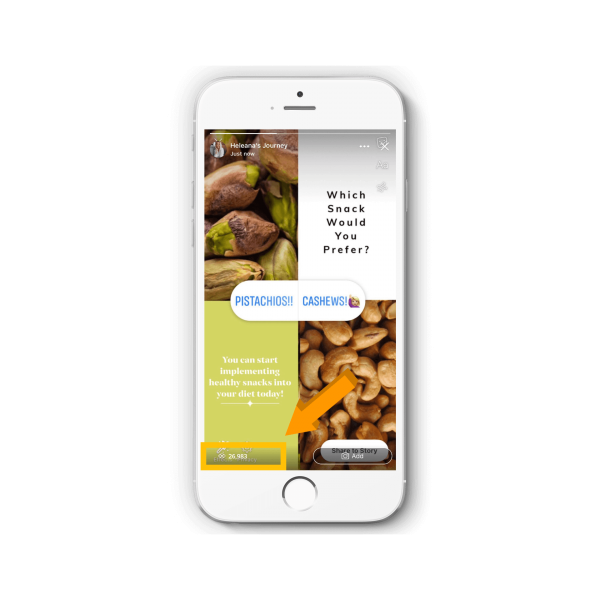 When you open up your analytics, it'll look something like this.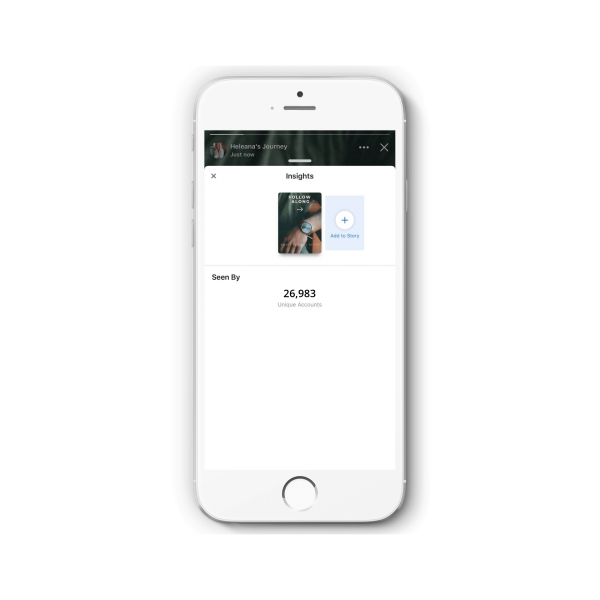 And according to what kind of story you've posted, you can keep track of different analytics. It will show you how many times your link was clicked on, who voted what, who gave you what rating, how many people saw your story, CTR, etc.
It's really important to keep track of these numbers to know what type of content performs best on your page.
Best practices for how often and when to post to your story
By checking your analytics, you can see what time and what days your followers are most active on the social platform.
When posting an actual post, it's recommended that you post at least once a day, and at the same time for best results.
But with stories… well, that's a different story. You can post as many stories as you want in a day, as long as they are relevant to your audience and capture their attention.
The risks are kind of high with posting too many stories. If you have a high swipe rate and people skip your stories, Facebook will refrain from showing you toward the beginning of the stories tab. You want your stories to be captivating enough that people keep watching and tapping through them. The more people watch your stories, the more often you'll be within the top 10 Facebook stories.
And the more often people watch your stories, the more often you'll be on the first page of their newsfeed when you post. Stories are a great way to keep people engaged in between posts.
So post as much or as little as you want! Just be sure to keep it interesting and that you have a high retention rate, and base your posting schedule off of that.
Conclusion
You can use Creatopy to create amazing visuals and content for your Facebook stories, but not only. Check out all of the amazing things that we have to offer. From Facebook cover photos to professional banner ads, we have it all.