10
minutes read
According to a CDW Healthcare survey, more than 70% of the respondents said that they would like to receive virtual healthcare visits and advice. Almost 90% want easy access to their medical records.
These numbers are relevant because they show the importance of the digital sector and that it's essential to adapt your strategy in delivering personalised healthcare services to the people that may be interested in buying and using your products or services.
It's no secret that a solid healthcare marketing strategy can help you reach potential clients or patients so you can maximize profits in hyper-competitive markets.
There are many efficient digital marketing tactics that you can implement to yield results, so keep on scrolling to get inspired.
1. Set Healthcare Marketing Goals
Every marketing expert you meet will tell you the same thing—an effective medical marketing strategy needs to have a long-term approach.
One safe way to ensure that all your efforts are pushing towards the same business objectives is to set ambitious yet realistic health marketing goals.
Goals are usually incorporated into specific medical marketing plans that are built around several key components, such as market positioning, tasks, deadlines, KPIs, and many more.
Here's an healthcare marketing strategy example from the Nebraska Hospital Association.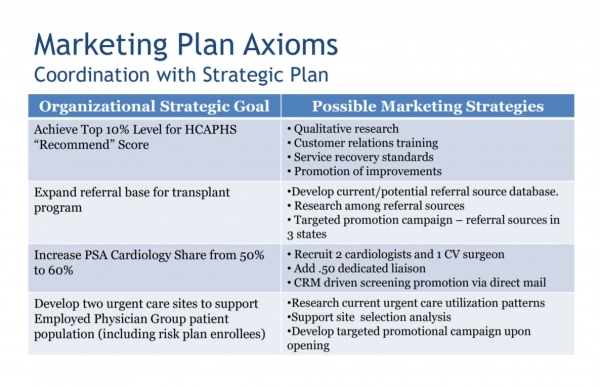 The business objectives, target market, brand message, and market positioning are four fundamental marketing elements to take into consideration when setting goals.
But let's say that you just started out and don't have the financial resources to hire a professional to help you define these custom metrics, nor the time to dig into advanced marketing jargon.
What's your next move?
You simply start to set your marketing goals around the following questions:
What products or services am I trying to sell?

What problem does my product or service solve?

Who is my target audience?

How would I define the ideal customer?

Who are my competitors, and how am I better than them?

What is my budget for marketing?

How do I measure success in marketing?

How do I measure business success?
After addressing these questions, you should be able to understand how your marketing efforts can help you achieve your overall business objectives.
2. Build a Trustworthy Website
First impressions matter a lot—but you probably already know this by now.
Potential patients or clients will judge your healthcare business based on how your website looks and functions.
If it takes longer than three seconds for your website to load up information, then 50% of your visitors will hit the back button without hesitation.
Nowadays, it is safe to say that you can reach a high percentage of your potential clients or patients online. Therefore, investing in a high-quality website is an excellent business move.
A survey from the Pew Research Center showed that six-in-ten individuals used their mobile phones to look up health information.
This means that you need to make sure your site inspires trust.
It should also have the primary goal of informing potential clients or patients about your company, products, or services.
To ensure excellent user experience, divide your website into separate sections, each serving clear and specific purposes. Make sure to also add a search bar to your website as it enables people to navigate around your content and find what they need in a few clicks.
Below are some well-designed healthcare and medical service websites to inspire you.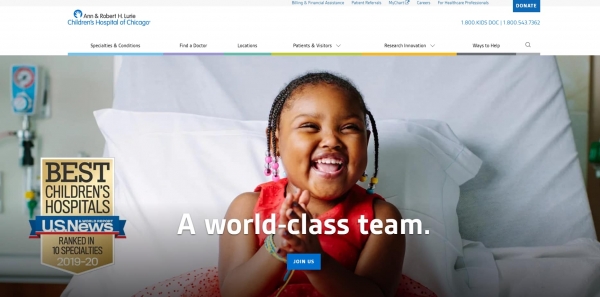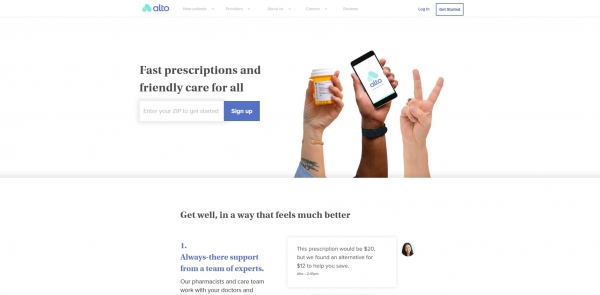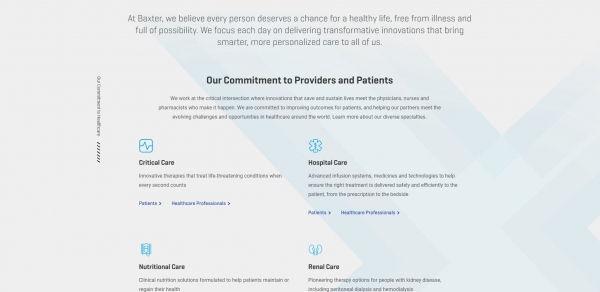 3. Focus on SEO
Research from Google shows that 89% of consumers use search engines when performing healthcare queries.
Because of this, you need to make sure that your business is easy to find via searches, and this is the part where SEO comes in handy.
SEO optimized websites have a higher chance of ranking for relevant search terms and keywords. Since organic is still the primary source of traffic for most sites, SEO can play a vital role in the success of your website.
Another thing I want to mention is the importance of local SEO.
In case you have a physical location for your healthcare business, then you need to use local SEO to support your online marketing efforts and deliver better results.
Creating content that leverages the region where your business is located can help you bring more targeted traffic to your website.
Aside from this, we also recommend claiming your Google My Business listing, and add information like:
Your business category

Your phone number

Your business's description

Hours of operation

Your address

Your reviews
Here's how your healthcare business can look like in search engine results after you set up your Google My Business listing.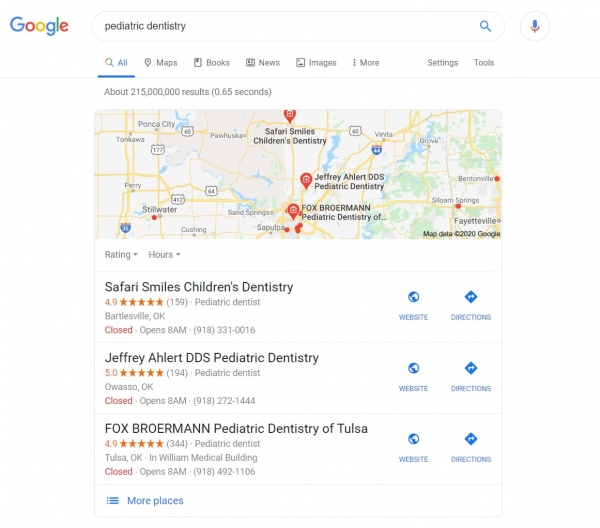 4. Create High-Quality Blog Content
Looking for health advice on the internet is a common practice, and let's be honest—this is something we're all guilty of.
According to David Feinberg, the Google Health VP, 7% of all daily searches are related to health issues. Searchers are mostly interested in symptoms and conditions, as well as prescription and insurance-related topics.
Healthcare content marketing is where your medical expertise can chip in and help readers become more knowledgeable.
While we can agree that getting medical advice over the internet is not ideal, there's nothing wrong with getting informed before seeing a doctor.
In fact, many people read articles or watch videos before booking an appointment with a physician and after as well.
That being said, it's safe to say that providing educational content is a smart way of attracting new clients or patients.
In the end, your audience only wants one thing—to educate itself online before deciding which products or services to go with.
This is especially important in the healthcare business, where there are new studies, information, or statistics released every day.
And this is where you come in, by creating useful content that will bring your business in front of more people.
Here's an excellent example of healthcare content marketing that you can get inspired by. It comes from the Cleveland Clinic, a nonprofit medical center that also focuses on research and education.
In the screenshot below, you can see there are multiple categories and topics from symptoms to treatments, diagnostics, procedures, or supplements.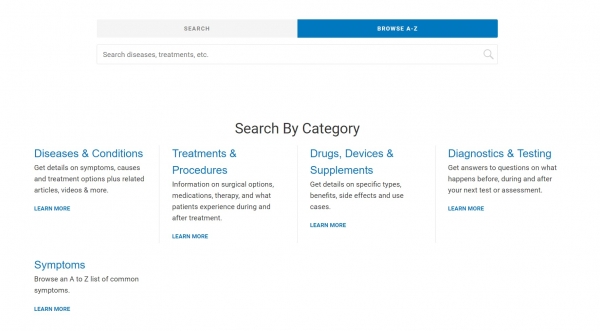 Based on the profile of your healthcare business, you can quickly identify a range of topics that would be interesting for your audience. Here are some ideas you can use for your blog:
Discuss medical procedures

Share information about medical conditions

Write about the latest medical developments

Announce new products or services

Talk about health events
What's also important is to make sure you're explaining things in a way that it's easy for anyone to understand, especially for those who don't have a medical background.
Make sure you can deliver the type of content your target audience would want to read. You can create content in any kind of format, but be aware that the more diverse the content is, the more likely it is to attract a wider audience.
The easiest way to find ideas is to do keyword research to see what phrases people use when performing search queries in search engines.
For the keyword research part, you can get started with Ubersuggest, which is free to use.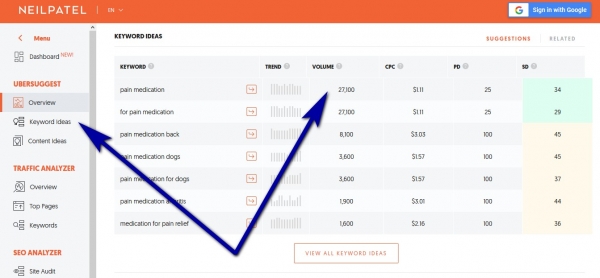 5. Experiment with Paid Ads
Paid ads can help you get your message in front of the people who are searching for the products or services that you provide. You can target them based on a specific area, a particular age group, and so on.
Here are some useful tips to take into consideration when doing PPC ads:
Know your audience and their needs

. Take into account the stage they're in and try to put yourself in the shoes of the person that's performing the query.

Make contact information extremely visible

. Don't forget to set-up call extension, location extensions, and sitelink extensions for every campaign. Also, add the contact information on the landing page as well.

Optimize for mobile

. Make sure that not only your ad looks good on mobile, but that your PPC landing page does too. Check to see if the content appears right, the pages load fast, and the contact information is easy to find.
PPC is a critical component in creating more brand awareness for your healthcare business. This will lead to generating more leads and customers if you keep being consistent with your paid campaigns.

6. Use Consistent Branding
Branding can be defined in various ways, and I'm pretty sure you also have your own definition in mind.
In a nutshell, your brand encompasses much more than your logo or visual materials. It's about how your business is perceived by others, and it covers everything from your voice to its personality, all of which are intangible aspects.
Identify and capitalize on your strengths to build a powerful brand. This starts with your website.
Once a visitor enters your site, they should be able to tell in seconds what your strengths are and what makes you different than your competitors.
Just take a look at how MDVIP presents itself to a first-time visitor.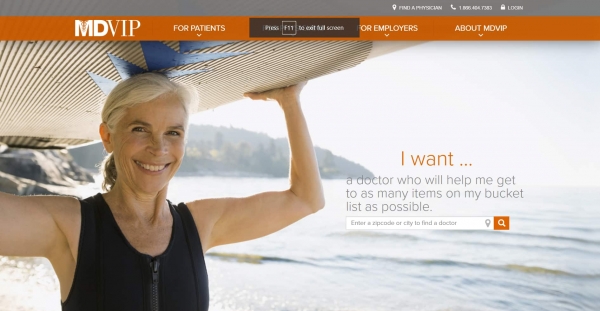 The design also plays a vital role in building a consistent brand because people will judge you based on how your website and visuals look.
Your display ads, social media posts, and blog images should reflect your branding and be easily recognizable. You can easily do this in Creatopy, where you can create templates and make sure that you keep consistency.
7. Be Active on Social Media
Healthcare social media marketing is key to raising awareness and counter misinformation about important health issues. Because there are a lot of fake news spread when it comes to the medical field, you can leverage your expertise to let the world know what's true and what's not.
Then, we also have crisis communication. Social media channels act like newspapers nowadays. It's where you find out first about breaking news, which can include a health crisis.
Make sure to use social media to address essential concerns when necessary and not wait a long time until you post a reaction.
You can also create a Facebook Group where you can engage with patients or customers. The group can help you build a stronger connection with your audience and engage in more personal conversations with them.
What's interesting about social media is the following insight. A PwC report showed that 32% of US users post on social media about their friends and family's health and medical experiences.
This means that you can use testimonials from your patients and clients to your advantage in your healthcare social media marketing strategy. Feel free to use these creative health ads examples to get inspired.
Another idea you can leverage is recycling the content you create for the blog and turn it into content for your social media accounts.
For example, you can create mini-series for Instagram stories to drive more engagement to your profile.
Facebook is a must no matter your specialty, thanks to its high level of targeting. This is precisely why it works so well for local practices.
LinkedIn is highly effective for positioning yourself as an industry expert or for sharing research with colleagues.
If you are a plastic surgeon, dentist or dermatologist, Instagram's visual focus makes it ideal for posting Before and After images.
Here's an example of an Instagram account of a pharmacists' association.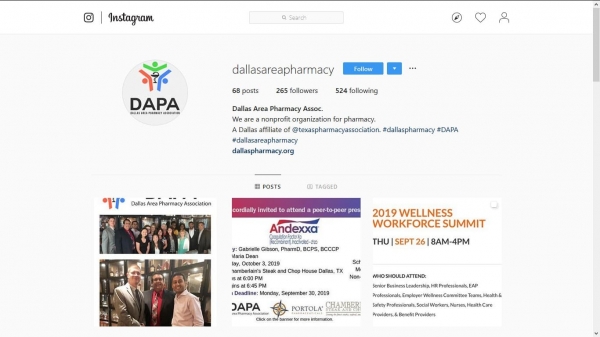 8. Experiment with Video
Video marketing is something companies of all shapes and sizes should experiment with, especially those in the healthcare industry.
You can go from creating a 10-second ad that plays before YouTube videos to creating a YouTube channel where you post all sorts of educational videos, that can be even one-hour long.
Video plays a crucial role in healthcare—it's meant to make it friendlier and more approachable in an industry where people can feel intimidated by those working in the industry.
Mayo Clinic is a healthcare business that proves it doesn't take a lot of effort to create short 60-seconds videos. On their YoutTube channel, they have a video series called Mayo Clinic Minute that features 1-minute videos that talk about various health-related topics at a time.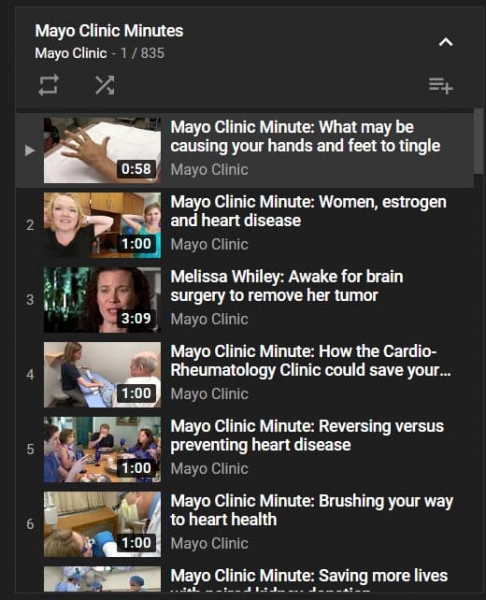 You can do the same and create a list of topics that your audience would like to know more about. The videos can then be used on both YouTube, or other social media channels such as Facebook, Instagram, Twitter, or LinkedIn.
Keep it short, simple, and informative.
Video marketing is a sure-fire way to establish credibility in your healthcare business and show you have professionals on the team.
Here are some video ideas you can use:
Office tour

Meet the staff

Patient/client testimonials

Procedure overviews

Educational

Interviews
9. Run Email Marketing Campaigns
Email is still the most effective marketing channel because it allows you to personalize the messages you send, segment your lists, and establish a trustworthy relationship with your audience.
To acquire people's email addresses, you can use strategic pop-ups and forms throughout your site.
You can place the pop-up in the blog sidebar, in the footer, or on the about page.
Make sure to give your audience a good reason to leave their email address. After all, no one wants to have their inbox flooded with spam emails.
When your subscribers receive the first email, remind them what they will be getting into their inbox and stick to your promise.
Invest time in creating branded visuals and valuable content. Last but not least, be consistent.
If your recipients get accustomed to a weekly newsletter from you, try to meet their expectations and don't miss out on any week.
Here's a great email example from Carrot, a company that makes fertility care accessible to anyone.

10. Reputation Management
Here's a fact—your online reputation can impact the reputation of your staff.
Whenever a staff member receives a negative review, gets negative press coverage, or gets sued, your healthcare business's reputation will suffer as well.
And when your reputation suffers, this will impact the trust people have in your business.
This is why reputation management should be part of your healthcare marketing strategy this year.
A good example is Mount Sinai Hospital in New York City. In 2016, one of their doctors was accused of drugging a patient, and so the hospital decided to immediately suspend him.
This proved to the world that the facility puts its patients' safety above anything else.
In the online world, crises can spiral out of control quite rapidly, which is why you need to have a strategy in place for when and if the time comes.
Conclusion
Digital marketing for healthcare is no longer optional—it's a must for every business that wants to build a powerful brand and establish their authority on the market.
These strategies can be successfully used to extend your reach and address real needs that patients and clients have.
Are you leveraging digital marketing for your healthcare practice? Let us know the strategies you used or what worked best for you.