16
minutes read
There's got to be a parallel universe where colleges and universities spill blood, sweat, and tears to prepare for the SATs, and high-schoolers are the ones who decide which institution is worthy of their consideration.
But is this really science fiction? These days, applicants have a broader horizon than ever.
Organizations such as the Common App help students cast a wider net, and the best-qualified of them do indeed get to choose from thousands of higher-ed options.
Although it's not a standardized test, the race is on for schools to impress the students too. The question is how to stand out.
The answer is simple: higher education marketing.
Yes, perhaps too simple to be actionable, but that's precisely why we decided to put together this detailed guide on applying classic marketing strategies in higher education.
Why Is Higher Education Marketing Important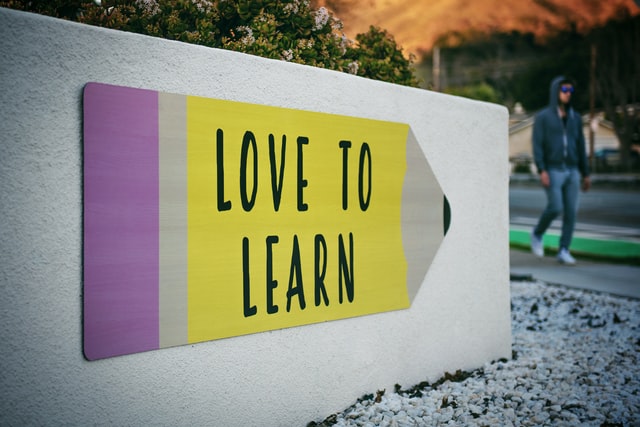 Photo by Tim Mossholder on Unsplash
One could argue that marketing belongs in commerce, but in today's impulse-rich world, the dream college is no longer the one with the highest-praised heritage or the best score in the rankings.
The statistics also suggest it's time for higher education to adopt some marketing strategies from those that have been doing it for decades.
According to Inside Higher Ed, only about a third (34%) of colleges met their 2017 enrollment targets by May 1, the traditional date by which most schools hope to have a class set.
More alarming is the fact that enrollment trends are declining fast, as the same report quotes 37% from 2016 and 42% from 2015.
Thinking about higher education institutions as brands is a relatively new approach, but by looking at the numbers, it becomes clear that it's time for schools to embrace 21st-century marketing.
But how does a school build brand awareness and stand out from thousands of others out there?
Let's go through the process step by step.
1. Streamline Your School's Brand and Web Presence
First of all, excuse the marketing jargon, but there's no way around it if the goal is to bring your college closer to present-day students. Today's youth is a generation of digitally native web users, and in that sense, demanding customers when it comes to online user experience.
That's why to carry out successful enrollment campaigns, it's essential to think of the enrollment lifecycle the way marketers think of a customer journey.
They call it the lead funnel, and they organize the tasks around it to reach the broadest and most appropriate audience and convert as many of them as possible into leads and then customers.
Or in higher education terms: prospective students into applicants, then admissions, and ultimately, enrolled students.
1.1. Solidify your brand
It's not just grocery store items that sell better with pretty packaging. Since I mentioned packaging, a brand is also much more than a color combination and a catchy slogan.
In marketing, the brand's guidelines are like gospel, and for good reason.
Regardless if you're selling dish soap or promoting higher education, awareness is the first stage of the funnel where the brand plays a key role. You want your audience to take a mental note at the first contact, and you have to continue referencing it throughout their journey.
That mental note can indeed be as simple as an easily recognizable color combination. Still, the strongest brands use their visual identity in unison with their unique vocabulary and tone of voice at every touchpoint.
This way, they create a distinctive experience and solidify their position on the market.
In a nutshell, it's always worth taking a very critical look at whether your school's current brand is the best possible reflection of its identity and if the brand elements are being used consciously at every stage of the enrollment funnel.
1.2. Build a user-friendly website in three stages
Make it simple to use and mobile-friendly
Since we're starting to think like marketers, let's not forget the importance of user experience (UX) and the quality of your school's online interfaces (UI) as you go down the funnel.
It's the same as online shopping or subscribing to a web-based service. During the enrollment journey, every touchpoint matters equally because they're all crossroads where your prospective students will either plow on or lose interest.
As a general rule, clear and airy pages, short descriptions, coherent instructions, and clear calls to action are the key to a satisfying user experience.
And if the trends weren't clear enough during the last decade or so, there are no more excuses left to develop for mobile.
Surfing on the go is no longer the future of web browsing. Mobile devices have accounted for more than half of the worldwide web traffic for the first time in 2017, with their share having grown ever since, so it's very much the present.
The shift and the continued optimization is all the more urgent in higher education digital marketing, as the young generations push the ratio even further in favor of smartphone-friendly sites.
They also expect increasing levels of immediacy that they've already gotten accustomed to in ecommerce and will most likely be pampered with an even further personalized experience in the future.
Rhode Island School of Design's website cleverly displays their students' work in stunning, high-resolution images and the clean, grid-style menus make it a breeze to navigate the pages.
From the get-go, this communicates that you're dealing with a highly creative and engaged community before even saying a word. Then again, you wouldn't expect anything less from an art-focused school.
Regardless of your school's profile, a modern, clean look like this lends any website a visual impact and a touch of professionalism, not to mention that it's the cornerstone of a good user experience.
Brown University's site takes the minimalistic approach in another direction. While keeping navigation intuitive and straightforward, it gives visuals like still images and video even more weight, making for a very engaging experience. It's genuinely a well-built website that's not just full of useful content but also inviting and fun to browse.
It showcases the campus at every possible occasion with footage from classroom settings and extracurricular activities, all while keeping a tasteful balance.
It's a challenge to use so much visual content without it becoming oppressive or resource-heavy, but Brown University has definitely nailed the sweet spot in both regards.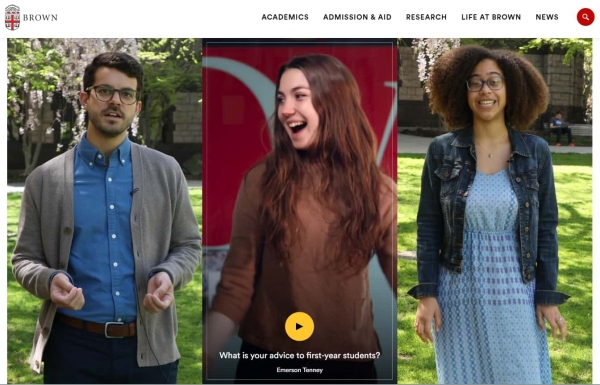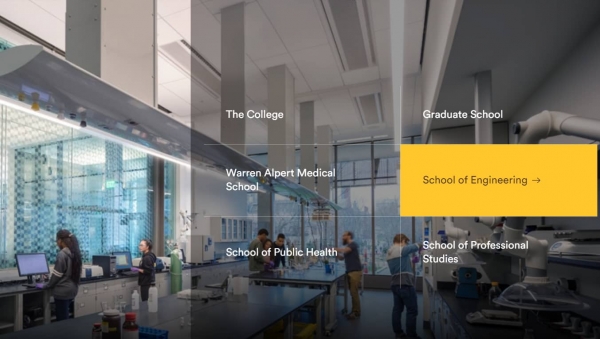 Exploit search engines to attract the right people
The personalized experience is the future of higher education marketing, and it's easiest to achieve if you channel the most relevant audience to your school's website. In other words, your school's website will perform better as a conversion tool if you bring the right people to it in the first place.
The name of the game is SEO.
SEO is an umbrella term (and an entire profession in and of itself) comprising all the efforts that go into increasing your school's website's visibility to the users of search engines such as Google.
In higher education marketing, it's the race of school websites to the top of the result pages for topically relevant keywords that prospective students search for.
Search engines use complex machine learning algorithms to make sense of the content across the web and rank the pages by relevance. In doing so, they rely heavily on the way the content is written, structured, and optimized.
Your school's website needs more, higher-quality, and better-structured content than the competition to win the race.
Search engines prefer logically structured websites with well-thought-out pages that target specific keywords and provide detailed answers to search queries.
The good news is that if you optimize your content with prospective students in mind, it will positively affect the quality of your traffic (translating into higher conversion rates) and increase your overall organic (non-paid) traffic indices.
Optimizing your school's web pages that target prospective students is a good place to start with potential for some quick wins, but in the long run it's crucial to publish fresh content that's already tailored to win the race.
A thorough audit might bring some spectacular results but SEO is more of a marathon than a sprint, so you'll also need a long-term content strategy to keep fueling growth.
Create an engaging blog and unlock the power of link building
A good blog should not only be pleasant to read, but it should also be used to its full potential as one of the most powerful SEO tools in your higher education marketing strategy.
From a purely logical standpoint, they're great for website structure, an area where most higher education institutions have a lot of room for improvement. There are only so many categories and dedicated pages you can create without overcrowding the front page. Hence, a blog is a versatile tool to diversify your topics and keep a logical structure.
Blogs are also the perfect platform for news and other timely or perishable content. With social media presence being all the rage these days, it's also an essential linkable asset that should be a pillar of your education marketing strategy.
Similarly, blogs are the perfect swiss army knife when it comes to newsletters, too: one engaging article may be enough to convince a prospective student to subscribe. From then on, it's just a matter of having a good lead nurture strategy to lead them through the funnel's next stages.
Of course, this requires more relevant content that can also be hosted on the blog.
But what about its SEO potential? How can it help you win that race we mentioned earlier?
The thing is, Google and other search engines rank websites not only based on the quality and relevance of the content they display but also by a metric they call domain authority (DA), a score on a 1-100 scale generated using top-secret algorithms.
Although enough of the inner workings is known to say that inbound links (backlinks from other domains that point to a page on your website), especially deep links (inbound links to pages other than the home page) increase a web domain's weight when it comes to calculating its authority score.
The more links the better, and the more diverse your backlink portfolio, the better.
It's worth exploring the backlink opportunities, starting with high-authority .gov and .edu sites, but even small niche blogs are great for diversity.
They also jump on the opportunity to feature content from reputable sources such as universities. Instead of pitching and hoping for the best like most marketers do, link building on the higher education side of digital marketing should be mostly a matter of requiring a properly linked reference whenever the authors forget to link to your site.
No one says your school should only have one blog. The University of Surrey has an entire blogosphere of its own. Many departments run their own newsfeed with seemingly endless content (which has a huge SEO potential). Still, individual students also get a chance to share their thoughts and experiences at Surrey.

2. Put Social Media to Good Use and Zero in on Your Communication
Since we suggested adopting commercial marketing techniques into the higher education enrollment process, we can't go past some of the most critical communication channels used with great success in inbound marketing.
But why inbound? Because times are changing, and so is your target audience.
The digitally native generation being targeted by higher education marketing forms a very demanding audience that's sort of immune to the traditional marketing efforts that interrupt their lives with often unwanted content.
In inbound marketing, instead of casting a wide net and hoping for a good yield, the idea is to attract and hook the right audience in the first place.
2.1. Be authentic—where and how you post is crucial
It's getting challenging to avoid the fishing lingo at this point, and we haven't even tackled the issue of reeling in your prospective students.
Despite how the connoisseurs like to make it sound, inbound marketing is no rocket science either. It's all about being where your audience is, knowing what they want, and offering real solutions to their problems.
Ask yourself: is your school communicating where and how prospective students communicate? If you said yes, because your school is on Twitter and Facebook, ask the question again.
Does your school have a Snapchat and TikTok account, and if not, why not?
Enlist students to run your school's social accounts. Not only will they know how to use the platforms best, but they're also a never-ending source of creativity when it comes to coming up with the fun and engaging content that resonates with your prospective students.
Just make sure everyone in charge is up to speed with your school's brand guidelines, so that the visuals and tone of voice remain consistent over time.
2.2. Embrace influencer marketing–showcase campus life through social media
The only real way to speak a student's language is to have actual students do the talking. Having students manage your social account is just the tip of the iceberg, though.
Brand ambassadors are nothing new to campuses, but commercial brands usually put them there to market products to their peers. In other words, students know exactly how it works, so it's time for your school to leverage this potential too.
You probably don't have to invest too much into training either. Just reach out to some of your more passionate and outgoing students, and they'll know exactly what to do.
Having brand ambassadors or influencers will bring your prospective and current students closer together and help them connect to your campus. It's more natural and fun for a high school senior to follow a real student, someone their age than to flip through brochures. It also creates a two-way communication channel and encourages kids to engage with your school online.
Influencers give features like Facebook's or Instagram's live video streams a whole new layer of purpose. Your prospective students will have a new, more informal forum to ask their most pressing questions and feel heard.
Tip: Having a team of influencers ready to spread the word is great for your day-to-day marketing like event promotion, but you can also rely on them in emergencies and extraordinary situations.
Check out the New York Times story on how the marketing team at University of Missouri hired six of their students to help call attention to the school's COVID-19 safety precautions, as well as several other colleges who have employed influencer marketing with great success ever since the early days of the pandemic.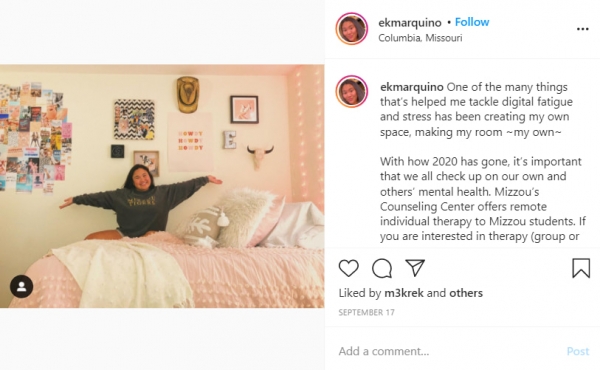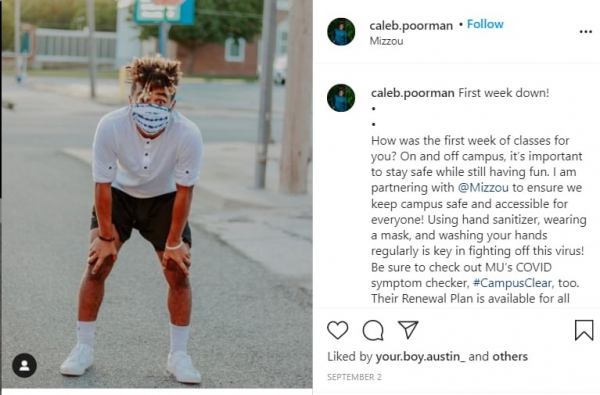 2.3. Harness the power of testimonials–word of mouth is still king
Times may be changing and simple empirical arguments like "because your successful uncle also went to that college" may not really hold water anymore with today's youth. Make no mistake, though, word of mouth is still a force to be reckoned with in the online age.
Perhaps even more so than ever before, just a little differently.
One approach to make it work for you is to promote positive press–not only by collecting and showcasing press mentions but also by actively pursuing publicity.
Inviting journalists to your school's events and pitching them press releases is a great way to increase the public's awareness.
This kind of online publicity is also beneficial to your SEO efforts, especially if the news sites link to your school's site.
Moral of the story: build a PR email database and several mailing lists and update them regularly.
The other approach is to get really up-close and personal. After all, it's only natural in the 21st century to be slightly skeptical of traditional marketing and have more faith in authentic experiences.
This generation engages more in the community than any other so far. Referrals and testimonials are gold for discerning prospective students, and so are they for your higher education marketing strategy.
You can leverage your social media platforms and the website and the blog to let your happy and successful students do the talking. You might also want to track down and partner with some of your school's successful alumni to show off what benefits one can expect from investing in a solid education.
Interviews are gold, but a simple shout out on social media can be even more effective.
Tip: The presence of a university or a more comprehensive education hub is essential to any local government, so the city might happily partner with your school to help spread the word.
Brisbane's International School Ambassador program is a great example, where the Brisbane City Council joined forces with the local education centers. The idea was to popularize the stories of students from around the world that chose Brisbane to lay the foundations of their careers and offer prospective students the opportunity to follow and get in touch with these ambassadors through social media.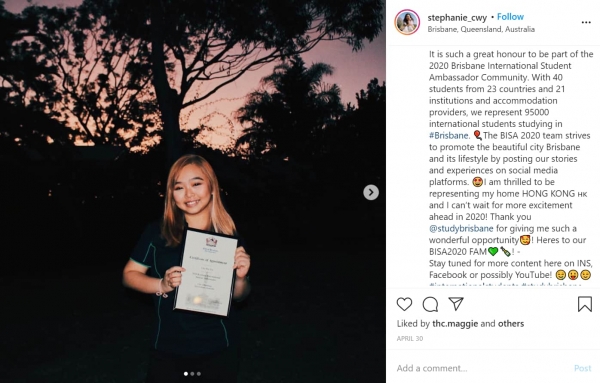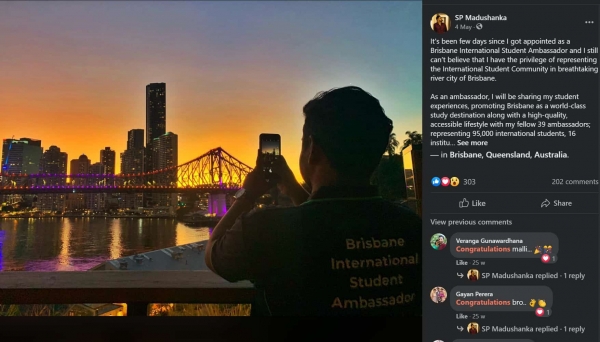 2.5. Put the latest tech to good use–let AI do the talking
Artificial intelligence is no longer sci-fi. It's not even the technology of the future.
Hopefully, it's not planning to turn on us anytime soon, but it's already being used by lots of businesses big and small, including higher education marketing. It's very much a present-day tool, so it's time for your school to integrate it.
Virtual assistants are nothing new to the world of ecommerce, but it's all the more common to see chatbots pop up on all sorts of websites. The software is readily available and can be added to any site, often with no coding required.
They're far from replacing actual human interaction, but that's not the goal either, and probably no one wants that anyway.
They can, however, make your recruiting and support teams work a lot easier.
Chatbots not only do a great job at filtering requests and answering the most frequently asked questions, but they also integrate with your school's CRM and send student leads directly into your recruitment process.
Advanced chatbot software also allows for a variety of analytics such as conversion tracking and reporting to gain more insight into your lead nurture strategy's performance and help you with conversion optimization.
Mantissa College of Myanmar has taken the 21st century online presence very seriously. They not only have a chatbot to help tiering requests, but their home page awaits prospective students with a fun virtual tour so they can feel like they're already there. Clever!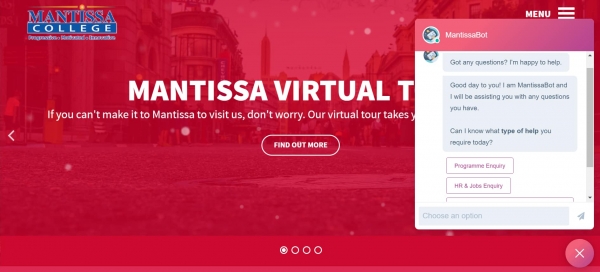 2.6. Don't forget the old classic–email marketing still rules
With all the buzz around social media it's easy to overlook the trusty old email. But it's the backbone of digital marketing, whether we're talking commercial or education marketing.
Most online marketing tools include features to help you optimize email and reach more students, allowing you to segment your school's email database so you can personalize messages, and even to schedule emails to the time of the day when your audience is most likely to read it. These platforms also make sure your mail lands in the inbox instead of the spam folder.
Thanks to the valuable data fed back to these tools, such as open rates and click-through rates, you can use A/B-test your messages to see what resonates best with your students and fine-tune your strategy with every campaign.
2.7. Expect social media to grow and embrace it as a teaching tool
The technology has been within arm's reach for years. We just haven't used it to its full potential. Now that the pandemic taught people that company meetings and Zumba classes can be held remotely, the least we can do is to ride the wave and let this new awareness fuel growth in the future.
As remote learning becomes more of a standard, expect increased reliance on social media.
Your existing and prospective students will be delighted to learn that they can now attend some of their classes, panels, and conferences over video streaming, perform debates on Twitter or Instagram, have their exams over video streaming, etc.
Finally, share achievements and victories with pride in this uncertain period, and treat the unprecedented challenges as opportunities to show off your school's adaptability. There's nothing more attractive in the current climate than the optimistic vision of a flexible, workable future.
3. Supercharge Your School's Marketing with Personalized Ads
So far we've mostly talked about increasing your so-called organic reach, or non-paid traffic. But that's just part of the story since Google ads and a growing number of social media platforms allow you to integrate pay-per-click advertising into your higher ed marketing strategy.
This is where the fun really begins when it comes to directing quality traffic to your website – people with the highest potential to convert.
3.1. Tap into audiences–personalize your school's social campaigns
Social media platforms not only allow you to tailor your content to your target audience, but they also want you to. The more people find your content interesting enough to click through, the more money they make, so it's a win-win, and it's in their interest to tweak their algorithms so that you maximize your traffic.
The only way to get ahead of other schools is to create personalized campaigns to get your post seen by the most relevant user pool. Facebook, Instagram, and other platforms are your partners in this, making it easy to fine-tune your audience settings.
You can hand-pick the most appropriate age ranges, geographical areas, as well as interest and demographic targeting to make sure you're not barking up the wrong tree. Then, it's just a matter of getting the content in sync with these settings.
3.2. Use static banners for maximum impact, with minimal effort
Creating truly outstanding banners is, no doubt, an art form. However, that's not to say you need exceptional talent to make some very eye-catching and compelling visuals. Since the algorithms take care of displaying your banners to the right audience, your job as a higher-ed marketer is to find the cleanest, most straightforward way to get your message across.
The tricky part is coming up with the idea, but once you have a mental image, turning it into an actual banner only takes minutes with the right tools. Some of them, like Creatopy, run directly in your web browser, so you can even make banners on the go.
Check out two simple, yet high-impact designs by Qatar University and the University of Antwerp below: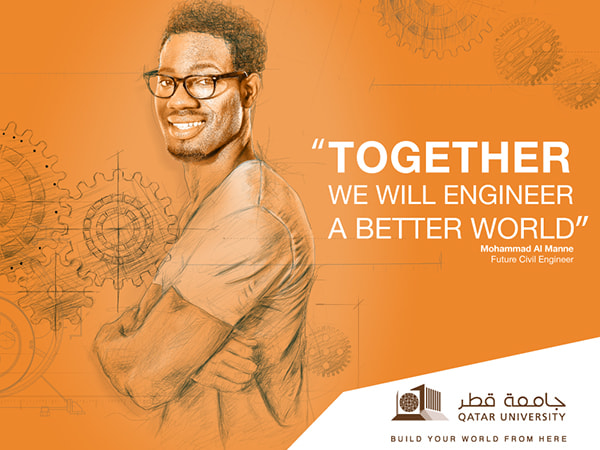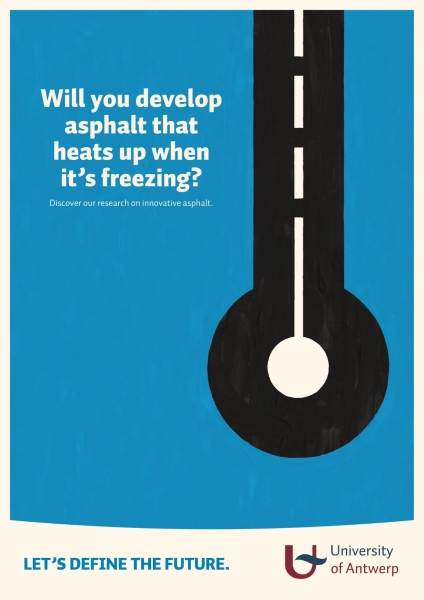 3.3. Set your campaigns in motion with video
Video may have killed the radio star, but it will breathe new life into your school's marketing strategy. You can use many ways, some of which don't require a lot of time and resources, contrary to what most marketers first associate it with.
Even simple footage can be beneficial for students that can't visit every campus they're considering, but if shared on the proper channels, it can also get your school noticed by others too.
With short video ads, you may even be able to get away without using a camera or even standing up from your desk. A simple slideshow with cleverly worded copy and a few well-chosen images may be all you need.
Of course, phone cameras are more than capable of shooting decent videos nowadays, so don't miss out on user-generated content. Incentivize your students to record testimonials, show off the campus, live-stream events, or, why not, brainstorm video podcast ideas or create entire YouTube video series about their experiences.
It's enough to look at Birmingham City University's YouTube channel to get the brainstorming rolling. BCU uses student testimonials as well as vlogs and simple presentations to grab the attention of prospective students. Best of all, it all comes in a tasteful, well-edited, and highly engaging package. They make good use of the description sections, linking to their website and well-built landing pages too.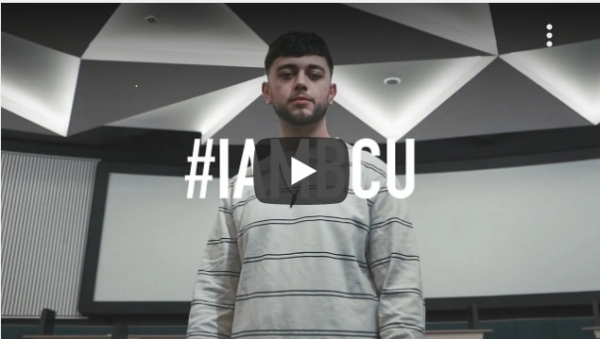 Conclusion
Marketing strategies for educational institutions are not all that different from promoting a commercial business. The name of the game is personalizing regardless of the domain, and the north star for most of your marketing efforts should be to offer the best possible experience for your prospective students.
Building a few different personas or student profiles is an excellent place to start, and you can create most of your school's marketing activity around those.
All this might sound daunting at first, but even if your school has never really made conscious efforts towards marketing itself online, there's probably at least a marketable brand in place already. If that is indeed the case, higher education marketing will be mainly a matter of optimizing the strategies discussed in this article for the available resources.
Make no mistake, though—running successful marketing campaigns requires a capable team, a flexible budget, and well-defined short, mid- and long-term targets to be worth any effort.
But at the end of the day, it's all about your school's enrollment rate, which has nowhere to go but up once you start implementing these strategies.