16
minutes read
Did you know that, on average, people spend 5 hours a day on their phones, mostly in apps? That is one-third of waking hours!
Considering that mobile traffic now accounts for 59.16% of the global online traffic, mobile ads should be a key part of any marketing strategy.
Here are other must-know facts about the use of mobile:
With more people than ever using their smartphones for queries, shopping, and entertainment, mobile phone advertising has seen an incredible surge. Moreover, mobile advertising is expected to take a huge share of the advertising budget in the coming years by reaching 446 billion dollars in 2023.
So betting your money on mobile ads could be a really smart choice. Read our complete guide to mobile advertising and learn everything you need to know to create and launch exceptional mobile campaigns.
A. What Is Mobile Advertising?
Mobile advertising is a form of advertising that allows brands to reach their audience on mobile phones and tablets through targeted ads. The process of advertising on mobile is not that different than targeting desktop users, especially when you use the right tools. Now, let's see the actual advantages of running online mobile ads.
B. What Are The Benefits of Mobile Advertising?
1. Advanced targeting
One of the best things about mobile phone advertising is that it allows you to target the right audience. Most ad platforms enable marketers to laser-target audiences and serve personalized ads, thus increasing conversion rates and sales.
Thanks to the technology we have today, we are able to collect extremely detailed data about users, such as location, demographics data (gender, age, parental status, marital status, education, home ownership, household income), device type, hobbies, purchase history, etc.
For example, if you have a premium toy store in West London, you can specifically target mothers living in the West London area, aged between 20 to 40 years old, who have a medium to high income.
Each social network allows various targeting options. Facebook, for instance, allows you to target people based on their relationship status. So, if you have a dating app and you're looking to increase your user base, you can target only people who are not in a relationship.
Another tactic for targeting customers is segmentation. Marketers can create granular audience segments based on their behavior and use them to boost engagement or re-engage past visitors. For example, you can create a list of customers who have purchased your product in the past and send them a discount offer or target them for a cross-sale based on their previous purchase.
Let's say someone bought a dress from your online shop a few days ago. You can target the same customer to let them know that they can purchase a pair of shoes or a necklace to go with that dress.
2. Customization of ads
The goal of audience targeting is to serve consumers personalized mobile ads that will drive interest and clicks. Ultimately, the goal is for users to take action, whatever that may be: purchasing the product or service that you're advertising, installing your app, or registering for your online event.
3. Higher reach of users
It's easier to grab your phone while you're lying in bed than to take out your laptop and turn it on. Most people will browse the internet on their phones while sipping their coffee, taking a bath, or when commuting to work. So, with 59.16% of all online traffic coming from mobile, advertisers can reach more people at different moments during the day.
And considering that most of these people are Millenials and Gen Z, a force that has shaped and will continue to shape online shopping in the coming years, I'd say mobile is definitely a route you should not skip.
4. Performance tracking
With mobile ads campaigns, you have a full view of what's going on every step of the way, from launch to finish. Every ad platform allows you to track your campaign, and analyze important metrics.
With Google Analytics you can track the performance of your campaign in real-time and collect insights about the user journey, see where they abandoned or converted, and make changes for future campaigns.
5. Cost-effectiveness vs. other channels
Oh yes, spending. Something that's always on our minds. With mobile digital advertising, marketers can be more cost-effective when it comes to using their budget. The spend for mobile ads is obviously way lower compared to what goes toward TV, radio, or print media ads.
There are several different advertising pricing models that you can choose from
CPM (cost per mille or cost per thousand impressions) refers to how much you will pay if your ad is displayed to 1,000 users;

CPC (cost per click) calculates the amount you need to pay every time a user clicks on your ad;

CPA (cost per action) means that you pay only when the user carries out a certain action, which will be defined by you;

CPI (cost per install) tell you how much you pay when a user installs your app;

CPL (cost per lead) is the amount paid for each lead generated by an ad.
C. How Does Mobile Advertising Work?

To run a mobile advertising campaign, you have two options.
In the first case, you can be a marketer working for a brand and you're looking to promote the products/services through a mobile ads campaign. What you can do is contact an advertising agency so they can help you craft and deploy this specific campaign.
For the second option, you can choose to skip the agency and use a creative automation platform to create and launch the mobile advertising campaign without any help from someone outside your company. A creative automation platform (such as Creatopy) enables you to scale the process of creating high volumes of ad variations so you can meet demand, and stay on brand, but without sacrificing personalization or quality. What's more, is that you can also use the platform to serve your mobile ads directly on the ad networks of your choice.
When you go through an agency, they will be the ones to deal with ad networks and everything that's involved in this process.
D. Types of Mobile Advertising
Let's see what types of mobile ads you can use as part of your mobile advertising campaign.
1. Mobile display ads
Mobile display ads are a great way to advertise your brand. They can appear at the top or bottom of a mobile screen and they are either static or dynamic. With display ads for mobile, you can effectively drive traffic to your website, landing page, or app.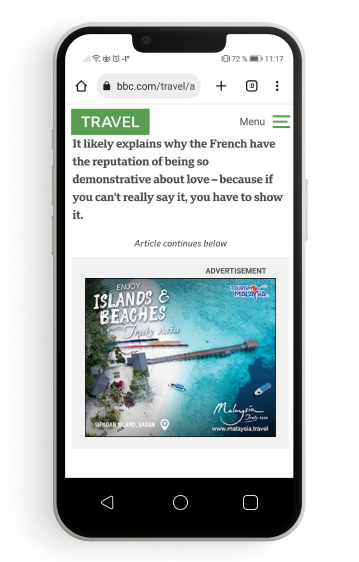 The most popular mobile banner ads sizes and formats are:
Leaderboard (728 x 90)

Skyscraper (120 x 600)

Square (300 x 250)
2. Mobile video ads
Mobile video ads are the most compelling form of mobile advertising because they grab viewers' attention and engage users. They also have the highest CTR.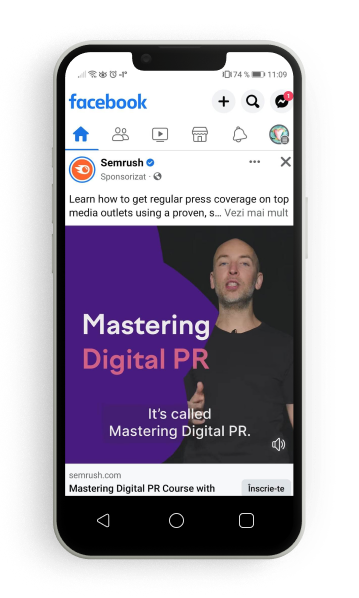 There are several types of video ads for mobile:
Rewarded video ads

are used in game apps. They are opt-in and non-skippable ads, which means the user can choose to watch a video to receive something. However, once they clicked on the ad, they must watch it till the end.
Native video ads

blend seamlessly within the page they are placed on. They look and feel like natural content within a website's page or app.
3. Interstitial ads
They appear full-screen on a mobile phone. These are skippable ads, so it's important to show something entertaining. Your goal is to create compelling content so your ad won't be skipped.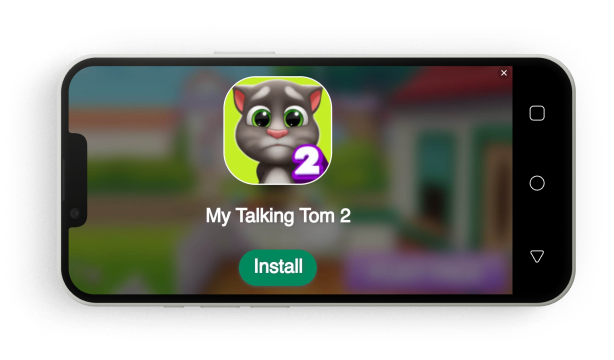 4. Mobile native ads
Unlike other types of ads, native ads are meant to blend in with the content of a page or app. This type of mobile advertisements look and feel similar to the content, and for this reason, they have a higher CTR.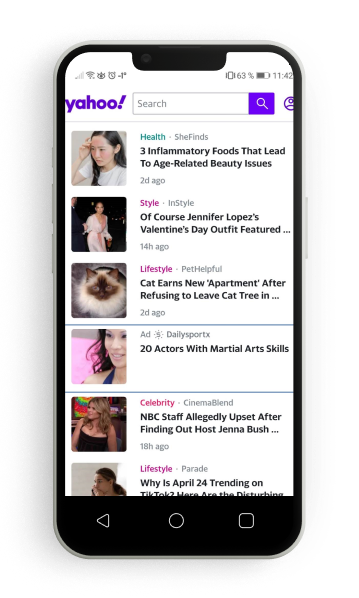 5. Mobile rich media ads
Rich media ads include multimedia interactive elements and are designed to grab the users' attention and encourage them to take action. Multimedia elements can be video, audio elements, or moving text. These ads are appealing, engaging and create a memorable brand experience.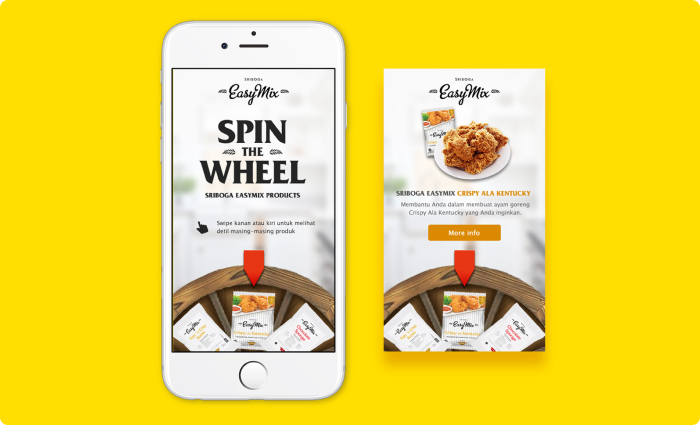 Rich media ads can take many forms, such as banner ads, expanding ads, interstitial ads, lightbox ads, and push-down ads.
According to Google, rich media ads have a number of advantages over standard static display ads. They:
Offer an engaging experience that leads to a higher interaction rate;

Have increased conversions, click-through, and view rates;

Provide better results overall compared to other types of ads.

6. In-app ads
There are over 7 million apps available today on both iOS and Android platforms, from weather to banking, news, music, or games.
Considering that most people spend the majority of time using mobile apps, you may want to include mobile apps advertising in your strategy, to reach people where they are.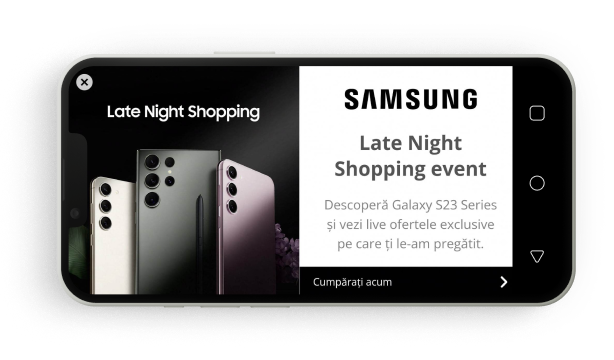 According to Publift, in-app ads have a higher CTR (0.56% versus 0.23% for mobile web ads) and a higher conversion rate (3x times more conversions than mobile web ads).
7. AR ads
Augmented reality ads offer an immersive experience where the physical and the virtual world blend together. Brands can use AR ads to enable mobile users to interact with or test out their products.
AR ads have seen massive growth in the past years and advertisers continue to adopt them to create engaging campaigns. It's now easier than ever to produce these ads.
For example, Facebook supports advertisers to create and launch AR ads by providing a list of augmented reality producer partners.
As you can imagine, AR ads have a lot of advantages. They're highly entertaining, engaging, and memorable. AR ads allow consumers to connect with their favorite brands on a deeper level. And most importantly, these ads have the potential to boost sales.
Here's an example of an AR campaign for McQueen Gin. The brand wanted to offer customers a memorable experience for the launch of their new labels. In order for the customers to have this AR experience, they had to download the McQueen app, scan the label on the bottle and watch the bottle come to life through an incredible animation that told the story of the gin's flavor.
E. How to Build a Powerful Mobile Advertising Strategy
1. Set your objectives
Whether you aim to increase sales or want to get people to sign up for an online event, you need to set your objective clearly.
Setting your objective will help you to further determine your target audience, craft your message and design your ads.
Depending on your goal you will know which channels to choose to reach your target.
For example, you're a fashion brand, you also have an app and you want to increase the app installs. You may want to reach people who are regularly searching for clothing items online and offer a discount when they shop through your app.
2. Understand your target audience and their mobile behavior
Take your time and really get to know your audience before starting to work on your strategy. This is a crucial step for the effectiveness of your advertising campaign. Basic demographics about your audience such as where they live, age, gender, employment status, income, etc, are very important.
Then, use this data to create laser-focused targeted ads. Most ad networks allow you to refine targeting options based on audience interests, habits, how they interacted with your business in the past, and more. These groups of people are technically called audience segments, and you can choose to target specific segments.
For example, the Google Ads network allows you to use various audience segments so you can have more chances of reaching people interested in your business:
With

affinity segments,

you can reach users based on what they're passionate about, their habits, and interests;

With

custom segments

, you can reach people by entering relevant keywords, URLs, and apps;

With

detailed demographics

, you can reach people based on important life events;

With

your data segments

, you can reach users that have previously interacted with your business, and have visited your website or app;

With

customer match

, you can reach your existing customers and other contacts whose data is stored in your CRM. For example, you may have organized a webinar and stored all participants' emails. Next time you run a campaign, you can target these people as well, provided they have allowed permission to your company to use their data

for marketing purposes.
3. Create engaging and visually appealing ads
Not just any ads. Design the best ads.
Here are some best practices for creating high-converting mobile ads:
Use animated ads if possible. They have more chances to draw attention than static ads;

Use high-quality images;

Keep your ads within your brand's guidelines. Use brand colors, fonts, and logo;

Use a strong call to action;

Choose powerful words that drive action. Use a legible font so your ad copy will be easily read and understood.
4. Optimize for different platforms
For display ads, you need to check the specifications for each ad network. For example, Instagram prefers square and portrait-size images, so if you use the same display ad you used for other networks, you risk getting your image cut and losing clicks.
The same applies to video ads. Each ad network has its own video specifications, so you must be careful not to use the same video for all placements. That's why it's better to create individual ads for each network than to risk compromising your campaign and brand reputation.
5. Create dedicated landing pages
Don't lose your enthusiasm just yet! You still have one important step ahead: creating a landing page that actually converts.
A landing page is a page on your website where users will land after they click on your ad. It is the final step in a user's journey, and it is decisive. This is the place where a visitor can become a customer.
We often hear about high-converting landing pages, but what are the elements of a landing page that can turn a visitor into a buyer/subscriber?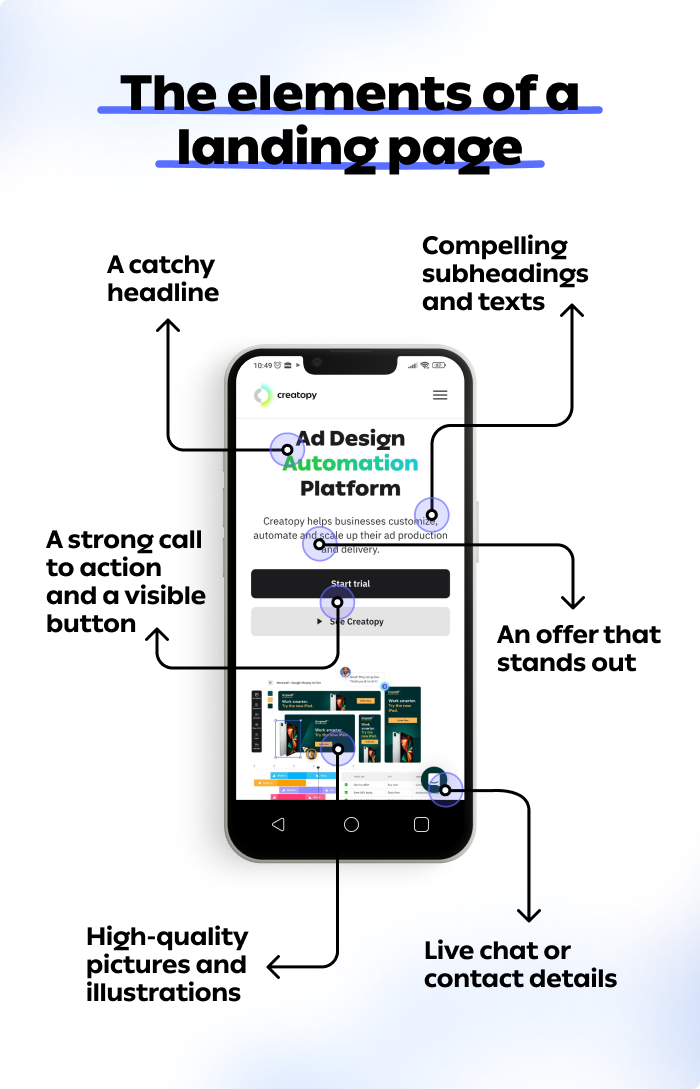 The elements of a high-converting landing page:
A catchy headline

Compelling subheadings and texts

An offer that stands out

High-quality pictures and illustrations

A strong call to action and a visible button

Live chat or contact details
F. How to Measure & Optimize Mobile Advertising Performance
Tracking and analyzing your mobile ads campaign is key. Understanding the user journey (where they stumble, stop, or convert) is vital for building effective campaigns.
Here are some of the most important metrics you should consider when analyzing the performance of your ads: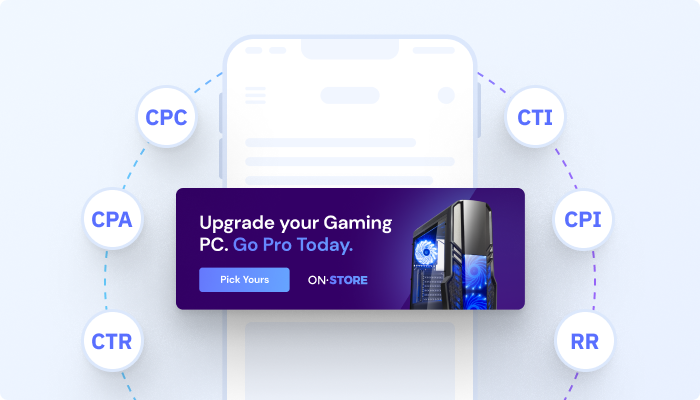 1. Conversion rate
The conversion rate tells you the percentage of users who have converted out of the total number of people who visited your website. A high conversion rate indicates that your advertising campaign was successful. Conversion rates depend on a number of factors like landing page design, ad design, effective deployment of a campaign, and audience targeting.
A low conversion rate can indicate that:
Your offer is not good enough;

Your ads are not getting attention;

Your landing page design is not directing the visitors to complete the goal you set.
But however bad your conversion rate may be, there are some things you can do to improve it:
Change your offer.

You can provide something more useful (like an ebook), offer a more significant discount, or advertise your best products.

Rethink your ads and campaign.

Redesign your ads using high-quality pictures, make sure to include your product, and use a strong call to action. Next, understand your audience and use targeting settings to make sure your ads are being shown to the right people.

Redesign your landing page for conversions

. Use high-quality images, write a catchy headline, and a strong call to action, and make sure to add contact details.
2. CPA (cost per action)
This refers to the cost you need to pay to get a conversion (a specific action, whatever that may be). CPA is higher than CPC (Cost per Click), because only a part of these people, out of the total number of people who clicked an ad, will perform an action (buy/install/sign up).
3. CPC (cost-per-click)
This refers to the cost you pay when a user clicks on your ad.
4. CTI (click to install)
This measures the number of users who have clicked your ad and installed your app. The CTI formula is: total number of clicks divided by the number of installs.
5. CPI (cost per install)
You can choose to pay only when a user installs your app and thus make important savings. And actually, many marketers do make this choice, as CPI is one of the most used metrics in marketing because it's an accurate measurement of the effectiveness of your campaign.
6. Retention rate
This one tells you about the percentage of people who continue to use your product/service over a period of time.
Look at the retention rate to understand many important things. For example, it can tell you how loyal your customers are, how satisfied they are with their shopping experience, and whether you have a solid, sustainable base of clients to keep your business going.
7. LTV (lifetime value)
This measures the total amount of money a customer is expected to spend on your products/services during the period of an average business relationship. This metric helps you understand and make decisions about how much money you should invest in attracting new customers and retaining the customer base you have.
8. Average time spent on page
This metric is important because it tells you if people are interested in what you're advertising or leave instantly because it's not what they expected. If the time spent on a page is extremely low, you need to work on your landing page design and content.
You can check this metric in your Google Analytics account and take action to optimize your campaign pages accordingly.
9. ROAS (return on ad spend)
ROAS tells you how profitable your advertising campaign was. To understand it more clearly, ROAS measures the return you get for every dollar you spend on ads.
For every marketer, ROAS should be the main metric in mind. Because, at the end of the day, profitability is what matters. You need to make sure that your advertising investments paid off.
G. The Challenges Of Mobile Advertising
More privacy & security for the users
The online world is evolving towards a data privacy era. A survey run by the Global Privacy Monitor with respondents from 16 countries found that consumers are now more aware of their rights in sharing their data than ever before. However, people are less concerned about privacy than in the past and have grown to see data sharing as an essential part of today's society. In other words, they are willing to allow access to their data as long as the process is transparent.
With Google's transition to a cookieless browser (2024) and Apple's ATT framework, constant measures are taken to make the online a more secure place.
The challenge that now arises for marketers is to find new ways to deliver personalized ads with less data. Remarketing (based on third-party cookies) will also become almost obsolete within a couple of years.
So, what can we do? Alternative solutions can include first-party data gathering using the Google Marketing Platform, machine learning through the Google Cloud Platform, SKAdNetwork, Data Clean Rooms, or predictive analytics.
Understanding the impact of ad fraud
Online advertising is an industry of hundreds of billions annually. In parallel with the development of online advertising, online fraud managed to grow and flourish into multiple deceiving practices in order to steal a small share of the online advertising budgets. According to eMarketer, ad fraud varies between $6.5 billion to $19 billion annually.
The most common forms of ad fraud on mobile are ad stacking, attribution fraud, malicious bots, click farms, click fraud, click flooding, click hijacking, click injection, click redirection, CPA fraud, and many others.
To protect your wallet from these pirates of the online world, you need to use fraud blockers, meaning fraud protection software that improves advertising performance by automatically blocking ad traffic from bots, click farms, and other malicious sources.
The use of ad blockers
It's a fact, and we have to face it: ad blockers are not going away. But there are many approaches we can take to thread our way through ad blockers.
First, we need to understand our audience and see if they could be using ad blockers. This study on ad blocker usage found that people who use ad blockers are more tech-savvy. Also, Millennials seem to use them more than other generations, while the distribution between genders revealed that more men have ad blockers installed than women. So, you really need to understand who your audience is and see if you can reach them via a mobile advertisement.
It's also equally important to choose your ad networks carefully. For example, the Google Display Network was engineered to measure true viewability for display ads, meaning the network only reports the number of humans who have seen the ads.
Fortunately, many networks have put effort into offering a positive experience to both users as well as to advertisers. This means that they allow advertisers to have some ads shown even to users with ad blockers installed on their browsers, but in a non-invasive form. Facebook's native advertising and LinkedIn's sponsored updates are other examples of how these networks are helping advertisers make their ads seen.
H. Keep Up With the Mobile Advertising Trends
Mobile shopping is the new normal
There's one positive impact that the COVID-19 pandemic had on the world and that is the development of the e-commerce industry. Due to restrictions, many people discovered how easy shopping can be from the comfort of their sofa.
The pandemic, along with the use of many new features in mobile search (like voice search and visual search) and the use of shoppable posts on social media, led to a surge in mobile shopping. In 2023, mobile shopping is responsible for 63% of all e-commerce sales, and 33% of all shops worldwide are online shops.
Naturally, the development of e-commerce led to a boost in mobile advertising spending and the implementation of promotions, discounts, and coupon ads. This trend will continue to grow and develop new and surprising forms in the next years.

Short-form video content will be king on mobile
Hubspot found that short-form video is currently the most popular and efficient form of social media content. Short-form video refers to videos that are not longer than 60 seconds and we see them every day on the most popular social media networks out there. You may be familiar with TikTok videos, Instagram Reels, and YouTube shorts.
According to Hubspot, short-form video is Gen Z and Millenials' preferred format to learn about new products. They're easily digestible, funny, and trendy. No wonder the young generation likes them!
Visual search is the future of search
Visual search has the potential to impact mobile marketing big time. Here are some incredible statistics that prove visual search is the future of search:
36% of consumers use visual search when they shop online;

50% of online users say visual information is more important than text when they search for information;

Google image search result box is now showing up for one-third of all search queries;

74% of all queries are image-based searches;

72% of US internet users regularly or always search visual content before making a purchase;
What does this mean for brands? Well, it means that you need to get your website optimized for visual search.
This is one of the main mobile advertising trends, and we'd better get ready for the transition.
Shoppable posts: one click away from the shopping cart
Shoppable posts allow social media users to access your website and shopping cart instantly. Having shoppable posts running on social media platforms is no longer an option, but the new normal.
AR ads will help strengthen the customer-brand relationship
AR ads will help brands stand out from the crowd and create memorable experiences. Augmented reality has seen an enthusiastic adoption by top brands as a way to catch the customers' eye and create deeper relationships with them.
What we've seen so far is just the beginning of AR in online advertising, and predictions are that AR will be the next big thing in mobile advertising.
Time to Launch Your Mobile Advertising Campaign
I hope this guide to mobile advertising has equipped you with all the knowledge you need to set up and launch a mobile advertising campaign. Also, I hope that you'll find mobile advertising less complicated and intimidating than ten minutes ago when you landed on this page.
This in-depth article is meant to guide you and give you all the instruments you need to advertise your brand online, as well as the courage to navigate this constantly evolving industry.