7
minutes read
There's a popular meme with a picture of Abraham Lincoln and a quote that reads:
"Don't believe everything you read on the internet just because there's a picture with a quote next to it."
It's funny and so true at the same time.
Quotes are omnipresent on social media platforms. We've all most likely shared one, whether it was publicly or in a private message.
It's hard not to.
They are not only incredibly appealing but can also be successfully used as a marketing tool.
In this article, I want to show you how to create image quotes and how to integrate them into your marketing strategy.
First, here's how to use Creatopy as an online quote maker.
How to Create Image Quotes With Creatopy
1. Create an account
In case you don't have an account already, go ahead and sign up here. It's free, and you can get started in just a few seconds.
2. Choose the quote image size
Once you logged into your account, click on the Create button from the upper right side and search for your quote image's desired size.
You can also click on the search tab from the left side of the screen, and a list of pre-made sizes will appear for you to choose from.
In both cases, you can also select the options Create custom size or Create custom design set. The latter allows you to make multiple images in different formats.
3. Use a template or start from scratch
Our template library holds hundreds of designs with quotes, so you'll most definitely find something you like.
Still, if you need to create a unique design for your quote, you can start from scratch and use the platform's features to design your image quote.
4. Personalize the image quote
When you wish to create a beautiful quote image for social media, display, or print, it's best to keep it simple.
Use a solid color as a background or an image that doesn't have too many details, and pair it with a font that enforces the idea you want to transmit.
You can choose a background image from the stock photo library available on the platform or upload your own.
Quotes look best on images with fewer elements or on landscape images where you can place your quote above and/or below the horizon line.
If you used a template and want to change the quote's text, you can do so by selecting the text and editing it.
In case you started from scratch, it's equally easy to add the quote to the image you uploaded. Just click on the Text tab from the screen's left side and add a heading, subheading, or body text.
Remember, fonts matter when it comes to quotes, so be sure to choose a font that looks visually appealing and matches the image you used as a background.
You can choose between the fonts available in Creatopy or upload your own.
If you want to add more credibility and more dimension when you have a solid color background, you can also add a picture of the quote's author.
Usually, you want to place the author's picture on the right side and use the space on the left for the actual quote.
5. Download and share
Now that your quote image is done, it's time to download it. Our online quote maker lets you do that as well.
Once you download your image, you can go ahead and share it on the platform of your choice and use it in your company's marketing strategy.
Speaking of, let's talk about the main reasons why you want to consider using quotes in your marketing strategy.
Why You Should Use Quotes in Your Marketing Strategy
1. To inspire
People are hungry for inspiration.
Most people feel inspired when they read what someone they look up to said at some point, which makes them share it with their friends, too.
Through inspiring quotes, your business can boost its awareness, increase its reach, and build a community around it.
In time, your social media channels and blog may become the number one place where people go to get inspired.
2. To motivate
Motivation pushes people to do things that, perhaps, they wouldn't do otherwise.
Motivational quotes are all over the internet, and it's probably because they work. We all have days when our mood is low, and we don't feel as determined to push our limits.
These types of quotes can help people take action, encourage them to try something new, boost their confidence, and feel better overall.
3. To establish social proof
Quotes can be successfully used as social proof.
Testimonials can boost people's confidence in the products or services you're selling.
Studies show that 88% of customers trust user's reviews just as much as they trust the official product description, so it's no wonder that they are used on most websites.
Celebrity endorsements can also be used to establish social proof, so don't miss the opportunity to use quotes from them in your marketing materials.
Remember, while a campaign on social media may be short-lived, a banner on your blog can convert over and over again.
Where To Use Quotes
Quotes have been around since forever, and they are not going anywhere. People will always relate to inspirational and motivational quotes, and will always seek social proof for specific products or services.
But the way brands are using quotes and where they share them has changed over the years.
At first, brands mostly used quotes on their social media channels. Now, they have taken up a well-deserved place in the marketing mix of most brands.
Here's where you can use quotes to make a difference for your brand today.
1. On social media
Quotes are an easy way to create a bond with your audience, and they are among the most shareable types of content.
This is especially true for visual networks such as Instagram or Pinterest, where they can definitely boost engagement without too much effort.
Even on social media platforms that don't rely on visual as much, such as Facebook and Twitter, posts with image quotes still get shared more often by specific audiences, thus increasing your brand's reach.
Here's an example from HP's Twitter profile that helps sends a message to the world.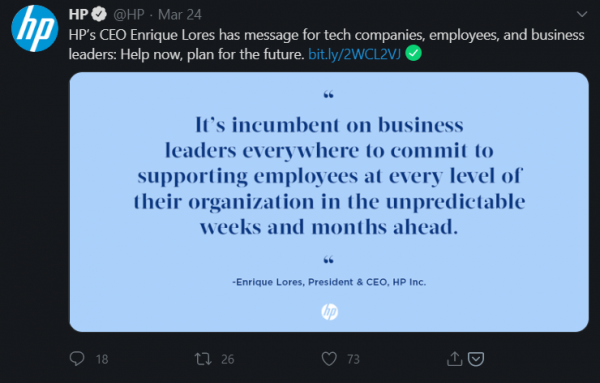 Inc. Magazine uses business quotes on their Instagram account to motivate their following, alternating them with other types of content.
For the quotes, they use a bold solid color for the background and font in either black or white, which makes the image quote pop.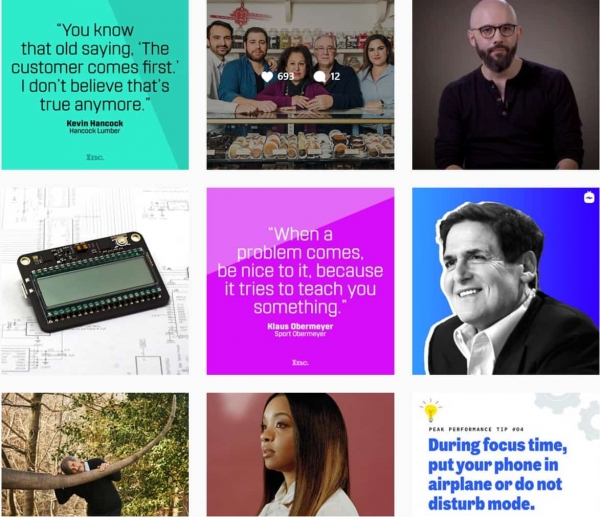 Foundr Magazine's Instagram account is focused on sharing image quotes, as well.
When the company started the account, they shared around 4-5 quotes every single day. They did this for five months straight, which brought them over 100k followers.
Now, they have over 2.3 million followers and continue to grow. Get inspired by their feed and see how they managed to connect to their audience.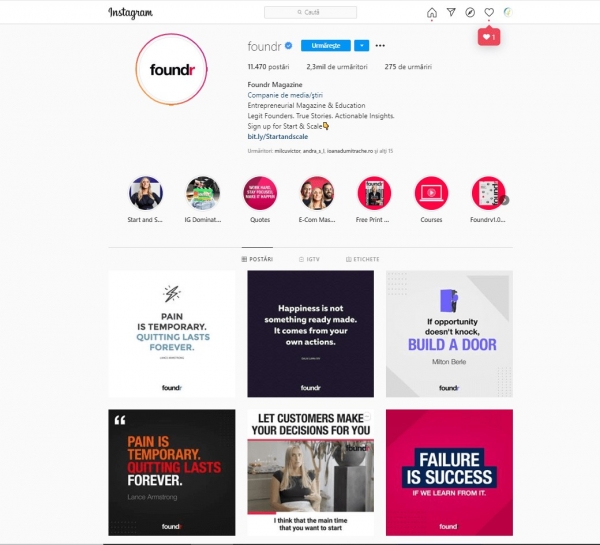 And the final example comes from Mark Manson, author of the famous worldwide book The Subtle Art of Not Giving a F*ck.
On his Instagram account, he posts quotes almost exclusively. As you can see, the design is minimalist—there's a white or black background and text over it.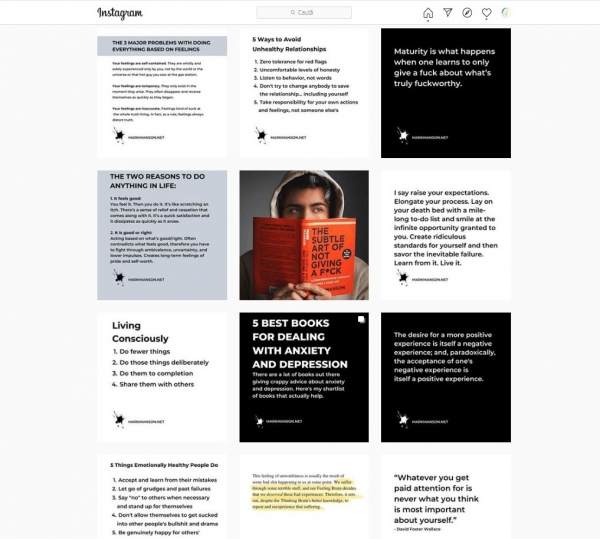 2. On printed marketing materials
You can add quotes on anything from catalogs to brochures and business cards. Adding a quote from an influencer your company worked with can add that much needed social proof.
Usually, on print materials, you can include short testimonials from actual clients that tested your products or services.
Adding a quote to a printed catalog or brochure can boost your company's credibility.
Here's an example from the Royal Veterinary College, that uses several quotes in their brochure from previous clients to answer questions such as: "Why should I choose these courses?"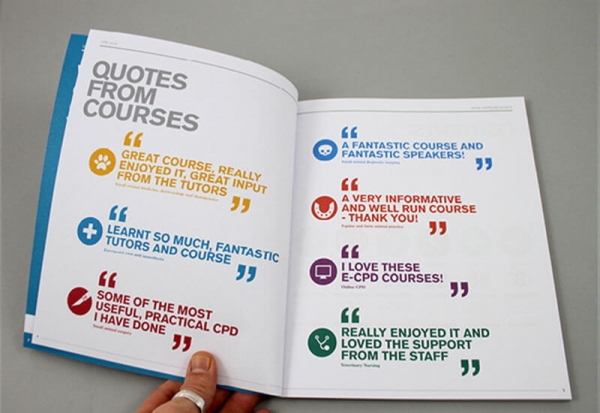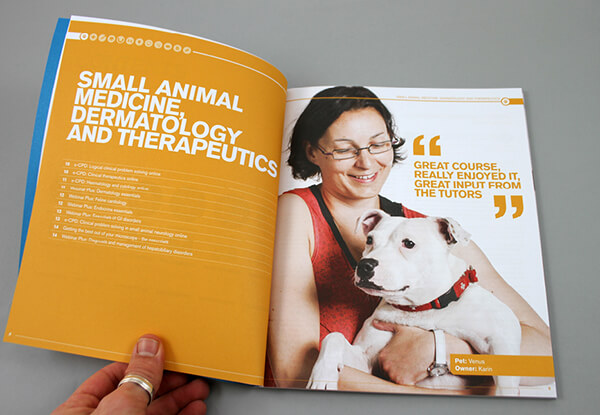 3. On your blog
Quotes are a great way to add expertise to your articles.
By adding quotes or stats from industry experts, you add more value to your articles, thus making them a great learning resource for your audience.
Quotes can be inspirational, but they can also be educational, using statistics, presentations, or other informative types of content.
Here's an example of what we did for one of our recent blog posts.
We talked to industry experts and asked for their tips to add more value to our article about speaking at online events.
4. On pricing pages
The pricing page is, most of the time, the place where potential clients decide if they want to purchase your product or not.
Add more credibility to your company by including quotes from current customers that will make potential clients take action.
Here's a great example of how Pipedrive, a CRM platform, used social proof on their pricing page.

5. On testimonial pages
If your business is centered around a product or a service, it might be worth it to create a dedicated page for testimonials, case studies, or customer success stories.
This way, you can create a place where potential customers can learn more about how your product or service can help them solve their problems.
Here's how Kissmetrics used quotes as social proof on their customer success page to gain visitors' trust.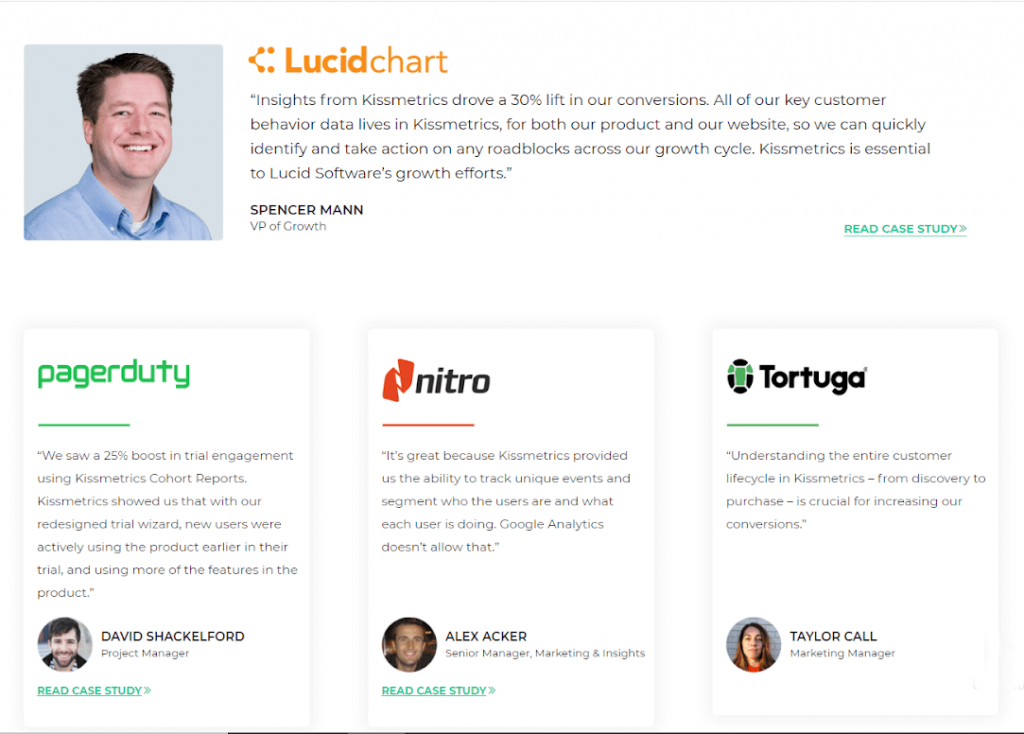 6. On product pages
By providing a testimonial on your product page, you show others how your product or service can benefit them as well.
This is precisely what Hootsuite did in the example below.
In just a few words, the quote manages to capture the main benefit of the product they're selling.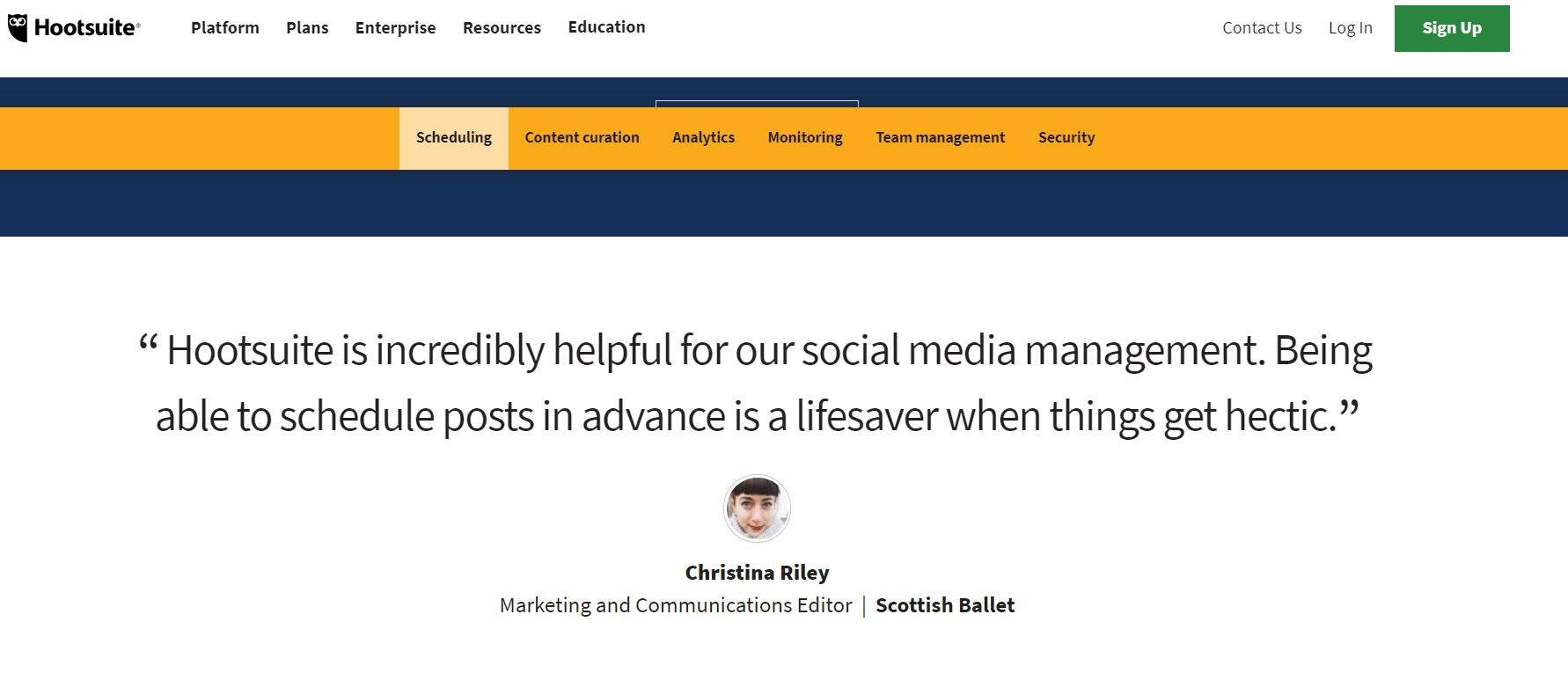 Conclusion
I believe it's safe to say that there's more to quotes than meets the eye.
If appropriately used on different marketing channels, quotes can be a highly effective way to boost the trust in your brand, build a community around it, and increase awareness.
Play with the different options I showed in this article, use our free online quote maker, and start including quotes in your marketing mix.
After all, don't forget what Jorge Luis Borges once said:
Life itself is a quotation.