8
minutes read
When was the last time you actually read a brochure, a flyer, or a leaflet?
Chances are that you got used to ignoring these type of marketing materials, especially when they are handed to you on the street.
This has happened mainly because, over the past few years, the business environment shifted towards digital. As a result, more and more companies are pouring money into digital marketing every year.
You probably saw plenty of headlines online saying how print advertising is dead, which is not exactly true.
Yes, print advertising has declined over the years, but this doesn't mean that it's going to die anytime soon.
In fact, right now, print marketing represents a fantastic opportunity for your company to stand out.
Why?
Because there's just too much noise in digital marketing and it has become harder and harder to be distinct. Not to mention the fact that, according to Statista, in 2019, approximately 25.8 percent of internet users were using ad blockers on their connected devices. Over the next few years, this number is expected to grow even more.
With print advertising, on the other hand, you can emphasize the messages that you want to send to your audience.
Let's dive a little deeper and discuss the main reasons why print marketing is still relevant in this day and age.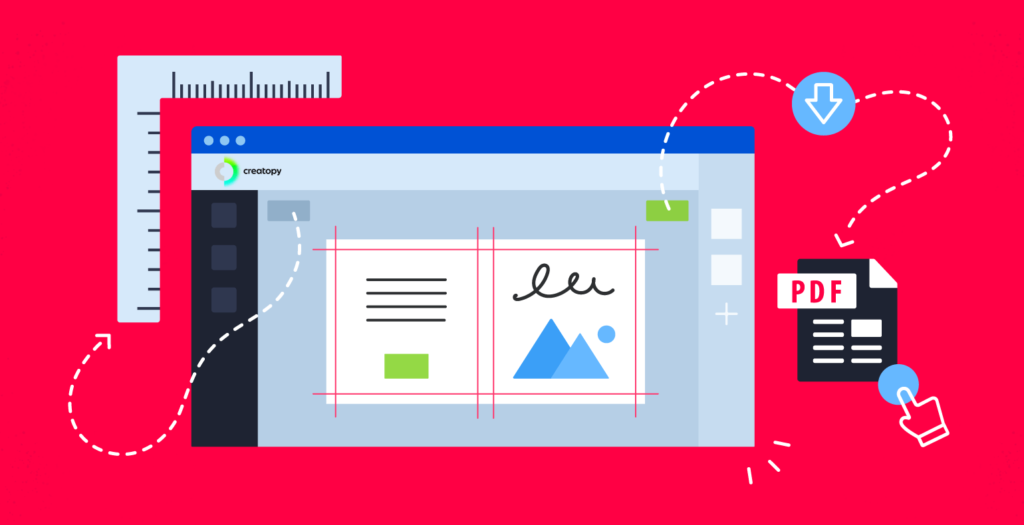 1. It appeals to the senses
In a world where we spend most of our days looking at our screens, receiving a print material can definitely capture our attention. We may even tend to see this as a novelty factor.
When we look at our phones or laptop screen, only one out of the five main senses is engaged in that activity.
That's why print wins.
We will not only see the paper but also feel its texture and smell the ink.
In a nutshell, printed marketing materials can appeal to three senses, compared to digital screens that only appeal to one.
You can carefully craft a marketing campaign around the type of sensory experiences you want to transmit to your audience whenever they hold a brochure, a flyer, or a catalog created by you.
By triggering multiple senses in print advertising, you can actually improve the effectiveness of this type of materials.
Martin Lindstrom actually wrote in his book called "Brandsense: How to Build Powerful Brands Through Touch, Taste, Smell, Sight, and Sound" about the importance of using sensory perceptions when building a brand.
In case you want to learn more about this topic, feel free to check out his book.
2.

It's more likely to be remembered

Depending on where someone lives and how much time they spend online, a person will usually be exposed to somewhere between 4.000 and 10.000 online ads per day.

That's a lot.

Out of thousands of ads, it's quite impossible to remember the majority (or even some) of them, especially if you've only seen them once.

So what do you do if you want your message to be remembered?

You leverage print advertising.

U.S. Postal Service partnered with Temple University's Center for Neural Decision Making to conduct a neuromarketing study to see how people respond to physical and digital media.

The study had two significant findings:
Printed ads triggered a stronger emotional response;

People are more likely to remember a printed ad even after one week of seeing it.
That being said, the human brain can connect much more easily with printed information compared to online info.
3. It acts as a learning tool
There are many types of printed materials that you can create to promote your business. Some, such as brochures, can be used to provide more in-depth information about the problem you're solving and the solution you're offering.
Alternatively, you can use printed materials to educate your audience about important issues.
The theory that printed materials act as a learning tool is supported by a study that was conducted in Norway a few years back.
It analyzed the effects on reading comprehension by comparing reading information on print versus on a computer screen. As it turns out, those who read printed documents were more likely to remember the information.
When people remember what they're reading, it's going to help them learn about a topic much more easily.
Moreover, science showed that the human brain requires 21% less cognitive resources to process what they're reading on print. As a result, this makes it easier for us to grasp information and retain it.
Just think about how much of an impact has the simple act of browsing and touching a print material. It's genuinely something that you cannot ignore.
4. It's trusted
A survey conducted by MarketingSherpa revealed something that may come as a surprise to some of you.
The results of the survey showed that 82% of respondents trust print ads when it comes to making a purchase decision.
Yes, print ads, not social media, search engine, or video ads.
In fact, the top five most trusted advertising channels were the traditional ones, such as TV, catalogs received in the mail, radio ads, and outdoor ads.
In the world of fake news, it can be harder to earn people's digital trust. This may be one of the reasons why print materials are more reliable in consumers' eyes.
Some standards need to be met when creating printed materials, which is why companies will spend more time fact-checking and going over everything.
After all, consumer trust is possibly the most crucial component of your marketing plan. If consumers don't have faith in you, then your marketing will not work.
5. It helps with local marketing
When you have a local business, and your audience is in your vicinity, then print marketing can do wonders for you.
This can be especially effective when you run a small or medium business that relies on local traffic.
To reach local consumers, you can use several print advertising materials, such as direct mail, flyers, business cards, posters, or outdoor ads.
Depending on your industry, you may want to focus your efforts on creating certain types of printed materials.
For example, in retail, catalogs are still a valuable tool that can bring sales in, and it can definitely be a more efficient form of advertising than others.
We should also note the fact that successful retailers, such as Sears and IKEA, understood that it's essential for them to build an omnichannel strategy.
Now that we've talked about the importance of implementing a web to print strategy let's go through some ideas you can use for your print materials.
Use QR codes and personalized URLs
According to Statista, approximately 10.1 million households with internet users scanned a QR code in 2018. This number is expected to increase by 2020.
It goes without saying that dynamic QR codes and personalized URLs still represent brilliant ways of integrating digital marketing with print marketing.
These two simple ways tactics can help you drive traffic to online campaigns and maximize their reach.
To make that happen, you need to give people a strong enough reason for them to scan the code or type in the personalized URL.
Because QR codes can be printed on basically anything, it means that you can get as creative as possible with the type of printed material you choose and its location.
Create high-quality business cards
You don't know which marketing material will be seen first by a potential customer, which is why you want to make sure that everything will look great, especially the business cards.
You may think that nowadays when everyone has gone digital, no one ever bothers asking for a business card, or even wanting one.
However, it truly represents a simple way of promoting your business and of exchanging contact information with potential prospects.
Also, in some cultures, it's a business ritual to hand out a business card when someone offers you one.
Use brochures in a creative manner
Brochures are the most versatile printed marketing materials and can be used for a variety of business industries.
Here are a few ideas that can inspire your next brochure:
Transform it into an invitation

. Next time you want to send invitations, just turn it into a brochure. This won't work for every single occasion, but it's appropriate to use if you're going to share more than just the date, time, and location of the event.

Get creative with the folds

. If you want to design a brochure online that stands out, then you definitely need to think outside the box when it comes to the way it folds. By doing this, you will let your audience know that you're not afraid to do things differently.

Play with the shape

. We're so used to see brochures that have a rectangle shape. Just think of something new and figure out what other shapes would make sense for your company. As long as it folds, you shouldn't be limited by anything else.

Include an infographic

. Brochures are perfect to use when you want to convey important information in a digestible manner. Be careful to leave enough white space, so you don't overload the page with too much data.

Add a small gift

. People love getting free stuff, so why not leverage this fact to your advantage? If it makes sense to you, try to include a sample of the product you're selling attached to the brochure. Or you can simply add something sweet, like a chocolate bar or a pack of mints.
Add CTAs in the printed materials
In most cases, the goal of the printed materials is to drive traffic to digital touchpoints, whether it's a website or social media profiles.
For that to happen, you need to incorporate CTAs that encourage consumers to take action after they read your material.
To incentivize traffic even more on your platforms, you can try including special promotion codes which can be used to track the results of a particular campaign in terms of the highest converting source.
Send postcards
Postcards may be an old school method of connecting with potential customers, but they can definitely work if you use them the right way.
In case you don't know where to start, then get inspired by these ideas:
Turn the postcard into a voucher

. This idea can be especially effective before the holidays come when everyone is looking to buy something. The coupon code you offer can be used as a tracking method to see if your campaign was truly effective.

Say Thank you

. By sending a personalized postcard that tells a customer that you appreciate them, you can leave a lasting impression. You can also pair the thank you card with a discount that they can use for their next purchase.

Make it an invitation

. Being given a physical invitation to an event is an exciting feeling. So aside from promoting it on social media, add print marketing to the mix as well.
Design your printed marketing materials with Creatopy
We now have 16+ new sizes that you can use for your printed materials: Brochure, Business card, Card, Flyer, Invitation, Letterhead, Magazine Cover, Poster, Certificate, Resume, Logo, Menu, Presentation, Album Cover, Book Cover, and Photo Collage.
Or you can create your own custom size in case you don't find the size you're looking for.
For the PDF download, you'll have two options: Standard Quality and High Quality. We strongly recommend using the high-quality one for print because the images will be in the highest resolution. However, bear in mind that the PDF will have a larger file size.
There are also more than 700 new templates that you can choose from so you'll definitely have some inspiration to start from.
Final thoughts
Print should not be a substitute for your digital marketing strategy. Instead, these two need to be in a partnership so you can't separate them.
This means that to get the most out of your marketing and advertising, you also need to use print advertising.
Even if you're doing all your marketing exclusively online, you can still benefit from adding web to print into the mix because it's going to help you increase your audience reach.
I hope that this article gave you some ideas on how you can kickstart your print marketing strategy. If you have any questions, feel free to leave them in the comments section.