4
minutes read
Thanksgiving is just around the corner, and I came up with the best Thanksgiving cards and invitation examples for you to "gobble" up.
Don't run out of "thyme" looking around for great printable Thanksgiving and Friendsgiving cards to give out this season.
Take a look at all of these Thanksgiving card examples and be inspired to make your own, or just use one of our ready-made Thanksgiving invitation templates.
Not only will we be looking over some Thanksgiving invitations and cards, but we'll also be looking at Thanksgiving e-Cards, Facebook posts, banners, and all sorts of "grate" things.
Well then, I'm about to "dish" out some serious Thanksgiving ideas, so let's not "beet" around the bush any longer.
Let's just jump right into the "main course." 🦃
Why You Should Give Out Thanksgiving Greeting Cards and Invitations
Holiday seasons are for gratitude, reflection, and relationships. While there are many reasons to give out Thanksgiving greeting cards, I want to go over why you as a business should give them out and why you as a friend or family member should also do it.
For businesses
It's tangible. Giving or sending out a physical card nowadays is almost unheard of. Everyone is concerned with email campaigns and marketing. You can stand out of the crowd by giving your client something tangible and beautiful to look at.
It's personal. I recommend that when you use an online card maker to design your Thanksgiving greeting card, you incorporate a handwritten font into the card. Then the human touch of the writing will make a more personal connection between your business and a client.
It's trackable. You can use this tactic to track your results on how well literature works for your brand. When you give out this greeting card, you can either incorporate a discount code directly on the card or staple a coupon onto it. Keep track of how many discount codes are used in the store and weigh out the costs and profits to see if this strategy is worth applying in the future.
For personal use
It shows you care. When you plan to host Thanksgiving dinner at your house and give out a Thanksgiving or Friendsgiving, it shows your friends that you're putting effort into this dinner and that you really care about them.
It's a kind gesture. When you give out the invitation, it's personal. What makes it even more personal is when you have a card that you created yourself, and you've added special elements that show your friend you created it just for them. They'll feel thought of and valued.
It's almost a tradition. I remember that giving out Holiday cards was almost like an instinct when I was a kid. As time passed on, things became inherently digital. Sending out a digital invite is also a great thing to do, but when you take the time to print it out and give it away, it exhibits that extra bit of effort.
11 Best Thanksgiving Cards & Invitations to Give Out This Year
Now that we've gone over quite a few reasons that businesses and people alike should make Thanksgiving cards, it's time for you to make your holiday party that much warmer by giving out a personalized Thanksgiving card or invitation.

Instead of going through all of that hassle of going to the grocery store, finding the card section, and looking through tons of cards that might describe your personality or gathering theme, why not make your own custom Thanksgiving card?

We're going to go over 11 Thanksgiving card templates that you can personally customize with just a few clicks, and then you can print them out or simply send them as a Thanksgiving eCard.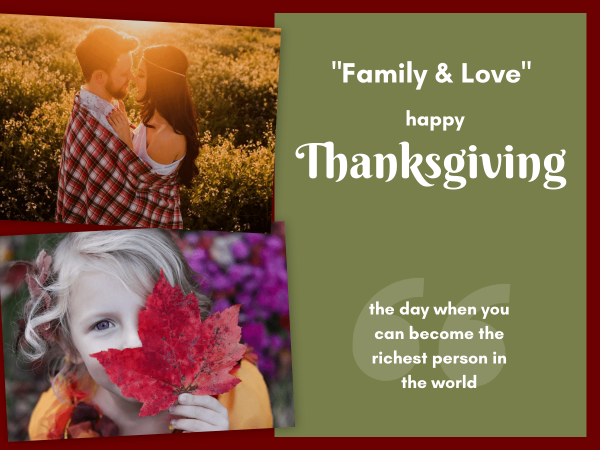 Conclusion
I hope you enjoyed our list of Thanksgiving cards and invitation templates.
Remember, everything Thanksgiving card template is 100% customizable so that you can really wow all your friends and family members with your incredible design skills.

Let us know in the comment section which template is your favorite.
Happy Thanksgiving! 🦃🍂