Create scroll stopping ads effortlessly
Enjoy limitless creativity while saving time. Design outstanding ads, create multiple sizes at once, add animations, drag-and-drop any elements you like, all with Creatopy's easy-to-use automation tools. Now you can focus on your vision without worrying about repetitive tasks.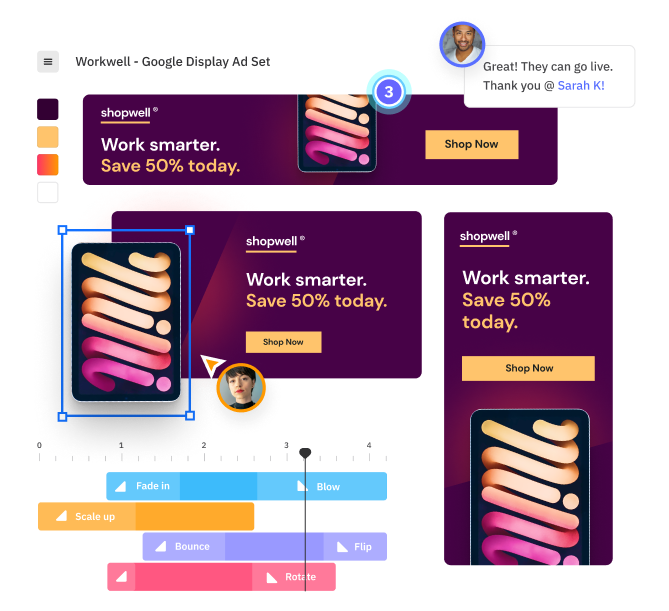 ready set action
Animate your designs with ease
You don't need any coding skills to make animated ads. Simply choose an HTML5 transition you like and add it to your design with just one click. Customize the speed and flow to your desire.
fast and easy
No more pen tool.
We have Background Remover.
It only takes one click to separate your stock photo from its background. No need to outline anything, simply press a button and Creatopy will take care of the rest. Replace it with any image of your choice.
stay consistent
All your assets in one single place
Say goodbye to hundreds of open tabs and files. Use the Brand Kit to keep all your fonts, logos, and primary colors in one place. Add your team members so that everyone is consistent.
scale up fast
Resize your ads instantly
Generate multiple sizes of the same design at once with just one click. Creatopy will automatically rearrange your elements so they fit the new size.
Collaborate easily
Give your email inbox a break.
Offer and receive feedback right on spot. Let your collaborators use the comments section, attach files, mention team members, and so much more for a smoother workflow.
It could be your last chance to feel productive.
No need to rush your creative process and play catch up with deadlines anymore. You can now deliver eye-catching ads in due time without having to worry about small details.