join the team
Discover a world of possibilities at Creatopy
Innovating together, building Creatopy's future - one line of code, one design, and one campaign at a time.

Check the list of available jobs and join us!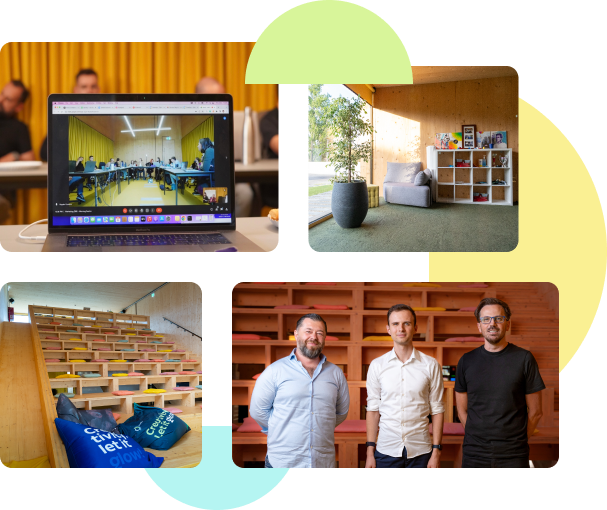 talent program
Design Your Dream Career at Creatopy
Are you looking for a career that matters but, at the same time, the opportunity to learn from experienced professionals? You have come to the right place.

Creatopy is searching for new talents—students and fresh graduates—in Oradea or Bucharest, with a strong willingness to learn.
We all share these values
Can you relate?
We Are Focused On Excellence
We continuously learn and innovate as we look for better and more efficient ways to do things for ourselves, our clients, and our teams. We aim to have the highest quality in everything we do, lead by example, and base our decisions on data, facts, and science. We embrace new projects with clear and ambitious goals, always having in mind the end result, and we hold ourselves and others accountable for the decisions and actions taken.
We Have Customer Centricity
We base all our decisions on customers' needs (no matter if internal or external), keeping in mind the end-user experience. We are empathetic, and we strive to learn and grow by collaborating and sharing knowledge among ourselves.
We Have Integrity
We communicate transparently and adopt an open and flexible mindset as we embrace each person's uniqueness and encourage everyone to be themselves. We trust that our colleagues and management act in everyone's best interest, we have confidence in our abilities, and we focus our attention on finding solutions rather than blaming. We treat others and ourselves with respect, implement the feedback we receive from colleagues and management when relevant, and respect and take care of the environment.
We Are Inspiring
We are proud to be part of the team and contribute to its success by reaching our inner motivation and drive to be a source of inspiration for those around us, both customers and colleagues.
Benefits
Here comes the fun part
The Coolest Office Building
Discover your workplace within a state-of-the-art facility, Eastern Europe's largest office building constructed with the innovative Cross Laminated Timber technology.
Private Medical Services
Prioritizing your mental and physical well-being is essential. Let's keep that well-being with a private clinic's wide range of medical services.
Exceptional Learning Opportunities
We are dedicated to fostering your professional growth. As such, we provide you with the opportunity to attend conferences and workshops!
Gaming Room
Unleash your competitive spirit as you engage your teammates in thrilling matches of FIFA, the latest Mortal Kombat edition, or unwind on the coziest couch imaginable during well-deserved breaks.
Coffee, Anyone?
Savor the finest brew in town! We've got you covered with our top-notch coffee machine, exclusive Creatopy mugs, and premium coffee beans for you to enjoy at your convenience.
And the List Goes On
That's not all! We offer daily complimentary lunches and fresh fruits, organize monthly social outings, provide discounted fitness subscriptions, offer in-office massages, and even grant extra days off.
Join Our Team
Work With Us
How does everything sound? If you're eager to explore the incredible opportunities that await you at Creatopy, check out our current job openings.

We look forward to meeting you!