11
minutes read
Every new business or website needs a marketing campaign in order to be able to reach out to their targeted audience and of course, in order to build a powerful brand able to stand out from the crowd.
There are many ways you can conduct free online marketing and right at the beginning, you can at least try a free campaign based on content marketing.
Sometimes, however, even though you have tried everything, it might not be enough. If you want to really be successful, there is a financial side of the marketing strategy you might want to consider.
You can start on the right foot by creating an advertising campaign based on banner ads.
Where can you launch a banner ad campaign?
With the availability of professional design tools like Creatopy, it's no longer necessary to be a professional designer to make your own banner. Instead, you can concentrate on the delivery channels that best suit your needs. However, you should also study the basics of banner advertising and choose the type of banner to display. Now, let's talk about where to launch your campaign.
A banner ad campaign may be exactly what your business needed in order to generate more awareness, attract more customers, or build a strong brand. There are many professional channels to choose from, besides the traditional direct approach. However, in order to be able to know which one to choose for your own campaign, you need to at least know where you can start such a campaign and the benefits that arise from each option.
1. Google Display

One of the biggest and oldest advertising networks still available and effective in 2017, Google Display Network, maybe the starting point you need if you want to advertise your business or website online.
There are a few things, however, you should know about Google Display Ads. Although when it comes to sizes and formats Google accepts virtually anything from the standard 300×250 pixels banner to the wide skyscraper of 970×90 pixels, there are some recommended sizes that are more popular, such as the 300×250, 728×90, and 160×600 ad units.
Next, you should consider the content of your banner. Google accepts static and animated banners but you should consider designing an animated banner of 15 seconds or shorter if you want to be accepted in their network. Also, you should use the entire space of your banner and make it easily distinguishable from the website content. This means that if you choose a white background, the banner should be framed with a contrasting border.
Finally, Google does not allow you to use any images that might trick your audience to click on your links. This means that your buttons or images cannot be similar to operating system messages, warnings, or dialogue boxes. If you are already working with Creatopy on the other hand, such issues will no longer be of concern, since everything included in our database is already proofed for Google Display.
Why is this a good choice?
Google is one of the most popular and powerful companies with services related to the World Wide Web. Google Display ads are a great method to reach out to people on the websites they read, through the Gmail app or on YouTube, the most popular video sharing network of today's online environment. In other words, this is a great channel for a successful banner ad campaign.
Other than that, you can choose how to deliver your banners based on specific audiences, languages, countries, and other demographics but also on contexts.
Learn how the network works and sign up here.
2. Bing Ads

Microsoft's search engine, Bing, may not be as popular as Google but at the same time, it's worth to at least consider it as a delivery channel for your business ads. Based on the keywords entered by Bing users when they conduct an online search, the Bing Ad Network displays similar or related ads for the companies that are paying for their services. The system is similar to that of Google.
What is this a good choice?
"Google's total share of the US desktop search market has dipped below its previous 64% to 63.8%. Microsoft's share of desktop search is now sitting at 21.6%"a report from Search Engine Journal states. According to them, although the ratio is more than 3 to 1 in favor of Google, Microsoft's search engine share of the search market is rising while Google Search's share is dropping.
In conclusion, while Bing may not catch up with Google in the near future, with a 21% desktop search share it remains a delivery channel to be taken into consideration for a marketing campaign.
That's not all, however, as the Bing network is not limited to the search engine. Your Bing ads may also be delivered to other channels such as "partner sites, through Windows 10, Cortana and Office, plus across third-party platforms and partnerships".
Learn how the network works and sign up here.
3. Social Media Networks
Social media ads more to the Internet than facilitating communication for people from all over the world. In 2017, social media has become a way of life for billions of people who spend more hours online than ever. It's only logical that a marketing campaign should be considered also on these channels, in order to reach out to your targeted audience and speak with them exactly where they are.
Which are the best three social media platforms suitable for banner advertising?
3.a. Facebook

We are dealing here with the most popular social media network. It's a fact you should consider when you are pulling together an advertising campaign. There are over 2 billion active Facebook users out of which, 1.15 billion are active every day, with an average time spent online of more than 20 minutes. Regardless of your niche, Facebook is able to deliver your ads to your targeted audience sometimes even better than other advertising channels.
Why is this a good choice?
Facebook collects data from all its users. There are billions of people on Facebook, a social media platform that allows you to properly target your ads based on actual demographics and analytics data that few other channels have. In other words, Facebook allows you to effectively target your ads, whether you choose to promote sponsored posts or deliver traditional ad banners on their website. And let's not forget about Facebook Video Ads, since everyone predicts that in the future video will be the go-to format for ads.
Learn how the network works and sign up here.
3.b. Instagram

As part of the Facebook advertising network, Instagram may not be as popular but it may prove to be more effective if your target audience is mobile-based. We've already learned that desktop advertising is slowing down while mobile advertising is getting more effective. This happens not just because some parts of your target audience do not care about banner ads but because their mobile devices are slowly replacing their computers due to the advancements in technology. People do not need laptops or desktops anymore, they can do everything on their smartphones and as a consequence, the mobile advertising industry is rising rapidly.
Why is this a good choice?
There is an interesting study published by Social Bakers that unveils the Importance of Instagram advertising compared to Facebook. According to them, media companies receive four times more interactions on Facebook but what really matters at this point, is that Instagram delivers higher numbers in brand engagements.
At the same time, Instagram uses the same advertising platform Facebook uses but their ads are not different than regular posts. This means that they are not intrusive at all, an important fact in converting your invested money into actual followers and potential customers.
Things look even better now after Instagram launched their Ad Stories feature, which allows you to post your advertising banners into other people's stories, thus, reaching an even wider audience. Why? Well, people love Instagram stories, the number of users sharing them, increases by the hour, and most of all, you get to take your ads to the next level.
Learn how the network works and sign up here.
3.c. Twitter

As a marketing platform, Twitter was always regarded as one of the top channels for content distribution. It's easy to get used to sharing your links on Twitter for free but what about advertising? How many of you know that this possibility exists and in many cases, it may prove to be a better choice than for instance, Facebook?
If you decide to design a Twitter ad, you can amplify your messages and get more people to talk about your brand, products, or services. Considering your targeted audience is on Twitter, this platform may allow you to grow your exposure and maximize your reach through mentions, retweets, likes, and replies.
Why is this a good choice?
Remember how we've talked about Instagram ads and the fact that they are effective because they appear as regular posts and as a consequence, they are not intrusive to your audience? Well, the same thing applies to Twitter ads. Also, we know that more than 67% of US-based companies are using Twitter for marketing purposes, a good enough reason to think the platform works since there are so many businesses to invest time and money in it. That's not all, however, as 74% of the customers follow brands on Twitter to get updates about their services or products. Almost half of these people are willing to get to the companies' websites for more information.
Learn how the network works and sign up here.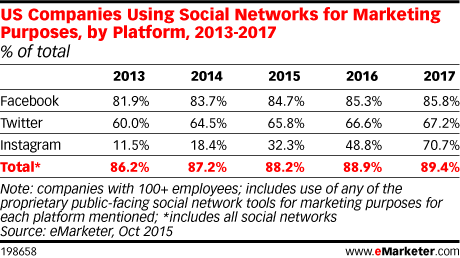 4. Carbon ads

We've learned so far about some of the most popular delivery channels for a banner advertising campaign. However, the entire world does not revolve around the major players from social media, Google and Microsoft. You can also choose a dedicated platform that deals only with ads. Carbon is one of these companies.
They are also a great choice if you want to reach out to designers and developers, with the main focus on design and dedicated blogs and websites. Whether you are a professional designer or a marketer with an affinity to design, you should consider this platform as a great opportunity not only to test the visual quality of your banners but also to reach out to websites from your niche and as a consequence, to their audience.
Why is this a good choice?
"Carbon ads" delivers an average of 100 million ad impressions every month. The platform is able to deliver better ROIs due to its unique way of doing business. The network is divided into three circles of influence, with each circle being highly focused and curated to provide quality impressions. There is the business circle for general business purposes, the design circle, and de developers circle. Members of these networks or circles, as they call them, are accepted via invite-only. This means that your ads are most likely to land on curated and well-targeted websites.
Learn how the network works and sign up here.
5. BuySell Ads

BuySell Ads is something entirely different than anything we've talked about so far. Basically, it is an advertisement marketplace where you, as an advertiser review the publishers that have listed their websites and choose exactly where to buy your ad space. In a way, BuySell allows you to engage in direct advertising, a rather traditional and yet effective way of conducting marketing.
Why is this a good choice?
When you engage in direct marketing and advertising, you know exactly where you are going to display your ads. This is an important thing, as the more targeted your ads are, the less concerned you are about conversion.
For example, if you are selling cooking utensils and deliver your ads to blogs from the cooking niche, considering that they are relevant blogs in their industry, your ads will reach out to exactly the audience you need in order to get new customers.
BuySell Ads is the middleman you need in order to buy ad space through direct marketing. It's easier to find what you need when websites are grouped into one big database.
Learn how the network works and sign up here.
Why banner ads?
Despite the fact that millions of people are using ad blockers these days, banners may still be effective if you choose the right channels. There are reports that banner ads can increase your traffic up to 300 percent and increase awareness of your brand by up to 63 percent.
This means that despite the fact that it may seem that no one likes them, display ads can still be a good choice as long as you know what you are doing. Let's take for example a study case published on Retargeter.
According to their reports, Battlbox, a company founded in 2015, managed to expand their customer base with no less than 6000 new customers during a 9-month campaign. Their banners generated a 110% click-through rate and a 6.43:1 ratio for the "return on ad spend".
Finally, there are also some other stats published by Iron Paper, which states that desktop advertising is expected to slow down, as it did for the past few years. However, this does not mean that display advertising will also fall. As a matter of fact, it is expected that the average revenue per user will actually grow, continuing its path from 2015 and 2016.
The "average revenue per user in the banner advertising segment is increasing. Although desktop revenue is falling, mobile is pulling up the slack with revenue growing from $29.68 in 2015 to $39.27 in 2016 per Internet user" the report said.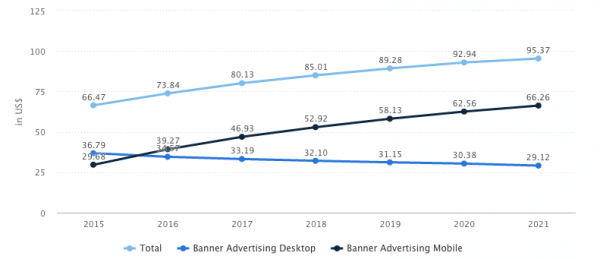 What makes a good banner ad?
A successful banner advertising campaign starts with the design of the banner. Yes, the advertising network is important as well but your budget may be wasted for nothing if your banner fails to transmit the correct message to your target audience. So, what makes a banner good for advertising?
The size
The design of an advertising banner starts with choosing the right size. Creatopy allows you to generate a full set of banners so that you will have no problems related to the acceptable sizes regardless of the ad network you choose. However, if you consider you only want to design a specific display ad, you should take into advice what we've discussed for the Google Display network, and select one of the three popular sizes recommended there.
Also, if you are engaged in direct advertising and get to choose where to place your banner, it's important to negotiate for a good placement, close to the main content of the website, and the header section.
The design
More is not always better when it comes to advertising banners. An overcrowded banner with visuals may prove to be ineffective as the viewer will lose focus on what is important.
Elements important for the design:
– The main product image
– The background image (if chosen)
– The message
– The call to action
Here is a great example from Subway: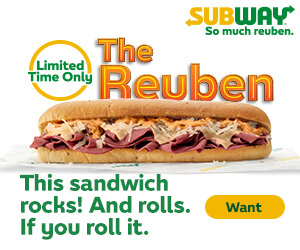 The focus is on their advertised product, there is no background noise to distract the viewer from the message and there is a clear and simple call to action.
The format
The HTML5 banner: When it comes to a static banner, there should be no issues. However, if you are considering creating animated banners, there is no other better option for you than the HTML5 banner. Flash is not supported by all browsers and operating systems and animated GIFs are displayed in a lower quality. Plus, if you want your banners to be also interactive, the HTML5 script is still your best option.
Conclusion
Display advertising may help you grow awareness of your brand and expand your audience. Unlike traditional advertising, online advertising will not drain out your marketing budget. While it is cheaper than TV, radio, or print advertising, it will also allow you to better target your audience and deliver your message exactly to the people you know they might be interested in your business.
There are many delivery channels for an advertising campaign and this article tried to pinpoint some of the best 5 choices you have on this subject. Our suggestion is to try at least two of them at the same time and publish your banners on an advertising platform and on social media for better results.
Which one of these platforms would you choose in order to create a banner advertising campaign and why? Do you know other advertising networks that are able to deliver similar or even better conversions?