9
minutes read
Today we are going to talk about a topic dreaded by many and loved by few.
Video banner ads.
Picture this:
You are browsing a web page, looking for some answers, or just reading an article, and suddenly, a wild in-banner video ad appears. To be honest, you probably didn't even notice it from the first time because of the banner blindness condition we all developed.
However, this banner was special. It was probably a retargeting campaign, so you were obviously interested. You probably watched the whole thing, and you clicked on the banner to read more.
The question is, how often does this happen?

Do Video Banner Ads Still Matter?
Are people still doing advertising through video banners? To answer this question, let's look at some of the most recent video statistics.
Since 2017, advertisers have been spending more on online video ads than on banner ads, which made video the fastest-growing format in display advertising.
This goes to say that video banner ads are here to stay.
Used effectively, videos can comprise an integral element in a display ad, providing the ad a richness that users generally respond to far better than with static ads.
A well-executed and customized video banner ad can be an essential foot in the door for a user to engage more extensively with branded content.
Therefore, online video advertising is a must in your strategy as it overlaps and backs up written content.
Not to mention the fact that display video ads have higher engagement, and users are more likely to remember your message when it's transmitted through video.
Examples of Video Banner Ads
You don't have to be an art director to create slick video banners. We took the matter in our own hands, and we created a few display video ads examples so you can see them in action.
What Types of Video Banner Ads Are Out There?
There are three types of video ads:
If you want to target a specific audience and the publisher doesn't offer an in-stream video option, you can still buy ad placements for that site and use the out-stream video option. This is the place where an online video ad maker will help you shine. But more on this later.
First of all, let's walk through the three types of banner video ads, the benefits of using them as a significant part of your display advertising strategy, and what kind of ad you should choose for your brand.
A. What Is In-Banner Video Advertising?
In-banner video ads are banners with videos embedded in them, and users can expand them into a larger window, or go to the domain where the videos are hosted.
They are usually HTML5 creatives formed from the thumbnail image and a description that allows up to three lines of text.
You'll find these types of ads on YouTube and across Google Display Network on a wide range of websites.
In-banner video ads use the space provided for a standard banner ad (usually 300 x 250 pixels), but they deliver a dynamic video experience as opposed to a static format.
There are three types of in-banner video ads:
Click to play

. The ad appears as a static image, and it starts playing only when the user clicks on it.

Autoplay with no sound

. In this case, the video is not just a static image, but it plays without any sound. When the user clicks on it, the sound will be turned on.

Hover to play

. The video starts playing at the user's simple hover over it.
Here is an example of an in-banner ad that popped-in after a search on YouTube: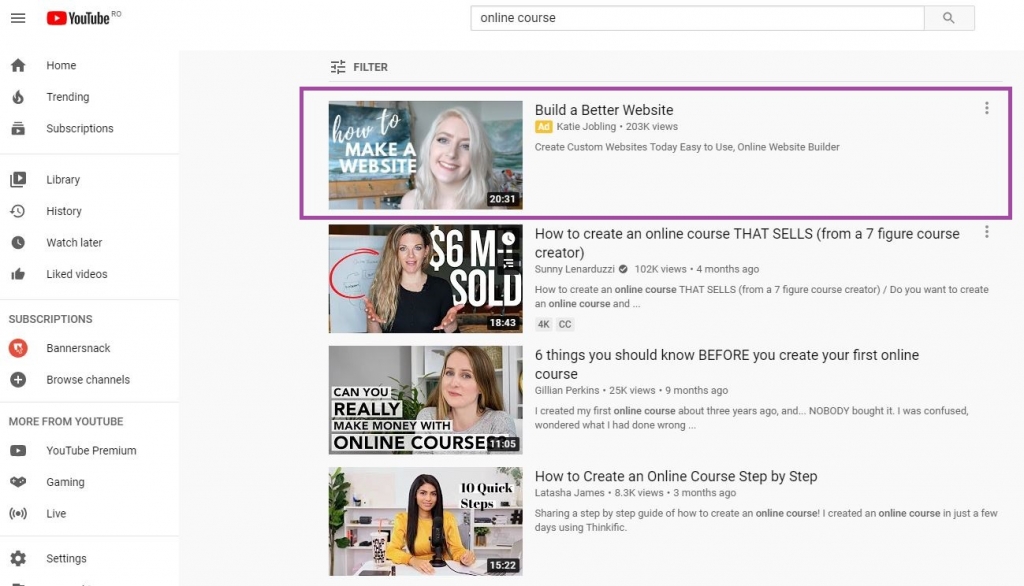 What Are the Benefits of In-Banner Ads?
In-banner ads don't interfere with the user's online experience. They appear on the sidebar or the top search results, and it's entirely up to the user if they want to click or not on the ad.
Advertisers are charged on pay-per-click (PPC)
The advertisers are billed only when a user clicks on the ad and watches the video.
The placement depends on the user's keywords
In-banner ads are dependent on the keywords used by a user in the search query. This allows advertisers to deliver their message and target a specific audience.
In-banner ads can have up to 500 MB, compared to in-stream ads, which are much more limited in size.
B. What Is Out-Stream Video Advertising?
Out-stream video ads take place outside of in-stream video content. To better understand these ads, think about the videos found in articles, social or product feeds, or in-article videos found among text.
Out-stream video ads start—usually without sound—when scrolling on a feed and they're 50% in view. If the user doesn't interact with them, they automatically stop when scrolling past them.
Out-stream videos are similar to in-banner video ads, and sometimes you'll even find both of them in the same category.
They are independent of another video content, but unlike in-banner ads, out-stream ads require a video player from the hosting platform to function.
This is how out-stream ads look like in-article:
What Are the Benefits of Out-Stream Ads?
Just like in-banner video ads, the user can interact with them only if they want to.
The ads don't depend on other video content, like in-stream ads.
The advertisers are charged based on viewable cost-per-thousand-impressions (vCPM). You'll only pay if your ad is viewable, which means when 50% of the ad is visible for two seconds or more.

C. What Is In-Stream Video Advertising?
In-stream video ads rely on video content, and they can play before, during, or after the streaming video watched by the user.
Usually, these ads cannot be stopped from playing, but you can sometimes skip them.
This ad format is often used by the publisher to monetize the video content, but it may appear intrusive for the consumer, so the ad has to be short and sweet.
There are three types of in-stream video ads:
1. Linear video ads stop the main video content and take over the screen, like a real commercial. They are the most frequently used in-stream ads:
Pre-roll ads

start before the main video content.

Mid-roll ads

are played in the middle of the content. If the main video is long enough, it can contain more than one mid-roll ad. They can be really effective because the user is already focused on the video, so you may catch their attention easier.

Post-roll ads

appear at the end of the main video, and are the less disruptive and maybe the most useful, as the user can watch it while they wait for the next video.
2. Nonlinear video ads run simultaneously with the main video content, without interruption. The main video is stopped only if the user interacts with the ad. If not, they may disappear.
3. Companion video ads play alongside the video and depend on the linear and nonlinear video ads.
Here is an example of a pre-roll ad from monday.com that is also skippable. In the bottom right corner, you'll see how many seconds are left before you can skip it and return to the video you were watching.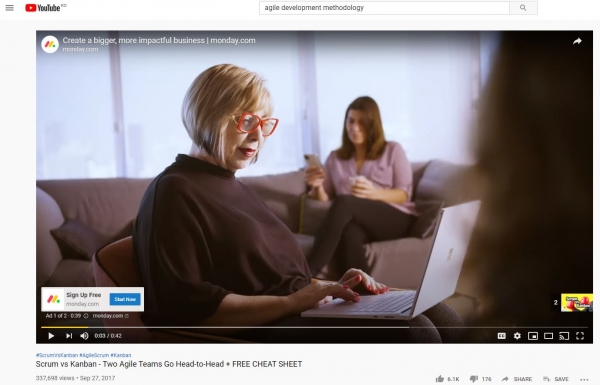 What Are the Benefits of In-Stream Ads?
Yes, they can be really intrusive, but if the content is delivered at the right time (usually mid-roll, when the user is already engaged in the video) and captivating enough, you'll notice an increased engagement and better completion rates.
You'll be charged per view, and you won't pay more than what's needed to rank higher than the advertiser immediately below you.
However, keep in mind that marketers can face the problem of younger audiences skipping in-stream ads. The 35 to 44-year-old demographic is most likely to sit through the entire ad.
If you opt for this type of ad, the best option here is to keep it short and entertaining.
Let's Talk about Sound for a Bit
Background music and sound effects are the bread and butter of any video production.
The exact type of music you should use in your ad depends on the emotion you're trying to evoke in your audience.
Are you selling inflatable kayaks? Set your ad to some chill music to inspire a sense of lakeside relaxation. Marketing some handwoven workout shorts? Intense music would probably do the trick.
In-stream ads aren't that long, so regardless of genre, you need to pick a song that kicks off right away.
Where do you find quality music and sound effects? Your best bet is royalty-free music or stock music made for creators and marketers.
Unlike traditional music licensing, royalty-free music allows you to sign up, download the song you want, and generate a legally-protective license on the spot.
By contrast, traditional music licensing could take months and cost thousands of dollars.
If you're in the market for royalty-free music, Soundstripe is an excellent option. Their audio library is stocked with radio-quality songs, and their selection is curated by award-winning producers. You won't have to work through dozens of tunes before you find a good one.
Even better, their membership lets you download and license as many songs as you want. If you're not into the whole membership thing, you can pick and choose individual songs too.
Like I mentioned earlier, some tools ease your work in creating a great video, which later you can use for different purposes. Let's see the practical steps to creating a video banner.
Don't worry. I added an explanatory video, too, since we're talking about videos.
How to Make Video Banner Ads with Creatopy
Creatopy has various template formats to use for creating a video banner ad, but we're going to focus on the Facebook video banner.
Just by using a video cover instead of a photo can be a great way to advertise your brand and draw more attention to your Facebook page.
Let's begin:
1. Go to your Creatopy account
Enter your account or create one for free and see what Creatopy has to offer.
2. Select the format
Once you're on the dashboard, type Facebook video cover in the search bar from the left side of the screen. There's a pre-made template with Facebook's recommendation for the best video cover results (1250 x 463 px).
3. Choose a template or start from scratch
For this step, you have multiple options.
You can:
Choose one of our templates
Choose a stock video from the elements library
Upload your own video with a drag and drop motion
4. Edit your work
Regardless of what you chose in the previous step, you should know that your video can be customized down to the finest detail.
From the menu on the left side, you can choose the elements you want to add to the canvas, delete them, or change the colors.
From the right side of your workspace, quickly access the template layers, customize them individually, or delete them.
If you click on the Video layer, you'll be able to edit that part, meaning enable the autoplay or make the video loop.
You can also add branded logos for your audience to know where else they can find you.
5. Trim your video
Click on the Video layer from the right side of your workspace, then on the Settings button from the bar that appeared on the left side of your workspace. You'll see the Trim video button.
You can access the Trim video setting also by clicking on the Timeline feature from the right side of the screen. Click on the layer that has Trim on it (that's your video).
No matter the method you chose, you'll now be able to move the time bar and change the video's length. It's that easy.
6. Make it even more interactive
You can always add transitions to your design layers and make them more dynamic.
Click on the Video layer from the right side of your workspace, then from the same bar that appeared on the left side of your workspace, click on the Transition button.
After you clicked on it, you'll be able to add transition effects and change the time when every layer appears.
7. Download your video
After you finished your work and everything is in place, download your video in MP4 format and upload it as a Facebook video cover.
The same creation process can be followed when designing any other video banners.
Conclusion
Videos are a must in advertising campaigns these days. Creating a web banner video can be effortless and cost-effective as long as you're using the right design tool.
Analyze your target audience and your brand's advertising needs and decide what type of video banner ads you should focus on.
Are you planning to use the video ads in your next display advertising campaign?