15
minutes read
You probably agree that last year changed many things for all of us—the way we interact with each other, the office space, and most of all, the digital world.
I can even put all of the above in a better context: many of us work from home and communicate with each other online while listening to Spotify or other streaming platforms.
After working hours, we prefer continuing to listen to music or podcasts in the background.
This new way of living means we're not interacting directly with these platforms because screen fatigue is real for many people.
If you're using the free version of these streaming platforms, there's one thing you'll find they have in common, besides their primary purpose of keeping us entertained: the up-and-coming audio ads.
However, these are not the only platforms where companies can benefit from audio ads.
This situation raises a new opportunity for brands to reach a wider audience and build a stronger presence through audio advertising.
Using the right sound in advertising can help you boost your branding efforts because your brand is more than eyes can see.
---
Summary:
2. Why is audio branding important?
3. Is audio advertising such a big thing?
4. Audio ads distribution platforms
5. What to consider when choosing music for your ad
7. 9 tips for creating audio ads
8. How to create your audio ads with Creatopy
---
That being said, let's see what audio branding is.
1. What Is Audio Branding?
Audio branding (also known as sonic branding) refers to the sounds, jingles, songs, or specific voice of a brand, product, or service included in the branding strategy to help consumers make fast associations between the brand and the sound they hear.
In other words, audio branding represents how your brand sounds. Think iPhone's ringtone, Nokia's opening sound, or 20th Century Fox Fanfare that accompanies the studio's logo during the opening of its feature films.
Since any ad you create goes hand in hand with your company's personality, a brand sound can be used in advertising as well.
Sonic branding is just another add-on to your entire branding strategy, but a significant one nonetheless that oftentimes gets neglected.
To get the most out of your audio branding, use it across a variety of advertising campaigns. This way, you're ensuring a consistent brand exposure making your audience acquainted with your brand identity.
2. Why Is Audio Branding Important?

Here are a few reasons why sonic branding can be a good choice for your business, especially when it comes to audio ads:
3. Is Audio Advertising Such a Big Thing?
We experience the world around us and connect with different brands through sight, touch, smell, or hearing.
Some of us remember things better if we read about them. Some prefer to look at different kinds of visuals, while for others, sound works best.
But you might be wondering if audio ads are as special as we make them sound (get it?).
Well, let me show you what recent studies on audio advertising have shown:

That being said, audio is here to stay, and to make your brand heard, you need to amplify your message with the right sound or music.
4. Audio Ads Distribution Platforms
You can use audio branding in various places, including radio, TV, social media, YouTube, or podcasts.
There are subscription-based streaming platforms that can be used even without a subscription. The users will experience the audio ads while using the platforms, allowing brands to reach them through sound advertising.
Let's take a closer look at all the platforms where you can use audio ads.
4.1. Pandora
Pandora is part of the SiriusXM family, with 117 million monthly unique visitors and the #1 in time spent listening.
Because Pandora has so many listeners, the platform also holds valuable data points that help you create targeting segments according to age, lifestyle, preferences, cultures, and other relevant information that will help you narrow down the target audience.
Moreover, this streaming platform partnered with SoundCloud in 2019. This agreement allows advertisers and brands to directly purchase SoundCloud's US ad inventory through Pandora, using its direct sales capabilities, targeting data, and its recently launched audio programmatic product.
Pandora has different kinds of ads and brand awareness opportunities for you to tap into, so it's definitely a platform worth considering.
4.2. Spotify
Spotify is an audio streaming platform and the home to over 2.2 million podcasts. It also has 217 million users globally, and 100 million of these are paid subscriptions. This means the others are exposed to the audio ads that run on the platform.
Seeing how the consumer's behavior has changed, especially in the past year, Spotify made improvements to be a better host to your sound advertising.
What you'll find on the platform, as an advertiser:
Spotify also acquired Anchor and Megaphone, other great podcast advertising and publishing platforms, creating The Spotify Audience Network.
The Spotify Audience Network is an audio advertising marketplace, allowing advertisers to reach their listeners across Spotify Originals & Exclusives and Megaphone and Anchor. This means that advertisers will be able to create ads for podcasts and ad-supported music, reaching a huge audience.
4.3. YouTube
YouTube audio ads, a fresh new ad format, prove to be the perfect solution if you want to expand your reach at a low cost. That's because it's recommended to pair the audio with a still image or an animation.
The visual part of your ad can be easily created with Creatopy, as we'll see later in the article.
This type of audio ad will give advertisers a fast, easy, and efficient way of reaching new audiences. The buying and campaign setup is the same as for other YouTube ad formats, offering access to ad measurements to see how they're performing.
YouTube audio ads are currently available in beta on Google Ads and Display & Video 360 on a CPM basis, so they may undergo some future changes. If you want to start trying the audio ads, check out the creative specifications and design optimized ads.
4.4. Flash Briefings for Amazon Alexa
Flash Briefings are short, on-point news, interviews, or other types of content that provide customers using Amazon Echo devices with fast information.
Brands can advertise on an Alexa Flash Briefing by creating or sponsoring ads and reach their target audience really fast.
4.5. Alexa Skills & Google Home Action Audio Streaming
Alexa Skills and Google Home Action are very similar, allowing third-party developers to integrate their apps into these speakers.
So, your brand can benefit from this opportunity too, and sponsor or advertise in these places. This way, you're basically reaching into the home of many device owners through their speakers.
4.6. Internet Radio
Although most of us moved to streaming platforms like Spotify or Pandora, many people are still listening to traditional radio. So this would be another great place for brands to launch their audio ads.
A popular choice is iHeartRadio.
5. What to Consider When Choosing Music for Your Ad
When you get to the point of choosing the brand sound for your audio ads, you may have to analyze your brand's style first (if you haven't done this already).
So ask yourself these questions:
Considering all of these elements and thinking about the product/service you want to advertise, what kind of advertising sound would match the ad better?
Is it something that will match a fast or slow kind of music? Modern beats or classical instruments? Or maybe it's a specific genre you want to incorporate into all your future digital audio advertising and pair your brand's style with it?
Suppose you're addressing a younger audience and your product/service is also something that people would characterize as colorful and upbeat. In that case, you can pick a happy song that will come naturally as an association with your brand.
When you're trying to convey something more serious, choose an advertising sound that sends a more professional but uplifting message.
Select a few options and see how they work with your ad's script and brand's personality.
You can do all of this with Creatopy, as we have a premium stock music library for you to choose from.
I'll show you down below how you can create your audio ads from scratch, bring your visuals onto the platform, and give them life matching brand audio.
6. Types of Audio Ads
Considering the audio ad distribution platforms I mentioned, there are two types of audio ads for you to explore:
6.1. Just audio
This type of audio ad usually has a voice-over and background music at a lower level so that the focus is on the voice.
Think of radio ads that have been running similar types of ads for a long time now.
It works best for music streaming platforms such as Pandora or Spotify, as their listeners pay attention to the music and not to these platforms' visuals.
If you need inspiration for your audio ad voice-overs, take a look at these audio advertising examples gathered here by Spotify.
6.2. Audio with visual
An audio ad usually has a static image that works as a visual aid for the center of the ad, which is the audio.
Here's an audio advertising example from Spotify to get a glimpse of how your ad will look like:
It can also be an animated visual to make it more dynamic, but usually, when you create such an ad, you should make sure your audio ad makes sense without the visualizer. Even if your audio ad runs on YouTube, people can still just listen to music without paying attention to the screen.
Here's another advertising example of how your ad will look like, this time an animated version from Google audio ads:
7. 9 Tips for Creating Audio Ads
Before starting to work on your digital audio advertising campaign, you should consider some essential aspects that make this type of ad different from a typical video ad.
Here are a few tips as a good starting point for your audio ads:

9.1. Make the audio your ad's main focus
When launching an audio ad campaign, the focus should be on the sound, whether or not you're planning to add visuals to your creatives.
And here's why.
Imagine your ad running in the background while people are listening to something on YouTube. Or, maybe they're listening to a podcast on Pandora or Spotify. The visuals may not be relevant in these cases.
So, whenever you're creating an audio ad, listen to it without looking at the visual. If it's delivering a clear message even like this, you're good to go.
9.2. Deliver a clear message
Going hand in hand with the first-mentioned point, keep in mind that your message should be crystal clear.
Pick one key message to your ad and deliver it in a simple, straightforward manner.
An average audio ad should have between 15 to 30 seconds, so it's crucial to communicate the idea you want your audience to remember in that timeframe.
9.3. Lead with the value proposition
Although these ads are typically short, you should still deliver the most important information in the first part of your ad or try to capture attention by saying something that intrigues people.
This way, you're ensuring your ad's right delivery in the moments your audience is most likely to pay attention to it.
Once your ad's main idea is out there, keep strengthening your message the rest of the time you have left while saying your brand's name two or three times. Your listeners will remember it better if you keep repeating the main idea in a few different ways.
9.4. Maintain a conversational tone
You can easily win people over by speaking in a conversational, friendly way. That way, your message will be delivered and easily understood by everyone.
It's the same with audio ads.
When the voice-over feels like a conversation, it will feel less disruptive for the listeners.
9.5. Talk at a slower pace
When you want your ad to be at a conversational level, you should think of writing a short script so that it can be maintained at a slower pace.
Usually, when we talk with each other, we're not on fast forward, and we definitely don't sound like the script from the typical video ads.
By combining a voice-over at a slower rate with a conversational tone, you'll allow people to understand the message and decide if they want to take further action.
It also helps when you pick a friendly voice. A study from Advertising Week 360 shows that in 2019 female voices were preferred over their male counterparts, although it was widely believed otherwise.
Some platforms, such as Spotify, have professional voice actors that could record your script.
See how all the previous points are coming together nicely?
9.6. Turn down the volume of your background song
If you use a voice-over and background music, consider lowering the music so it won't distract listeners.
The voice-over is holding the key message, while the music sets the right mood for your ad. They're both important, but one should not cancel the other out.
When you opt for both of them in an audio ad, the voice-over should be at the center, with the volume higher.
For all your other background music needs, check out Creatopy's stock audio library.
9.7. Create smooth transitions
Your audio ad is placed between songs, podcasts, or other types of audio content.
This is why you should create smooth transitions to fill the space between the previous and the next audio.
Suppose there are long pauses before and after your audio ad. In that case, it will create that empty space, leaving the impression that there's a problem with the internet connection, and you're making the audience check if something's wrong, disrupting their routine.
We're talking about people that appreciate every second of their learning or relaxing experience, so pay attention to your audio transitions.
9.8. Pick a compelling visual
As I said earlier, audio ads can be paired with a still image or simple animation. Even if your audio is the most important part of the ad, the image can still offer a strong backup whenever the platform you're advertising on allows you to.
If that's the case, pick or design an eye-catching visual that is also synchronized with your whole message and also with your brand's identity.
9.9. Have an explicit CTA
Your call to action, like the rest of the message, should be as clear as possible.
Give specific instructions on what you want listeners to do after they hear your audio ad.
7. How to Create Your Audio Ads With Creatopy
In Creatopy, it's extremely easy to create audio ads for YouTube, Spotify, or other platforms that allow you to pair audio with visuals.
Moreover, you can upload all your brand assets and create a brand kit to ensure consistency throughout all your designs.
Let's see how you can create an audio ad with a visual companion.
1. Pick a size
The companion image for a Spotify ad is square and has at least 640 x 640 pixels. Even though we don't have this predefined size in the app, we'll go ahead and choose a square format that works just as well.
After you logged in or created your Creatopy account, click on the search bar on the left, type in "Facebook," and click on the Facebook Square Post size.

I'll also show you how you can resize the image so you can use it for YouTube audio ads as well, where the size and format are a little bit different.
2. Choose a template or start from blank
Next, you can decide if you want to use one of our high-quality templates or start from scratch. Either way, you can customize your design however you want.
You can browse through the categories to find a template for your needs or use the search bar from the top right side of the screen.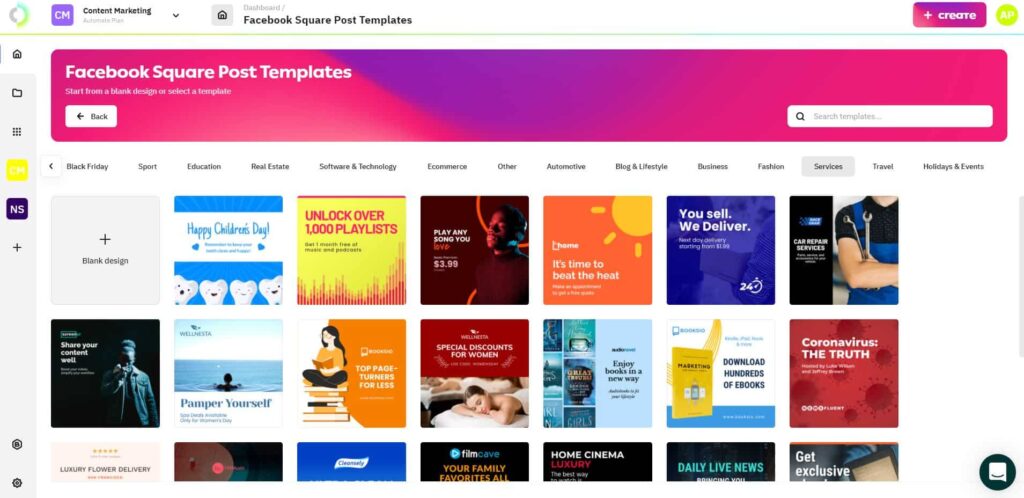 3. Edit your design
Now, it's time to personalize your design to make it match your brand identity. Add text, icons, logos, shapes, lines, or other elements from our library. To stay on brand, feel free to upload your own elements and save them in your brand kit.
When you work with a template, it takes only a few clicks to change the font, text, image, background, or add other elements. However, it's equally as easy to build your own audio ad from scratch.
Below, you can see how I edited one of the templates from the gallery.
4. Animate your ad
This step is optional, but if you want to use your audio ad for YouTube, you have the option to upload it as an animation instead of a static image. I know that it's not the right size yet, but I will show you how to resize it in a second.
In Creatopy, you can animate any design in one click, thanks to our Magic Animator. In the editor, on the left side, select the Animator tab, and pick the transition you like.
5. Add audio to your ad
Now it's time to find the right audio for your ad. This is where our premium stock audio library shines.
From the left side menu, click on Elements, then select Audio Tracks.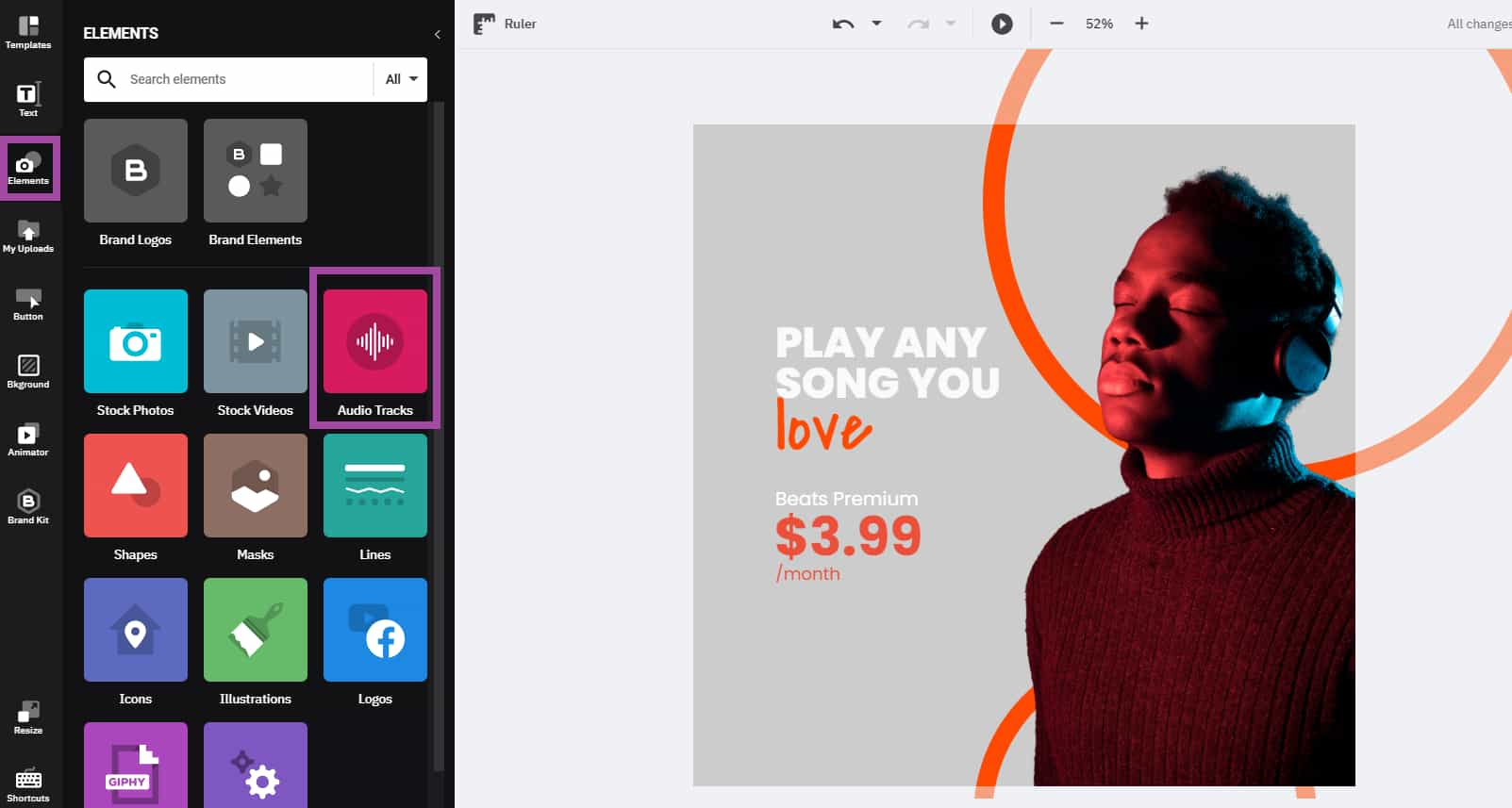 You can use the search and filters available to narrow down your music options. You can either type something in the search bar or use our audio filter and sort your results by mood, genre, duration, vocals, and tempo.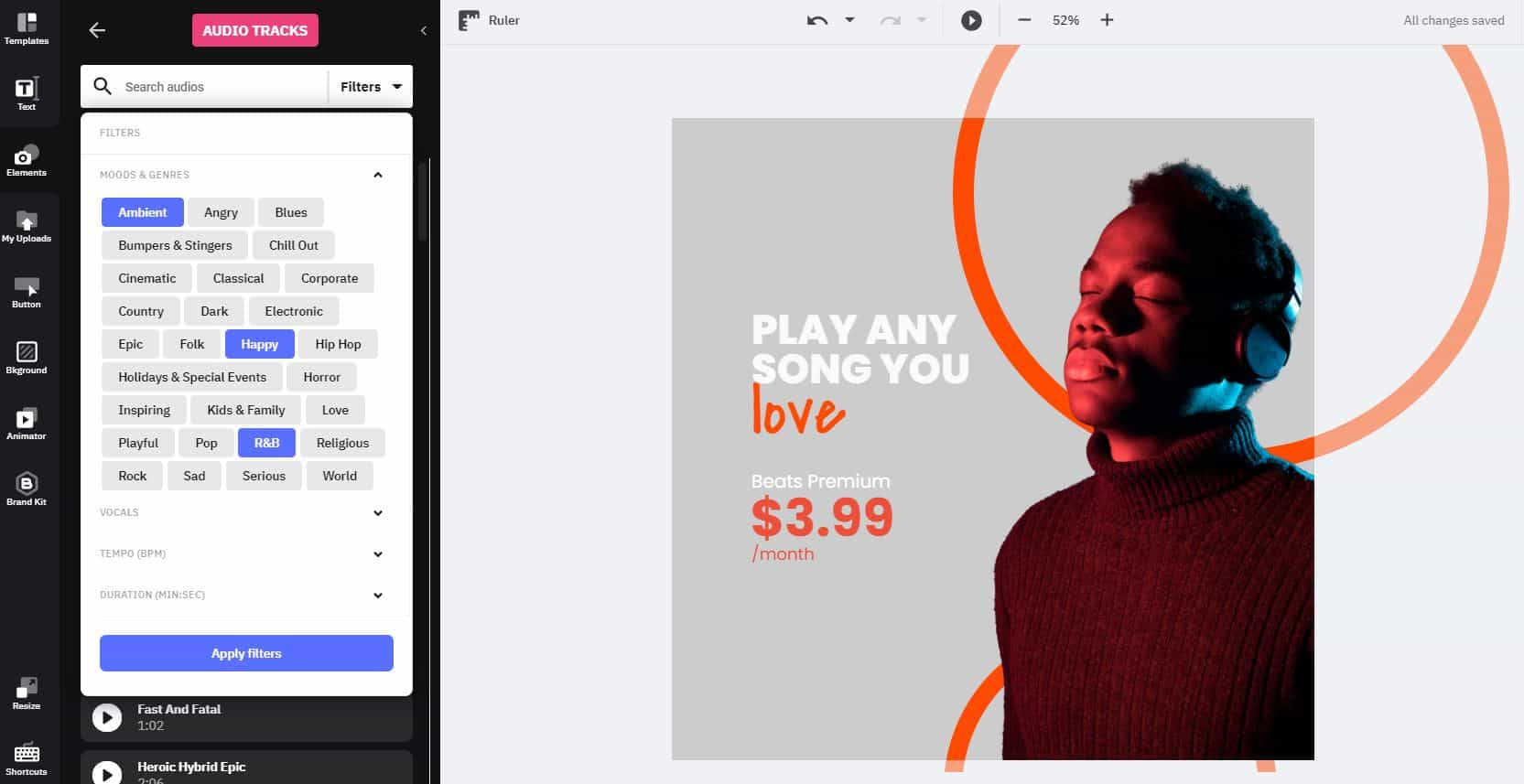 When you find something that catches your attention, click on the play button to hear a preview of the sound.
Once you find the right sound, simply click on it, and it will automatically be added to your design, and you'll be able to see it on the timeline.
Keep in mind that an audio ad should have between 15-30 seconds, so you need to go to the timeline and trim the audio.
6. Resize your audio ad
Now that we've worked on a square image format, perhaps you want to use the same audio ad for YouTube.
To do so, all you need to do is resize to the desired size.
In the editor, on the top left, click on Resize, and in the Custom size box, add the dimensions 1280 x 720 px. This is one of the sizes recommended by YouTube. Then, click Add size, and check the box of the new custom size you just added, and finally, click Generate a set in selected sizes and let Creatopy do its magic.
7. Download your work
Once you're happy with how everything turned out, download your work as MP4.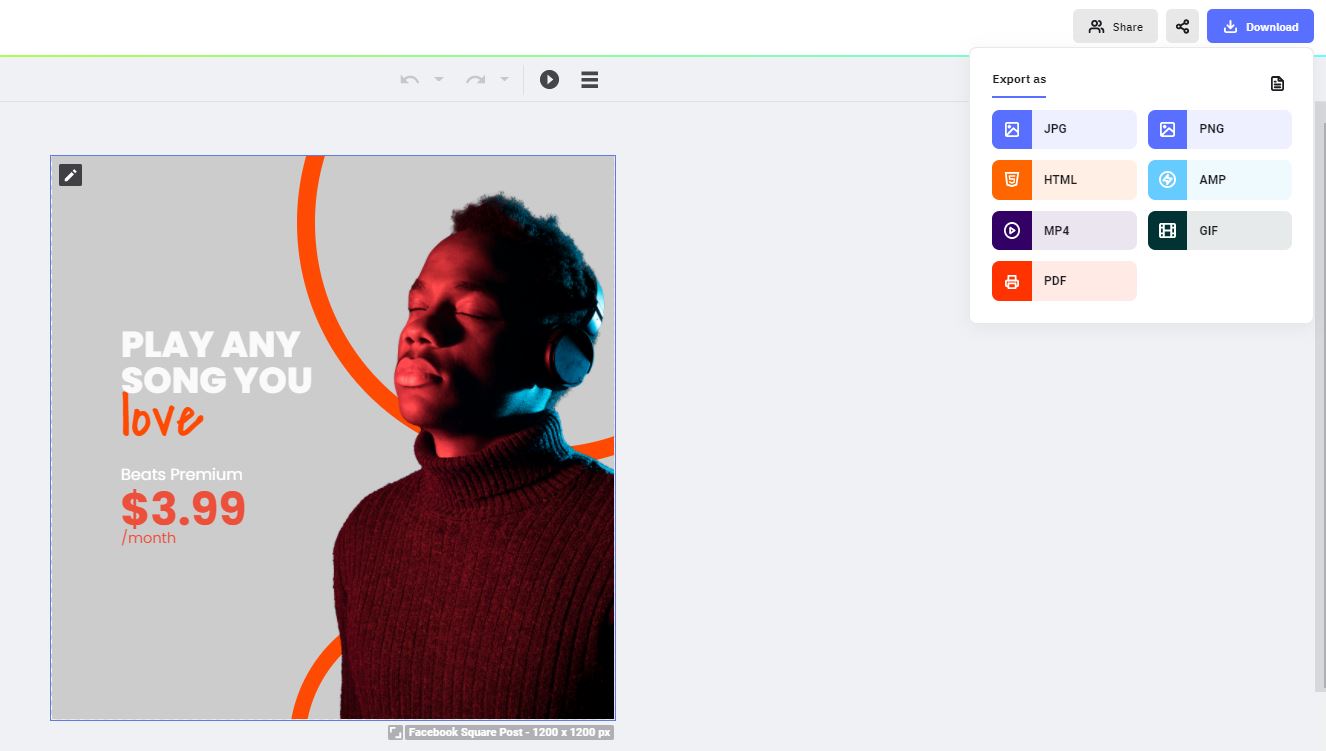 And there you have it. The only thing left to do is to set up your ad campaign.
Conclusion
Audio branding helps you reach potential customers even when they're not actively looking at a screen. And since last year made a considerable shift towards podcasts and other music streaming services, your audience is most likely on these platforms, all ears.
The good news is that you don't need an audio branding agency or spend too much money creating great audio advertising campaigns (leaving aside the massive amount of money used to develop Mastercard's sonic branding).
All you need is to know your brand's essence, your audience and pick the right tool to help you create the perfect visual paired with the fitting advertising sound.
Have you tried audio advertising? If you did, leave a comment and let me know how it worked for you.