10
minutes read
Christmas truly is the most wonderful time of the year.
But along with it comes the pressure of having to buy presents and thinking about the perfect Christmas card.
All of this while juggling all the other work tasks may include needing to find the ideal free Christmas fonts for creating a holiday design or an advertising campaign.
There are so many good holiday fonts out there that it may be hard to choose a festive one, and I feel you. Between all the planning, baking, and hunting for presents, there's little time left.
Go make yourself a cinnamon tea because I've got your back.
I've curated a list with the best Christmas fonts that will help you create stunning Christmas ads that show the true spirit of these holidays.

1. Miraculous Christmas Font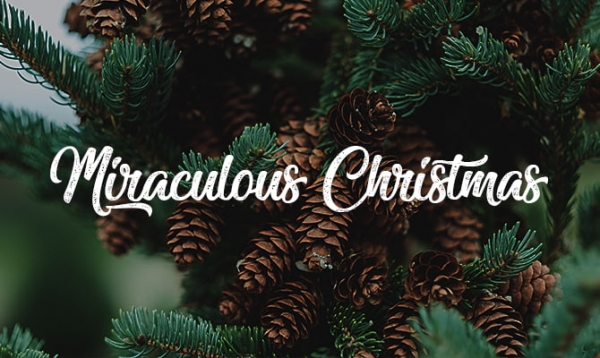 This font is handwritten in bold, dressed up in stardust, and ready to make one of the most magical holiday cards. It's the perfect festive font for titles and short, but warm Christmas wishes.
The font is available in uppercase and lowercase letters, with a few special characters.
2. Christmas Card Font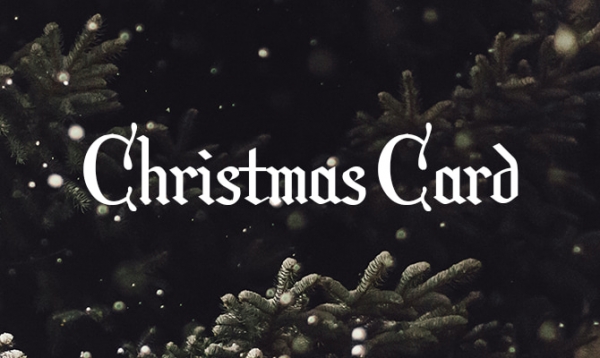 Even its name suggests the perfect place to use this free Christmas font. And it would work amazingly good because it will remind the audience of an old Christmas revived through this vintage font. It looks like an old card from the '50s.
The uppercase and lowercase letters of this festive font are the same.
3. Santa's Sleigh Font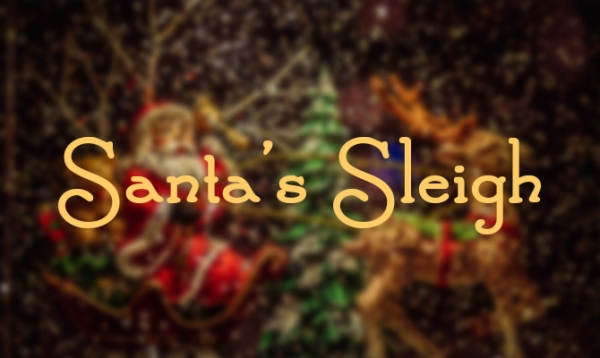 If you're going for a vintage style, here's yet another Christmas typography that reminds people of celebrating Christmas in the old fashioned way.
This font is available in three different styles: regular, bold, and deluxe.
4. One Starry Night Font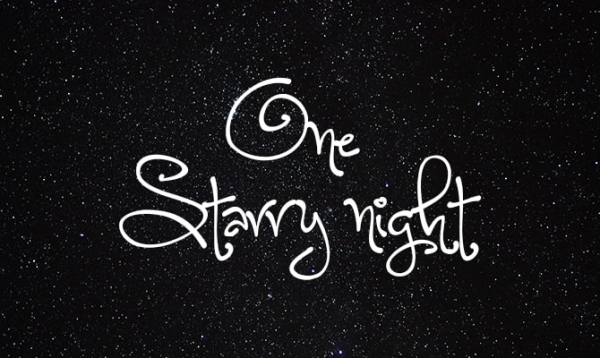 When I look at this holiday font, I instantly feel a moving wand leaving a trace of starry dust. If you're going for some swirls in your holiday card's look, this Christmas font style is an excellent choice. It's magically readable.
It has 200 glyphs and 203 characters that you can use to turn your designs into something magical.
5. Frosty Font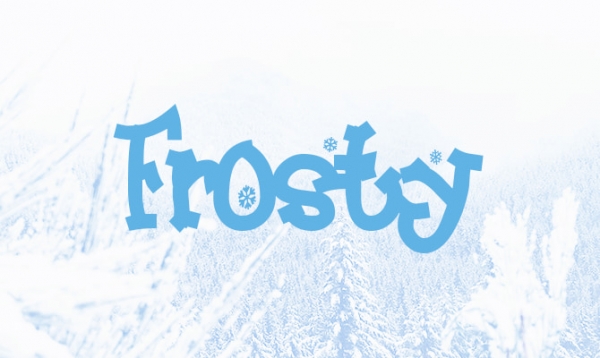 Christmas feels complete when it snows, and everything around us is covered in white. This playful free Xmas font was taken directly from Frosty, the Snowman animated cartoon, to give your Christmas banner a playful look.
This font from the Christmas typography family is available only in regular style.
6. MTF Dear Santa Font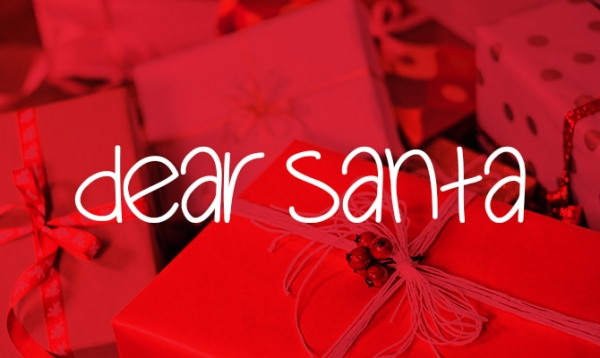 This Christmas font style looks like it was handwritten by someone who's writing to Santa for some presents. What else can be more Christmassy than this?
This Christmas cursive font works really well on a Christmas banner, card, or advertising for kids' products like clothes and toys.
MTF Dear Santa comes with a few Christmas-related symbols, such as teddy bears, Christmas trees, ornaments, Santas, and more that can make your designs look extra joyful and playful.
7. Bigelow Rules Font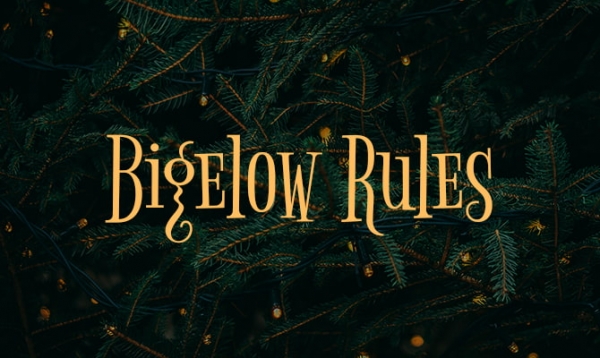 One of the best Christmas fonts, Bigelow Rules, has a sense of magic on its own. Any text you'll decide to add to your Christmas card or banner, this free holiday font will change it into something extraordinary.
It works best for short text and titles.
8. Sacred Bridged Font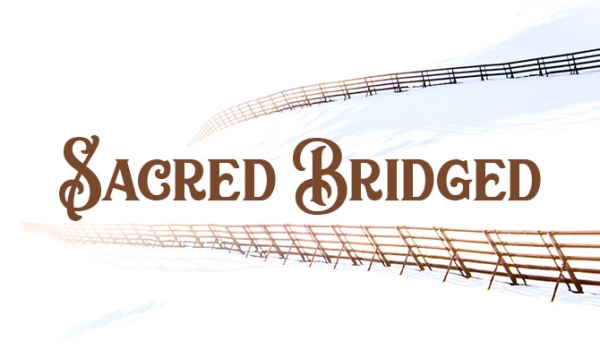 This one reminds me of a Christmas movie that you'll watch on a Sunday morning while drinking hot chocolate. If there's a Christmas font that can bring a cozy feeling to a person, this old-fashioned and traditional display font may be it.
Sacred Bridged font is characterized by its all caps, which go well for Christmas cards or social media covers.
This free holiday font comes in regular and italic style with extra ornaments and symbols.
9. Grinched Font 2.0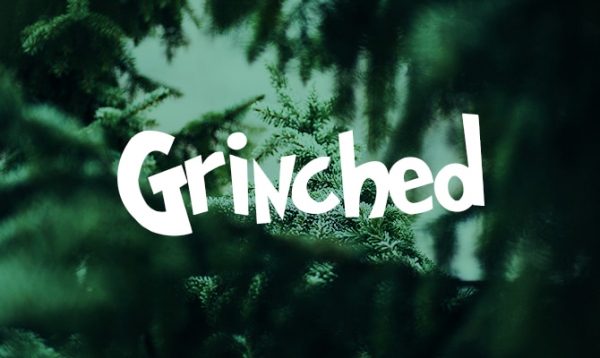 Felling a bit sneaky this year? Steal someone's attention all for yourself, not their Christmas, with this cheerful Christmas free font. The creator decided it was time for an update to the first version of Grinched, so he released Grinched 2.0.
With this bold typeface, you will surely make a statement. It comes with 676 glyphs and covers many new languages, so you definitely need to check it out.
10. The Historia Font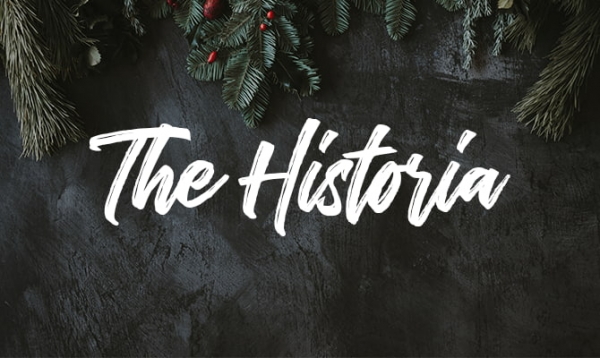 This angled oriented font, textured like it was written with a painting brush, will give your holiday design a fresh, happy look. Just right for the positive spirit of Christmas.
The Historia is one of the festive fonts with upper and lowercase, standard characters, punctuation, and numbers. It also includes a range of multilingual support.
11. Metro Retro NF Font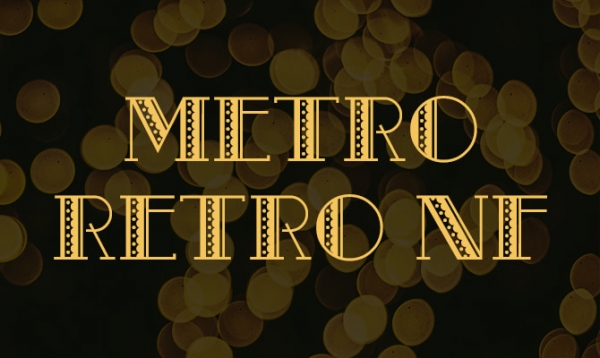 Among the Christmas fonts that bring back warm but nostalgic feelings from another time, this font is reminiscent of a card from the roaring twenties. Its lace-like pattern combines perfectly the vintage-retro look with the holiday feeling.
Metro Retro NF font shines best when it's used for short headlines.
12. Sunny Marry Font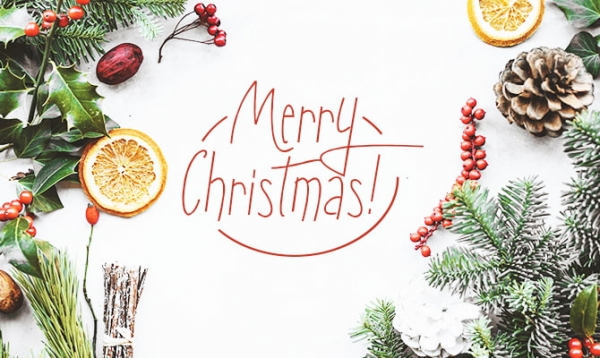 You may wonder, "Hmm, why does this image not have the name of the font written on it, like the others?" That's because this Christmas font is different than the others.
Whenever you type a letter, the Merry Christmas symbol will appear instead of the letter, just like you see it in the image above.
This friendly Xmas font looks like it was softly written with a sharp pen. If you use this for a holiday design, combined with its available symbols, it will surely bring the true feeling of caring and sharing.
13. Mountains of Christmas Font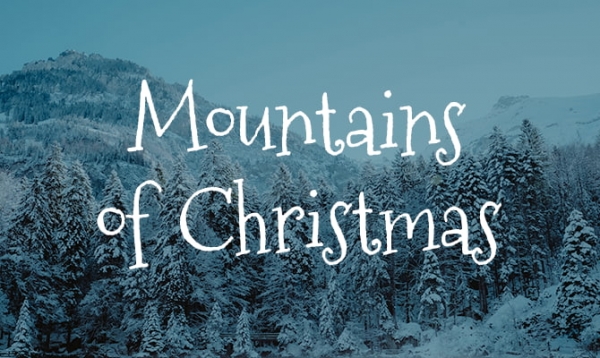 This font looks like it was taken straight out of fairytales, and for that, it works perfectly with holiday themes illustrations. It has a lively appearance given by the uneven letters and their soft curving.
Mountains of Christmas font comes with 228 festive glyphs that will help you give your designs a warm touch during the cold season.
14. Bad Script Font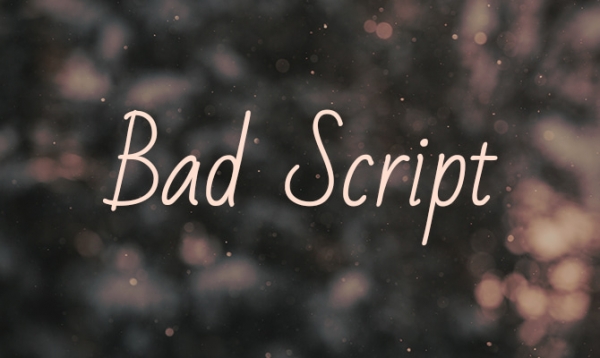 This is yet another handwritten digital font that helps you bring the spirit of Christmas into a holiday card. Or a social media post.
Although it's a serif typeface, it works perfectly for longer texts, precisely because it looks like an old school, handwritten letters. The great thing is that it supports Latin and Cyrillic character sets.

15. Chopin Script Font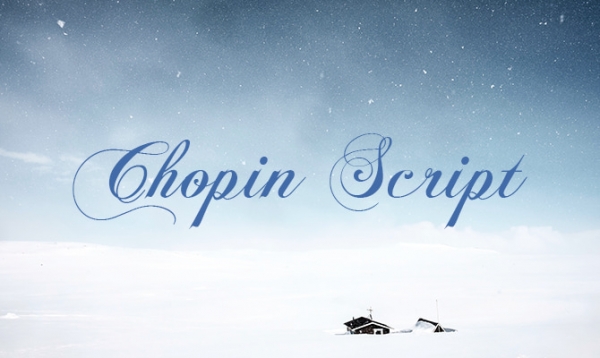 Chopin Script, like any other script fonts, will bring an elegant look to your Christmas designs. Its thin letters decorated with accent lines give this font a delicate look that will surely grasp Christmas's whole meaning.
This is one of the best Christmas cursive fonts out there, and aside from uppercase and lowercase letters, it comes with a few special characters as well.
16. Antrokas Font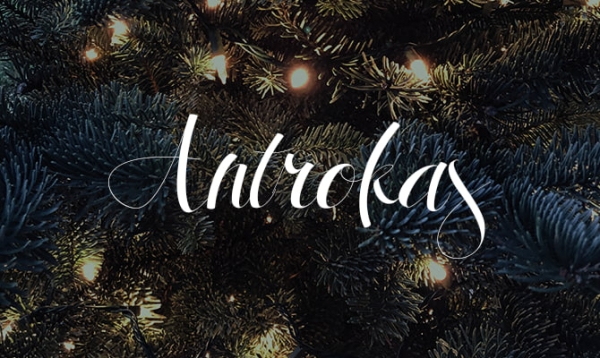 This is another script font with a brush-like appearance.
The font's graceful look is created by the thick and thin parts of the letters that mimic how a person would write the word by hand.
It makes a perfect Christmas script font.
17. Herr Von Muellerhoff Font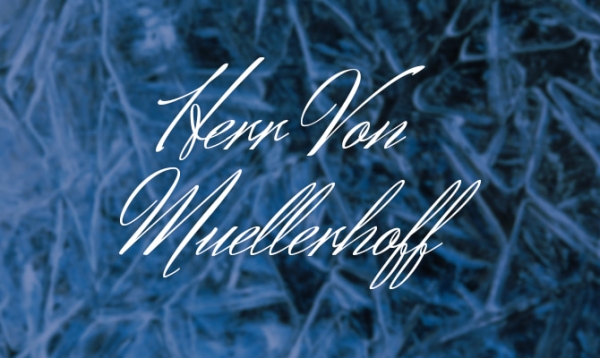 This may be a handwritten font with a traditional look, but it also gives strong icy feelings when combined with the right flat lay because of its perfectly shaped letters.
The font is part of the Charles Bluemlein Script Collection, which intended to revive the old days of hand lettering. This was a popular job from the early 1930s through World War II, with 200 professional hand letters in New York alone.
The story of the Charles Bluemlein Script Collection shows a fascination with the scripted typefaces. Bluemlein, who worked for the Higgins Ink Company of Brooklyn, collected different signatures from his acquaintances and then built entirely new alphabets. The new script styles received fictitious names and were published in Script and Manuscript Lettering in 1944.
Bluemlein's alphabets are the basis for what was later developed by Alejandro Paul into a set of 32 commercial fonts.
The font can say Merry Christmas, but also it's sooo cold outside.
18. Rochester Font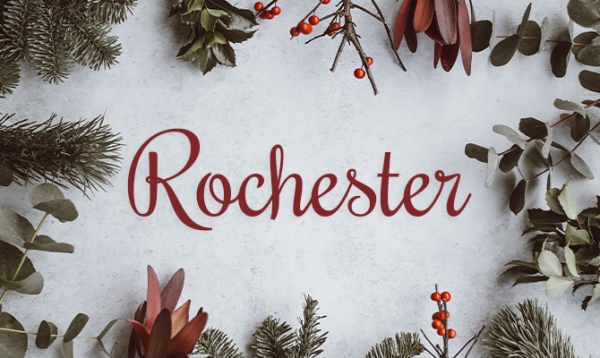 Rochester? From the Victorian novel Jane Eyre Rochester? That explains it. This font combines calligraphy with a Victorian style to create a classic font that is both elegant and powerful.
Like the character that gave its name, right?
19. Sunny Winter in Texas Font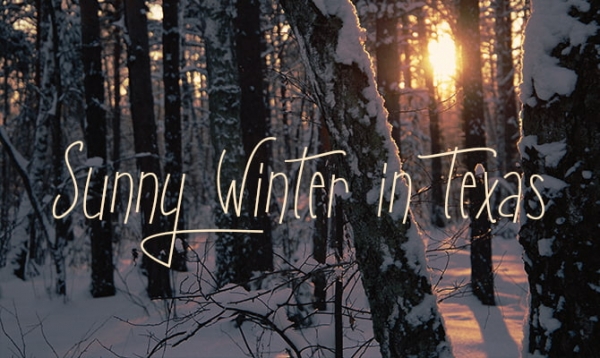 This thin, optimistic typeface has an extremely friendly look to it. It is yet another handwritten postcard inspired font that can be combined perfectly with a bolder accent font and create a joyful Christmas card.
20. Nickelodeon Font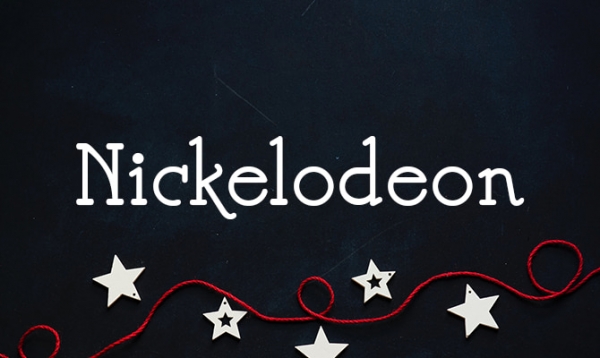 This font design was inspired by the title cards from the silent movies, which will surely bring a special effect to your Christmas cards.
Nickelodeon is a thin, simple font but decorated with curves that give it a specific personality.
21. Merry Christmas Font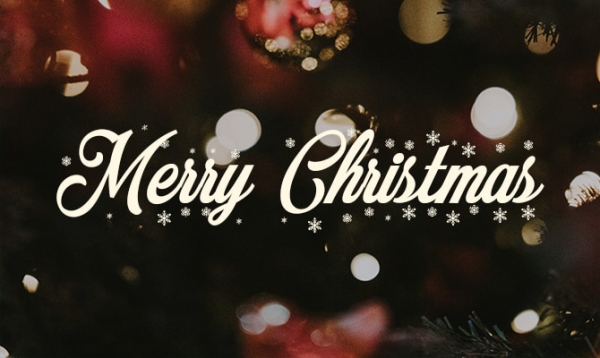 Mix this Merry Christmas font with a few Christmassy elements, and you'll get one of the most representative cards for the winter holidays.
Because of its bold format that fills the space beautifully, the Merry Christmas font style is one of the perfect handwritten fonts you can choose for holiday card design.
This font has two available versions, with different decorative elements for your text: snowflakes and stars.
22. The Perfect Christmas Font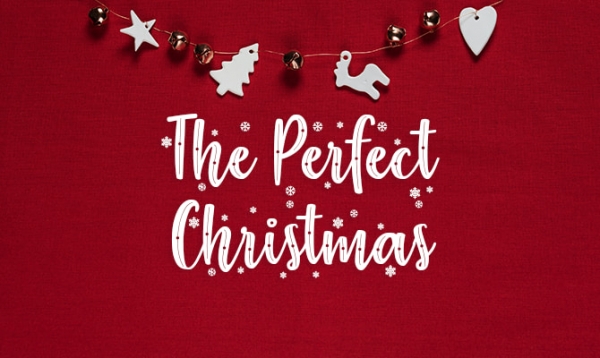 If you want to play it safe with your Christmas cards this year, choose the perfect free font for it. It's a script display with decorative snowflake details.
Add a few more winter-specific elements to your cards, and it's all done.
23. Lobster Two Font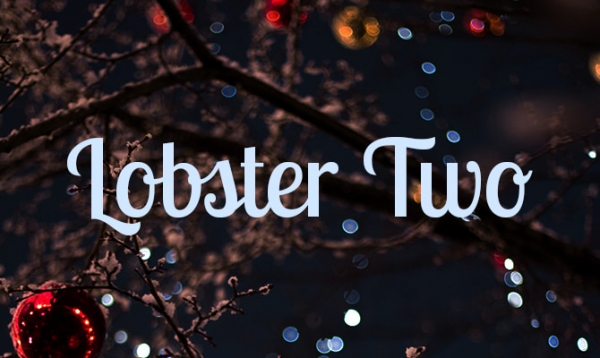 This is similar to The Perfect Christmas font but without the snowflakes. If you want to choose a serif font for its simplicity and yet highly effective, this one is the one.
It's available in different styles, such as regular, italic, bold, and bold italic, and it comes with 357 glyphs.
24. Satisfy Font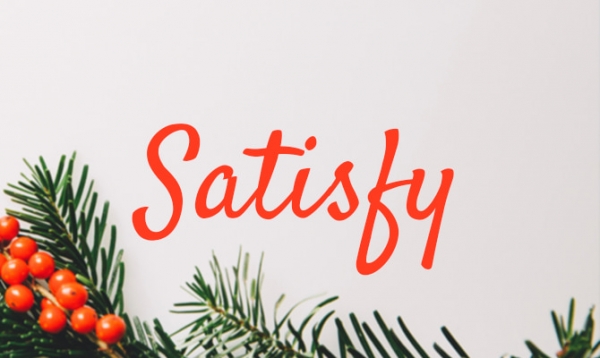 This font will give your banner design a timeless classic look with a unique modern flair. It's a great fit if you want to use a brush script that is getting your design an elegant look.
It's available only in regular style and comes with 227 glyphs.
25. Navidad Font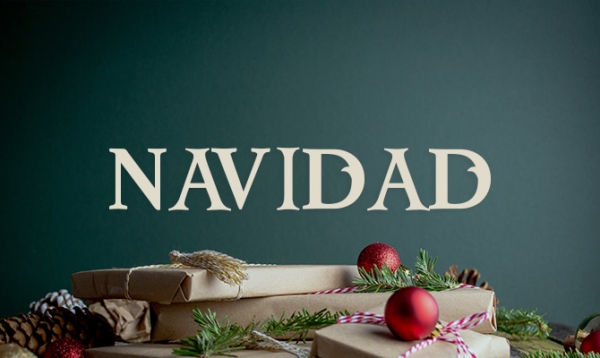 Navidad is a Disney font, and what can be more Christmassy and optimistic than a winter-specific movie? It is a simple font, but the decorative swirls and serifs make it festive and perfect for the holidays.
By turning on the caps, the font will appear bigger and with more decorative lines on the letters.
Navidad comes with uppercase and lowercase letters and a few special characters.
26. Kingthings Willow Font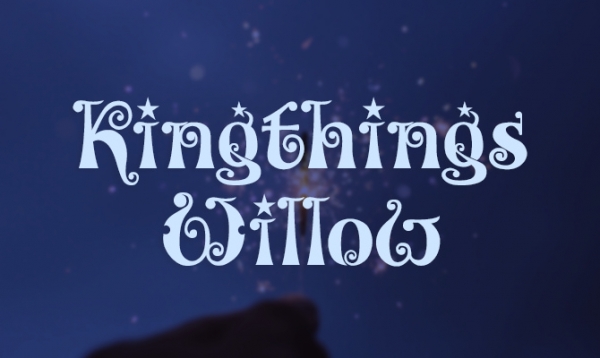 'Tis the perfect season to use decorations. There's never too much of them. Kingthings Willow font says the same thing. It has decorative swirls and stars to make it all merry.
The font has two versions: Kingthings Willow, with stars on every letter, and Kingthings Willowless, which has fewer letter decorations.
27. Snowhouse Font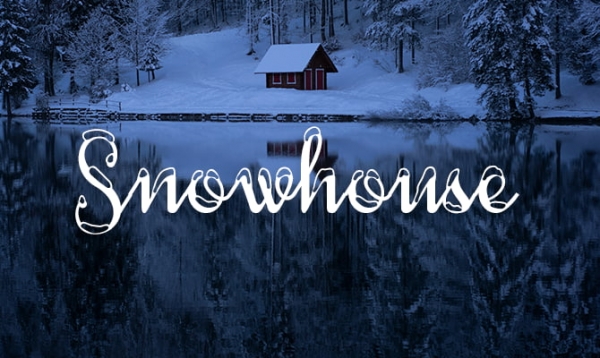 It's a handwritten font that symbolizes a festive event, with snow on it that means winter. If this isn't one of the best free Christmas script fonts out there, which one is?
28. Cherry Swash Font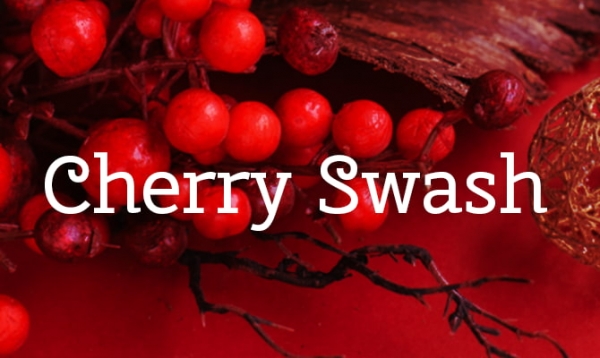 Simple yet perky with a few twirls, this festive font will make a perfect headline for holiday greetings. Join it with a festive background, and you have a beautifully designed holiday card.
It comes in regular and bold style, accompanied by 268 glyphs.
29. Xmas Sweater Stitch Font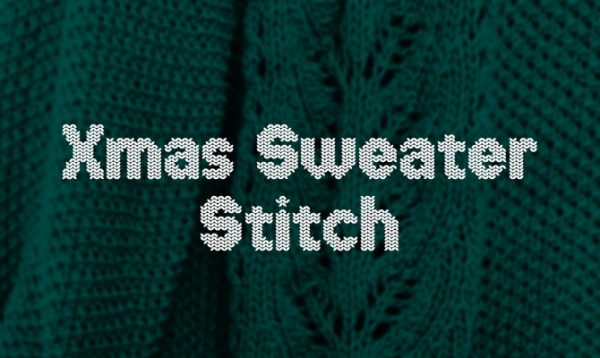 Christmas? Check. Sweaters? Check. A Christmas that looks like a sweater? Yes, please.
If you pair this Xmas font to a textured background that looks like a sweater pattern, your Christmas design card will give anyone warm, fuzzy vibes.
It comes only in regular style, with 198 glyphs and 203 characters, and it's the free font alternative for an ugly sweater font.
30. Christmas Lights Font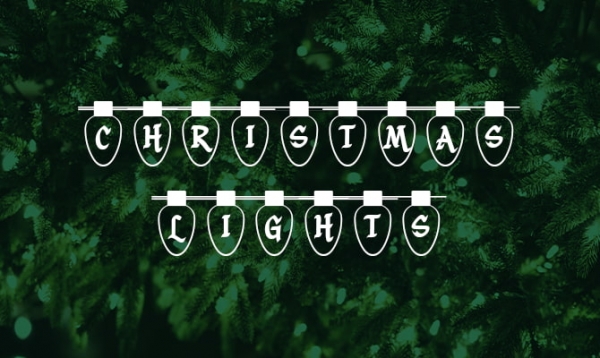 The Christmas lights font is a decoration on its own. Every letter is inside of a Christmas light, connected to the other letters from the same word through a wire. If you want to write in caps, the letters will be placed on the wire's upper part. When you turn off the caps, the letters will appear hanging on the wire.
The Christmas lights font also comes with a few special characters and if you want to connect all the words without having space between them, use the "=" symbol, and you'll create a wire.
Final Thoughts
We can all agree that Christmas is that time of the year when everything is festive, happy, and positive. And you want a font that matches this cheerfulness. You can choose Christmas writing fonts to make it look more personal, or go for a playful typeface and bring the jolly feeling of Christmas to life.
We hope that these free Christmas fonts will ease your searches and leave more room for you to celebrate.