8
minutes read
I remember the times when we used to craft cards in school for many occasions. Both us and the recipient were very happy about the outcome.
And I don't think that's only because we were kids giving personalized gifts to someone. Of course, it mattered, but the personalization is what made them special.
The thing is, you don't have to be a kid to design your own Christmas cards. You can create them to send to your family and friends or wish your clients and audience Happy Holidays.
This winter season, create personalized Christmas cards in style to spread warmth and joy all around.
---
---
6 Tips for Creating Beautiful Christmas Card Designs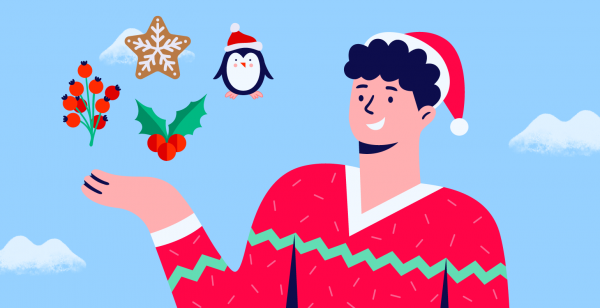 1. Decide on the message
To find the perfect message for your Christmas cards, think of the person you're sending them to. Is it a family member, a friend, a coworker, or customers that place orders on your website?
Or perhaps you need to create business Christmas cards for partners or investors.
Of course, you can create a generic Christmas message, and your gesture will still be appreciated, but if you know the person you're sending the Christmas card to, make it memorable.
You can even make an inside joke if that's the case (as long as you keep it appropriate) and use it in the card's text.
Here are some Christmas card text ideas to get you started.
For your friends:
Your friendship and your love is the best Christmas gift that I've gotten. Merry Christmas.

It's friends like you that make this season so special and magical.

Consider this card a raincheck for a belated Christmas hug.
For your family:
Having a family like you is the best Christmas gift there ever could be.

At Christmas and always, what a blessing you are!

Grateful to be blessed with such a wonderful family. Merry Christmas!
For Christmas business cards:
Wishing you a joyous holiday season with peace & cheer in the New Year!

Wishing you a season of joy and looking forward to continued success this year.

Wishing you great success in the year to come.
Classic Merry Christmas Card wishes:
'Tis the season to wish one another joy, love, and peace. Merry Christmas!

Wishing you a very Merry Christmas.

The gift of love. The gift of peace. The gift of happiness. May all these be yours at Christmas.
2. Pick the theme
It's essential to make the Christmas card designs come together as a whole by choosing a theme.
You can go with a traditional Christmas theme and use classic Christmas card images, decorations, and characters like penguins, reindeers, polar bears, Santas, etc.
Alternatively, you can go for cartoon animations, movie characters, funny Christmas cards, or anything that fits the style of the person you're sending it to.
If you really want to catch the Christmas spirit in one design, go for religious Christmas cards, where you can use the Nativity scene.
Vintage Christmas cards are also a safe bet to make someone happy. Imagine their faces when they open the card and see something like it just came from the '50s.
The more you choose something representative between you and your recipient, the greater the impact.
If you're a company, then custom Christmas cards are the way to go. Incorporate your brand's authenticity and use some of your clients' favorite things related to your brand.
The good thing is that once your customers subscribed to your newsletter, you know what they like and appreciate. Use that and personalize their Christmas cards.
3. Add imagery and decorations
This goes hand in hand with your theme. So, if you opt for a snowy landscape for your Christmas cards, add snowflakes, stars, reindeers, or sleighs.
Alternatively, you can go for anything that connects you with the recipient. Maybe you both like cats, so you can place on your card a fluffy kitten, with a ribbon around its neck, surrounded by Christmas decorations that it just smashed down from the tree.
You can browse Creatopy's Christmas card pictures to look for the perfect photo to use on your Christmas greeting card.
4. Pick the font
There are lots of Christmas card fonts that work like wonder when you're designing personalized Christmas cards.
If you're going for a more elegant, classy look, choose a script or serif font. These categories of fonts work best for printable Christmas cards or short text on ecards.
You can also opt for sans serif fonts and still get a design with a holiday vibe.
Match the Christmas card text and its font with your card's overall style to design the perfect Christmas greeting card.
5. Choose the color palette
Christmas is all about red, white, and green, but you can play with the colors however you like. It's also a good idea to add to the mix colors such as dark blue, purple, gold, mustard, or grey.
As long as you don't go overboard with the colors for your unique Christmas card, you can't go wrong with it.
You can try icy colors like white, silver, and blue. Or create a cute custom Christmas card by going for a color combination of pink, purple, and silver.
Next up, let's see how you can incorporate all of these elements into your personalized Christmas cards.
6. Choose the Christmas cards format
Depending on who you're sending the custom Christmas cards to, you need to decide on the format.
You have two options: create digital cards to send via email or post on social media, or go for the classic printable Christmas cards you can send to your loved ones or place them in your customers' orders.
The standard size for printed cards in Creatopy is 148 x 105 mm, meaning 5.8 inches x 4.1. It's the perfect size to fit in a small envelope.
If you want to go crazy and create a super-sized Christmas poster, that's quite alright, too. There are never too many greetings and decorations on this holiday. Besides, with Creatopy, your printable Christmas cards will look good in a larger format as well.
If you're planning on sharing your Christmas cards on social media, you need to use the right size for each platform. This way, you're ensuring that your card won't get cut off or stretched to fit the space.
How to Design Your Own Christmas Cards in Creatopy
Aside from automating your ad design process, you can also create Christmas cards online in a few simple steps with Creatopy.
1. Choose the format
Next, choose the size of your future card.
If you want a printable Christmas card format, type in "card" in the search bar from the left side of the screen, and choose the Card format option, which is 148 x 105 mm.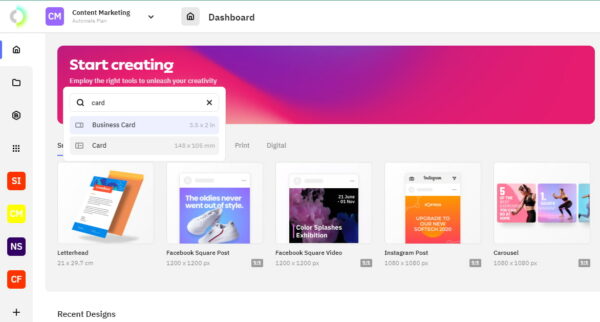 Alternatively, you can search for the desired size by typing in the name of the social media platform you want to use it on.
2. Choose your template or start from scratch
You can now choose to design your own Christmas card from scratch and add all the elements yourself, or you can choose from one of our Christmas card design templates.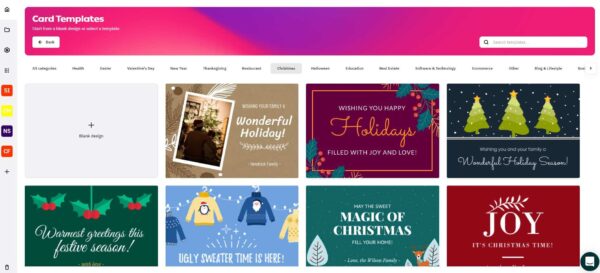 From the left side menu, select the Christmas category to browse through all the festive card templates.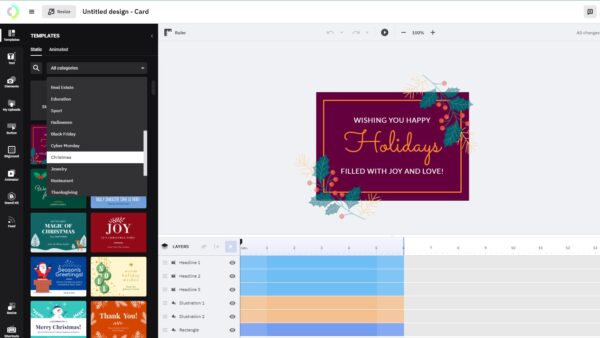 3. Personalize your card
It's time to edit your work and create a custom Christmas card.
You can change the background color, add text, rearrange the card's elements, or add new ones.
With Creatopy, you can create your own photo Christmas cards and send them to your friends and family.
Upload your Christmas greetings images and add elements from the platform for editing.
You can choose to upload your own font and use it for your design. If you wish to do so, go to the platform's dashboard → Brand kits (on the left side menu) → upload your fonts.
You will then find your fonts in the workspace area by clicking on Brand Kit.
Pro tip: If you want to use your project as an ecard, you need to resize it. In the Editor, go to the resize Tab, and choose the size you want or create a custom size.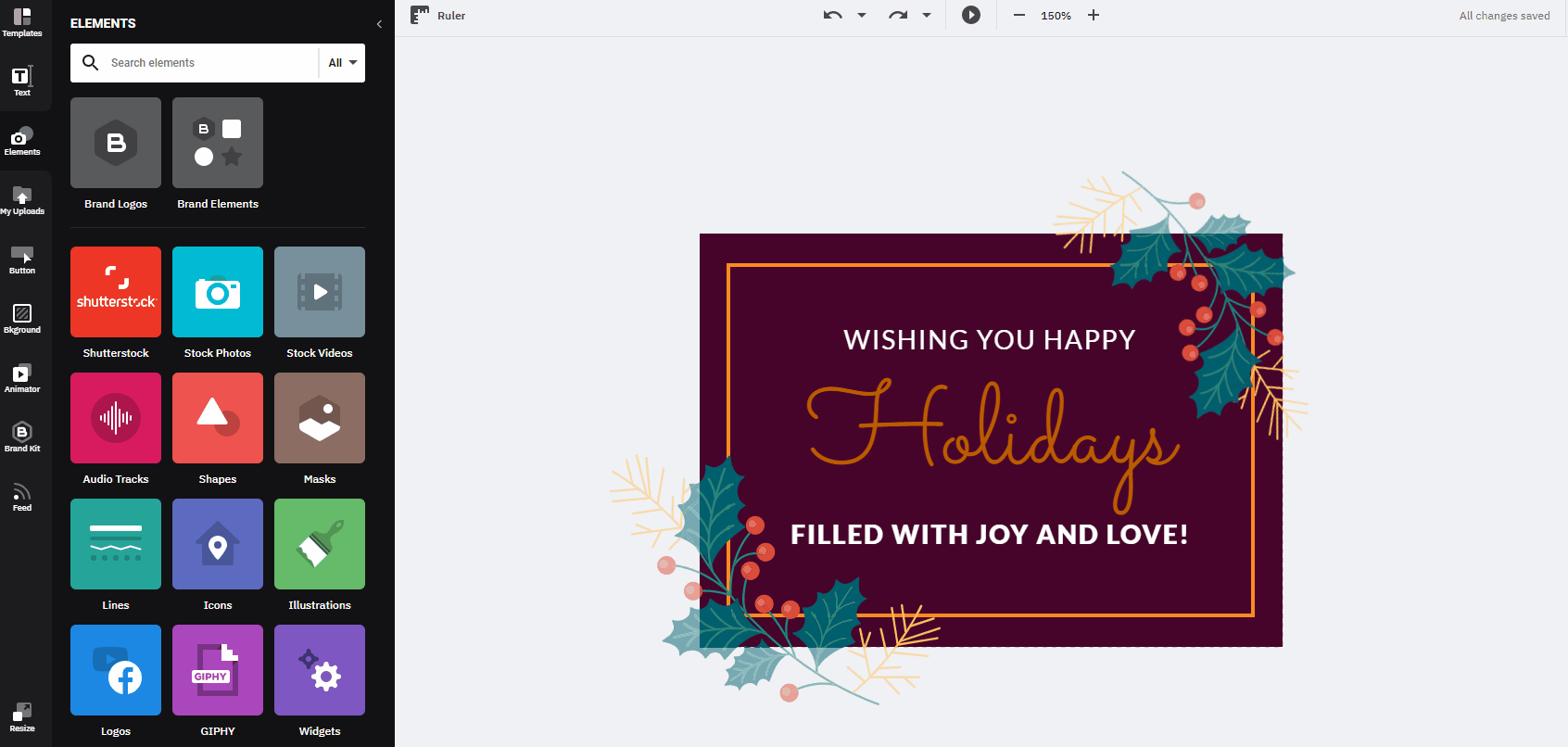 Go one step further and create animated Christmas cards.
With Creatopy, this is super easy because you can animate your card in just one click by choosing from one of the preset animations.
In the Editor, click on Animator, which you'll find on the left side of the screen.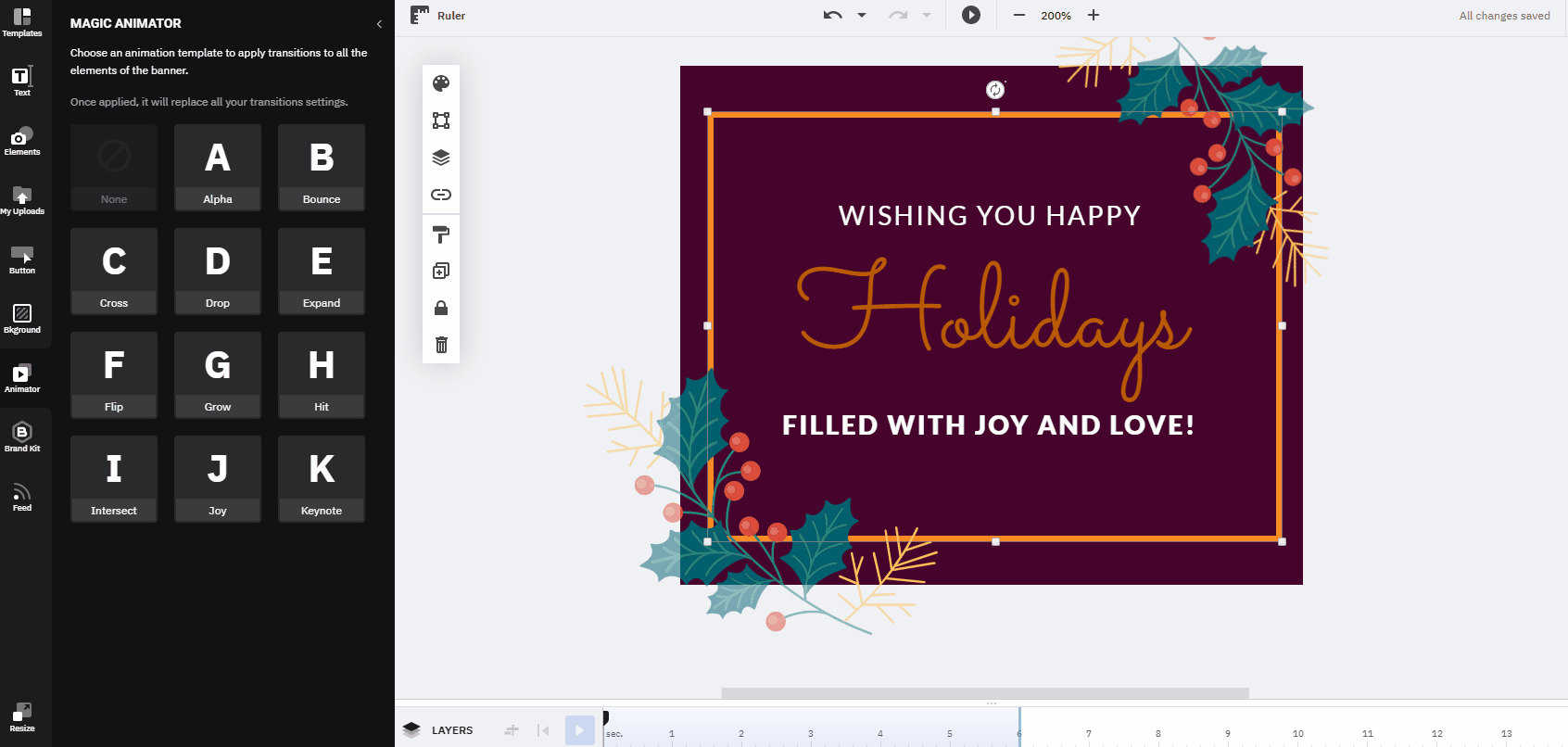 And there you have it. Now you know how to create the perfect Christmas card in minutes.
4. Download your Christmas card
Depending on your card's type (print or digital), you can download it in the format you need.
You can opt for Christmas ecards, send them via email or post on social media platforms, or go for a traditional printed card. Be sure to download in PDF Print.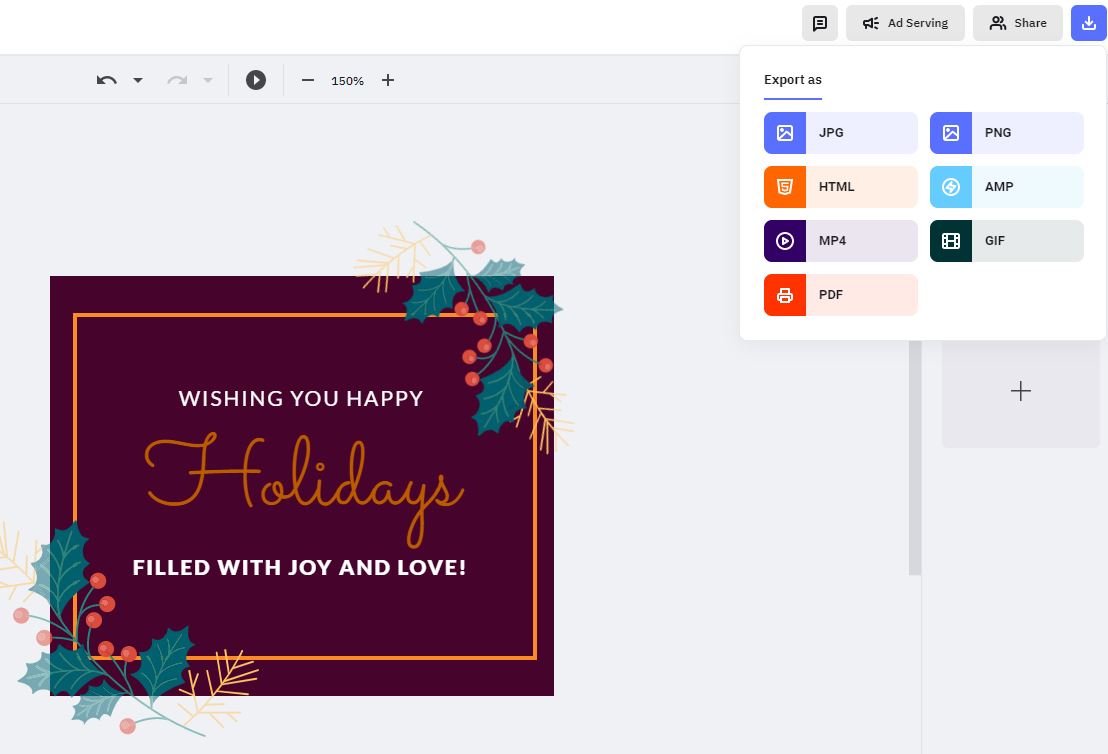 Christmas Card Designs Ready to Use
Because you're probably looking for the best Christmas card designs to use right away, here are a few examples of eye-catching, free Christmas cards for you to start from.
Click on the one you like, start editing your printable Christmas cards, or go for the digital, animated format.
Final Thoughts
Now, it's easier than ever to design your own Christmas cards. The famous Merry Christmas Card is now a few clicks away, and you can personalize it as you wish.
With Creatopy, we got you covered on Christmas card design templates and lots of elements to use for decorating.
You just have to bring your ideas and create personalized Christmas cards that will surely make someone happy this winter holiday.
What's your favorite Christmas card design? Do you plan on sending any this year?