12
minutes read
The shopping experience changed a lot throughout the years.
We can't deny the impact of ecommerce on the way we shop. Nowadays, consumers can find anything from food to clothing items, furniture, or beauty products online, just one click away.
Ecommerce is a trillion-dollar industry and a highly competitive one, which is why customer acquisition can be a struggle.
People want to buy products online, so to get the word out there about your online store, you need to invest in ecommerce advertising.
What Is Ecommerce Advertising?
Ecommerce advertising is a set of promotional activities that aim at driving sales for online stores through the placement of paid content.
The paid ads placed on different properties are going to help you reach people faster, whether they already know about your brand or not. Even if the ads don't bring you instant sales, they will still be highly effective at boosting brand awareness. The sales will ultimately come too.
Without further ado, let's go over a few different effective ways of doing ecommerce advertising online.
1. Social Media Advertising
I received a text message the other day, and I didn't recognize the notification sound. This got me thinking that nowadays, every conversation I have is on either Facebook or Instagram.
You already know that social media plays a massive role in our lives. After all, 3.6 billion people are using social media worldwide, which means that your target audience is there as well.
Let's take a look at a few different social media platforms where you can do ecommerce ads.
1.1. Facebook
Facebook is the leading social media platform in the world, with over 2.7 billion monthly active users as of the second quarter of 2020.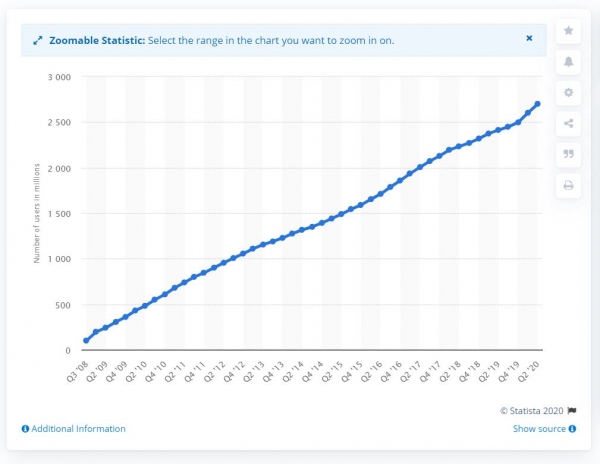 Facebook ads for ecommerce will bring you an average conversion rate of 9.21%.
Before you start creating a Facebook ad, you need to decide on your objective and the type of ad you want to design. Here are a few ad formats to choose from:
Using one image as an ecommerce Facebook ad is the classic way to go. To create an ad that people will want to click on and not ignore, it's crucial to choose an eye-catching visual that features appealing color combinations, and it's paired with compelling copy that will stop people from scrolling.
Take this example from Allbirds: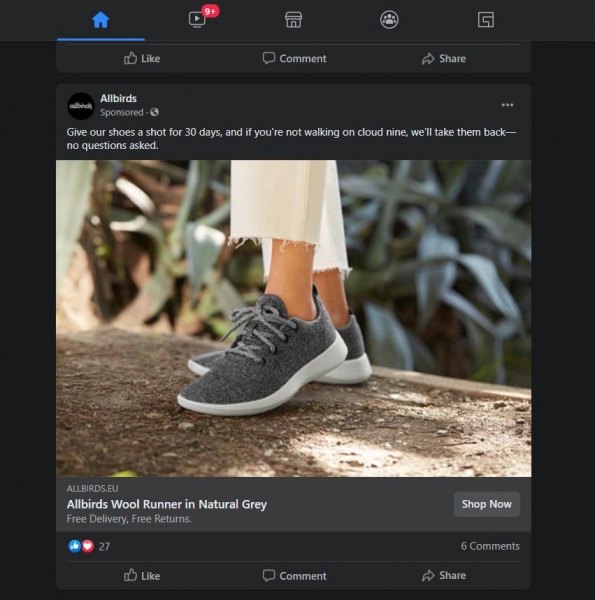 Facebook video ads can help you keep people's attention for longer. Videos are more engaging than static images, but they can also be incredibly useful to show more of your brand and the products you're selling.
An online video ad maker such as Creatopy can help you create Facebook video ads in minutes, even if you don't have graphic design skills.
Here's how Motel Rocks used Facebook video to advertise one of their dresses.
With Facebook carousel ads, you can use up to ten images or video cards to showcase your products. It is similar to a product catalog, and because the consumer is swiping through cards to discover more, they will become more engaged with your ad.
If your ad has more than ten cards, consider using Dynamic Product Ads (you can read more about it below).
Among the best ecommerce Facebook ad examples in the carousel format is this ad from Pull&Bear:
Dynamic ads are a little bit different than the other types of Facebook ads for ecommerce we've talked about because they show products automatically to those who've already expressed interest in your site or app.
You can choose whether you want to create dynamic ads using a single image, carousel, or collection ad format. What's more, you can have an ad template that will automatically use pictures and information from your catalog.
With dynamic ads, you'll be able to create a retargeting campaign. This means you can remind people about the products they interacted with on your website, mobile app, Marketplace, or Instagram Shopping.
Once a retargeting campaign is up and running, the ads will automatically appear in users' feed.
Before creating the campaign, make sure you install the Facebook pixel and have a catalog.
I was part of a retargeting campaign by Hawkers:
Facebook ads for ecommerce are key to making sure you'll get the word out there about your online store.
1.2. Instagram
Besides being a photo and video sharing social network, Instagram is also one of the most popular social media platforms in the world, with over 1 billion active users.
What's more, is that Instagram plays a huge rule in making a purchase decision. More specifically, 80% of users say they took action after seeing a brand or a product on Instagram.
This proves that it's not only a platform where people can discover new brands and products but a place where ecommerce companies can make sales.
Here are your options when it comes to advertising on Instagram:
These ads are the equivalent of boosted posts on Facebook, which means that they will look like regular posts in your Instagram feed. The advantage of boosting posts is that users won't feel like they're looking at a promotional ad.
These types of ads will show up on Instagram users' feeds and will be marked as a sponsored post. You can also include a link that takes users directly to your online store or a dedicated landing page.
Here's an example of a sponsored ad from Miutershop that popped into my feed: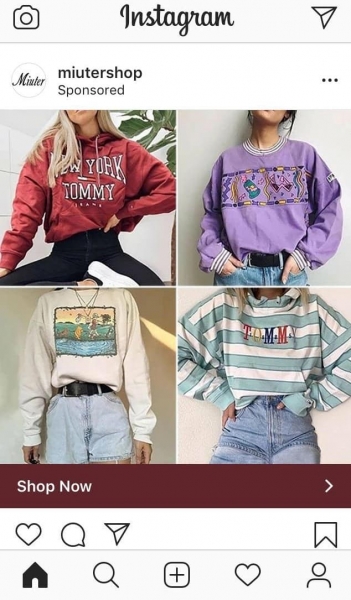 The Story section is the first thing at the top of your Instagram feed. After you click on one of the stories from the people you follow and start swiping through them, you'll also stumble across Story ads.
Be it photos or videos, you can add a CTA at the bottom of the story to convince users to swipe up and land on your online store.
Here is an example of a story ad from The Vegan Vibe: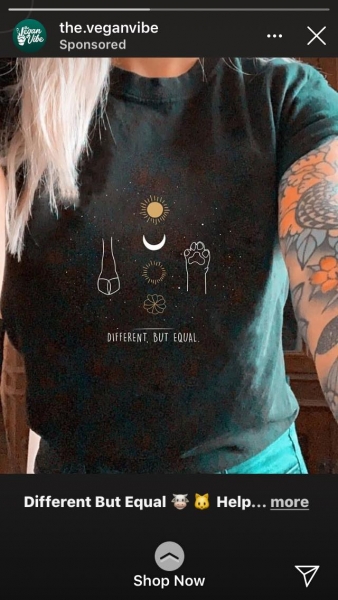 Video ads will appear in users' feed and will be marked as sponsored. They can easily make people stop scrolling because of their dynamic appearance.
Below you can see one example of a video ad from CCC:
According to research we've done in partnership with Socialinsider, Instagram carousels bring higher engagement than images or videos. This post format allows you to showcase up to ten photos, videos, or a mix between the two.
The more cards you have, the merrier the engagement. Here's how the carousel ad format looks like.
1.3. Pinterest
Pinterest has a lot of potential for your ecommerce strategy and online advertising. The main reason would be its more than 400 million monthly users that are constantly searching for inspiration.
Moreover, the platform is continuously improving the ways advertisers can display their products. This will help you sell your products, but you can also create a strong brand presence, establish yourself as an authority in your niche, and discover a pool of untapped potential customers.
A recent Pinterest study shows the magnitude of the discovery platform.
60% of the respondents said they go to Pinterest to get their ideas for the next purchase, and 66% actually bought something after seeing a pin.
The platform allows advertisers to use different ad formats, all of them extremely engaging.
You can choose between:
A standard pin, which will help you display your products in a single, vertical image. It will appear as a sponsored pin in users' feeds.
A video pin that will attract even more attention and boost engagement.
Carousel pin allows you to showcase up to five images and encourage users to interact and swipe through the multiple images.
Collection pins are a combination of lifestyle imagery with featured products.
Shopping pins, the most engaging ones, in my opinion.
Here's why.
On Pinterest, almost half of the users visit the platform to shop, according to an eMarketer study.
This is because Pinterest allows you to create interactive collections, so when you're searching for home decor ideas, for example, you'll be able to go further and shop what you found.
If the collection Pin has a search icon on the bottom right, you can click on it. You'll click then on the white dots from the image, and you'll see those products or similar products available for purchase.
2. Google Ads
Are you overwhelmed by all the features Google Ads has to offer? You're not the only one.
Although it may seem tricky to start with, Google Ads for ecommerce are a vital part of your online advertising strategy.
Here are a few options to consider:
These ads show at the top of the search results, before the organic ones, after a user makes a query.
According to Wordstream, the average conversion rate across the search network is 4.40%, but these numbers can vary depending on the terms and keywords you're bidding on.
When getting started with these ads, you're able to set objectives, such as: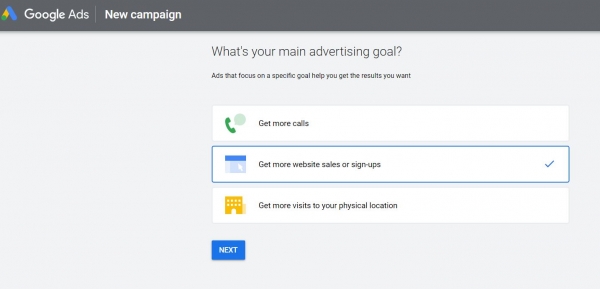 Then, you'll set up your ad, budget and review, and the billing part.
The good news is that you're paying per click, meaning just when someone clicks on your ad to visit your website.
This is how Google Search Ads look like after performing a search: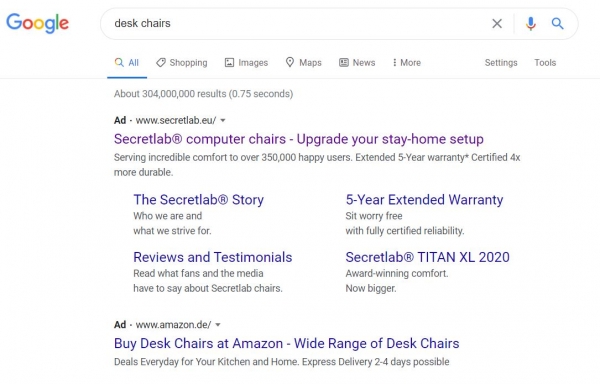 Display Ads are shown on the Google Display Network, which includes various third party websites and Google-owned properties. They can be in the form of text, image, or video.
Although display advertising is cheaper than Search Ads, they have a lower conversion rate (0.57%). That's mainly because they are not shown to people actively searching for your products, but they are instead interrupting consumers' browsing experience.
Even though approximately 30% of internet users use ad blockers, display ads can still be effective if used properly.
Google Shopping Ads may be the best option when it comes to ecommerce advertising. Why? Because it's the first thing consumers see when they perform a product-related search.
The ads will appear at the top of the SERP, above search ads, which puts organic results in the third place.
The Google Shopping section will feature products from different brands that match the search query along with prices, photos, and product name.
The advertiser will pay only if the user expands the digital catalog and then goes to the website.
So, if you type in woolen carpets in the search bar, Google will offer you a few shopping ads display options.
Immediately below the shopping ads, there will be the search ads, and after these two, the organic results: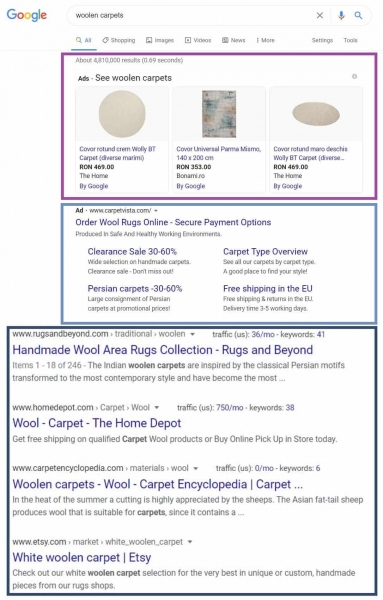 Remarketing is the term used by Google for retargeting, but it means the same thing. These ads will appear on other sites to people who already visited your online store.
The majority of consumers visit a website multiple times before deciding to make a purchase, so remarketing ads can help you bring back some of those first-time visitors and convert them.
Because I previously searched for desk chairs, now I can see display ads for them: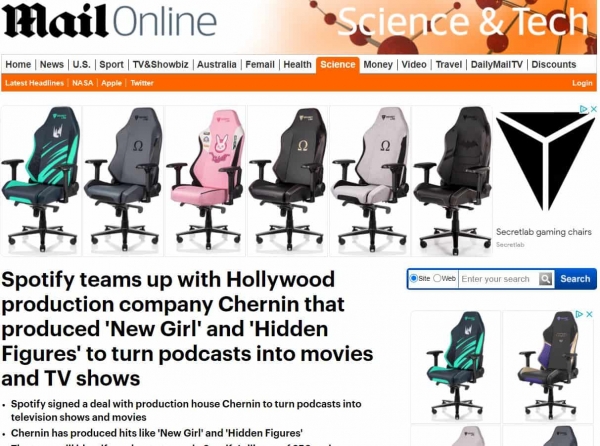 Give Google Ads for ecommerce a try and analyze your results.
3. YouTube Ads
YouTube is the second largest search engine after Google, with approximately 1.68 billion users and 2 billion monthly unique users as of 2019.
Once you decide on investing in YouTube ads, you need to create high-quality videos, which you can shoot yourself, or use a platform such as Creatopy to create a visually engaging YouTube ad.
Here are six types of YouTube ads you can use:
These are the videos that will appear at the beginning of the video a user clicked on. The length allowed for the ad should be between 12 seconds and three minutes, but the user can skip the ad after five seconds.
Non-skippable in-stream ads
These ads can run at the beginning, middle, or end of a video. They can be only 15 seconds long, and they are non-skippable. Therefore the user has to watch the entire ad.
Video discovery ads (previously named in-display ads)
These ads will show as a suggestion in the search results or as related videos in the right-hand sidebar.
Bumper ads are six seconds long non-skippable video ads.
Users will not see these ads on YouTube, but on websites and apps that have a partnership with Google.
These types of ads can be found at the top of the YouTube feed. They autoplay with sound off for 30 seconds or more.
How to Automate Your Ecommerce Advertising in 2022
As an ecommerce marketer, you'll face the ongoing challenge of creating ads for each product, sale, or campaign to promote your brand on different platforms.
The production process can take too much of the time you could spend thinking about other campaigns. Moreover, the repetitive nature of these tasks can leave you feeling anything but creative.
Luckily, creative automation can help you eliminate manual work. Here's how Creatopy will help you achieve this with the Feed Ad Builder.
What is the Feed Ad Builder?
The Feed Ad Builder is an automation tool that allows you to generate multiple design variations by simply uploading a CSV file, and significantly cutting the ad creation process.
If you want to launch a campaign to advertise multiple products with different creatives, all you need to do is create a CSV file with each product's details that you wish to display in your designs.
What are the benefits of the Feed Ad Builder?
Besides the increased productivity, which is a valuable addition to your designing process, here are other ways you can benefit from it:
Create a high volume of ads in multiple languages.

Set up an A/B testing campaign in no time.

Build up an entire campaign based on HTML5 ads without having any coding knowledge.

Create ad campaigns for multiple platforms thanks to the Generator.

Share your work internally or externally to receive feedback on your designs right away.
How the Feed Ad Builder Works in Creatopy
Here's how to start using this feature right away:
1. Create your design
In Creatopy, you have the option to start from one of our templates, or you can start from scratch. Either way, you can personalize it as you wish just as easily.
You can use a display set template from the ecommerce, fashion, real estate, and automotive categories, which are already compatible with the Feed Ad Builder.
2. Create your CSV file
After you know which design or design set you're going to use to generate iterations, it's time to create a CSV file with all the necessary information you want to feed into your designs, such as headlines, price, CTA, product image, etc.
Take a look at this help article to learn how to create your own CSV file.
Keep in mind that the fields in the CSV file need to match your design elements so the magic can happen.
3. Upload the CSV file
Once your file is ready, go to the Feed Ad Builder from the left-hand menu, then click on Select Feed, and upload your CSV file. Alternatively, you can serve the CSV via an URL.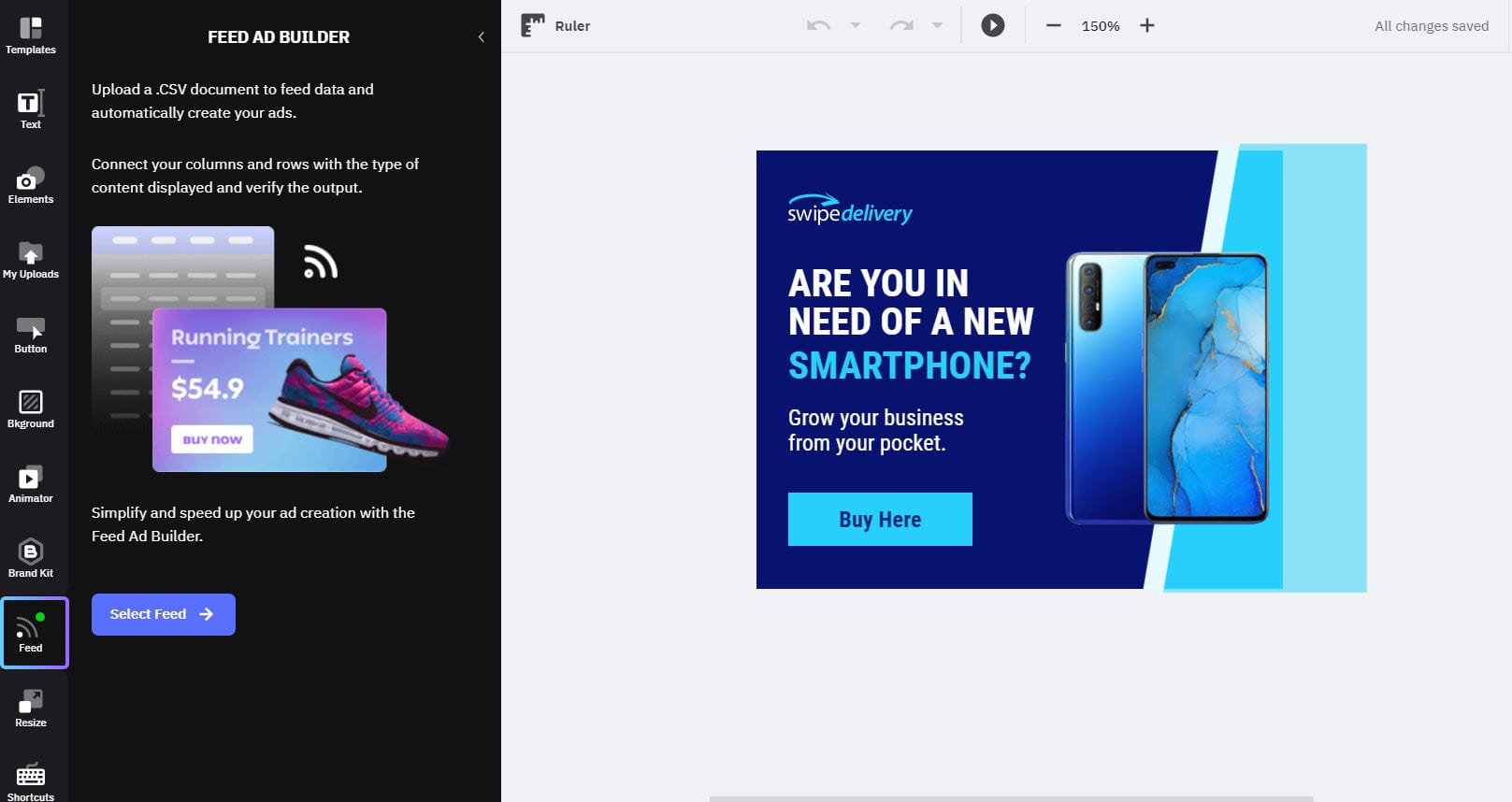 4. Select the bindings
After uploading your file, you will see the Bindings screen. A binding is a connection between an element from your design and a column in the data feed source. Each binding has the name of every design element, a dropdown menu with the column name from your CSV, and a status indicator.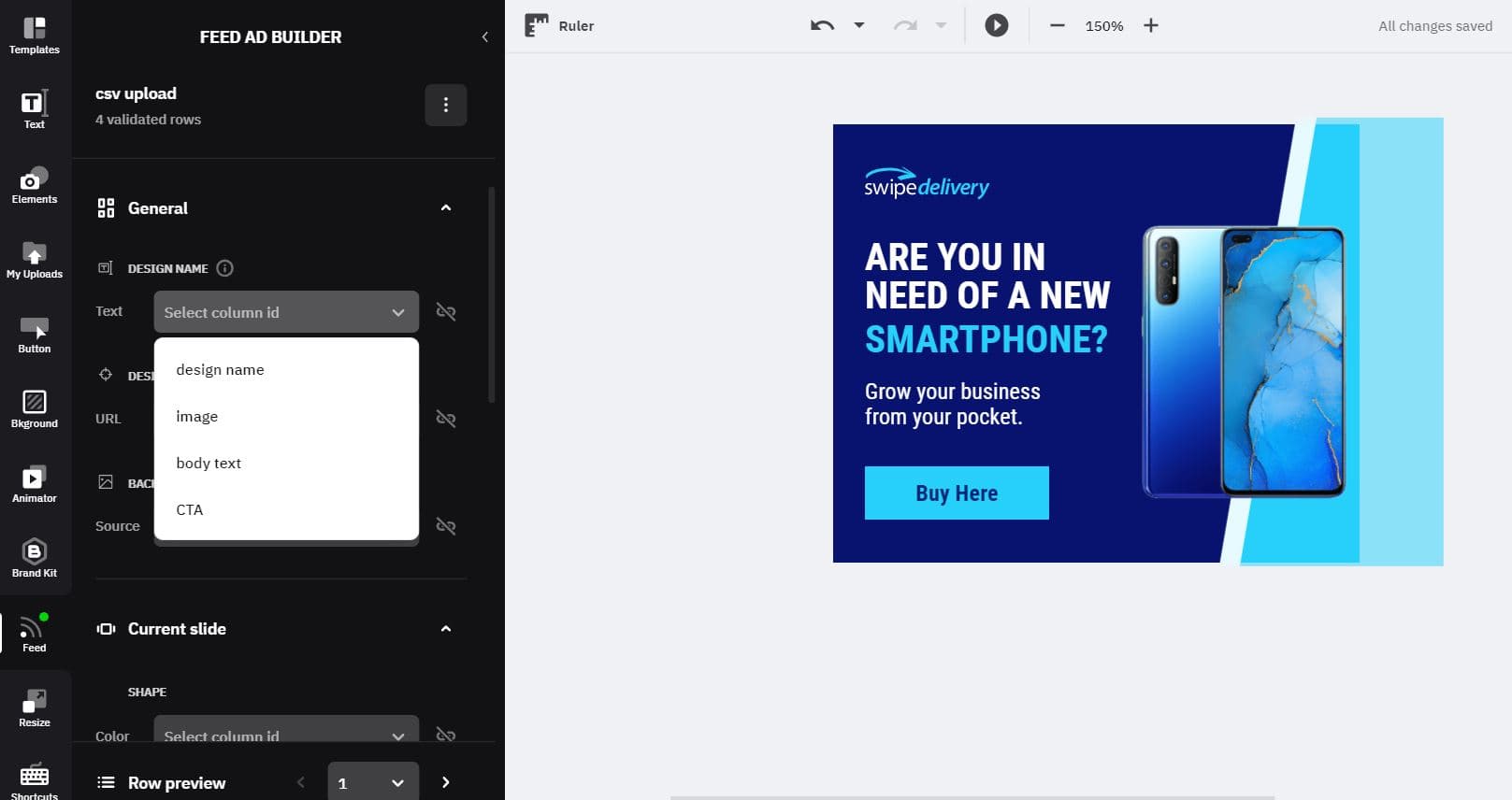 There are three types of bindings:
General

, which links general information like Design name, URL, or background source from the CSV file to your feed.

On all slides

, which binds design elements present on all slides. This zone will be visible only if you enable the

show on all slides

option for your banner.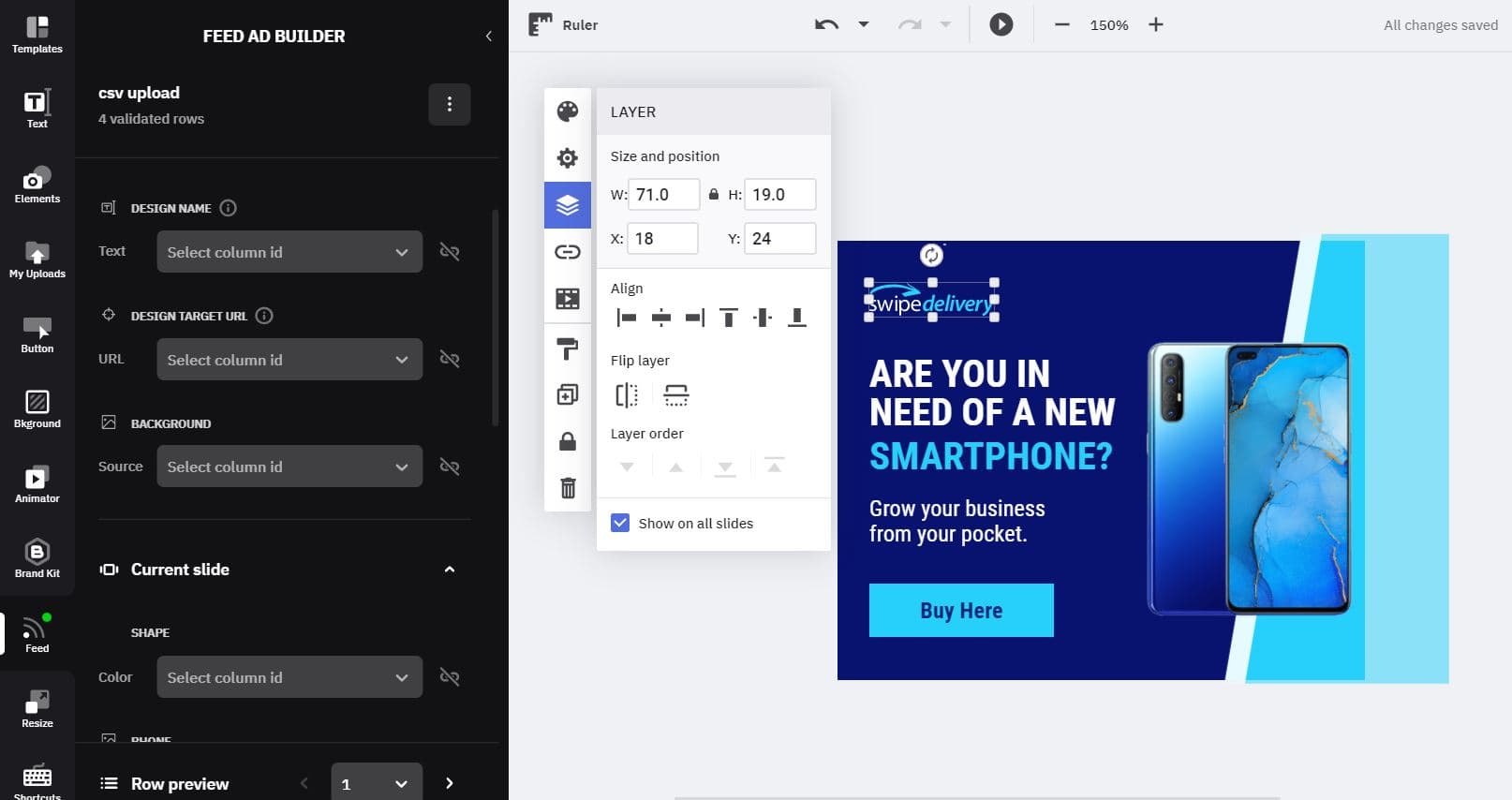 Current slide

, which binds elements only on the current slide.
To link the information to each element, click on the dropdown menu from the binding, select a column from the CSV and place it on your design.
After you finish setting up these elements, you can preview the rest of the CSV rows using the Row Preview found at the bottom of the left-hand menu.
5. Download your work
If you have at least one active binding in your design, you have two options for downloading your work: Current row preview or Select rows from value X to value Y, which allows you to bulk download the designs.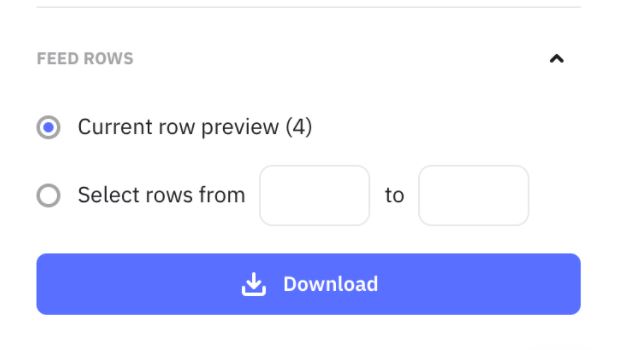 Before Getting Started with Ecommerce Advertising
Make sure you have a solid marketing plan
This means besides setting up all these types of ecommerce advertising, you should invest in a reliable search engine optimization (SEO) and quality content marketing.
These will always help your existing ads. Moreover, you'll be able to attract organic traffic.
Know your target audience
By knowing who you're targeting, you'll definitely know how to build those ads, from the visual to the copy.
Find out what drives their interest and create your buyer persona.
You most certainly want to drive traffic to your website, so you want to avoid a poor experience for potential customers. Ensure the design on all the supported devices can function properly, and everything loads fast.
Another aspect to consider for a well-optimized website has an easy-to-follow shopping experience. Offer relevant information regarding payment before the customer fills in all the details.
By doing this, you'll avoid having a high abandonment rate and having a large number of dissatisfied potential customers.
Conclusion
I know that these may seem like a lot of ecommerce advertising channels, but you don't need to start with all of them at once.
Take it step by step and test each one until you find the strategy and platform that works for your business. Additionally, you want to think about advertising as part of a more significant ensemble called a marketing strategy.
But think about this: once you have the right visuals and you've set your goals, you're halfway through.
Which channels are you using for ecommerce advertising?