11
minutes read
Staying relevant in the financial industry is nothing but challenging. Especially considering the accelerated digital transformation that's shaping financial services at the moment.
Naturally, digital advertising plays a big part in it.
The chart below shows that the US financial services industry's digital ad spending is on the rise, with eMarketer expecting digital ad buyers in the US to spend about $30.75 billion in 2023, representing 12.3% of total digital ad spending in the US.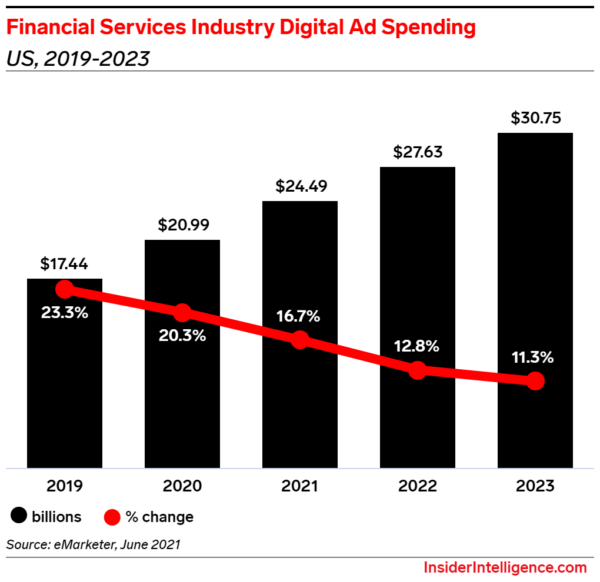 But it's not just digital financial ads that businesses should rely on. Offering customers personalized advertising experiences offline can prove equally effective.
Stay with me as I show you how financial advertising can benefit your brand, which are the biggest trends shaping it right now, and what effective marketing strategies can help you achieve your company's goals.
Read until the end because I saved the best for last—10+ financial ad examples representing different types of services in the industry.
Summary
A. What is financial advertising?
B. Top benefits of financial advertising
C. Biggest trends for financial advertising
D. Effective strategies for financial advertising
E. Financial advertising examples

A. What Is Financial Advertising?
Financial advertising refers to the promotion of financial services, including insurance, digital or traditional banking, brokerage, and investment.
Whether we're talking about traditional advertising, published on mediums like TV, radio, and print, or digital advertising, which encompasses ads on search engines, email promotion, and social media advertising, its primary purpose is driving people to take action.
This makes it a sure way to positively impact your business that can translate into increased brand awareness, sales growth, or some other goal.
B. Top Benefits of Financial Advertising
Before you take your first steps into financial advertising, you should be aware of the benefits it can bring for your business. Here are some of the most important ones:
1. Drives brand awareness
It's no easy task to stand out in such a competitive industry. However, having a brand awareness-oriented approach will help customers get familiarized with your brand and maybe even place your company as their top pick when making a purchase.
To have a bigger reach and introduce your brand to more prospects, use a multi-channel financial advertising strategy, including advertising on web search engines, social media, and even TV, radio, or print into the mix. Meeting the audience at multiple touchpoints can be the competitive differentiator that tips the scale in your favor.
2. Helps build a connection with the audience
Decisions regarding finance, more than any other type of purchase decision, are based on trust. This means that whether your company specializes in insurance, banking, cryptocurrency, or some other services branch, you need to convince prospects they can rely on your brand.
The first step toward building this much-needed trust is creating a meaningful connection with the audience.
You can do that through personalized ads that speak to your audience's needs while at the same time being truthful about what you have to offer. Consumers appreciate brand transparency and honesty more than anything, including competitive prices.
3. Directly contributes to increasing sales
If done right, advertising can successfully drive your company's sales up. After all, this is what ads were created for.
You might not see higher sales volumes immediately, only after a while. Or you might need to measure performance and optimize your ongoing campaigns to see any at all, but no matter the scenario, there is no denying that ads have an impact on revenue.
This is true for digital and traditional advertising alike, so the sales count will grow no matter how you decide to promote your products or services.
4. Keeps your brand relevant in the industry
Your services might be top-notch, but if you have no advertising strategy whatsoever, your competitors will be miles ahead of you. It's like expecting to win a popularity contest without even registering as a participant.
Advertising plays a key role in establishing yourself as one of the most important players in the industry. On top of keeping you present in the customer's mind, it can help you highlight competitive advantages and distinctive features of your products that make you a better choice than your competitors.
5. Educates customers
Besides the more apparent benefits presented above, ads can also be a means of educating potential and existing customers about your services or products.
Not everyone is familiar with concepts like loans, interest, or investment, at least not on a deep level. Luckily you have the opportunity to meet this need for knowledge with ads illustrating these concepts while presenting what your services or products can do for people.
Great examples of such ads are explainer videos and how-to videos. While the first type goes into a product's main features and benefits, the latter walks viewers through usage steps.
C. Biggest Trends for Financial Advertising

Each passing year brings new trends for financial advertising. While some may not align with your brand or audience, and there's no point in trying them, others can significantly improve your marketing strategy.
Check out the most important advertising trends of the moment:
1. Creating relevant content
Brands are becoming more aware of the power content marketing has and use it to provide value to their customers. Although best known for generating traffic, content is also a great way to build relationships with customers and position your business as an expert in the field.
Blog posts, podcasts, reports, e-books, and case studies are just a few examples of high-value content you can provide your audience with.
2. Leveraging short-form video
Keeping up with the rising popularity of TikTok, many players in the industry use short-form video content to better engage with their customers.
There's a great deal of value to be found in this type of content as it allows you to deliver any message efficiently and present complex services like loans or insurance in a concise and captivating way.
3. Advertising personalization
More businesses are focused on offering unique customer experiences with the help of personalized ads.
Since personalization is all about addressing customer needs, they put more effort into better understanding the customer first and foremost, which is essential to creating relevant ads and, by extension, increasing ROI.
4. Artificial intelligence-powered analytics
Artificial intelligence has been generating a lot of buzz in recent years, and rightfully so. Needless to say, it's a hot topic in this industry too, as it helps companies analyze and leverage relevant data to make informed business and marketing decisions.
The benefits of using this technology for advertising include finding customer behavior patterns and segmenting customers by interest or demographic for better ad targeting.
5. Omnichannel marketing
Nowadays, people rely on the digital environment for most things and want brands to meet them there. So it comes naturally for companies to market their services on multiple online platforms.
Still, many of them have realized there might be more potential to stand out in offline marketing, leading them to integrate both online and offline channels into the marketing strategy.

6. Working with influencers
From micro-influencers to well-established celebrities, brands turn to charismatic personalities to guide potential customers toward purchase decisions.
Why? Because it's easier for prospects to trust an actual person than a company. Not to mention people often form parasocial relationships with influencers, reinforcing trust and making it more likely for them to be susceptible to finance-related recommendations.
D. Effective Strategies for Financial Advertising
You can't expect to reach your marketing goals without a well-defined strategy that gives you a precise course of action and keeps you accountable along the way.
Here are the most powerful marketing strategies that can bring you closer to your business's success.
1. Build a strong social media presence
According to Hootsuite's 2021 Digital Trends, the total number of active social media users is 4.20 billion, which makes up more than half of the world's population.
This means there's a huge pool of potential customers you can easily connect with on social media, be it on Facebook, Instagram, TikTok, LinkedIn, and so on.
You don't have to be present on all these platforms just because your competitors are. Instead, prioritize building an online presence on the ones your audience spends time on and promote your services there via organic content and social media ads.
2. Harness the power of email marketing
I've already mentioned that ad personalization is essential in this industry. But don't take my word for it.
The 2022 Fifth Edition State of the Connected Customer report reveals that 56% of respondents feel most companies treat them as numbers, while 73% expect companies to understand their unique needs and expectations.
So any kind of personalization is desirable, and adopting an email marketing strategy will help you connect with your audience in a personalized way. On top of that, it is also a cost-effective method to convince prospects that your services are worth considering.
Crafting engaging emails is easier than you think if you consider what your clients would like to read about. Just steer clear of spammy content, and you'll do great.
Be sure to also check out various email tracking tools and choose the right one for you. They can help you analyze every part of your email communications, find the best subject lines and even discover when's the best time to send your emails.
3. Make your website SEO friendly
Ranking high on Google results pages is a great way to get your services in front of people who have the potential to become customers. Plus, a vote of confidence from Google sends prospects a signal that they can also trust your brand, setting the foundation for a trust-based connection.
Implementing an SEO strategy for your business is as simple as researching and incorporating the most popular keywords into your content, having relevant backlinks, and working on website page structure.
If done right, you'll see an increase in organic traffic and possibly more conversions as well.
4. Experiment with PPC ads
A Pay-Per-Click advertising strategy can also benefit your business. While the previously mentioned SEO strategy allows you to get your content in front of people who make finance-related queries, PPC ads help you reach people with purchase intentions through ads.
You are given a wide array of targeting options for PPC campaigns, including keywords, behaviors, and demographic attributes, so you can carefully define the target audience to increase efficiency.
If you don't get the desired results from the beginning, worry not, because you can track campaign performance at every step of the way and optimize accordingly.
5. Leverage high-value content
As you've already seen, creating relevant content is one of the biggest trends in the industry at the moment. Making sure you meet users with valuable content at all touchpoints and on multiple channels, including on your website, blog, social media, and emails, is a great marketing strategy.
User-generated content also fits in this category, as letting customers share their experience with your brand through reviews can prove more effective in driving purchases than branded content.
Check out our marketing strategies for financial services article for a more detailed approach to this topic.
E. Financial Advertising Examples
Let's get into some ad examples from well-known brands so you can get a better understanding of what an effective ad should look like in this industry.
1. Banking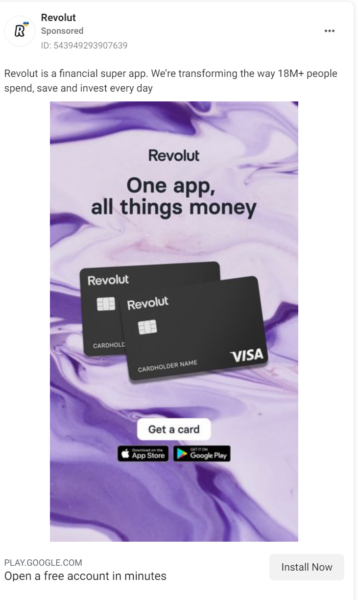 If you've got it, flaunt it. Revolut is aware of its competitive advantage and makes it clear in this Facebook ad through the powerful ad copy: One app, all things money.
The fully digital non-traditional bank stays on-brand with purple shades and a minimalist font but manages to stand out against the Facebook feed.
Truist bank appeals to the audience's aspirations, suggesting their Enjoy Cash credit card can help them become what they want, whether a thrill-seeker, a dream-chaser, or a leap-taker.
If we're being honest, most of us want to assume at least one of these identities. Which makes this an effective aspirational advertising example that is likely to bring the desired results.


On to real-time marketing done right. Rabitabank published these two ads in 2020 when the COVID-19 pandemic became a significant threat to the entire world, which is why they encourage people to use cards instead of banknotes.
The idea that people can pick up all sorts of bacteria and viruses from money is brilliantly represented by having well-known personalities from bills, such as Benjamin Franklin and Queen Elizabeth II wearing face masks.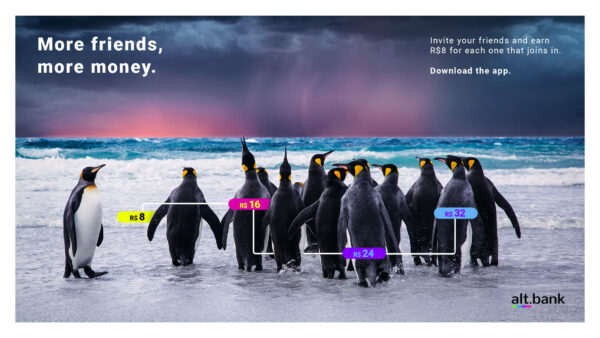 Getting rewards for recommending a product to friends or family is a pretty old strategy. However, the digital bank alt.bank gives it a fresh spin in this cute ad which illustrates the idea using an image of a waddle of penguins.
They sealed the deal with a straightforward yet effective copy and here we are—an ad example worthy of being on this list.
For more bank ad examples, you can check out our dedicated article on this topic.
2. Insurance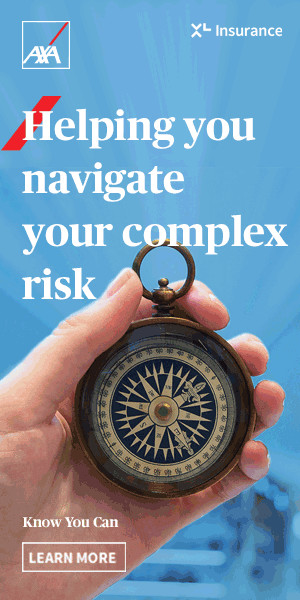 This Axa Insurance display ad uses an image of a compass as a visual metaphor for how having insurance can help people navigate risky situations with confidence. It's all about what the product can do for the customer, which always makes a convincing point.
The complementary ad copy further strengthens this idea, while the logo and call to action button tie the whole ad together.

Here's another insurance ad, this time from Generali Global Assistance, a giant in the industry.
At first glance, the ad catches the eye due to the contrast between the black and white picture and the red design elements.
Upon closer inspection, we see the image they used perfectly conveys the idea that travelers can be carefree during a trip if they have travel insurance—just like a kid playing with a toy airplane outside.
This adorable video ad created for Reliance General Insurance by Ogilvy uses footage of a beagle pup playing with an inflatable ball to capture and maintain the viewer's attention.
It's only when the ball deflates that an analogy is made with tires, introducing the Reliance Car Insurance.
Works as a charm not only thanks to the cute dog but also because more than half of the video viewers don't even know they are watching an ad.
This explainer video ad educates viewers on how to use the Trov insurance app to protect specific possessions for certain periods of time.
It does so in an easy-to-follow way, sprinkling some funny moments along the way, most of them provided by the boyfriend who has damaged the main character's bike before they discovered Trov. It's also a good example of video ad storytelling done right.
3. Loans
Weddings can be expensive, and there's no denying it. What might start as a simple and inexpensive plan can turn into something entirely over the allocated budget.
Canada's Credit Unions address this kind of situation with this video ad promoting credit card loans. The animation of a wedding cake that keeps getting taller symbolizes the piling expenses of organizing such an event, masterfully getting the idea across.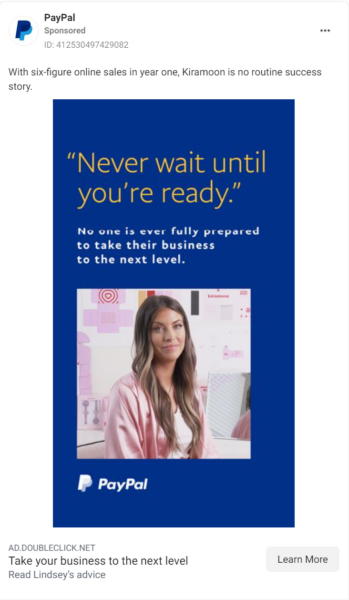 This PayPal Facebook ad gives people social proof by referencing the success story of a real-life entrepreneur—Lindsey Martin, founder of Kiramoon. This way, the brand is encouraging people to venture into a similar entrepreneurial endeavor themselves, with PayPal ad their trusty ally along the way.
4. Investment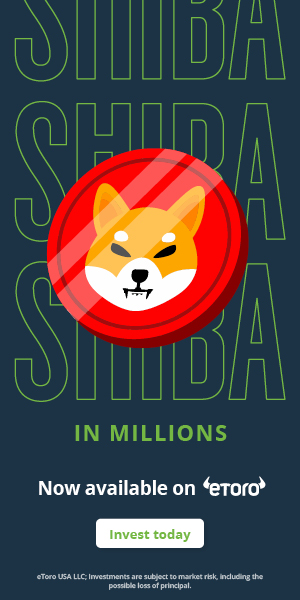 This Etoro ad encourages people to invest in cryptocurrency, more exact in the Shiba Inu coin, a recent addition to eToro's portfolio at the time of the ad's launch.
Simple and to the point, this ad design stays on brand while successfully conveying the message. It's safe to say it would capture the attention of an audience interested in cryptocurrency.

It might not be the best time to invest in Bitcoin as the popular cryptocurrency's value is on a descending curve as I type this. However, there's no guarantee it won't rise in value again as it has done so in the past.
But let's get to the ad, which delivers the message effectively using a straightforward copy and also warns users about the risk of investing, enforcing transparency.
Here are a few other templates you can use as a starting point for your financial ads. Simply open them in Creatopy's drag and drop editor and customize them away.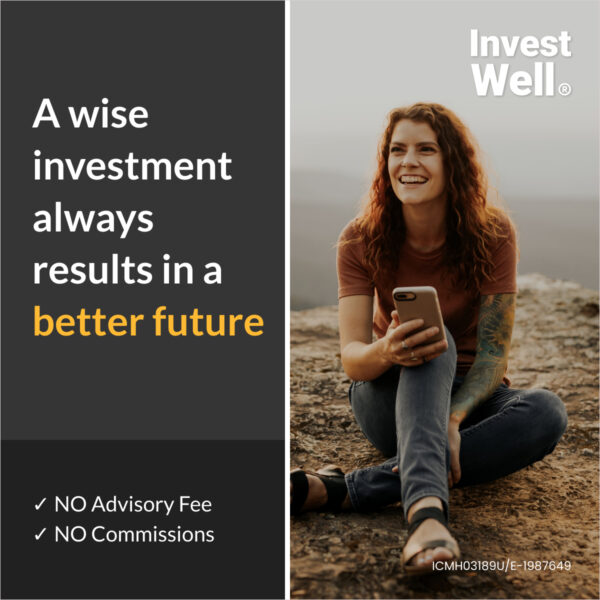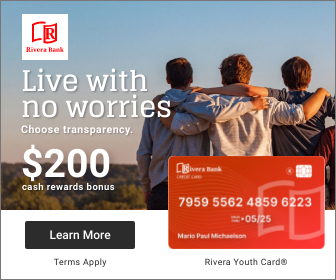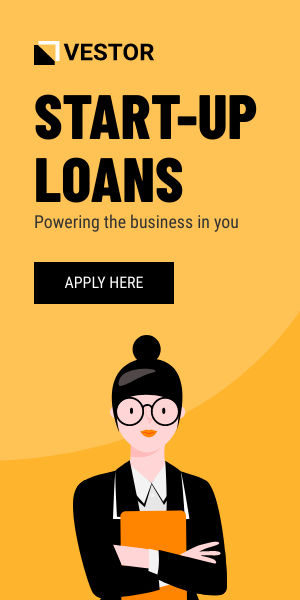 Conclusion
The secret to creating personalized financial ads is to know exactly who your audience is and what needs they expect to have met. If you add some honesty to the mix, you'll manage to build a connection based on trust, which is essential in this industry.
Good design is equally important, but for that, you can rely on ad design tools that make turning your ideas into ads much easier.