23
minutes read
What Is Social Media Advertising?
Social media advertising is a form of digital advertising where you use platforms such as Facebook, Instagram, Twitter, or LinkedIn to promote a product, service, or brand with the aim of increasing brand awareness, driving website traffic, generating leads, or boosting sales.
The social media ads need to match the platform(s) you're advertising. This is why you should create social media graphics to back up your daily posts that are meant to keep your followers informed and interested.
The goal is to increase brand awareness while serving your clients the advantages they could get by using your product or service.
However, the benefits of social media advertising go beyond building brand awareness because there are many objectives you can set for your shoppable ads and campaigns.
There's probably no need to say how big social media is nowadays and that it's an essential skill to know how to promote your business on social media platforms.
It can positively impact your business growth when you use it right. But a simple presence and relying on organic reach may not be enough.
This is why you need a social media marketing strategy that encompasses organic and paid tactics.
There's so much to learn about social media advertising that it can be challenging to know where to start.
And since we're talking about spending money on ads to reach new audiences, you need to know how to do it effectively and where.
This guide will clarify these things and help you understand how to use social media for advertising.

---
A. Tips for a successful social media advertising strategy
B. The most popular social media platforms
D. Social media advertising costs
A. Tips for a Successful Social Media Advertising Strategy
You can always spice up your strategy with your own ideas, but there's a general formula that will help you get started.
Here are the steps you should follow.
1. Know your audience
How can you get a reaction from your audience when you're not addressing them directly?
Exactly. You can't.
This is why you need to determine your buyer personas so you can speak their language.
But your buyer personas are guided mainly by what you're selling. So half the work is done. You need to determine those personas clearly to create a messaging and strategy around your brand, keeping your target audience in mind.
Once this part is established, you can start creating ads that will stop them from scrolling or swiping.
2. Define your objectives
It's easier to build your social media advertising strategy with a precise goal in mind. The ultimate objective is, of course, to gain more clients, but it's more straightforward when you can take it one metric at a time. This gives you time to analyze your strategy and tweak the things that don't work as well.
Here are a few objectives you can consider:

With so many social media users, brand awareness is the main reason marketers use social media ads. It's the easiest way to get a large target audience to learn about your brand.
Even if a user may not want to engage with an ad, they can simply scroll, swipe, or dismiss it.
Social media platforms improved their features and tools that help marketers analyze their brand's reach among users. They can gather data on the number of followers, mentions, shares, and the posts reached during a given period.
Ideally, the brand awareness stage will lead to people clicking on your ads so they can land on your website.
This is why website traffic is another critical objective you should aim for.
You can track the site visitors that came from social media in Google Analytics. You can see the numbers if you go to Google Analytics 🠊 Reports 🠊 Acquisition 🠊 Traffic acquisition, then search for Paid Social.
You can use social media ads to give people information about a certain topic of interest related to your industry in exchange for people's email addresses. This can be in the form of gated content or even events or webinars.
This is part of a sales process companies use to create strong connections with their leads before turning them into customers.
As long as your content is of high quality, people will see you as a reliable source. This will convince them to give your product or service a try.
You can see if your lead generation campaign is successful by analyzing the number of email addresses you gathered, the number of times your content was downloaded, or how many people attended your events.
Social media advertising can also help you increase your revenue.
Once people spot your ads and you get them hooked, they can sign up or buy your product or service.
Signups are not the ultimate indicator of your revenue. For example, if we talk about SaaS products, you have to ensure a smooth product adoption after the signup phase.
3. Choose the platform(s) you wish to advertise on
Being present on all social media platforms is difficult because you need different approaches for almost every single one. I mean, just imagine having to build strategies for Facebook, Instagram, LinkedIn, Pinterest, YouTube, Twitter, AND Snapchat.
The good news is you probably don't even need to be present everywhere.
Your job is to determine where your ideal client spends most of their time and focus all your social media content resources.
This takes us to the next point.
4. Create your ads
Since nowadays almost everyone is online with an active social media account, including your competitors, chances are that your target audience will spot their ads too.
This is why you should see what kind of ads are more appealing to your potential customers and start creating social media ads based on that.
You can always perform A/B testing with two or three variants of the same ad and see which one has that thumb-stopping ability.
Even if this seems like a tedious task on top of everything you have to do already, Creatopy can help with your ad design process. Our platform has automation features that help you create multiple ads simultaneously.
Here's how.
Let's say you want to create an Instagram image ad. In Creatopy, you can find the updated social media ad sizes for each social media platform.
First, you enter your account and choose the size for your ad from the right-hand side by clicking on Create.

Then, you can choose to start from blank or a template matching your industry. There are many social media ad templates you can choose from.

Now comes the editing part, where you can add all the necessary elements. Find them in the platform's library or upload your own. Make sure to include all your differentiating brand assets, such as logo, font, or colors, which you can upload in a Brand Kit for future designs.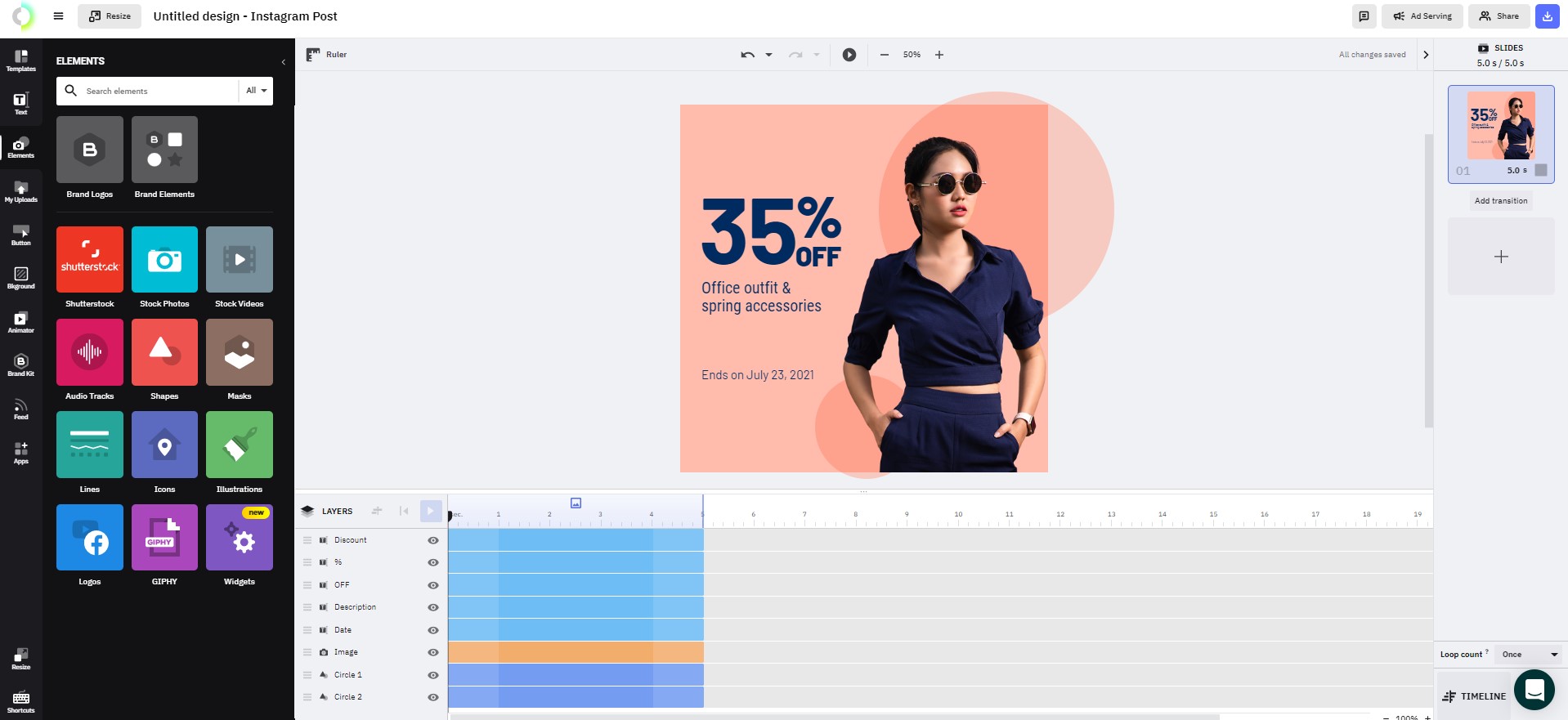 Here you can also animate your design using the Magic Animator and the Timeline for further edits.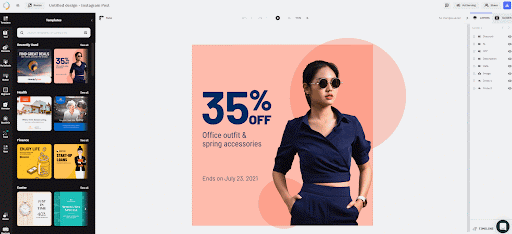 If you wish to create more than one variation of an ad to perform A/B testing, you can use the Feed Ad Builder feature. This way, you can instantly generate a large volume of creative variations for your ads.
Create a CSV file with all the alternative options you wish to test for your design. Make sure the elements on your design match the fields in your CSV file (headline, price, CTA, product image, etc.), so they are easily exchangeable from the feed.
You'll find the Feed Ad Builder feature in the left-hand side menu. Click on it and upload your CSV file there.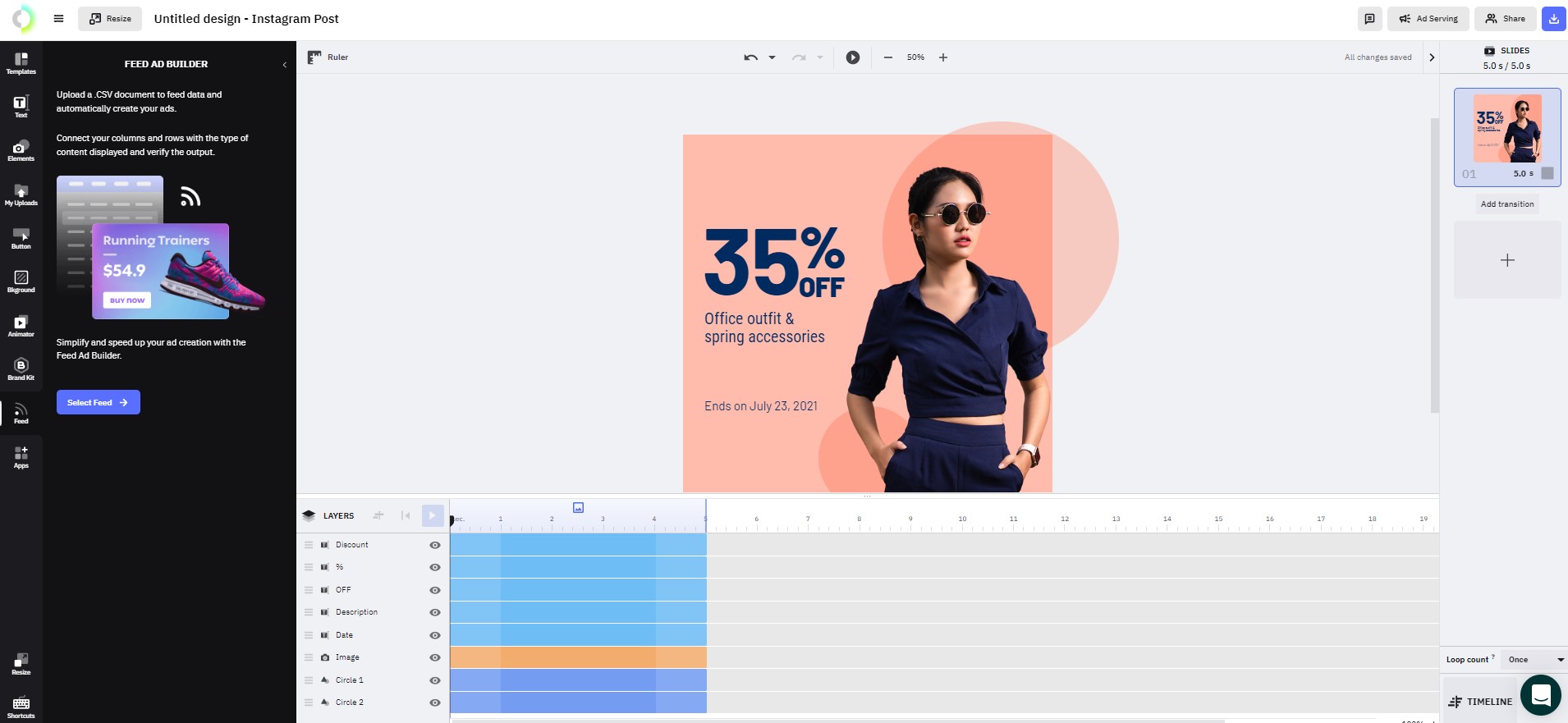 After you upload your CSV file, you can select the bindings. A binding is a connection between an element attribute in your design and a column in the data feed source.
Each binding has three aspects: the name of the attribute on the element, a dropdown menu with the column name from your CSV, and a state indicator (active or inactive).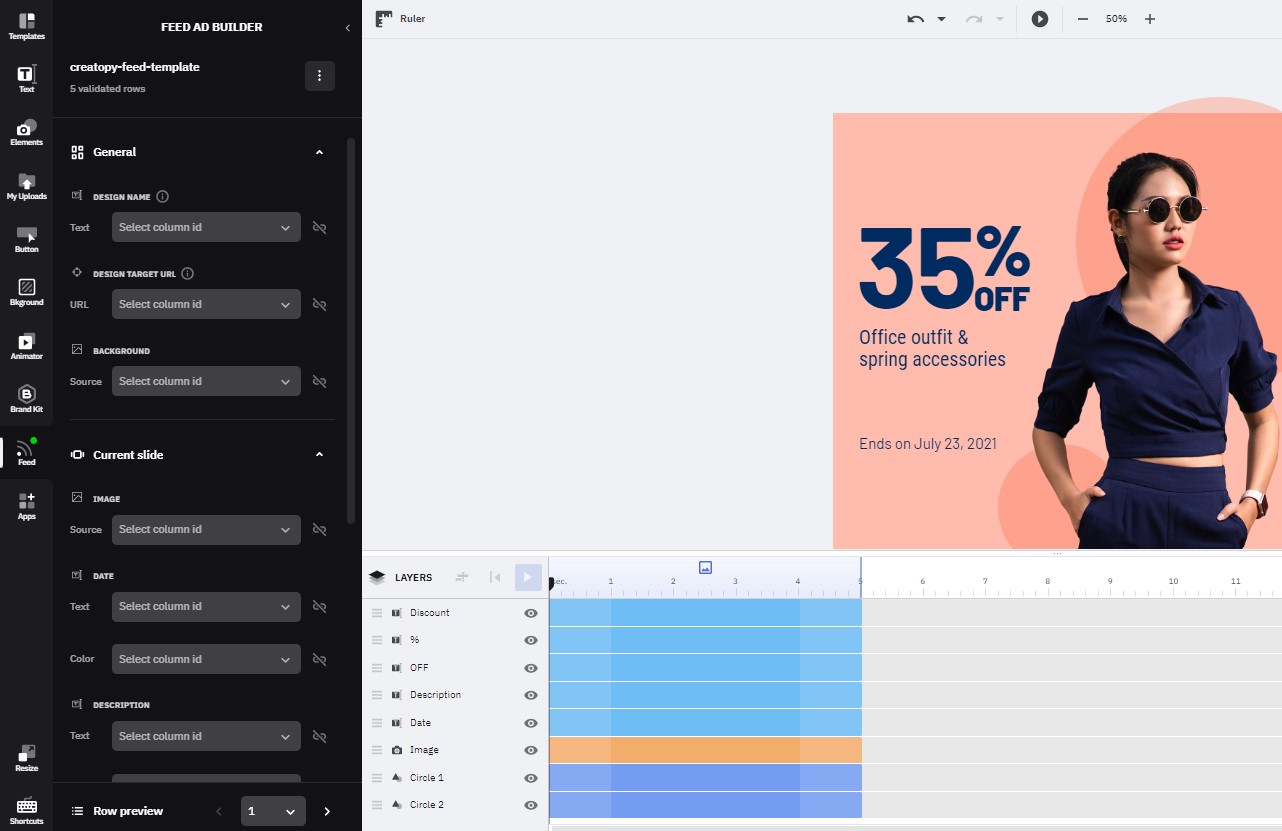 When you finish setting the bindings, you can preview your work by clicking on the Row preview.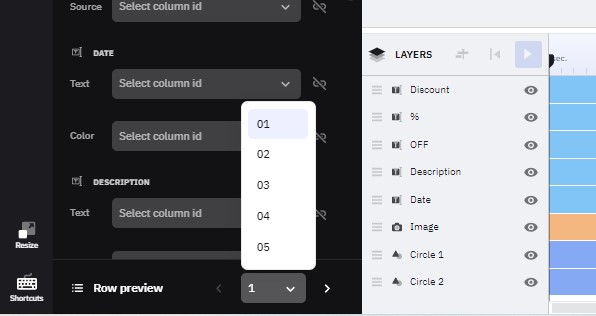 5. Launch your campaign
When you have all your creatives ready, all that's left to do is go to your platform(s) of choice and set up your campaign to get it ready for launch.
Every platform has its own ads manager (except for Facebook and Instagram), but they are pretty straightforward.
You just need to enter, set your objectives for the campaign, set the bids and other additional options, and launch your social media ads.
6. Measure your ads' performance
Can you measure social media advertising effectiveness? Definitely.
After launching your ads, you should monitor them closely to see what makes your audience click. The A/B testing we talked about earlier can also help a lot.
Once you know which types of ads are more appealing to your buyer personas, keep building your strategy around that.
Now let's see which platforms you can run advertising campaigns on and what goals they can help you achieve.
B. The Most Popular Social Media Platforms
It's essential to have a clear understanding of what social media platforms have to offer in terms of advertising before deciding where to invest your budget.
All the major social networks offer advertising options for you to choose from.
We'll go through the most important ones. But as I said, you don't have to use them all. It's important to decide which ones are your go-to social media platforms.
Here are the ones brands usually gravitate towards:
1. Instagram
This platform is ideal if your target audience is either in the millennial or Gen Z demographic. But you can rely on Instagram if you're addressing Gen X, as well.
Here are the numbers, according to Statista.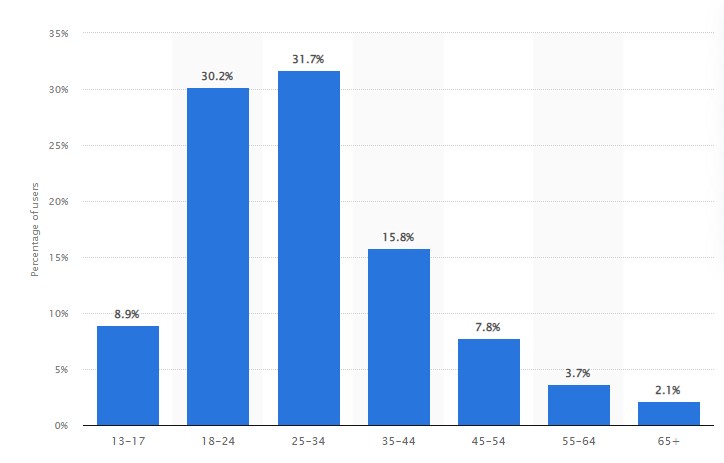 If you decide Instagram is the right choice for you, these are the three advertising objectives you can choose from: awareness, consideration, or conversion.
2. Facebook
Advertising on Facebook can help you achieve one of three types of campaign objectives: awareness, consideration, and conversion.
Being very specific about what you expect from your social media ads campaign can make a huge difference because you're helping the Facebook algorithm understand what you want to achieve through social media ads.
For example, if you aim for conversions, you should select that objective, as it will help you get better performance rather than choosing the traffic objective when you expect conversions.
It's pretty intuitive.
3. LinkedIn
LinkedIn is more business-oriented than other social media platforms. It's where professionals go to read topics of interest related to their industry, but also a place for connecting with other professionals.
Although the approach is a bit different, you can tackle the same three objectives as in the case of other platforms: awareness, consideration, and conversions.
4. Pinterest
Pinterest is an excellent source of inspiration. What's more, is that 85% of people that end up searching on Pinterest are determined to take action for their next project. This means shopping.
This is why advertising on this platform can bring great results.
As far as Pinterest campaign objectives are concerned, you get to choose from brand awareness, video views, consideration, conversions, and catalog sales.
5. YouTube
YouTube is the most popular video publishing platform and the second most popular search engine in the world.
With an estimated 3 billion monthly searches, you should definitely consider video advertising here. When creating your YouTube ad campaign, you can choose among the following objectives: product and brand consideration, brand awareness, website traffic, leads, or sales.
6. TikTok
TikTok is one of the most energetic social media platforms you'll use. And because of this, you need to create ads that are at the same level as the other videos on the platform so you won't lose your audience's interest.
Just as in the case of other platforms, you can set the following business goals: traffic, reach, conversions, and consideration.
7. Twitter
Twitter is probably the fastest way to discover what's happening worldwide. To be more precise, 229 million users are active on Twitter. That is a huge pool of potential prospects you can reach with your ads.
If you decide to invest in Twitter advertising, you can work towards three business goals: awareness, consideration, and conversions.
8. Snapchat
Snapchat might not be as popular among advertisers as the other social media platforms on this list. However, in July 2022, it was reported ads on Snapchat had the potential to reach 616.9 million users.
Moreover, if your target audience consists mainly of Gen Z, this platform is for you. According to Statista, Snapchat is popular with younger users.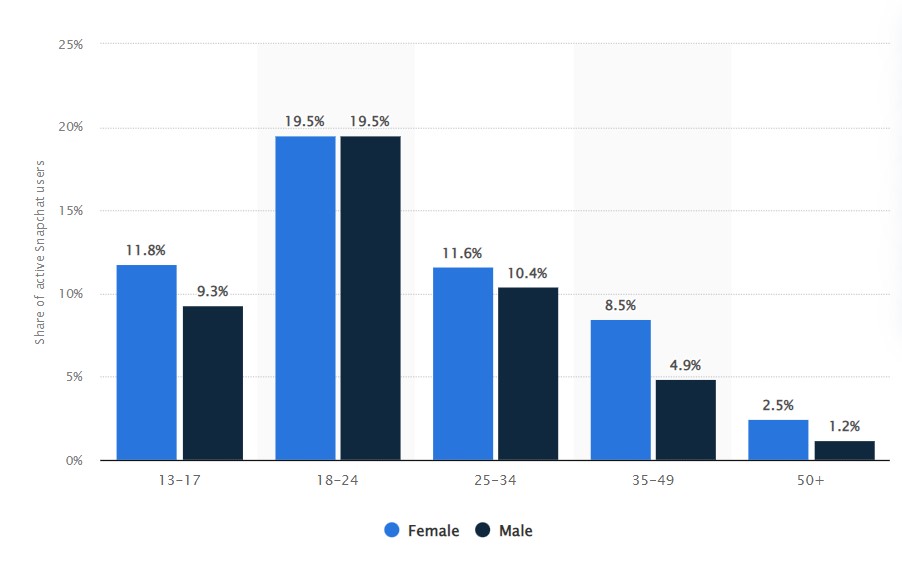 On this social platform, you can choose one of the three social media ad campaign objectives: awareness, consideration, or conversions.
C. Social Media Ad Types
Now that you're more familiar with the social networks advertisers usually invest in, it's time to go over the ad types for each of these platforms.
We'll also include social media ad examples that can inspire you and give you an idea of what certain types of ads look like.
1. Instagram ads
Let's see what ad types you can use if you include Instagram in your social media advertising strategy. Before diving into them, remember that you can boost any of your existing social posts and turn them into ads.
1.1. Image ads
These are simple image-based ads, but you can be highly creative when designing them to showcase your product or service. And Instagram surely is a platform that favors creativity. You can use the photo ad in the square, landscape, or vertical format.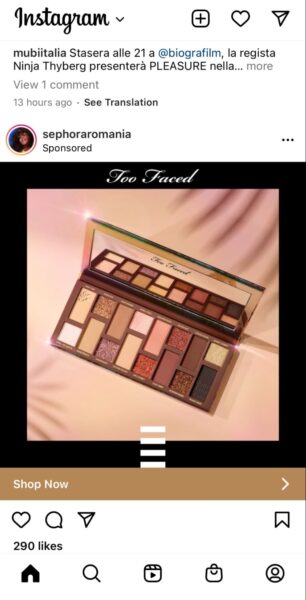 1.2. Video ads in the feed
The video format allows you to expand your idea, and the ad movement will make users stop and take a look. Your video can be in the square or landscape format.
1.3. Carousel ads
You can use up to ten carousel cards to showcase multiple products or all the benefits of a single one. When you create a carousel for your social media ads, users will know there are swipeable cards, as your post will have those dots underneath.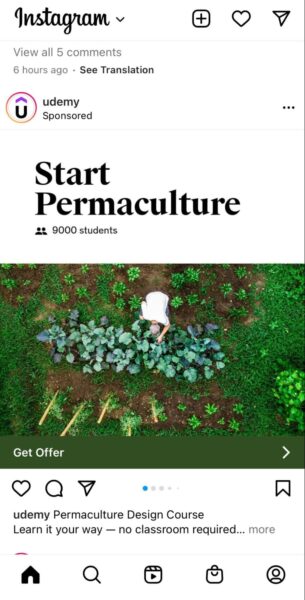 1.4. Stories ads
Take over the entire screen while people are swiping through Instagram stories with an image or video story ad with an aspect ratio of 9:16. You can also upload a single photo or up to a 120-second video with a 16:9 to 4:5 aspect ratio, but in this case, your visual won't appear full screen.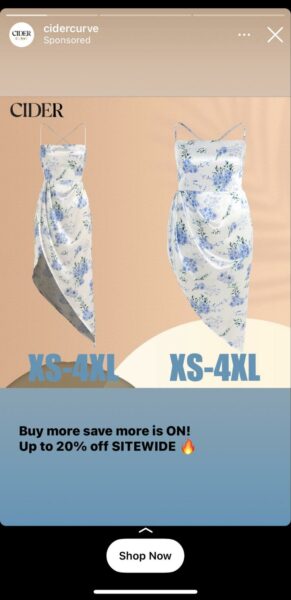 1.5. Reels ads
Reels are very popular at the moment. This is because short-form video content is incredibly catchy. Moreover, Instagram Reels won the engagement contest, with a global average of 53 minutes of viewing time per session. On top of that, our short-form video ads study revealed this ad format can bring high-quality visitors to your site.
This is why Reels ads are an excellent opportunity to present your product in a highly appealing way without breaking the user's level of engagement. And for some audiences, Reels ads work even better than TikTok ads, as Creatopy's PPC department recently discovered in our TikTok ads vs. Instagram Reels ads case study.
For this type of ad, you will use a fullscreen vertical asset that can be up to 60 seconds long. People can comment, like, view, save, share or easily skip ads by swiping vertically.

1.6. Shopping ads
You can tag items on your Instagram ads, which users can click on to get more information about your products and purchase them. They will all appear as tappable square 1:1 images that lead to your website's Product Details Page.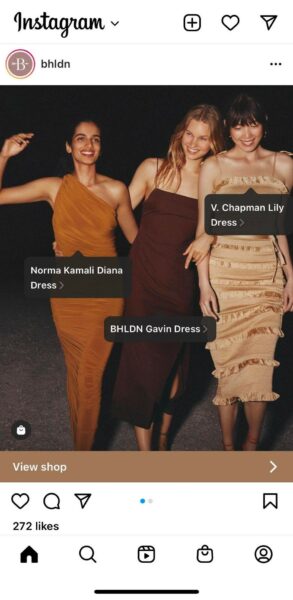 1.7. Collection ads
You can showcase your products with collection ads while helping Instagrammers browse them. When someone clicks on your ad, they will be directed to the Instagram Instant Experience Storefront, where they can buy your products without leaving the platform.
These features make social media ecommerce a great idea to add to your entire marketing strategy mix.
1.8. Explore ads
Users go to the Explore grid when they want to discover new things and posts from accounts they don't follow yet. Explore ads won't be visible on the grid. They appear only after a user clicks on a post from there and keeps exploring.
2. Facebook ads
Since Facebook and Instagram are both owned by Meta, you'll notice some ad types are common to the two platforms. Still, some specifications might differ.
Let's see what types of ads you can create on this platform.
2.1. Photo ads
This is the easiest Facebook ad type to create. Even if it's just a photo ad, you can get really creative with your design elements and unique branded assets to build an ad that emphasizes your product.
Besides the visual, you can include a 90-character text, a 25-character headline to better describe the product or feature, and a call to action.
Keep in mind that even if it's a photo ad, you can animate the elements of your ad. You can do this in Creatopy, then export your ad as a GIF or in MP4 format.
2.2. Video ads
There are quite a few options for Facebook video ads. You can create a short-form video ad on Facebook or another ad design platform.
You can also take advantage of the videos you already have uploaded on your page and promote them. These are boosted posts that act as an ad.
But when it comes to video ads, there are two main categories:
In-stream ads appear within Facebook's publisher and creator content, and they play whenever a user views that content. They're usually mid-roll ads within video content, and you can create ads from five seconds to ten minutes long. The preferred ad video length is 15 seconds maximum, so try to stick to that.
These are video ads that will appear on users' feeds while scrolling. This is why you need to make it as engaging as possible, to convince your target audience to stop and look at your offer.
2.3. Stories ads
Story ads can be images or videos. They can be highly effective, as they appear among users' stories and they take the entire screen.
If you go for photo ads, they will show for six seconds. Videos, on the other hand, can play for up to 15 seconds.
The only downside here is you can't specifically select story ads as part of your campaign. They are placements, and you can choose them when creating your ad for the News Feed or Facebook Stories campaigns by picking Automatic Placements.
2.4. Carousel ads
Carousel ads are another engaging way of showcasing your brand's story or in-depth benefits of a feature, service, or product, but also present more than one product/service in an ad without being overwhelming.
You can create up to 10 carousel cards, which can be either images or videos, which means you have plenty of space to describe everything creatively.
Moreover, this is a great format when you wish to explain a step-by-step process.
2.5. Slideshow ads
Slideshow ads are a form of social media video ads made from photos. But since there's motion included, this type of ad becomes more eye-catching for users.
So, if you want something that looks like a video for your social media campaign but don't have a product video yet, you can choose slideshow ads.
2.6. Collection ads
Another type of effective Facebook promotional content is the collection ad. This allows you to include a cover photo or video and four other images where you can add extra details.
With collection ads, you can easily highlight a product because it works as a digital catalog, where your audience can take a look and learn more about your offer on their Facebook feeds.
2.7. Messenger ads
Messenger ads will appear right in the Messenger app, where are all the conversations with other users.
The user can click on them to start an automated conversation. You can also use them to link your website or app.
This type of advertisement in social media comes in handy, especially if you think about the number of people who use Messenger (988 million, as of January 2022), and some of them aren't even using Facebook at all.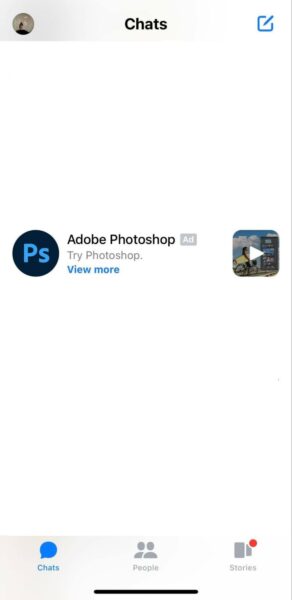 2.8. Playable ads
These mobile-only social media ads act like interactive previews of your game or app. If the user engages with your ad, they will get the chance to test it before buying it. It's a fast way of offering them a demo version of the product you're selling.
2.9. Instant Experiences
With Facebook Instant Experiences, formerly known as Canvas, you can offer a mobile-optimized ad that helps clients immerse themselves into your product presentation.
With this type of social media ad, people can watch videos and photos, swipe through carousels, or tap on images to see the tagged products.
2.9.0. Dynamic ads
These social media ads help businesses get in touch again with the customers who have previously shown interest in their products. Dynamic ads are displayed on users' feeds after visiting your website or abandoning products in their shopping cart.
2.9.1. Augmented reality ads
Augmented reality ads take social media advertising to new heights. You can create filters and animations that allow users to interact with your products. Besides helping them make an informed decision, people can use those filters to take selfies.
3. LinkedIn ads
The employment-focused social media platform also has a wide range of ad types to choose from. Remember to consider your ad content and purpose when making a decision.
Let's see what you can do here.
3.1. Sponsored content
You can turn images, videos, carousels, single jobs posts, or events into sponsored content advertising on LinkedIn. Your ads can appear on both desktop and mobile, reaching your target audience.
The data from our LinkedIn advertising webinar, where we invited AJ Wilcox (self-proclaimed "LinkedIn Ads Fanatic"), shows that this ad type is the most versatile, highest performing, and it's one of the easiest to create.
3.2. Sponsored InMail ads
These ads are similar to email marketing, but your sponsored messages go to people's inboxes. This is a great chance to create a personalized message that comes from a real person. But what's probably the most significant advantage of this type of ad is that users will only receive your ad messages while they are active on LinkedIn. Which means they won't pass unnoticed.
Besides the standard sponsored message you can send, you can also create a simple chatbot for automated responses.
There's also a catch with these sponsored messages, which favors the frequency cap. This means that a LinkedIn user can't receive one of these types of ads more than once in 30 days.
Note: Starting January 10, 2022, LinkedIn discontinued location targeting in the European Union (EU) on all Sponsored Messaging campaigns.
3.3. Conversation ads
These ads are another version of sponsored messages. They're more complex, as you can create a whole decision tree and integrate it into a conversation ad to understand your prospects better.
Set different call-to-action buttons and help your customers access your content.
3.4. Text ads
Text ads are only available on desktop and appear at the top and the right of the LinkedIn news feed. As their name suggests, they are usually just text ads, but you can also add a thumbnail image of 50 x 50 pixels.
This is the cheapest and least intrusive type of LinkedIn ad. They have a low to no frequency cap because they're subtle.
Despite this, they can be highly effective, as you can place your logo in the ad, so when people stumble upon your non-intrusive ad, they will also spot your logo.
3.5. Dynamic ads
Dynamic ads use personalized information about your prospects, such as company name or job title, to help you create a stronger connection with them. You can even add each member's LinkedIn profile picture to your ad.
Users will see their own personalized information in the ad without being shown to others.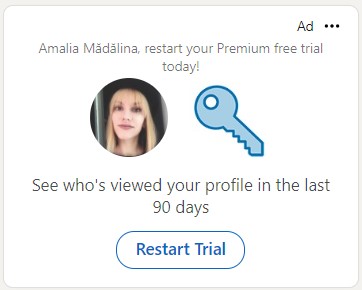 3.6. Video ads
Video ads help you include motion and sound to your ads to make them more interesting and alluring to your customers.
They can be GIFs, extensive videos, or HTML5 ads.
3.7. Carousel ads
You know the deal with carousel ads. They help you create a visual story, an extensive product description, or a swipeable presentation of more than one product or service.
Users have to swipe to see the entire ad, making it more interactive and engaging.
4. Pinterest ads
Pinterest has a considerably smaller number of ad types than the previous platforms, but all of them can provide value and help you reach your campaign goals. Here are the ad formats available on Pinterest:
4.1. Standard Pin ads
A standard pin ad looks exactly like a regular pin. The only difference is that it has the word Promoted on it, which disappears once a user clicks on it.
This means you can create ads without disrupting the user's experience on the platform.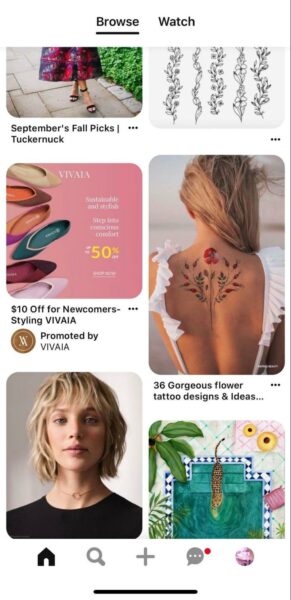 4.2. Carousel ads
Advertise on social media your products in a creative way, using up to five carousel cards.
4.3. Video ads
Create tutorials or a dynamic presentation of your products or services with the help of video ads. They will appear on users' feeds but will start playing when they come into view. To maximize your ad's impact, you should understand ow video ads perform on Pinterest and which one is the best choice for reaching your audience faster.
4.4. Collection ads
Collection ads are only for the Pinterest mobile app. They have a main asset and three other secondary elements.
After a Pinterest user taps on your collection ad, they can see up to 24 assets you chose to display. It works like a physical store, but it's virtual.
4.5. Shopping Pins
After setting up product catalogs, you can promote them with shopping ads. For these ads, Pinterest uses the data you provided for your products and shows your assets to interested Pinners.
You don't have to set any other targeting options for these shopping ads.
5. YouTube ads
Now, here are the types of YouTube ads you can create. Because these have different systems for paying for your ads, we'll mention the bidding method for each.
5.1. Skippable in-stream
With skippable in-stream ads, you can promote your products or services before, during, or after other YouTube videos or other websites and apps on Google video partners. After five seconds of viewing, users can skip the ad.
With CPV bidding, you pay when someone watches 30 seconds of your video (or the entire duration of the video if it's shorter than 30 seconds). You will also pay if the user interacts with your video.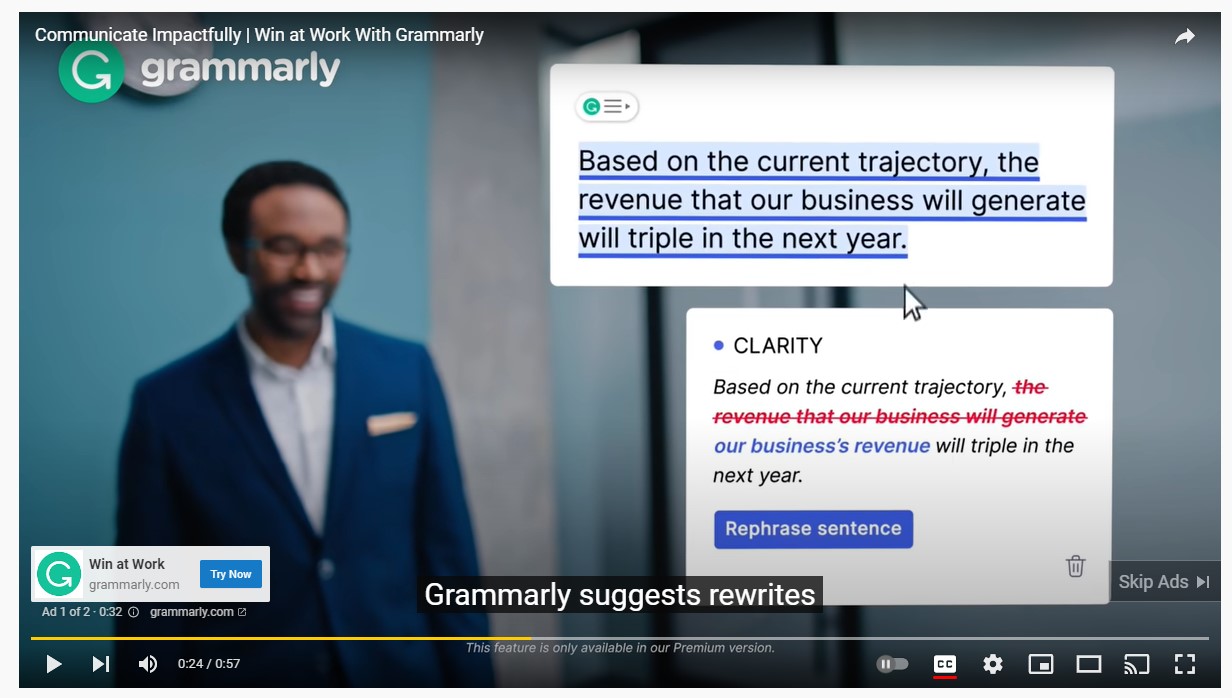 5.2. Non-skippable in-stream
These are similar to skippable in-stream ads. The difference is that you, as an advertiser, have to create your ad to last 15 seconds or shorter because viewers don't have the option to skip it.
You will pay based on impressions as non-skippable in-stream ads use Target CPM bidding.
5.3. Bumper
Bumper ads are short videos. They're up to six seconds, unskippable, and they can run before, during, or after a video. Since this is the shortest video format for YouTube ads, you have to make it really catchy so that people will look you up after seeing it.
These too use target CPM bidding, so you'll pay based on impressions.
5.4. In-feed video
In-feed video ads are placed next to related YouTube videos on the YouTube mobile homepage, or they can be part of YouTube search results. They will appear as a thumbnail, together with text and a CTA.
Their size and appearance will change depending on where they appear.
You'll be charged only if viewers choose to watch your ad by clicking the thumbnail.
5.5. Outstream
Outstream ads are perfect for expanding advertising on social media to mobile devices as well. These ads will show on websites and apps that are Google video partners and not on YouTube.
Outstream ads begin with no sound. They are designed to help you get a wider reach at a low cost. The viewer decides if they want to tap to unmute them.
These social media ads work based on cost-per-thousand-impressions (vCPM), so you'll only be charged when someone plays your video for two seconds or more.
5.6. Masthead ads
Let's say you have a sales event coming soon. This ad format is great for when you want to get your brand in front of a massive audience fast.
It's also the most costly one, and you can only get to use them on a reservation basis through a Google sales representative.
You can use masthead ads in three different places. All of them take the user on your channel to the featured video.
Desktop

: the ad will play automatically without sound for up to 30 seconds at the top of a YouTube feed. It can have a widescreen or 16:9 aspect ratio format, and it comes with an information panel that has information from your channel. You can also add two companion videos here. After autoplay, the main video gets into a thumbnail.

Mobile:

This, too, will play automatically without sound at the top of the YouTube app on people's smartphones. It has a video thumbnail, customizable headline, description texts, and an external call-to-action (CTA).

Tv screens

: Whenever this video ad is supported, it will play just like the others. It will appear in a widescreen or 16:9 aspect ratio format, and people can interact with it with their TV remote.
If you go for this type of social media ad, you'll be charged on a cost-per-thousand-impressions (CPM) basis. But since you will have to address a representative, the Google advertising team can get you a rate estimate and campaign impression goals.
5.7. Overlay ads
These ads are only for desktop and will appear over the video, taking up the lower 20% portion of a video.
6. TikTok ads
The best way to know what works on TikTok is to follow a few ad types that are popular on the platform. Some of them look more like trends or filters.
Let's see what you can do on the platform so you can shape your social media advertising strategy.
6.1. In-feed video ads
This ad type is placed on the news feed, where users scroll through the For You Page. Because it feels native and just like any other video on TikTok, you need to make it look similar to other videos on TikTok, so users won't scroll past it.
TikTokers can like, comment, share, or interact with these in-feed video ads.
6.2. TikTok brand takeover ads
If you want to create massive brand awareness, this is the ad type for you.
TikTok brand takeover ads appear once a user opens the app. They take over the screen for a few seconds, then shift to an In-feed video ad.
These ads can appear on the For You Page, as well. They can be static images, videos, or GIFs, leading to landing pages within TikTok.
6.3. TikTok top view ads
TikTok top view ads aim to increase brand exposure. They take over the first In-feed post after three seconds. After that, it will appear as a full-screen video with auto-play and sound for up to 60 seconds.
6.4. TikTok branded effects ads
With TikTok branded effects, you can design an advertisement with your own filter. The ad will last up to ten days, and it can significantly help with user engagement as TikTokers can use your custom filter for their videos.
7. Twitter ads
Twitter ads have gone through a few changes in the past few years and considering the platform's new ownership, there might be changes coming in the future as well.
Here are the type of Twitter ads you can integrate into your social media strategy at the moment:
7.1. Promoted ads
Promoted ads have five subcategories:
Image ads

aid you in advertising your product or service with a single photo.

Video ads

help you create a story or product description in a lively way.

Carousel ads

showcase multiple products or emphasize a single one through six horizontally-swipeable images or videos.

Moment ads

are a collection of Tweets through which you can tell a story that goes beyond 280 characters.

Text ads

are simple, text-based ads that feel like the rest of Twitter content.
7.2. Follower ads
Twitter follower ads are made to promote an account to a target audience. Their main goal is to build awareness and visibility for that account.
7.3. Amplify ads
With Amplify ads, Twitter opens a new opportunity for advertisers.
If you choose these ads, you can pair your video ads with premium videos from top publishers that match your industry and interests. In this way, you will reach more people by showing your ads together with videos they're already watching.
There are two types of Amplify ads:
Amplify Pre-roll connects your ad with premium video content from Twitter's network of publishers from 15 standard content categories.
With Amplify Sponsorships, you will choose and connect with one single premium publisher throughout the entire ad campaign.
7.4. Twitter takeover
With takeover placements, your ad can reach the most visible places by taking over.
Twitter's Timeline as the first ad of the day

The Explore tabs with Trend Takeover puts your ads together with trending topics
8. Snapchat ads
Snapchat ads are known for their immersive nature, which allows brands to capture users' full attention for a few moments.
There are a few types of social media ads for this platform. Let's go through all of them.
8.1. Snap ads
These full-screen ads appear between stories for up to ten seconds. This category has a few subcategories of ads you can use.
Top Snap Ads

display a single piece of content, which can be an image, video, or GIF, at the top of users' feeds.

Web View Ads

are similar to Top Snap Ads but have a CTA that leads to your website.

App Install Ads

are similar to Top Snap Ads as well, but they have a S

wipe up

feature that takes the user to download your app.

Deep Link Ads

consist of media and a link that are meant to get people back into your app once they've left.

Long-Form Video Ads

showcase a short 10-second teaser, but when users swipe up, they can see the extended video version, which can have up to 1 GB in size.
8.2. Story ads
Snapchat Story Ads, also known as Discover Ads, help advertisers reach their audiences with a sponsored tile in the Discover feed. Your ad will be displayed with other Snapchat content according to the user's preferences. They can tap on your ad to discover an entire collection of three to 20 snaps.
8.3. Snapchat collection ads
These social media ads are placed in between stories, creating a seamless shopping experience for users. They look like product catalogs, allowing you to showcase up to four products simultaneously.
8.4. Snapchat AR lenses
This social media ad type allows businesses to create their own branded lenses which people can use to take selfies.
Because they generate brand awareness at a very high level, these ads are costly, ranging from $450,000 to $700,000 per day. This is why they're used by large brands with massive amounts of ad budgets.
D. Social Media Advertising Costs
According to your objectives, you can set a specific budget for each platform individually, keeping in mind that particular networks may require a larger budget than others (such as LinkedIn).
When starting your social media ad campaign, you set a maximum bid for a chosen objective or a maximum budget per day. The ad manager interface will recommend a bid based on your goals.
Depending on your campaign goal, the social media advertising costs will be according to these methods:
Cost per click (CPC)

Cost per 1000 impressions (CPM)

Cost per conversion

Cost per video view
The amount you'll pay for your ads when you bid for placements is influenced by a few aspects. Here are a few:
Your campaign objective;

Your target audience;

The country you're targeting;

Time of year, and even time of day;

Placements on the ad network.
Conclusion
When it comes to social media ads, you have the opportunity to reach your audience in a fun and engaging way. But don't forget to choose which platforms you should tackle according to your brand and target audience.
We hope we were able to establish the basics steps on how to advertise on social media, and you'll be on your way to creating a strategy.
Once you know where your brand deserves to have a presence, you can easily design your ads with Creatopy.