9
minutes read
Although financial marketing trends are always changing and evolving, one thing still remains the same—building better relationships with customers.
In 2016, CoinTelegraph reported that 92% of millennials don't trust banks. Considering millennials are a significantly large proportion of the current workforce, that's a lot of people to need to get onside. That's where digital marketing for financial services come into play.
For example, since 2016, British bank Nationwide has been running financial advertising campaigns featuring poets from multiple backgrounds. Even today, Nationwide is still running this campaign, adapting their current ones to the COVID-19 pandemic with poets recording themselves at home.
In the video below, poets Maria Ferguson and Matt Abbott recorded themselves performing a poem at home, noting things that matter for their wedding day in six months' time. The aim of this video is to allow Nationwide to highlight how they are helping their members during the pandemic to secure their futures.
Upon launching this campaign, Sara Bennison, CMO of marketing agency VCCP Media, said that "The voices of ordinary people are rarely heard within financial services advertising today. These bank ads provide an opportunity for Nationwide to go back to its roots in a powerful, authentic, and thought-provoking way while giving people a voice on the things that matter most in their lives."
Nationwide's strategy connects with audiences because these financial ads feature people who are just like them, the messaging is engaging. It's completely different from everything else other banks are doing.
Not being afraid to stand out, goes a long way in digital marketing, especially in financial marketing services, where connecting with audiences is hard.
Fortunately, today's financial marketing trends give businesses a lot of scopes to get creative and produce campaigns that are effective in getting the attention of your target audiences.
Here are some of the current trends financial services and advisors should be paying attention to.
1. Content Marketing
Creating good content takes time, and it should. From long-form copy to articles and studies, financial content marketing is adaptable and can be used no matter the products and services you offer. Often businesses use articles and blogs to provide audiences with their knowledge.
Financial advisor company Crediful consistently publishes articles on their blog, offering a wealth of knowledge on money advice from credit to loans and debt.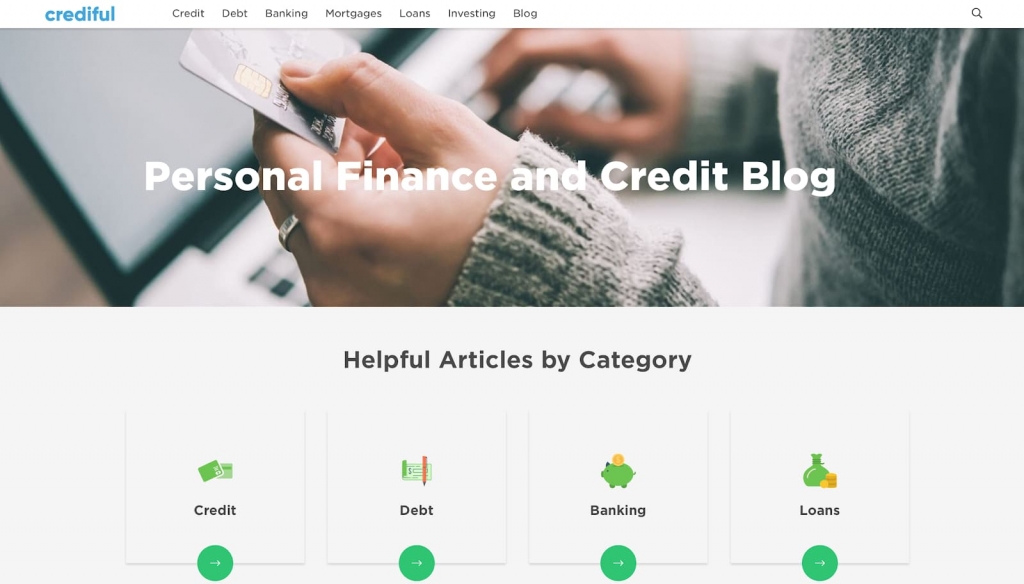 American Express, who has a great blog just for small businesses, provides its audience with tips and insights on how to grow their client list and better engage with their consumers.
You can even get inspired by Deloitte that created a "Back to School" survey in 2019. This report published data on how families in the US spend their money when children go back to school each September. The data looks at where families shop and how much they spend.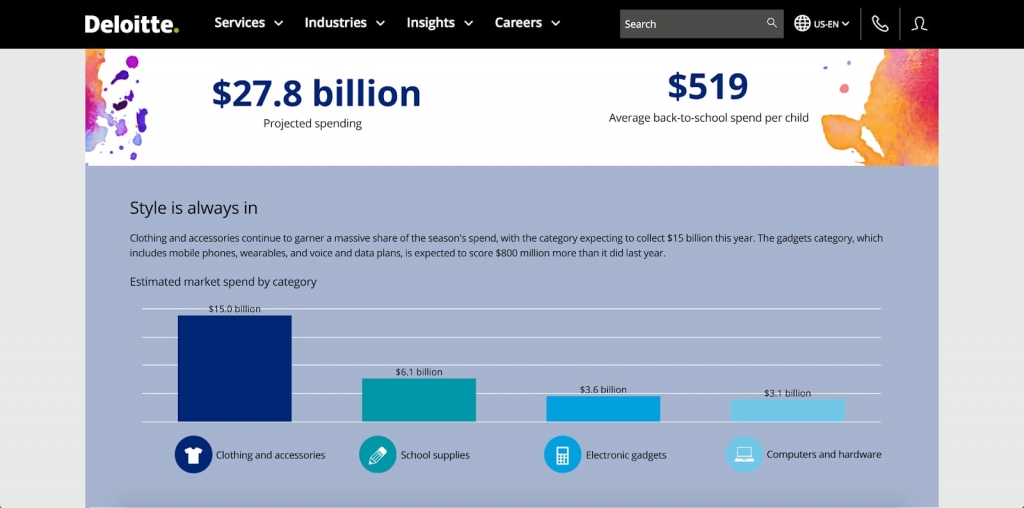 It's an exciting topic for an organization like Deloitte to focus on. However, this allows Deloitte to connect with American families on a sympathetic level, building that vital brand trust.
The report even includes the contact details for Rodney Sides, the Vice-chairman of Deloitte, and Stephen Rogers, Executive director. This addition to the report strengthens the message that Deloitte cares and is there to listen.

Implementing your own financial content marketing strategy can work in multiple ways. Launching a blog section on your website showcasing your business's expert knowledge is one way of making content work for you. However, other methods aren't to be overlooked, including white papers, reports, eBooks, even questionnaires that can be a form of content marketing.
One of the critical things to remember is to stay true to your brand and message. It's always best to take inspiration from your competitors but never outright copy. Always make sure that your content is thoroughly researched before you put it out into the world and keep track of who is engaging with your content.
Engagement data can help you identify the sorts of content that people are interested in and can guide your decision making in creating stronger and more curated content.
2. Video Marketing
The most recent video marketing stats show that audiences love and want to see more video content from brands. This goes to show that there is a lot of value for financial businesses to invest in video marketing.
30 seconds to two-minute videos can be really impactful in getting potential customers to engage with your business. This content does not necessarily need to advertise what you do, but it can highlight what you do.
UK based bank, Natwest, has a full catalog of helpful tutorial videos on their YouTube channel from explaining how to open up an account to connecting with younger audiences through their MoneySense Mondays, a series of videos that explain money matters to children as young as five years old.
Video content is certainly not something to be overlooked. It can be an excellent way for businesses to change up the way you showcase the services and products while engaging with audiences and connecting with them by offering advice and knowledge.
There are multiple ways of using video to connect with your audience, starting with explainer videos. These are the type of videos where you might talk about a product or service you provide and go through the main features and benefits.
Another type of video can be testimonials with current clients who are happy with your products or services. You might even decide to create some how-to videos which illustrate how customers can use your services. While these are similar to your explainer videos, how-to videos go more in-depth with step by step instructions.
The critical thing to remember about deciding to create any video content is to ensure that the material is of high quality. It's a good idea to work with a videographer not only to shoot and edit your videos but to talk through your video content ideas to make sure that they are viable.
Once you have your videos, they can be distributed across your website, social media channels, video platforms such as YouTube, or you can find PR opportunities.
3. Artificial Intelligence Powered Analytics
Artificial intelligence is definitely a trending financial marketing topic that can be hugely beneficial for your business in multiple ways, including analytics. Artificial intelligence can garner data around topics, conversations, and areas of your business that your customers are interested in.
With this data, you can easily segment customers to improve products and services and target audiences with personalized messaging that will produce better success rates.
In their 2018 Data Analytics in the Financial Services Industry report, PwC explains how analytics can power financial service businesses.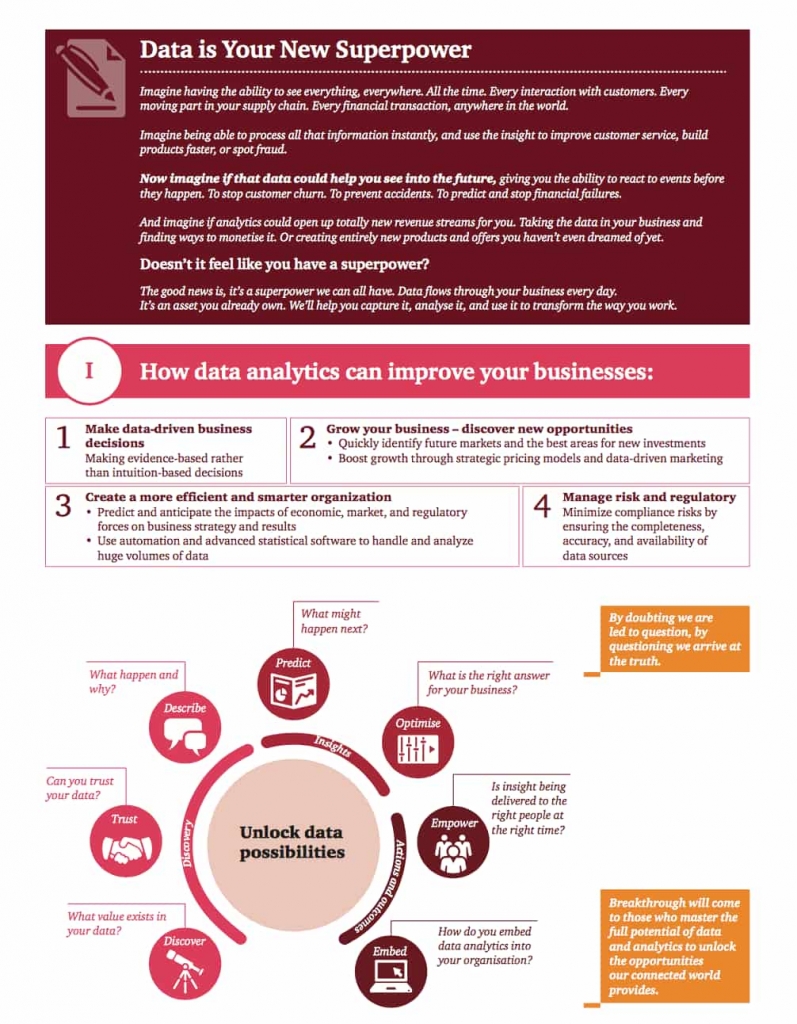 Screenshot from PwC Data Analytics in the Financial Services Industry report
This report highlights how analytics is already being used within the financial sector and how it can improve your business.
To make use of analytical data, firms are now turning to artificial intelligence to leverage and filter data. This will make predictions easier and quicker, enabling institutions to make smarter decisions.
AI in data analysis can be used by finance businesses to make credit decisions, manage risk, offer personalized banking, cybersecurity, and fraud prevention.
This data can also be beneficial for building marketing campaigns in multiple ways, from using data to deliver information to customers but also to target specific types of customers with the data collected about them. To truly understand and take advantage of artificial intelligence within data analytics, working with a data analytics firm that has a good reputation of approach and delivery is the best way to find out how AI can work for your business.
4. Virtual Assistants—Voice Powered Search
By 2020, 50% of searches are to be done by voice, and with the aid of virtual assistants such as Alexa and Siri, this is going to be much easier.
Consumers are already using VAs to conduct random searches and populate shopping lists, so using VAs as a solution for financial operations is a solution that isn't too far away.
In fact, businesses are already using voice-powered search to allow customers to conduct searches.
Amazon has created an Alexa skill for the Amazon Store Card in which users can interact with this product by adding the ability to their Amazon devices and allowing users to manage their accounts simply by using their voice.
But Amazon isn't the only one.
Customers of Aviva Pension can use the relative Alexa skill to check their regular pension contributions and their pension value by adding the Aviva skill to their Amazon devices.

VAs aren't just flashy methods of brand integration. Not only does voice-powered search give your customers better brand experience, but the use of VAs can also provide you with analytical feedback such as what information your customers prioritize, giving you valuable insights to improve your products and services.
You can even try developing your own Alexa skills or hire someone to do it for you. This will give your customers a different avenue and way of experiencing your services. You can use the skill to provide general information or specific account information to your customers.
While the uptake of voice-powered search in the finance sector isn't broad right now, that doesn't mean it won't be in the future.
5. Omnichannel Marketing
In recent years, financial services and advisors have all grown their online presence to cater to modern audiences.
Today, we expect to be able to access our bank accounts at the click of a button on an app, obtain financial advice via online chats, and schedule appointments through booking systems.
While these features are essential, it's all too easy to forget about developing your offline methods of marketing. After all, offline interaction with customers is just as imperative for building trust and excellent customer experiences.
Some companies are combining offline and online experiences to stay relevant as well as keeping communication across multiple platforms.
Capital One, for example, has developed two Capital One Cafes allowing people to sit and charge their devices and manage their finances over a cup of coffee.
Here's Capital One showcasing their cafes and the reasoning behind the initiative.
Omnichannel marketing is often successful when marketing teams have dived right into the creative pool.
For financial services, you might be wondering how this could work, but there are loads of ideas out there, you just need to be bold. You might decide to run an event or create a pop up to get customers to engage with you.
The trick to omnichannel marketing is to offer something unique to a service or task that is not as exciting or difficult for people to engage with.
For example, the Capital One Cafes target people who usually might find it hard to track their finances are encouraged to take hold of their finances in a dedicated space, making them feel more comfortable and confident to check their spending.
6. Working with Influencers
Too many companies are turning up their noses at the idea of working with influencers, but influencers aren't anything new. Companies like MasterCard have been working with celebrities for years on their advertising campaigns.
Working with influencers isn't all that different and can open up an avenue for financial businesses to connect with younger and harder to reach audiences.
Did you know that 84% of millennials don't trust ads from traditional media campaigns? And if that wasn't shocking enough, did you know that 58% of younger audiences don't mind advertising that comes from or features their favorite personalities?
Currently, companies that are working with influencers tend to be digitally focused and collaborate with them on bigger campaigns.
Digital bank, Starling, launched its #FeelGoodAboutMoney hashtag to get people to think about their attitudes towards money and spending. For this campaign, they worked with blogger Charlotte Jacklin who has almost 80k followers, giving Starling more exposure.
View this post on Instagram
Starling is an example of how financial businesses can use an exponentially growing market to expand their audience as well as products and services. In doing so, you can stay current and get in front of the right people.
Another example is financial Instagrammer My Frugal Year, who recently ran an ad for Money Dashboard, a free finance personal assistant app that currently has over 2k followers. By working with My Frugal Year, they can make use of her 60.5k followers who are already interested in financial content.
Back in December 2019, Alex Stedman, or as she is known by her Instagram handle, The Frugality, did a paid ad Money Diary with British bank, Natwest. Her task was to write down everything she spent over 12 days during the Christmas period to track her spending.
For Natwest, this was extremely beneficial. Not only does Alex have a 255k following, but she also engages regularly with her followers about money and spending.
Final Thoughts
The world is continuously changing, and with it, the way customers interact with businesses. In the midst of it all, keeping up to date with trends should also be part of your agenda.
Working on a few campaigns that adopt some of these current trends can easily change the course of your business and how customers engage with you.
The key thing for financial businesses is to remember that building trusting relationships takes time and a lot of work, but creating robust campaigns with innovative ideas that put the customer at the forefront will make you the popular choice. Every. Single. Time.