9
minutes read
Are you a musician trying to make the most of your SoundCloud profile page with a breathtaking SoundCloud banner? It's your lucky day! This article will teach you all you need to know to optimize your profile page, shape your brand, design a unique cover, and market yourself.
With 175 million unique users every month, from 200 countries, SoundCloud is the place to be for every aspiring musician, independent singer or DJ, garage band, and even for established musicians.
There are many opportunities coming from a SoundCloud account. People can listen to your tunes on their mobile phones, on the go, and they can repost your songs in their feed, share them on Social Media (SoundCloud has seamless integration with all Social Media networks), message them to their friends, or embed them to their websites. In other words, massive exposure.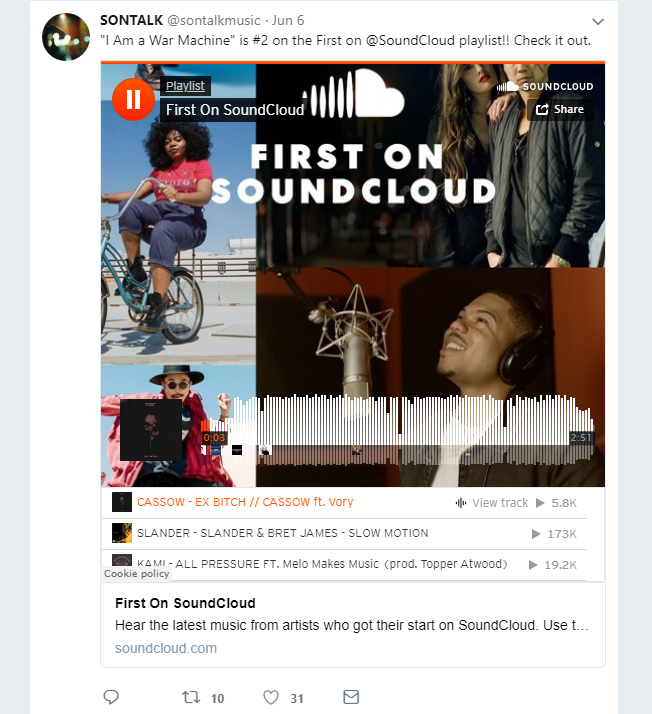 Credit: @sontalkmusic
Unlike all other music streaming platforms out there, SoundCloud hosts millions of independent musicians and their tunes. They basically store music you won't find anywhere else. That's why they have a unique audience: people open to new discoveries and record labels on the hunt for talented musicians.
SoundCloud is literally a launchpad for independent musicians like you. Actually, many musicians around the globe started their careers on SoundCloud, signed deals with important record labels, and jumped from their garage to big arena concert scenes.
You know Kygo, the DJ, right?
Get lucky
with an outstanding header image.
First impression matters.
Your SoundCloud banner and profile picture are the first things people see when they check out your page. Before even hitting the play button they already know the style of the music you play.
That's why your SoundCloud artwork should be:
In-line with your brand

Unique and

Memorable.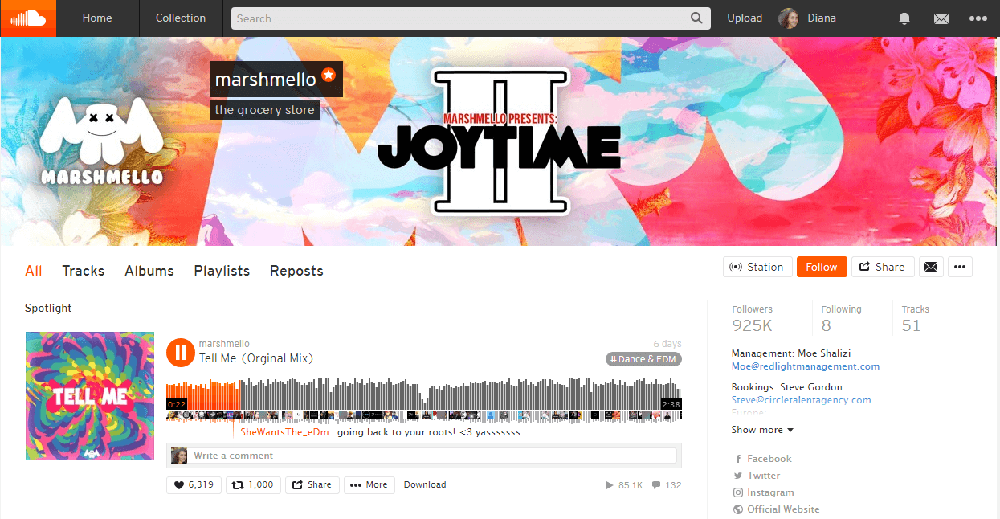 Credit: Marshmello Music
---
The anatomy of a SoundCloud banner:
A well-defined color palette

Your logo

Design elements: icons, pictures, illustrations

Typography: a unique font.

Your name

A slogan or a call to action (if the cover promotes your album, tour, event)
---
Mold your style into
the shape of your heart.
The visual style.
Let's talk about your SoundCloud banner design. First, choose your visual style. If you feel confused, I'll give you a hint:
Your design should be a visual translation of your musical style.
In other words, let your personality shine through your music and visual identity. You know who you are. Think of yourself as a brand. What would you look like? What colors would you have? What kind of atmosphere would you convey?
Let's take this channel for example. When you land on their page, you immediately know it's an American street Hip Hop channel, just by looking at the header image. The palm trees carry us to the sunny beaches of the West Coast while the retro boom box suggests a spontaneous street radio party.

Credit: Real West Radio
Whether you're a House DJ, old-school Rock musician, or an Indie singer, the brand you create should be cohesive, from your lyrics to the colors & fonts you use in your artwork.

Credit: Heartfeldt Radio
The visual style of your SoundCloud banner is made of:
The colors you use

Your logo

The design elements

Typography
Here's another example of a great header image. Just by seeing the neon turquoise color, we get the feeling that these two people (possibly DJs) make clubbing music.

Credit: Enhanced
Have a taste of their music and see if the cover is a close translation of their music.

Another way to convey your style is to use your picture in the Soundcloud banner. Cut, crop, and place it on your banner. Just like Lil Uzi did here:

Credit: Lil Uzi Vert
I love how they came up with this concept (name and visual identity). "Jurassic Pop" basically refers to old-school pop. (Pop that emerged at the beginning of the music industry). The kind of pop our grandparents and parents listened to back in their days.
The cover depicts a lush wild forest, as you could probably find during the Jurassic period, at the beginning of planet Earth.

Credit: Jurassic Pop
1. Show

us your true colors!

The color palette

Your banner's color palette should be your brand's color palette. Chances are, you don't have a brand yet, so we'll start creating one right here.

There are many ways to choose a color palette, from selecting one color and creating a monochromatic visual identity to using complementary colors to create a memorable brand.

Here are the essential principles in defining your color palette:

Paint it black…and white!

Black & White is always a classy choice and you can rest assured that going for black & white you won't fail.

Credit: Jungle Indie Rock
Monochromatic visual identity.
Many artists on SoundCloud prefer to stick with just one color. That's a great choice, as well! Just think of the world's big brands ( Nike, Vodafone, Orange, or Facebook) and how recognizable they are.

Credit: Hip Hop Daily
Neon colors
Neon is the new black when it comes to visual identity for musicians. Choose neon colors if your musical style is out of the ordinary, offbeat or addressed to the clubbing nightlife.

Credit: Cornetto Pop Rock
Analogous colors
This combination refers to colors sitting right next to each other on the color wheel. For example, Benzi used 3 colors for their SoundCloud banner: blue, turquoise, and green.

Credit: Benzi
Complementary colors
Complementary colors are placed opposite in the color wheel, and when put together they complement each other. Orange compensates for the icy sensation of blue. Sunny yellow warms a composition where violet makes everything seem cold. Down-to-earth green balances red's burning passion.

Credit: Galantis
Triadic or tetradic colors
And last but not least, the triadic or tetradic combination of colors. You can identify the triadic colors using a triangle while looking at a color wheel. For the tetradic colors use a square.

Credit: Soda Island
2. Your logo
Some people place their logo on their header photo, others don't, and prefer to have it only in their profile picture. Either way, it's correct, and it's up to you to choose how you want to use your logo.
Here's an artist who placed the logo on the banner.

Credit: Musical Freedom
And another one with the logo in the profile picture.

Credit: Seven Lions
3. The design
Fancy the illustration style? Then, you can add one/several stylized icons of objects that complement your name or slogan to your cover photo.

Credit: Magician On Duty
Another way to design your banner is by using shapes and typography.

Credit: Disciple
Nothing compares to you.
Or you could simply place a beautiful filtered picture of yourself while recording your tunes in the studio or performing on a stage at your last gig.

Credit: Urban Essence
The verbal style –
Say something!
Part of your branding is your verbal identity: name, slogan, and type you use in your communication.
A. The name
SoundCloud automatically lists your name and location on top of your header image. However, if you want to write your name on your banner with your particular font, go ahead. Many artists do.
B. Express yourself
through a slogan/call to action.
Every brand has a slogan. Considering you become a brand once you launch your SoundCloud page, you may want to think about a slogan.
Sum up your beliefs and come up with something surprising and memorable.
Here's some inspiration for you:
"We sleep in the clouds" – Magician on Duty
"Music at its finest." – The Sound
Some people use a call to action to motivate people to take specific actions like submitting a track, buying an album, or booking a ticket at their concert. Have a look at this example:

Credit: The Sound
C. Typography
Typography can help you shape your brand because it comes with extra personality. Choose a font in-line with your music style and brand persona.
If you're part of an old-school rock band, pick a font that conveys strength. If you're a House DJ a modern and unconventional font will suit you just fine. Check out our collection of cool fonts.



Credit: Fonts.com
Seasonal/special covers
You can change your Soundcloud banner multiple times a year to promote your new releases, albums, or tours. However, make sure to use your branding elements every time you design a new banner: your set of colors, logo, slogan, and icons.
Here is an example:

Credit: MOWE
The size.
You can't touch this!
At this point, you may be asking yourself what is the right size for SoundCloud banners. Like all major online platforms, SoundCloud has a strict size for the cover image: a minimum of 2480 x 520 and 2 MB.

Design requirements for SoundCloud:
Profile image: any image up to 2mb in size, .jpg or .png of at least 1000 pixels x 1000

.

Header image: .jpg or .png of at least 2480 x 520 pixels with a 2MB size limit.
Important!
As you can see in the picture, there's a profile picture on the left hand-side. That's why you should design your Soundcloud cover taking into consideration this white space.
You can either leave this space blank and concentrate your elements on the right side of the banner or try to incorporate the profile picture into the cover somehow.
Here is an example. See how the profile picture and the cover blend seamlessly?

Credit: Pop Up!
Soundcloud banner templates
Here at Creatopy, we've created some ready-to-use templates that you can grab right now and upload to your SoundCloud page. Also, you can use any one of them as a starting point for your cover image and add your logo and text.
Whether you're a Hip Hop singer, DJ, or Rock band, we've got you covered.

Ready or not?

Something just like this:

…when you're miles away…

Imagine…

Create a banner for SoundCloud in Creatopy.
Use our banner maker to create a unique header image for your page.
We've got everything covered for you. You can start from one of the templates I've listed above, which are fully customizable, or you can create a new original banner using our stock images, background textures, shapes, icons, popular fonts, and more. Or, you can always upload your own assets.
Here are the steps:
First of all, sign up for a Creatopy account.

Once you logged in, type SoundCloud cover in the search bar from the screen's left side. Our platform has a pre-made size that fits SoundCloud's size requirements.
Select the option Blank Design.
Choose your banner's images, logo, and favorite font from the platform, or upload them all and create a social media banner that is a 100% personalized.

Edit your design to the finest detail. Change the font's colors and sizes, add/delete elements, apply filters, change the objects' opacity, etc.

Download the image as a JPG or PNG file, and upload it to your SoundCloud profile page.
Let's get the party started!
This is it. Now you're all set to go. Create your cover image and dazzle your fans, gain new followers, and start living your dream. Who knows, maybe one day you'll even sign a deal with an important record label.
All the best!
Oh, and leave me a link to your SoundCloud page in the comments section below! I'd love to listen to your music!