12
minutes read
It's time we stopped guessing about social media marketing and learned the facts and stats.
If you're a social media marketer, you understand that keeping up with the social media statistics can help you build a powerful social media marketing strategy.
Social media stats provide valuable insights into the most popular social platforms, their users demographics, how people use each platform, and what type of content works best. This data can help you make data-driven decisions when building your social media strategy and manage your social communities better.
For everyone working in digital marketing, we've compiled this social media stats and facts guide. Here are some of the data you'll find here below:
The top most popular social media platforms

Audience characteristics for each social network

Usage habits of each network

Best type of content by platform

Engagement rates for each network

Advertising costs
It's important to note that all the data presented here has been vetted and collected from external researchers, industry whitepapers, and from the social networks' official press releases.
---
Table of contents:
---
But before we dive into social media marketing statistics, let's first see the context of online usage worldwide:
A. Social Media General Usage Statistics
Now, let's see where people go to consume social media content the most.
1. The most popular social media platforms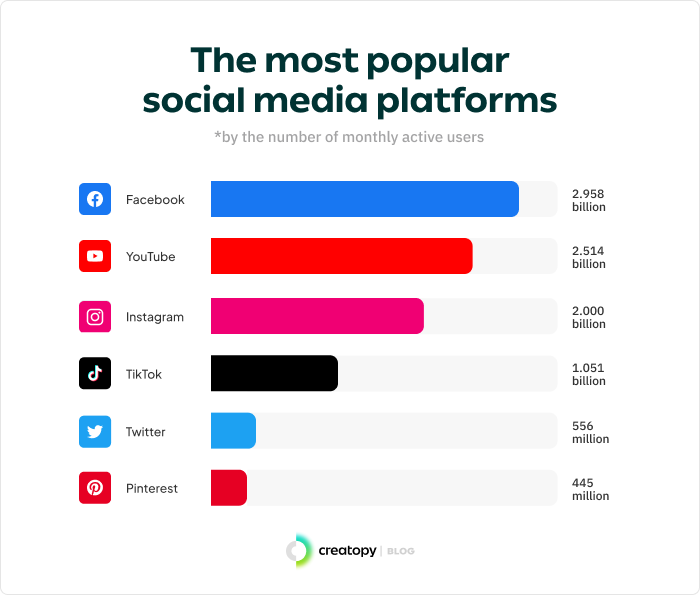 The most popular social media networks by number of monthly active users are very much the same as last year, with a few changes worth mentioning:
2. How much time do people spend on social media?
On YouTube, people spend 45.6 minutes a day;

On Twitter, 30.4 minutes a day;

On Snapchat, 30.4 minutes a day;

On Facebook, 30.1 minutes a day;

On Instagram, 30.1 minutes a day.

3. Why do people use social media?
If you're wondering what are all these people doing on social media, here is what HubSpot found:
61% of people use social media to keep up with friends and family;

51% for entertainment;

41% are looking to learn new things;

37% just want to share pictures/videos;

37% browse for inspiration/ideas;

36% want to keep up with news/cultural trends;

24% want to keep up with brands/products;

15% check on their favorite celebrities/influencers.
B. Social Media Advertising Statistics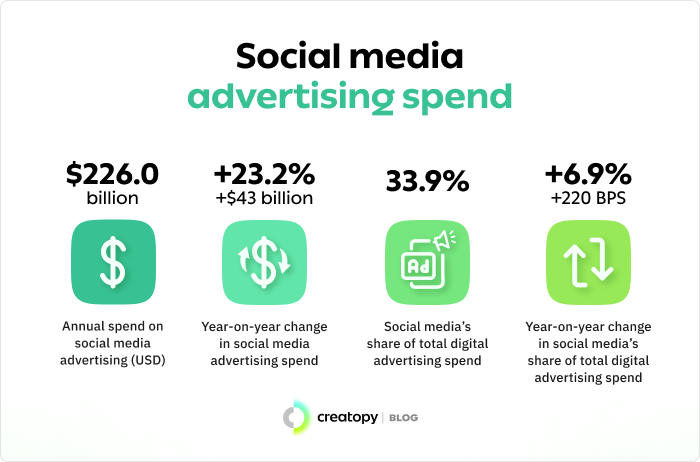 A digital report run by Meltwater and We Are Social found that:
The annual

spending on social media advertising grew to $226 billion

in 2022, a 23.2% increase compared to the previous year.

Social media advertising spend accounts for

33.9% of all digital advertising spend

. That is a 6.9% increase compared to 2021.

The costs

to reach social media audiences

are lower than ever

: CPM (the cost to show an ad to 1,000 people) registered a 35% decline.

This means that advertisers can show

more ads to more people for less

. Social platforms delivered 57% more ad impressions in Q4 of 2022 than in Q4 of 2021.
C. Facebook Statistics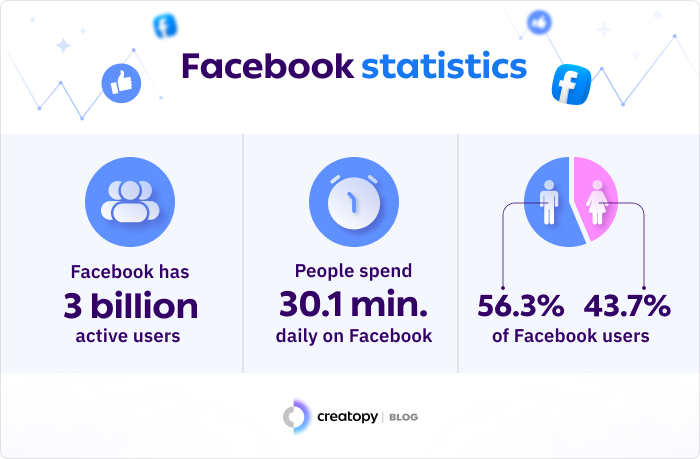 1. Facebook usage statistics
2. Facebook demographics statistics
3. Facebook content statistics
The Facebook Feed content is split between

: 50.7% posts from friends and people followed, 15.6% posts from groups joined, 8.2% updates from liked pages, 16.8% from unconnected posts, and 8.7% other information;
4. Facebook advertising statistics:
D. YouTube Statistics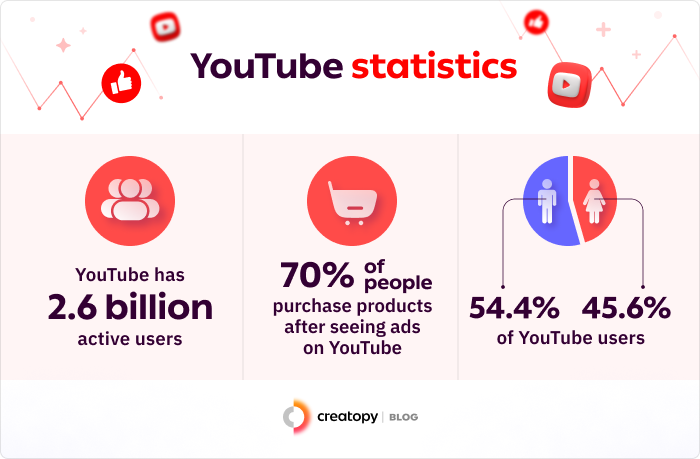 1. YouTube usage statistics
2. YouTube demographics statistics
Users

aged from 25 to 34

years old account for the largest share of YouTube's audience base (20.7%). The next age group is from 35 to 44 years old (16.7%), followed by users aged 18 to 24 (15.0%);
3. YouTube content and engagement statistics
4. YouTube advertising statistics
E. Instagram Statistics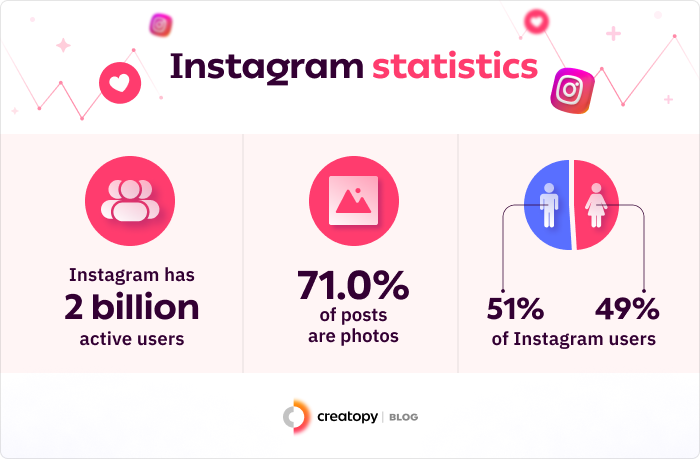 1. Instagram usage statistics
2. Instagram demographics statistics
3. Instagram content and engagement statistics
4. Instagram advertising statistics

F. TikTok Statistics
It's important to note that TikTok is banned in India, one of the world's largest populations that is active on social media.
Considering that India and China account for a third of the world's population and that TikTok is not present in these two countries, it definitely affects the figures. However, TikTok still has some impressive statistics when it comes to its user base.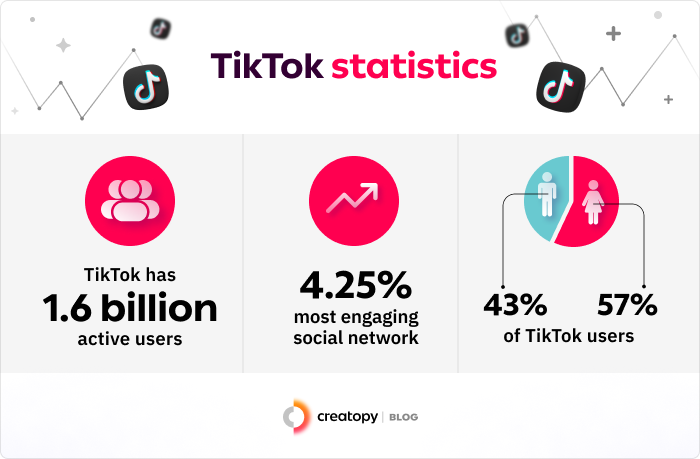 1. TikTok usage statistics
2. TikTok demographics statistics
3. TikTok content and engagement statistics
4. TikTok advertising statistics
G. Twitter Statistics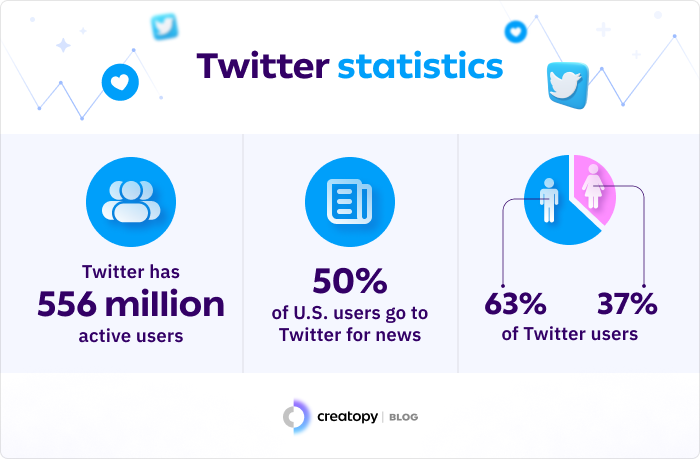 While Twitter may not have billions of monthly users like other social networks, it's still a valuable platform to connect and engage with people, or make use of real-time marketing. Twitter users are active and connected to current trends and events happening around the world. They value opinions and standpoints more than anything.
1. Twitter usage statistics
2. Twitter demographics statistics
3. Twitter content and engagement statistics
4. Twitter advertising statistics
H. Pinterest Statistics
Pinterest is another social network with only half a billion users, but still worth taking into consideration. People using Pinterest are active and engaged, and they browse the platform with one goal in mind: discovery. They access Pinterest to find inspiration for shopping or ideas for important life events, house decoration, cooking, and more.
85% of users have bought something based on pins from brands. Have a look at the other impressive Pinterest statistics and add this network to your digital marketing media kit.
1. Pinterest usage statistics
2. Pinterest demographics statistics
3. Pinterest content and engagement statistics
4. Pinterest advertising statistics
I. LinkedIn Statistics
LinkedIn is home to the largest social media community focused on the business side of things. It's the perfect medium for companies and professionals alike to connect with other businesses. Simply put, it's a thriving place for career-oriented people and businesses of all kinds.
LinkedIn members are young, educated, and ambitious, an audience that many brands aspire to reach and convert into customers.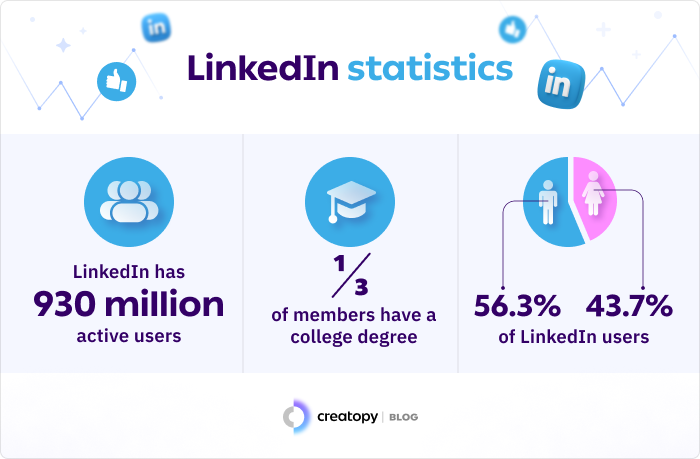 1. LinkedIn usage statistics
2. LinkedIn demographics statistics
3. LinkedIn content and engagement statistics
4. LinkedIn advertising statistics
J. Influencer Marketing Statistics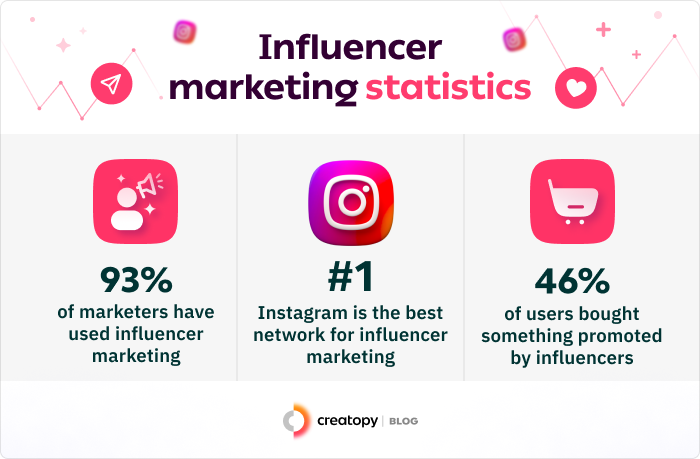 1. Influencer marketing general statistics
2. Influencer marketing demographics statistics
3.
Influencer marketing content & engagement statistics
4. Influencer marketing advertising statistics
Stay up-to-Date With Social Media Statistics
Now, you can use these stats and insights to make better decisions for your brand's social media communication.
We will be updating this resource frequently once we come across new social media statistics. Keep up with the ever-changing data on the most used social media platforms, audience demographics, usage habits, the best type of content, ad types, and advertising costs per social network.