10
minutes read
*Disclaimer: This experiment was conducted back when Creatopy was named Bannersnack.
*A biiiig THANK YOU goes to Denisa, PPC specialist here at Creatopy. She put together all the data I used in the article and helped me shape the research into useful information.
It appears that we're on a roll this year when it comes to case studies and experiments with online advertising.
A few months ago, we published the Reddit Ads vs. Quora Ads case study, and we got some fantastic responses from you.
Your feedback encouraged us to try something new again. This time, we decided to advertise on the Verizon Media Native platform, formerly owned by Yahoo and known as Oath Native and Search.
I'm going to show you everything from how the platform looks like to how we set up our Verizon ad campaigns, and what were our results.
Keep reading to find out how it worked for us.
KEY TAKEAWAYS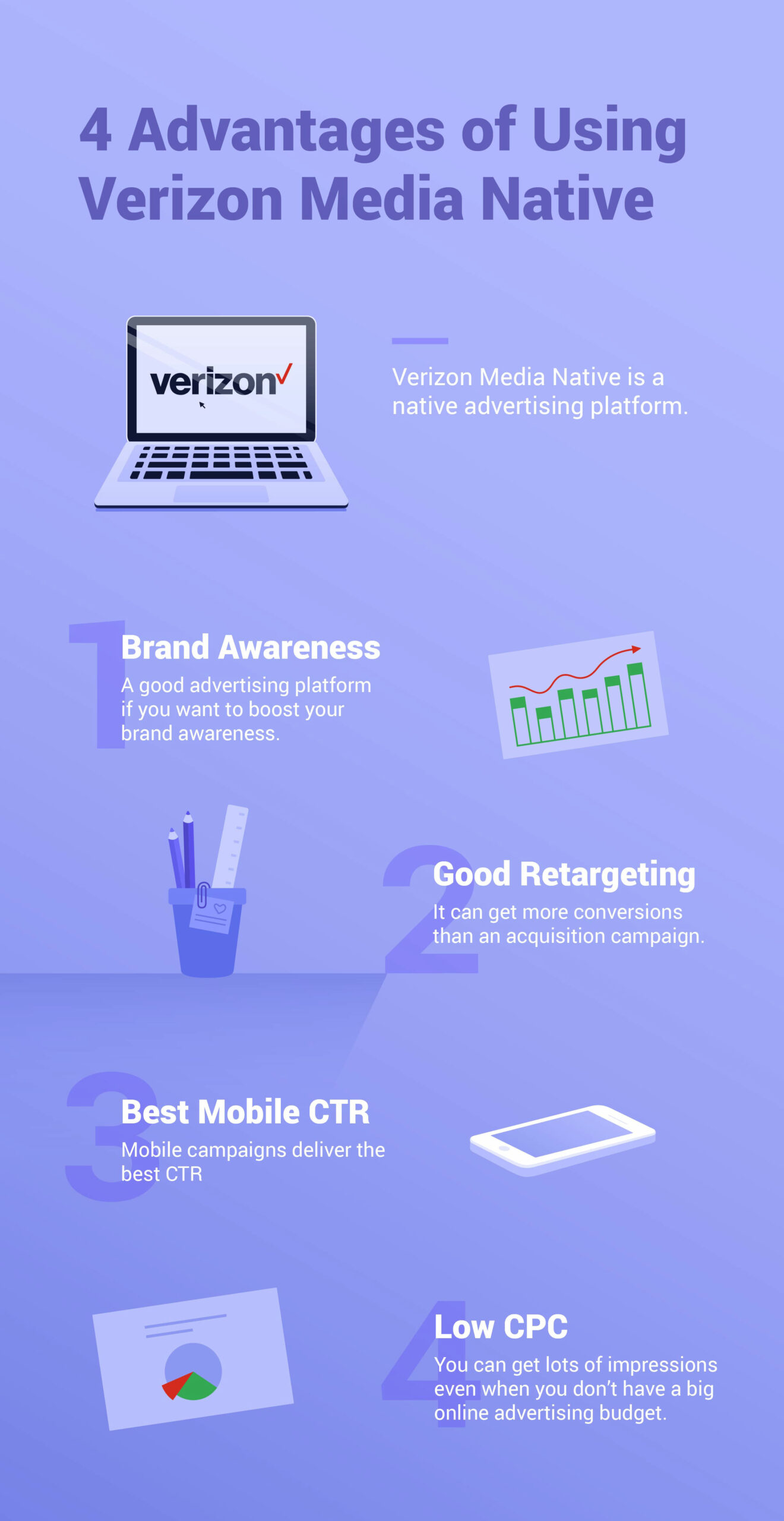 The CPC is low;

It's great for boosting brand awareness;

Retargeting campaigns brought the best results;

Video ads performed poorly and had a high CPC;

Mobile campaigns delivered the best CTR;

The geographical targeting is not entirely accurate.
What Is Verizon Media Native?
Verizon Media Native is a native advertising platform.
The native ads created on this platform appear where people read the news or check their email on Verizon Media owned websites, such as Engadget, AOL, Tumblr, Yahoo Mail, HuffPost, RYOT, Yahoo Entertainment, and more.
When it comes to ad formats, you can create:
Image ads;
Video ads;
Carousel ads;
App install ads;
Tumblr-sponsored ads;
Yahoo mail ads.
What makes native ads unique is the fact that they feel as if they're part of the user experience, which can boost engagement.
To quote Stuart Flint, VP, EMEA, at Verizon Media:
"Oath Ad Platforms stretches across numerous domains, allowing our ads to reach millions of consumers through globally recognised, trusted brands like Yahoo and HuffPost and premium third-party publishers in video, mobile, native and display formats."
At first, we didn't really know what we were getting ourselves into. That was mainly because we couldn't find any case studies that would help us understand how the platform works.
So it was quite a challenge trying to figure it out, but we did it in the end.
Our goal was to see what kind of results we can get out of Verizon advertising platform, pin-point its strong and weak aspects, and overall determine whether it's worth our time and money.
Let's get straight into it.
How We Set Up the Ad Campaign in the Verizon Media Native Platform
If you previously worked with Google Ads or Bing, then you'd have no issues figuring out how the platform works.
The interface is extremely user-friendly and intuitive, and it can definitely be used by beginners as well to create and manage Verizon advertising campaigns with little effort.
As you can see from the screenshot below, there are three main campaign objectives you can choose from: traffic, awareness, and conversions. Pretty straightforward.
For each campaign, the objective we selected was Visit my website.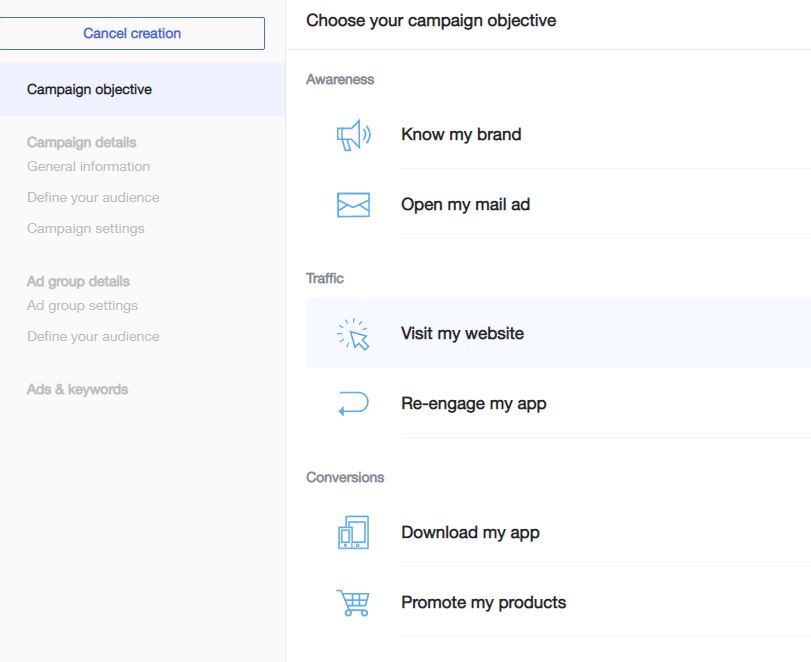 When it comes to the audience you want to target, you have the same targeting options that you can find on other advertising platforms. The targeting methods are based on Location, Language, Age, Gender, Audiences.
Besides this, Verizon Media Native comes with something extra, which is the option to use Partner Data. This consists of additional audiences that are provided by external data partners.
By using this one, you can increase your chances of being seen by a relevant audience for your industry.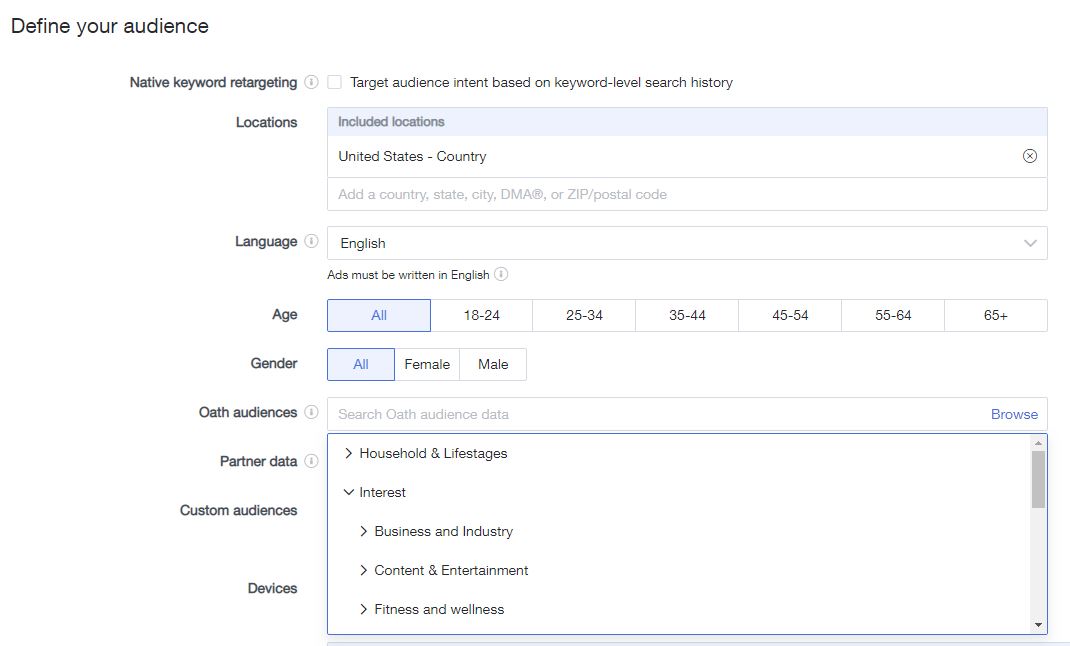 Because we chose the Visit my website campaign objective, we were presented with four different types of bidding strategies:
Enhanced CPC;
Manual CPC;
Target CPA;
Maximize conversions.
The bid strategy we went for is Manual CPC (focus on clicks).
In the past, we tried using Target CPA (focus on conversions), but because conversion tracking is not quite accurate on this platform, we stuck with Manual CPC as we've seen better results from it.
If the platform's tracking is going to improve in the future, we might test the Target CPA bidding strategy again.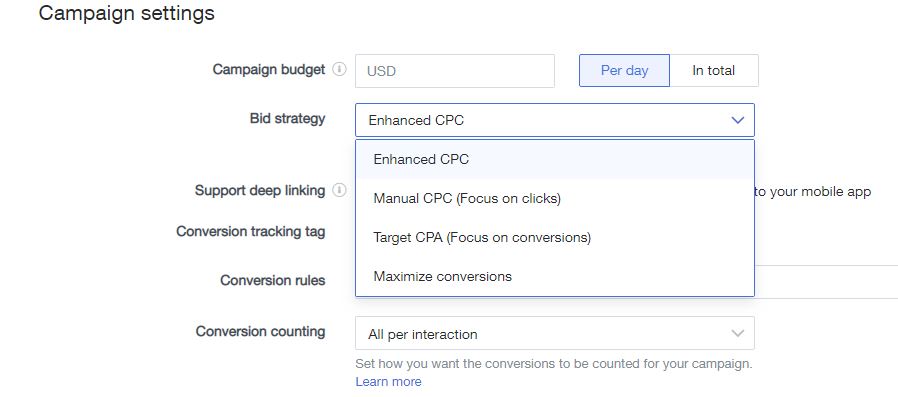 For the bid adjustments, we noticed something interesting. As you can see from the next screenshot, you can adjust the bids according to a few groups of publishers.
For example, Group 1a means that your ad will be served on "large format devices, that serve on Verizon Media sites and apps, as well as top-performing third-party publisher sites and apps," while Group 1b serves your ad in the same places, but on small format devices.
We did a prior analysis of our campaigns and decided to reduce the mobile and tablet bids to the maximum allowed by the platform for our acquisition campaigns. This decision was also applied to our retargeting campaigns.
More specifically, Group 1b was decreased by 40%, Group 2b by 70%, and Group 3b by 80%. We made this decision because we saw very few registrations that came from mobile devices and tablets and a high bounce rate.
Like in the case of the Reddit Ads vs. Quora Ads article, we attributed this to the fact that we don't have a mobile app just yet.
For the acquisition campaigns, we also increased the bid adjustments by 100% for large format devices and by 50% for retargeting campaigns.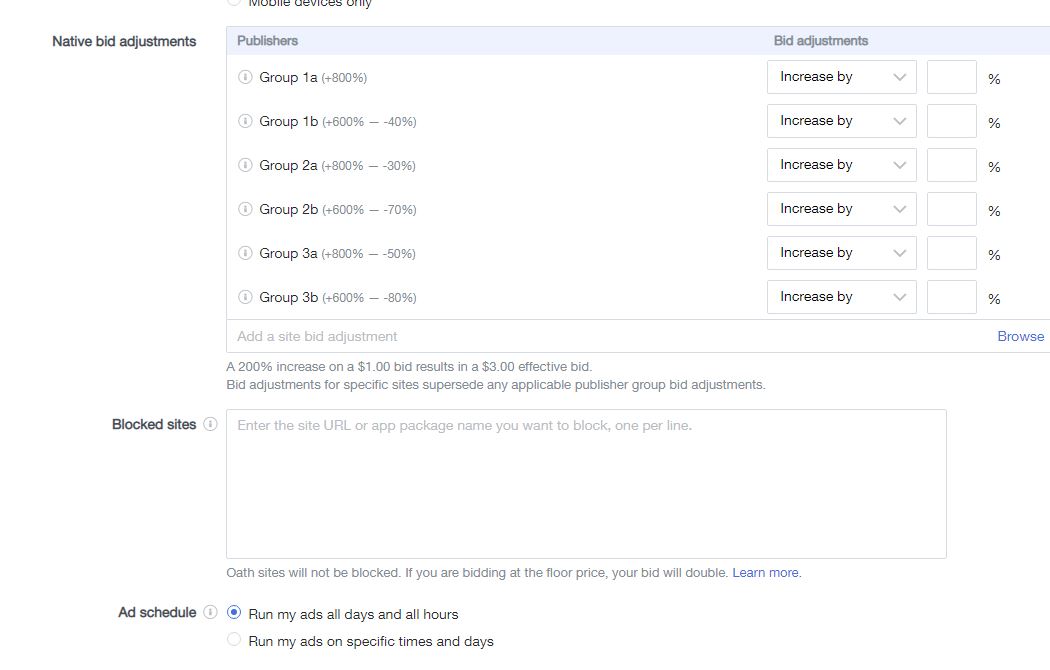 Creating an Ad in Verizon Media Native
As I already mentioned, it's super easy to create Verizon Ads and easily manage them.
After you're done with the ad group, click on "New ad" to start filling in each section as needed.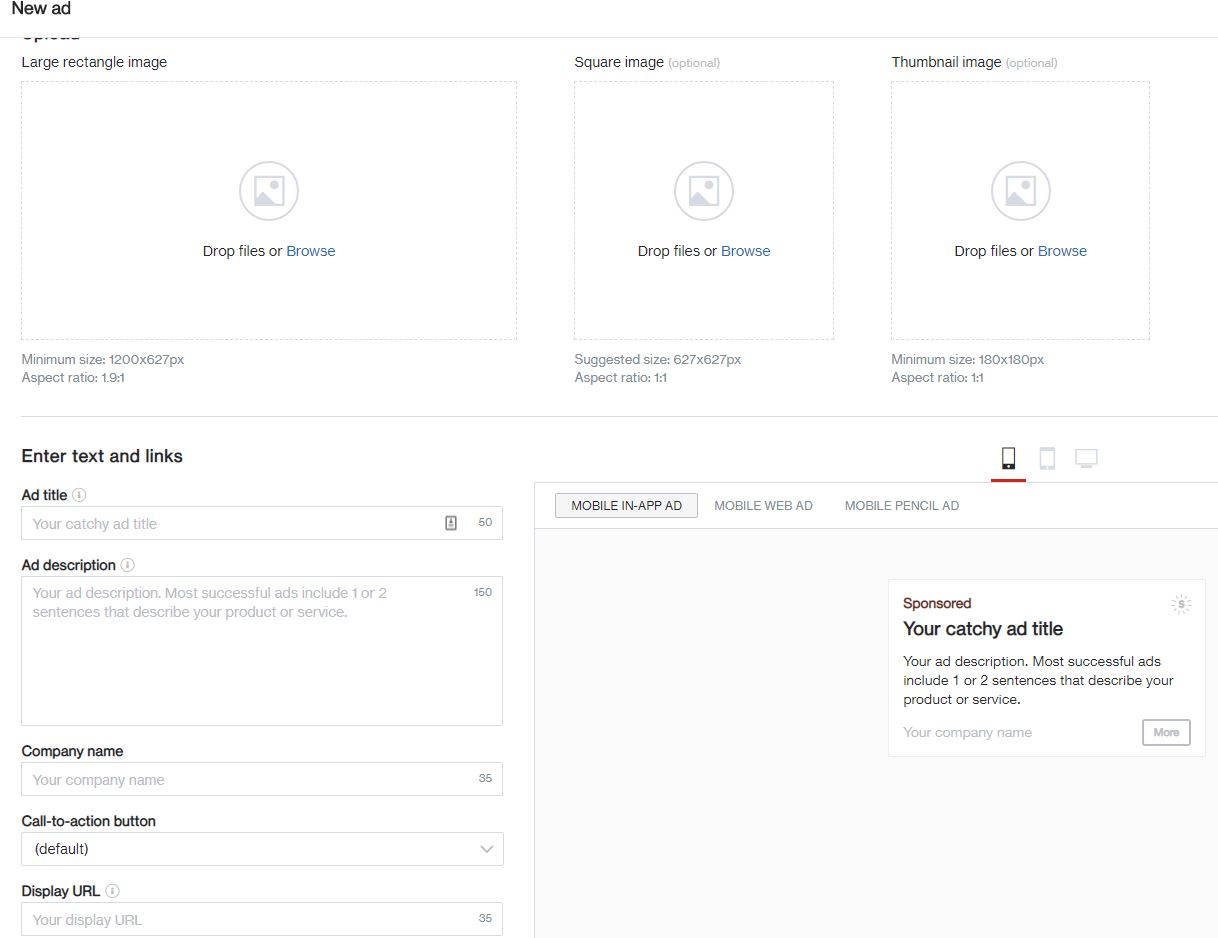 You can choose between using a static image, a carousel, or a video. Then, it's time to create the ad copy.
As you can see in the screenshot below, the interface is incredibly intuitive, and it even has a preview section that shows you how your ad will look like.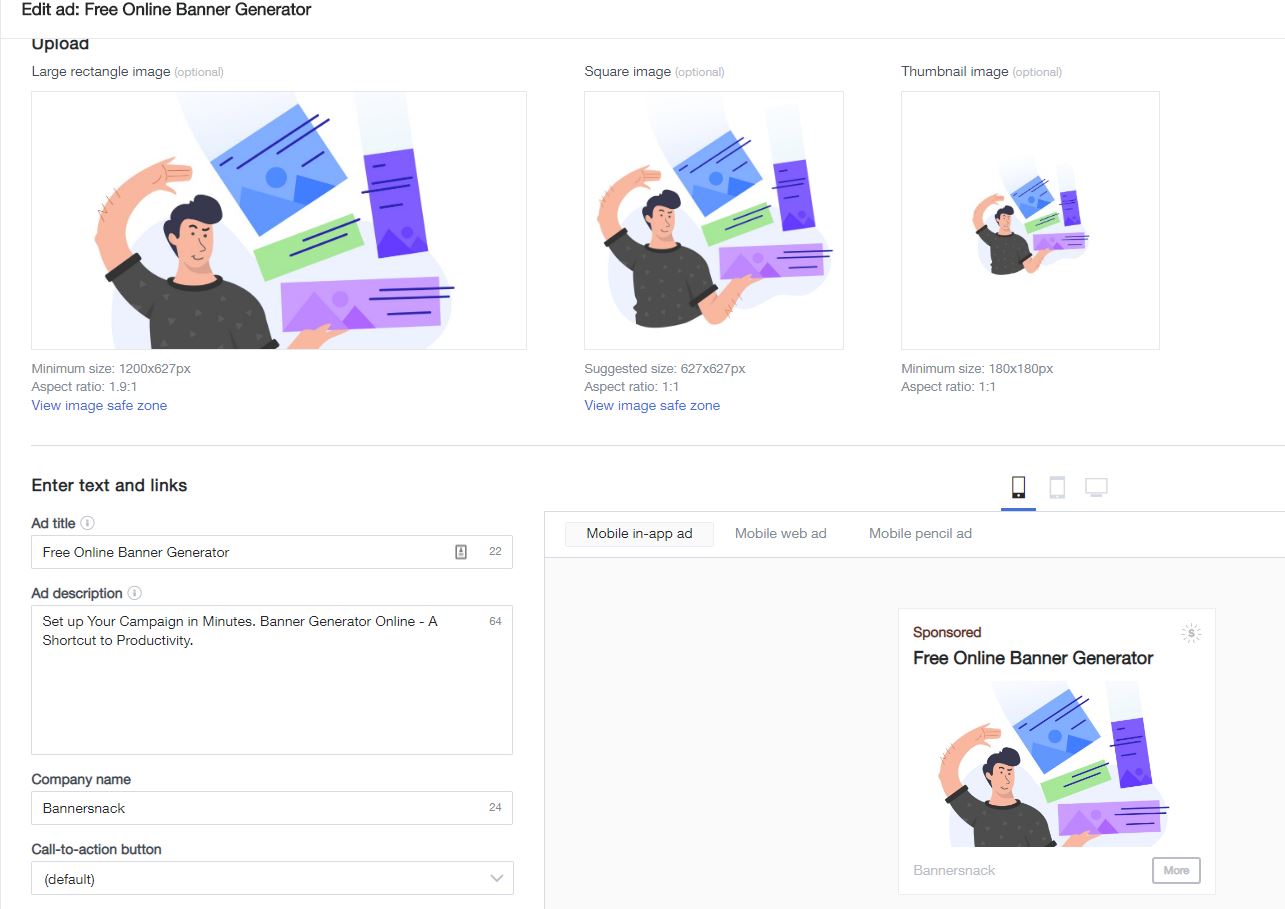 The Results
Our ad campaigns on Verizon Media Native ran between March 1st – July 31st, and these are the results we gathered.
As a side note, you should know that in our case, a conversion means a sign up or a purchase.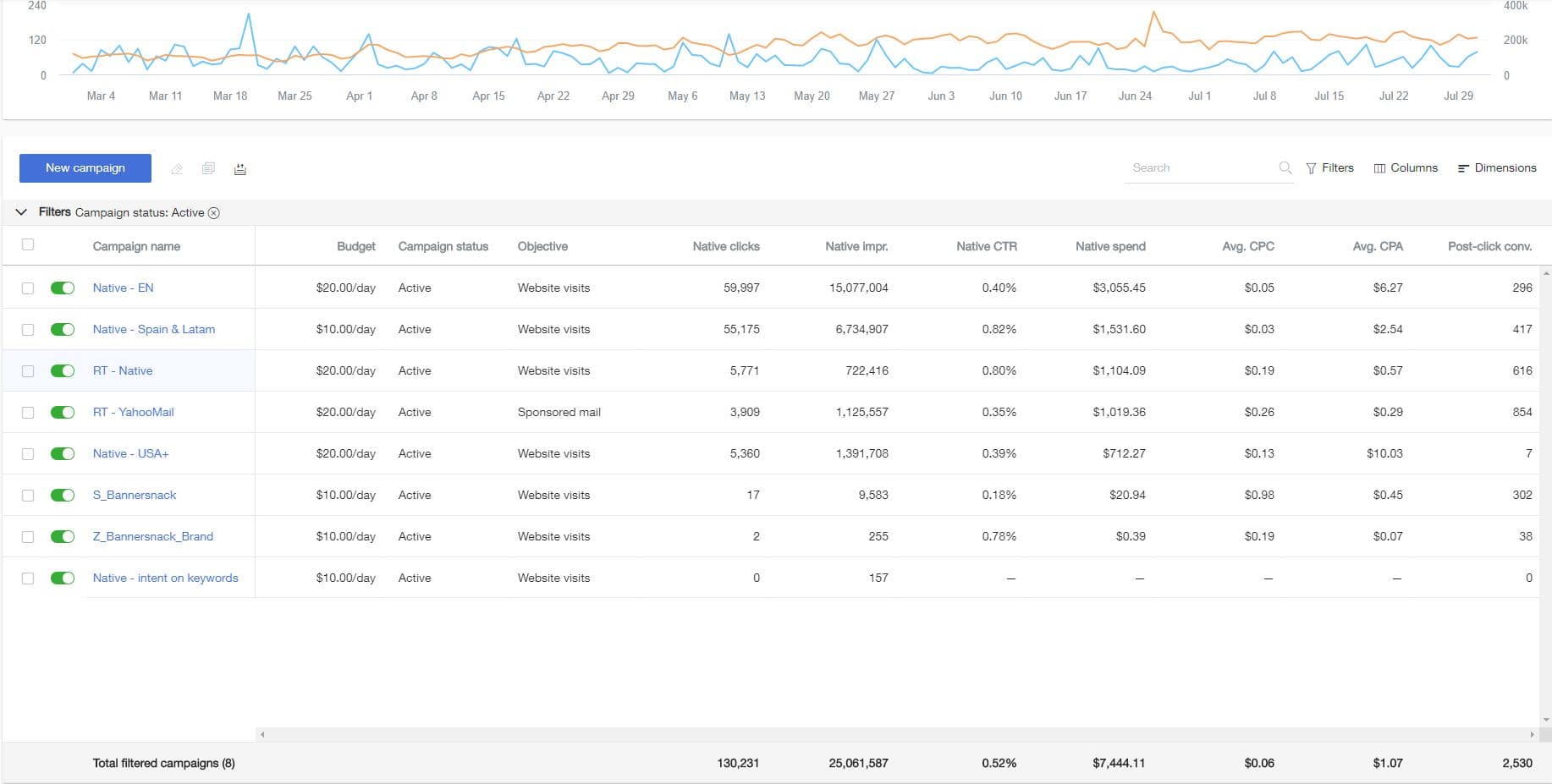 Given the budget we invested in the campaign, which was $7,444, we were pretty satisfied with the number of total impressions, which was over 25 million.
The highest click-through-rate came from the campaign that targeted Spanish speaking countries and from retargeting.
The average CPC did not exceed $1, which is quite surprising for an advertising platform.
Because the CPC is so low, I'm confident enough to say that if your goal as an advertiser is to increase brand awareness, then you should definitely consider this platform.
Even if the investment is low, you will still see some results, just like we did.
As you probably know, Yahoo moved its search to Bing at the end of March 2019. This had an impact on the results we have seen in Yahoo because the registration rate that came from search and brand campaigns was quite good.
We were expecting to see a higher registration rate from search anyway since there's a big difference between search and display, even when we don't take into consideration the brand campaigns. These usually perform the best.
As a side note, the registration rate for the search campaigns was 19.07% and 0.40% for the display campaigns.
If you combine the registration rate (0.40%) with the low cost per click that the platform offers, you may think that it's not that bad.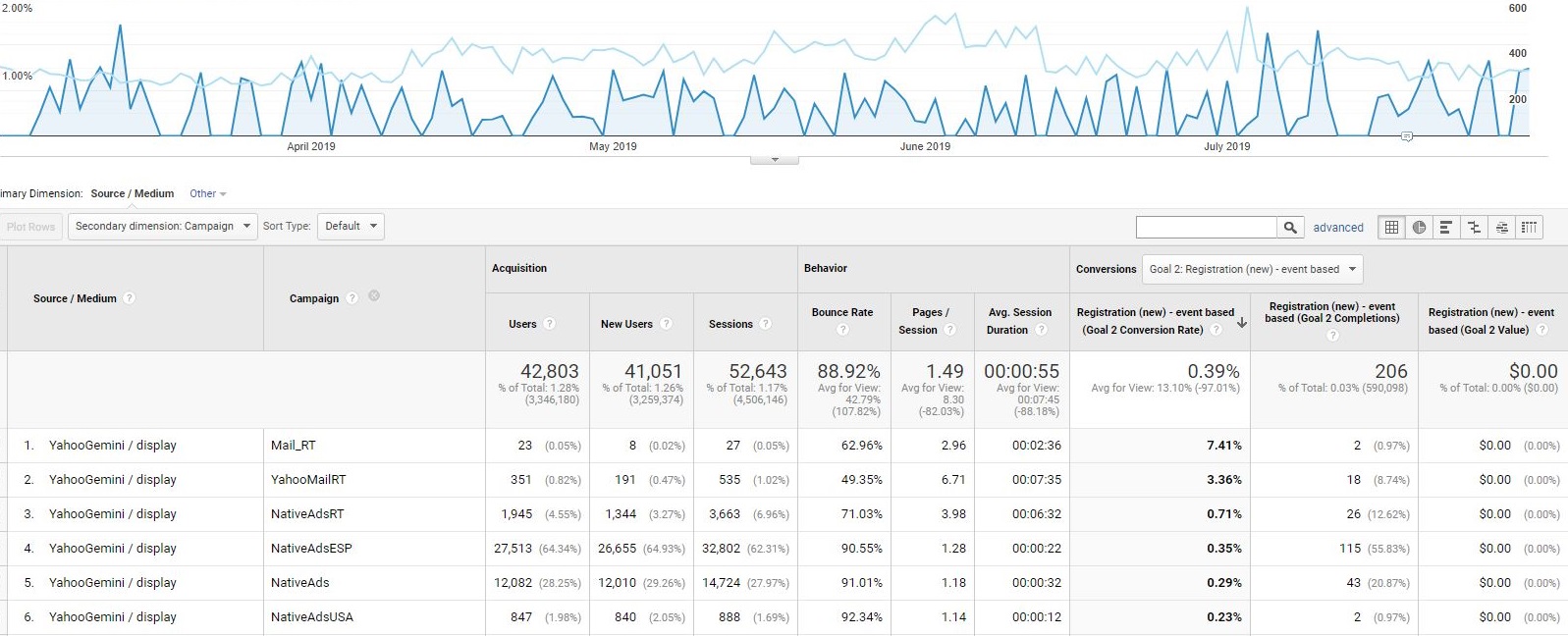 However, on a closer look, you can see that the highest registration rates were attributed to the retargeting campaigns, more specifically the ones on Yahoo Mail.
From the regular retargeting, we had a registration rate of only 0.71%, which is still much better than the native acquisition campaigns, that brought only half of it.
The acquisition campaigns did not bring us any sales over these five months. However, the retargeting campaigns did bring us some sales, so we were pretty happy about that.


Although the registration rate was not that high, the native impressions prove that our ad campaign played an important role in brand awareness.
And because the average CPC was $0.06, we can't really complain at this point.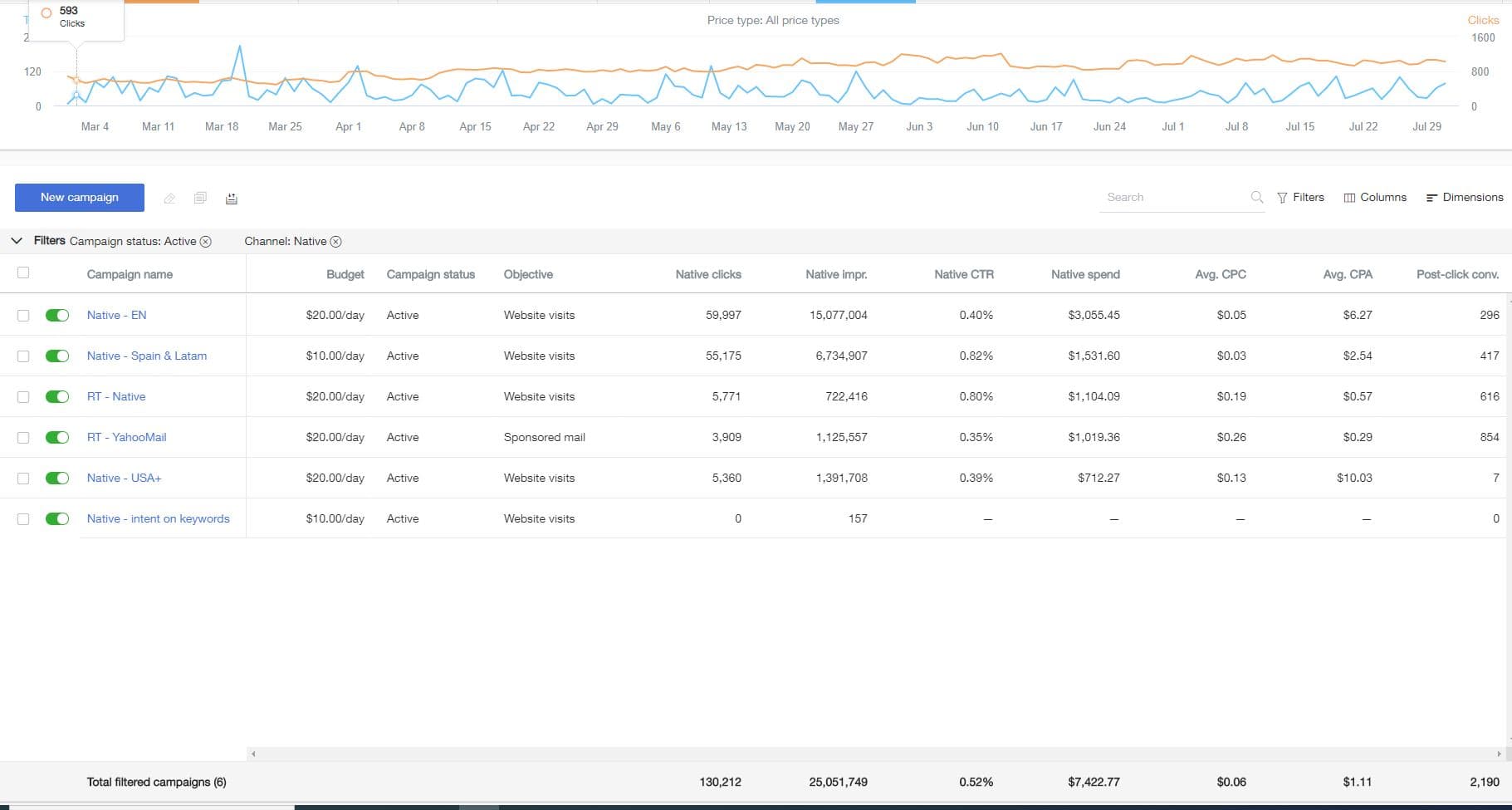 Even though this ad campaign performed best at bringing more awareness, we were expecting more registrations and even sales.
Since the platform's conversion tracking is not quite precise, we extracted our data from analytics so we can get a better picture of the campaign's costs and results.
The tabs marked with blue represent the data from the Verizon Media Native platform. We added those as well, so you can see the difference between the conversions shown in the platform and in Analytics.



At first glance, it's clear that the number of conversions differs a lot. The platform showing us many more conversions than we actually received (according to Analytics).
The tracking pixel was set correctly, and yet the platform did not count the actual number of conversions we received. If we look at the cost per conversion for all the campaigns, we can tell that it's too high.
After analyzing the three campaigns, we noticed that showing ads on mobile cost us a lot more money.
We noticed a tremendous bounce rate, and also a low registration rate. At the same time, the CTR was much better on mobile, but the cost was too high for it to be worth it.
Even though we adjusted the bids according to this insight, we still received some traffic from mobile because it can't be excluded completely.
Video ads
Another thing we noticed was that video ads cost us a lot of money but did not bring the results we hoped for, even though they were part of the same campaigns as the image ads.
Moreover, they've eaten all the budget from the image ad groups.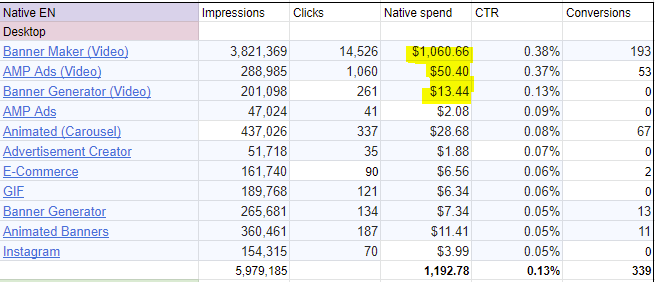 We're going to pause the video ads, for now, to see if the budget will be better divided between the image ad groups. In the future, if we decide to use video ads again, we're going to create a separate campaign for them and see if it performs better.
As you can see in these two tables, it was not worth continuing the video ads campaign because of the high cost per conversion.
As I mentioned earlier in the article, the platform does not provide the option to design animated ads within your campaigns. In my opinion, this would have been a good alternative.
For us, the video and carousel ads had the lowest return on ad spend.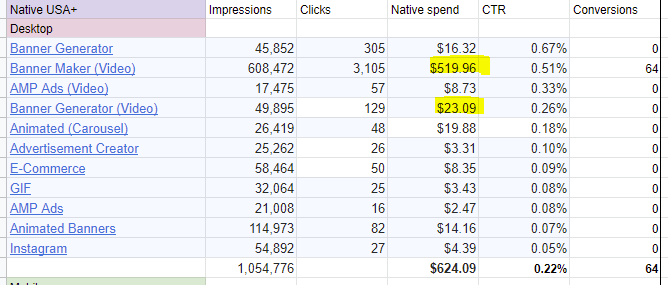 The Campaign Ads and Their CTR
Here are all the image and carousel ads we used, listed with their CTR.

0.44% CTR

0.31% CTR

0.41% CTR

0.31% CTR

0.14% CTR

0.47% CTR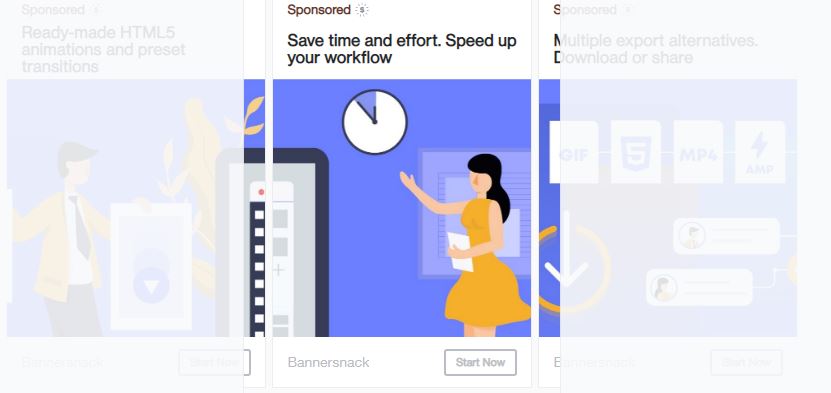 0.11% CTR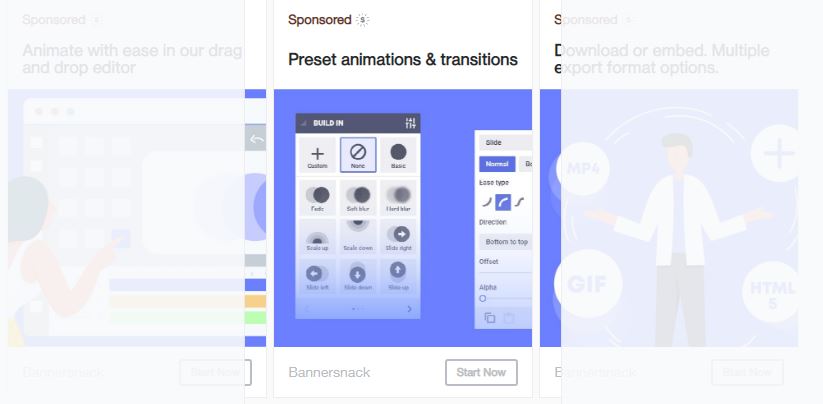 0.29% CTR

0.35% CTR

0.15% CTR

0.99% CTR

0.18% CTR

0.30% CTR

0.23% CTR

0.53% CTR

0.22% CTR
Conclusion
To sum it all up, it's safe to say that Verizon Media Native is an excellent advertising platform if you want to boost your brand's awareness. Due to the low CPC, you can get lots of impressions even when you don't have a significant online advertising budget.
The other advantage of the platform is represented by retargeting, which can get you more conversions than an acquisition campaign.
At the same time, you shouldn't overlook the disadvantages, such as limited conversion tracking and high cost per conversion.
We also noticed that geographical targeting did not work correctly because we received traffic from countries that we have already excluded. Moreover, there were some countries that we couldn't even add to exclusions, but results showed us some traffic coming from there as well.
Another downside was represented by the audiences, where the platform can definitely make some improvements.
We used their partner data audiences in addition to the audiences that we wanted to target, and yet the bounce rate was quite high compared to other advertising platforms where we're running ads.
In conclusion, I recommend trying out this advertising platform if you want to expand your efforts and increase brand awareness. But I wouldn't rely on this one alone when it comes to online advertising.
This was just our experience, and yours could turn out to be completely different.
If you get to try it out or in case you have any questions, let me down in the comments.