9
minutes read
Halloween is still big business. Despite the challenging times we've gone through, people are still keen on celebrating this fun, spooky holiday each year.
The NRF's Annual 2021 Spending Survey shows that consumers were expected to spend $10.14 billion last Halloween.
So it's time to put your creative hat on and start thinking about this year's haunting Halloween ad campaign.
Whether you're looking for festive Halloween color palettes, font ideas, creative Halloween ads for inspiration, or Halloween banner templates, you'll find all of these below.
Just click on any topic to jump straight to that section.
---
---
1. Festive Halloween Color Palettes
The color palette you use for your Halloween advertisements can make or break your campaign. Choosing the wrong color scheme for a seasonal campaign like this one can ruin the design, which is why you need to be careful.
Before creating your Halloween ad, think about what color palette you will use. Black and orange are the primary colors that are usually associated with this holiday but fall colors such as orange, brown, red, and yellow work great as well.
To learn more about color combinations, feel free to check out our in-depth article on color combinations in display ads.
Besides using festive Halloween colors, feel free to use themed elements such as pumpkins, spider webs, skeletons, or bats. You can find tons of spooky and fun Halloween elements in Creatopy that you can incorporate into your banner ads.
Here are a few HEX color codes we recommend using for your Halloween banner ads:
Orange: #FF5100, #ED900B, #EA9E00
Black: #020204, #020202, #000000
Red: #D03506, #AC000B, #7C0105
White: #FFFFFF, #E1E1E1, #EBEBEB
Grey: #E7E7E7, #535550, #97978D
Purple: #65369C, #800080, #7F00FF
To see what some of these color codes actually look like, take a look below at the following ad color palettes and get inspired for your Halloween ads.
Palette 1: #FF5100, #65369C, #EA9E00, #432017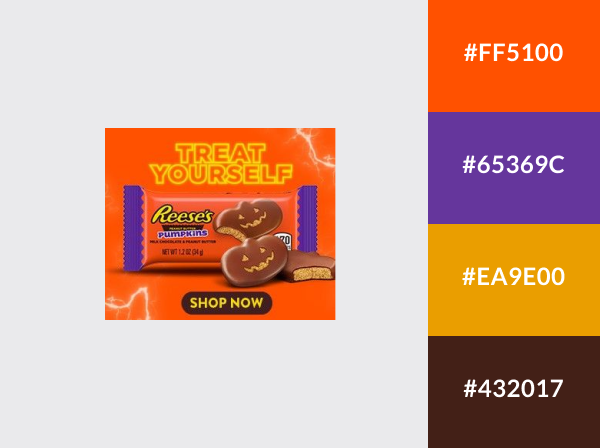 Palette 2: #ED900B, #020204, #D03506, #B5203C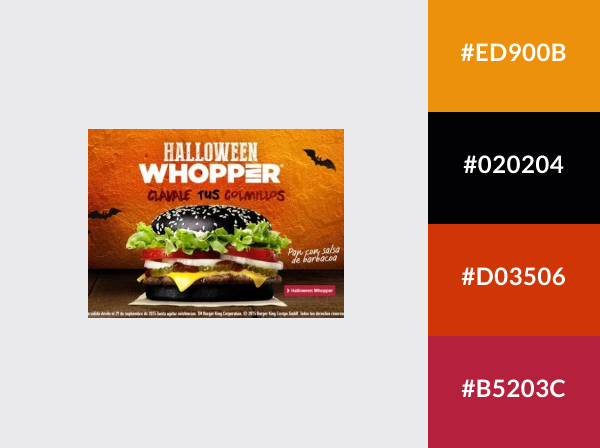 Palette 3: #AC000B, #E7E7E7, #020202, #7C0105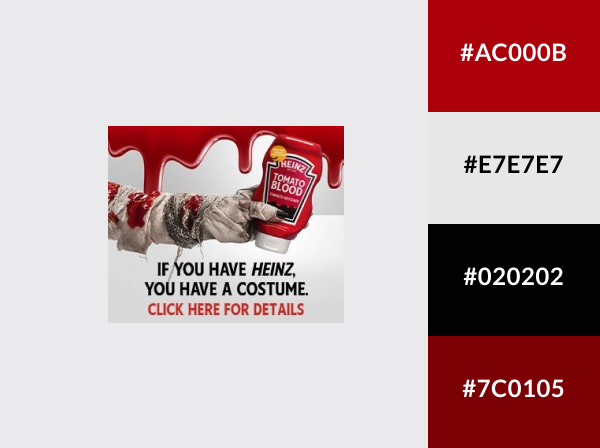 In the section that features creative Halloween ads, you will notice that brands use colors like green, blue, or brown. The color they chose was influenced by the brand's identity and what the creative will say about it. Our color code in HEX is just a simple, useful start.
PRO tip: Incorporate Halloween-themed colors but don't forget about your brand's visual identity.
2. Wicked Halloween Fonts
You simply can't add that sinister flair to your Halloween ads without using the right wicked fonts.
But there's a catch here.
You want to create Halloween banner ads that people will click on, right? For that to happen, your audience needs to be able to read what's on the banner, and this is where the font's legibility comes in.
Many spooky Halloween fonts are hard to read, so avoid using those at all costs.
Here are a few different font styles you might want to consider:
2.1. Story Brush
This Halloween-themed font is perfect to create flyers, posters, or any type of design that you want to draw attention to. It includes over 240 glyphs and comes in two styles: Regular and slanted.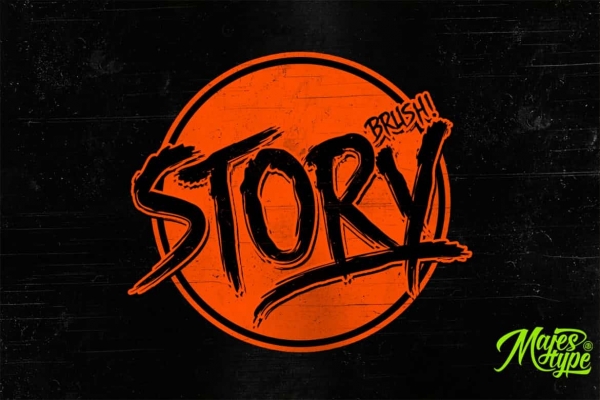 Image source
2.2. Another Danger
Just by reading the name of this font, you can already tell that it's ideal for Halloween ads. It can definitely help you give your designs that horror-like vibe and sprinkle that retro feel. Comes in regular and slanted versions, both with capital letters and OTF and TTF versions.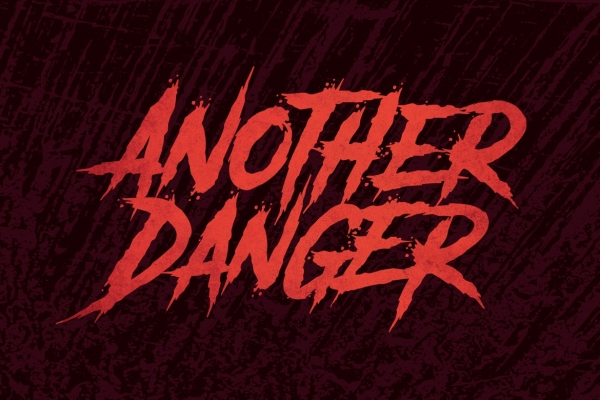 2.3. The Crow
As you can see, this is such a special and unique looking font. The vintage and gothic aesthetic make it ideal for Halloween use. It comes in eight different styles that you can choose from.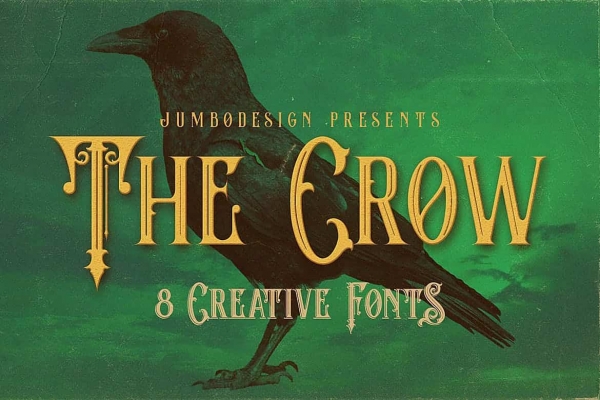 2.4. Covenant
I don't know about why, but when I look at this font, I instantly get the chills. This brush font looks like it's taken straight out of a horror movie, which is mainly due to the narrow letters.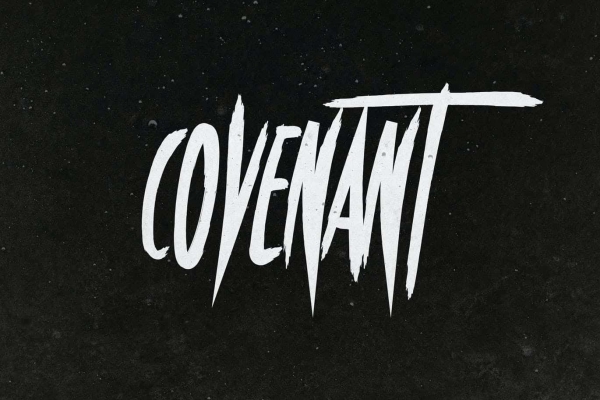 2.5. Halloween Rock!
I thought I'd end my Halloween font recommendations with a font that's the opposite of scary. This cute decorative font is the right ingredient to add joy and a friendly feel to your designs.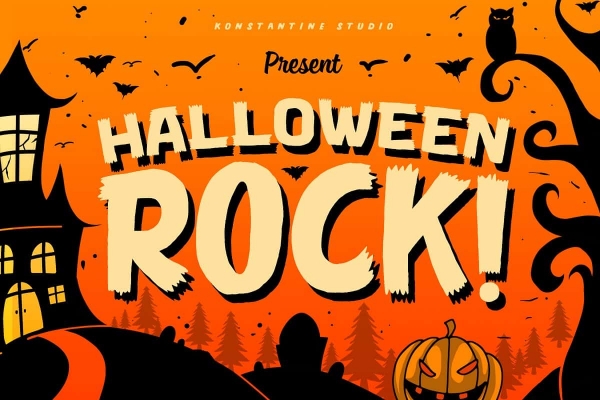 As you will see in the following ads from brands like Guinness, McDonald's, Heineken, or Mini Cooper, some key elements made their ads look good.
PRO tip: Test your font beforehand to make sure your message is readable.
3. Spooktastic Halloween Illustrations
Sometimes your Halloween campaign visuals need that extra something to show off more of the holiday spirit, and what easier way to achieve this than with illustrations?
Different illustrations types can serve different purposes, depending on what you need:
Small elements. I'm talking about the little spider that creeps at the corner of your ad, the bat that gives off a haunting feeling, or the jack-o-lantern that is basically synonymous with Halloween. These can be the finishing touches that elevate your design.
Complex illustrations. They are perfect if you want to craft a holiday card to send to your customers via email or design a thematic social media visual without breaking a sweat. Just use an illustration as the main focus and quickly build the design around it.
Backgrounds. Some designs call for a plain color backdrop, while others need a background pattern to look complete. For Halloween ads, you can go for patterns with ghosts, cobwebs, pumpkins, or all of the above in one. Just make sure they don't make your ad too overcrowded.
Illustrated text. You can draw attention directly to the message you want to convey by switching plain fonts for illustrated text. Try it out in this year's Halloween designs and see how a little embellishment can go a long way.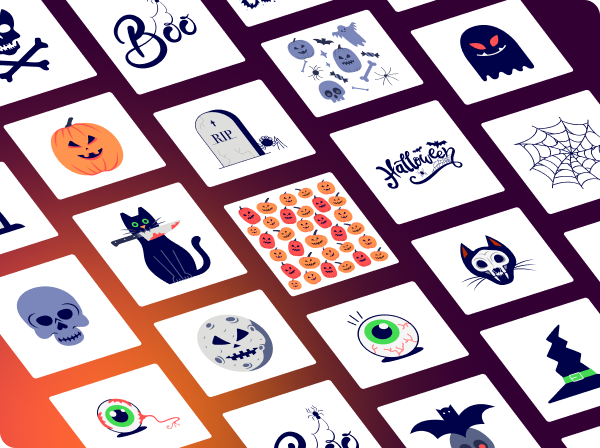 Find all these illustration types in the Creatopy illustration pack made by our in-house designers. Fill out the form below to download the customizable SVG files and use them in your Halloween designs.
4. Creative Halloween Ads Examples
Creativity is key to making sure you'll design an eye-catching Halloween banner. As you'll see in the examples below, in most cases, the product itself was transformed, so the end result matches the holiday's spooky vibe.
That being said, I'm confident that you'll be inspired so you can create a wicked Halloween advertisement.
Without further ado, let's look at the selection I made for you.
Pilsener Halloween Advertising Campaign
We see in the movies all the time how, after crazy parties, those who managed not to fall asleep will usually draw funny things on the faces of those who are fast asleep. This particular Pilsener campaign wants to encourage people to drink responsibly on Halloween, so you avoid getting a mask made by others.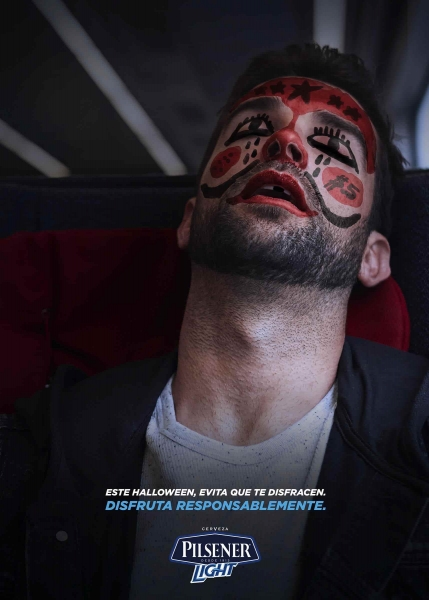 Halter Bonbons Halloween Campaign
Freddy Krueger, the antagonist from A Nightmare on Elm Street, is not the most joyful person—on the contrary. However, Halter Bonbons promises that their candy will turn anyone's Halloween into a sweet celebration.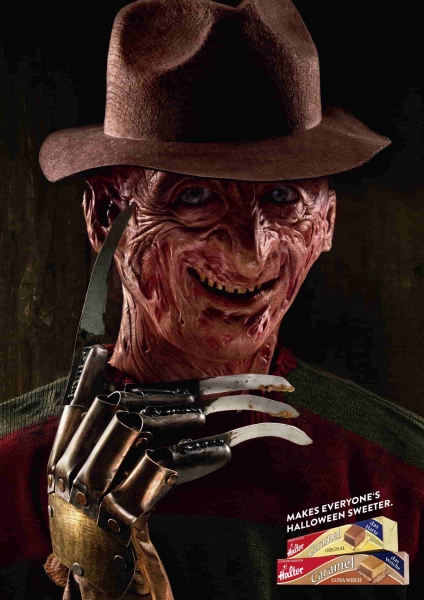 Suzuki Halloween Advertising Campaign
This Suzuki ad is kind of scary but badass at the same time. Many people are afraid of Pennywise that this visual almost sends a boost of confidence when you see that the clown has tire marks on its face.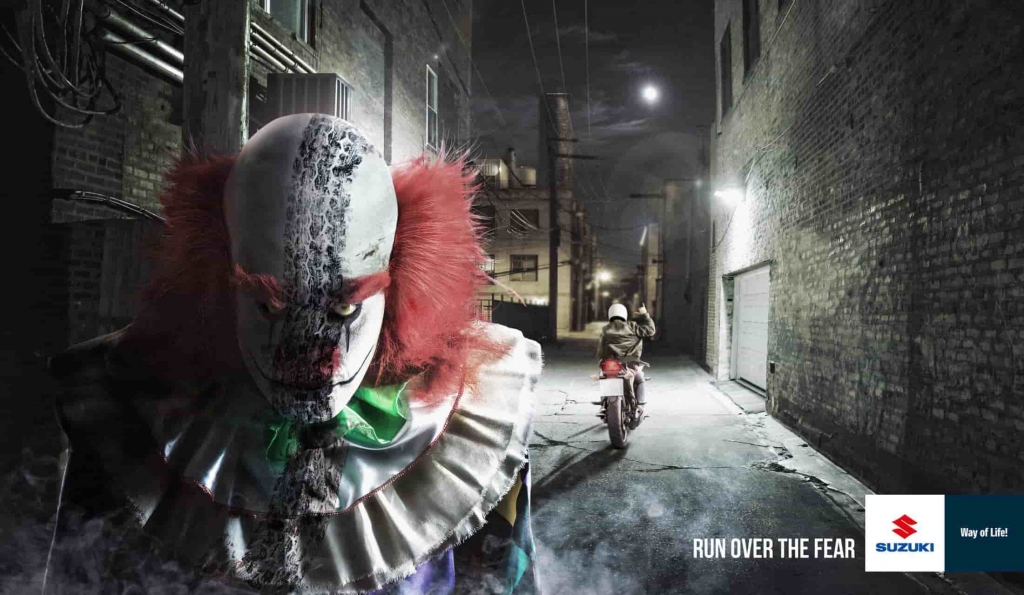 l'Émouleur Halloween Advertising Campaign
It's Halloween, so it makes sense for Freddy, Jason, Scarecrow, and Michael to sit in line and patiently wait for the best knives shop to open so they can do what they do best. The good news is that these are fictional characters, and we have nothing to worry about. Or do we?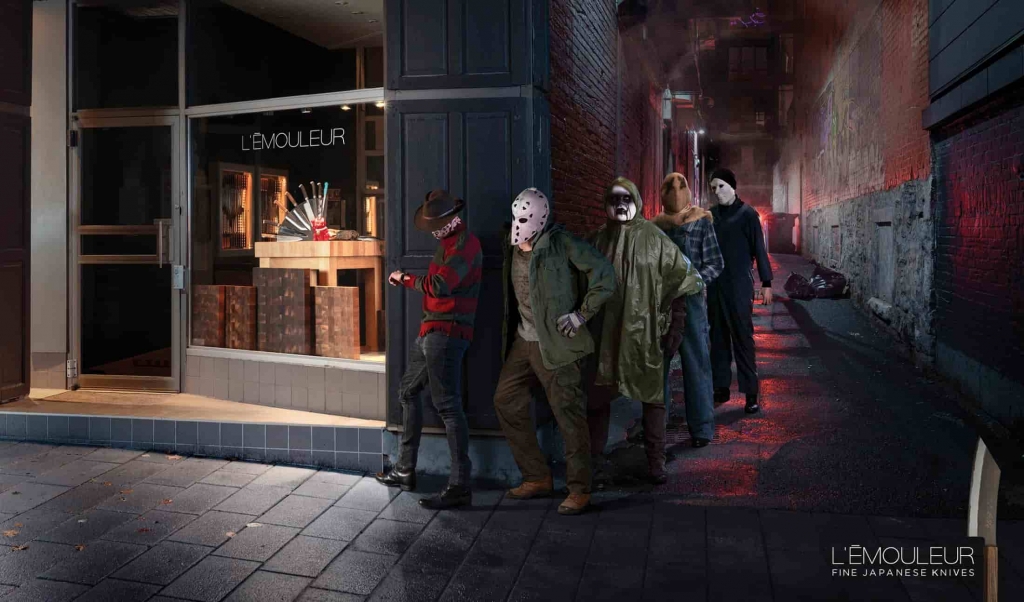 Soreen Scream Halloween Ad
Isn't Scream the perfect term when naming your Halloween product range? That's exactly what this brand did, but they didn't stop there. For this campaign, they used the ultra-popular setting from the movie The Shining to set the perfect context for their products.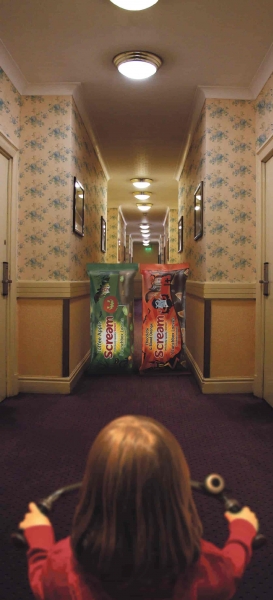 Agency Horror Stories
If you work in an agency, then you can probably relate to this ad. This Halloween advertising campaign aims to show that Halloween is not just once per year when you work in an agency—it can actually happen weekly.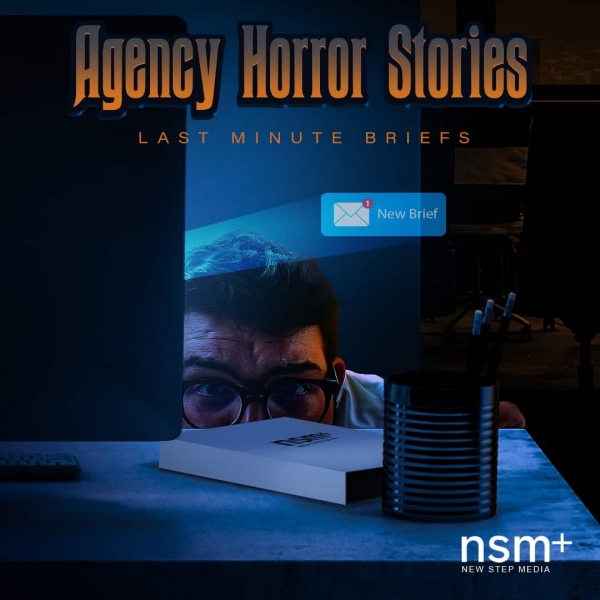 Guinness Halloween Poster
Guinness is one of the brands that has earned the gratitude on the market by launching some clever and powerful seasonal campaigns. They call themselves "The true brew of Halloween." I don't think there's a more powerful statement than that to describe it.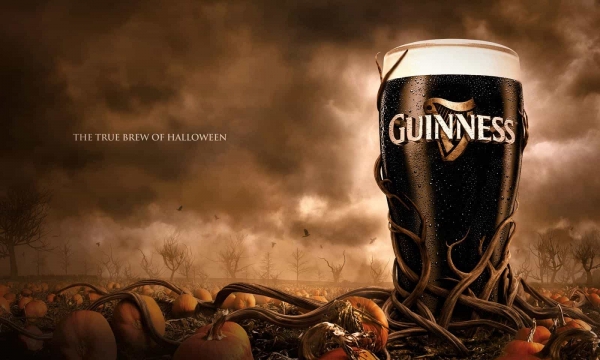 M&M's Halloween Commercial
Who said you can't play around and have some fun advertising your product? M&M's is well-known for using its multicolored candy to create playful designs. Halloween is that time of the year when you can show off your brand's personality.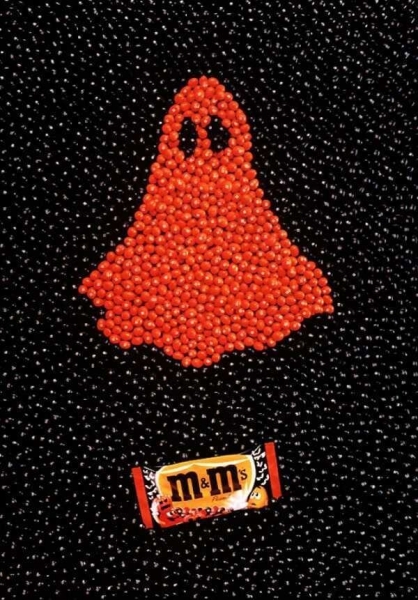 Image source
Oreo Halloween Ad
Oreo, milk's favorite cookie, or milk's favorite trick-or-treat, inspires us with this terrifying advertisement of an Oreo cookie with vampire teeth made of dripping milk. Such a simple idea with perfect execution.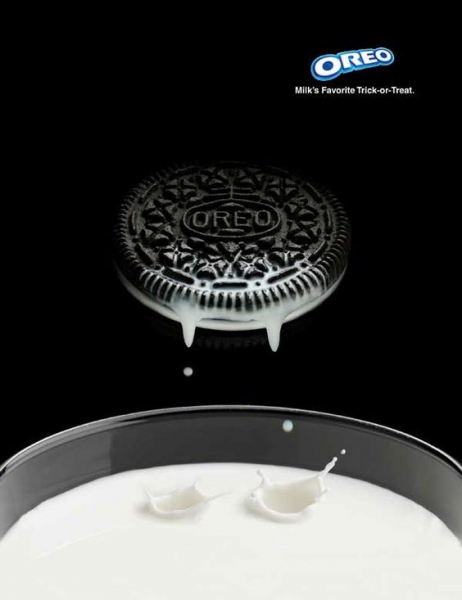 Pepsi Halloween Ad
I just love that moment when a brand is directly mentioning its main competitor on the market in an advertising campaign. Pepsi and Coca-Cola are two brands that have been doing this for a long time. Take a look below at this ad to see how Pepsi decided to put on a Coke cape for Halloween.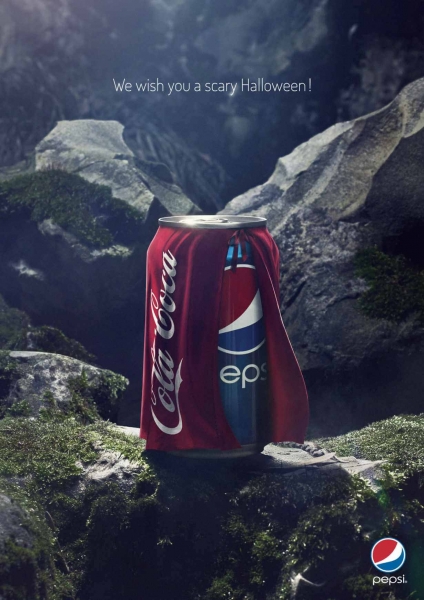 Heineken Halloween Ad
Heineken is also one of those brands that's a pioneer in creative ads, especially seasonal ones. The Halloween advertisement below captures perfectly one of the scariest things that could happen while at a party.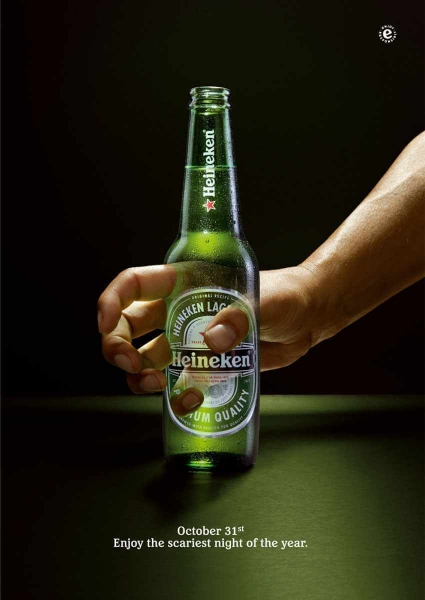 McDonald's Halloween Ad
This McDonald's Halloween ad is so simple and brilliant. Even though it just says Happy Halloween, the cheeseburger made to look like a wrapped candy takes you straight to trick-or-treating.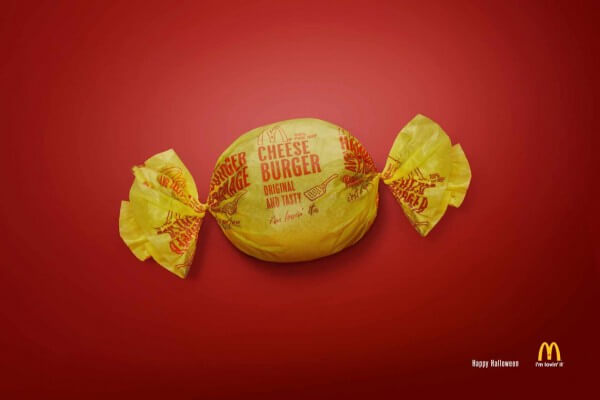 Sharpie Halloween Ad
It's okay to be someone else for Halloween, like Dracula, Frankenstein, or your math teacher. This is what Sharpie is telling us through this ad. They show us that you can be different only by wearing someone else's head. Sorry, hat!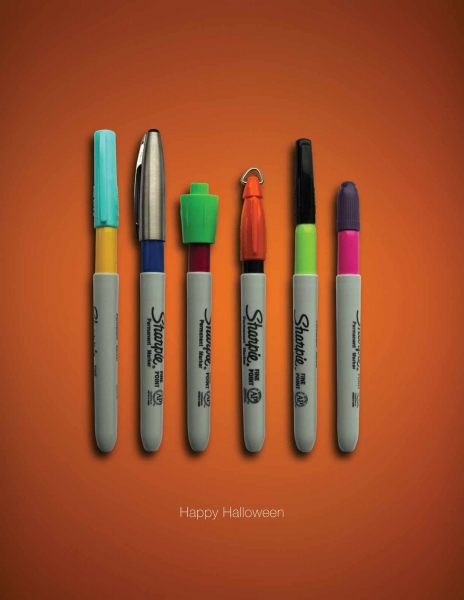 Image source
Nintendo Halloween Ad
Is it a bird? Is it a superhero? It's Nintendo! The nostalgia really hits you when it comes to Nintendo. Here's an amazingly creative idea of Nintendo controllers stacked in the shape of a bat, on a white coffee table, that makes you think of Batman.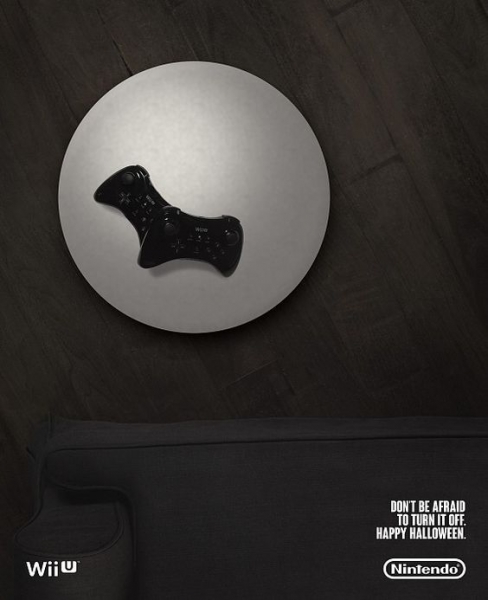 Snickers Halloween Commercial
What would you want as candy if you were to go trick-or-treating for Halloween? Snickers knows that you'd obviously want Snickers. In the ad, the lady opens the door, and instead of kids, she looks at a younger representation of herself, which may seem kind of creepy at first.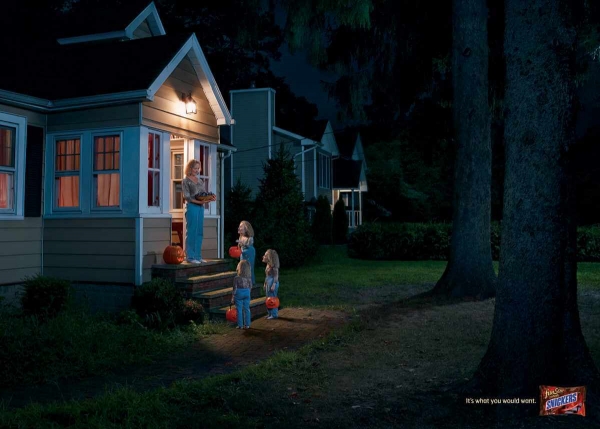 Image source
Mini Cooper Halloween Ad
This brand has what it needs to create interesting ads for Halloween, including the design of the car. The car was simply turned upside down, while the shape, the lights, and the black color is completed by the copy.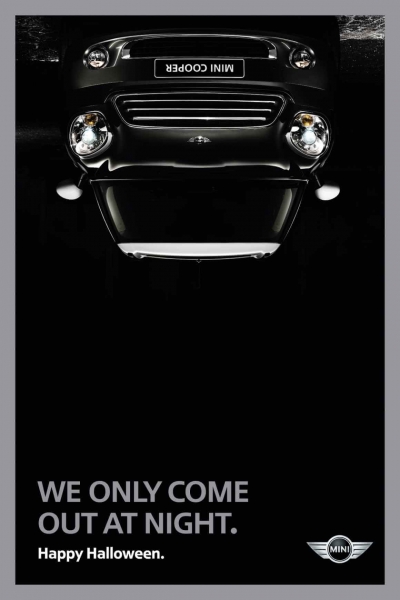 Jeep Halloween Ad
The ad below proves that you can keep it simple if you want to wish your audience a Happy Halloween. It's a minimalist design that doesn't need any more words, and anyone can easily make the connection between the illustration and the brand.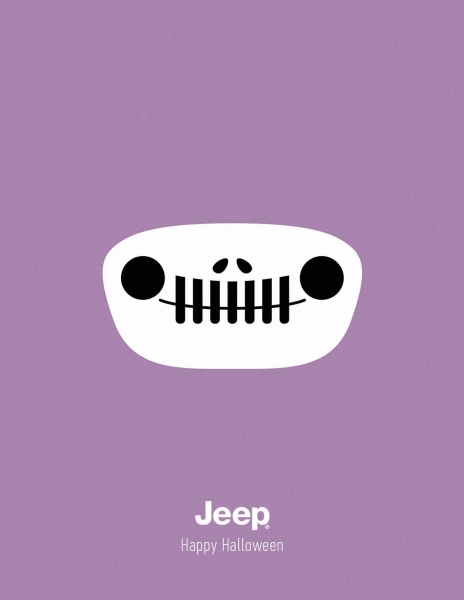 5. Halloween Banner Ad Templates
This is the part where you can start creating your own Halloween banner ads.
Here are a few different templates you can start with—just click on the Start from this link under the design you like: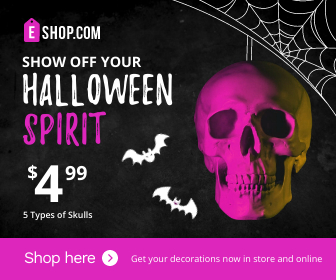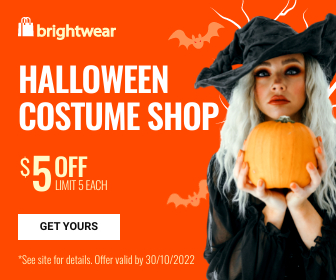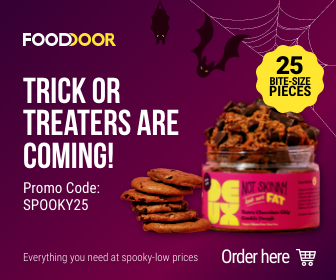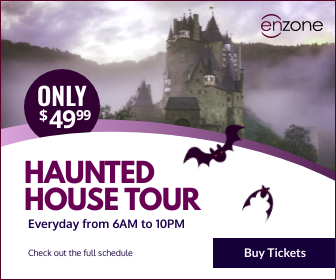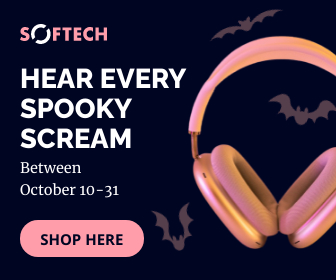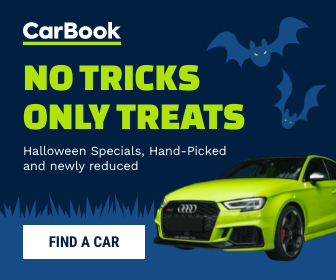 Final Thoughts
I hoped this article fueled your creativity, and our Halloween banner ideas inspire you to create your own banner ads. Let us know if you found our post helpful or have something else you'd like to add to our resources list.