6
minutes read
Facebook cover photos are a great way to add personality to your business page. They have a great visual impact because it's the first thing people notice on your page, so make it count.
A great Facebook cover photo can actually make a difference: studies show that 79% of businesses surveyed saw increased engagement after having their cover redesigned. But it's not just about the numbers. Remember how you smiled when you saw your favorite brand Facebook cover photo for the first time? That's why it's important.
Keep in mind the fact that your Facebook cover photo is not just a billboard, so try to make it about your community. And don't forget to always check and respect Facebook's Cover Photo Guidelines to make sure you comply; if your cover photo violates any of these terms, Facebook can suspend or terminate your account, so be careful not to use any deceptive, misleading, or copyrighted content.

What is the Facebook cover photo size in 2022?
The recommended Facebook cover photo size is 820 x 312 pixels for desktop and 640 × 360 pixels for mobile devices. The image must be at least 400 x 150 pixels to align with Facebook's requirements. To load your image lightning fast, use a sRGB JPG file that is 851 x 315 pixels and less than 100 kilobytes.
The same Facebook cover photo is displayed on all devices on a different ratio, so be careful how you add the elements and transitions to make sure nothing is left out on your mobile version.

How to make a pixel perfect photo cover for a Facebook page
You don't need to search the web for the best Facebook cover photos any longer. You can make it yourself, with Creatopy's Facebook cover photo maker. Add text, images, clipart, and make your cover photo look stunning.
Don't worry about the Facebook cover size because you can use one of our templates to make sure you always get it right.
Go to Creatopy and log in.
Go to Start creating and type "facebook."
Click on the Facebook Cover size.
You can start from scratch or choose one of our Facebook 

cover photo templates.

Now you are inside the app and you can customize your cover however you want: replace photos, change the background, colors, and text.
To change an element, click on it, and then look for the options in the left-side menu.
Creative Facebook Cover Photo Ideas and Examples
Some brands found great ways to be creative with their Facebook pages. We analyzed them and got a few tips and tricks you could use to make your own cover and stand out from the crowd.
1. Pair your logo with your Profile Picture and Facebook Cover Photo
Brand consistency is important, and if you can find the right mix the effect can be really cool.


2. Use creative graphic content
The creative use of graphics and colors really makes a lasting impression. See the examples below about how sometimes less is more.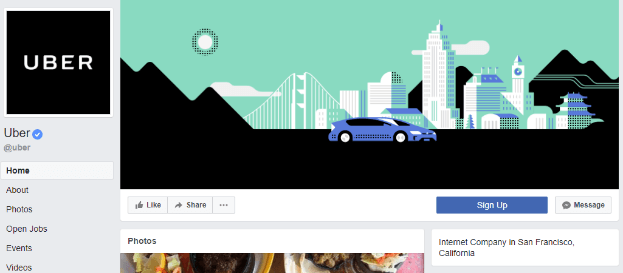 Get started with one of our templates, you can always change the graphics by choosing them from our huge library.
3. Showcase your products
If you are in the fashion or luxury industry, your business is all about making fans crave your products, so don't be afraid to showcase them on your cover photo. Use a high-quality Facebook cover image and let your product shine.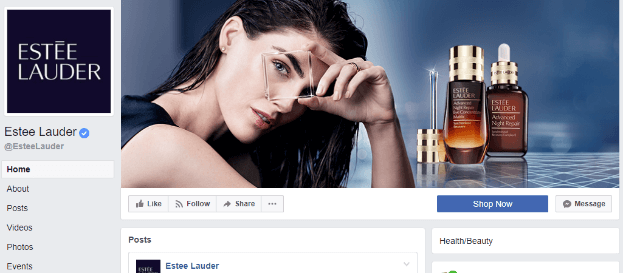 Here's a great clean Fashion Template you could use. Just drag & drop your photos and start selling more.
4. Use your brand's colors
Be consistent with your brand's color scheme and use gradients or graphics to tell a creative story or share your values and what you stand for.



Try this Facebook cover template like this one to do it yourself. Just choose a color scheme that fits your brand.
5. Make it about your community




Here's a Facebook banner template you could use, just add a photo with your team or your shop:
6. Take a minimalist approach
Keep up to date with the latest trends by creating a minimalist cover photo and showcasing more negative space to make your products stand out.


Here's a great minimalist template you can work with, just add your own elements in our Facebook cover maker and be creative.
Examples of Animated Facebook Cover Photos
As of August 2017, Facebook has been slowly rolling out the ability to add a video cover to your Facebook page.
A few of our favorite brands made a great job at experimenting with this feature. Here are a few of the Facebook video cover images we enjoyed the most since the feature launched:




When it comes to Facebook marketing, everything changes so fast, so it's crucial to be able to move fast and test everything. If you want to draw attention and it's suitable for your brand, go ahead and give it a try, it's easier than you think.
You might think it's time-consuming and expensive, but we have great news: with Creatopy, you can create your own animated or video cover in no-time. You can also experiment with animating the elements of your static Facebook cover with the touch of a button.

What's your favorite Cover Photo? Share it in the comment section below.