6
minutes read
Whether you are in B2B sales or eCommerce sales, your work is most likely related to marketing, planning, analyzing, and finding better ways to attract and retain customers.
And, even if you are aware of it or not, you are already involved in some kind of a marketing funnel.
---
---
What is a marketing funnel?
It's best to start by defining what this term means, right? Well, let's do it before we get lost in the specifics.
We can define the marketing funnel as a concept that refers to all the steps included in the sale process, from the beginning to the end.
Most of the times, the funnel represents the customer's journey from awareness – about a specific product – and up to the point when they do not only buy that product but also endorse it to their peers.
As a consequence, the marketing funnel takes care of this journey and adapts the whole marketing process and consequent strategies to it.
What we are interested in, at this point, is the digital marketing funnel and everything related to it, starting with the setup.
The main marketing funnel stages
As you can see in the image above, the marketing funnel has five main stages.
It starts with creating awareness and ends up with the customer endorsing your product to others, creating a new type of awareness and restarting the whole process.
If successful, the marketing funnel becomes circular.
Let's take an in-depth look at these stages.
1. Brand, product or service awareness
Awareness is the keyword here.
Whenever you start a new website, whether it's an online store or even a blog, the first thing you need to take care of, technical specs aside, is the audience.
You need to build an audience. You need people to know about you, to see that you exist and that you have something to offer, something that the competition does not have.
This step is all about getting the word out there about your business and showing your strength to your target audience. Present your brand, qualities, and everything new you put on the table. Describe your goals, your products, services, or websites and let the audience know precisely where you stand.
This step is essential for all types of marketing funnel strategies, but it may prove to be quite decisive for a content marketing funnel.
When people are searching the Internet for something, they already have an intent. And, at this stage, the user intent is informational. Your job is to take this intent, come up with something to satisfy it immediately, and build awareness based on your ability to answer the audience's questions.
How can you build awareness?
The answer is: by creating content. Do it as frequently as you possibly can.
Let me tell you briefly about our content creation strategy here, at Creatopy.
a. Blog posts:
We start every article with keyword research. For this, we use several tools such as SEMrush, Moz, or Ahrefs. We need these keywords in order to create relevant content but to also target exactly what our customers and readers are searching for.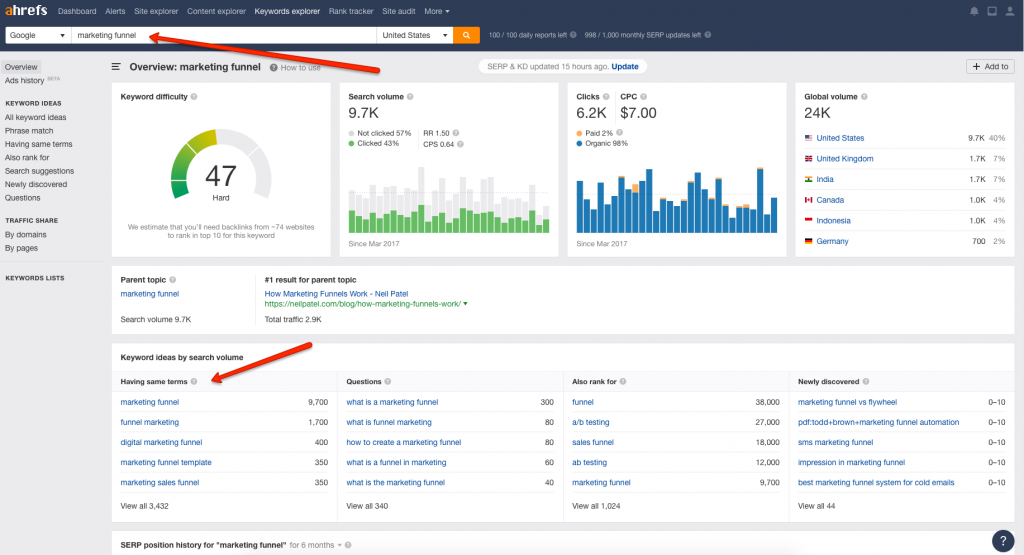 For example, we know that our customers are using social media to promote their businesses, and they all need to create visuals.
So, we create articles in which we explain and show them how to create Facebook covers for groups or Facebook covers for events.
b. Video content
Aside from the traditional blog posts, we are also involved in creating video content, which consists mainly of the same topics.
For this, we dive deep into YouTube keyword research to see what people are interested in.
We've learned that people are interested in creating HTML5 animations and so, we published it as a solution/answer to their questions, explaining how our tool can help them.
So, here's the article.
c. Pinterest content (visuals)
Pinterest is a visual search platform that's often used by creators to find inspiration. That's one of the main reasons why we are also investing time in creating content for Pinterest, which, similar to the previous example, follows an initial keyword research step.
Our goal is the same as above – to give the audience the solution they are looking for.
I can give you an example as well. We posted a visual that was published on Pinterest as well. It was a great choice since vertical content on Pinterest drives more results than any other type of content.
2. Customer's consideration
The second step of the funnel is critical, especially from the marketing sales funnel point of view because this is the stage where the user moves from awareness to consideration.
This is also the stage when you can build a relationship with the customer. At this point, they are already interested in what you have to offer and want to find out more about your brand.
Now, it's also the time when you get to know more about your audience and adjust your marketing funnel accordingly. You know what visitors want – should they make an inquiry – or, at least, where they come from, on which page they landed, etc.
These are all essential pieces of information for a marketer. And, in order to make myself more clear, I will show you a simple example of customer consideration. This is our profile on G2, which triggers reviews and, of course, immediate response on our part.
The thing is providing a quick response is not everything. You also need to tell the audience why they should choose you instead of the competition. To do this, you need to show your strengths. Tell them what makes you a better choice, what value you can add to their lives, etc.
This is where content marketing makes its entry and, in this case, the G2 profile page.
3. Conversion
In marketing terms, the conversion funnel is also the point where you try to make it obvious one more time why your products are better than the competitors'. And, consequently, to convert the potential customer into a paying one.
This step has different meanings based on your ultimate goal, but essentially, if all goes according to plan, it may be reduced to one single big truth: "You got him/her."
If you have something to sell, at this point, the customer makes their first purchase.
If you are a blogger, they have subscribed to your feed, newsletter, or came back at least one more time to read your new posts.
a. The Live Chat solution
Here's yet another great piece of advice that will help you a lot in this customer conversion.
Some people need a solution to their problems, and they need it right now. Let's assume you answered a lot of questions in a thoroughly researched article, but nevertheless, some of the readers need more clarification.
How can you help them besides replying to their comments?
Set up a live chat, use a chatbot like Intercom (the one we use here at Creatopy) and offer instant assistance to their questions. Integrating AI live chat can significantly enhance the user experience by providing real-time, intelligent responses to inquiries. This technology can efficiently address common questions, freeing up human agents to handle more complex issues.
4. Customer loyalty
This is the next logical step in your marketing funnel. Conversions should not be regarded solely as a means to an end. Nothing ends with a conversion. If it did, just a few businesses would survive, and mostly those who deal in producing and selling food.
At this point, your marketing efforts should focus on customer retention, which in other words, can be translated easily as customer loyalty.
It means that they come back to make another purchase, they subscribe to your website, they follow your brand on social media and similar channels, etc. Your goals may differ depending on the industry you market for, but in the end, retention is as necessary as the first step, which created awareness.
Education plays an integral part in this step. I am not talking about the education received by the customer but the education you can give them through great content, original research, and experiments.
We do the same thing here at Creatopy, our latest example being the research we've conducted for comparing Quora Ads and Reddit Ads. We described which one of these platforms helped us the most, but at the same time, we explained our audience how to use them both with maximum efficiency and best results.
Moreover, retention and loyalty mean that the customers are happy with what you were able to deliver, and this is how they get to the next step of the funnel:
5. Customer endorsement/advocacy
This is how a digital marketing funnel gets to become circular and re-enact the same steps all over again, but this time, with less effort on your part.
How so?
Well, a happy customer will spread the word on what made him/her happy. In this case, I am referring to your products, services, or content.
They will restart the funnel by creating further awareness on their own social media pages or websites.
Conclusion
Now that you all know everything that is to know, you can start building your own marketing funnel template based on the steps above.
It doesn't need to be exactly like this – you can adapt based on your own goals and needs.
However, two things will and should remain unaltered: you need to start with awareness and work your way up until you get your customer to advocate your brand.