8
minutes read
You may find yourself putting lots of effort into creating the perfect real estate ads, using beautiful visuals and strong call-to-action phrases. You set a budget and place them on the right channels, and then you wait. Time goes by, but at the end of the campaign, the results are not bad, but not what you had in mind either.
Have you ever wondered what makes real estate ads more efficient?

According to Statista, the real estate advertising spending in 2018, in the U.S. alone, was 74.18 million dollars and is expected to grow to 89.79 by 2020. Promotion is one expensive affair, and creating efficient real estate ads should be a top priority for all marketers who venture into this dog-eat-dog industry.
But how can design help you stand out from the crowd?
We believe that expertise is a marketer's strongest asset—so we picked the brains of ten industry experts and rounded up their best tips on how to create effective real estate ads:
---
6. Demonstrate Visual Authority
8. Hire a Professional Photographer
---
1. Tell a Story
Katie Russell, Marketing Strategist at Fronetics Real Estate
"Good content marketing is all about presenting information in a story format. Great content marketing also packs emotional resonance.
When creating visual content, real estate ads included, start with the idea of telling a story.
Ideally, you're presenting data in a way that communicates a feeling and elicits an emotional response from the viewer. If your data is impactful, your viewers will forge an emotional connection with your brand and, ultimately, one of your properties."
Fronetics Real Estate creates and executes real estate marketing strategies to drive target buyers or tenants to clients' websites. Their approach starts with data and ends with measurable results, ranging from increased brand awareness and lower costs per lead to increased occupancy, faster sales, and improved retention rates.

2. Build Trust
Jarrod Jemison, Brand Manager at BiggerPockets
"I believe the key to designing effective real estate ads is to build trust by creating visuals that relate to the target audience's lifestyle. Be simple and transparent in your copy while clearly delivering a value proposition that drives people to action. It's important to design an aesthetically pleasing ad, but it's even more vital to design an ad that connects with the audience.
Strategically, we try to create short and simple copy that is engaging and has a unique selling proposition that benefits our audience. If possible, we use quotes and testimonials to build a level of authenticity and trust.
The elements we use to create an ad are:
a short persuasive headline
body copy that describes the ad
imagery that grabs our audience's attention
a call to action that stands out and informs our audience to do exactly what we want them to do.
When applicable, I prefer to use icons and infographics over text to represent data, as this way of presenting information is typically quicker and clearer to understand. Visually, I try to use imagery that represents diverse groups of people. I believe it's important to show people of color, women, same-sex couples, and various minority demographics in an industry that is heavily dominated by white males."
BiggerPockets is a comprehensive resource for anyone looking to succeed in real estate investing. Offering content, tools, and a community of over 1,500,000 members, BiggerPockets helps people avoid mistakes, learn valuable tips, find partners and deals while making the best investing decisions possible.



3. Customization Is Key
Raul Siderias, Chief Markethinker at Markethink
"What you want is to create real estate ads and landing pages that are as customized as possible, so that homebuyers can better relate to you and your brand. Go as granular as you can with your visuals, landing pages, and messages. It is hard work, but it will be totally worth it in the end, as your campaign spend will be lower.
For example, if you're retargeting a user that has visited your 'pet-friendly apartments' section, try to split your campaign into three categories. One for cats, one for dogs, and one that contains items that can't be grouped or don't fit into the first two categories. This way, you'll triple your ad types, but your real estate ads will be more relevant and won't just say 'pet-friendly apartments' they will say 'cat-friendly,' 'dog-friendly', and 'pet-friendly' apartments. You can do the same for neighborhoods, amenities, or even budgets."
Markethink is a full-service digital marketing agency catering exclusively to the real estate industry and offering services ranging from SEO and PPC to content marketing and social media management. The company focuses on helping real estate businesses succeed and stay ahead of the competition.



4. Keep It Simple
John Ener, Digital Marketing Specialist at InCom Real Estate
"We have a huge sign in front of our design team that says "keep it simple". We really can't stress enough the importance of this. People are very distracted nowadays, scrolling web pages very fast and consuming the content that matters the most to them and ignoring the rest.
Untidy designs with too much text on it can be overwhelming to eyes, thus your audience won't be receptive to your message. Keep the design simple and balanced. As a general rule of thumb, show only one thing."
InCom Web & e-Marketing Solutions is a real estate website and online marketing company dedicated to helping real estate professionals optimize their business online. Their web solutions aim at improving online presence, generating more leads, and automating follow-ups is a breeze. With over 20 years in service, InCom has generated a total of 3.8 million leads.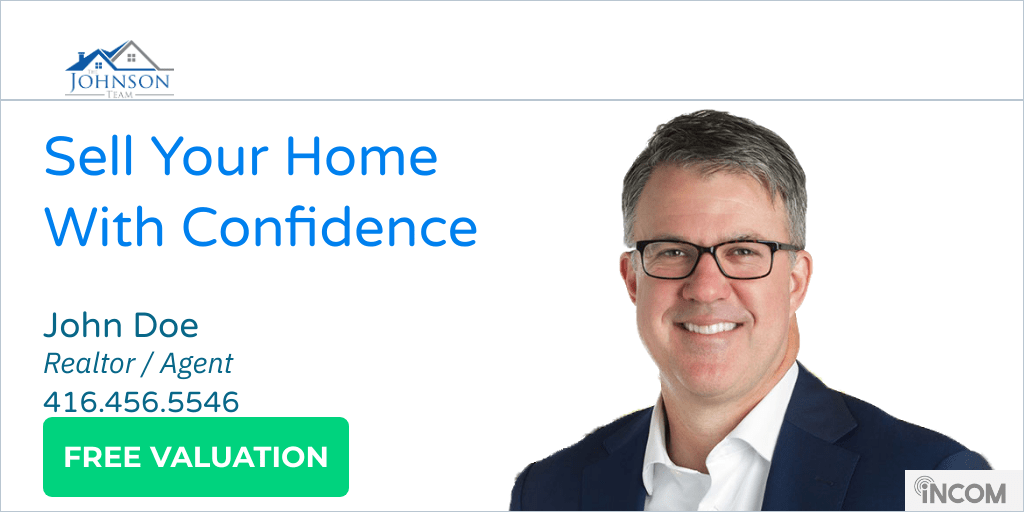 source: InCom


5. Picture The Perfect Buyer
Vlad Girboan, Marketing Specialist at Point2 Homes
"The best real estate ads don't appeal to the general public, but rather to a very specific audience. When it comes to real estate advertising, you should always start with the picture of your perfect buyer in mind.
Think of the property you're trying to sell and figure out who would be the ideal resident. What's their age and education level? Are they single, with kids or divorced? Do they work from home, or do they commute? This is called building a buyer persona.
With a clear picture of your buyer persona in mind, you can tailor the message and the visuals in your ad to appeal to that type of buyer. An ad for a New York condo should be different than an ad for a rural property in the country or a family home in the suburbs."
Point2 Homes is an online real estate marketplace that helps people find the right home or invest in real estate. The editorial department, Point2 Homes News, covers everything real estate, from market trends and news to buying and selling tips on local, national, and international housing.



6. Be Aware of Your Audience
Orsolya Kis, Senior Graphic Designer at RENTCafé
"I think one of the most important aspects is to be aware of your audience. Since the real estate market incorporates so many segments targeting different audiences—from renters and buyers, to agents and brokers—you need to design your visuals accordingly.
For consistency's sake, I like to keep a general feel for each brand I work with, while also coming up with something new and innovative every time. This way, I keep the audience interested and engaged."
RENTCafé is an apartment search website and a part of Yardi Company. Yardi Systems has served real estate and property management professionals for over 25 years. Their research and in-depth analysis of the real estate market have been featured in major U.S. media publications. RENTCafé also offers helpful tips for renters who want to learn to manage their money, handle roommate issues, or find some new design ideas.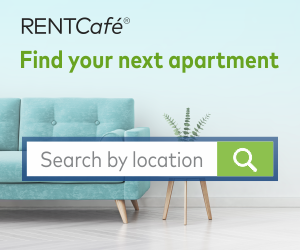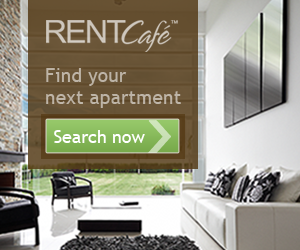 source: RENTCafé


7. Hire a Professional Photographer
Jason Fox, founder of Jason Fox Real Estate Marketing
"Images are everything. Long before people decide to drive by a home or even take a tour, they are deciding which houses they want to visit by looking at the pictures online. You only have a few seconds to captivate their attention and inspire them to add your listing to the list of homes to look at. If the property is not well furnished, then make sure to have it staged or at the very least, have the photographer provide virtual staging.
In Seattle, we use Architectural Exposure, an award-winning real estate photographer that has seen many of their images on the cover of popular real estate magazines."
Jason Fox Real Estate Marketing focuses on empowering the modern real estate agent to dominate their local market. Jason is an award-winning broker that has been working as a real estate marketing professional for over a decade. He blogs about lead generation techniques, social media, SEO, digital advertising, email marketing, content marketing, WordPress, and IDX.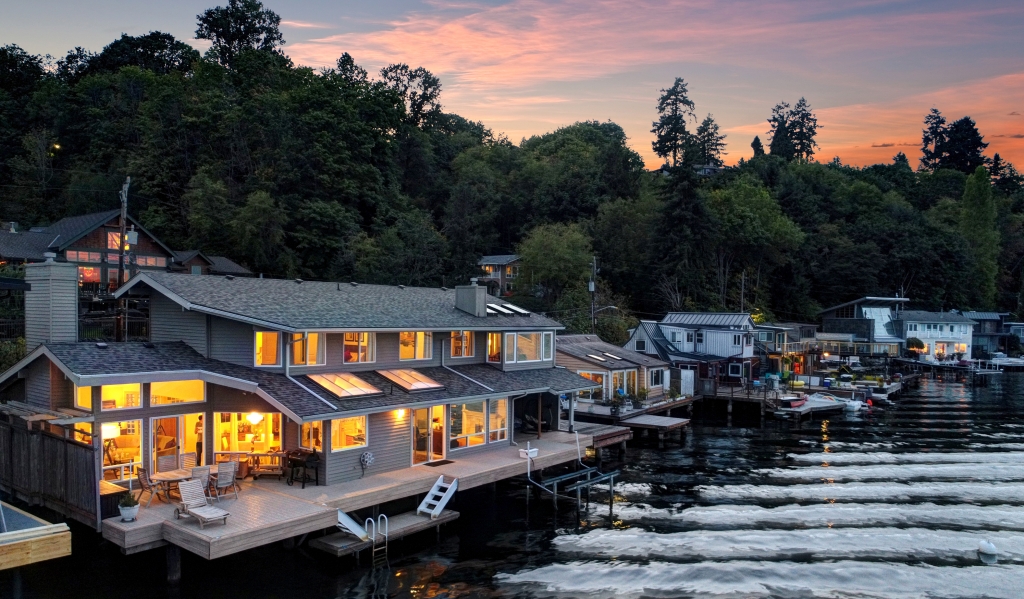 source


8. Demonstrate Visual Authority
Nelson Cuesta, the CEO of AgentFire
"An effective brand ad should visually establish the agent or team as an authority within the hyperlocal market that they're looking to dominate."
A complete real estate website solution package, AgentFire has the mission of helping agents to advertise their uniqueness and showcase local expertise and market knowledge. The company also offers valuable assets like lead generation masterclasses and live website training sessions to help customers multiply the number of upcoming deals.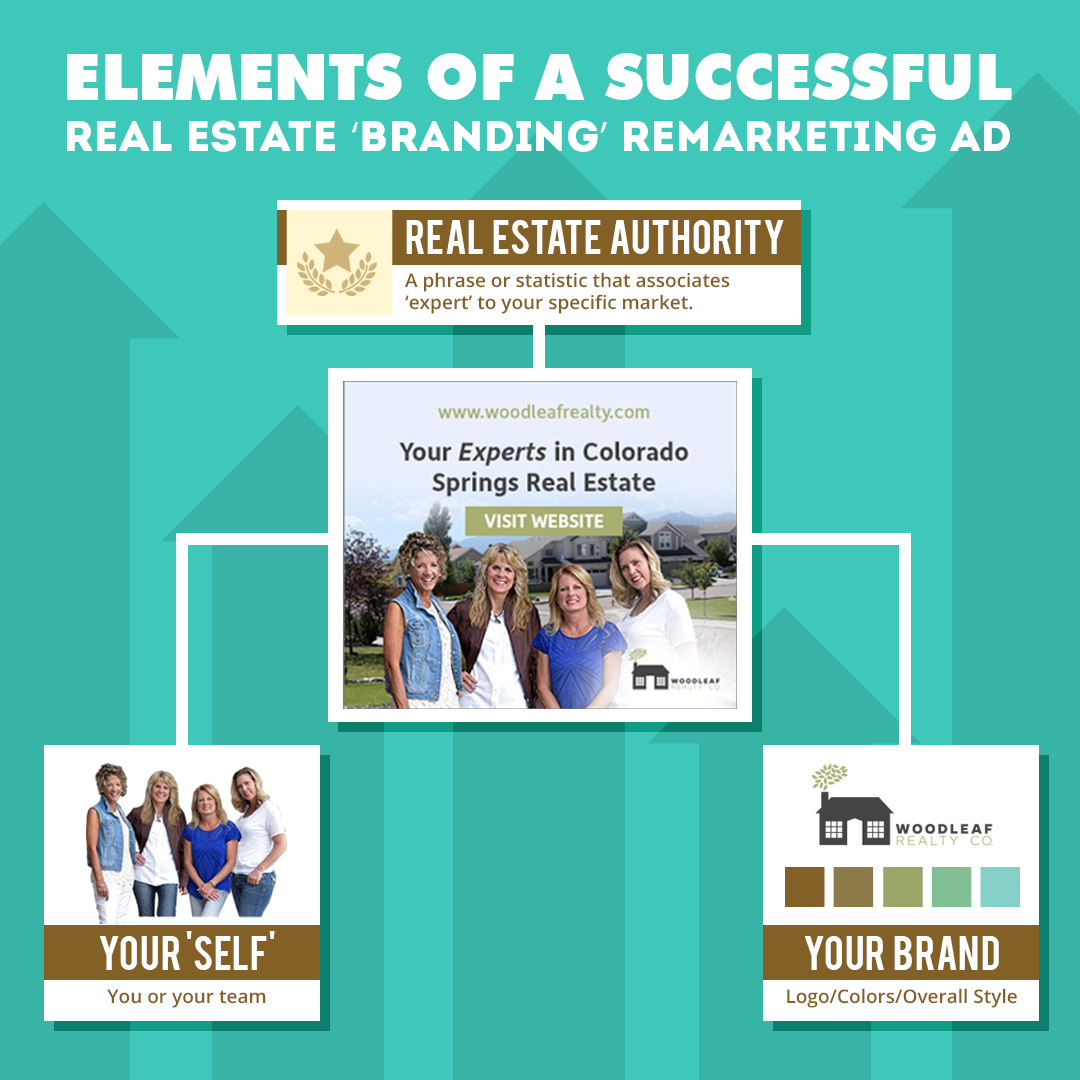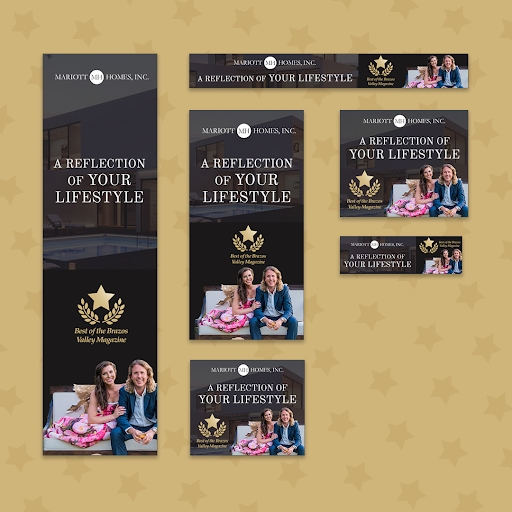 source: AgentFire


9. Be Consistent
Neska Husar, Marketing Director at SharpLaunch
"Always be consistent with your brand and aim for top quality artwork. When your visitors click on your ad to land on your property websites, your design needs to be consistent across all your real estate business' marketing assets, so make sure you're using the same colors, logos, typography, and messaging and create a brand guideline that you can easily share with your marketing team.
The more your brand is visible online, the more recognizable it becomes, and consistency is key to transmitting credibility, professionalism, and creating a memorable experience for your prospects and clients."
SharpLaunch is a powerful commercial real estate marketing software that provides a suite of easy-to-use tools to expand asset visibility, streamline marketing activities, and save time for commercial real estate teams.



10. Make a Fast Impression
Naomi Veres, Visual Designer at Creatopy
"It's vital to keep in mind that you are competing with many other brands and that you have limited time to make an impression on potential customers. Keep the ad copy short and simple, and give all the information required during the decision-making process (contact information, price, floorplans, etc.).
Design-wise, real estate ads should be clean and use icons and visuals over text to deliver the ad's message as quick as possible. Plus, if you choose to follow brand guidelines in design details like color choice, logo usage, and style, your brand will stick in people's memory and buy you some extra time in the future.
Ultimately, it's a best practice to make sure that potential clients don't have to make a real effort to reach you. The best transactions are the ones that can be completed in just a few clicks."

If you're looking for an easy-to-use tool to create real estate visuals Creatopy is a platform worth experimenting with. You can start from scratch or grab a standard-size layout from our gallery. Moreover, you can save time by creating 50+ ads in just a few clicks and choose from hundreds of free real estate banner templates.