simplify your ad design process
Transform your real estate creatives
Create ads at a faster pace and make local listings available for potential clients. Let them know you can offer all the help they need in finding a new place to buy or rent or that your services can streamline the process of selling their old home.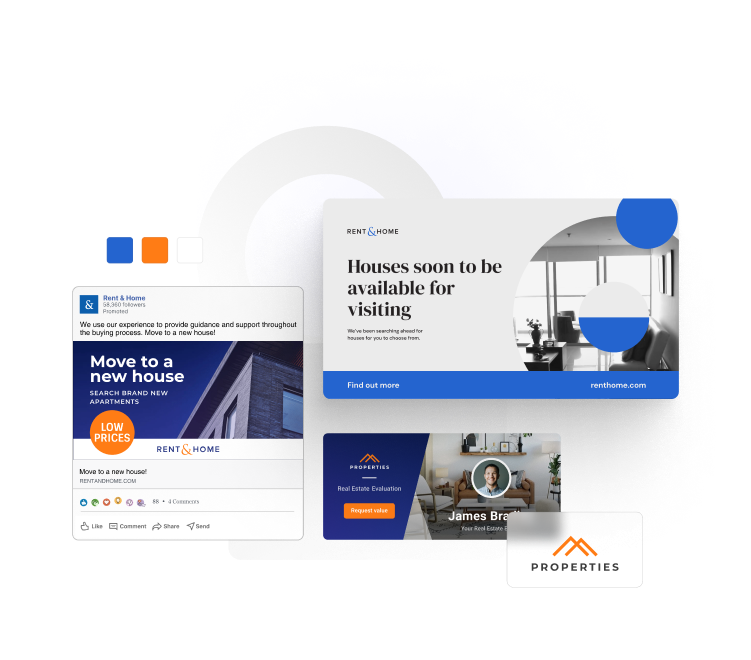 brand aligned ad design
Manage multiple projects at once
Managing multiple projects simultaneously? Simply create a dedicated brand kit, and upload the assets needed for each one. Switch between kits directly while editing, depending on the project you are working on.

Customize your sharing page with to display your branding so that whenever your clients or partners receive any of your work, they can clearly see it's yours. Add your logo, favicon, customize your share URL, and stay brand consistent across all stakeholder categories.
Explore the benefits
Expand your reach
Target more than one audience by creating multiple ad variations at once. Easily design ads in tune with your brand and expand your delivery to reach people in different neighborhoods.
Choose the ad format that works for you
Go for static creatives or if you want a bit of movement but still keep it short and sweet, pick a preset animation from the Magic Animator, then easily customize the duration from the timeline.
Work in sync
Collaborating with your team is the key to keeping your work organized and enhancing transparency. Give feedback, make changes, and approve ads in real-time.
Shorten time to market
Ad campaigns ready
in minutes
With the Feed Ad Builder and Banner Generator, you can have a large volume of ads ready at once while keeping brand consistency. This includes A/B testing, which allows you to create more versions of the same ad. You can test different images from the same property to see which one attracts more leads.
start with templates
Start from a ready-made template
or build your own
Work smart and automate
Accelerate your ad design process
Connect faster with potential buyers and renters through professional ads crafted the way you want. Let your audience know you're there for every real estate need. Use Creatopy's automation features and have your ad campaigns rolling in no time.