9
minutes read
Do you want to know how to create and launch a breathtaking YouTube Channel for you or your business?
YouTube is incredibly popular these days, not only for its massive community of viewers but also among content producers and publishers.
Video blogs and independent online shows have a huge audience, and marketers are becoming more interested in contributing to this platform. There are 1.3 billion users on YouTube.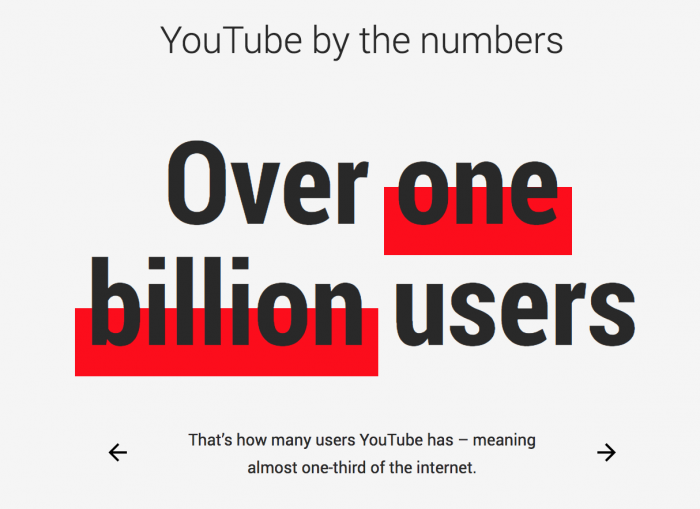 They watch over 5 billion videos every day on this platform.
This is a huge audience, which makes YouTube an incredibly powerful platform for content marketing.
Before thinking about your future as a successful vlogger or video marketer, however, there are a few things you need to know. Like, for instance, how to create your first successful YouTube channel.
So, let's start, step by step, and go together through the entire process.
Here's a quick overview
How to start a successful YouTube channel:
Do you have a Google account? If not, set one up.
You will need it to get on YouTube.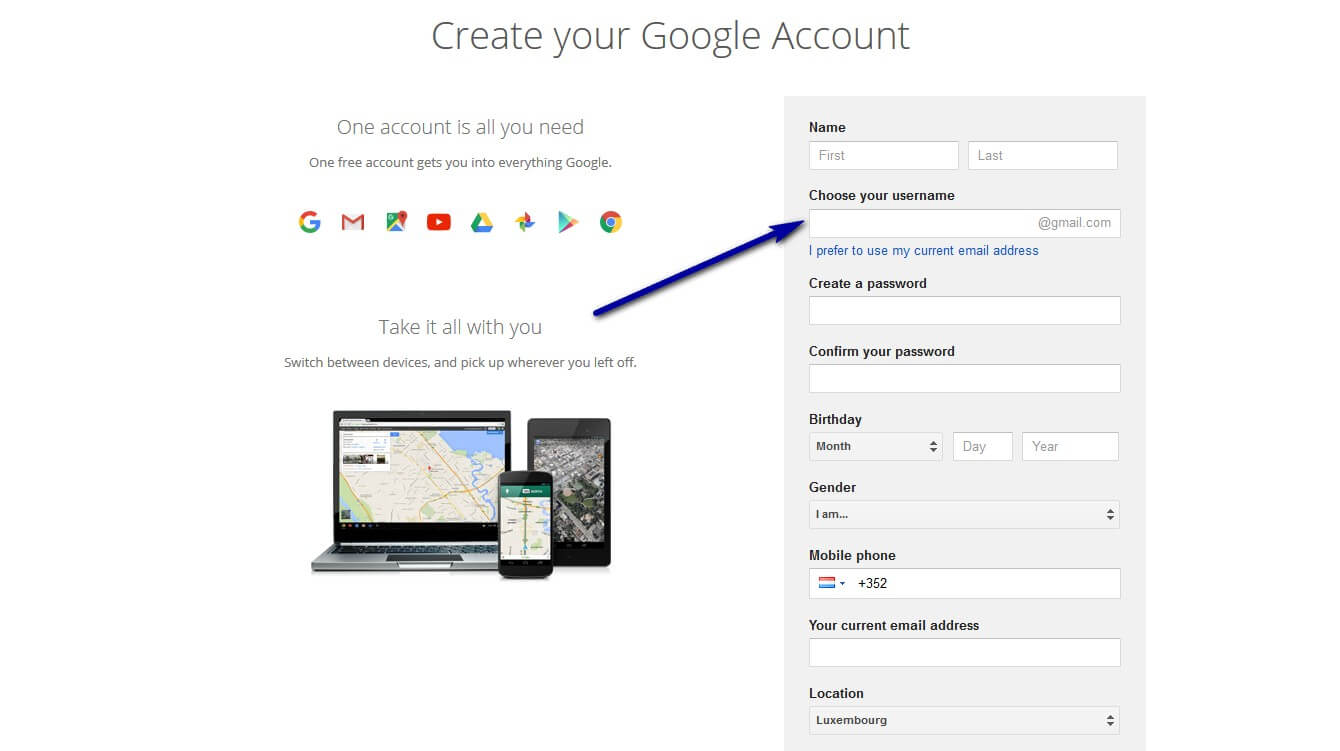 Now that you are here make sure you are choosing a good username. It's better to have a username people will easily remember.
In fact, you can set up a new Google account just for your YouTube channel.
The logical next step, once you have the account, is to log in to YouTube.
Before uploading anything, however, you need to make your first video. We're going to talk in detail about this topic in the following chapters. However, there are a few things you can think about right from the start.
For instance, there would be better to choose right from the start something to talk about in your first video. It may be a subject you are an expert in, a topic you are very familiar with. At the same time, you can create a video to talk about you, your channel, your intentions, etc.
This can be an introduction video in which to tell your audience why they should watch your channels, your interests, your main topics, and of course, a preliminary schedule.
Uploading on YouTube is very easy.
Click on the button available in the top right corner.

Now, choose your file and start uploading.

How to make a successful YouTube channel on the phone?
Is it possible?
Yes, it is. And the process is similar to the already described steps from above. You need a Google account and install the YouTube app if it's not already installed by default.
Now, let's get back to our steps and see what else you can do to further personalize your channel. Well, except uploading your content, of course.
Your YouTube channel visual style
Now that you know how to start a YouTube channel, I guess you are already asking yourself whether you can find a YouTube channel art template. I am sure that there are several websites where you can find such templates. However, if you want to personalize your channel for real, you will have to change the appearance and adjust it in your own image.
There are not many things you can do to make your channel branded. However, you can change the channel art (the cover photo) and add a personal channel icon.
Go to your account and click on "Customize Channel."

From here, you can add a channel art image and an icon. They will be both visible on all devices, including mobiles.
And yes, you can use Creatopy for creating your YouTube channel art template, save it and upload it to YouTube right away.
What's the Youtube Channel Art Size?
According to Google's specs for YouTube, the recommended size of channel art image is 2560 x 1440 pixels.
This is their recommendation for the best results when the channel is accessed from different devices.
However, pay attention that there may be some differences in desktop, mobile, and TV displays. As a result, your cover image may be cropped. So, make sure you let some extra spaces on each side of the design.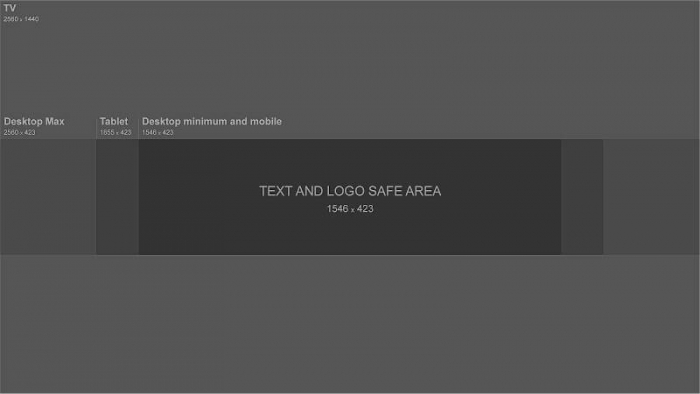 Here are some other important technical data you might need to know:
Minimum dimensions for channel art image upload: 2048 x 1152 pixels.
Minimum safe area for text and logos (if you don't want something important to be cropped): 1546 x 423 pixels. As I was saying, if you choose larger images, they may get cropped on certain screens or devices.
Maximum width: 2560 x 423 pixels.
File size for upload: 4MB or smaller.
Your YouTube channel content
Setting up your YouTube channel and personalizing it is not enough to make it successful. Great channel art and a good choice in channel icon can indeed attract some viewers, but you need content if you need to be successful.
You need professional, valuable, creative content.
What about all the other important stuff?
1. Make a personal impact on your niche
This is quite important because you need to develop something unique to be noticed by people.
YouTube has a huge audience but it also has a lot of vlogs and channels to cover almost any topic you may think about.
What can you do?
Before anything else, keep in mind that you are not alone. It doesn't matter that you are an expert on a specific topic. There are other tens or hundreds of people who are at the same level as you, and maybe some of them are on YouTube as well. So, you need to come up with a unique perspective on your selected niche. It's hard, I know, but it's doable.
To better understand what I am saying, let's look at two examples of successful YouTube channels from two different niches.
One of the first channels I can think about at this point is Screen Junkies. As the name suggests, its content addresses a broad audience of movie lovers from all around the world.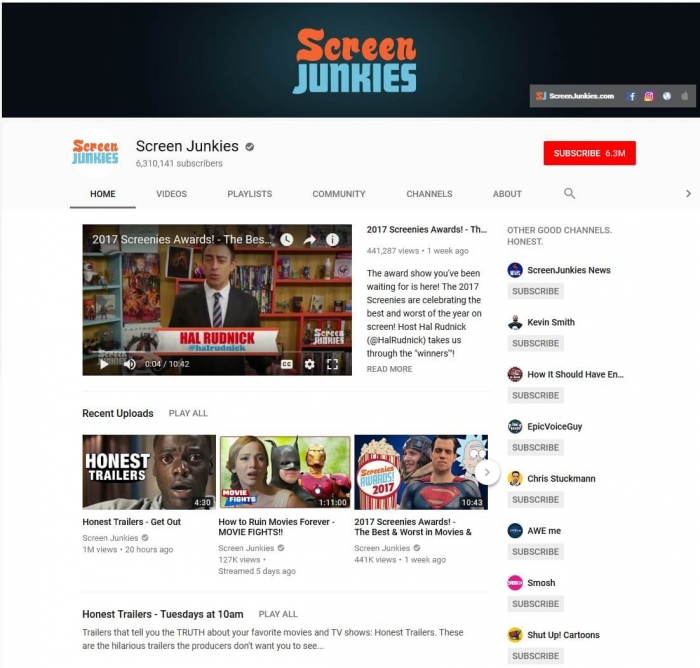 What makes them different from other similar channels from YouTube? Their "Honest Trailers" series. It's a unique approach to movies and movie trailers in particular, and it adds a lot of fun to a banal activity we, movie lovers, engaged with every day.
These "Honest Trailers" are a great success for the channel, with views ranging from 1 million to up to 40 million per episode.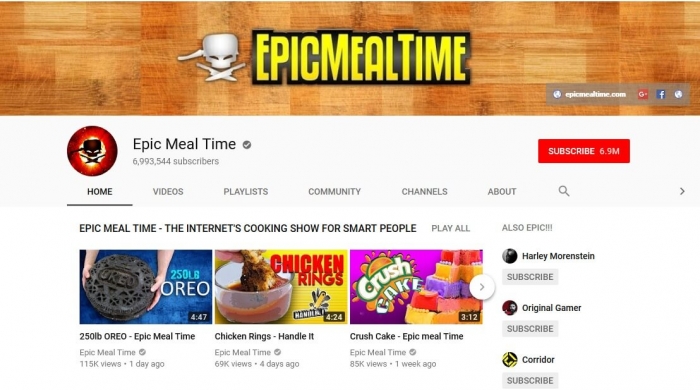 Another great example comes from Epic Meal Time and their approach to food. Instead of presenting the traditional culinary how-tos, they decided to come up with something out of the box. As a result, their channel features unique recipes of epic proportion, like a 250 lb Oreo meal or sandwich lasagna.
The results were similar to that of Screen Junkies. Epic Meal Time's episodes are viral on YouTube.
As a matter of fact, they have a massive collection of epic recipes with views ranging from 1.3 million to 29 million.
2. Post regularly and with consistency
Your channel, to be successful, needs an audience. It's okay if you manage to convince people to subscribe to your channel, but at the same time, it would be better if they come to you regularly.
To keep them engaged, you will have to post consistently and add valuable content daily. Ok, maybe you cannot publish every single day of your life, and that's ok.
The audience can adapt to your style and your schedule. However, it's better to be consistent because every time you add a new video, your subscribers get notified about it. The more frequently they get notified, the more regularly they will remember about your channel.
In this case, a great example is one of the most popular YouTubers from the last few years: PewDiePie. He has more than 60 million subscribers as of January 2018. Besides the quality of his content, however, there is yet another thing that makes him successful.
He manages to posts videos every day, sometimes even twice a day.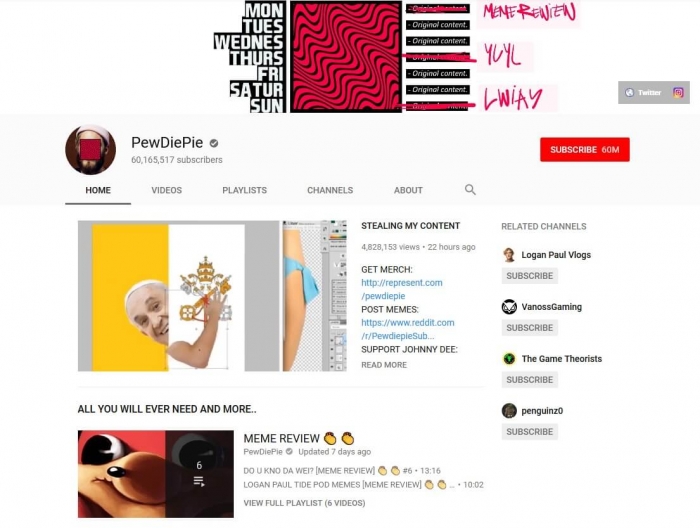 Through consistency, professionalism, and interesting topics, PewDiePie has become the wealthiest YouTuber, with $15 million in earnings in 2017 alone.
3. Make sure your content is always of high quality
A personal view on a topic and consistency with your posting schedule may not be enough for a successful YouTube channel. Keep in mind that there's a huge competition on this video platform and that there are many other channels with similar content.
To convince people to migrate to your channel, you have to make sure you've done everything in your power to keep their interest at a high level.
What else do you need?
Well, you need to also focus on quality. YouTube is filled with millions and millions of poorly filmed video clips nobody cares about. Some of them may be engaging and may even become viral, but they are merely coincidences.
A successful vlogger knows that the audience is what matters.
And, in order to honor that audience, you need to deliver high-quality content to them.
Take a look at this list of the top 10 wealthiest YouTubers. Then, take a quick look at how their videos look and feel. They all invest their time and money in the best tools and hardware to ensure that their videos are interesting, engaging, and high quality.
Tips for creating a successful video on YouTube
So far, we've discussed some of the most important elements a successful YouTube channel needs. However, some technicalities may also prove to be essential for you, and I will try to pinpoint the most important ones.
So, let's dig in and find out some other helpful facts that may prove decisive for your success:
Metadata

: Do you want to make sure your videos are discoverable? I am sure you do. For this to happen, you need to also take care of your metadata. This means that you should focus on title, keywords, and tags. Based on them, combined with other things, YouTube will rank your video in their search results. In other words, the search engine (just like Google) will use your metadata to better catalog your content. Based on this, people interested in similar topics and searching for relevant videos may find you easier.
You can use YouTube trends and Google Trends in order to find the best keywords to use in a specific context with a particular video.
How to add metadata to a YouTube video?
There is no secret place you can go for this. In fact, it's quite easy to do it. While the video is uploading, you will be prompted to add a title, a description, and some keywords to it. YouTube will also prompt you to choose a category. While the upload may take a while, make sure you have already decided on this data.
Write your title, description, and keywords in a document and paste them when prompted to do it.
Discoverable titles

: This is yet another essential aspect of your YouTube channel marketing strategy. In the previous chapter, we've discussed how important is metadata and how you need to find great keywords, great titles, and a good description. How do you choose your title? Is there a best strategy for this task?
Well, yes, there is. Search Engine Land describes the most critical five keys in creating a discoverable, great title for your YT channel:
Conduct keyword research

Use the word "Video" in the title ("How to," "Tips," "Tutorial" may also work in many cases)

Use as few characters as you can but,

Summarily describe your video

Study your competition and learn from their successes and failures.

Video thumbnails

: They matter for two reasons: On one hand, they may help describe your video or parts of your video you may consider as decisive for your audience. On the other hand, they may help your branding strategy, especially if you want to stand out from the crowd.
To better understand how YouTube thumbnails contribute to your personal branding, let's take a look at some of Gary Vaynerchuck's videos: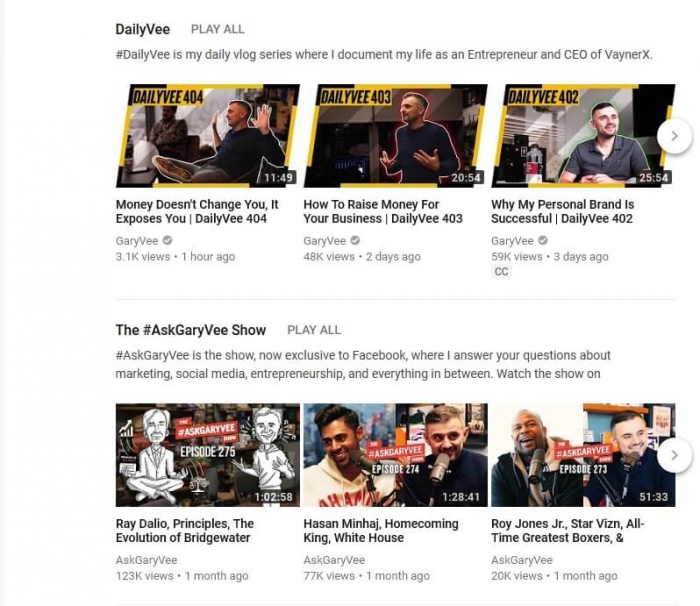 Observe how different videos stand out with specific branding elements such as fonts, styles, and layouts.
This is obviously an essential part of your YouTube channel marketing strategy.
Conclusion
Whether you are looking to start a YouTube channel for business or just for the fun of it, there are many things you need to take into account before actually producing your first videos. This article was meant to shed some light on the technical aspects of starting a YouTube channel.
Also, I have tried to pinpoint some of the most critical aspects of how to market a vlog to make it successful.
Are there any other important things you'd like to add to this short guide?