5
minutes read
Personalized experiences in marketing are a powerful way for companies to build stronger relationships with consumers. Creating unique, individualized experiences can happen in many ways, from personalized email headers to targeted ads.
The focus on the individual, instead of mass messaging, was first explored back in 1993 in the book The One to One Future. The main idea of the book was this: people don't want to be part of the crowd, and the future of marketing would be focused on the individual. Since then, personalization has only grown in popularity—among businesses and their target audiences alike.
According to Statista, 62% of consumers say they would stop buying from a brand that offers experiences that aren't personalized. Consumers don't want to be reminded they're just a number. They're searching for these personalized experiences, and brands of any size can deliver and bring in new customers.
Benefits of Personalized Experiences in Marketing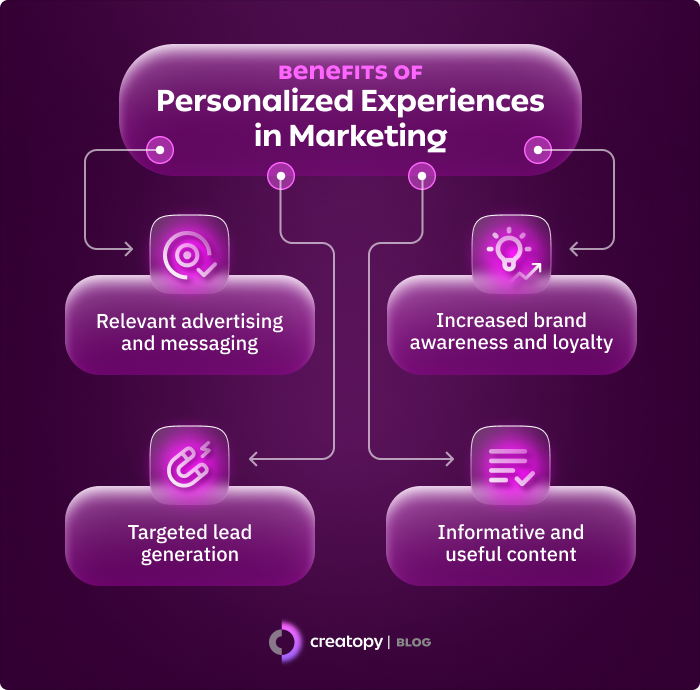 Personalized experiences provide many benefits for businesses. These benefits include:
Relevant advertising and messaging;

Increased brand awareness and loyalty;

Targeted lead generation;

Informative and useful content.
These benefits help businesses to bring in new customers, keep old customers, and improve their brand reputation and recognition over time.
Examples of Brands Using Personalized Experiences in Marketing
Many brands use personalized experiences in their marketing. Some examples of brands that are doing this successfully include:
Target.

Target assigns an ID number to every customer after their first purchase from the chain of retail stores. From here, they can track the

purchasing habits of each customer

and integrate them into data. The analytical tools and software used to analyze this data help the company to provide personalized advertisements, coupons, and messaging for each customer.

Coca-Cola.

In recent years,

Coca-Cola began adding popular first names

, last names, and even vacation destinations to their bottles' labels. These additions increased their sales because they provided consumers with a highly personalized buying experience. Each customer could buy a bottle of Coke with their name, their loved ones' names, or their city's name.
Target and Coca-Cola are only two of the many brands making the most personalized experiences in their marketing efforts. But big brands aren't the only ones who can benefit from personalization.
How to Start Bringing Personalized Experiences to Your Client Base
The benefits of personalized marketing are known and established, but integrating these practices into your marketing strategy is another matter entirely. In particular, getting to know your customers, using social media, and focusing on your consumers and ethical data practices are all personalization tactics that can create top-notch experiences.
1. Get to know your customers
Before you can personalize your customer's experiences, you need to get to know them. There are several ways you can do this, including:
Studying website and social media analytics.

By studying the demographic of people following your website and social media, along with the number of people, you'll better understand who you may want to reach out to through personalized marketing efforts in the future.

Responding to customer reviews.

When customers leave reviews — good or bad — responding to these reviews can help the customer feel seen and understood. Responding to reviews creates a personalized experience, even for customers who were not satisfied with the product or services they received.

Starting conversations online.

If you want to get to know your customers, start asking questions through surveys, social media posts, or one-on-one interactions. These interactions give your followers the chance to share their opinions and experiences with you so you can tailor future experiences to better meet their needs.
By creating an open dialogue with your customers, you can learn more about how to create specific customer experiences through ad optimization that will speak to the current market.
2. Use social media platforms to your advantage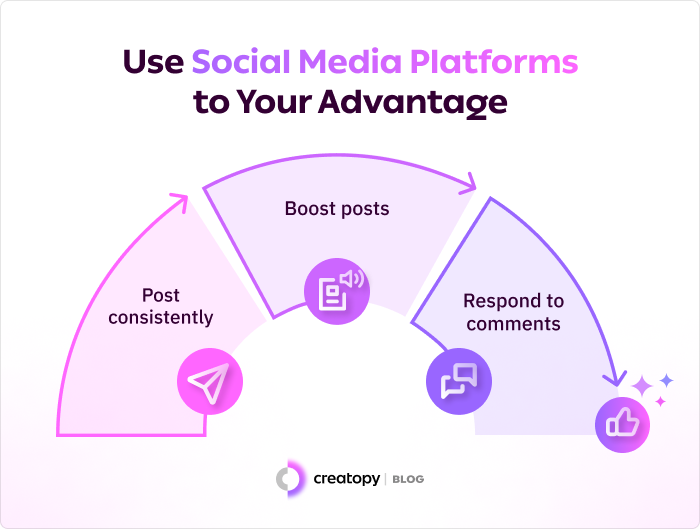 People all over the world, no matter their age, are active on social media. In fact, as of January 2023, there are 4.76 billion social media users around the world. These users are creating content, connecting with others, and exploring the global marketplace. Making the most of social media is a fantastic way to connect with customers in a more personal way.
Although social media has turned into a hub for advertising, its origins were in social experiences — engagement. You should remember these origins when advertising by engaging directly with customers on these platforms. By making the most of platforms such as Facebook, Instagram, TikTok, and Twitter, businesses can reach a level of interaction with consumers that isn't normally possible when using a website or email list.
If you are interested in improving your business's social media presence, you can:
Post consistently.

Posting consistently can help to create a brand reputation for reliability among your followers.

Boost posts to reach your target audience.

Social media platforms allow you to boost your posts to specifically reach your target demographic or geographic location.

Respond to comments and tagged posts.

Take the time to respond to comments from your followers. By doing so, you're showcasing your time and effort to interact with your followers.
Social media isn't just for the young anymore. Practically everyone, including businesses, uses it for their own purposes. Beyond personalization, you can also use it to build brand awareness.
3. Train for a consumer-first approach
A consumer-first approach is focused on treating your customers with a high level of care and attention. Although this approach is typically taught in customer-facing departments such as customer service, you should integrate it into other departments as well, such as marketing and sales departments. This can include taking actions such as:
Providing opportunities for customer feedback;

Personalizing the customer experience as much as possible through targeted ads, custom communication, and more;

Providing goods and services at the convenience of the customer;

Being willing to adapt and make adjustments as needed to help the customer.
Tracking every customer interaction is impossible for one person. However, by teaching your employees about the care needed for a satisfactory experience, you're that much closer to streamlining the customer experience — whether they walk through your door, call your number, or visit your website.
4. Harness consumer data — ethically
As mentioned, many familiar big-name companies have used data to their advantage in building a personalized experience for customers. There is a large amount of data available online. However, with this data comes anxieties. According to the Harvard Business Review, 97% of surveyed consumers are concerned that businesses and governments will misuse their data.
These concerns are understandable, and businesses must be dedicated to ethically harnessing consumer data to provide a safe and personalized experience for customers.
Moreover, you should also be transparent about the data your business collects. By knowing the mechanics of your marketing strategy, your customers will feel more comfortable about what you do or don't do with the data. From here, you can effectively use the data to target ads and send your content to the right audience.
By harnessing the power of personalized experiences, you can convert the people in your target market into new and loyal clients.