21
minutes read
From a visual diary of traveling and food porn to a never-ending meme stream or the forbidden land of doom-scrolling, Instagram can mean different things to different people.
For marketers, it's a powerful advertising channel.
If you've ever considered promoting your business on the Meta-owned platform, here's an interesting fact for you:
Revenues generated by Instagram advertising have been on the rise for the past few years and are expected to reach $40.21 billion this year.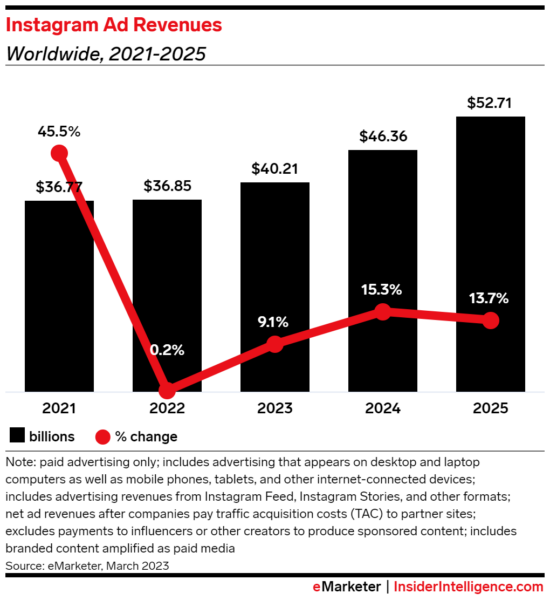 Brands all over the world are investing in Instagram ads, and you should too.
Why?
I'm hoping this guide will answer that question for you. We'll go over the main benefits of this advertising method, how to run ads on Instagram and measure their success, as well as a few best practices.
A. What is Instagram advertising?
B. Benefits of Instagram advertising
C. Types of Instagram ads
D. How much does Instagram advertising cost?
E. How to create Instagram ad campaigns
F. Measuring the success of your Instagram advertising campaign
G. Instagram advertising best practices
But before going any further:
A. What Is Instagram Advertising?
Instagram advertising is a paid promotion method where brands try to drive awareness and reach new customers using image or video assets.
Ads on Instagram look similar to regular posts or other types of native content, such as stories and reels, except they are marked as sponsored, so users can quickly identify them.
There are a few other elements that set sponsored posts apart, including call-to-action buttons and product tags, depending on the chosen ad type.
Over 200 million businesses use Instagram for advertising purposes, but this number is likely to increase soon, especially if TikTok does get banned in the United States.
B. Benefits of Instagram Advertising
So many marketers allocate part of their budgets to promoting their business on Instagram for a few good reasons. Let's see which they are and if they convince you to get into Instagram advertising (if you haven't already).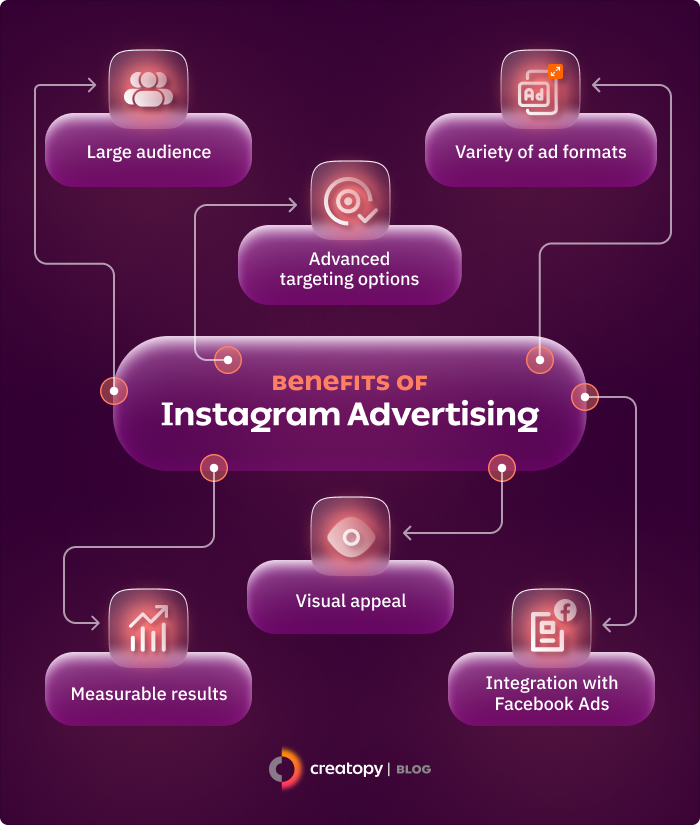 Large audience
Instagram has a potential ad reach of over one billion users, so you can be sure you'll connect with a significant segment of your audience by advertising on this platform. Besides, the user base is expected to grow by 4.7% in 2023, according to eMarketer.
Beyond the impressive numbers, the audience is also quite diverse in terms of age. You can advertise on Instagram to Millennials and Gen Zers, which are the most numerous, but there's also the possibility to reach Gen Xers and Baby Boomers. This leads me to the next benefit.
Advanced targeting options
Instagram's ad targeting ability (or, better said, Meta's, because Facebook shares the same options) is one of the most powerful out there.
You can segment users based on location, demographics, interests, and behaviors, as well as build custom and lookalike audiences. The last two have the highest potential of reaching the ideal prospects because they use your customer data to refine the audience.
But we'll get into all the ad targeting options available for Instagram ads in the how-to part of this article.
Variety of ad formats
Instagram provides multiple image and video ad formats, so you can choose the ones that work best for your brand.
Some of them (i.e., reel and story ads) are known to have high engagement rates in general, but truth be told, it all depends on your audience's preferences and what you're trying to achieve.
For instance, image ads might work well for brand awareness, while video ads can be great at driving traffic and promoting products. Each format has its strong suits, and it'd be a mistake to dismiss one or the other before testing.
Visual appeal
Instagram is a visually-oriented platform that allows you to leverage the power of attention-grabbing ads to evoke emotion, tell a story, and ultimately influence the purchase decision.
It might not happen on the spot, but studies have shown that 65% of the population consists of visual learners.
This means that many Instagram users who see your ads are very likely to recall your brand, product, or service, even if they don't convert then and there.
Measurable results
Instagram provides you with all the necessary tools and performance metrics to measure the success of your advertising campaigns.
You can access detailed reporting data in the Meta Ads Manager, analyze reach, engagement, and conversion rates and make data-driven decisions to improve your results.
In addition to that, by adding the Meta pixel to your website, you can track conversions from your ads across devices and see what actions users perform on your website.
Integration with Facebook Ads
Since Instagram and Facebook are subsidiaries of Meta, you can advertise on both platforms using the Meta Ads Manager.
Besides helping you reach a larger audience, this saves you a significant amount of time as you don't have to set up two different campaigns.
The two platforms also have similar ad placements, so you can easily create social media ads that work on both of them. And perhaps the most convenient aspect of all—you can keep track of campaign performance across Instagram and Facebook in one place.
C. Types of Instagram Ads
As I previously mentioned, there are different Instagram ad formats available on the platform. Let's go through all of them and see what they look like so you can decide which to use when creating your Instagram ads.

1. Image ads in the feed
Instagram is, at its root, a photo-sharing app, despite its current focus on short-form video content. And image ads are among the OG ad formats on the platform.
This might be the most basic Instagram ad format, but paired with a creative ad design, it can be quite effective.
You can use a single photo showcasing your brand, product, or service to grab users' attention while scrolling through the feed and inspire them to take action.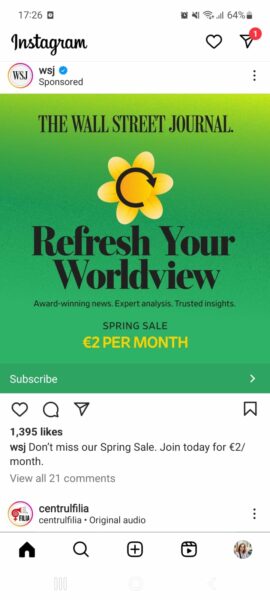 2. Video ads in the feed
Through video ads, you can tell stories about your products or services and present your brand in an eye-catching format.
In contrast to image ads, they allow you to convey more complex messages in the span of 60 seconds. Although that's the maximum duration allowed, you'll probably have more success by keeping it short and sweet, as users tend only to watch the first few seconds anyway.
We have a list of tips for creating Instagram video ads that might help you promote your brand using this type of ad.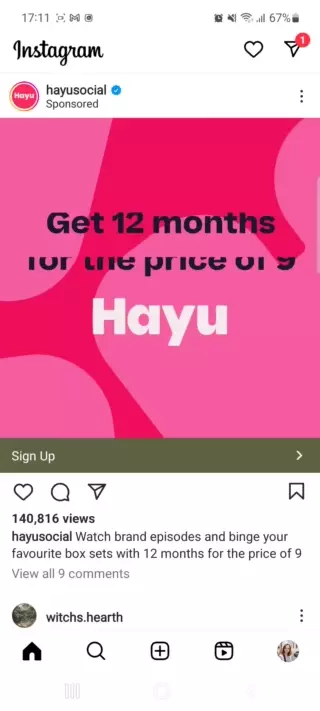 3. Carousel ads
With carousels, you can showcase multiple products or highlight different features of one product/service in a single ad unit. They include up to ten images or videos, which gives you plenty of room to get creative.
Carousels are easily recognizable thanks to the dots underneath, which also indicate progress as users swipe through the cards.
Moreover, each of the cards can have its own link, meaning that, for example, you can send users to different product pages.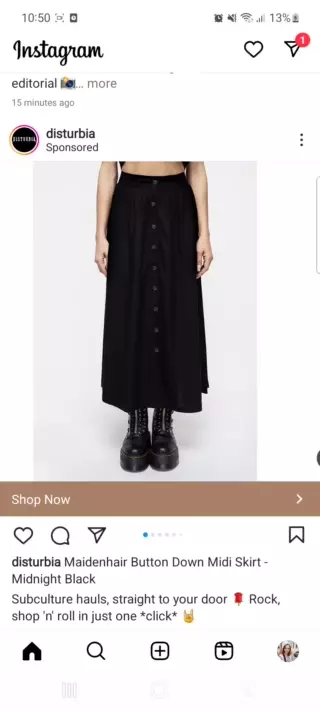 4. Story ads
According to Instagram, 50% of users have visited a website to buy a product or service after seeing a story ad about it.
It's what one would expect as sponsored Instagram content shown in-between stories offers a unique opportunity to connect with users when they're most engaged. In addition to that, it creates an immersive experience by covering the entire mobile screen.
This ad placement allows for the use of images, videos, or carousels. You can even tag products in your story ad to simplify the purchase process.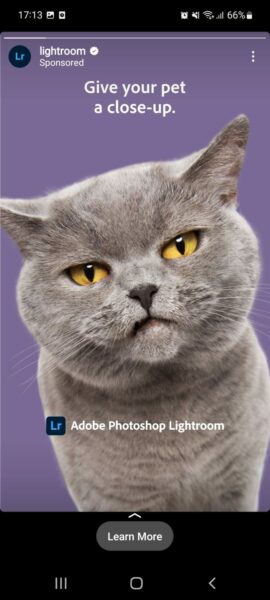 5. Reels ads
People love to consume bite-sized pieces of content, which is why short-form video ads are quite effective regardless of the platform.
While using Instagram's Reel feature and scrolling down in a TikTok-like manner, you'll see seamlessly integrated sponsored content between organic posts from time to time.
Reel ads can last for up to 60 seconds, and in the same way that Stories ads do, they engage the viewer fully thanks to the full-screen, vertical format.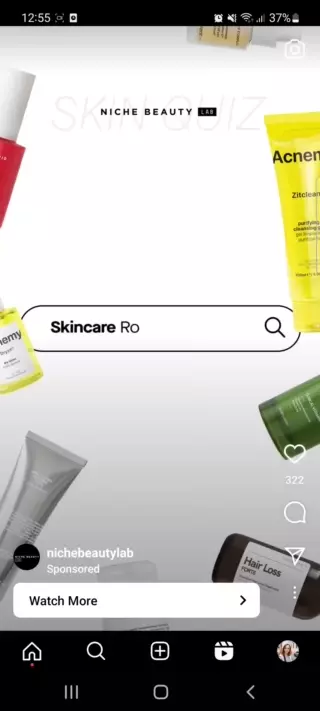 6. Shopping ads
Shopping ads help businesses promote and sell their products or services through the platform. These are basically in-feed ads with added product tags that lead users to a product detail page within the brand's in-app shopping catalog. From there, they can follow a call-to-action button to the online store to complete the purchase.
It's a great way to highlight one or more products in the same ad while encouraging users' shopping behavior. And there's a lot of potential there. According to eMarketer, the number of people shopping on Instagram will grow to 41.0 million this year.


7. Collection ads
Also relying on users' buying habits are collection ads. This type of Instagram ad features a cover image or video followed by at least four product images from a brand's catalog.
When tapping on any of the ad assets, users are directed to a Storefront or Customer Acquisition Instant Experience meant to persuade them to buy.
Although similar to carousel ads in the sense that they highlight multiple products, collection ads are more sales-oriented and shorten the path to purchase.
8. Explore ads
As you probably guessed, this type of Instagram ad appears on users' explore grid alongside carefully curated content based on their interests.
Needless to say, these ads provide exciting opportunities because they allow you to reach users when they're in the mood to discover new things, thus increasing your chances of generating engagement.
And what's really convenient about them is that you can reuse Instagram feed ads in Explore placements.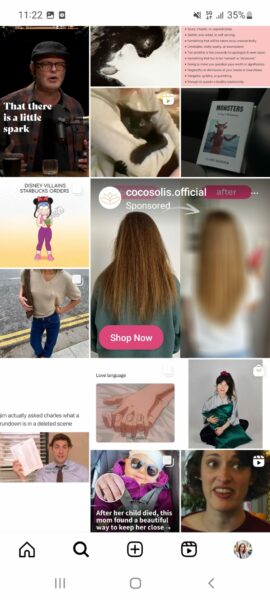 9. Reminder ads
Reminder ads were launched at the end of March, and they are the newest addition to Instagram's ad formats.
So what's the deal with these ads? Basically, Instagram users can give their permission to receive reminders about an event in the form of push notifications from the app.
These in-feed ads come in handy for businesses that want to promote upcoming events such as product or feature launches, webinars, conferences, or anything else audiences might be interested in.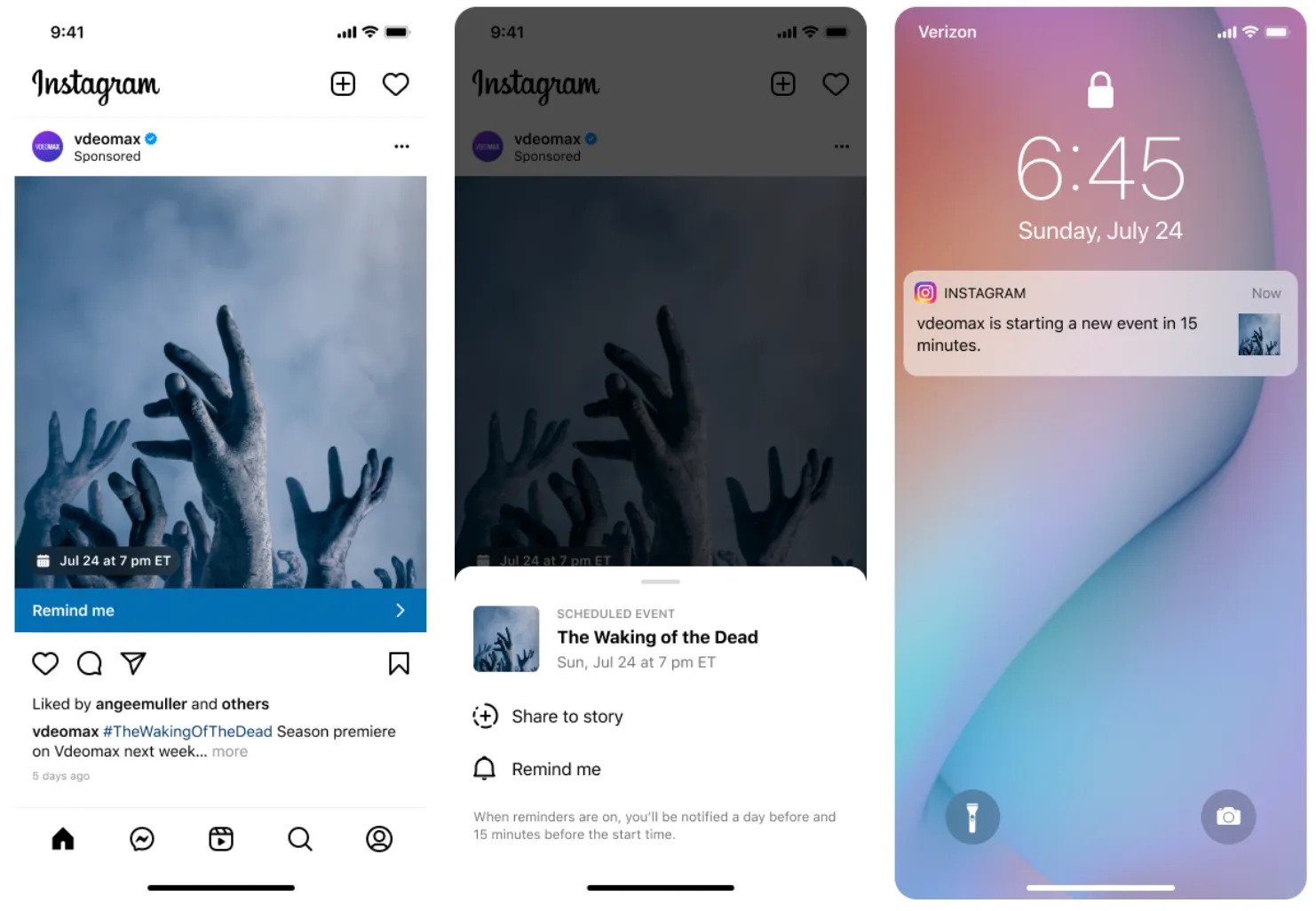 On top of all the ad formats we talked about, it's worth mentioning that Instagram is currently testing ads in search results. As you can tell by the name, these ads will be shown to users when they're using the platform's search feature to look for something.
Considering the trend that Gen Z is now using TikTok and Instagram for search, Instagram is moving into search ads at precisely the right time.
While some may argue there were enough in-app ads as is, this new placement will allow brands to target users based on contextual keywords and meet them with relevant ads at the right time.
For instance, someone searching for "fall outfits" could see ads with seasonal clothing items from brands like Levi's or UNIQLO.
Ads in search results will be released worldwide in the next months for all advertisers to use.
D. How Much Does Instagram Advertising Cost?
If you've never advertised on Instagram, the biggest question on your mind is probably: Does it cost an arm and a leg?
The answer is not necessarily.
You decide on the amount of money you want to spend and how you want to spend it. To be more specific, you pick the budget, campaign duration, and distribution, all of which impact the total cost. But there are other factors that also come into play, including:
Bid amount – how much you're willing to pay for clicks;

Competition – how many other advertisers are trying to reach the same audience;

Relevance score – how well your target audience might resonate with your ads;

Estimated action rates – how likely people are to engage with your ads;

Seasonality – how costs fluctuate around certain events or holidays.
Meta's recommendation is to start with a minimum budget of $5 and a duration longer than 6 days. But you must be aware that a budget that is too small won't help you reach all the users in your target audience.
Besides, if you want to increase your budget afterward, you'll have to do it gradually, with minor adjustments of a few dollars at a time.
The same goes for decreasing your budget.
Sudden, major changes might negatively impact your campaign's performance, and that's something you want to avoid.
E. How to Create Instagram Ad Campaigns
To advertise on Instagram, you can either boost an existing post and turn it into an ad or set up an entire ad campaign using the Meta Ads Manager. We'll look more closely at the second method and see what steps you must take to go live with your ads.
1. Access the Meta Ad Manager
Before you can do anything, log into the Meta Ad Manager. If you don't have an account already, create one first. Don't worry, it only takes a few minutes.
Once you're in, you should go to the campaigns tab, which looks like this: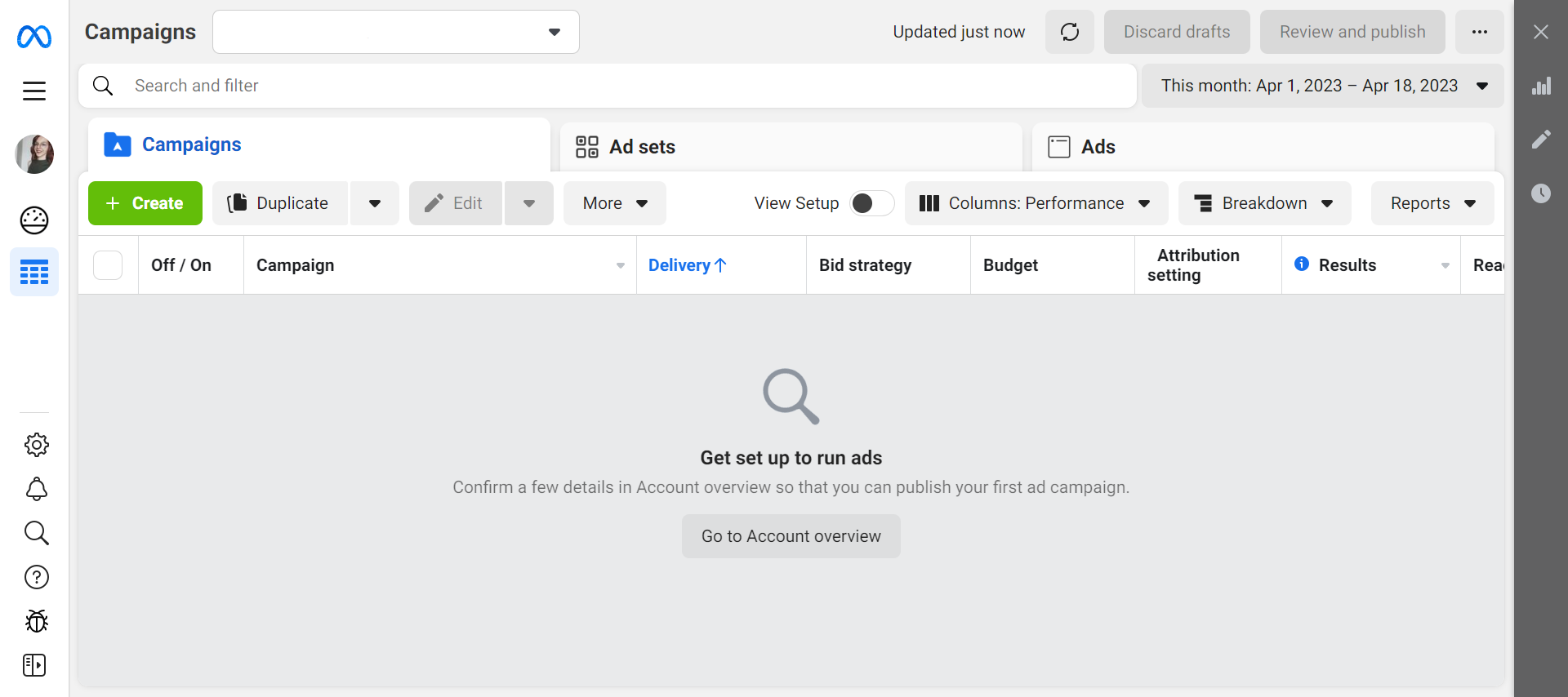 Now, click on the + Create button in the top left side of the screen to start setting up your ad campaign.
2. Choose your campaign objective
Instagram offers several ad objectives. Pick the one that coincides with what you want to achieve through your campaign. Are you looking to gain visibility for your brand? Drive purchases? Generate leads?
If you're not new to the Instagram advertising game, you might remember these goals being quite different. That's because, in 2022, Meta simplified the objectives available in Ad Manager.
Despite the changes, the functionality and features remained the same. Some previous objectives were grouped under new ones, resulting in the following six: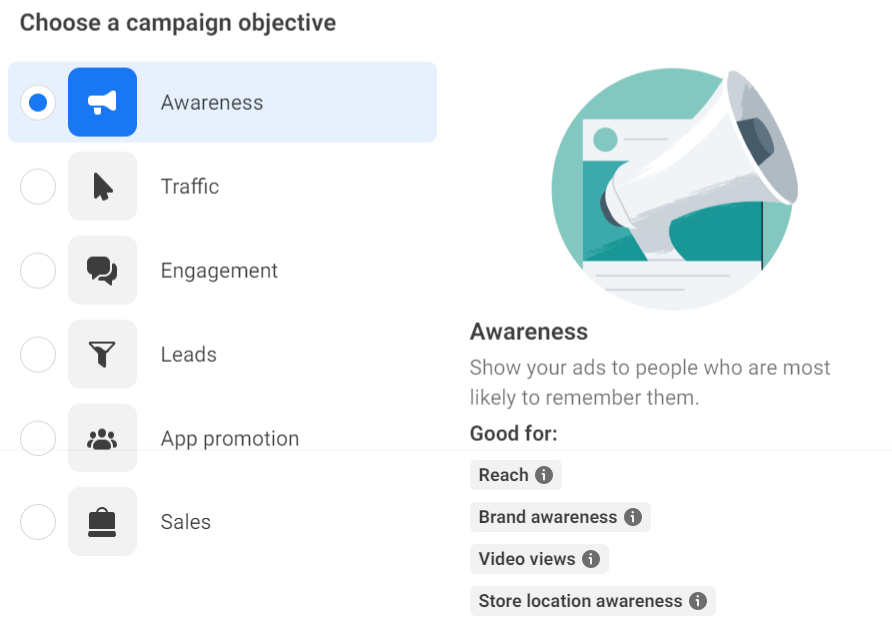 Awareness: It helps you reach people who are likely to remember your ads. This is the ideal option if your business goal is for people to get familiar with your brand. It includes objectives previously known as brand awareness, reach, video views, and store location awareness.
Traffic: Great for getting people to click a link to your website, app, or Facebook event. At the same time, it can help you increase conversations on WhatsApp or Messenger and encourage people to call your business.
Engagement: This can help you increase the number of people who watch your videos, interact with your posts, or start a conversation with your business on Messenger, Instagram, and WhatsApp.
Leads: Collect leads for your business by showing your ads to people willing to share their contact information via Instant forms, messenger, or your website. It's also good for getting people who might be interested in your business to call you.
App promotion: Get mobile to install your app or take specific in-app actions like making a purchase.
Sales: Find Instagram users who are likely to buy your products or services from your website, app, or catalog via Messenger, Instagram, or WhatsApp. Also, connect with people who might be interested in giving you a call.
While on this step, you have the option to name your campaign and ad set. Although it's not mandatory, we strongly recommend you pick suggestive names, as it will be much easier for you to keep track of multiple campaigns.
3. Set your budget and schedule
You also need to make budgeting decisions. When it comes to putting a limit on spending, there are two options:
Daily budget → setting an average daily spend over the course of a week. Ideal for ads you run all the time.
Be aware there could be days where this amount goes higher by up to 25%, but you won't spend more than seven times your daily budget in any given week.
Lifetime budget → setting an average spend for the entire run-time of your campaign or ad set. You must select an end date to use this budgeting option.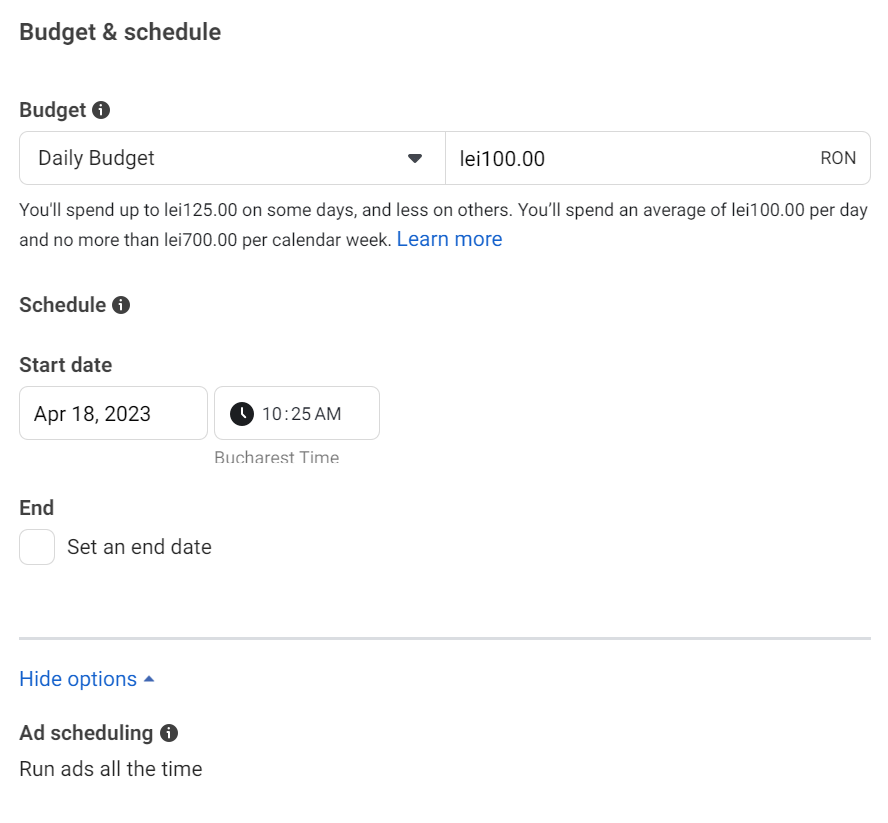 You might've noticed I mentioned end dates. That's because you can choose a specific date range for your campaign or run ads continuously.
On top of that, under ad scheduling, you have the following two options:
Run ads all the time

: Show your ads all day, every day;

Run ads on a schedule

: Show your ads only on certain days of the week, at specific hours, according to the viewer's or your account's timezone. This is useful for businesses with specific operating hours, like nightclubs or bars.
As you define scheduling, take a peek at the Estimated daily results module to see how many accounts you'll reach daily on average. If you're not happy with it, don't worry—some campaign settings that might change this range still need to be made.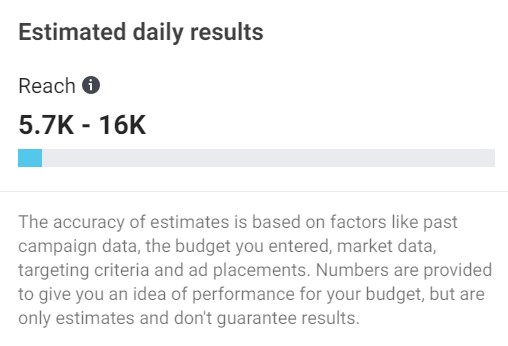 4. Define your audience
We've reached the part where you set the target audience for your campaign. You can choose to create a new audience or use a saved audience.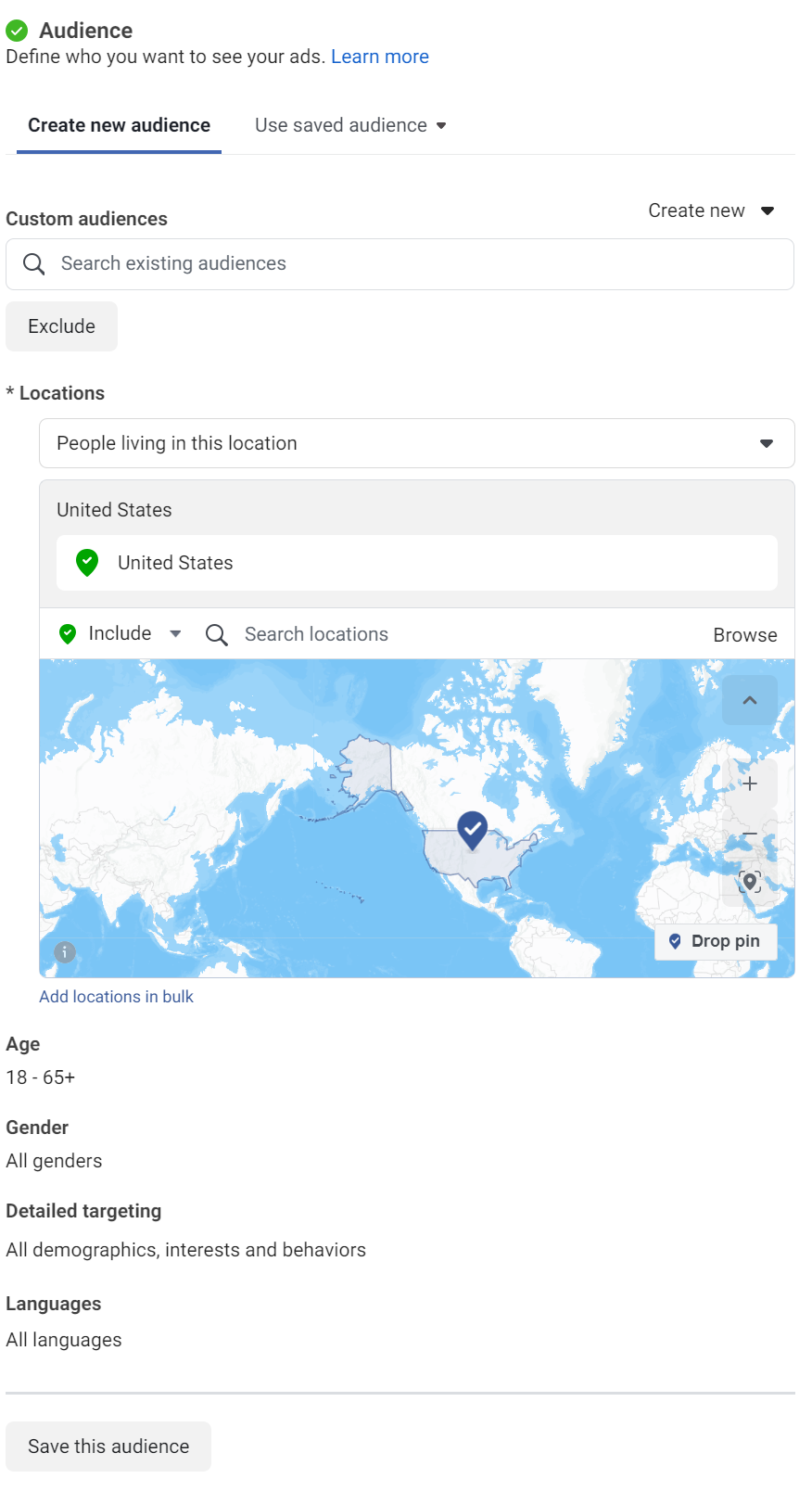 If you create a new audience, you need to go through the following ad targeting options:
Location
Show your ads to people based on specific criteria, such as:
Country

State

Province

City

Congressional district

ZIP and postcode
You can get more specific and refine targeting by selecting a location status:
People who live in or have recently been to this location (the default option)

People who live in this location

People recently in this location

People traveling to this location
Demographics
Segment your Instagram audience based on three main demographic attributes:
You can get more granular in the detailed ad targeting section by selecting from this list:
Education

Generation

Life Events

Relationship

Work
Interests
Target users who have interests or hobbies related to your product or service from areas like:
Business and industry

Entertainment

Fitness and wellness

Food and drink

Shopping and fashion
Behaviors
Reach users based on their online activity. Here are some options in the detailed ad targeting section:
Anniversary

Digital activities

Mobile device user

Multicultural affinity

Seasonal and events
Custom audiences
Connect with users who have previously shown interest in your brand. You can create custom audiences by uploading your own data:
Website

Customer list

App activity

Offline activity

Catalog
Or use Meta's data:
Video

Lead form

Instant experience

Shopping

Instagram account

Events

Facebook page

On-Facebook listings

AR Experience
Lookalike audiences
Advertise to Instagram users who resemble your existing customers and are likely to convert. Simply use your ready-made custom audiences as a source and let Meta's system find similar users.
You can save any audience you create and reuse it at a later date. It's faster this way than building one from scratch.
Plus, it's a safer bet because you know for sure they performed well in other campaigns.
Whenever you build an audience, you need to find a balance. An audience that is too broad will probably eat away at your budget, and one that is too specific might not be effective. Try to steer clear of both.
Check the audience definition module to see where your audience falls. If it's in the middle, you're good.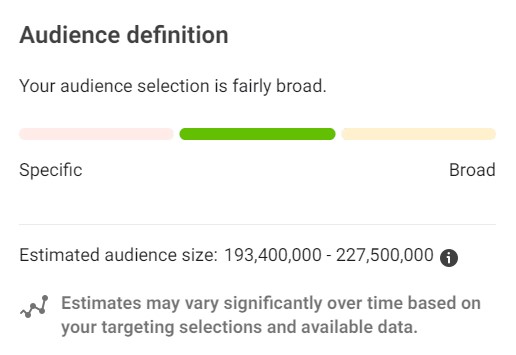 5. Choose your ad placements
When it comes to where you want your ads to appear on the app, you can go with Advantage+ placements (which is recommended by Meta) or manual placements.
Advantage+ placements

(formerly known as automatic placements) enable Meta to show your ads where they are likely to bring the best results within your budget.

Manual placements

allow you to pick exactly where you want your ads to be shown.
You'll go through a list with all the available placements for Facebook and Instagram. As you hover your mouse over each one of them, you'll see their respective specifications, as well as certain usage restrictions.
For instance, Instagram shop ad placements are not available with the Awareness objective.

6. Create your ad content
On to the concluding steps, let's see how you can create your ads.
Click on the New [insert your goal here] ad from the left side menu. A list of customization options will open up for you, allowing you to select the ad format, upload media, write compelling texts, and add links.
Moreover, you can create multilanguage versions of your creatives to advertise to people in different countries.

Here you can also set up tracking for website or app events and even build URL parameters.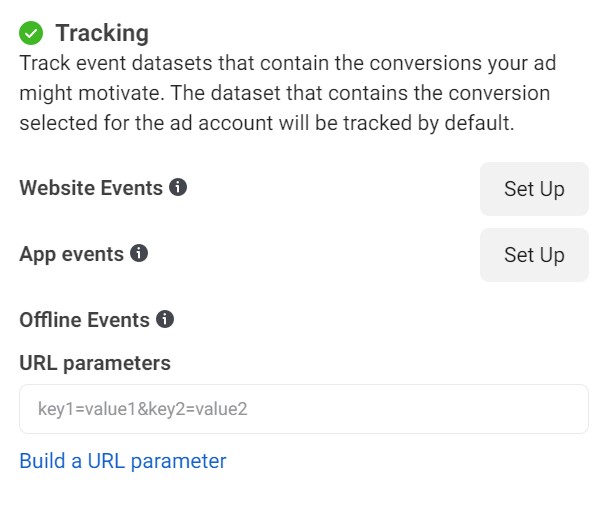 When you're finished, don't forget to preview your ads before hitting the publish button so no mistake goes unnoticed. This will show you how the creatives will look in-app.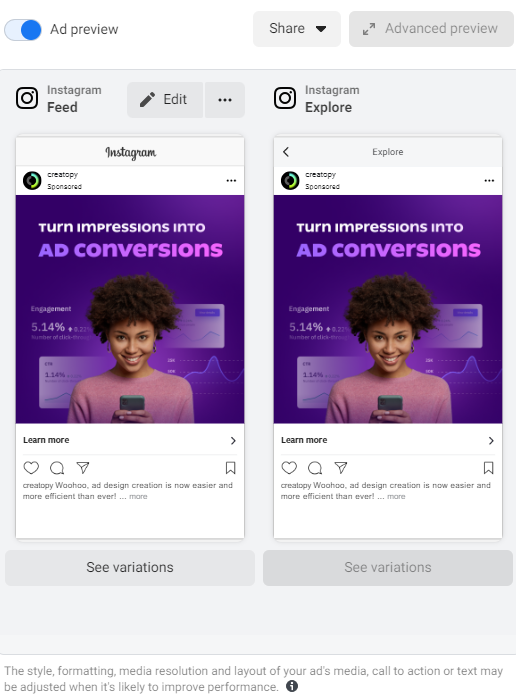 7. Submit your ads for review
And that's about it. Once you click publish, Meta will review your ads to make sure they comply with their advertising policies.
As soon as your ads are approved, they will start running on Instagram. The verification usually takes around 24 hours, but there are cases where it can take longer than that.
Below you can see a detailed flow chart of this process, including all possible steps involved.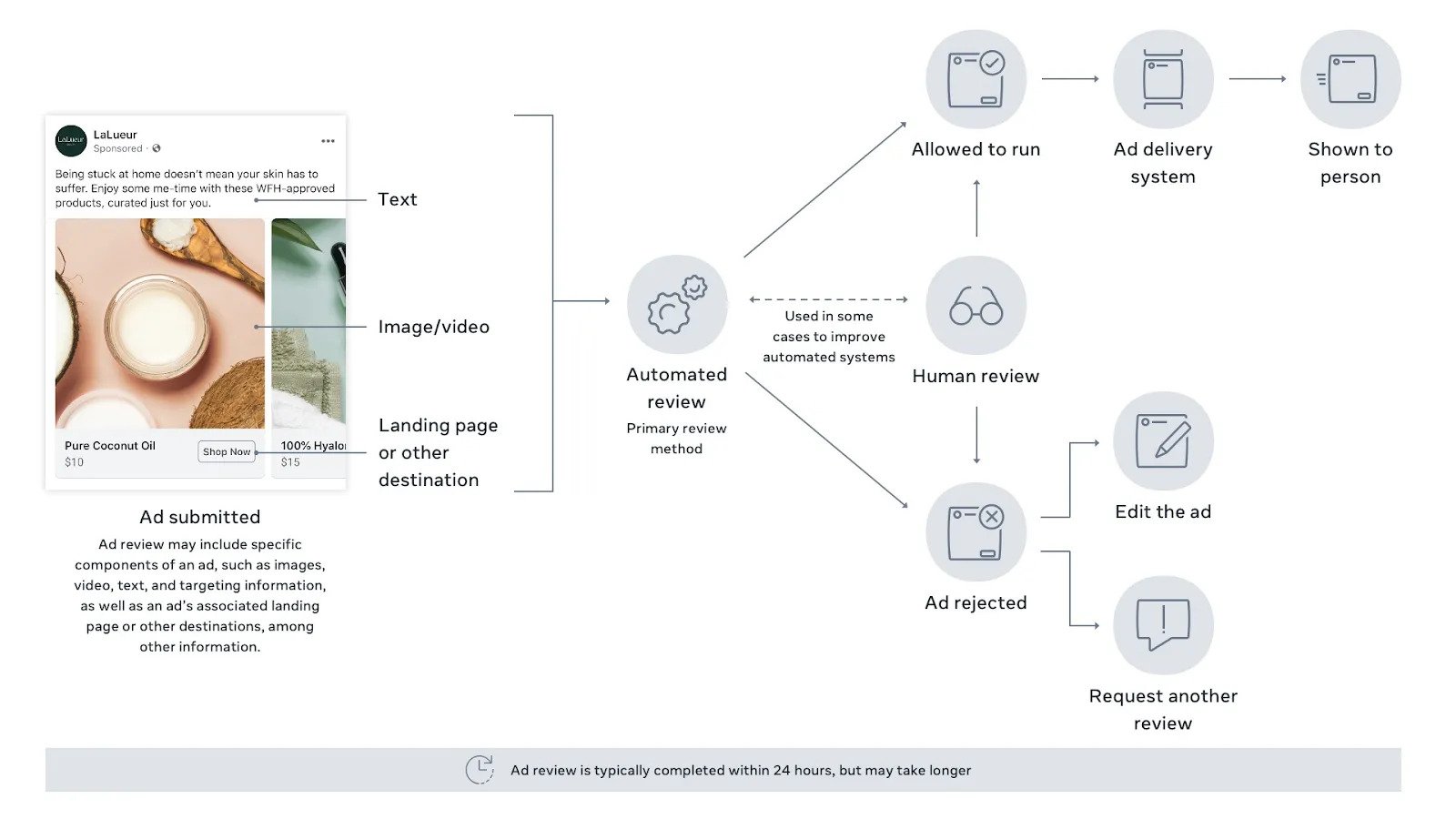 Optional step: Create an A/B test
Although we strongly recommend you A/B test your creatives, you don't have to set up an experiment from the beginning. You can wait until the first performance data comes in, which is why we call this step optional at this point.
However, Meta allows you to configure an Instagram advertising A/B test immediately after your campaign goes live.

F. Measuring the Success of Your Instagram Advertising Campaign
Once your campaign is up and running, performance data will become available in the Meta Ads Manager. You'll have access to metrics at the campaign, ad set, and ad levels.
We're talking about A LOT of reporting information.
If you want to optimize your campaign for better results, you must track the metrics that matter.
So what should you keep your eye on?
Let's explore the most important Instagram advertising metrics you should be tracking:
1. Impressions
This number represents how many times your ad was displayed on screen for your target audience.
It doesn't take into account if the views come from unique users or not. If a user sees your ad 30 times, it will count as 30 impressions. But, if they see your ad and scroll past it only to go back up again, you get a single impression.
These rules apply to both image and video ads, regardless of whether users engage with them.
Although this KPI pairs well with the brand awareness campaign objective, it's not the most relevant on its own, usually being paired with the following metric.
2. Reach
Unlike impressions, which reflect the total number of ad views, reach measures the number of unique users who view your ad. To give you a better idea of this distinction, you could have ten impressions but only reach six users because your ad can appear multiple times to each one of them.
Together with impressions, reach is a key metric to measure for awareness campaigns because it gives you an idea of how many users have been exposed to your brand's ads.
We recommend you monitor your reach in relation to your audience size. If your ads are shown to a small part of your targeted audience, it could mean your ad isn't compelling enough or the ad targeting is off.
3. Link clicks
This refers to the total number of clicks your ad gets. It tells you exactly how many users followed your call-to-action link to your website or whatever destination you picked.
This metric is a good indicator of the level of engagement your ad is getting. A low number of clicks can mean your creative needs optimizing because it doesn't resonate with the target audience.
You could try adjusting your copy or design to see if it results in a boost in clicks. Alternatively, you could experiment with different ad formats to identify which ones perform best.
4. Landing page views
As the name suggests, this metric reveals the number of times people clicked on your ads and viewed your landing page.
When you check landing page views, make sure you also look at clicks because the two values should be quite similar. If the number of clicks is much higher, you could be dealing with website loading issues.
Another possible explanation is that placements on the Audience Network get a lot of accidental clicks, so users don't wait for the landing page to load because they weren't really interested in visiting it to begin with.
5. Link click-through rate (CTR)
Another metric that indicates the level of engagement is the CTR, which represents the percentage of users who clicked on your ad after seeing it.
This value is calculated by dividing the total number of clicks by the total number of impressions. It's a metric you should track, no matter what your Instagram campaign objective is.
Usually, a CTR above 1% is pretty good. If it's lower than that, there's a good chance your ads aren't engaging enough. You could try optimizing the creative and ad copy or testing different ad formats.
6. Cost per Click (CPC)
To know how much you pay for each click your ads get, look at the CPC metric.
It's calculated as the cost of your ad campaign divided by the total number of clicks your ads have registered. For instance, if you got 150 clicks on a budget of $300, the CPC would be $2.
The average Instagram CPC is around $0.5-$0.75. This metric can be insightful on its own, but we recommend you compare it to the CPC of other campaigns to gain some perspective.
Ideally, you want to spend as little as possible for a click. If you notice your CPC is elevated, you might want to make some tweaks to your ad creative or ad targeting.
7. Conversion rate
This represents the percentage of users your ads successfully persuaded to take action. It can be anything, from making a purchase and downloading an app to signing up for a newsletter, filling out a form, or something entirely different.
The value is determined by dividing the total number of conversions by the number of ad clicks, then multiplying the result by 100.
Conversion rate is directly proportional to reach, meaning that if you have a wide reach, you'll probably have a higher conversion rate. A good value for this metric is above 1%, but it can range from 0.30% and 2.6%.
8. Cost-per-acquisition (CPA)
The CPA reveals how much you pay for a certain action you want users to take.
This metric is calculated by dividing the total amount spent on the Instagram advertising campaign by the number of conversions attributed to the campaign.
The average value for a CPA can differ from business to business, depending on multiple factors and campaign settings. For example, targeting, placements, and bidding strategy can all influence CPA.
The ideal scenario would be to have the same value for CPA and CPC, meaning you'd get a conversion for every click.
9. Cost per 1000 impressions (CPM)
CPM represents the average cost to display your ads 1,000 times on Instagram. It's important because it gives you an idea about how expensive your audience is.
Like with CPC, our suggestion is to measure this metric against previous or currently running Instagram ad campaigns to get an idea of where you stand. If the value is too high, there's a good chance your ad targeting is off. In this case, you can adjust your audience to see if the cost decreases.
Still, users not engaging with your ads could also mean the creatives are not compelling enough.
10. Return on Ad Spend (ROAS)
If you're interested in measuring the effectiveness of your advertising campaign, check the ROAS metric. This is calculated by dividing the revenue generated from the campaign by its total cost.
For example, if your Instagram ad campaign wins you $14,000, but you spent $3,500 on it, the ROAS would be 4. This is considered a good ROAS and, therefore, a strong signal that you're doing all the right things.
A low ROAS, on the other hand, indicates you should work on optimizing your campaign. In some cases, it might even mean you should reconsider making future investments in Instagram advertising.
The information above should give you an idea about how to analyze and interpret your ad campaign results.
Of course, there are other metrics that you could look at, such as cost per landing page view, leads, adds-to-cart, purchases, cost per lead, cost per add-to-cart, and so on.
Some metrics correspond to different industries, while others are related to certain goals. It all depends on the nature of your campaign.
G. Instagram Advertising Best Practices
Instagram advertising is not rocket science, but there are some mistakes marketers can fall prey to, especially in the beginning.
To make sure you're off to a good start, let's go through a series of valuable tips that will help you get the most out of your campaigns:

Use high-quality visuals
As you know, Instagram is a social media platform that puts the visual aspect above all else. Users not only expect to be met with engaging images and videos, but they also want this content to be in high resolution.
If your ad creatives aren't crisp and clear, you're self-sabotaging your campaign's chances to succeed from the start.
Just think about it: would you click on a blurry or pixelated ad?
Me neither.
Write clear calls-to-action
You want users to know exactly what it's expected of them to do after seeing your ad. For that to happen, you need only use a straightforward call to action.
Here are a few tips that can help you write a clear call-to-action:
Use action verbs related to your goal

, like "buy," "shop," "download," or "sign up,". For example, instead of saying, "check out our products", you should say, "shop our products".

Let users know what they're getting

if they take the desired action. For instance, you could replace "download our document" with "download our case study", as it's more specific.

Create a sense of urgency

by using words and phrases like "now," "limited time only," "limited quantity," "last chance," and "final sale".
Experiment with different ad formats
As you know, not all audiences are built the same. What works for some other brand might not be the best fit for you. Only by experimenting, you'll understand your audience's preferences.
On top of that, using multiple ad formats can increase your reach on the platform and improve your campaign's overall performance. It can also expand your creative horizon and help you uncover new ways to generate engagement.
Test and optimize your campaigns
We can't stress enough how important it is to run A/B tests and optimize your campaign according to the results.
Testing is the only way to see if your audience will respond better to different visuals, ad copy, calls-to-action, ad placements, etc. It can also reveal if slightly modified audiences might be more responsive to your ads.
You can then analyze the findings and use the newly found information to fine-tune your campaign and get closer to the goals you are looking to accomplish. In addition to increasing campaign efficiency, this practice will help you make better use of your budget.
Stay up to date with algorithm changes
All advertisers are at the mercy of Instagram's algorithm. This set of rules governing the platform determines which ads will be shown to which users.
The two most important ranking factors right now are interest and relevancy. This means that your ads can reach more users if they match specific interests and needs and if they're the type of content these users usually engage with.
Now, here's the catch: the Instagram algorithm rules change frequently. Make sure you always keep up with the latest updates, as they can significantly impact your campaigns' performance.
Create mobile-first ad creatives
When designing Instagram ads, you should keep in mind that most users browse the app from their phones.
Some ways to optimize your creatives for mobile device screens include using vertical and square formats, working with high-definition images only, and keeping messages on the short side.
Regarding video ads, remember that people usually watch them in public, with the sound off. We suggest you add closed video captions to get your message across at all times.
You can ensure everything looks good by previewing your Instagram ads on different mobile devices before going live with the campaign.
Conclusion
And that's a wrap on our Instagram advertising guide.
It's probably a lot of information to digest, especially if you've never advertised on this platform before, so here are the key takeaways:
Instagram is a social media platform with a large audience and high engagement rates. It allows businesses to target specific audiences with customized ads in various formats.
Starting budget thresholds for running ads are more than reasonable, and all results are easily measurable.
All in all, there's a huge potential to be tapped into, and most businesses would benefit from including Instagram paid advertising in their social media marketing strategies.