12
minutes read
There have been so many updates in the digital advertising space in the last few years. And 2022 is no different. We all know it, feel it, and live it. The good thing is we love updates, especially when they can help us improve the way we communicate with our audience and create better experiences for them.
Since short-form videos have gained so much popularity in the last few years, we decided to conduct an experiment to see what is the best advertising platform for short-form vertical video ads.
And we're sharing all of our findings with you.
---
To get the full details of our case study, download the PDF:

1. Short-form video ad campaigns setup
2. The short-form video ad creative
3. The short-form video campaign results
5. Conclusion
---
To run the experiment, we tested the same ad creative on all the platforms that allow running vertical video ads: TikTok, Instagram Reels, YouTube Shorts, and Pinterest Idea.
We wanted to see which of these four platforms would help us bring more traffic to our website when using a short-form video ad format. We also paid attention to the traffic quality, which should be your focus as well if your objective is bringing traffic.
If you haven't been experimenting with short-form video advertising just yet, this case study may come in handy. We'll share a lot of learnings, so you can decide if running short-form video ads on any of these platforms can be a good fit for your brand.
Before starting the experiment, we agreed on two main hypotheses:
YouTube Shorts ads bring the most traffic to our website.

Pinterest Idea ads bring the most qualitative traffic to our website.
Everyone on the team was looking forward to seeing the results even before the campaigns started.
These were some of the most common questions that popped into our minds:
Would the addition of Pinterest and YouTube Shorts beat TikTok's and Instagram Reels' rivalry when it comes to short-form vertical videos?

Will the first two platforms fight for supremacy with the other two?

And perhaps the most important question: What is the best platform for promoting short-form videos?
Let's find out. But not before telling you a little bit about our campaign setup so you can understand the whole picture of the experiment.
1. Short-Form Video Ad Campaigns Setup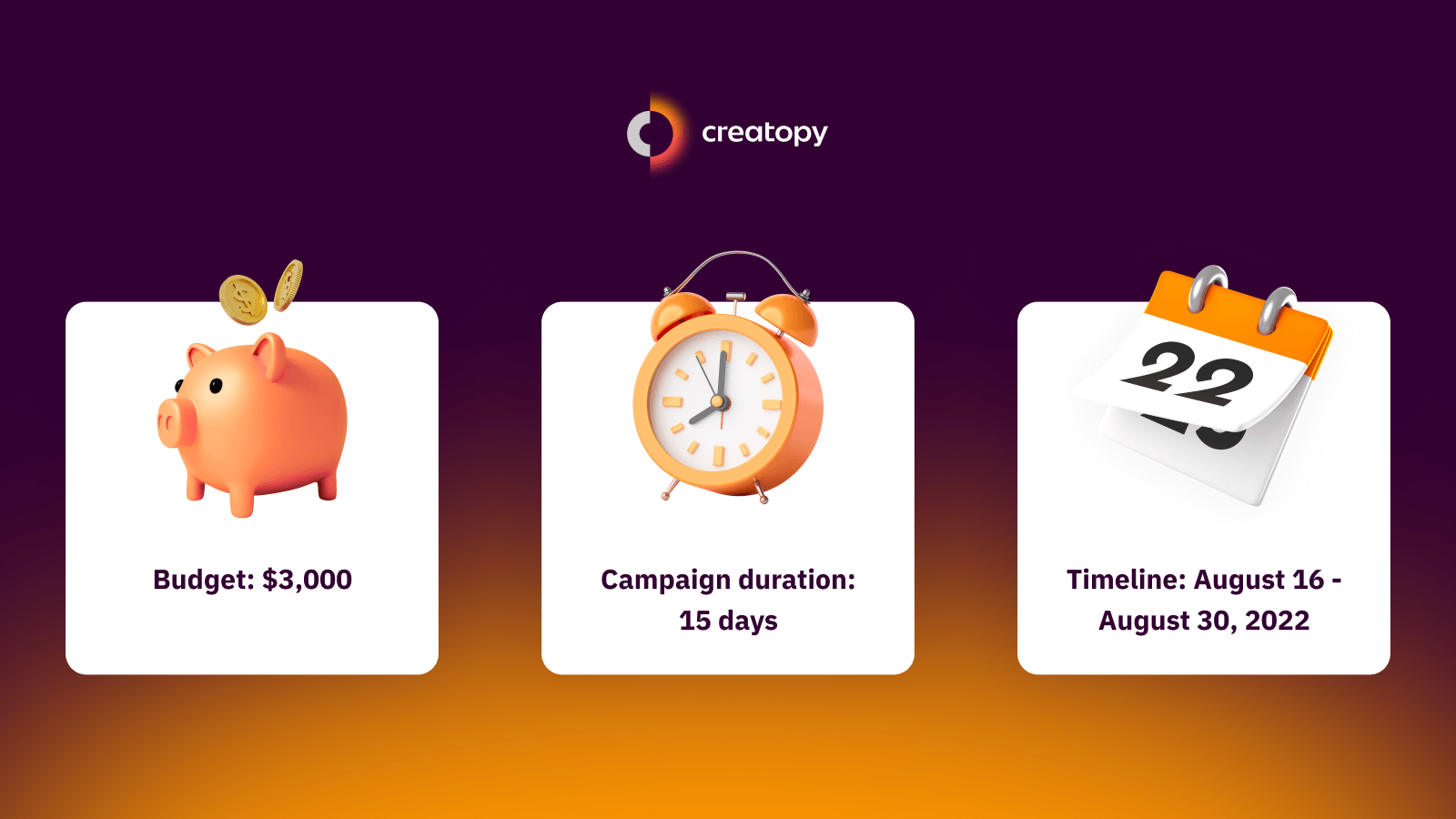 We allocated $3,000 for the experiment, which ran for 15 days, from August 16 to August 30, 2022. The budget was equally split between the four platforms, each having a total of $750, which was set at $50/day.
All four campaigns targeted:
The same

ad

:

vertical video

(20 seconds long, 1080×1920 px);

The same

two locations

: US and Canada;

The same

age group

: 25-54 years;

The same

language

: English;

The same

device

: mobile (Android)*;

The same

audience

: graphic designers**;

The same

landing page

***.
We wanted to see which of these four platforms has better potential to bring more qualitative traffic to our website when using the short-form video ad format.
*we detailed in the PDF why we targeted only Android
**interest-based targeting (to be detailed below)
***LP: https://www.creatopy.com/campaign/scroll-stopping-ads/
2. The Short-Form Video Ad Creative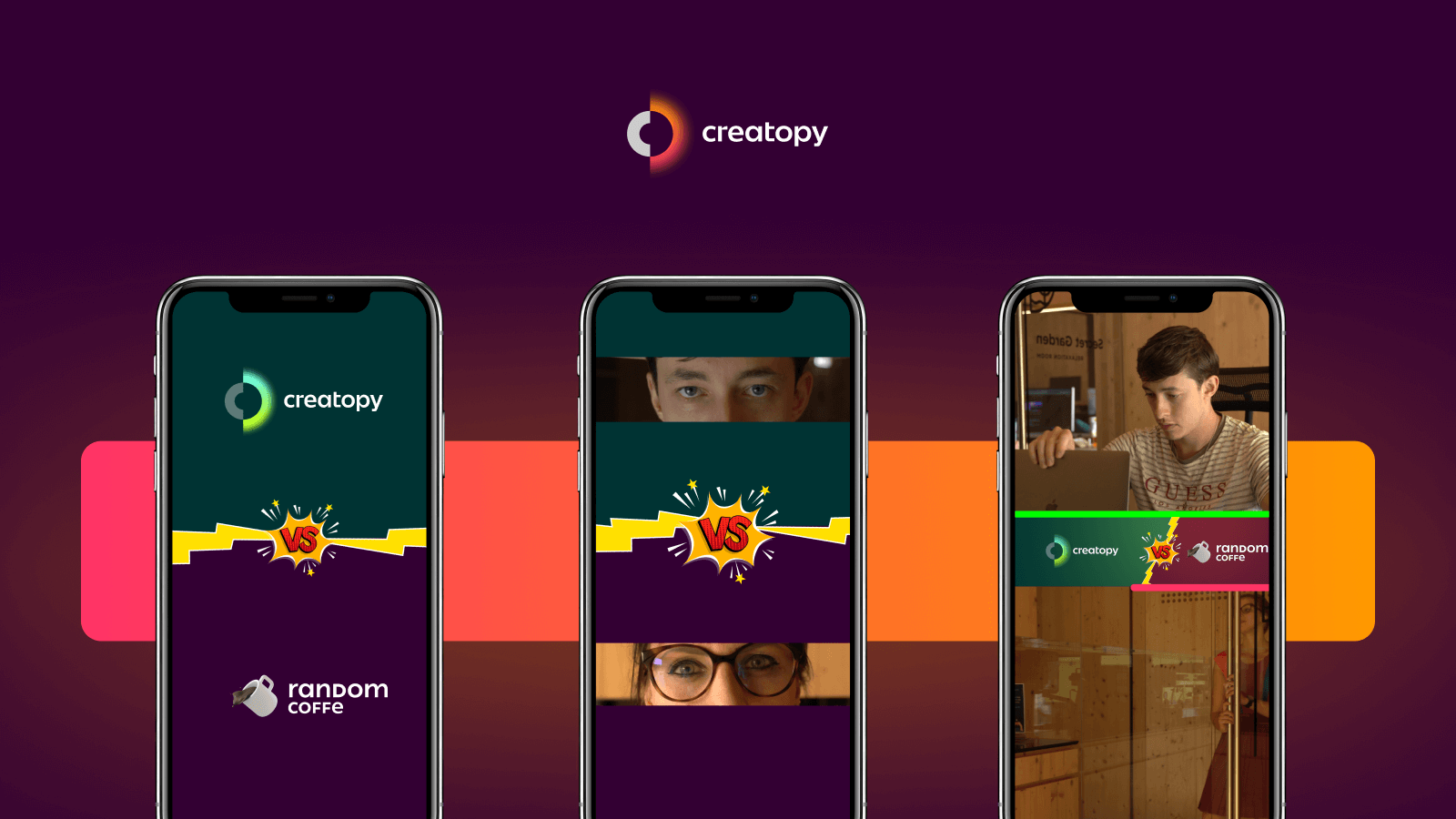 Before anything, let us introduce you a little bit to Creatopy, our product, which was promoted in the ad.
Creatopy is a platform that helps businesses automate and scale the ad design process. On the one hand, designers can easily craft ad creatives and make over 50 size variations of a single asset at once. On the other hand, marketers have the freedom to test concepts to understand what type of ads bring the best results.
Our campaign targeted designers and emphasized how easy it is to make an ad using Creatopy. To do that, we decided to compare the time it takes to perform two different activities: making a coffee and creating a video ad in Creatopy.
We split the screen in half. On the top, we had the designer, and on the bottom half, we illustrated the coffee-making process. As you would've guessed, designing the ad took less than making a coffee because, truly, creating ads using our platform is that simple. We also added some extra fun layers to our ad: a sports commentary voiceover, a stadium chant sound effect, and a timer bar to make the whole scenario more captivating.
With this creative, we wanted to have a video that somehow suited all the four social media advertising platforms we used for the case study. The ad had to be generic to emphasize our product's main capabilities and to look good in a vertical environment.
But did we achieve to create a short video that looks native on TikTok, Instagram Reels, YouTube Shorts, and Pinterest at the same time? Partially. First of all, that's close to impossible. Each platform has its own particularities, and the content style looks different. For example, TikTok is full of spontaneous and engaging videos. Instagram Reels is filled with fast and aesthetic edits along with recycled TikTok content. Pinterest Idea is more about tutorials and DIY, while YouTube Shorts keeps the YouTube video styles but converted in a vertical format. Did this aspect influence the results of our experiment? For sure. But the different results between platforms really say a lot, and we definitely made a clear point with this one.
By the way, we wrote an article about the power of ad creatives, so check it out if you want to learn more about our process for this case study.
3. The Short-Form Video Campaign Results
So now, let's get to the results.
| | | | | |
| --- | --- | --- | --- | --- |
| Variables | YouTube Shorts Ad | TikTok Ad | Instagram Reels Ad | Pinterest Idea Ad |
| Users who arrived on the landing page* | 366 | 165 | 44 | 5 |
| Sessions | 442 | 166 | 51 | 5 |
| Engaged sessions** | 99 | 26 | 21 | 1 |
| Engagement rate*** | 22.39% | 15.66% | 41.17% | 20% |
| Impressions | 56,810 | 155,398 | 46,831 | 91,397 |
| CTR | 0.64% | 0.10% | 0.09% | 0.005% |
| CPC | $1.49 | $1.59 | $12.01 | $2.01 |
| CPM | $13.50 | $4.74 | $16.67 | $7.15 |
| Video views | 172,318 | 143,215 | 46,620 | 23,308 |
| Total video played at 100% | 12,786 | 1,179 | 920 | 4,699 |
| Video completion rate**** | 7.42% | 0.82% | 1.97% | 20.16% |
| Ad spend | $766.78 | $736.84 | $780.57 | $653.52 |
* According to Google Analytics data
** The number of sessions longer than 10 seconds
*** (the number of engaged sessions divided by the total number of sessions) x 100
**** (the number of total plays at 100% divided by video views) x 100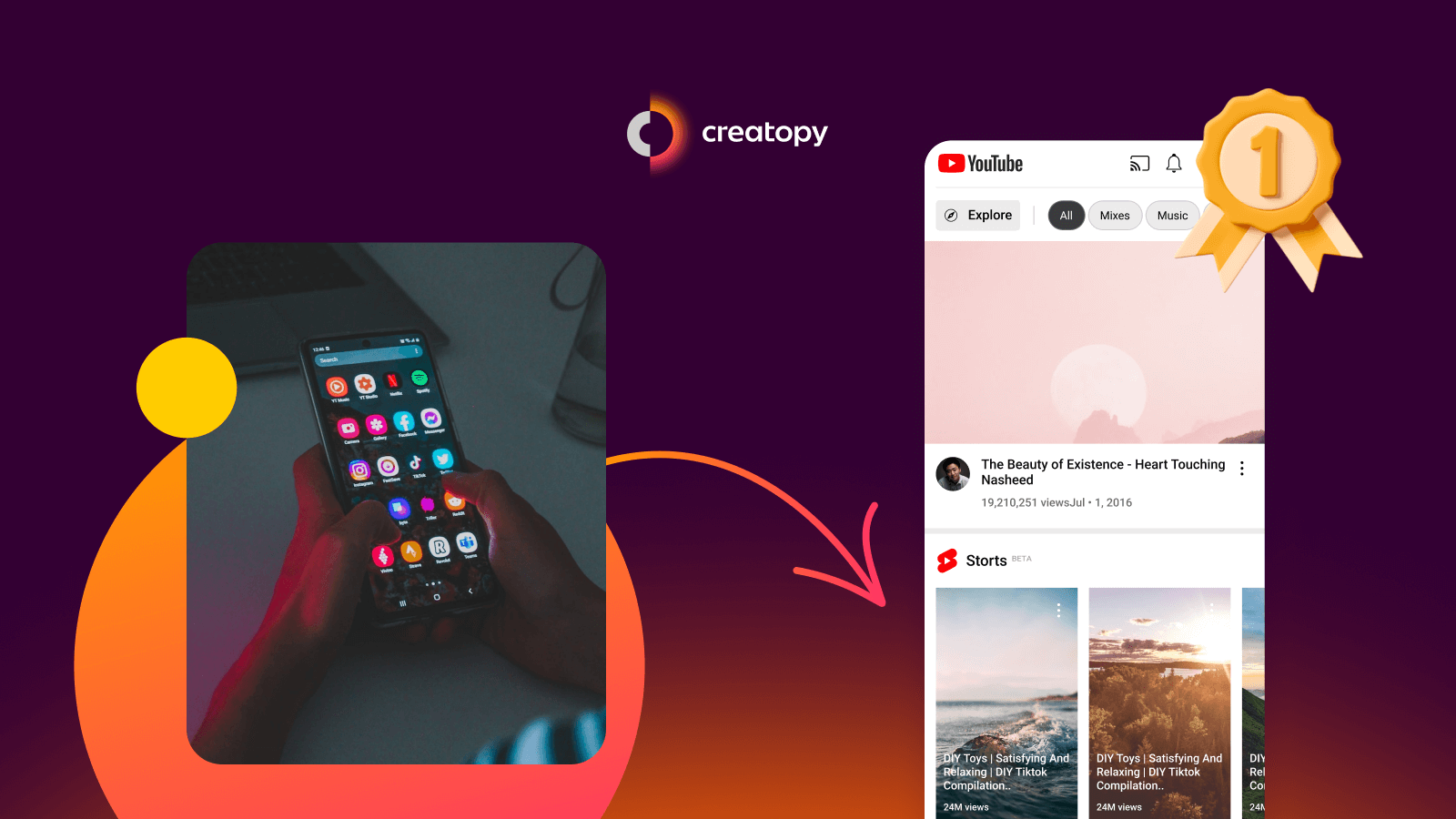 Other interesting findings
Now that we are clear about the winners and what that means, we should look over the other metrics from the table above. They are definitely very interesting to analyze, even if they do not count toward the traffic objective of the campaigns. Therefore, they do not add bonus points to the winners or can influence the top by any means.
Download the PDF with the full case study and read all our findings:
1. The video completion rate
The Pinterest Idea ad has a video completion rate of 20.16%, more than double compared to the YouTube Shorts ad, which is in second place, with a completion rate of 7.42%. Both are pretty far away from the third and fourth places. The Instagram Reels ad has a completion rate of 1.97%, and the TikTok ad only 0.82%.
This shows that users on platforms like Pinterest or YouTube Shorts are more likely to consume longer videos. Also, it may be a sign that users come to these platforms to educate themselves and are already in the mindset of consuming longer content. In contrast, users may seek pure entertainment on platforms like TikTok or Instagram Reels. They come here for fun, and they will skip anything that disrupts their scrolling and doesn't entertain them from the start.
However, we're not saying that educational content cannot find its place on these platforms (because there's obviously lots of it). Still, it's important to catch users' attention in an entertaining way, specific to the platforms, to make them stop scrolling and watch your video until the end. So the key is to educate in a fun way.
2. The CPM
The lowest CPM was on TikTok at $4.74. The highest was on Instagram Reels at $16.67, followed by YouTube Shorts at $13.50, and the third place was Pinterest Idea at $7.15.
A high CPM indicates that your campaign may have room for improvement. And in this specific case, we know that there could have been some improvements at the audience level for the three platforms with higher CPMs.
For example, on Instagram, we could have targeted users by job titles, as we usually do when targeting graphic designers. Advertising on YouTube, we could have targeted some custom audiences. Or on Pinterest, we could have targeted after keywords as well, not just by interests. All of these things would have helped us be more specific in our targeting, thus decreasing the CPMs on our ads.
However, we took the risk knowing that the CPMs could be higher than usual. That's because we wanted similar (if not identical) setups on all four platforms, and we knew that we could not be that specific about our target audience on TikTok like on the other three platforms.
3. The impressions
The TikTok ad had the highest number of impressions and the only one that managed to surpass 100k, reaching 155,398. The Pinterest Idea ad was in second place with 91,397. The YouTube Shorts ad is in third place, with 56,810 impressions, while the Instagram Reels ad has the lowest reach at 46,831.
There is a logical explanation for this, as well. As you can see above, the CPM is the cheapest on TikTok, followed by Pinterest. These two platforms also have the highest impressions out of the four.
The same happened for the other two platforms. The Instagram Reels ad has the most expensive CPM; thus, it has the lowest number of impressions. The YouTube Shorts ad has the second most costly CPM, so it has slightly more impressions than the Instagram Reels ad but less than the TikTok and Pinterest Idea ads.
4. Key Takeaways

Because we experimented with several platforms for this case study, it was interesting to see the different results we achieved when using the same budget. Here are the main things that you should keep in mind.
4.1. Targeting capabilities have an impact on your ad campaign's performance
TikTok has many limitations when it comes to targeting audiences, targeting countries, when choosing an objective, and even when choosing the budget you can spend per day, as you cannot spend under $50/day/campaign.
Despite this, it brought more users to our website than Instagram and Pinterest.
But a good advertiser knows that not anything can be taken for granted. A good advertiser will have questions.
These were some of the questions that popped into our mind:
Would the results have been different if we fully used the targeting capabilities the other three platforms offer? What's more is that even with restricted targeting given by the context, YouTube Shorts is the winner for the most traffic brought to our website, while the other three platforms managed to bring more qualitative traffic than TikTok.

Would we have had better results if we could do better targeting and didn't encounter any limitations? Probably. All these factors should be taken into account when choosing an advertising platform. You have to see the bigger picture.
4.2. Pinterest can be an excellent platform for brand awareness
The Pinterest Idea ad didn't work as expected regarding the amount of traffic. Not for us, at least. We encourage you to test for yourself and come up with your own findings because chances are you'll have different results. Pinterest is one of the platforms we advertise on, and we are happy with the quality of the traffic brought from here. That's why we even put all our trust in it and bet that it will bring the most qualitative traffic. Pinterest Idea ads may be a better option for awareness or video views goals since they did a pretty good job on that side. But that wasn't our goal this time.
According to Pinterest, "on average, campaigns that feature Idea ads see 56% higher brand awareness". Moreover, "on average, users who saw Idea ads were 59% more likely to recall that brand."
Last but not least, our findings favor these stats because the Pinterest Idea ad had a video completion rate of 20.16%, making it the highest completion rate out of all the four platforms, more than double compared to the YouTube Shorts ad, which is in second place.
4.3. Instagram Reels can help you get in front of potential customers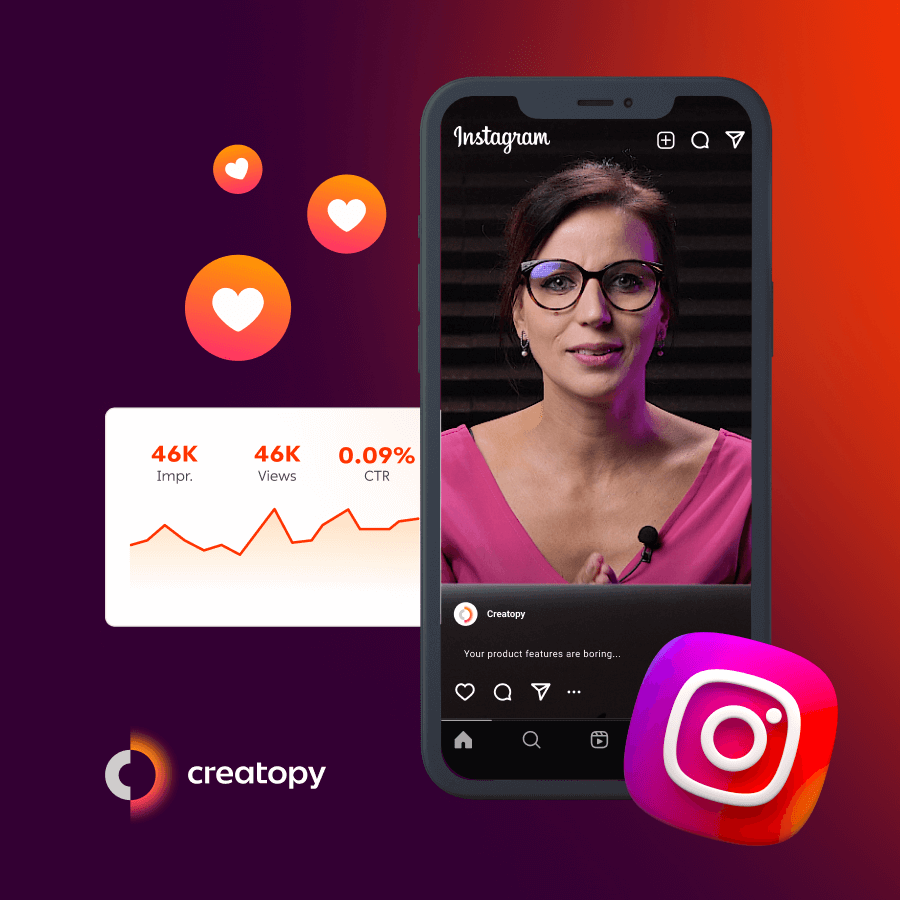 The Instagram Reels ad brought the most qualitative traffic to our website. On the other hand, it didn't bring too many users compared to the YouTube Shorts or TikTok ad. One explanation can be the fact that the traffic was much more expensive on this platform. But those who arrived on the landing page were definitely curious about what we do. The Instagram Reels ad did a good job showing the ad to those most interested in our offer. If you are looking for a platform to help you bring high-quality visitors to your site, Instagram Reels may be a good option for you to test.
4.4. YouTube Shorts ads can bring you lots of traffic
There was a lot of buzz right when YouTube Shorts was released. Is it needed? Will it move the needle? Apparently, it would. Or, at least, it did for us. The YouTube Shorts format didn't disappoint. The ad managed to bring the most traffic to our website, being the detached winner of our case study. Also, we cannot complain about the quality of the traffic either, despite not being the highest out of the four platforms.
4.5. The ad and the landing page must go hand in hand
There must be a strong correlation between your landing page and your ad because it positively impacts the engagement rate. In our case, the ad talked about how efficient it is to create banner ads in Creatopy and compared this process with the time it takes to make a coffee. The landing page revolves around the same topic, efficiency. We can find many efficiency-related terms here, such as:
Create scroll-stopping ads

effortlessly

Enjoy limitless creativity while

saving time

Animate your designs

with ease

Resize your ads

instantly
The same is true for the design itself, not just for the ad copy. The banner that appears in the video can also be found on the landing page for almost every module.
If the user sees something in the ad, they unconsciously expect to find the same element on the landing page. Otherwise, the user flow is disrupted, and they will feel confused. They might end up exiting the page, and there's the possibility that they won't be able to associate your brand with something specific.
When working on your ad campaign, it's also important not to overlook the creation of the landing page. In the end, your goal is to have an ad and a landing page that complement one another visually and messaging-wise, and are tied together by a thread of brand alignment. That way, you'll have much better chances of converting visitors. And even if they don't convert right now, at least they will retain and understand your message with ease.
4.6. Get to know the platform before running ads on it
To create ads that look native, you need to take a step back and see what type of content performs best on each platform. For example, TikTok is all about spontaneous, non-exclusive content. The videos posted here should look like they were created without too much effort but still be engaging and interesting. The edits are pretty basic, like simple cuts and text overlays, but the videos usually have multiple fast, incredibly dynamic scenes.
On the other hand, the Pinterest Idea is all about providing inspiration. The multi-card format is designed to showcase ideas in action. Pinners can make tutorials or product showcases using a step-by-step format, where each step is presented on a different slide.
Instagram Reels are short-form videos that can look very aesthetic. You'll often find that users upload videos from TikTok here as well, so not all the Reels are original. The videos will usually have fast edits, are shot in just one frame, and are highly entertaining yet short.
Lastly, YouTube Shorts is a new vertical video format that aims to support the long-form video content available on YouTube and provide users with another way of promoting their channels.
4.7. Testing never fails
Do your own ad testing. There's nothing more reliable than having your own results and experimenting on your own terms. This is what we want to encourage you to do after reading this. Not necessarily on these platforms, but experiment nonetheless. It is vital for your accounts.
5. Conclusion

All in all, YouTube Shorts ads are a good option to reach a broad audience. Despite Google Ads being the center of different controversies for its alleged monopoly in the digital area, what's sure is that it does the job when it comes to delivery.
You shouldn't neglect TikTok, Instagram Reels, or Pinterest Idea ads. They all may serve a purpose in your social media marketing strategy. Instagram Reels ads can help in bringing qualitative traffic. TikTok ads can help increase your reach. And Pinterest Idea ads may be a good idea for brand awareness.
Regarding the ability of TikTok to bring you a high reach, we have two more case studies on TikTok ads, where the campaigns were set up with a reach objective. You can find them here if you want to learn more about this topic.
What's sure is that TikTok must level up its game when it comes to targeting capabilities since platforms such as Instagram, Google, and Pinterest are more powerful in this regard. These types of limitations can lead to the dissatisfaction of advertisers that need more options when running ad campaigns.
On a final note, the following data may also help you. As of January 2022, Statista ranked social media platforms by the number of monthly active users worldwide. YouTube is first with 2,562 million users, followed by Instagram with 1,478 million users, TikTok with 1,000 million users, and last is Pinterest with 444 million users.
Moreover, this number will increase in the years to come. According to a forecast by Statista, in 2021, there were 4.26 billion social media users worldwide, which will increase to almost six billion in 2027.
We hope you enjoyed our findings, that you managed to connect all the dots with other things you know about these platforms or things you experimented with before, and that you are able to draw some conclusions that can help you thrive.
And no matter the platform you choose, I hope you all get the results you wish for. There are no right or wrong platforms, only the ones that best suit your needs.
Happy testing!
Want to get the full scoop and analysis of our findings? Then download the PDF format: