9
minutes read
Instagram Stories are driving tons of engagement.
This feature hit an all-time record of 500 million daily active users, which proves two important aspects:
It's

the most popular IG feature

at the moment, one that has witnessed tremendous growth in just two years and a half since its launch;

Marketers can no longer deny its

importance and effectiveness

.
In 2021, almost 58% of people said they've become more interested in a brand or product after seeing it in an Instagram Story.
Whether you're already using IG Stories or not, it's crucial to be aware of the best Instagram Story size you can use.
This article is going to help you understand much better the mechanism behind this feature and how to approach it from a visual perspective.
Let's get started.
What Is The Instagram Story Size?
The recommended Instagram Story size is 1080 x 1920 pixels. For this size, the images and videos you post here will have an aspect ratio of 9:16.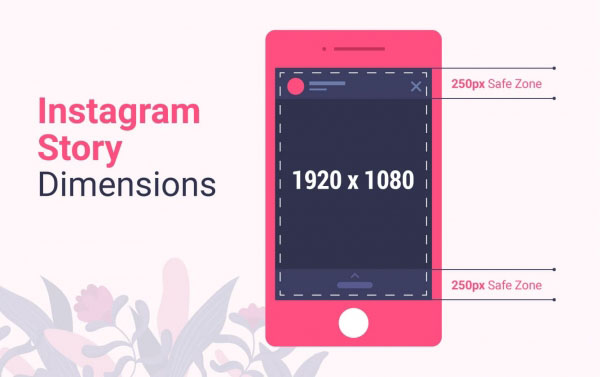 The file formats accepted for images are. jpg and .png, and for videos .mp4 or .mov.
Instagram is very strict when it comes to the size of the images/videos you post on IG stories.
If you want to upload a photo or video that does not fit this size, then the visual will be either cropped or zoomed in to fit the screen properly.
Consequently, this will lower the quality of the image/video you posted while cropping important elements that you may have included in it.
When posting a video, the maximum Instagram story length for a frame will be 15 seconds. Image stories are visible for 5 seconds.

The Instagram Story safe zone
When you create Instagram Stories, you also need to keep in mind the safe zone.
I'll explain what the safe zone is and I'll also show you in the screenshot below how they look like whenever you want to post a story.
For this example, I used a random photo from my phone of a cute coffee shop and I also added a heart sticker so I can play with it.
In the first image, you can see that, when viewing a story, at the top left corner of the screen, a user will also see the profile icon and profile name of that account. At the top left corner, you have the option to close that story and return to your Instagram feed.
Because I wanted to move the sticker at the top of the screen, Instagram showed me that I would cross the safe zone line if I were to do that.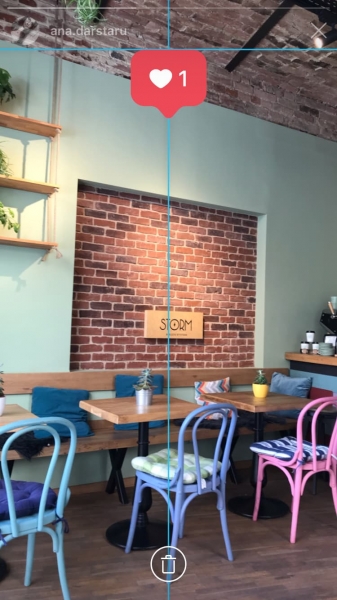 At the same time, it was extremely helpful to see how my image was centered. That way, I would be able to adjust it accordingly in case I was going after a super-symmetric visual or simply use the grid to center certain elements in my story.
As you can see from these screenshots, thanks to these grids, you will know where's the middle (vertically and horizontally).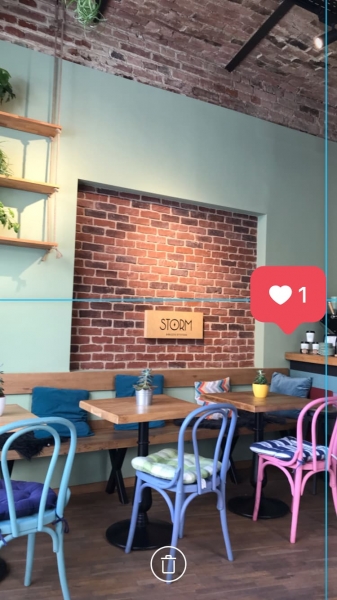 In this last screenshot, you'll see that at the bottom of the story, a user has the option to respond with a message or a picture, send that story to another user, or, if that particular account has over 10k followers and added a link to that story, it will show the "Swipe up" button.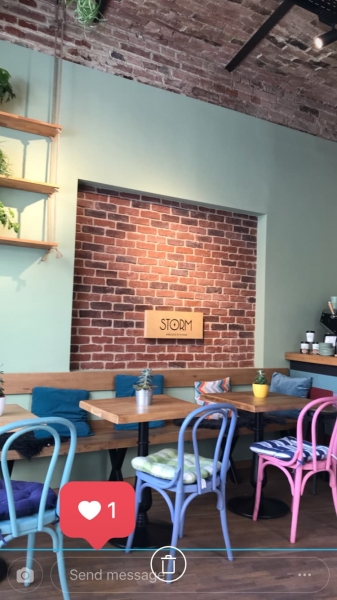 Otherwise, it won't be visible. Luckily, Instagram is here to help and with these helpful grids, your IG story game will be on point.
Ideally, to take advantage of the entire screen, you should upload a portrait photo or a vertical video.
To make sure that important information is not cut off by this, Instagram will show you a temporary grid. This is extremely helpful when creating images, especially when you want to add text to them.
When you create an image or video, Instagram recommends leaving approximately 250 pixels of the top and bottom free from text, logos, or other elements.
The safe area is considered within 1080 x 1420 pixels.
So when designing an image, creating a video or an ad for Instagram Stories, keep in mind the safe zone so you don't cover important details.
To sum it up, here's a break down of the most important
Instagram Story size
:
Required size

: 1080 pixels width x 1920 height pixels

Aspect ratio

of 9:16

Minimum width

: 500 pixels

Why You Should Care About Insta Stories?
The Instagram story feature allows you to share photos, videos, or boomerangs that will be visible for up to 24 hours before they disappear.
In case you want to keep some of the stories so new followers can watch them as well in the future, then you can save them in the highlights section.
Here are the most important reasons why IG stories are important for businesses:
Active and engaging user base. This IG feature has the highest rate of engagement out of all social media platforms so it's definitely a must if you want to connect with your audience on a deeper level.
Test new and creative ideas

. Since stories are deleted after 24 hours, it allows you to get creative and test plenty of ideas to see what works for your audience. Moreover, with an banner making tool such as Creatopy

, creating images or animated content is easier than ever.

Be playful

. What's great about the Instagram Stories format is the fact that it comes with plenty of tools that you can play with, such as stickers, drawing capabilities, augmented reality filters and much more. These are going to help you make the stories stand out even more.

Improve discoverability

. Thanks to Instagram hashtags, which are clickable, you can the chances of your account being discovered by other people. This means that the right hashtag has the power of putting you in front of the right audience, even if they weren't connected with you beforehand.
Best Practices When Posting Insta Stories
Buffer did a study in which they analyzed over 20k IG Stories from the world's top brands. After looking into the data, they were able to extract three important takeaways:
Your best Story should be posted first

. Their research showed that, if the first frame does not capture the audience's interest, then people are more likely to exit the story and search for something that's more appealing. At the same time, a trick that works is to encourage the user to move to the next story

Being consistent is a must

. Since it's one of the most engaging social media channels at the moment, you need to take advantage of it. What's more, is that you don't need to spend too much creating the content. A compelling background photo and text overlay will do.

Looking at the data

. It's recommended to experiment when you post a photo or video to your Instagram story but at the same time, you shouldn't ignore the data. Look at the completion rate, reach and impressions, exit rates for each story frame, and more.
What Type of Content to Post on Stories
Nowadays, there are so many businesses that are leveraging IG stories so you need to create amazing content that stands out and makes your audience come back for more.
Here are some ideas to get inspired by:
Discounts/promotions

. If you're selling products or you provide services, you can definitely use Instagram as a way of promoting your offer. You can even test this out to see how many of your followers take advantage of your promotions exclusively through Insta Stories. To do this, you can give them a special discount code that they can use. In the screenshot below, you can see how Target used a simple Insta story image to promote a sale they were having.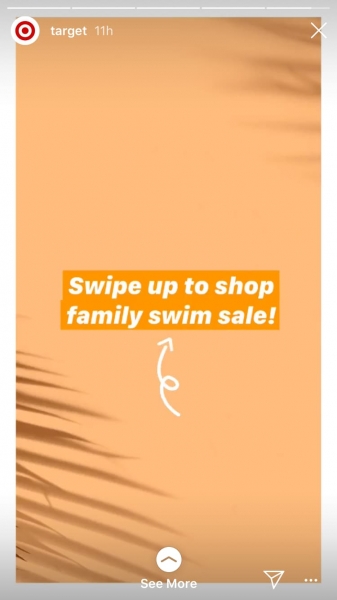 Promote website content

. Your blog content or any other pages for that matter need all the traffic they can get, which is why it's important to leverage all the channels and tactics you have at your disposal, including IG Stories. If your Instagram business account has over 10k followers, then you can easily promote a blog post by adding the Swipe Up button to a frame. To entice people to take action, adding a block of text as a preview is ideal. In the screenshot below, you can see how Buffer used this tactic to promote a podcast that they posted on their blog.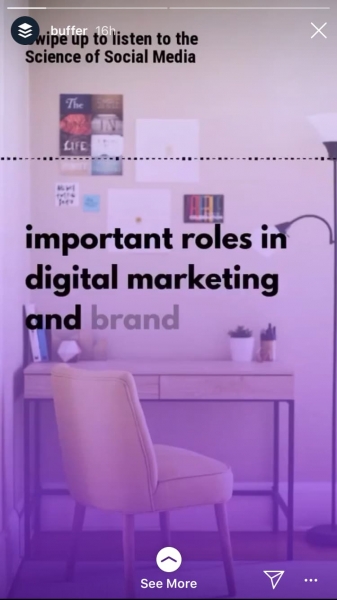 Show behind the scenes

. Behind the scenes content can be extremely appealing to your followers because it will make your brand more human. When people love and follow a brand on social media, they are usually curious about the process that goes into creating a product, organizing an event, shooting for a magazine editorial, or simply showing the company culture. Depending on the profile of your company, you can show a ton of interesting stuff as you're working on something, or by releasing the behind the scenes after the project is already finished. You can see in the screenshot below how Sephora used this tactic to show the process that goes into creating a makeup tutorial and how the set up looks like.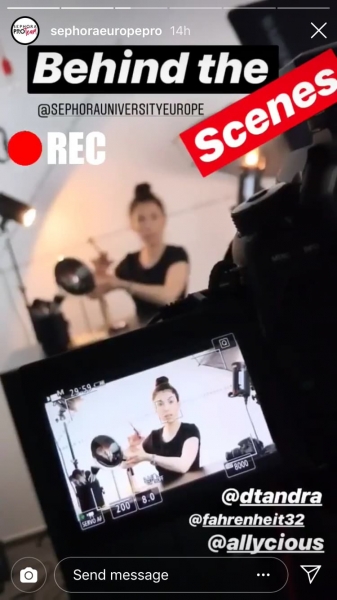 User-generated content

. People will usually produce and post content with the brands they love, whether it's a product or a place. This is why you need to capitalize on the power of this type of content. It's authentic, it's unique, and it's also relatable to your audience. Encourage your followers to post about your brand and tag you so you can, later on, repost that content on your Stories. In the screenshot below, you can see how a coffee shop has integrated UGC into their Instagram marketing strategy. The picture is so appealing that it almost makes you want to go to this place right away and buy some delicious coffee, am I right?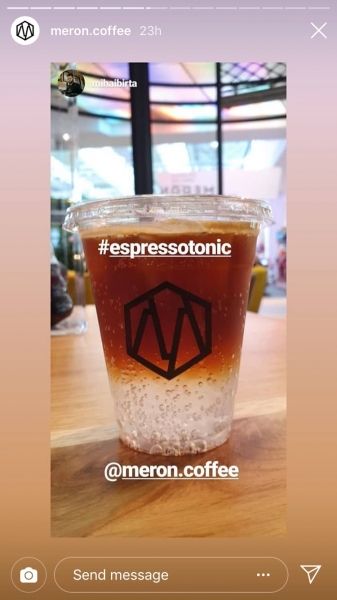 Create tutorials

. Tutorials represent a great way to provide educational content in a easy to digest manner. You can create how-to videos for this purpose that revolve around the products you're selling or are connected to your industry. They can be anything from makeup tutorials, product demonstrations, cooking videos, editing hacks, styling tips for brides, and the list can go on. In the screenshot below, you can see how GoPro promoted educational content in the form of a video while showing something useful to the customers that have the GoPro 7 Hero Black model.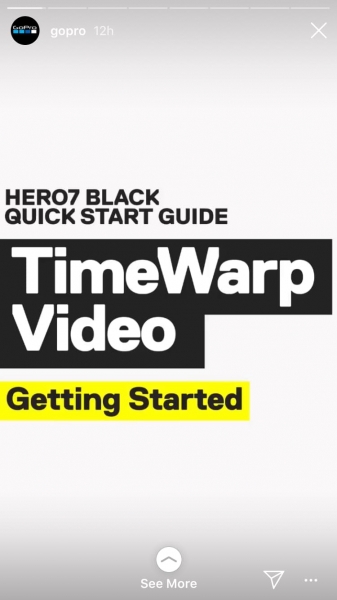 Get your audience involved

. Even if IG Stories is one of the most engaging channels as is, you still need to encourage your followers to interact with you. Luckily, Instagram provides a lot of fun tools you can play with, such as polls, questions, and quizzes. You can use these features to boost engagement, get feedback from your followers on certain issues, receive questions from them or answers to your stories. You can see in the screenshot below how Hubspot uses the quiz feature in one of their stories.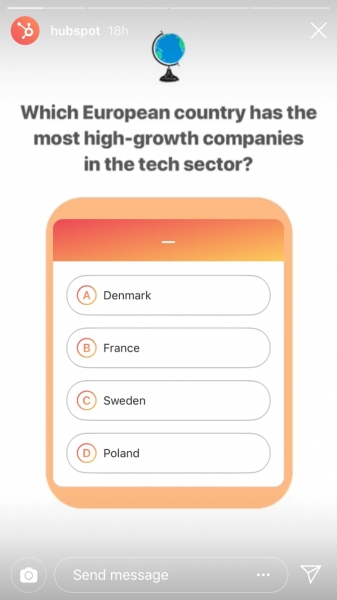 Sponsored story

. The high engagement rates on IG Story make this a great channel for running ads and reaching a larger audience. When swiping through stories, users will also see Instagram Stories Ads so it's a great opportunity to capture more followers. Before setting up a Story Ad, it's best to narrow down the information about the target audience you want to reach, which will oftentimes include the location, gender, age, interests, behavior. The Instagram Story Ad specs are the same as in the case of a normal story. Take a look at the screenshot below to see for a Sponsored Story appears on the screen.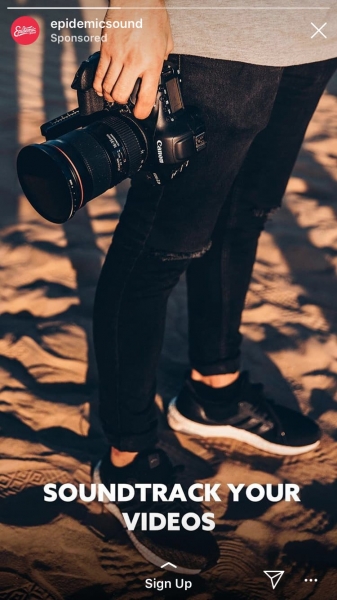 Final thoughts
There isn't a perfect formula regarding the type of content you should post on Instagram Stories.
The best thing you can do is experiment with all these different ideas I mentioned in today's article and see which ones work best for you.
Regardless, you should not overlook the proper Instagram story size so your posts will be uploaded at the best quality possible.
At the same time, creating content for IG Stories shouldn't be a hassle so using an online design tool such as Creatopy's online Instagram story maker will make this process effortless and seamless.
In case you're using Stories as part of your Instagram strategy, let me down in the comments what your experience has been so far and what have you learned so far.