14
minutes read
Looking for some Instagram ads examples to fuel your creative process?
Have a look at our amazing selection of inspiring Instagram ad ideas.
We've compiled the best Instagram ads to help you craft scroll-stopping advertisements for your brand.
---
Table of contents:
---
But first, let's have a look at the incredible opportunities Instagram advertising can offer to your business.
Are Instagram Ads Really Worth It?
Short answer: Yes, they are.
According to the network's research, Instagram is the #1 most preferred platform by users for building brand relationships.
Apart from being a favorite place for entertainment and inspiration, people also log into the platform to interact with brands: 90% of Instagram users follow at least one business account.
Not only that, but Instagram ads have an incredible conversion rate: 71% of Instagram users confessed they purchased a product after they saw it on Instagram.
Instagram Is the Most Popular Online Marketplace
Instagram is the world's 4th most used social network, with 2 billion active users, and it is currently also the most popular online marketplace.
With a fully operational in-app checkout, Instagram allows users to buy things without leaving the platform.
Brands can include purchase links in their ads, enabling people to buy products by taking a simple one-click action. This feature makes buying stuff more convenient, and less time-consuming. That's why it's a preferred place to shop online, and a great place for brands to sell products.
Fuel Your Creativity: 10 Instagram Ad Examples
Let's get started with some Instagram ad inspiration to boost your creativity. Keep in mind that each Instagram ad format has its own specifications, meaning things you're allowed to do, but also limitations. But it's amazing to see that creativity can do wonders.
1. Instagram Image Ad Examples
Instagram image ads are still rockin'. The only conditions to get your ad noticed, get clicks and convert potential clients into customers are to follow Instagram's ad specifications and craft your ad creatively.
Why follow Instagram specs? Because otherwise, you risk getting your ad cropped or stretched, and you wouldn't want that to happen.
The recommended Instagram ad sizes are 1080 x 1080 pixels (for the square format), and 1080 x 566 pixels (for the landscape format). The aspect ratio is 1.91:1 to 4:5.
If you want your image ads to look great on Instagram and stop users from scrolling down their feed, you need to upload images with a 1080 pixels width.
If you upload pictures with a width bigger than 1080, Instagram will automatically crop them to 1080 pixels. Also, if you upload images below their required minimum width (320 pixels), Instagram will scale it to 320.
Leea Toys Instagram image ad
Here's a nice Instagram image ad for children's toys summer sale from Leea Toys.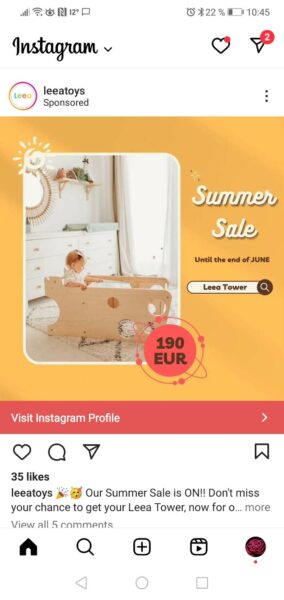 Takeaways:
The ad has all the ingredients to convince moms to click for more details:
The colors

. The creative team used a bright and sunny

background

color that surely gets noticed.

The headline

"Summer Sale" is simple but tempting.

The

product is center-stage

, placed in a beautiful white nursery.

There's a

happy child

playing with the product who can melt any mom's heart.

The price tag

is stamped on the product picture to make it even more appealing.
Tropic Feel Instagram image ad
Here's how Tropic Feel used a simple product image and turned it into a creative ad.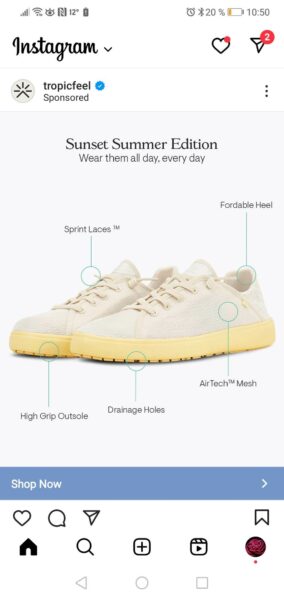 Takeaways:
Creativity is possible even with a modest budget.

Even if you can't afford to spend a lot of money on designing creative ads, you can use your product pictures to create a concept around them.

The headline and subheadline

make it clear that you're seeing a pair of summer shoes that are fit for any occasion. Casual enough for the weekend, smart enough for the office.

The product description.

We get all the details about the shoes in a creative way, without the need to click the ad for more information.

The product is in the spotlight.

Everything else revolves around it.
Microsoft Instagram image ad
And because I've seen plenty of software ads on Instagram lately, here's another Instagram image from Microsoft.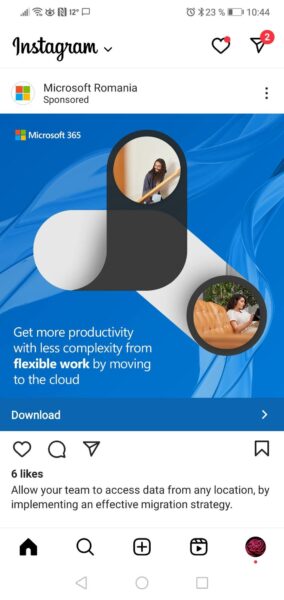 Takeaways:
Less is more.

Like many of the titans in the software industry, Microsoft has adopted the minimalist approach to design. And we can all learn from their visual style: a clean design, a minimalistic color palette, and the use of branded colors.

The language of software products is abstract

. This style speaks to office people more than anything else.

Straight-forward copy.

When the product is already complex enough, you want your text to convey the benefits clearly.

2. Instagram Video Ad Examples
With Instagram video ads, you can showcase your product in new and exciting ways.
Keep your video ads short and entertaining, add a surprise factor, and don't forget to include music and captions.
The recommended resolution for video ads on Instagram is 1080 x 1080 pixels, aspect ratio 4:5. The file formats accepted are MP4, MOV, and GIF.
Kiddo World Eu Instagram video ad
I've picked a short funny video ad from Kiddo World EU promoting a set of water toys for children.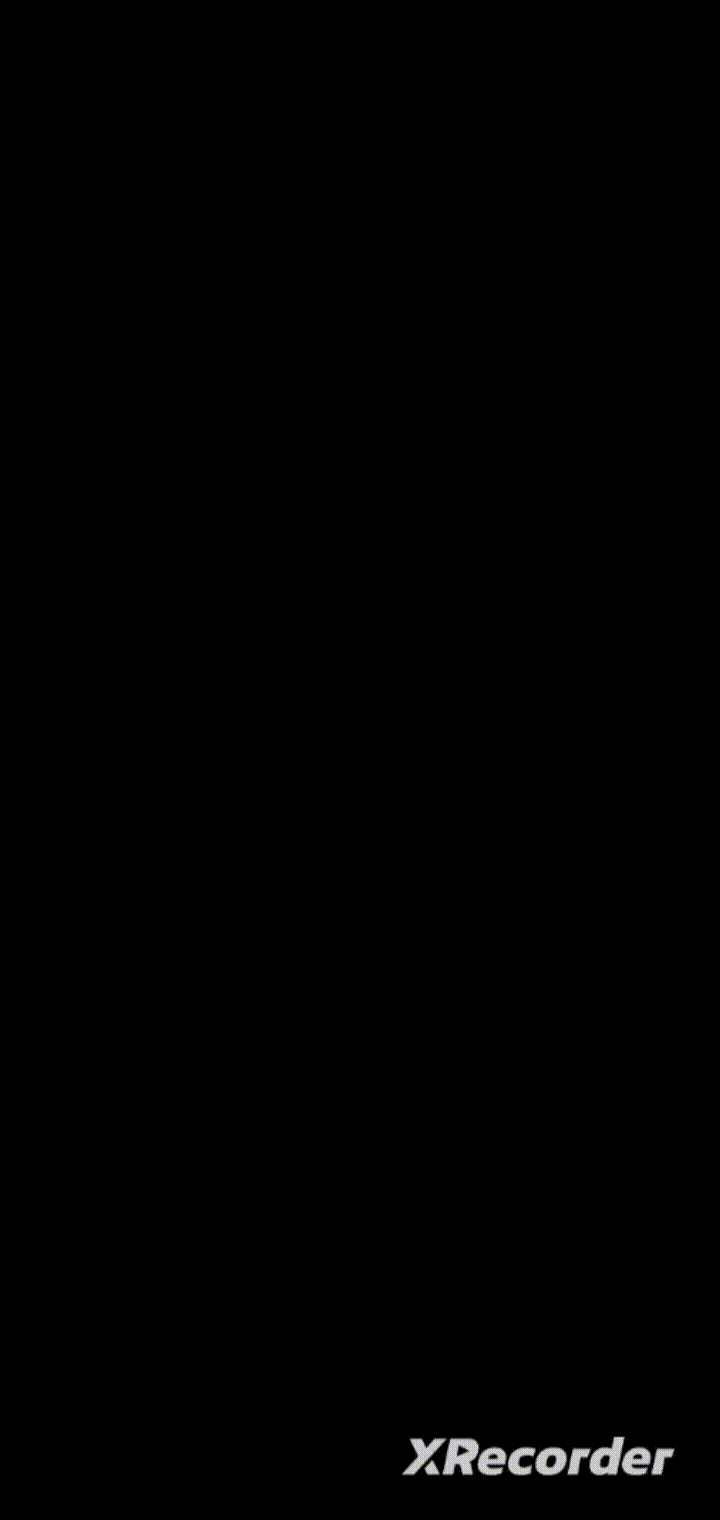 Takeaways:
The video focuses on

the product in action.

There is no one introducing the product or telling us its benefits. There is no text describing its features. We can see the benefits with our own eyes just by looking at the product in use.

Keep your video

short and funny.
Bamuro Shop's Instagram video ad
Next, let's see a cute little video promoting a cat brush from Bamuro Shop.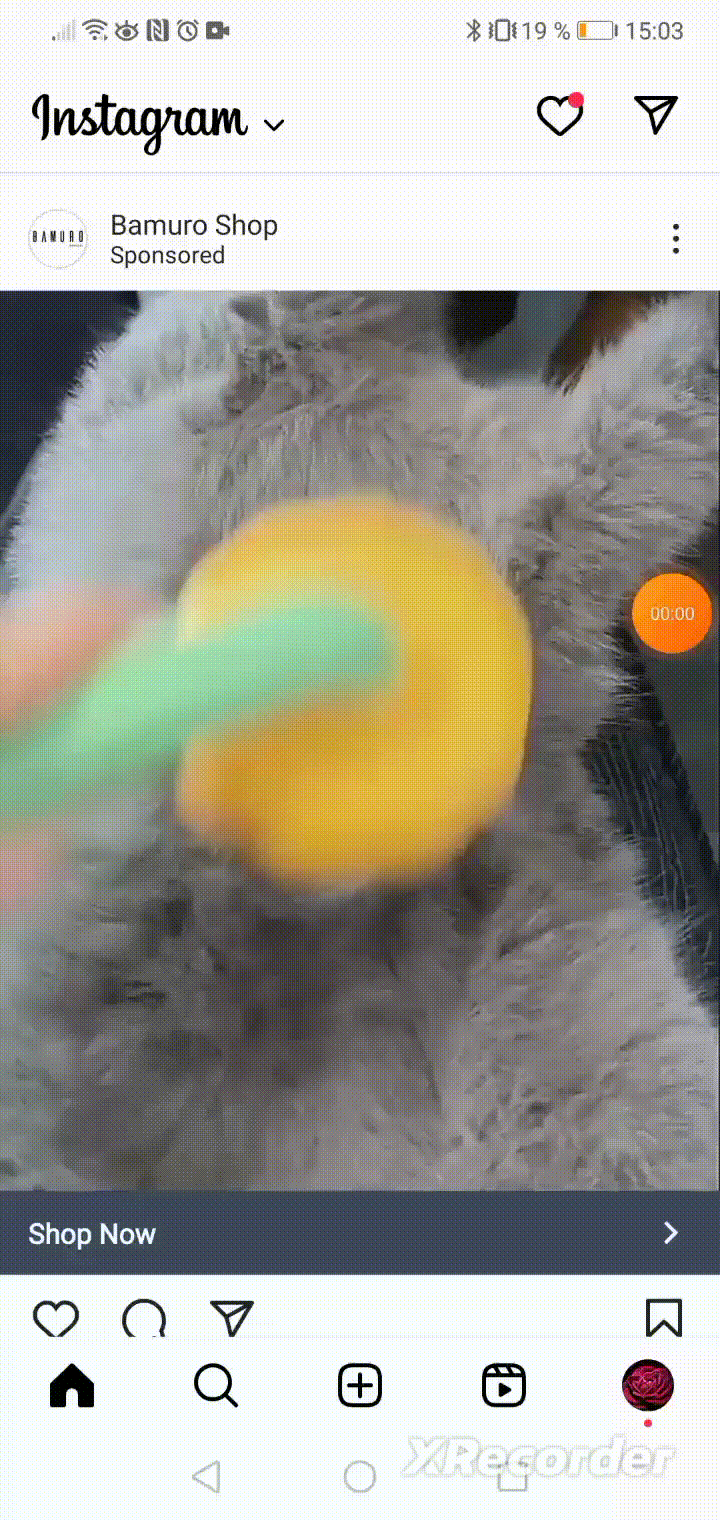 Takeaways:
State your product's benefit in less than 10 seconds

. That's the length of this video.

Focus on your product.

Show off your product in action and convince everyone of its benefits.

Use appropriate music

to complement your video.
---
Create engaging content for Instagram and get inspired by these resources from our blog:
---
3. Instagram Story Ad Examples
Use the immersive full-screen experience of Instagram Story ads to drive action and results.
If you want to use this ad format, follow the platform's recommendations and specifications. The recommended resolution for Instagram Story ads is 1920 x 1080 pixels, but you can make your Story ad at least 1080 x 1080 pixels. The aspect ratio is 9:16. You can create Instagram Story ads using images (JPG or PNG files), or videos (MP4, MOV, and GIF files).
Brendon Burchard Instagram Story ad
Here's a Story ad I stumbled upon on Instagram. Brendon Burchard, a well-known high-performance coach, promotes his Influencer Roadmap program.
Takeaways:
The headline

pinpoints some keywords that trigger emotional response: "personal brand," "monetize" and "your content."

Brendon Burchard's speech

is personal, touching, and convincing. Though he's a best-selling author now, he's had some very modest beginnings and is very open to sharing them with potential subscribers. He's trying to build an emotional bridge and convince people that they can become famous influencers even with a poor background.

The link to his website

is available in the Story ad, making the dream of becoming a rich influencer closer than ever.
Product Marketing Newsletter Instagram Story ad
Next, I found this colorful Story ad from the Product Marketing Newsletter that made my day.
Takeaways:
Vibrant colors can help an ad get noticed.

If the brand guidelines permit, don't be shy to use bold colors.

Unexpected creative visuals

can have a massive impact on people. Let's take this visual. People don't expect to see a man sitting on a huge banana, reading a notebook, while a volcano erupts behind him. But when they are faced with this image, perhaps they will stop swipping and check out what the ad is about.

The name of the product/brand is center-stage,

which, in this case, solves all the possible questions anyone might have about the uncanny picture. But it also informs people about the marketing newsletter and the possibility of signing up for marketing updates.
AppsFlyer's Instagram Story ad
This is a one-image Instagram Story ad that caught my attention. The brand is AppsFlyer, a platform specialized in marketing for apps.
Takeaways:
The headline

articulates one of the most important questions a company might have about its app's growth.

The creative.

There's clearly a story going on, and although it's not clear what is happening, we find ourselves guessing what it may be.

The copy

clarifies all dilemmas on the second slide. The copywriter chose some impactful words to fit in the 3 lines of body text: "boost," "app installs," "intuitive reporting," and "real-time insights." So, the key learning here is that when faced with a limited number of characters to fit an Instagram ad, choose three main power words that best describe your product's benefits.

4. Instagram Carousel Ads Examples
With Carousel ads, you can showcase up to ten images or videos in the same ad. Follow the platform's specs and recommendations and find inspiration to build your carousel ads.
The platform recommends keeping Instagram carousel ads size to 1080 x 1080 pixels, with a 1:1 aspect ratio. You can upload either JPG or PNG files for images. And MP4, MOV, or GIF files for videos.
Udemy Instagram carousel ad
Let's have a look at this carousel ad from Udemy, the online classes provider.
Takeaways:
Treat each carousel slide like an individual ad

for a separate product. Use different headlines, images, and texts for each slide to provide more information about each product.

Use eye-catching pictures

to showcase your catalog of products or services.

Make sure the products you want to promote in the carousel ad are

part of the same category

or related in some way or another.
Superbebe Shop Instagram carousel ad
Here's another great example of a carousel ad from a children's brand, Superbebe Shop.
Takeaways:
Focus on the pictures.

The copy is not that important in carousel ads. What you need to concentrate on is that your products look great and tempting. Place them center-stage, use vibrant backgrounds, and experiment with various product arranging techniques.

Match the color of the CTA button with the pictures

. Notice how the green CTA button matches the green sandal straps?

Feature your best products.

Take your time to select your best products and include them in your carousel ad. The products you showcase represent your brand.
5. Instagram Collection Ad Examples
A Collection ad on Instagram is made by a main picture or video followed by three secondary pictures or videos. When someone clicks on the ad, an Instant Experience pops up, which is actually a landing page within the Instagram app.
The recommended size for Instagram Collection ads is at least 1080 x 1080 pixels; aspect ration from 1.91:1 to 1:1. The accepted file types are JPG, and PNG for images, and MP4, MOV or GIF for videos.
My Geisha Instagram collection ad
This is a beautiful Collection ad for a range of natural skincare products from My Geisha. It absolutely makes you wanna try them.
Takeaways:
Use your main picture/video to pique interest.

As you can see in this collection ad, the main image is not a mere picture of a product. Instead, the marketing team created a more complex visual, using a creative setup, and they included other elements like a catchy headline, natural ingredients, and details about the natural origins of the ingredients "99% natural."

Book a

professional product shooting

. With Collection ads, the visuals are highly important. So you cannot just go out there with some random pictures you made with your phone. Hire a professional photographer and let them do their magic.

Use the

power of words

to inspire emotion. Use descriptive words that immerse people in a particular atmosphere and create a feeling of wellness or whatever it is that you want to convey.
6. Instagram Shopping Ad Examples
Shopping ads allow Instagram users to find out more about a product and shop directly from the app without having to go to the seller's website.
The information that can be included in a shopping ad: product details, price. The Shop Now button opens the seller's website through Instagram's in-app browser and allows people to shop without leaving the app.
These are the specifications for Instagram shopping ads: at least 1080 x 1080 pixels, with an aspect ratio of 4:5. The accepted file types are JPG, MP4, MOV, or GIF.
Revolve Instagram shopping ad
Let's have a look at this Shopping ad from Revolve.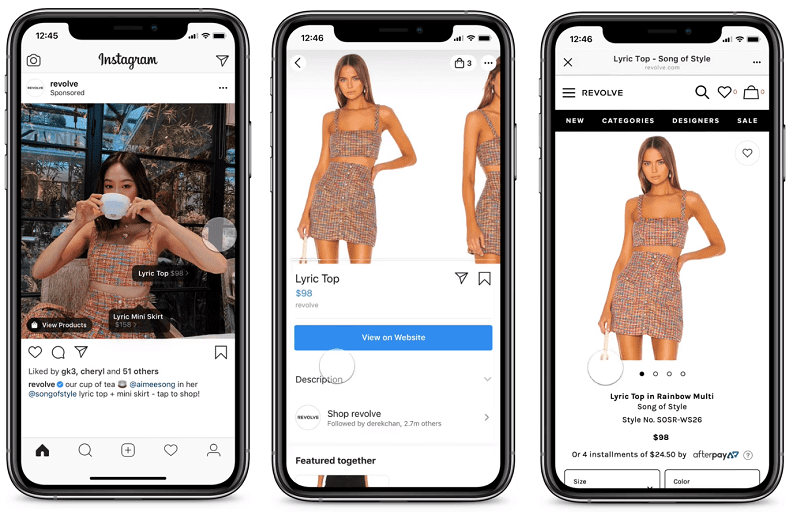 Takeaways:
Cast influencers/celebrities

to make your ad more appealing (if budget permits, of course). Here is Aimee Song, a famous Instagram fashion influencer, wearing a beautiful Revolve top and mini skirt.

Offer all significant details upfront.

Add the product's name and price to entice people to click for more.

Write a

comprehensive description

of your product that informs people about the fabric, size, style, etc.
7. Instagram Explore Ads Examples
Instagram Explore is a space where users can discover new content from across the platform based on their interests. Instagram Explore Ads appear among organic content.
Brands make use of this format to promote their products in an exploratory environment where people are already open to new content.
The recommended size for Instagram Explore ads is 1080 x 1080 pixels, with an aspect ratio of 9:16. The accepted file types are JPG and PNG.
Rondinella Shoes Instagram explore ad
This is how an Explore ad looks like in the Explore section on Instagram. This is an ad from Rondinella Shoes, a children's shoes online shop.
Takeaways:
Focus on the visuals.

The Explore format doesn't include text unless you add it to your image. So, make sure you select one of your best product pictures for this type of ad.

Optimize your profile page.

Once the users click on your Explore ad, they will be directed to your profile page, most likely. So, you need an outstanding page if you want to impress visitors and convince them to buy your products.

See how Rondinella Shoes has created an idyllic childhood atmosphere on their page? Once you land on their page, you immediately step into that world of wonder. And they've built it using their brand colors, pictures of children, cartoons, and products in action.
Take into consideration each detail:

your profile picture, the description, the link in your bio, the highlights cover, the posts, how the overall posts look, the colors, the branding, etc.
Zenino Instagram explore ad
Here's another example of an Explore ad from Zenino, an online shop that sells markers.
Takeaways:
Focus on the product.

If you have an extraordinary product, place it center-stage.

Show your

product in action

. See how they made the marker draw?

Offer

more details

on your product in the post to entice people to click the Shop button.
8. Instagram Reels Ad Examples
Currently, Reels are the most popular type of content on Instagram. They are 15 to 30-second-long videos that can be viewed in the Reels tab of the platform.
Reels ads are video or image ads that appear inserted among organic Reels. The recommended size for Reels images is 1080 x 1080 pixels, with an aspect ratio of 1.91:1 to 1:1. The accepted file types are JPG or PNG. For video Reels, the specs are: 9:16 aspect ratio, at least 500 x 888 pixels resolution, MP4, MOV file types.
Hey Shappy Instagram Reel ad
Have a look at this Reels ad from Hey Shappy, a children's play sofa.
Takeaways:
Make your product the center of attention.

This ad is all about this playing sofa. Even though it's a short Reel ad it's extremely memorable and impactful.

Cast humans in your ad to touch people's hearts.

Here, this child totally melts our hearts. I've watched this video over and over again.

Compress your story to fit the

15-30 seconds length

.

Build a

surprising storyline

. Start with something unexpected, then show users various uses of your product, while keeping it funny and entertaining.

Add

music

to your video to make it more emotional.
Treasures From The Box Instagram Reel ad
This is an image Reel ad from Treasures From The Box, promoting one of their products.
Takeaways:
If you want to use an image for the Reels ad format, make sure it's an

outstanding image

. See how they show us the inside of the treasure box? It's alluring and makes you wanna click.

The

product is center-stage

. Nothing else in the picture.

The color palette.

Notice there is a lot of green (the beauty product, the supplement pouch, the call to action button). And there's a lot of wooden beige and brown (the background, the chocolate, the small details on the packages).

Keep in mind that having a limited color palette of three to four colors can ensure your brand is recognized and your ad memorable.
9. Instagram Influencer Marketing Ad Examples
Influencer marketing is today one of the most used marketing tools. Brands of all sizes collaborate with influencers or celebrity influencers to make their products seen and convince people to buy on social networks.
93% of marketers have used influencer marketing as part of their digital strategy.
If you want to use influencer marketing ads, and you're wondering which is the most effective social media network for influencer marketing, Instagram is the #1 platform.
As for the efficiency of influencer ads, Izea's report found that 46% of social media users have purchased something promoted by influencers.
Schiaparelli Instagram influencer marketing ad
With 361 million followers on Instagram, Kim Kardashian is the queen of influencer marketing and Instagram. So, naturally, a big fashion brand like Schiaparelli hired her to wear their dress at the MET Gala.
Takeaways:
Hire top influencers

(if budget permits, of course). Here, fashion brand Schiaparelli hired Kim Kardashian to wear their dress. Daniel Rose Berry matched the dress with the beautiful pearls.

Make the most of influencer marketing by placing your product in a

public context

. Here, Kim was attending the annual Met Gala in New York, which is one of the most awaited events of the year for celebrities and media.

Show off your product in

multiple images,

from multiple angles. Make sure that the influencer fee you pay is worth the while by giving your influencer specific indications on how to present your product and upload multiple images or videos.
Alo Yoga Instagram influencer marketing ad
You may have seen Georgina Rodriguez on Netflix or on TV in commercials for beauty brands. She's one of the most sought-after models, and she's also Cristiano Ronaldo's sweetheart. Her Instagram account has over 50 million followers.
Alo Yoga hired Georgina Rodriguez to promote their sports gear.
Takeaways:
Find an influencer who is

100% suited to be your brand's ambassador

. Georgina Rodriguez is

a sports enthusiast, so she's very fit to represent Alo Yoga's yoga outfit.

Promote several of your products

in one post. Georgina uploaded eight pictures in that sponsored post for Ala Yoga. She showed us the leggings, the bra, and the jewelry.
Lulu Lemon ME Instagram influencer marketing ad
If you haven't seen Netflix's Dubai Bling, this next influencer is Loujain Adada, a United Arab Emirates model and VIP. She has a big follower base on Instagram, counting 691k followers. Lulu Lemon Middle East hired her for a jogging outfit.
Takeaways:
Hand your influencer

a complete post copy to describe your product

. Here is what Loujain says about the Lululemon shoes: "Join me on my afternoon run with

@lululemonme

☀️ I've been doing this on a daily lately with the new Blissfeel 2 Running Shoe – their first shoe launch that focuses on extreme flexibility and comfort for jogging activities

#lululemonME

."

Make

a video

of your influencer

testing out your product

to provide more images and uses.

End your video with your

product full-on

.
10. Instagram Branded Content Ads
Branded content ads are also about influencers or content creators around the web. The difference is that branded content ads must have a creator's page name and a brand's page tagged in the post, and have the "Paid Partnership" label.
Using this Instagram ad format, your page's name gets more visibility, and people can click to find out more.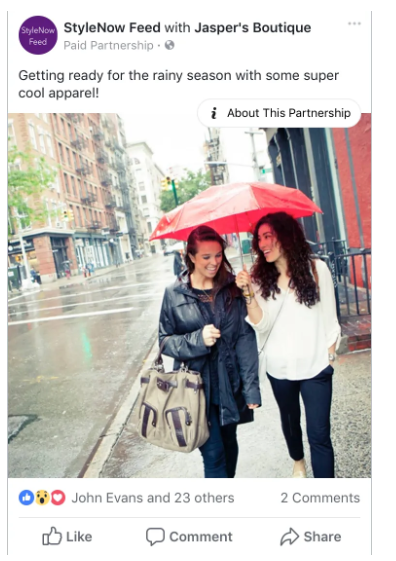 Takeaways:
Use the product in the context that it was designed for.

Provide a nice post copy to accompany your image.
Final Thoughts
I hope this selection of Instagram ad ideas will boost your creativity and help you create outstanding ads for your brands.
Use these engaging ad formats to connect with potential customers on Instagram and convert them into buyers. Make sure to follow all the Instagram guidelines and specifications we provided for each ad format to ensure your ads are approved and look great on the platform.
Use Creatopy's customizable templates and design tools to create scroll-stopping Instagram ads in minutes.