9
minutes read
Personal branding is all about "self-packaging". As a professional selling your goods or services, you need to stand out and differentiate yourself from your competitors. Personal branding can help you to position yourself on the market, create a unique image and communicate professionally.
Personal branding is both a strategic and a creative process. In this article, I will guide you through the creative process, and show you how to brand yourself, meaning the steps you need to take to create a distinct and recognizable visual identity.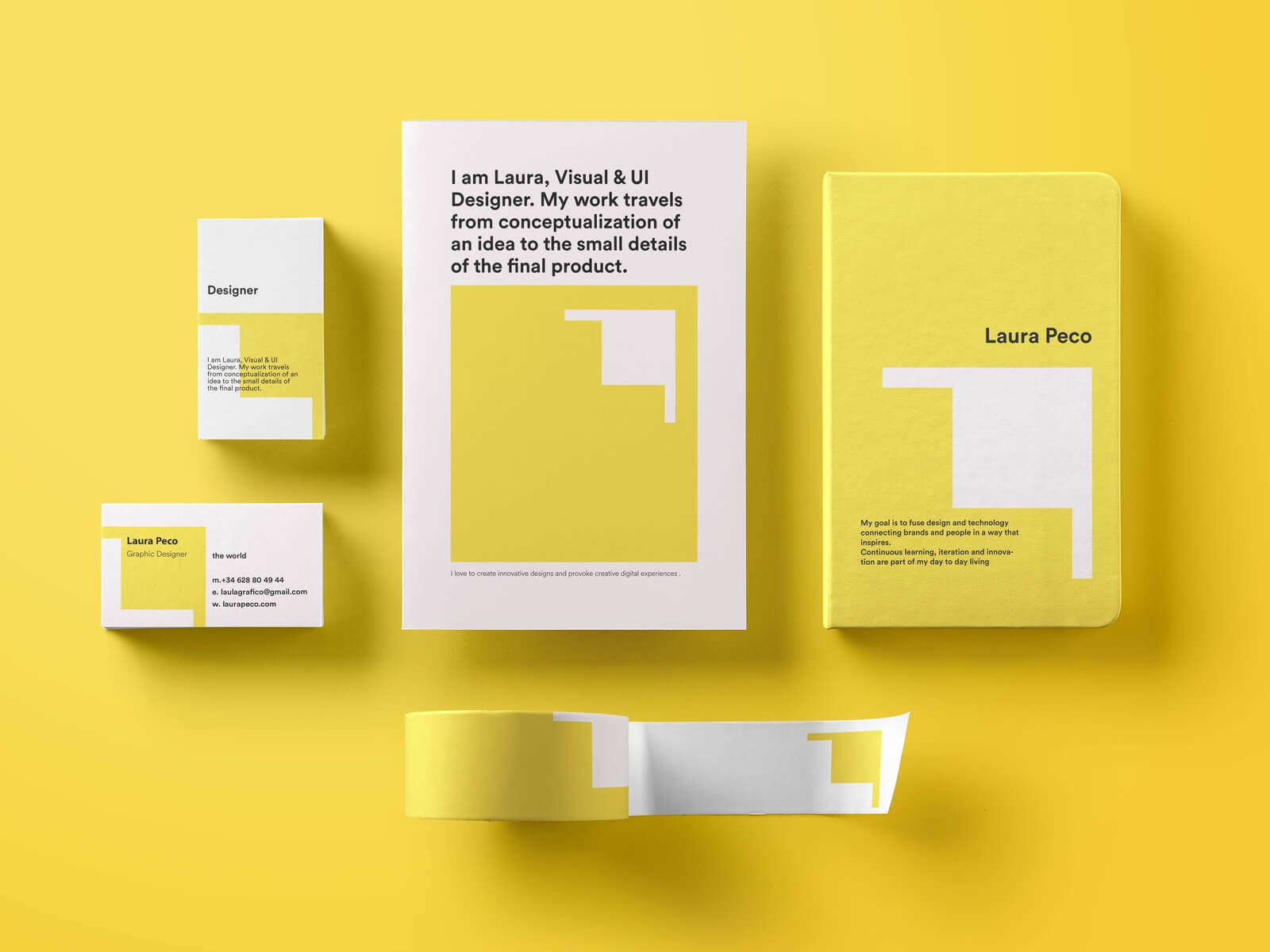 Credit: Laura Peco
1. Define who you are as a brand
Your brand is an extension of your personality
Before proceeding to create a brand, you need to have a clear sense of who you are. As a brand. If you don't know who you are, you won't be able to build a brand that represents you and that people can resonate with it.
If your brand is not an extension of yourself, it's an artificial marketing construction.
My point here is that personal branding stems from your own personality. Building a personal brand should be a mix of self acknowledgement and marketing.
So, the first thing you need to do is to list down all your characteristics, temperament traits and qualities.
I have been following Christina Guan's Instagram travels (@happytowander) for a while now, and I always feel happy to read her posts. That's because she puts all her enthusiasm and personal charm into writing her blog posts, Instagram posts as well as in her travels around the world. You can feel her happy vibe the moment you land on her Instagram feed or website. Everything about her online outlets conveys the same feeling of enthusiasm: the pictures she posts, the texts she writes, and even her jolly personal brand logo!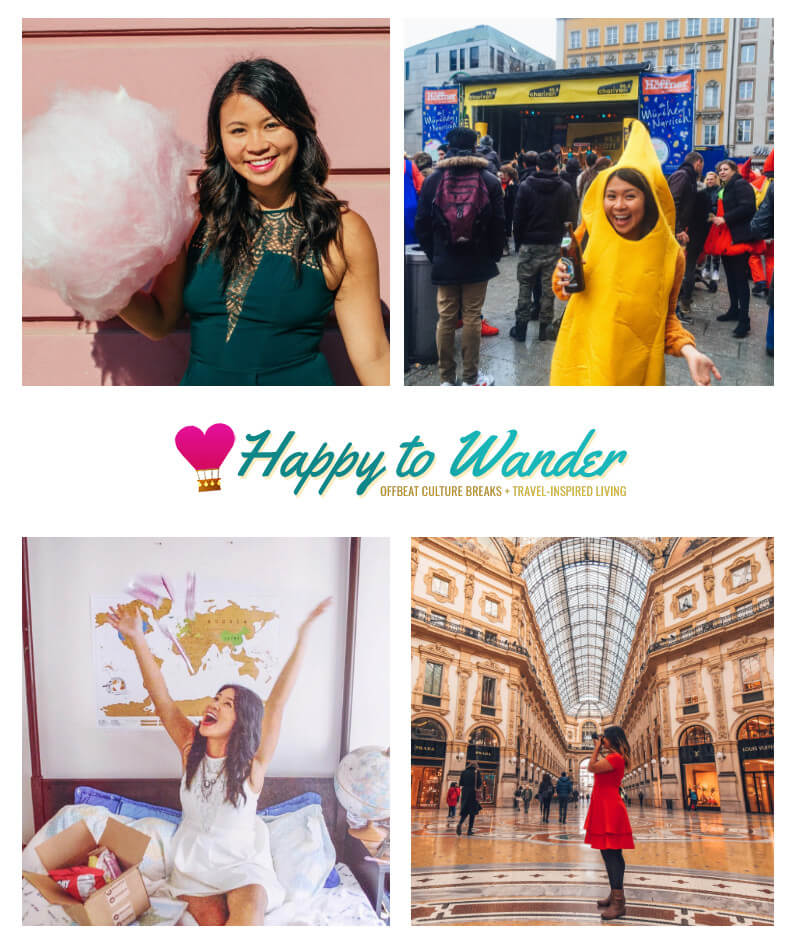 Credit: Christina Guan
Be authentic
Authenticity is key in personal branding. People are not some mere statistics numbers (as some marketers may think), but real persons with real feelings. Sure, at first people will like or dislike your branding packaging, but then they will want to connect with someone behind the image. Maybe they find your story inspirational, or maybe they like your personality, sense of humor or wit.
Your job is to allow yourself to be seen as you are and give the gift of authenticity to the world.
One person I really admire from this point of view is writer Elizabeth Gilbert, author of the international best-seller, Eat, Pray, Love.
She became famous thanks to her books, and she is one of today's most successful personal brands in the field of fiction books. She posts regularly on her social media pages (1,706,887 Likes on Facebook, 696K followers on Instagram, 238K on Twitter) and website, and she's a talented motivational speaker.
Much of her success comes from her being open to share details of her private life and day to day choices with the wide world. Another thing that one can immediately identify going over her online pages is that she is sincere and authentic. Reading her posts, you immediately connect with her and with that part of yourself that resonates with her story.
https://www.instagram.com/p/Buj_-GKHCIK/?utm_source=ig_web_copy_link
Values
Another dimension of a person is made of the total sum of his values. Every person believes in something and navigates through life guided by some principles. As we grow older, these principles become part of who we are and define ourselves. They dictate our everyday choices and life decisions.
So, whether we talk about tolerance, compassion or justice, and order, they are all values some of us treasure.
Identify yours and write them down. You will need them in the process of branding yourself.
Position yourself – Research competition and separate yourself from them.
Positioning may seem overly commercial, but you do want to sell something, right? That's why you're building a personal brand.
So, you need to perform research and examine your closest competitors, in order to learn from them and identify a gap in the market that isn't taken by anyone.
Identify what makes you different from your competitors and if there's nothing, invent something. Then you have to come up with a unique selling proposition (USP) that sums up your uniqueness.
Identify your target audience
After you have identified what you have to offer, it will be easier to identify your target audience. To make the process even smoother, create a profile of your customers. List all of their attributes, demographics, likes, and dislikes and lifestyle. Then, try to establish a connection between them and yourself.
2. Let your personality define your visual style
Now, let's talk about your personal brand identity and the visual style. I didn't mean to bore you with the first chapter. It was mean for you to acknowledge who you are as a brand and use all of your attributes and unique qualities to build a visual personal brand.
Show us your true colors! Choose a unique color scheme
First off, choose a color palette that represents you. As a rule of thumb, a color palette should have 2 to 3 colors, but not more.
I chose this example from Callum Hodgson to illustrate this chapter for you to understand how a simple 3-color palette can make design clean and appealing at the same time.
Each color conveys a certain meaning and emotion. So you have to identify what is your message first, then pick 3 colors that suit your message.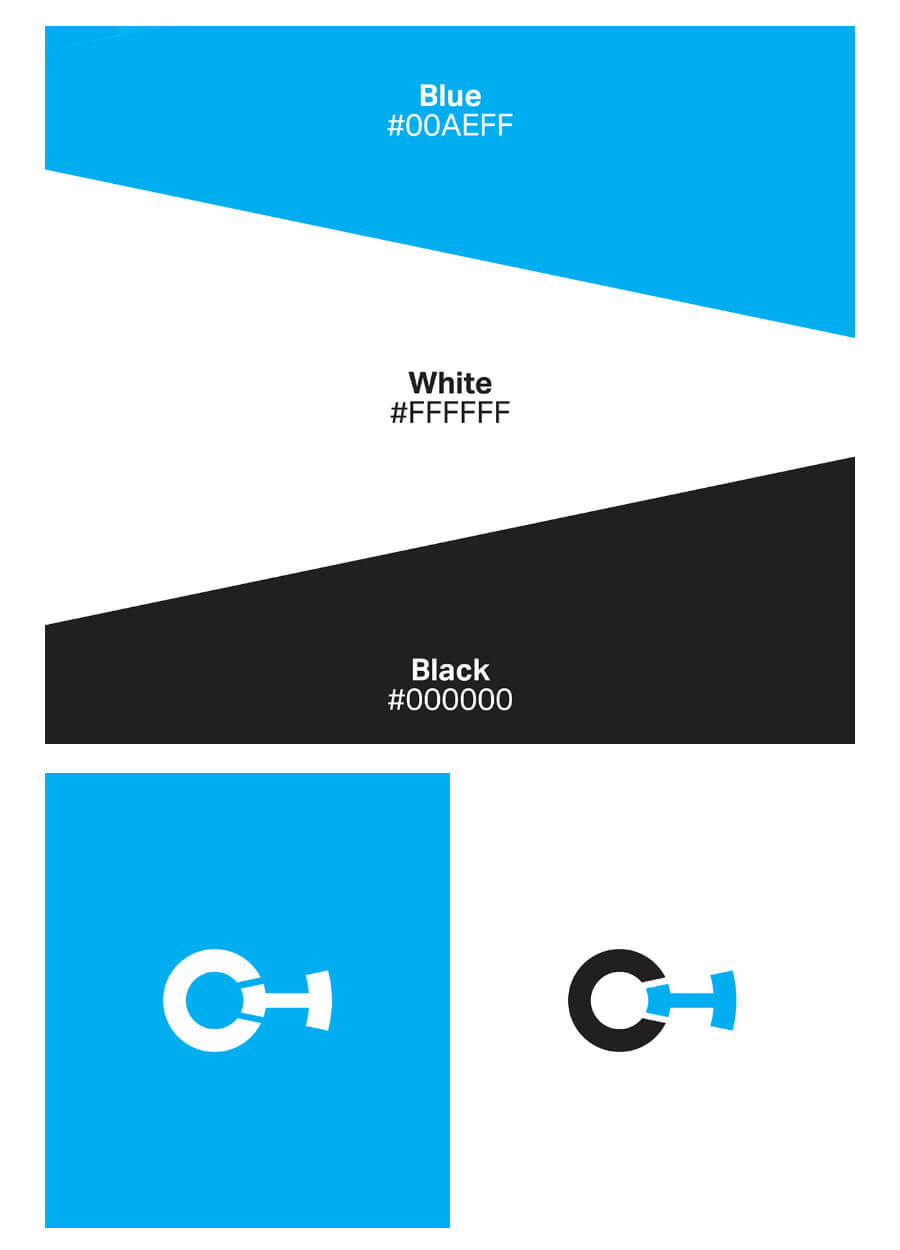 Credit: Callum Hodgson personal branding
Pick a visual style
There are numerous visual styles you can choose from, but only one will match your unique personality. Your job at this point is to identify which style suits your personality.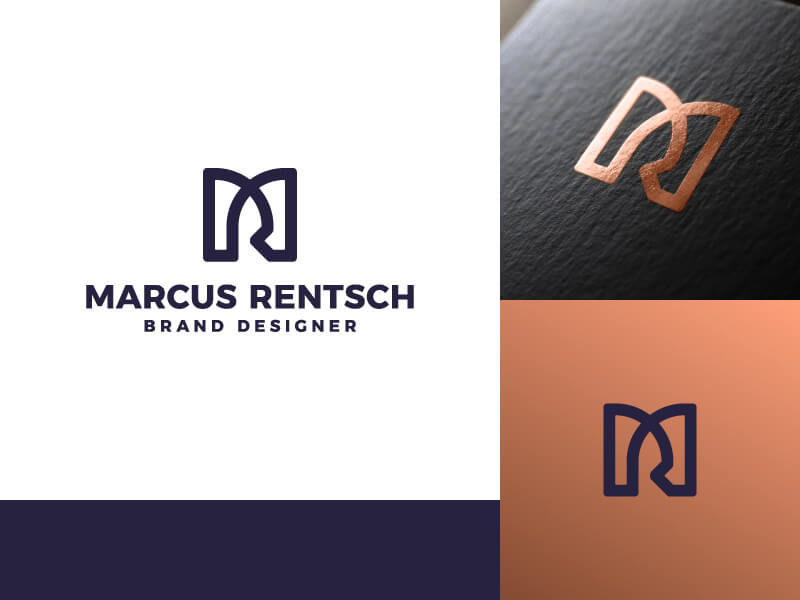 Credit: Marcus Rentsch
Here is a list of visual styles you can ponder on. Choose one that fully embodies your character.
Geometric style

Modernist style

Vintage style

Abstract style

Minimalist style

Handmade style
Create a logo
Now that you have chosen your colors and style, the next step is to design a logo. Go back to your list of attributes and values and see what your visual style would be like. Are you an avant-garde person, or rather a relaxed traditionalist?
Then you can either opt for a logo, like in the example below, or for a logotype, meaning a logo made of your name written in a specific type.
Some people prefer the second option for personal branding, as it states their name clearer and it helps create memorability. However, if you decide that you want to go for a symbol, make sure it fully represents who you are.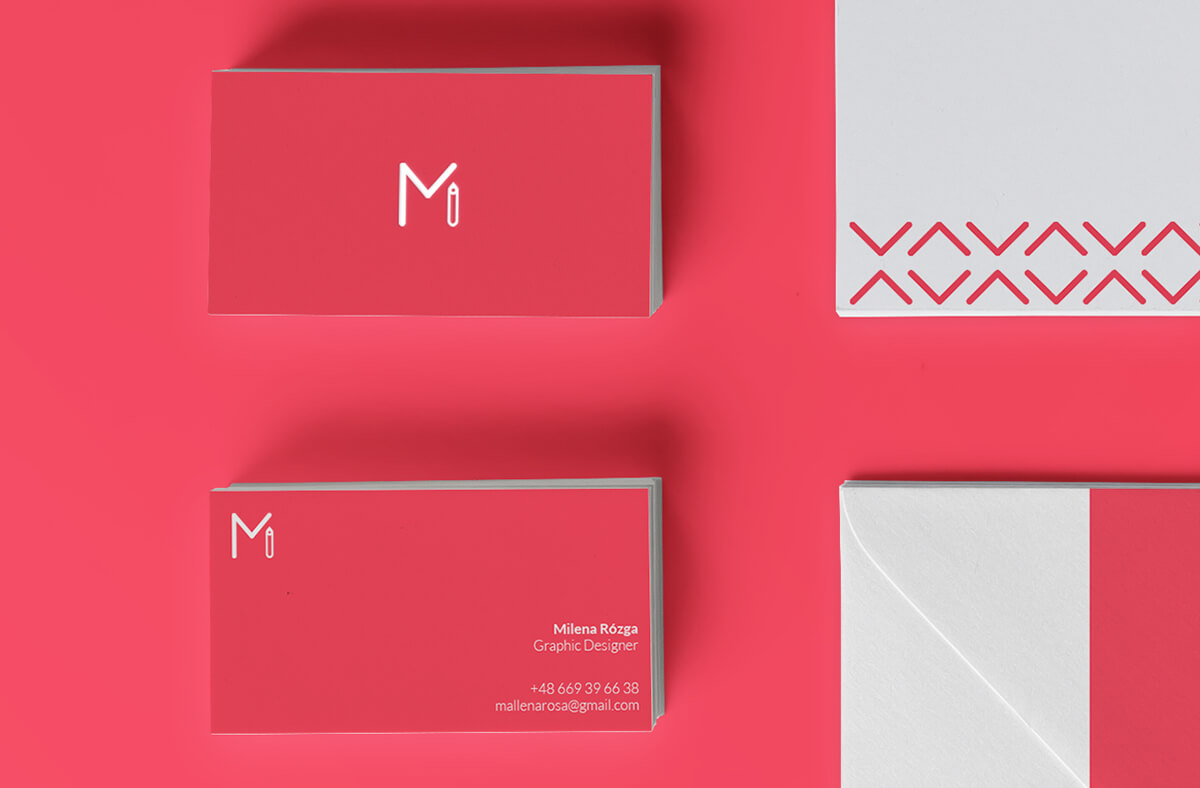 Credit: Milena Rogza
Choose a font
If you want a logotype, you need to choose a font or two. Even if you don't want a logotype, you'll need a font for all your written materials.
There are two ways to work this out:
Choose a family of fonts: for example, Georgia Regular,

Bolt

and

Italic

.

Or choose a pair of fonts, meaning two fonts that complement each other. You'll need a main font and a secondary one. The main type should be in-line with your personality, but at the same time, memorable. The second one should match your first font. So if you go for a

handwritten type

, you should pair it with a second, more simple font, like a sans serif. As a general rule, your fonts should be compatible, they should complement each other.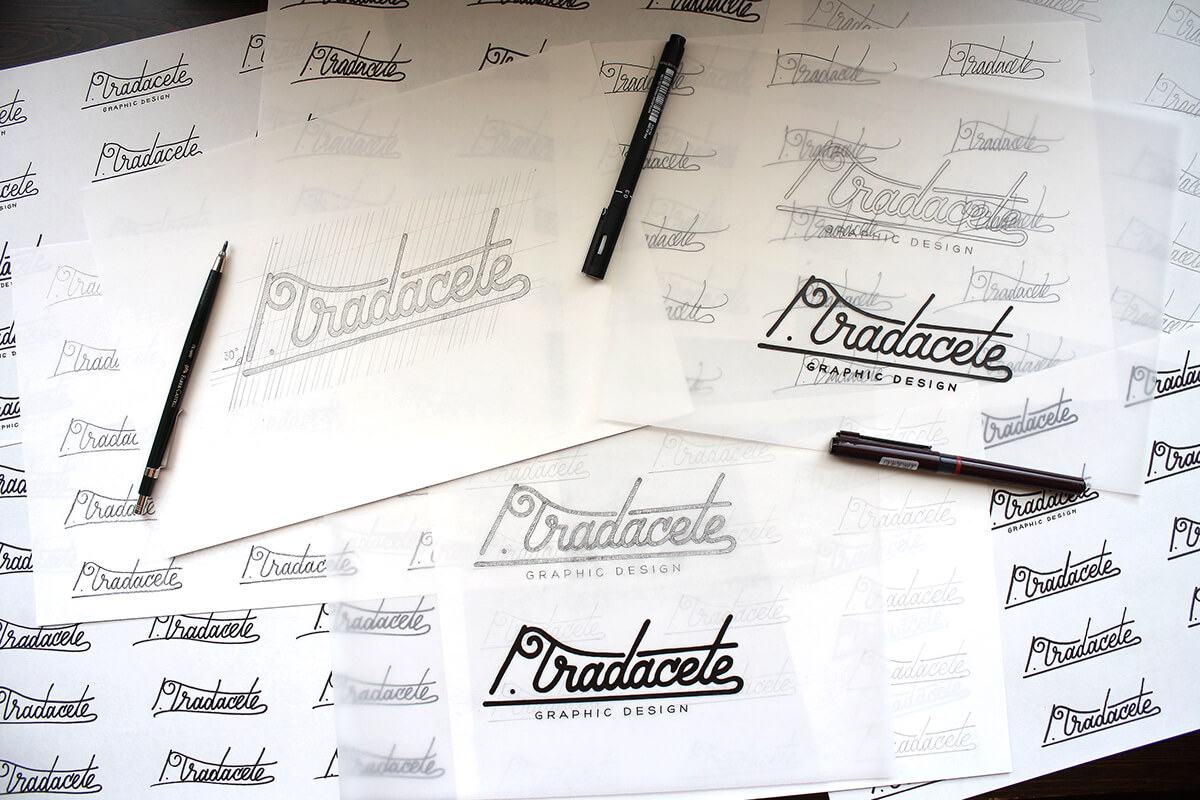 Credit: Pablo Tradacete
Put together a brand manual
Every brand has a brand manual, a booklet that dictates the brand's visual style. You need to create one, too. Well, don't do it yourself, unless you're an experienced designer. Hire a designer to create one for you.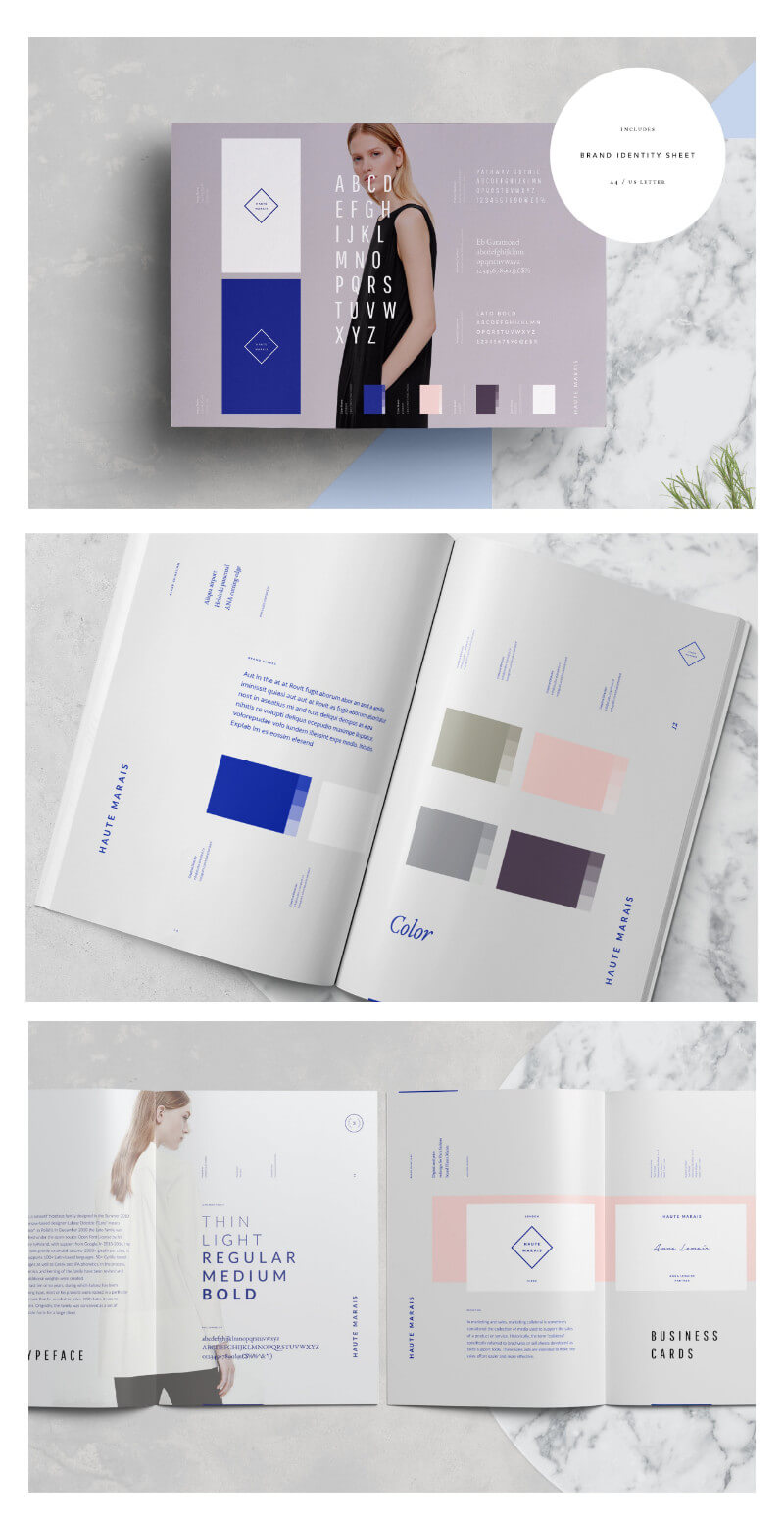 Credit: Studio Standard
Here's what your brand manual should include:
Information

about you: personality, vision, philosophy, work philosophy, values.

Personal brand

positioning

: what makes you unique

Your target

audience
Name, slogan (if you have one), fonts
Logo
Color palette:

color codes and principles of use.

Layout templates
3. Promote yourself out there
Once you have your personal brand set up, you're ready to go. It's time the world learned about you.
There are two types of channels you need to secure: online media and offline media. Let's talk about each of them.
Online media
MUST-HAVE: a website
Having a website is common sense, these days. Once you start sending emails, give out business cards and flyers, and advertising on Facebook/Google, you'll need to direct people somewhere to learn more about you and what you have to offer.
So, hire a developer or an agency and work closely with them to build a website that represents you.
I wanted to show you Kino MacGregor's website to understand that personal branding does not end with the logo. It's a continuous process, and each media channel is another opportunity for you to communicate who you are. Notice the big "K" in the left, the pictures and the colors.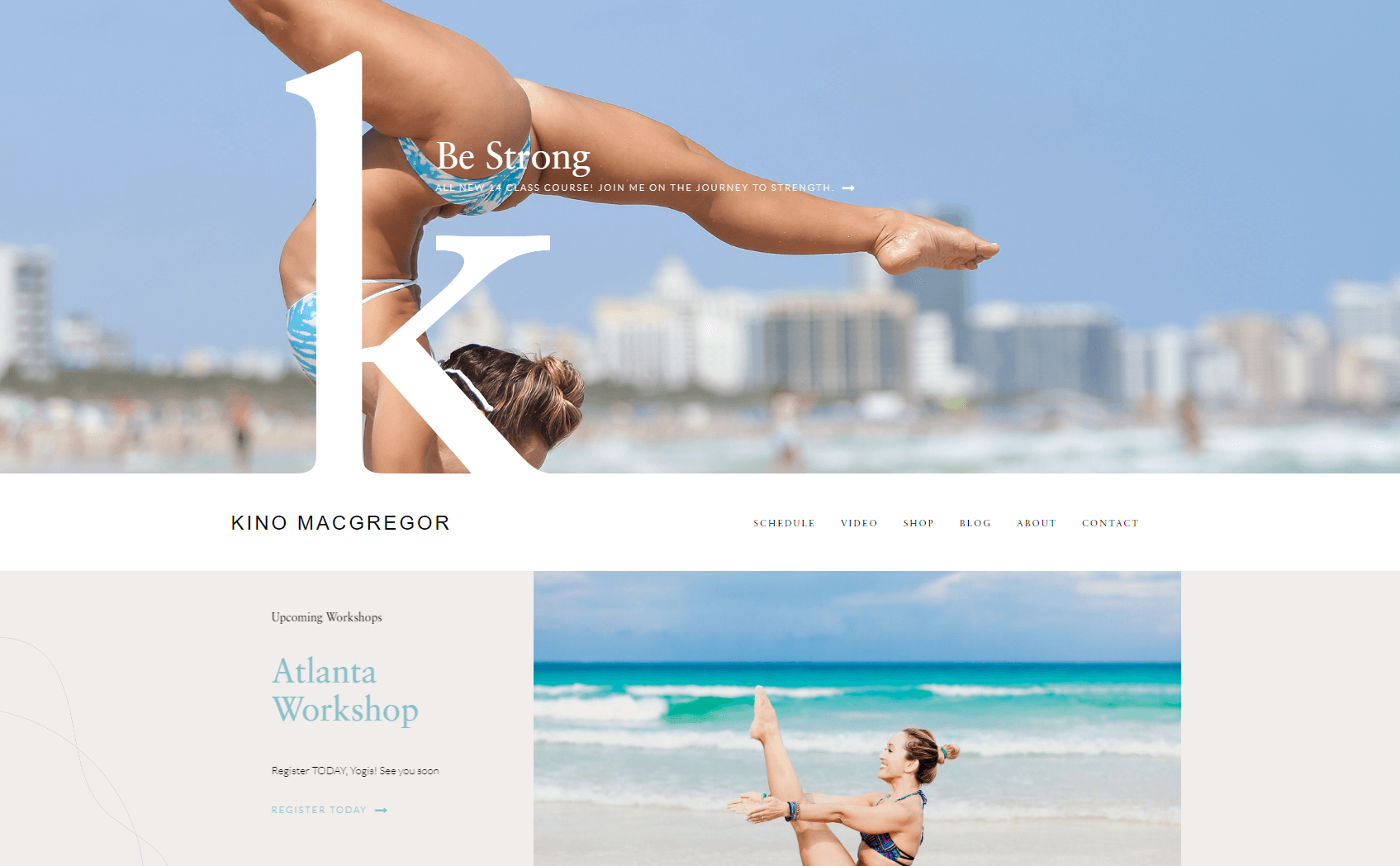 Credit: Kino Yoga
Social media pages
The social media platforms are available for anyone to promote themselves for free. Make sure you create a Facebook, Twitter, Instagram and LinkedIn account. YouTube and Pinterest are optional, depending on your business type. If you have a visual business, it's better to tick these two platforms also.
Then, what you need to do is to create branded and appealing profile pictures, and cover images to optimize each of these pages. You'll need to craft each and every one of them, as each platform has its sizes and dimensions specifications.
If you need help, Creatopy can help you to create all your social media images fast and easy. Use our templates, customize them with your details and logo and upload them online.
Facebook
As the biggest and most used social media platform in the world (3.3 billion users) , Facebook can help you gain customers fast. To create a compelling Facebook page, start by designing an appealing profile picture and cover photo that effectively conveys your brand's message. Ensure that your logo is clearly visible in both images. Once you've finished designing your visuals, include a detailed description, address, and phone number on your page to make it easy for people to reach out to you. Remember to prioritize creating a captivating Facebook cover photo that captures your brand's essence.
You'll have to post regularly to keep your fans engaged, so create a unique visual style and a tone of voice.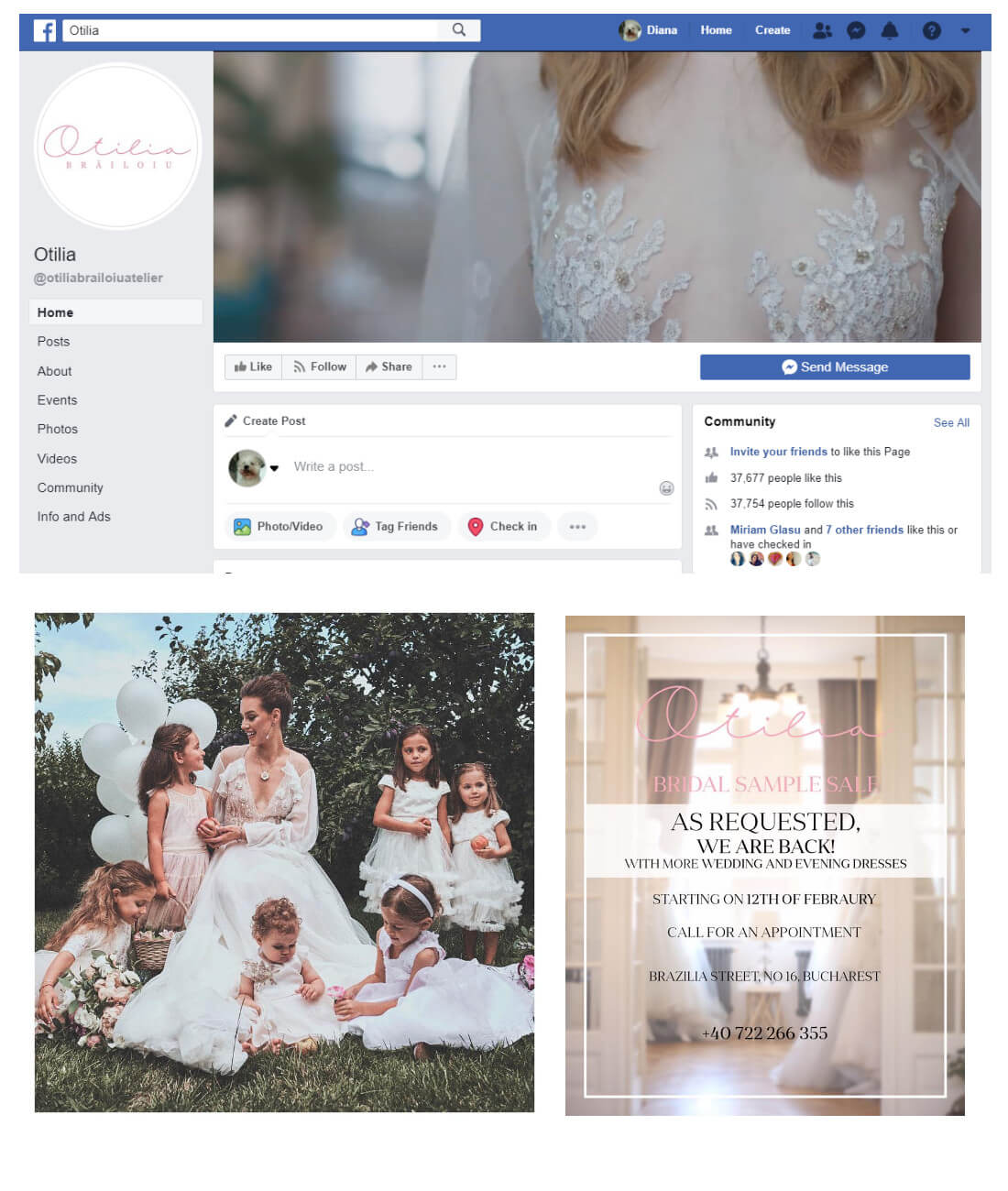 Credit: Otilia Brailoiu
Twitter
Twitter is a social network that allows you to create a profile page and post updates regularly. You'll need a profile picture and a cover image, a short description and a link to your website.
Instagram
Instagram is the place to be for entrepreneurs in the visual field: fashion designers, graphic designers, handmade artists, painters, and even fitness personal trainers. This is a platform that requires careful visual management, in that you need to be careful how you craft each and every image you post and how your overall feed looks like. If you're looking for some Instagram inspiration, read our article on Instagram feed goals.
LinkedIn
LinkedIn is a social network for professionals that can help you gain exposure to a large community of professionals around the world and even initiate collaborations. Create a stunning header image and add a comprehensive description of yourself. Don't forget to add updates regularly.
Start a vlog/blog/podcast
Another way to promote yourself for free is to start a blog, a vlog on YouTube or a podcast channel on SoundCloud, iTunes or Spotify.
If you're a skilled writer, add a blog to your website and write about your achievements and news. If you've got exceptional speech skills, start a vlog and talk about your works. If you still want to talk about your works, but you're too shy (or private person), you can always start a podcast series. Podcasts are still in fashion. In fact, they've never been more successful!
Back to branding, make sure your blog/vlog or podcast channel is fully branded.
I've chosen Ellie Thumann's YouTube channel as an example to motivate you to take action. Although she's only 16, she runs a channel with 1.7 million subscribers. Her channel profile is perfectly optimized and branded. She's got an appealing girly YouTube cover, her name is central in bold, and her other social media channels are promoted right under her name.
If you're curious to see what she vlogs about, check out her videos.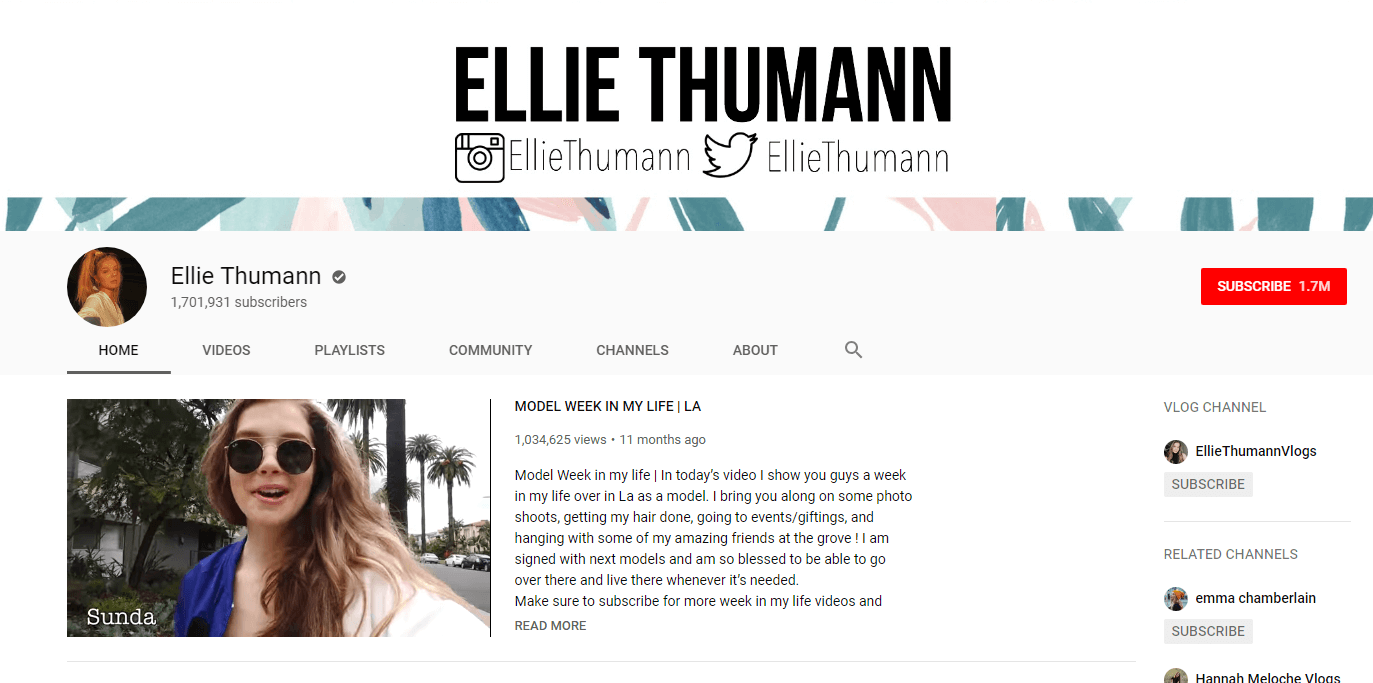 Credit: Ellie Thuman
Offline media
Of course, you'll need to promote yourself offline, too. You'll need to exchange business cards with every potential business partner. You'll need to send business letters, and pack your products (if you sell physical products).
All of your materials should be branded and have your contact details.
Here is a list of the offline materials you can use to promote yourself:
Business cards

Packaging paper

Envelopes

Flyers/Brochures

Occasional promotional posters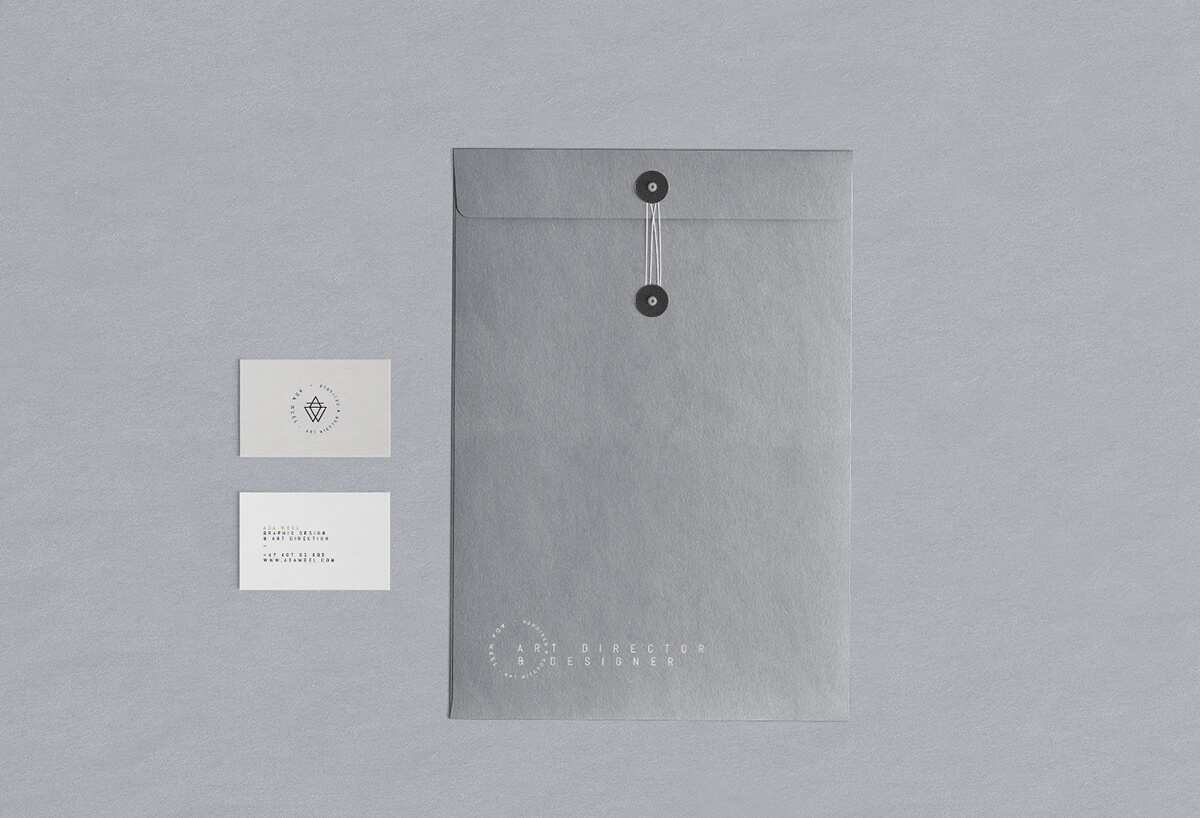 Credit: Ada Weel Olsen
Time to launch your personal brand!
All right, we're done with words and now let's put all this theory into practice!
Illustration by Anita Molnar