8
minutes read
Say the words Black Friday to a consumer, and they smile in delight just thinking about the deals they'll snatch.
Say them to an advertiser, and their life flashes before their eyes.
Black Friday is the day after Thanksgiving, officially kicking off the holiday shopping season. It's the best day for brands to clean up their stock and increase revenue while spoiling their customers with great discounts.
But for advertisers, it can be one of the busiest, most stressful, and most demanding times of the year.
Here are nine tips for creating a successful Black Friday campaign without losing your mind.
1. Choose Your Channels Wisely
The first thing you need to sort out before you even begin designing your creative Black Friday ads is deciding the channels you will be advertising on.
What types of social media ads will you create? Are you going to run in-app ads, too? You might want to use Google display ads, but which type exactly?
You need to have the answer to these questions so you can be aware of the specs of your chosen platform ahead of time. That way, you'll know the ad sizes you need so you can start planning your campaign accordingly.
In Creatopy, creating an ad campaign in many different sizes is extremely easy. That's because it helps you automate your ad design process by letting you work on an entire ad set at once. You can create a custom design set by picking all the sizes you need.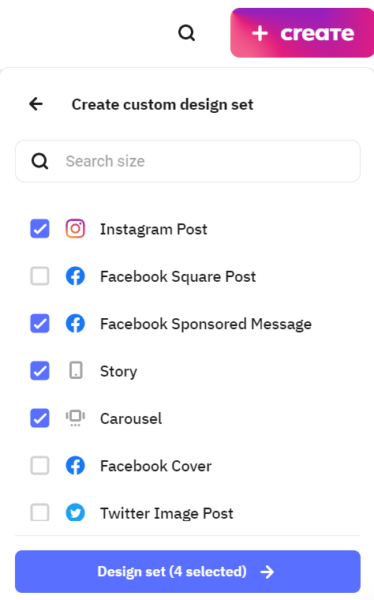 Then, just make the edits you need on one design, and the changes will be applied automatically to all sizes.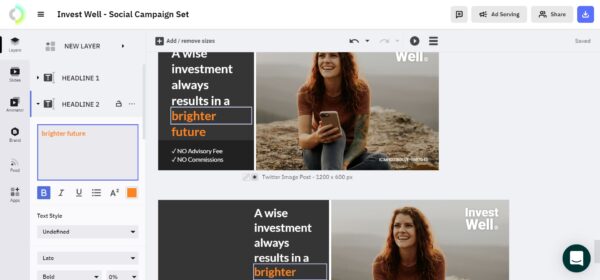 2. Start the Planning Early
If you have to choose your channels and prepare your ads early, you need to plan your Black Friday campaign even earlier.
According to Insider Intelligence, "consumers are looking for deals early and spacing out their purchases." So it's essential to put yourself in front of these consumers before your competition does. You want people to remember your deals and not get distracted by others.
How early exactly? Creatopy's Holiday Spend Consumer Survey found that 29.38% of respondents wish to start shopping one month before the holidays, while 19.97% prefer to start as early as two months. Only 11.42% begin planning two weeks ahead.
Your competitors know this, too.
Shopify explains that by publishing ads early, advertisers can figure out what works and what doesn't, giving them ample time to adjust their strategies for Black Friday weekend.
But you want to be careful with this.
You don't want to overwhelm your audience. With Black Friday ads showing up both from you and your competitors before the Thanksgiving turkey is even born, your audience can easily get exhausted and lose interest, resulting in you losing money.
Diana Aldea, Creatopy's PPC Team Leader, has a few valuable tips that you can use if you decide to start running your ads early:
To be sure you don't overwhelm your audience, you can set a frequency cap in the early days of the campaign, which can be expanded a little near the event, to make sure you take over your competitors.

Besides the necessity of starting as early as possible, as stated above, it is also important to take into account the learning phases of each platform. If you plan on launching the campaign right in the midst of Black Friday, you may miss on some good opportunities to sell, as it may take up to six weeks or more for a campaign to exit the learning phase.
Remember that a successful Black Friday ad is only as good as the deal it's advertising. Make sure you give your audience an offer they can't refuse.
3. Create a Sense of Urgency
You want your audience to take action and make a purchase now. Not tomorrow, not ten minutes later, now.
To make that happen, you have to create a sense of urgency.
It's not about making your audience anxious and pushing them to make an impulse purchase. It's about making them feel hyped and excited to get their hands on a product that benefits them.
Now, one can say that Black Friday itself already creates a sense of urgency. The fact that you only have 24 hours to take advantage of a huge sale already makes you want to place an order immediately.
But there are more creative (and easier) ways you can create a sense of urgency in your Black Friday ads:
You could:
Add a deadline to your deals;
Include how many products are left in stock;
Use words like "final days," "last chance," "limited time," or other similar expressions in your copy;
Use emotional trigger colors in your design, such as red;
Add a countdown widget.
In Creatopy, you can add a countdown widget with just a couple of clicks.
All you have to do is go into Elements, then Widgets, and click Countdown.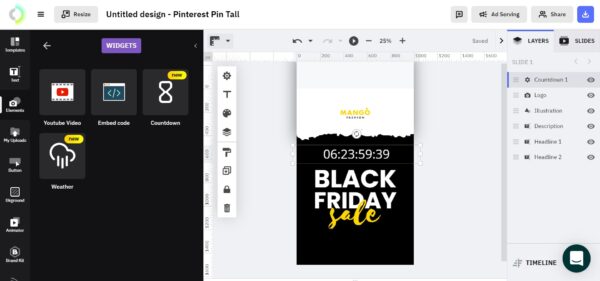 Then just customize your widget according to your desired date and time. You can also make it count down from any number you like.
4. Take Advantage of Your Email List
Chances are you already have a list of emails to which you send regular newsletters and promotional emails.
CheetahDigital's 2022 Digital Consumer Trends Index reports that email is the most effective channel for driving sales, beating "banner ads, social media ads, organic posts, and SMS by up to 108%", mainly due to its ability to personalize content and offers. The same report found that half of the consumers "have purchased a product directly as a result of an email they received in the last 12 months."
If email marketing works so well on a regular day of the year, imagine how effective it can be on Black Friday and the days leading up to it.
So how can you leverage your email list to drive more Black Friday sales?
Send your customers early access to discounts and other deals.
This is a great way to not only leverage the power of email marketing but also to reward your loyal customers and build a better relationship with them.
5. Make Gift Guides
Black Friday is not only the day that you can enjoy huge discounts, but it's also the day that officially kicks off the holiday season.
This means that your customers are not only buying for themselves but also for their family and friends.
So why not help them out by making gift guides?
Write long listicles, create aesthetic collages, or put together a holiday-specific product catalog. Show your customers why your products make for great gifts.
If you can, try reaching out to your local news publications and negotiate a deal with them to include your products in their gift guides.
Buzzfeed, for example, has a dedicated gift guides section where you can select lists based on the recipient's interests, the occasion, and even the amount you're willing to spend on the gift.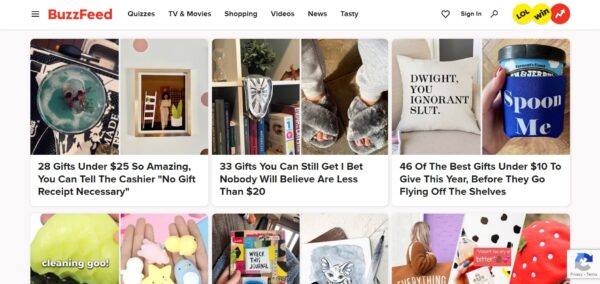 Another thing you can do is offer bundle deals. Give your customers more stuff at a great price.
This way, they can keep an item they like and gift their loved ones the rest.
6. Personalize Your Ads
In a survey about personalization in marketing, Forbes reveals that "40% of executives report that their customer personalization efforts have had a direct impact on maximizing sales, basket size, and profits in direct-to-consumer channels." In this case, 40% was two in five executives.
Clearly, personalization is a goldmine that you should take advantage of, especially on Black Friday.
Dynamic display ads are a fantastic way to leverage the power of personalization.
These ads are tailored to each individual user depending on their previous internet activity, i.e., interactions with your website, other websites, demographic data, etc.
You can create dynamic display ads for remarketing. This is the process of retargeting users who have already interacted with your website.
For example, if someone added a product of yours in their cart but ended up leaving the website without getting it, you can show them a dynamic display ad showcasing that exact product and nudge them to come back and make a purchase.
You can follow step-by-step instructions from Google Ads about how to make dynamic display ads through remarketing campaigns.
Meta also has its own guide on how to publish dynamic ads.
7. Offer Big Discounts
Not just discounts, but big discounts.
Most consumers wait until Black Friday to purchase products they really want and need, such as Apple products, laptops, TVs, and designer clothing. For many of them, Black Friday is their unique chance to get something they otherwise might not be able to afford.
So while a 10% discount might sound attractive on a typical day, on Black Friday, people want more than that.
As a business, you want to go all out for your customers. You want to give them discounts that they will have difficulty finding anywhere else.
Of course, this is easier said than done. Your business also needs to make a profit, so your discounts will rely heavily on your own expenses and needs.
But as much as possible, make sure your Black Friday discounts are bigger than the ones you give throughout the year.
8. Leak Deals Early
This falls in line with the second point in this article about rolling out your ads early.
People start putting together their shopping lists weeks before Black Friday.
So why not let them know about your deals early on and guarantee your product a spot on those lists?
The best way to do this is by leaking your tempting deals early on. Not just through ads but also through social media, emails, and influencers.
By creating anticipation on all your available channels, consumers won't just visit your website to browse around—they will know exactly what they want, which translates into faster sales for you.
9. Maintain Brand Consistency
Whether you decide to create display ads, write social media posts, or send out emails, there is one crucial rule you need to follow: maintain brand consistency.
Make sure that your Black Friday ad creatives look similar.
Use the same color scheme and font. Take pictures of your products in similar positions and lighting. Include your logos in the same corner.
This makes it easier for consumers to spot your ads. They will immediately know that it's your brand's product they're looking at.
Which is especially important in helping your audience avoid Black Friday scams.
Unfortunately, online scams happen every day, from fake websites to fake products and all sorts of deals that sound way too good to be true. In February 2022, the Federal Trade Commission reported that consumers lost almost $6 billion due to fraud in 2021 alone.
According to the report, imposter scams, online shopping, and negative reviews, as well as prizes, sweepstakes, and lotteries, were the top three fraud categories that consumers fell victim to.
The FBI also reported that the most common internet crimes of 2021 were phishing, non-delivery/non-payment, as well as personal data breaches.
If these internet crimes happen on a regular day, imagine what happens during Black Friday, when consumers are focused on exciting deals and let their guard down as a result.
Brand consistency can make you recognizable and trustworthy to your customers. They will easily spot the difference between your ads and a scammer's. Maybe something just isn't right about the wording, the font, or the color scheme that's usually associated with your brand. Maybe there's something about the products in the ad that they find odd.
Now, brand consistency isn't the only thing that can help consumers avoid scams, nor does it absolutely guarantee a safe shopping experience. But by taking this extra step, as a business, you'll be doing your audience a huge favor, which helps establish a good relationship with them in the long run.
In Creatopy, you can do this by using the Brand Kit feature.
Conclusion
Black Friday is one of the busiest and most stressful times for advertisers and marketers.
But there are ways to lessen that stress and improve your workflow and productivity.
What other Black Friday marketing tips do you like to follow?